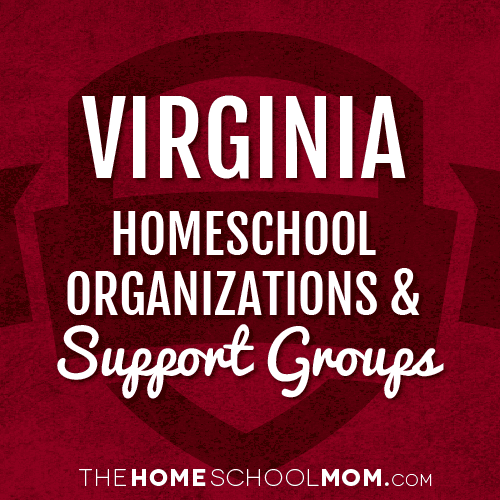 Since homeschooling is regulated at the state level, connecting with local homeschoolers is an important step to start homeschooling in Virginia. State homeschool organizations and local homeschool groups are not just a good place to learn the specifics of legally homeschooling in Virginia—they can also help you to get connected with the local homeschooling community. Many homeschool groups offer co-ops, classes, sports and arts opportunities, and social get-togethers.
Our listing of Virginia state organizations and local homeschool groups is ordered alphabetically by city, with statewide organizations listed first. If you would like to submit a group, you may do so using the red button above.
Use the secondary navigation menu above to quickly make your way to pages for Virginia state organizations, local homeschool groups, classes, co-ops, field trips, and more.
Virginia Homeschool Organizations
Home Educators of VirginiaVirginia Statewide
Home Educators Association of Virginia is a member-supported, statewide, nonprofit homeschool association that operates from a biblical worldview. HEAV serves all homeschoolers and since 1983 has w...
VaHomeschoolersVirginia Statewide
The Organization of Virginia Homeschoolers - The Old Dominion's only fully inclusive, member directed, and volunteer driven state association. VaHomeschoolers is neutral in matters of religion and ...
Virginia Local Homeschool Groups
Albemarle County Homeschoolers NetworkAlbemarle County
Open to all homeschoolers (and those considering homeschooling) in Albemarle County, Va, and the surrounding area. This list allows members to invite people to join them for park days and craft tim...
VAEclecticHSAlexandria, Prince William, Fairfax and Stafford county areas
A large, active, fully inclusive list for in-depth discussion of issues affecting homeschooling, and for news about media articles and programs, proposed legislation, research, conferences and othe...
Valley Homeschooling NetworkAugusta County
Open to all adult homeschoolers and unschoolers in Augusta County and the surrounding area. This message board will serve as a way to contact fellow homeschoolers, share resources, offer support an...
MD_DC_VA_EducatorsBaltimore-Washington Metropolitan area, Hampton Roads (Tidewater) Virginia, Delaware and Pennsylvania.
This groups exists to create an online forum to share resources, activities, ideas, and support among the homeschooling community to include the Baltimore-Washington Metropolitan area, Hampton Road...
Baltimore-Washington Home EducatorsBaltimore-Washington-Northern Virginia
This list is designed for Baltimore-Washington-Northern Virginia homeschoolers as on-line community for open-minded homeschoolers in the region who are interested in participating in a community th...
Homeschoolers of Bealeton (HOB)Bealeton
Homeschoolers of Bealeton (HOB) is a support system for homeschooling families located in Bealeton, VA. Members are invited to share their ideas, concerns, events, achievements, support, encouragem...
Caroline Area HomeschoolersCaroline County
Caroline Area Homeschoolers is a social and support group for homeschoolers in Caroline County, Virginia and surrounding areas. Offering Friday afternoon park days most weeks as well as field trip...
REACH Group HomeschoolCentral and Northern Virginia
REACH is Christian led but is open to all regardless of religion, race or politics. REACH's goal is to offer meaningful and educational opportunities for all homeschoolers in the Virginia area. We ...
Eclectic Homeschoolers group for ClarkeClarke, Frederick, Warren, Shenandoah, Loudoun and Jefferson counties
H.E.L.L.O. or Home Educators Local Learning Organization is an inclusive homeschoolers group for Clarke, Frederick, Warren, Shenandoah and western Loudoun counties in Virginia, as well as Jefferson...
Fathers-And-Mothers-In-Leadership-Instructing-Encouraging-Students (FAMILIESnews)Delmarva area
This is a large group of homeschool families who want to encourage each other and share information, events, curriculum, fieldtrip,ideas
Mayflower HomeschoolersFauquier, Rappahannock, Culpeper, Prince William, Loudon, and Stafford Counties
The group is a Roman Catholic homeschool support group. It is independent, not affiliated with any particular parish, and meets in the Warrenton area of Fauquier Co. Annually, a full year's schedul...
Belvoir Home Educators (BHE)Fort Belvoir
BHE is a group of military and DoD families dedicated to the home education of children. BHE is committed to providing support and encouragement to one another and participating in activities that ...
FAHA- Fredericksburg Area Homeschoolers' AssociationFredericksburg
A secular intentional homeschooling community with attachment parenting and natural living values. FAHA ia a member-led association of interest groups that get together for clubs, events, classes, ...
South Central VA Homeschool GroupMecklenburg County, Lake Gaston, Brunswick County
This group is a secular, inclusive and open-minded group that meets weekly in and around South Hill, VA. Some activities include a Lego club, park days, crafts, science experiments, field trips, vo...
Northern Virginia Gifted ClubNorthern Virginia
We have a small social group for gifted kids in the Northern VA area. No "definitions" -- no "proof" of any kind required. We are not an academic group. The goal is to help our "statistically insig...
Culture at HomeNOVA, So. MD and DC
An African American homeschool support group in the Washington D.C., Maryland and Virginia area with an emphasis on the older homeschooled student. Culture at Home is a support group for families c...
Teaching Social Skills to Special Needs KidsReston
Licensed clinicians on staff to help families thrive.
Proverbs 22 Homeschool GroupRichlands
A fun homeschool group with weekly meetings, field trips, yearbooks, formals, science fairs, award nights, and much more!
Richmond Area HomeschoolersRichmond
This is an inclusive group of Richmond (Virginia) area homeschoolers to share ideas, organize get togethers, and for general support.We get together for picnics and have regular field trips. We h...
Richmond Preschool HomeschoolersRichmond
This is an inclusive group of Richmond (Virginia) area homeschoolers of preschool aged children to share ideas, organize get togethers, and for general support. We have play dates in the park and ...
Homeschool Family ConnectionRichmond
Homeschool Family Connection families enjoy; Back to School Family Picnic, End of the School Year Picnic, Weekly Park Days, Field Trips, Preschool and Elementary Activities, Tween, Middle Schoo...
Richmond Homeschool Meetup GroupRichmond
A growing local group just for getting together to network, learn and PLAY! The Richmond Homeschool Meetup Group is for anyone "homeschooling" in the area, or just interested in meeting others who...
Social Skills Support GroupsRockville,MD and Washington,DC
In groups of 3-7 members, preschoolers through adolescents who are having difficulty in social situations work on communication skills, self-esteem, expressing feelings and learning how to read bot...
Spotsylvania Regional Christian HomeschoolersSpotsylvania
"Spotsylvania Regional Christian Homeschoolers (SRCH) is for Christ Centered homeschooling families living in or around Spotsylvania County. Since 1997, SRCH has had an active core membership who h...
Tazewell Homeschool Support GroupTazewell
This is an informal Christian group for homeschool families in Tazewell, Virginia and surrounding areas. Families of all faiths or no faith are welcome as long as they respect that it is a group pr...
Tidewater Educators Association for Christian Homeschooling, IncVirginia Beach, Northeastern NC
T.E.A.C.H. (formerly BEACH) is a regional homeschool support group, serving southeastern Virginia and northeastern North Carolina. We are a tax-exempt, non-profit Virginia corporation. General info...
Local Virginia Homeschool Support GroupsVirginia Statewide
By HEAV
Virginia Homeschool GroupsVirginia Statewide
From VaHomeschoolers
Sankofa Homeschool CommunityWashington
Sankofa is a community of homeschooling families of color who want to grow, learn, and build together. We are dedicated to creating a rich, supportive homeschool village through a combination of so...
GRACEducatorsWashington and Smythe Counties
GRACEducators is an Abingdon area, Washington county Virginia, Christian homeschool group. Members are a decidedly Christian group of families that seeks to encourage and support one another in the...