Field trips are a great way to reboot a bad homeschooling week, get out of the house when everyone has cabin fever, and learn about your local area. Before heading out, check out Jeanne's tips for improving homeschool field trips.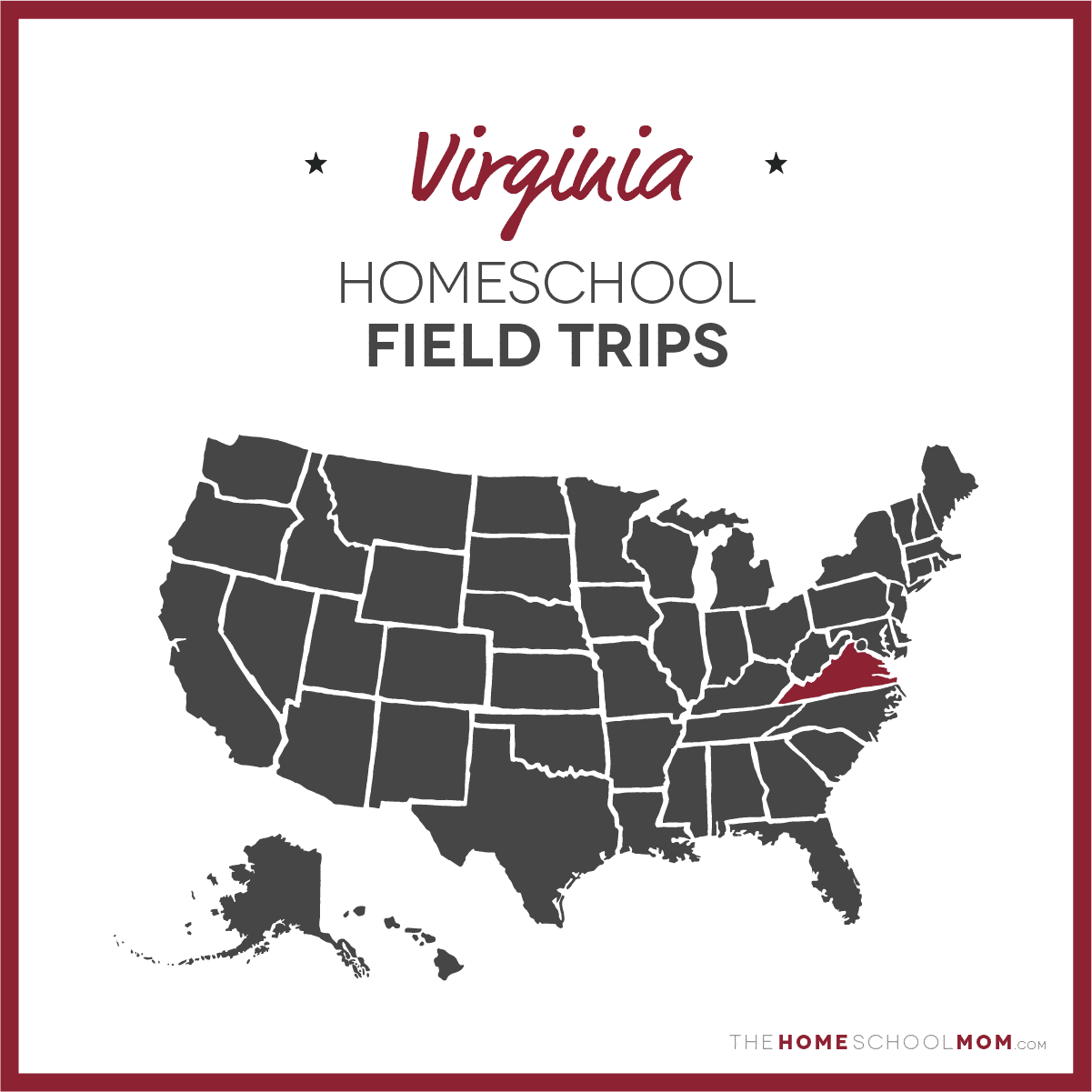 Submit a Field Trip Destination
Our listing of Virginia field trips for homeschoolers is ordered alphabetically by city. If you would like to submit a Virginia field trip destination, you may do so using the red button above.
An asterisk * after the title indicates that a virtual field trip is also available.
The Overmountain Victory National Historic Trail

It recognizes the Revolutionary War Overmountain Men, Patriots from what is now East Tennessee who crossed the Great Smoky Mountains and then fought in the Battle of Kings Mountain in South Carolina. The website offers historical information about the park for those who cannot visit in person.
George Washington Memorial Parkway

This is the "Road to Adventure" -- originally designed as a grand gateway and greenway to the Nation's Capital. Here, you can learn about the First President and the development of America. As an oasis amid urban development, the Parkway has a variety of park sites that provide opportunities for everything from quiet contemplation to nature exploration to active recreation.
Potomac Heritage National Scenic Trail

Experience the Corridor of Commerce First Imagined by George Washington. The Potomac Heritage National Scenic Trail is a partnership to develop a network of locally-managed trails in a corridor between the mouth of the Potomac River and the Allegheny Highlands. As of mid-2008, 20 trails have been recognized as segments of the National Scenic Trail.
William King Museum

Abingdon

The Museum, a partner of the Virginia Museum of Fine Arts, is housed in an historic 1913 former school, and is aptly named for William King, an early philanthropist who donated the land for the first school built on this site. Rotating exhibitions run the gamut from art of the world - past exhibitions have featured African art, Egyptian antiquities and pre-Columbian artifacts, to name only a few - to exhibitions which showcase the region's decorative arts legacy or best new contemporary artists. Many exhibitions, which change about every three months, are organized by Museum staff. Related programming, developed specific to each exhibition, include docent-led tours, artist talks, lectures and symposia.
Carlyle House Historic Park

Alexandria

The historic Carlyle House was completed in 1753 by British merchant John Carlyle for his bride, Sarah Fairfax of Belvoir, member of one of the most prestigious families in colonial Virginia. Their home quickly became a center of social and political life in Alexandria and gained a foothold in history when British General Braddock made the mansion his headquarters in 1755. Braddock summoned five colonial governors to meet there to plan the early campaigns of the French and Indian War. On the National Register of Historic Places, Carlyle House is architecturally unique in Alexandria as the only stone, 18th-century Palladian-style house. Daily tours of the house, programs for schoolchildren, special events, exhibits and lectures explore the life and times of John Carlyle in pre-Revolutionary Alexandria.
Frank Lloyd Wright's Pope-Leighey House

Alexandria

Frank Lloyd Wright put forth a challenge that he would grapple with for many years. His solution--the Usonian house --was a modestly-scaled family dwelling that was (relatively) affordable, designed for modern family life, and responded to the surrounding environment. The Pope-Leighey House is a classic example of this type of architecture and of mid-20th century design. Wright's innovative use of four natural materials (wood, brick, glass and concrete) created a sense of a large, more spacious abode -- in only 1,200 square feet.
Gadsby's Tavern Museum

Alexandria

Gadsby's Tavern Museum consists of two buildings, a ca. 1785 tavern and the 1792 City Hotel. The buildings are named for Englishman John Gadsby who operated them from 1796 to 1808. Mr. Gadsby's establishment was a center of political, business, and social life in early Alexandria. George Washington enjoyed the hospitality provided by tavernkeepers and twice attended the annual Birthnight Ball held in his honor. Other prominent patrons included John Adams, Thomas Jefferson, James Madison, and the Marquis de Lafayette. Take a moment to journey back to the 18th-century tavern and hotel where famous historical figures and everyday people dined and slept. Learn about the history, architecture, decorative arts, social customs, food, and clothing of a past era.
Lee-Fendall House

Alexandria

The Lee-Fendall House, located in Old Town Alexandria, Virginia, is a showcase of American history. Since its construction in 1785, the house has served as home to thirty-seven members of the Lee family (1785-1903), hundreds of convalescing Union soldiers during the American Civil War (1863-1865), Alexandria's locally prominent Downham family (1903-1937), and one of our nation's most controversial and significant 20th century labor leaders, John L. Lewis (1937-1969).
Stabler-Leadbeater Apothecary Shop

Alexandria

The Stabler-Leadbeater Apothecary Museum, one of the oldest pharmacies in the nation, exists today to promote a greater understanding of historic public health issues, inspire people with the values of Quaker founder, Edward Stabler, and engage the visitor in an appreciation of our local and national history by sharing the story of this business and family's profound effect on the community in such diverse areas as education and the abolition of slavery.
Woodlawn

Alexandria

Woodlawn is a gracious 126-acre estate that was originally part of George Washington's Mount Vernon. The main Federal-style house was designed by the architect of the U.S. Capitol, Dr. William Thornton, and constructed between 1800 and 1805 for Washington's nephew Major Lawrence Lewis and his bride, Eleanor "Nelly" Custis Lewis. During the Lewis' years in residence, Woodlawn comprised over 2,000 acres and was worked by over 100 workers, at least 90 of whom were enslaved people of African descent.
Tall Ship Providence

Alexandria

Our ship is a fully operational replica from the time of the American Revolution. We offer 1-hr dockside tours and 2-hr sails on the open water. Our tour guides are dressed in colonial attire and transport guests back to the time during this interactive learning experience. All ages welcome. Tours are $15 per student; $20 per adult chaperone. 1 complimentary chaperone ticket will be granted with every 10 student tickets. Sails are $35 per student; $45 per adult chaperone.
Appalachian National Scenic Trail

Appalachian Mountains

The People's Path and America's First National Scenic Trail. The Appalachian Trail (A.T.) is more than 2,175-mile long footpath stretching through 14 eastern states from Maine to Georgia. Conceived in 1921 and first completed in 1937, it traverses the wild, scenic, wooded, pastoral, and culturally significant lands of the Appalachian Mountains.
Holliday Lake State Park

Appomattox

Deep in the heart of Appomattox-Buckingham State Forest, Holliday Lake State Park is a paradise for the outdoor enthusiast. Fishing for largemouth bass, yellow perch, crappie and bluegill is a popular activity in the 150-acre lake within the park. The nearby state Department of Game and Inland Fisheries delayed-harvest trout stream allows anglers to fish for brown and rainbow trout. The park also features excellent trails open to hikers, bikers and equestrians. Swimming is a popular summer activity at the park's life-guarded beach where the "Critter Hole" play area is a favorite of young visitors. Park facilities include a 30-site campground, a large shaded picnic area, two picnic shelters, two playgrounds, a boat ramp, a seasonal full-service concession stand, a camp store, and canoe, rowboat and paddle boat rentals. Interpretive and environmental education programs also are available for school and scout groups. This park is just minutes from the famous Appomattox Court House National Historical Park, the site of General Robert E. Lee's surrender to General Ulysses S. Grant in 1865.
Appomattox Court House National Historic Site

Appomattox

On Palm Sunday, 1865, Lee's surrender at Appomattox Court House, Virginia signaled the end of the Southern States attempt to create a separate nation. The site contains links for kids and educators, as well as virtual photof of the area now and in 1865.
Arlington House, The Robert E. Lee National Memorial

Arlington

Arlington House was the home of Robert E. Lee and his family for thirty years. George Washington Parke Custis built the house in 1802 to be his home and a memorial to George Washington, his step-grandfather. Since then, the house has served as a family home, a military headquarters, a national cemetery, and more.

Arlington House, The Robert E. Lee National Memorial website
Arlington National Cemetery

Arlington

Official website of the cemetery. If you can not visit the cemetery, check out the site map to this website or the historical information tab located on the home page.
Lyndon Baines Johnson Memorial Grove

Arlington

Formerly known as Columbia Island, this park was renamed in honor of Lady Bird Johnson and her campaign to beautify Washington D.C. The Grove, a site chosen by Lady Bird herself, is the site that the Johnsons often stopped to admire the city. Today, the Grove is relaxing spot for people to watch the river, view Washington D.C., and to recreate.
Theodore Roosevelt Island

Arlington

One of Theodore Roosevelt's greatest legacies was his dedication to conservation. Today, this island stands as a fitting memorial to the outdoorsman, naturalist, and visionary who was our 26th President.
Blue Ridge Parkway

Asheville

The Blue Ridge Parkway was designed as a recreational motor road, connecting Great Smoky Mountains and Shenandoah National Parks. It is also a cross-section of Appalachian mountain history. It encompasses some of the oldest settlements of both pre-historic and early European settlement.
Waynesboro Heritage Museum

Augusta County

The Waynesboro Heritage Museum portrays the history of Waynesboro through permanent and rotating exhibit galleries and the nTelos audio visual room.
Shot Tower Historical State Park

Austinville

Overlooking the New River, Shot Tower was built more than 150 years ago to make ammunition for the firearms of the early settlers. Lead from the nearby Austinville Mines was Shot Tower at the parkmelted in a kettle atop the 75-foot tower and poured through a sieve, falling through the tower and an additional 75-foot shaft beneath the tower into a kettle of water. For a small fee, guests may ascend the tower which is on the National Register of Historic Places.
National D-Day Memorial

Bedford

Find resources remembering the Normandy Invasion, commonly known as D-Day, by the Allied Forces. From the National D-Day Memorial site in Bedford, Virginia (so located because proportionally Bedford suffered the greatest number of losses from any US community).
Raymond R. "Andy" Guest Jr. Shenandoah River State Park

Bentonville

This park's hours of operation are between 8 a.m. and dusk. NOTE: This park is a Trash Free Facility - refuse must be removed by park visitor. A central refuse collection area is at the Cullers Overlook. The park is 1,604 acres with 5.6 miles of river frontage along the south fork of the Shenandoah River. The rolling, mountainous land features steep slopes and is mostly wooded. In addition to meandering river frontage, the park offers scenic vistas overlooking Massanutten Mountain to the west and Shenandoah National Park to the east.

Raymond R. "Andy" Guest Jr. Shenandoah River State Park website
Assateague Island National Seashore

Berlin

Mutual grooming by Assateague's horses serves to establish and maintain social bonds within the herd. 20kb Want to live on the edge? Visit a place recreated each day by ocean wind and waves. Life on Assateague Island has adapted to an existence on the move. Explore sandy beaches, salt marshes, maritime forests and coastal bays. Rest, relax, recreate and enjoy some time on the edge of the continent.
Southwest Virginia Museum Historical State Park

Big Stone Gap

The museum is housed in a mansion built in the 1880s by Rufus Ayers, a Virginia attorney general. The museum was acquired by the commonwealth in 1946 from the Slemp Foundation, established by C. Bascom Slemp, private secretary to President Calvin Coolidge and a member of the U. S. Congress. The museum was officially dedicated by the state in 1948. It features a collection comprised of more than 20,000 pieces, about one third of which is on display at any given time. The museum chronicles the exploration and development of the town and surrounding area during the 1890s coal boom, as well as the pioneer period. It offers activities for kids, scout and school programs, workshops, an annual Festival of Trees program and a walking tour of the grounds. The museum sells archival supplies and offers the opportunity to have pictures of collection pieces copied, as well as copies of reference files. Also offered is a unique gift shop and a Victorian Parlor Conference Room available for rent by calling the museum.
Smithfield Plantation

Blacksburg

On the eve of the American Revolution, the Virginia backcountry was a place of colliding cultures, clashing ideals, and physical danger. Wolves howled at night; panthers roamed the forest. Europeans and native Shawnee and Cherokee vied for the same fertile farmlands, often erupting into murderous violence. It was here, at the eastern continental divide - the literal edge of European/American civilization - that leader of westward expansion and Revolutionary War patriot William Preston established Smithfield Plantation. In a land of log cabins and physical hardship, Smithfield provided a haven of aristocratic elegance and became the social and political center of the county.
Breaks Interstate Park

Breaks

The Breaks Interstate Park is one of two interstate parks in America and encompasses 4,500 acres of woodland. The Breaks, home of the deepest gorge east of the Mississippi River, also rises to lofty heights where golden eagles make their home. The Towers and other rock formations, caves, flora and wildlife make the Breaks Park a unique tourist destination. History, legend and lore combine with the scenic beauty of the Park which was the reported destination of several trips by Daniel Boone. It is the home of Pow Wow Cave, used by the Shawnee Indians and those who love mystery and adventure can search for the buried silver treasure of John Swift. For active visitors, the park also offers hiking, bike and driving trails, picnic and recreation areas, a lake with pedal boats, a swimming pool, horseback riding and an amphitheater. A rustic lodge, cottages and a large campground are available for extended visits. The Breaks Park also has a modern conference center, restaurant, gift shop and visitor's center. The folks in Eastern Kentucky and Southwest Virginia welcome you to the Breaks Interstate Park!
Brentsville Courthouse Historic Centre

Bristow

Brentsville Courthouse Historic Centre interprets the history of Brentsville and Prince William County through three centuries. Currently the Courthouse, Union Church and Haislip/Hall farmhouse have been restored. Work is underway for the restoration on the Jail and development of a Visitor Center and museum. Once completed, the site will give visitors a unique look into the history of not just Prince William County but Northern Virginia.
Kiptopeke State Park

Cape Charles

Kiptopeke Birding Areas - Since 1963, Kiptopeke has been the site of bird population studies. Sponsored by the Coastal Virginia Wildlife Observatory and licensed by the U.S. Fish and Wildlife Service, volunteers capture, examine, weigh, band and release resident and migratory birds each year from mid-August through November. In the raptor research area, hawks, kestrels, osprey and other birds of prey are observed and banded from September through November. Kiptopeke's hawk observatory is among the top 15 nationwide.
Virginia Discovery Museum

Charlottesville

Mission: The Virginia Discovery Museum brings young children and families together to engage minds, excite imaginations and explore the world around them.
Monticello *

Charlottesville

Virtual field trip onlineTour the house that Jefferson designed and built for himself and his family and enjoy the grounds of the Monticello Plantation.
Lewis and Clark Resources at the Jefferson Monticello *

Charlottesville

Virtual field trip onlineThe Jefferson Monticello website hosts loads of information about Thomas Jefferson and his role in the Lewis and Clark expedition, the Louisiana Purchase, and more. Among the educator resources on the site, you\'ll find maps, artifacts, activities, and lessons to accompany your studies.

Lewis and Clark Resources at the Jefferson Monticello website
MacCallum More Museum & Gardens

Chase City

The museum, opened in April 1996, houses a permanent exhibit of Indian artifacts collected locally by Mr. Arthur Robertson of Chase City. Tools and weapons dating from 9500 BC to 1600 AD, give a clear picture of the lifestyles and cultures of the seven periods of Native Americans. One display illustrates the evolution of spear and arrow points, while a life size replica of Mr. Robertson's log cabin exemplifies the vastness and wide variety of his collection. A full-sized model of a Creek Indian demonstrates the use of an AtlAtl in the throwing of a spear. The museum also contains revolving art displays of varied mediums.
Chesapeake Bay Gateways Network

Chesapeake Bay region

First thoughts of the Chesapeake Bay often bring up images of crabs and oysters. But, as the largest estuary in North America, the Chesapeake Bay has touched and influenced much of the American story -- early settlement, commerce, the military, transportation, recreation and more. The Bay and its surrounding 64,000 square mile watershed hold a treasure trove of historic areas, natural wonders and recreational opportunities.
Artisan chocolate factory tour

Chester

Learn how cocoa beans are harvested and fermented. Tour the artisan chocolate factory to see how cocoa beans are sorted, roasted, winnowed, and ground into chocolate using fair trade sourced cocoa beans. Enjoy a chocolate tasting of chocolate from different countries of origin.
Chesterfield Historical Society of Virginia

Chesterfield

The Chesterfield Historical Society of Virginia serves as the center for Chesterfield history. Its purpose is to collect, preserve, interpret and promote the county's unique past for the education of present and future generations. The vision is to be the premier resource for local history and provide quality programs, exhibits and information to residents of and visitors to Chesterfield County, and to support the educational goals of the public school system as well as home schooled students.
Pocahontas State Park

Chesterfield

Just 20 miles from downtown Richmond, the capital of Virginia, Pocahontas State Park has been one of the more popular parks in the state park system.
Sinkland Farms Fall Field Trips

Christiansburg

Sinkland Farms provide farm field trips through the month of every October for PreK-5. We offer two experiential education packages and customized options on Tuesdays-Fridays that include learning stations like Pumpkin Life Cycle Story, Educational Corn Maze, Barn Yard Animal Fun, The Story of Farming, Bee Learning, and a Farm Playground. There is a hayride to the pumpkin patch for children to pick a small pumpkin and the group leader gets a large pumpkin for the class. Also groups can bring a lunch to enjoy on the farm.
Occoneechee State Park

Clarksville

Occoneechee State Park is on Virginia's largest lake, Buggs Island Lake, also known as John H. Kerr Reservoir. The park features 18.1 miles of trails that allow the guest to experience the history of the Occoneechee Indians and plantation life in the 1800s.
Museum of Culpeper History

Culpeper

The Museum's complex, strategically located at the entrance to historic downtown Culpeper, includes a 4,000 sq. ft. Colonial Williamsburg designed brick facility housing the primary exhibit galleries, Museum Gift Shop and offices. On the Museum campus, visitors can enjoy both the Burgandine House, a fully restored 18th century log cabin and an working American Indian Village. The grounds are complete with ample green space for picnicking and outdoor programs.
Bear Creek Lake State Park

Cumberland

Bear Creek Lake is the perfect getaway for the outdoor enthusiast. Activities center on the park's 40-acre lake complete with a boat launch, fishing pier, boat rentals and swimming beach. The park offers camping, cabins, a meeting facility, an archery range, lakeside picnicking, playgrounds, hiking and access to a 14-mile multi-use trail in the state forest.
Sky Meadows State Park

Delaplane

Just an hour's drive from Washington, D.C., Sky Meadows State Park in Clarke and Fauquier counties, offers a peaceful getaway on the eastern side of the Blue Ridge Mountains. With rolling pastures and woodlands, the park boasts beautiful vistas of the foothills and access to the Appalachian Trail. Its rich history is shaped by the development of agriculture and the impact of the Civil War. Activities include hiking, fishing, picnicking, horseback riding, primitive camping, and nature and history programs.
Deltaville Maritime Museum and Holly Point Nature Park

Deltaville

The Museum and Park offer a unique opportunity to enjoy the "Boat Building " history of our area and the serenity of "river' life. The nature park includes opportunities for walking, birding and viewing wildlife along trails which have thriving native plants and nesting sites. The museum is devoted to the preservation of our County's vast maritime history and will provide educational experiences related to the maritime industry. Both the museum and the park are a place to study, to learn, and also to relax and enjoy the tranquility of this area.

Deltaville Maritime Museum and Holly Point Nature Park website
Willows Bend Farm

Dinwiddie

A classic farm tour experience. Students will see animals, participate in seasonal activities; planting, weeding, harvesting, making potted plants. And they will get to run around in the grass. Older students will learn about biology and ecology first hand.
Claytor Lake State Park

Dublin

Claytor Lake State Park offers a wide variety of activities for water and land enthusiasts. Easily accessible from Interstate 81, the park offers swimming, camping, cabins, lodges, a meeting facility, nature and history programs, miles of hiking trails, and a visitor center. The visitor center is located in the historic Howe House. The lake and the park are named after Graham Claytor (1886-1971), who was vice president of Appalachian Power and supervised construction of the dam.
Natural Tunnel State Park

Duffield

Natural Tunnel, called the "Eighth Wonder of the World" by William Jennings Bryan, has been attracting sightseers to the mountains of southwestern Virginia for more than 100 years. Today it is the focal point of Natural Tunnel State Park, a park which offers visitors not only spectacular sights but also swimming, camping, picnicking, hiking, a visitor center, an amphitheater and interpretive programs.
The Weems-Botts Museum

Dumfries

The history of Dumfries is illuminated on this family-friendly and interesting tour. Colonial Dumfries, the oldest chartered town in Virginia, was a thriving port city, rivaling New York, Philadelphia, and Boston. Famous Virginia families, such as the Masons, Lees, and Washingtons frequented Dumfries for shopping, entertainment, political meetings, taverns, and to conduct business. Dumfries subsequently serves important roles in the Revolutionary War with Britain. The 250+ year old structure now known as The Weems-Botts Museum is named after Mason Locke Weems and the man to whom he sold the house in 1802, Benjamin Botts.
Wilderness Road State Park

Ewing

Wilderness Road State Park was purchased in 1993; the park is approximately 200 acres that lie astride the "Wilderness Road." Wilderness Road was carved by Daniel Boone in 1775 to open America's first western frontier. Most notable in the park are the Karlan Mansion, built in the 1870s, and Martin's Station, a replica of a fort built there in 1775. Bikes can be rented to ride the Wilderness Road Trail that passes through the park. The park also has a self-guided hiking trail as well as interpretive and environmental educational programs.
Poplar Forest

Forest

Poplar Forest is Thomas Jefferson's personal retreat. It is one of only two homes Thomas Jefferson designed and created for his own use. Designated a National Historic Landmark by the Secretary of the Interior, today it is an exciting opportunity to "be there at the beginning"-- to experience the award-winning rescue, archaeological exploration, and restoration of one of America's most important national landmarks.
U.S. Army Quartermaster Museum

Fort Lee

Since 1957 the Quartermaster Museum has preserved the history and heritage of the U.S. Army Quartermaster Corps, the Army's oldest logistic branch. From the Revolution to the Persian Gulf, America's secret weapon is the one that keeps soldiers supplied with food, water, clothing, fuel, shelter and other things they can't survive combat without. This weapon is the Quartermaster Corps, and at the Quartermaster Museum, you'll see how it's sustained American soldiers since 1775.
U.S. Army Women's Museum

Fort Lee

The U.S. Army Women's Museum serves as an educational institution, providing military history training and instruction to soldiers, veterans and the civilian community. The museum is the custodian and repository of artifacts and archival material pertaining to the service of women across all branches and organizations of the U.S. Army from inception to the present day. The museum collects, preserves, manages, interprets and exhibits these unique artifacts as a means to provide training and educational outreach.
New River Trail State Park

Foster Falls

New River Trail State Park has been designated an official National Recreation Trail by the U. S. Department of the Interior. The park parallels 39 miles of the New River, which is one of the world's oldest rivers and among a handful of rivers flowing north
Fredericksburg Area Museum and Cultural Center

Fredericksburg

The mission of the Fredericksburg Area Museum and Cultural Center's education department is to provide inquiry-based experiences for adults and youth, which are interactive, hands-on and engaging. Programs communicate our local history and contemporary culture while creating a link from the past to the Fredericksburg region's culturally diverse present.
Hugh Mercer Apothecary

Fredericksburg

This eighteenth-century building was restored to house the Hugh Mercer Apothecary. Dr. Mercer served the citizens of Fredericksburg with medicines and treatments of the time. Leeches, lancets, snakeroot, and crab claws made up just some of the remedies. Dr. Mercer practiced medicine for fifteen years in Fredericksburg. His patients included Mary Washington. Dr. Mercer left his practice to join the Revolutionary army and died as a Brigadier General at the Battle of Princeton.
James Monroe Museum and Memorial Library

Fredericksburg

The James Monroe Museum and Memorial Library, located in historic downtown Fredericksburg, Virginia, is the largest repository in the country of artifacts and documents related to the fifth president of the United States. The museum was first opened in 1927 by Monroe descendants as a place to house their own personal collections, which had been handed down through generations of the family. Eventually, the museum and its extensive collections were turned over to the Commonwealth of Virginia, and the museum is now administered by the University of Mary Washington.
Mary Washington House

Fredericksburg

In 1772, George Washington purchased a house from Michael Robinson in Fredericksburg, Virginia for his mother. Mary Ball Washington spent her last seventeen years in this comfortable home. The white frame house sits on the corner of Charles and Lewis Streets and was in walking distance to Kenmore, home of Mary's daughter Betty Fielding Lewis. Tradition has it that, during the Revolution, General Lafayette found Mrs. Washington in her garden attending her favorite hobby. The President-to-be came to this home to receive his mother's blessing before attending his inauguration in 1789.
Rising Sun Tavern

Fredericksburg

Built by Charles Washington around 1760 as his home, this frame building became a tavern in 1792, operating in the bustling town of Fredericksburg. The Tap Room features a reconstructed bar cage and fine collection of eighteenth- and nineteenth-century English and American pewter. Another spacious room provided a space for meetings and private dinners by patrons of the tavern. "Tavern Wenches" provide visitors with a lively interpretation of eighteenth-century tavern life. The tavern is filled with period furnishings and stories of early life in Fredericksburg. Much of the woodwork in the tavern is original.
Battle of Fredericksburg

Fredericksburg

From the National Park Service. The Battle of Frederickburg took place in December of 1862. There are links for both kids and educators. View an animated recreation of the entire battlefield on December 13, 1862. http://www.travelbrains.com/shockhtml/FburgDemo.htm
Historic Kenmore Plantation

Fredericksburg

From the George Washington Foundation, Kenmore Plantation, was built by Gerge Washington's sister Betty and her husband. George Washington spent a lot of time visiting the Frederiskburg area and the plantation. The Georgian-style, brick mansion reflects the pre-Revolutionary-War wealth and status of the Washingtons. Re-enactors are on hand one Saturday of each month for those interested in meeting the first President in person.
Fredericksburg National Cemetery

Fredericksburg

In July 1865, three months after the restoration of peace between the states, Congress authorized the establishment of a National Cemetery in Fredericksburg to honor the Federal soldiers who died on the battlefields or from disease in camp.
Fredericksburg and Spotsylvania County Battlefields Memorial

Fredericksburg

The Bloodiest Landscape in North America Fredericksburg, Chancellorsville, Wilderness, and Spotsylvania - more than 85,000 men wounded; 15,000 killed. No place more vividly reflects the Civil War's tragic cost, in all its forms. These places reveal the trials of a community and nation at war.

Fredericksburg and Spotsylvania County Battlefields Memorial website
George Washington's Ferry Farm

Fredericksburg

Run by the George Washington Foudation, Ferry Farm, is known at George Washington's childhood home. Archeological excavation continues to this day. Camps and field trips are held for children throughout the year.
James River State Park

Gladstone

James River State Park, six miles down river from Bent Creek, opened June 20, 1999. The park has three miles of river frontage, 1,500 acres of rolling farm meadows, three fishing ponds, beautiful vistas, 15 miles of hiking trails and quiet forests. The park offers opportunities to explore the wildlife and habitat native to the foothills of the Blue Ridge. Whether floating, fishing or hiking, you can enjoy breathtaking views found only at James River State Park.
High Bridge Trail State Park

Green Bay

High Bridge Trail State Park is a multi-use trail ideally suited for hiking, bicycling and horseback riding. Its centerpiece is the majestic High Bridge, which is more than 2,400 feet long and 160 feet above the Appomattox River.
Sailor's Creek State Park

Green Bay

On April 6, 1865, the Black Thursday of the Confederacy, General Robert E. Lee's Army of Northern Virginia lost 7,700 men, including eight generals, in the Battle of Sailor's Creek. This defeat was key to Lee's decision to surrender at Appomattox Court House 72 hours later, thus ending the war in Virginia. The Overton-Hillsman House, used as a field hospital during the battle, is open to visitors June through August and by request at other times. Period costumed interpreters commemorate the event and conduct other living history events throughout the year. Motorists will enjoy Lee's Retreat Driving Tour, which follows the route of his army from Petersburg to Appomattox Court House. While on the trail, drivers can set the radio to AM 1610 for battle details and descriptions.
Twin Lakes State Park

Green Bay

Twin Lakes State Park, centrally located in Virginia's Piedmont region, provides visitors from all over the Commonwealth with a variety of lakefront activities in a secluded setting. Swimming, camping, fishing, biking, canoeing and hiking are popular activities.
Booker T. Washington National Monument

Hardy

Booker T. Washington was born a slave on on April 5, 1856. After the Civil War, Washington became founder and first principal of the Tuskegee Normal and Industrial School. He is credited with ebing the most influential African American of his era.
City Point History Museum

Hopewell

The City Point Early History Museum displays exhibitions highlighting the rich history of the area. It is housed in the St. Dennis Chapel in the National Historic District of Hopewell. This district contains a number of historic structures, including Appomattox Plantation, the headquarters of General Grant during the latter stages of the Civil War. The chapel was constructed in 1887 as a Catholic chapel for Navy personnel in the area. In 1981 the building, at that point a private home, was deeded to HHFI. The building was restored and opened to public in 1995.
Weston Plantation

Hopewell

Telling the stories of ordinary people who lived through extraordinary times in American history. Weston Plantation house was built in 1789 and overlooks the Appomattox River. It has been described by one Virginia historian as a classic example of Virginia Georgian architecture and the very essence of the Tidewater plantation mansion. All three floors and the kitchen dependency are furnished with antiques and reproductions and open to the public through guided tours.
Smith Mountain Lake State Park

Huddleston

Although situated on the second largest body of freshwater in the state, Smith Mountain Lake State Park is not just for water enthusiasts. In addition to a full range of water related activities, including swimming, fishing and boating, the park offers miles of hiking trails, housekeeping cabins, camping, picnicking, a visitor center and interpretive programs.
Historic Jamestowne

Jamestown

Jamestown Rediscovery is committed to supporting preservation, education, and the archaeological investigation of Historic Jamestowne, the original site of the first permanent English settlement in America.
Historic Jamestowne

Jamestown

Jamestown, a place of many Beginnings - Come, walk in the steps of Captain John Smith and Pocahontas as we explore America's beginnings. Here is where the successful English colonization of North America began. Here is where the first English representative government met and where the first arrival of Africans to English North American was recorded in 1619. Jamestown, the Beginning of America.
Caledon Natural Area

King George

A designated National Natural Landmark, Caledon provides visitors the unique opportunity of viewing bald eagles in their natural habitat. Caledon and the surrounding areas are the summer home for one of the largest concentrations of bald eagles on the East Coast.
Belle Isle State Park

Lancaster

The park has seven miles of frontage on the north shore of the Rappahannock, and it borders Deep and Mulberry creeks. It features diverse tidal and nontidal wetlands, lowland marshes, tidal coves and upland forests. Opening soon: Visitor center.
Morven Park

Leesburg

Purchased in 1903 by Westmoreland and Marguerite Davis, Morven Park encompasses over 1,000 acres of gardens, fields, lawns and wooded areas. Nestled at the base of the Catoctin Mountains is the majestic residence occupied by the Davises for forty years. Today, Morven Park honors Mrs. Davis' vision by hosting a variety of historical, equestrian, recreational, and educational programs.
Evergreen Adventure Park

Leesburg

The Adventure Park at Evergreen Sportsplex has something for everyone! Challenge yourself on one of 13 ropes courses, scale one of two rock walls, or fly on one of the four zip lines, The Adventure Park offers a fun, rewarding and convenient experience for friends, family, schools and organizations of all sizes! Call and speak to a member of the flight crew to plan your day of Adventure! 703-771-8600
Mason Neck State Park

Lorton

Mason Neck State Park is on a peninsula formed by Pohick Bay on the north, Belmont Bay on the south and the Potomac River on the east. The peninsula is an active heron rookery. The park also attracts several other migrating and non-migrating species of birds, including whistling swans and assorted species of duck. Bald eagles also inhabit the area. The park boasts several hundred acres of hardwood forests consisting of oaks, holly, hickory and other species of trees. In addition, several wetland areas are also found in Mason Neck.
George Mason's Gunston Hall

Lorton

Gunston Hall is located 15 minutes from Mount Vernon and welcomes students of all ages between Kindergarten and 12th grade. Tours are themed by age and discuss topics of the past in age-appropriate ways. Our K-2nd grade visitors learn to compare the past to the present, our 4-6 grade guests explore the people, spaces, and activities of Gunston Hall, and our older students spend time examining George Mason's ideas about rights. We offer group special pricing. Tours may be made extraordinary for an additional fee, by adding a storyteller, hearth cook, or historic character to your experience.
The Workhouse Arts Center

Lorton

The Workhouse Arts Center in Lorton is the perfect place for children to get creative alongside passionate artists. Kids get their hands dirty with ceramic sculpture, abstract painting or mixed media collaging when joining fee-based workshops taught by professional artists and arts educators. The large faculty, specializing in diverse art forms, can tailor programs to match your interests. Workhouse field trips are for children of all ages and skill levels.
Green Springs National Historic Landmark District

Louisa County

Encompasses over 14,000 acres in the piedmont of central Virginia. The homes and farms are a continuum of Virginia rural vernacular architecture, reflective and respectful of their location, preserved in their original context with little alteration. Here the landscape has been enhanced, rather than despoiled, by the presence of civilization.
Luray Caverns *

Luray

Virtual field trip onlineLuray Caverns is the largest caverns in the eastern United States. Enormous chambers are filled with towering stone columns, shimmering draperies and crystal-clear pools. The National Park Service and the Department of Interior designated it a Registered Natural Landmark.
Shenandoah National Park

Luray

Shenandoah National Park lies along the Blue Ridge Mountains in north-central Virginia. Rocks exposed in the park are among the oldest in Virginia. Located within the park is the Skyline Drive, a roadway with breathtaking scenic views. The website offers historical information about the park for those who cannot visit in person.
Lynchburg Museum

Lynchburg

Come visit the Lynchburg Museum and explore the history of Lynchburg and the Virginia Piedmont. The James River runs through our history -- fords where the Native Americans crossed, an 18th century ferry founded by Quakers that gave birth to a city, and the waterway that transported tobacco to Richmond and to the far reaches of the world.
One Way Out

Lynchburg

An escape room is a physical adventure game in which players are locked in a room and have to use elements of the room to solve a series of puzzles and escape within a set time limit (1 hour), or having completed a mission. This is a great team building event for groups of all ages of at least 8 years old.
Manassas Museum

Manassas

The current 7,000-square-foot building on eight acres opened in 1991. Permanent and temporary historical exhibits interpret Northern Virginia Piedmont history through artifacts, documents, videos, and images. The Museum houses the McBryde Library and Archives and Echoes, the Museum Store.
Manassas National Battlefield

Manassas

Manassas National Battlefield commemorates two great battles of the American Civil War. The website offers historical information about the park for those who cannot visit in person.
Hungry Mother State Park

Marion

Hungry Mother State Park in southwestern Virginia is noted for its woodlands and lake. Easily accessible from Interstate 81, this park has folklore and history, swimming, camping, cabin rentals, boat rentals, hiking and the park system's first conference center, Hemlock Haven.
Claude Moore Colonial Farm

McLean

Step back in time and experience life on a small farm in northern Virginia. Living history programs and demonstrations offer a glimpse of what life was like for a poor farm family, just before the Revolutionary War.
Great Falls Park

McLean

At Great Falls, the Potomac River builds up speed and force as it falls over a series of steep, jagged rocks and flows through the narrow Mather Gorge. The Patowmack Canal offers a glimpse into the early history of this country. Great Falls Park has many opportunities to explore history and nature, all in a beautiful 800 acre park only fifteen miles from the Nation's Capital.
Cedar Creek and Belle Grove National Historic Site

Middletown

The area witnessed some of the most dramatic events of the Civil War,including the Battle of Cedar Creek, a decisive Union victory held on October 19,1864.
Douthat State Park

Millboro

The park, which straddles Bath and Alleghany counties, is on the National Register of Historic Places. Douthat is one of the original six Virginia State Parks that opened June 15, 1936. It's nestled in the Allegheny Mountains and features some of Virginia's most outstanding scenery. In addition, a 50-acre lake offers swimming, boating and seasonal trout fishing.
Montpelier

Montpelier Station

From Montpelier.org
Westmoreland State Park Wildlife Education Program

Montross

Westmoreland State Park lies within Westmoreland County, next to the former homes of both George Washington and Robert E. Lee. The park's Horsehead Cliffs provide visitors with a spectacular view of the Potomac River. In addition to the scenic beauty at Westmoreland, the park offers hiking, camping, cabins, fishing, boating and swimming. Visitors can enjoy the park's vacation cabins as well. The discovery center, open on weekends during the summer, gives an informative historical and ecological perspective to an important natural area on the coastal plain.
George Washington's Tomb

Mount Vernon

Located on the Mount Vernon estate in Alexandria, Virginia. The original burial vault was falling apart, so a brick tomb was built to replace it. Washington and his wife and other family members are buried with him.
Mount Vernon Virtual Tour *

Mount Vernon

Virtual field trip onlineTake a virtual tour of Mount Vernon, Virginia, George Washington's home
George Washington's Mount Vernon

Mount Vernon

George Washington called Mount Vernon home for more than 40 years. Visitors are given docent guided tours of the Mansion. There are more than a dozen original structures, Washington's Tomb, and nearly 50 acres of the plantation visitors can tour on their own. The estate has a working blacksmith shop and the Pioneer Farm, a 4-acre demonstration farm with a reconstructed slave cabin and 16-sided treading barn. Mount Vernon claims to be the most popular historic estate in the United States.
Grayson Highlands State Park

Mouth of Wilson

This mountain park is next to the Mount Rogers National Recreation Area in the Jefferson National Forest. Grayson Highlands State Park was originally named Mount Rogers State Park and was established in 1965. Pets are allowed in the park but not allowed inside public facilities including the bathhouses, visitor center and office.
Ripley's Believe It Or Not Museum

Multiple Locations

Offers museums and attractions in multiple countries focusing on odd and amazing things. Provides videos, details about exhibits, and their history.
New Market Battlefield State Historical Park

New Market

Cadets from VMI helped win a victory for the Confederate Army here.
The Virginia Living Museum

Newport News

Virginia's Animal Attraction & Dino Destination. The Virginia Living Museum is home to more than 250 species of animals found in Virginia including reptiles, mammals, birds and fish. They provide a sanctuary for orphaned, non-releasable or injured animals. Dinosaur Discovery Trail is a permanent exhibit that showcases 16 of the majestic animals that ruled our earth for more than 150 million years. Visitors walk through the woods to see realistic one-third to full-size dinosaurs from the Jurassic and Cretaceous periods. Abbott Observatory offers group planetarium shows.
Baron and Ellin Gordon Art Galleries

Norfolk

The Baron and Ellin Gordon Self-Taught Art Gallery showcases self-taught art and its relation to contemporary art with shows, drawing on the permanent collection and loans to the galleries. A second gallery, the changing gallery, focuses on works by contemporary artists of international, national and regional repute.
Chrysler Museum of Art

Norfolk

Housed in an Italianate-style structure facing the picturesque Hague Inlet of the Elizabeth River, the Chrysler Museum of Art is home to an encyclopedic collection of nearly 40,000 objects spanning nearly 5,000 years of history. Highlights include an impressive and comprehensive survey of European and American painting and sculpture, a world-renowned glass collection, a rich photography program, Art Nouveau furniture, as well as African, Asian, Egyptian, Pre-Columbian and Islamic art.
Send It Climbing Gym

Norfolk

We are an indoor rock climbing gym that offers auto-belays, top rope and bouldering. We schedule our field trips during the mornings on weekends before we open to the public at 12pm. The group will then have access to our entire facility for a 2 hour block guided by our knowledgeable instructors.
National Building Museum

Northwest

The National Building Museum is America's leading cultural institution devoted to the history and impact of the built environment. The museum tells the stories of architecture, engineering, and design. Looks for special free events in the fall and winter for children and their families. Curriculum Kits provide all of the resources and materials needed to offer Museum programs in your own classroom across the country. A variety of Educator Resource Packets containing numerous lesson plans are available for educators free of charge.
Petersburg National Battlefield

Petersburg

Petersburg had five railroad lines and was a key supply center to the Confederate capital. The Siege of Petersburg lasted nine and a half months and is considered the Longest Military Event of the Civil War. The website offers historical information about the battle for those who cannot visit in person.
Naval Shipyard Museum

Portsmouth

Come explore the fascinating history of America's oldest and largest naval shipyard, which is located on the Portsmouth, Virginia's waterfront.
Lightship Museum

Portsmouth

The U.S. Lightship Service was started in 1820. Like lighthouses and buoys, lightships were navigational aids. The lights atop their masts were similar to those in lighthouses, but their portability made them much more versatile. The Lightship Portsmouth was built in 1915. She served for 48 years off the coasts of Virginia, Delaware and Massachusetts helping mariners avoid dangerous shoals or enter safely into harbors at night.
Portsmouth Art & Cultural Center

Portsmouth

Visitors are encouraged to learn about art through visual art exhibits, lectures, classes and performances.
Locust Shade Park

Prince William County

Locust Shade has everything you need to "get in touch with nature". We offer opportunities for fishing, boating, picnicking and more.
Staunton River Battlefield State Park

Randolph

At this historic site, a ragtag group of Confederate old men and young boys beat the odds and held off an assault by 5,000 Union cavalry soldiers on a bridge of strategic importance to General Lee's army, then under siege in Petersburg. Hiking, bicycle trails and self-guided historical and nature trails available.
Virginia Historical Society

Richmond

The Virginia Historical Society (VHS), founded in 1831 as the Virginia Historical and Philosophical Society and headquartered in Richmond, Virginia, is a major repository, research, and teaching center for Virginia history. The Virginia Historical Society features award-winning exhibitions and programming that are entertaining and educational for visitors of all ages. One of the largest historical societies in the country, the VHS has thirteen exhibition galleries occupying more than 25,000 square feet (2,300 m2) and has the largest display of Virginia artifacts on permanent view. The VHS is the only museum with all of Virginia's history under one roof -- all centuries, all regions, and all topics are covered. The Virginia Historical Society is offering special educator-led history presentations for homeschool students.
Virginia Museum of Fine Arts

Richmond

VMFA is a state-supported, privately endowed educational institution created for the benefit of the citizens of the Commonwealth of Virginia. Its purpose is to collect, preserve, exhibit, and interpret art, to encourage the study of the arts, and thus to enrich the lives of all. Offers self and guided tours for K-12 Students.
Wilton House Museum

Richmond

Come and step back in time at Richmond's own 18th century James River Plantation house. Situated on a bluff overlooking the James River, Wilton is an impressive example of Colonial American architecture and is a superb essay in Georgian design. Built in circa 1753 for William Randolph III, Wilton was the centerpiece of a 2,000 acre tobacco plantation and home to the Randolph family for more than a century. It was here that they entertained George Washington, Thomas Jefferson, and the Marquis de Lafayette.
Agecroft Hall and Gardens

Richmond

Agecroft Hall is a Tudor manor house and estate located Richmond, Virginia. The manor house was first built in the late 15th century near present day Lancashire, England. Mr. Thomas C. Williams, Jr., a wealthy entrepreneur, purchased Agecroft Hall and had it dismantled, crated, transported across the Atlantic, and reconstructed in Richmond.
Maymont

Richmond

Maymont educators offer a variety of historical and environmental homeschooler programs to incorporate into your planning for the school year. Homeschool specific programs are offered in Februay/March and September annually. Group programs are also available by request for groups of 10 or more.
Maggie L. Walker National Historic Site

Richmond

Maggie Lena Walker was an African American teacher and businesswoman. She was the first female bank president and the first woman to charter a bank in the United States. Walker also became an example for people with disabilities later in life when she became limited to a wheelchair. The website offers historical information about Maggie Lena Walker for those who cannot visit in person.
John Marshall House

Richmond

Owned and operated by Preservation Virginia and located in downtown Richmond, the John Marshall House is the 1790 urban residence of the fourth and longest-serving Supreme Court Chief Justice, his family, and 8-16 enslaved domestic servants. Programs include a robust collection of K-12 educational field trip tours and programs, and resources pertaining to topics in colonial and Early American history, civics/government/and the Supreme Court, urban slavery in the 18th and 19th centuries, and much more!
Richmond National Battlefield Park

Richmond

Richmond, Virginia,served as the capital of the Confederate States of America during the Civik War. The city became the most important location for both siddes of the conflict. The park preserves more than 1900 acres of Civil War resources in 13 units, including the main visitor center at the famous Tredegar Iron Works and the Chimborazo Medical Museum, on the site of Chimborazo Hospital. The website offers historical information about Richmond for those who cannot visit in person.
Eleanor D. Wilson Museum

Roanoke

The Eleanor D. Wilson Museum is a premiere arts destination in the Roanoke Valley. It features the work of internationally renowned artists and emerging and regional artists. The museum also presents work from Hollins' permanent collection and mounts exhibitions that explore currents in contemporary art. The museum provides a place to look at art and to talk about it, enhancing both the life of the university and the community beyond.
History Museum of Western Virginia *

Roanoke

Virtual field trip onlineThe Museum's Step Into The Past education programs are unlike any other history-oriented services offered in the Roanoke Valley. These programs were created to meet the requests of local teachers, P.T.A. representatives and youth group leaders for historical programming that is readily available and affordable. Step Into The Past consists of both Outreach and In-house Programs.
Taubman Museum of Art

Roanoke

The Taubman Museum of Art not only houses works of art but is itself a work of art. The striking contemporary building, which was designed by LA-based Randall Stout Architects (RSA) and features Frank Gehry-esque, deconstructivist architectural elements,combines permanent and temporary exhibition galleries, an auditorium and other educational areas, a multi-purpose atrium area, café and gift shop.
Virginia Museum of Transportation

Roanoke

In Roanoke, the Norfolk & Western Railway designed and built America's most advanced steam locomotives. Come experience the only remaining examples of the N&W's legendary success at the Virginia Museum of Transportation: the N&W Class A 1218 and the Class J 611. In our Rail Yard, explore historic locomotives, cabooses, and other rail equipment as modern trains rumble past. Inside the Museum, enjoy model trains, hands-on exhibits, and stroll among our antique automobiles, and truck and bus exhibits.
Historical Society of Western Virginia

Roanoke

The O. Winston Link Museum offers guided tours to groups of all ages. Docents discuss the historic passenger station, the history of the N&W and Link's photography, audio and film recordings. The guided tour explores the background of the building; its architectural significance, as well as the social aspects of its use, including rail transportation and the segregated South of the 1950's. The Museum exhibits over 300 of Link's primarily black and white, night time photographs, from his five year project, from 1955 thru 1960, to capture the vanishing of America's last railroad to run exclusively steam locomotives. The galleries are divided thematically, and encompass everything from Link's technical mastery, with examples of lighting equipment, interactive exhibits, and our new darkroom display, to life along the lines in a 1950's world.
Apple Ridge Farm

Roanoke

Apple Ridge Farm transforms the lives of the community's underserved children and families. Apple Ridge offers programs in Environmental Education, and Team Building, high ropes and low ropes course, a zip line, a 50+ foot climbing wall and a 60 foot tall observation tower, and offer programs at the Dark Sky Observatory for students of all ages.
Booker T. Washington - Lesson Plans & Teacher Guides

Rocky Mount

From the National Parks Service. To Be a Slave - K-1 Program Lifting the Veil - 2 - 3 Program War on the Home Front - 4 - 5 Program Cast Down Your Bucket! - 5 -7 Program Clash of the Titans - 11th Grade Program

Booker T. Washington - Lesson Plans & Teacher Guides website
Museum of Middle Appalachians

Saltville

Step back in time at the Museum of the Middle Appalachians. Learn about the unique geology of the region and how it has influenced the area for millions of years. See the full size replicas of ice age mammals that roamed the area over 15,000 years ago. Visit the site of annual archaeological and paleontological digs and see artifacts and fossils that have been recovered locally. View a display of Woodland Indian artifacts which includes an extensive collection of bead work. See evidence of two Civil War battles which occurred at "The Salt Capital of the Confederacy".
Staunton River State Park

Scottsburg

The park was recognized in 2007 as a National Historic Landmark and a Virginia Historic Landmark. Many structures in the park, including the cabins, pool-house and picnic shelters, are little changed from when they were built by the Civilian Conservation Corps in the early 1930s. Tucked away in south central Virginia, the park lies on 2,400 acres between the Dan and Staunton Rivers at the threshold of Buggs Island Lake (also known as Kerr Reservoir). The largest lake in Virginia is only one of the park's many attractions, which include an Olympic size pool with a 70-foot waterslide, a smaller log slide and the Pollywog Pond, which is a water playground for children (there is a size limit on this pool). The shaded campgrounds, rustic cabins, picturesque picnic shelters, well-maintained nature trails, and plenty of exciting outdoor opportunities for the whole family make Staunton River State Park the perfect place for your vacation.
Hatton Ferry

Scottsville

The Hatton Ferry is the last pole operated ferry in America. America moved west on these ferries and it is only fitting that the last one is still working on America's River, the birth place of the first permanent English settlement, Jamestown on the James River. The ferry has crossed the river for over 140 years. It has carried farm products, the mail and vehicles both horse drawn and motorized from Buckingham County to Albemarle County and back. This is living history worth saving for future generations.
Isle of Wight County Museum

Smithfield

The Isle of Wight County Museum was founded in 1976 by a group of volunteers dedicated to the preservation of county history. Interpreting local history, the museum's exhibits include prehistoric fossils, Native American and Colonial artifacts, a country store and displays regarding the ham industry and perhaps the museum's most notable artifact: the world's oldest, edible cured ham.
Historic St. Luke's Church

Smithfield

St. Luke's Church, circa 1632, is the oldest church of English foundation, the oldest continually standing brick structure, and the only surviving original Gothic building in this country.
Lake Anna State Park

Spotsylvania

The land in Lake Anna State Park used to be known as "Gold Hill" and contained the Goodwin Gold Mine. Gold was first discovered in 1829 with mining reaching its peak in the 1880s. In 1971 Lake Anna was created to serve as a water coolant for Dominion Power's nuclear plant. In 1972 work began on the acquisition and development of a water-oriented state park. Lake Anna State Park opened in 1983. While boating and fishing on this beautiful lake are major attractions, these are only some of the park's offerings. Lakefront picnic areas and wooded hiking trails are also popular. On summer weekends, interpretive programs on the nature and history of the area complement exhibits and displays in the visitor center. Lake Anna State Park has rental cabins, camping, more than 15 miles of hiking trails, lakeshore picnicking, a guarded swimming beach, a children's play area, a boat ramp, a food concession stand, a bathhouse and a children's and handicapped fishing pond.
Education resources from the Museum of American Frontier Culture

Staunton

Field Trips, Activities and Programs

Education resources from the Museum of American Frontier Culture website
Frontier Culture Museum

Staunton

The Frontier Culture Museum tells the story of the thousands of people who migrated to colonial America, and of the life they created here for themselves and their descendants. These first pioneers came to America during the 1600s and 1700s from communities in the hinterlands of England, Germany, Ireland, and West Africa. Many were farmers and rural craftsmen set in motion by changing conditions in their homelands, and drawn to the American colonies by opportunities for a better life. Others came as unwilling captives to work on farms and plantations. Regardless of how they arrived, all became Americans, and all contributed to the success of the colonies, and of the United States.
America's Cultural Landscape

Staunton

Lesson plan from the Museum of American Frontier Culture; students will identify the various immigrants and the contributions made to the cultural landscape of Virginia and beyond the frontier and compare and contrast the customs of the early immigrants to the customs of today's society.
Woodrow Wilson Presidential Library

Staunton

The Woodrow Wilson Museum is housed in an adaptively-renovated chateau style mansion adjacent to Woodrow Wilson's Birthplace. The Museum galleries guide you through Wilson's public life, from his Princeton study to his historic Great War peace efforts, and encompassing his service from 1913 to 1921 as the 28th President of the United States.
American Shakespeare Center

Staunton

The American Shakespeare Center in Staunton, Virginia is a wonderful field trip if you are lucky enough to live nearby. By following the basic principles of Renaissance theatrical production, the American Shakespeare Center gives its audiences some of the pleasures that an Elizabethan playgoer would have enjoyed in the world's only re-creation of Shakespeare's original indoor theatre. If you are not close enough for a visit, you can still enjoy the online resources offered by the Center. Although some parts of the guides are specific to the play experience at the Center, the guides are in-depth, informative resources for studying the plays of Shakespeare.
Claude Moore Park

Sterling

Claude Moore Park is a 357 acre natural and historic area in Eastern Loudoun County. The park offers field trips about local ecology and history of the area to home school groups. Prior to coming, parents and teachers consult with one of the instructors to customize their program of choice to their students' age, grade level, and curriculum. Come and walk the trails, including Old Vestals Gap Road dating from pre-Colonial times. See and learn about native plants and wildlife. Field trips are always full of engaging and interactive fun!
Fairy Stone State Park

Stuart

Fairy Stone State Park, the largest of Virginia's six original state parks, is home to its namesake "fairy stones." These rare mineral crosses and the park's scenic beauty, rich history and ample recreational opportunities make it a local and regional favorite. The 4,537 acres that make up the park were donated by Junius B. Fishburn, former owner of the Roanoke Times, in 1933. The Civilian Conservation Corps originally created the park, its lake and many structures still in use there.
Chippokes Plantation State Park

Surry

Chippokes Plantation State Park is one of the oldest working farms in the United States. Chippokes is a living historical exhibit located in a rural agricultural area along the James River in Surry County. In addition, the park has a wide variety of traditional park offerings, including a swimming complex, visitor center, picnic facilities, and hiking and biking trails. The plantation has kept its original boundaries since the 1600s and has a variety of cultivated gardens and native woodland. The formal gardens surrounding the Chippokes Mansion are accented by azaleas, crepe myrtle, boxwood and seasonal flowers. The plantation grounds are also home to the Chippokes Farm and Forestry Museum.
Chippokes Farm and Forestry Museum

Surry

Imagine living on a farm in rural Virginia in 1850. Visit the Chippokes Farm and Forestry Museum and see for yourself how our ancestors endured this rugged life. Chippokes, one of the oldest continually farmed plantations in the country, is endowed with thousands of artifacts. Many have been generously donated so that the story of Virginia's agriculture and forestry communities may be told.
Tangier Island History Museum

Tangier

The museum's permanent displays include a detailed map of the island today, a five-level diorama of the changing size and shape of Tangier Island, Indian arrowheads, the John Smith discovery voyage, the War of 1812, the Civil War, Oysters, Utilities, Art & Music, Veterans, Aviation, Religion, Transportation, Post Cards, Women's Roles, Homecoming, Life Today, Businesses, Town of Tangier, VIP's, Health Care, Tangier Talk, a replica Home Interior and Marine and Nautical artifacts.
Prince William Forest Park

Triangle

Experience a place where history and nature unite! - Prince William Forest Park is an oasis of natural beauty and human history located only 35 miles south of Washington, DC. 37 miles of hiking trails and 21 miles of bicycle-accessible roads and trails traverse this 15,000 acre piedmont forest. Beneath its canopy lies evidence of human history reaching back to 8,000 B.C.
Wolf Trap National Park for the Performing Arts

Vienna

Live on Stage at Wolf Trap National Park for the Performing Arts - Musicals, Opera, Jazz, Rock n' Roll, Country, Dance and other performing arts are an important part of our American culture. At the only National Park dedicated to live performing arts, no matter what your age or taste in shows, you'll find what you're looking for onstage at Wolf Trap.
Atlantic Wildfowl Heritage Museum

Virginia Beach

The Atlantic Wildfowl Heritage Museum, located in the historic de Witt Cottage on the Virginia Beach oceanfront, displays art and artifacts documenting migratory wildfowl that pass through Eastern Virginia. Exhibits of wildfowl and shorebird carvings trace the evolution of this American art form from the simple traditional decoys to the contemporary lifelike carvings.
Contemporary Art Center of Virginia (CAC)

Virginia Beach

Experience some of the best educational programs in the commonwealth. CAC offers a wide variety of art exploration programs that enhance your knowledge of contemporary art.
Ferry Plantation House

Virginia Beach

Ferry Plantation House is a 1830 brick structure (once covered with oyster shell stucco) with a ten-room central passage plan. It's an example of a Federal farm house, built by slave labor, and faces the Western Branch of the Lynnhaven River as the last witness to the rich past of the site's recorded history. The third courthouse, which was also the first brick courthouse in the county, was on this site; the stately Walke mansion, circa 1780, was destroyed by fire. The existing Ferry Plantation House was built, in part, of bricks salvaged from the ruins.
Virginia Beach History Museums

Virginia Beach

The Virginia Beach History Museums include three historic houses and a museum spread across the city. The Thoroughgood House (circa 1719), Lynnhaven House (circa 1725), and Francis Land House (circa 1805) interpret early Virginia history, including family and plantation life, and Chesapeake architecture. Located inside a modern public school, the Princess Anne County Training School/Union Kempsville High School Museum commemorates the city's only high school for African Americans in the era of segregation.
Old Coast Guard Station

Virginia Beach

The Old Coast Guard Station honors and preserves the history of Virginia's coastal communities and maritime heritage. It houses a collection of 1,800 artifacts and over 1,000 photographic images of the United States Life-Saving and Coast Guard Services, and the resort community of Virginia Beach.
False Cape State Park

Virginia Beach

No vehicular access. Located in southern Virginia Beach, False Cape State Park is a mile-wide barrier spit between Back Bay and the Atlantic Ocean. Access is through the Back Bay National Wildlife Refuge and is limited to hiking, bicycling or boating. The park features primitive camping and an extensive environmental education program in one of the last undisturbed coastal environments on the East Coast.
First Landing State Park

Virginia Beach

Originally built by the Civilian Conservation Corps in the 1930s, First Landing State Park is located on the Chesapeake Bay. The park, which is Virginia's most visited state park, is nestled in Virginia Beach. First Landing offers boating, swimming, nature and history programs, hiking, biking, picnicking, a boat launch, cabins and 19 miles of trails on 2,888 acres. It also has campsites that have water and electric hook-ups and nearby access to restrooms and showers. The park's name was changed in 1997 from Seashore State Park to First Landing State Park to reflect its heritage as the first place where members of the Virginia Company landed. They went on to settle Jamestown.
Chincoteague Bay Field Station

Wallops Island

Chincoteague Bay Field Station is a fully residential field station offering hands on, feet wet opportunities to learners of all ages. Homeschool Marine Science Adventure trips are two night trips offered in the spring and fall that focus on coastal ecology and marine biology. There is also the option to create a custom program for your family or homeschool co-op. Custom programs are truly customizable with a wide variety of classes, housing, and meal options available.
George Washington Birthplace National Monument

Washington's Birthplace

From the National Park service. Website includes teacher and student resources as well as history and little know facts about the area.
Historic Christ Church

Weems

Finished in 1735, Christ Church stands as the best preserved and most finely crafted of colonial Virginia's Anglican parish churches. From the details of its exquisite brickwork to the captivating simplicity of its interior, come discover the unique history that is Historic Christ Church.
Abby Aldrich Rockefeller Folk Art Museum

Williamsburg

Colonial and contemporary artists and craftspeople work outside the mainstream of academic art to record aspects of everyday life, making novel and effective use of the materials at hand. The Folk Art Museum offers changing exhibitions of American folk art from its permanent holdings and museum loan shows.
Bassett Hall

Williamsburg

Bassett Hall, a two-story, 18th-century frame house located on 585 acres of gardens and rolling woodlands, is a part of the story of the restoration of Colonial Williamsburg. It was in this house that John D. Rockefeller Jr. and his wife Abby Aldrich Rockefeller made their home during the early restoration of the Historic Area, a restoration they themselves financed.
DeWitt Wallace Decorative Arts Museum

Williamsburg

Opened in 1985, this museum is home to an extensive collection of American and British antiques. See furniture, metals, ceramics, glass, paintings, prints, firearms, and textiles from the 17th, 18th, and 19th centuries. Attend lectures and musical performances in the Hennage Auditorium.
Williamsburg Special Events for Homeschoolers

Williamsburg

From History.org
Muscarelle Museum of Art

Williamsburg

The Muscarelle Museum of Art located on the campus of The College of William & Mary is a culturally-rich art institution, serving as a dynamic resource for our community, a working laboratory for the College, and a platform for visiting exhibitions and the museum's own collection.
Great Wolf Lodge

Williamsburg

Great Wolf Lodge is North America's Largest Family of Indoor Waterpark resorts, and the ultimate destination for your next family getaway. Designed to capture the atmosphere of the Northwoods, our waterparks offer an amazing guest experience in a one-of-a-kind, rustically elegant setting. The perfect place for families to re-connect, and create lifelong memories. With one of our fully-themed resort suites as your family's base camp, you can set out on your Great Wolf adventure. You'll likely first discover our gigantic indoor waterpark, where it's always 84 degrees. And that's just the beginning. Besides our waterparks, don't miss our themed restaurants, interactive arcades, full service spas (and even a version for kids!), fitness centers, and so much more. And with more than 10 locations coast to coast, Great Wolf Lodge is the perfect, weatherproof, year-round destination for your busy family. So whether your family splashes the day away in the waterpark, enjoys a delicious family meal in our restaurant, or enjoys our nightly Storytime together before calling it a night, we think you'll agree, there's no time, like a Great Wolf time.
York River State Park

Williamsburg

York River State Park offers visitors an opportunity to experience the environment of a coastal estuary. This park is known for its rare and delicate environment, where freshwater and saltwater meet to create a habitat rich in marine and plant life. The main focus of the park is to preserve a portion of York River frontage and its related marshes while providing an area for passive day-use recreation for visitors. York River State Park served as a role model for all of Virginia's state parks in developing resource management plans. The park's natural resources make it a significant place for environmental education at all levels.
Presidential Pet Museum

Williamsburg

The Museum highlights past and current White House Pets. See a portrait of Lucky (President and Mrs. Reagan's Bouvier des Flandres) made from her own hair, and photos and exhibits of famous pets from George Washington's Horse, Nelson, the Clinton's famous Buddy and Socks to the current White House Pets, Miss Beazley, a new addition to the family, Barney, a Scottish Terrier, and Spot, a Springer Spaniel (recently deceased), daughter of Millie Bush.
Gathering of Civil War Eagles

Winchester

The Gathering of Civil War Eagles is a one-of-a-kind journey back to one of the watershed events in American history -- The War Between the States. Gathering of Civil War Eagles is not an academic seminar or a battlefield reenactment. Guests of Gathering of Civil War Eagles will be able to meet and talk with the very personas that made the critical decisions and led the opposing armies. You will hear the Generals discuss and debate battles and tactics, and politicians such as Lincoln and Davis debate secession and the sectional differences that led to War. There will also be award-winning authors to discuss and sign their books, period musical performances throughout the weekend, and chances to sip tea and see ladies' fashions from the Civil War era. Check website for event held in June.
The Shenandoah Valley Civil War Museum

Winchester

The Shenandoah Valley Civil War Museum is housed in the historic 1840 Frederick County Court House, which served as a prison, hospital, and barracks for both sides during the Civil War. Soldiers wrote their names and drew pictures on the walls, some of which can still be seen. The museum features the restored court room, Civil War "graffiti" left by soldier (including the famed "Jeff Davis Curse"), a nationally recognized collection of Civil War relics, and exhibits that tell the fascinating story of the Civil War era in the Shenandoah Valley.
Leesylvania State Park

Woodbridge

Leesylvania opened in 1992. In 1978, noted philanthropist Daniel Ludwig donated the land to the state for a park. A national historical society, the Society of Lees of Virginia, was instrumental in securing the donation. Locally the area is known as Freestone Point, referring to the sandstone early settlers took from the property for building. Henry Lee III (Light Horse Harry) was born here at what was then Leesylvania Plantation in Colonial America. This Revolutionary War hero would later father the Confederate General Robert E. Lee of Civil War fame.
Edith Bolling Home

Wytheville

The Bolling Home is the birthplace of one of the most influential, controversial, and politically significant women of the twentieth century, First Lady Edith Bolling Wilson. She was the second wife of the 28th President of the United States, Woodrow Wilson. Edith Bolling Wilson has been referred to as "The Secret President" and "The First Woman President" because she was seen as assuming many governmental duties after President Wilson suffered a stroke in 1919.
Museums of Wytheville

Wytheville

The Town of Wytheville Department of Museums is committed to helping students discover Wythe County's rich heritage. Visitors to our museums are encouraged to explore and understand the past, to reflect upon their own lives, and their place in history. The Wytheville Museums offer a great variety of tours and programs. While these programs are geared mainly towards schools, they can easily be adapted for other groups (i.e. Boy and Girl Scouts). Tours and programs can be tailored to the grade and age level of the student group.
Cape Henry Memorial

Yorktown

"HERE AT CAPE HENRY FIRST LANDED IN AMERICA, UPON 26 APRIL 1607, THOSE ENGLISH COLONISTS WHO, UPON 13 MAY 1607, ESTABLISHED AT JAMESTOWN VIRGINIA, THE FIRST PERMANENT ENGLISH SETTLEMENT IN AMERICA." Upon this inscription rest the granite cross erected by the National Society Daughters of the American Colonists on April 26, 1935, memorializing the wooden cross erected near this spot by the English colonist in 1607.
Colonial National Historical Park

Yorktown

The Beginning and End of English Colonial America - It began on the swampy marshes of Jamestown in 1607. It ended on the battle scarred landscape of Yorktown in 1781. It was one hundred and seventy-four years of hope, frustration, adventure, discovery, growth, and development that saw a lonely settlement of 104 men and boys grow into a nation of 13 colonies of 3 million people, of many races and many beliefs. Jamestown and Yorktown mark the beginning and end of English Colonial America.
Yorktown Battlefield

Yorktown

On October 19, 1781, a British army under General Charles Lord Cornwallis was forced to surrender to General Washington's combined American and French army. Upon hearing of their defeat, British Prime Minister Frederick Lord North is reputed to have said, "Oh God, it's all over." And it was. The victory secured independence for the United States and significantly changed the course of world history.