In just a few months, my twins, 13, will be done with middle school. They are my youngest two (we have a son who is two years older as well). When I sit down to plan homeschool this summer, it will be for three high schoolers. Three. High. Schoolers. Say what?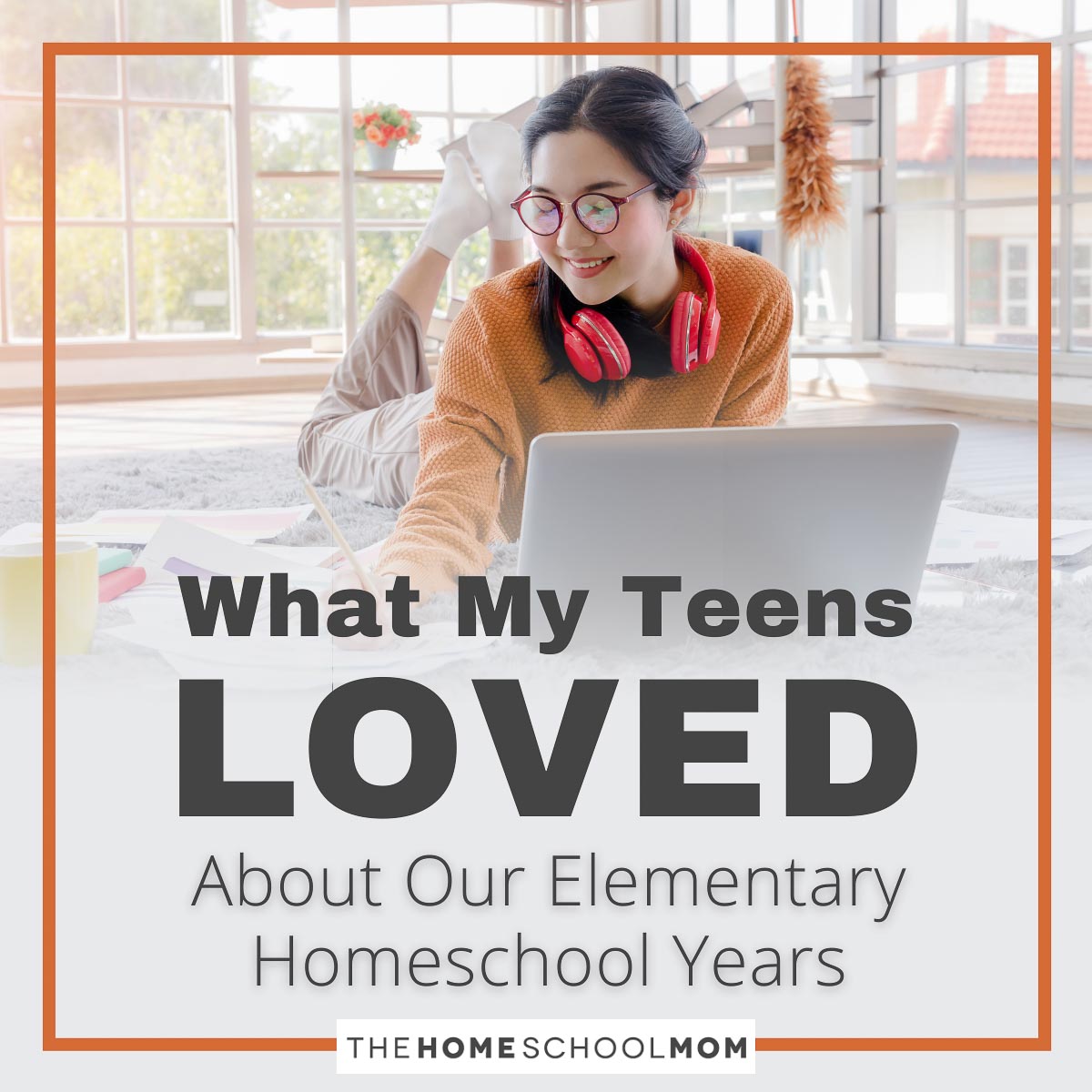 When we first started homeschooling, people asked me if we'd homeschool until they got to middle school then send them to public school.
Once we decided to homeschool middle school, the next question was would we homeschool all the way through high school.
I always said we'd take year to year and it would depend on the kid. And here we are on the verge of the last chapters of our homeschooling journal.  To read these words in black and white, makes this mama's heart feel a bit happy-sad-incredulous-what-in-the-world-ish.
Now, were all of our homeschool days these last ten years filled with Instagram-worthy shares and fantastic projects and the best curricula and memorizing things? No, not even a little. If I'm being honest, most days were pretty ho-hum and some seasons we were literally just getting by with meals, Lego building, and lots of television.
So, what do my three kids remember about their early years of homeschooling? I recently chatted with them and was pleasantly surprised to get some good feedback and not too many grumbles.
Highlights of Our Elementary Years Homeschool
Attending park days: When we first considered homeschooling, I found a few groups that met at local parks. Of course, my husband needed to know about socialization, so I happily shuttled our brood to these park days and witnessed scores of kids playing. Once we became official homeschoolers, park days became a staple in our schedule. The kids got to visit tons of local parks and meet up with friends and I got to have adult conversations. Win-win!
Visiting the library:  Oh how we loved our local libraries! We were fortunate to have wonderful librarians, programs, space for homeschool meet-ups, and so many wonderful books and other resources. At one point, we lived a mile from a library and visited three to four times a week. My children befriended all the librarians and before we moved away, we brought them all flowers. They were such a crucial part of our homeschool. My kids loved picking out all their own books, entering contests, playing Minecraft, and more.
Using Five In a Row unit studies:  I was fortunate to have a sister-in-law who had been homeschooling for years prior to us starting. She told me about the Five In A Row program and, as a huge children's literature lover, I was intrigued. I borrowed the guides from her, purchased the children's books, printed out some unit studies, and we dove in. The kids learned so much! We made lapbooks, read fantastic books, made recipes, created sensory bins, listened to the books, and more. My kids still talk about our Five In A Row Days. They had just enough structure and plenty of time to explore.
Studying U.S. and world geography: We spent quite a bit of time learning U.S. and world geography during elementary school. All of my kids were interested in this subject which was helpful for planning purposes. Between games, videos, audiobooks, songs, books, map skills, crafts, and recipes, they absorbed so much! They still talk about eating sushi on the floor when we were studying Japan or the world cakes we made, and the U.S. maps they loved to fill out over and over again. I treasure these times.
Playing LOTS of games:  We used board and card games every day in our elementary homeschool. We had a variety of games that could be played with a parent, alone, with siblings/friends, etc. Games covered math, geography, language arts, science, and more. My kids even loved designing and making up their own games. I kept our games accessible so they could always grab one to play. Games were especially useful if I had to work one-on-one with one child, the other two could play a game together. Some days when kids (or mom) needed a break, we could simply play a few games and eat snacks and call it day.
Watching educational television programs:  Educational programs were a huge part of our learning. We peppered PBS shows throughout our days and I am pretty sure my daughter taught herself how to read with the assistance of the show Word World. No shame! Our library had a vast array of educational DVDs as well and we often added them to our studies and watched them while having picnic lunches on the floor.
Listening to audiobooks:  Back before my kids had Alexa and iPhones, we had CD players in their rooms and the car. Bedtime usually meant audiobook time and quiet play in their rooms until they fell asleep. My kids would listen to The Magic Treehouse books, A to Z Mysteries, American Girl stories, and more. Not matter if we were driving around town or taking a longer trip, I would pop in an audiobook so that I could drive in peace and they could be listening. This often meant listening to books over and over again, but I didn't mind and I loved how involved my kids would get into the story.
Going on field trips:  Like most homeschoolers, field trips were a vital part of our lives. Whether they were visits to the local fire station or post office, local children's museums, or fun times at the zoo, field trips provided us with hands-on learning, community connection, and wonderful memories. My kids still talk about visiting a Richmond, VA-area Civil War museum, the koalas at the San Diego Zoo, and even a bumpy van ride through the local trash dump and recycling facility.
Not surprisingly, my kids didn't say they remembered tests (we did very few of those), worksheets, the organized homeschool supplies, or the way I decorated the bathroom with learning posters (true story).
One thing I didn't mention above, is that we left hours a day for open-ended playtime. Inside and outside playtime. Playtime with friends, siblings, or alone. My kids played all the time! I have fond memories of all their antics, creativity, and imaginations!
If you're in the thick of homeschooling with littles, you're doing amazing and you're doing enough. Your kids are doing enough too. I promise.
Pretty soon they will be taller than you, eating more than you, and finally sleeping in and having deep conversations about politics, their favorite music, and their future plans.
If you need me, I'll be in the corner with my hot tea and my memories.