Why are Mom and the kids sitting in the car out in the driveway? They're listening to an audiobook together, waiting for the end of the chapter.

Jump to: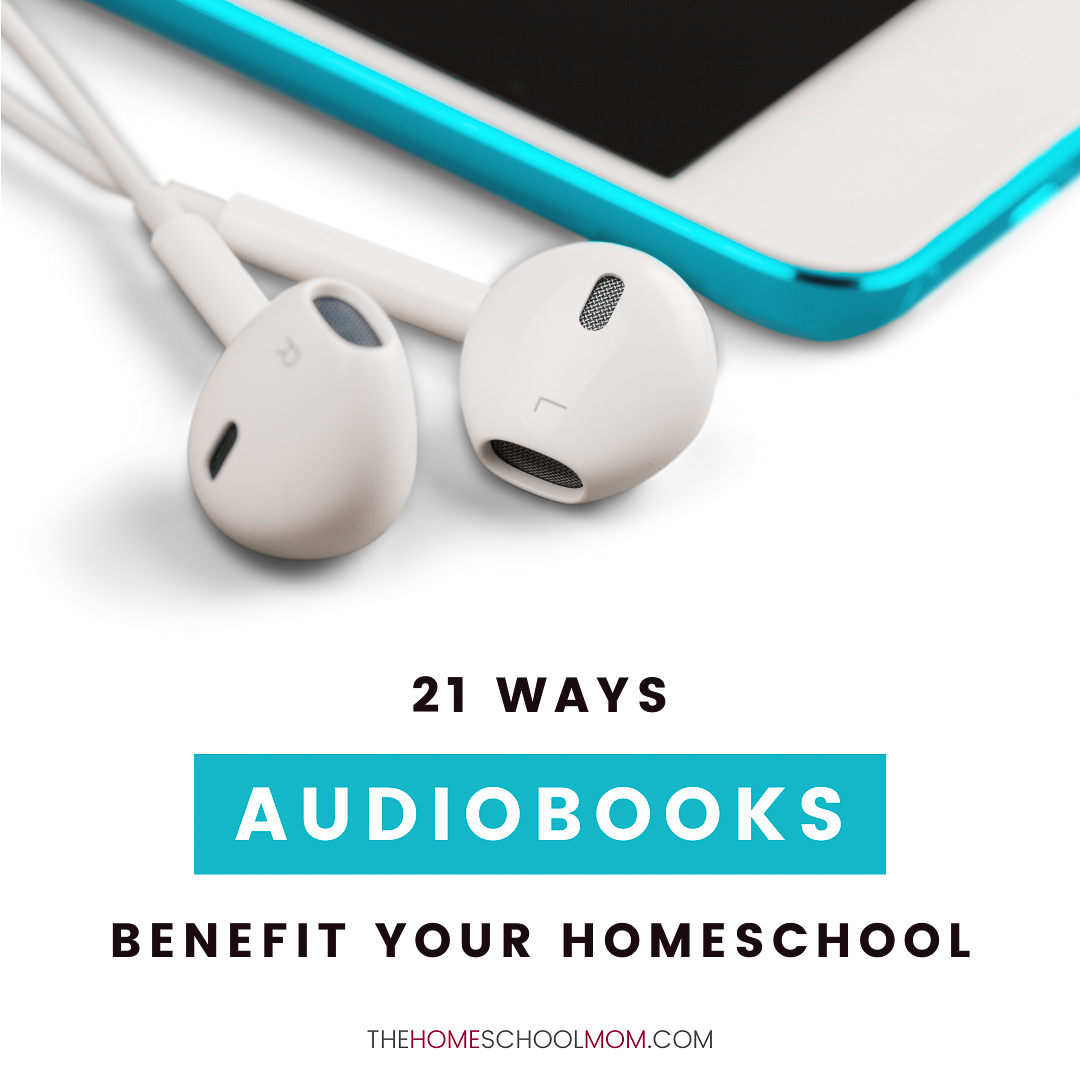 Benefits of audiobooks
Homeschooling parents embrace the benefits of audiobooks because audiobooks:
Create a shared listening experience, with adults and kids on "the same page," like watching a movie together
Stimulate inquiry-based learning and discussion
Provide content during a skills lag
Give parents' vocal cords a rest from hours of read-alouds
Stimulate the same part of the brain as reading
Expose kids to more advanced vocabulary, sentence structure, story, and content than what they can read
Help kids develop comprehension
Let kids wiggle, play, make art, or move while listening to a good book
Entertain the whole family during long trips
Help with time crunches—for example, helping teens multi-task while they work or exercise
Encourage reluctant readers to find authors and books they like
Help non-readers and beginning readers be "in on" the popular books friends are reading
Contribute to a family culture of reading and appreciating books
Provide a "fluency-assist" to kids who listen while reading the text at the same time
Keep kids up with their books for book club and group activities
Give kids something to do during deschooling, while transitioning to homeschooling from school
Introduce or expand your kids' use of libraries
Compensate for and accommodate learning differences such as dyslexia
Ease family-based learning and unit studies with kids of different ages
Exposes kids to a new aspect of vocal performance—they'll soon have their favorite narrators!
Involve both kids and parents in the story—we want to know what happens next!
Are audiobooks "cheating"?
Some homeschool parents have asked if using audiobooks is "cheating." Nope! Using audiobooks is not cheating. Listening to great books engages the brain in much the same way that reading does.
Should kids still learn to read? Of course! And audiobooks have a role in encouraging reading and building some of the skills needed for reading. We don't have to choose listening to books or reading books; we can choose both/and!
Where can I find free audiobooks?
Homeschoolers have learned the best ways to homeschool with free audiobooks as well as purchasing them. Check out our list of 9 sources for free audiobooks, or get a free trial of Audible with our affiliate link.
How engaging are audiobooks?
One hot July, our family drove a thousand miles in two vehicles to move cross-country to Mississippi. My husband was driving the air-conditioned truck, but I was driving the old minivan, and my AC broke. All our kids elected to stay in the hot van as we pressed on: I had the next-in-the-series just-released Harry Potter audiobook.
While the kids' choice was a testament to the power of J.K. Rowling's work, it is also evidence of the effect of audiobooks. We sweated and listened together, windows rolled down, transported by the Hogwarts Express to our next adventure, facing the unknown together.