My oldest child started high school at home this year.  He's a very non-traditional learner, which can present a challenge when mom is the opposite.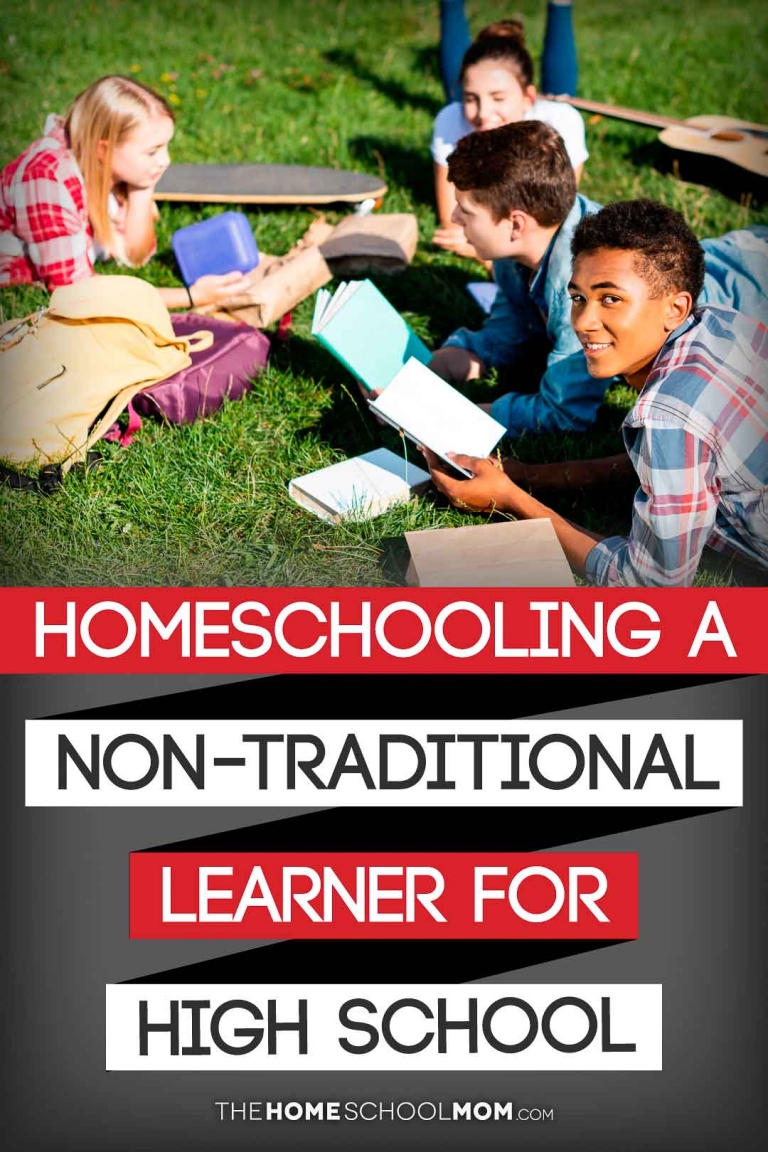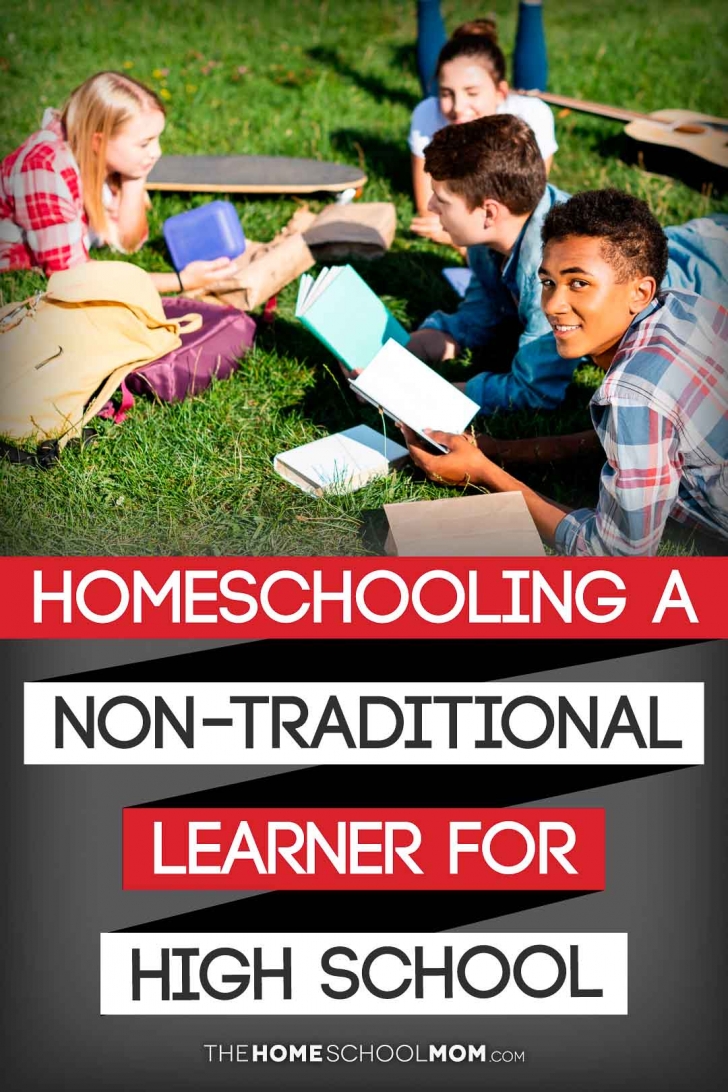 And while he looks very much like me, we are polar opposites. He's several inches taller than me, has opinions about everything in the world (a good quality, I keep telling myself) and is extroverted x 1000.
Me? I was a textbook (pun intended) traditional school- lover.
Book reports? Yes, please.
Trifold projects for presentation day? Can I make two?
Read all the books in the world? Sign me up!
Math and Science night for extra tutoring so I will be uber-prepared? Yup. I am here for it.
My son was nearly five when we started officially homeschooling.  I was a bit naive at first thinking he would want to sit down for three hours to do reading, writing, and arithmetic. That lasted maybe half a day. Or perhaps it was a half-an-hour.
He learned to do basic spelling by bouncing on a ball across the floor. I would hide number flashcards around the house and he would run and find them and tell me the number. We practiced letting writing with his finger and sand or making letters out of modeling clay.
We read BOB books, watched Word World and free play was welcomed and encouraged. His brother and sister (twins that are 22 months younger) rounded out our little homeschool. We were content with our hands-on manipulatives, read-alouds, messy crafts, sweet lapbook projects and lots of outside play.
Did I mention my son just turned 14?
I never intended to homeschool and I really couldn't imagine homeschooling high school.
But here we are. And can I tell you a secret? I'm kind of excited about it and I am not freaking out as much as I thought I would be. At least not yet.
How We Are Preparing a High School Plan That Works for a Non-Traditional Learner
We've been homeschooling for a while now and my thoughts and ideas about home education have changed and blossomed over time. We are not tied to a particular homeschool philosophy.
We have been through some very challenging times as a family where homeschooling looked very much like movies, Lego play, and audiobooks.  We started off doing morning time and group work and studying as many subjects together as we could.
I've written about how middle school homeschooling turned our days in a different direction. This has helped me relax into a more interest-led, relaxed idea for high school. I've also been a student of my child for his entire life.
We talked about him going to Classical education program three days a week or even a University Model school. He took a few looks at the programs and immediately said no. And that was fine with me.
While I do have his first year planned out, I haven't done a sweeping four-year plan yet. I am working my way through "Homeschooling High School By Design" by Heather Woodie of Blog, She Wrote. What piqued my interest is her out-of-the-box approach to homeschooling out-of-the-box teens.  She has modules on creating a schedule and a four-year plan, making time for interests, creating electives, teaching gifted teens, and more.
If you're homeschooling high school and are looking for resources that celebrate interest-led learning, I recommend Blake Boles' podcast and his books.  Also, unschooling books and podcasts might be something to explore as well—even if you've never considered yourself an unschooler.
Renee Tougas' "Freedom Education" course is also a fantastic resource (not just for high school, but homeschooling in general). She is an experienced homeschool parent who has walked the path and has vital insight and guidance. I took this course this past winter and it really helped me craft a vision as we move into this next phase of homeschooling.
Since this is high school, we will be tracking all of these classes and activities for his homeschool high school transcript. Depending on how his courses come together, we can decide to create a transcript grouped by grade or by subject area, whichever will make the most of his high school experiences. This flexibility makes planning high school courses for non-traditional learners much easier.
Are you homeschooling high school? Drop me a comment below and let me know what it looks like for you and your family!