Reading has always been one of my favorite things to do, but it can be a struggle to find new books that kids will enjoy. Series are great because kids love getting to know a character and seeing them develop over time. I remember curling up with On the Banks of Plum Creek by Laura Ingalls Wilder many times during my childhood—I desperately wanted to live in a dugout house on the actual banks of Plum Creek. Beverly Cleary's Ramona series was also one of my favorites, although I was probably more like Beezus. There was something about Ramona that I just loved. I also admit that in the mid-1980s, Sweet Valley High books were my light and fun reading of choice.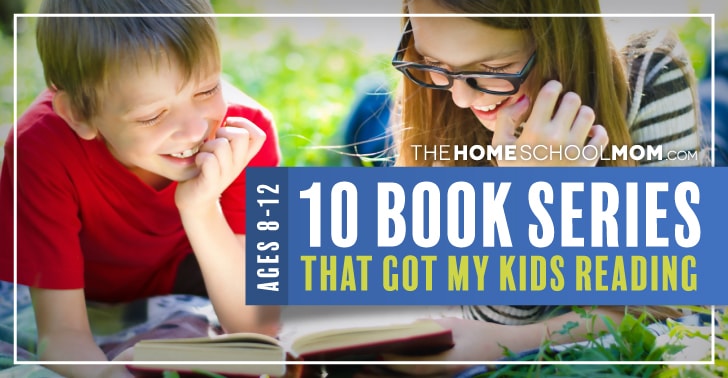 When my husband and I had children, books and reading were naturally part of our day and our routines.  When we started homeschooling, I would snuggle up on the couch with the kids or I would sit at the kitchen table and read while they snacked or worked on projects. Some days were easier than others and some books were enjoyed more than others.
When I had a captured audience, I took advantage—audiobooks were a must for rest time, bedtime, and driving in the car. On days when I was just too tired to read, or perhaps we had a day filled with outings and errands, out came the audiobooks. We were fortunate to have a wonderful county library with a wide assortment of children's audiobooks and a fantastic check out policy. I would max out my library card nearly every visit. I am pretty sure that's in my "Homeschooling Mom" contract somewhere.
Since my kids are very close in age (22 months between my oldest and our set of twins), I tried to find a book series that everyone could enjoy. My kids also did a great job of finding a series that suited their own interests.
10 Book Series that Got My Kids Reading
I polled my kids and we came up with our top 10 favorite book series.  As with most things, I encourage you to do your research. While our family enjoyed these starting around age 8, every family will need to decide what's appropriate for them. The books are not listed in any particular order. I have personally read or listened to at least one or more book in each series.
Diary of a Wimpy Kid by Jeff Kinney: I remember initially turning my nose up at the Diary of a Wimpy Kid books.  My oldest, 8 years old at the time, found one in the library and devoured the book in two nights, giggling up a storm. He quickly read through all the Wimpy kid books he could find. I finally put one of the audiobooks on during a long car trip. I found myself laughing out loud and relating to the mom, Susan Heffley. Oh, how I loved her. We've watched all the movies too and my kids have enjoyed working through The Wimpy Kid Do-It-Yourself books. In fact, all three have gone through the same journals two times each (thank you, Costco!). This series also sparked an interest in the author, Jeff Kinney, drawing and cartooning (both of my boys) and we even enjoyed a Mad Libs version of Diary of a Wimpy Kid. I highly recommend the audiobook versions. The narrator, Ramon De Ocampo, has the perfect voice and delivery.
Treasure Hunters by James Patterson: We came across these books back in the fall of 2015 and instantly became fans. The main characters are four siblings who also happen to be Worldschoolers. There is also a set of boy and girl twins and our boy and girl twins could absolutely relate to their relationship. The books follow the siblings on adventures all over the world. The stories are peppered with geography, history, and hijinks. There are spies, stolen treasure, double agents, "twin tirades" and a big sister with a photographic memory. I highly recommend the audiobooks.  We have used a few titles for mini unit studies and the places mentioned in the books have sparked many Google searches as well.
Mr. Lemoncello's Library by Chris Grabenstein: If you love reading and books, you will love Mr. Lemoncello and his fantastic library. My book-loving son declared that he wanted to build his own library like the one in the story and live in it forever. Score! The series follows the main character, Kyle, and his group of friends, as they solve puzzles, compete in a library Olympics and learn the meaning of friendship and teamwork. There are dozens of allusions to various children's literature titles as well. Again, the audiobooks are wonderful and this series has something for everyone.
The Genius Files by Dan Gutman: Boy and girl twins, Coke and Pepsi (yes, those are their REAL names) set out on a cross-country trip that quickly goes haywire. From Booklist, "The precocious brother and sister uncover a secret government plot to use 'YAGs,' or Young American Geniuses, to solve the complex problems of the nation, and find that they are on the list." Their unsuspecting parents bring the kids to wacky places all across the USA, including the largest ball of twine, the Pez candy museum, and the Donner Party Memorial. We listened to all five books on audio and my kids went back and read them too. At the end of each chapter, there are Google coordinates and my kids loved following along with Coke and Pepsi and researching the fun places the characters visited.
American Girl historical fiction by various authors: To say my daughter is an American Girl fan is an understatement. We actually started with the American Girl books before she even had a doll. She enjoyed the audiobooks at nighttime because the stories were not too intense and because they featured female characters. When she started her doll collection, her book collection grew as well. She has read and listened to the books multiple times and has learned so much history! She created self-directed projects about the Great Depression and World War II, including designing and sewing clothes from those particular historical periods. Don't forget to check out the movies as well. They are a perfect compliment to the books and the dolls.
Captain Awesome by Stan Kirby: My younger son found this series himself and quickly became a fan of Captain Awesome. As the book's website states, "Eight-year-old Eugene McGillicudy is on a mission to protect the universe from a comical, quirky cast of 'bad guys' like Queen StinkyPants, Dr. Spinach, and Mister Drools. Luckily, his superhero alter-ego is none other than Captain Awesome!" This was the first series that hooked him into reading longer books and also encouraged him to start drawing his own comics.
Spy School by Stuart Gibbs: While we enjoy other series by Stuart Gibbs, the Spy School books are my boys' favorite by far. Both of my sons love mystery, intrigue, and, spies! This series follows Ben, a middle school age boy, and his adventures in the C.I.A.'s top secret Academy of Espionage. My boys have read these books and have gone back and done the audiobooks as well. For me, that is a sign of a great book. They recently learned that a movie is in production and they can't wait to compare it to the books!
Theodore Boone by John Grisham: The main character, Theodore Boone, checked off all the boxes for my oldest son: spunky, amazing detective skills, and a kid lawyer. When my oldest turned 10, he started losing interest in reading and I was doing the homeschooling mom thing of worrying that he would never pick up a book again. He came across this series and grabbed the books and corresponding audiobooks and was hooked. He loved the adventures and the fact this kid was doing "grown-up" work. You might want to preview the books if your kids are extra sensitive and there are few instances of mild language.
Origami Yoda by Tom Angleberger: While all of my kids enjoyed these books, it was my boy twin who went all in with the series. He became obsessed with origami! We bought lots of origami paper, watched lots of YouTube videos and he even joined the author's interactive website and shared his creations with other fans of the book. If your kid loves Star Wars and is looking for a funny, middle-grade series, this series might be the ticket.
Masterminds by Gordon Korman: My oldest has read this series and listened to the audiobooks multiple times over the past few years. He's a huge Gordon Korman fan, but Masterminds is his favorite series by the author. The series is centered around four kids who discover a secret about their ideal hometown, the people who run the town, and their parents. The books take readers on cross-country adventures and are filled with action and mystery.




On that note, I am off to order the brand new Spy School book. I hope this list will spark some ideas for you and your kids. Summer is around the corner and is a perfect time to dive into a new book and explore.