Games to Add Fun and Learning to Your Teens' & Tweens' Homeschool Days
One thing I love about home educating is the variety. We can use a wide array of resources and materials to bring some FUN into our days and to also help us those days when things are going off course.  Sometimes my kids have short attention spans (and I do too if I'm being honest). Some days, reading or writing is just not going to cut it. Some days, you've got a sick kid, a tired mama, and two other siblings bouncing off the walls but you know everyone could use some together time and fun.
Enter: GAMES!
Games have been a staple in our home(school) ever since my oldest received Candy Land at age three. While our stash of games has changed over the years, our love of playing games continues to flourish. We are a competitive family and while that can make for some intense game sessions, playing games is usually a great reset for us.
I've compiled a list of classic, educational, and online games/apps that we're enjoying with a house full of teens and tweens.  Don't forget to add snacks!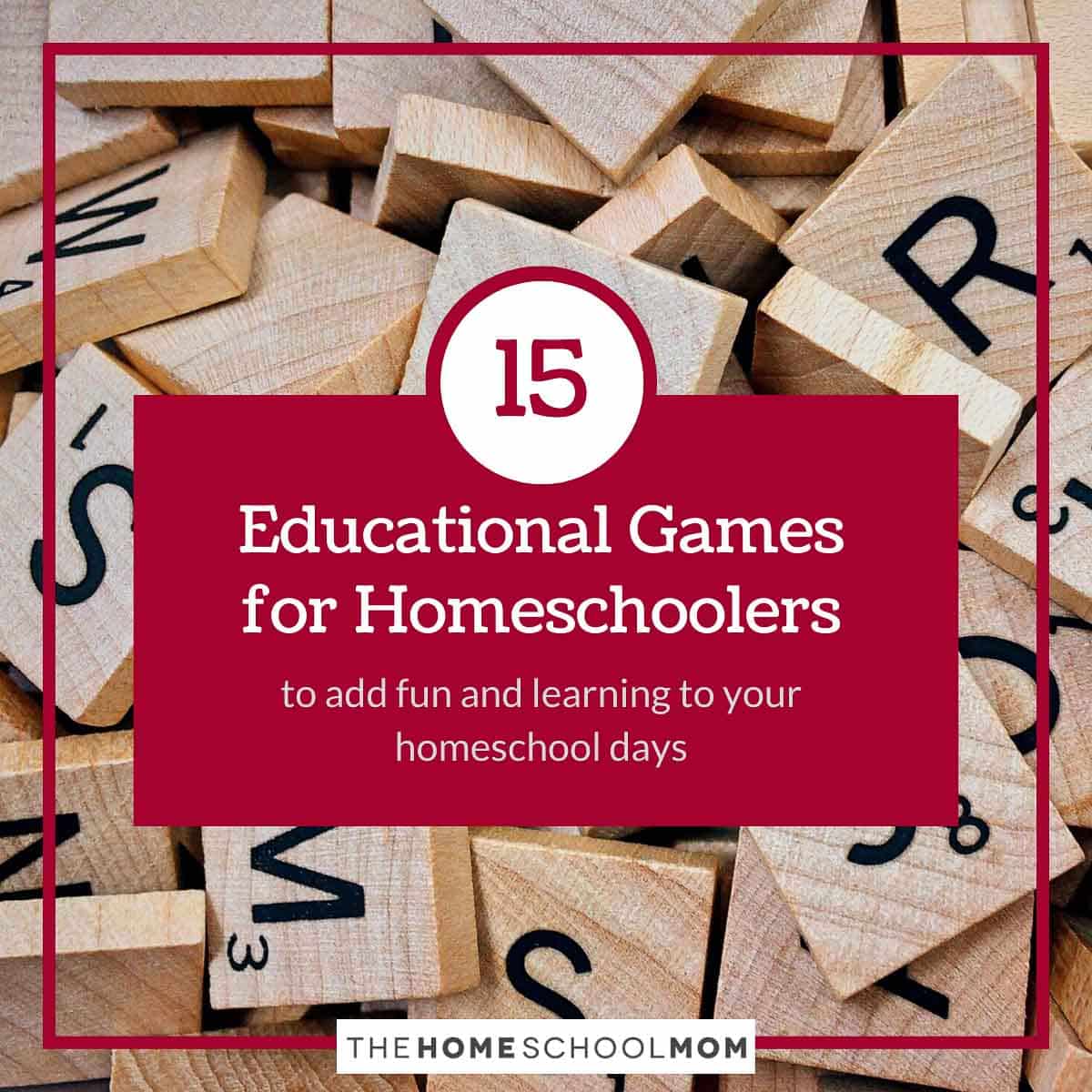 Classic Games
I love classic games because they stand the test of time and because I already know how to play most of them. In fact, our Scrabble game was my mom's. These are are the games we go back to again and again--sometimes putting our own spin on them!
Scrabble: I love playing Scrabble with older kids. Sometimes, I'll hand them each a dictionary to use and it really adds to the game. We often have fun creating made-up words too. Yes, even this rules-follower sometimes breaks the rules. And it's fun! I love seeing how much their vocabulary changes and grows every time we play.
Skills: spelling, vocabulary
Yahtzee: I admit—this game is loud. And my one kid (who shall remain nameless) REALLY loves to shake the dice 184 times before he rolls them. I love the sneaky math, the patterns, and that it can be played with two of us or the whole family. We use a travel version that is perfect for taking to coffee shops or on trips.
Skills: math, recognizing patterns

The Game of Life: This is the game that all three of my kids will play together most often. I enjoy it too—and it's so much easier than Monopoly! My kids love choosing different careers, pets, houses, etc. We've had some great discussions about making choices, various jobs, having no kids versus having a family and more!
Skills: life skills, decision-making

Scattergories: I love words and so does my daughter. She was introduced to this game at her cousin's house and was hooked! This classic game is great for building vocabulary and practicing spelling and my kids LOVE the competition. I love beating my kids in this game. I'm not afraid to admit it.
Skills: spelling, vocabulary
Simon: I remember receiving "Pocket Simon" for Christmas in the mid-1980s. I played it over and over again until I beat the final level. We have the classic full-size version and it gets lots of play. I personally love that it can be used for one kid or in a group. The concentration and remembering the patterns—yes, please! The sounds and buzzes take me back to my childhood.
Skills: memory, concentration

Battleship: Who remembers the commercials from the 1980s that said, "You sunk my battleship!"? This is a great game for strategy and patterns. My kids discovered it at their grandma's house and we recently added the game to our own collection.
Skills: strategy

Rubik's Cube: Sometimes, siblings need games they can play alone. In their room. Away from other people. Just saying. All of my kids have their own cubes and they love trying to solve them. They've researched the origin of the puzzle and have watched tons of YouTube videos of people solving the puzzles in record time!
Skills: patience, memorization, spatial reasoning

Educational Games
I get it. Most games can be educational. However, the games in my list below are ones we typically use during our homeschool time. These four games are our favorites!
Online Games/Apps
As much fun as traditional board and card games are, we live in the 21st century and technology is part of our daily lives. I love how apps can help us take learning on the road--we spend lots of time in the car!
JeopardyLabs: We are big Jeopardy fans. My oldest son stumbled across this site when I suggested he make a Jeopardy-like game for a homeschool geography project. We've used this site again and again for a variety of group projects and just for fun (it's free too)! You can build your own game or play already-created ones. Kids have to practice their typing, writing, spelling and making sure their facts are correct.
Skills: fact-building for a variety of topics

Wheel of Fortune app: Yes, my kids love Wheel of Fortune. They also find it amazing that Pat and Vanna have been around since I was in elementary school—this astounds them. I see this app as a high-tech version of Hangman. My kids practice solving the puzzle, typing, spelling, and vocabulary. It's free too!
Skills: spelling, vocabulary, typing, logic

Jeopardy app: We use this app all the time when we're driving around in the car. Some days, I really cannot handle listening to my kids' pop music and they really cannot handle listening to my "old people's" music. Enter: the Jeopardy app! The kids quiz me while I drive or they play against each other. I naturally have rocked the 1980s music categories. Just saying.
Skills: fact-building for a variety of topics
Wordscapes app: I think I might love this app more than my kids. It is really great for spelling and vocabulary! One of my kids isn't the best speller and this game, along with some help from mom, has helped him feel more confident. Don't knock apps! There's definitely a time and place for them—and are usually free.
Skills: spelling, vocabulary, 
I always check out our local homeschool store for great prices on games. Don't forget to check Facebook buy/sell pages, your local homeschool groups, and thrift stores too. Games are a great gift idea too! What are your favorite games for older kids and teens? Let us know!