Geography knowledge can sometimes sound like answers to trivia questions:
What's the capital of our state?
What countries border the Mediterranean Sea?
What's the difference between an island and an isthmus?
Far from trivia, learning about our locality, our state, our country, our continent, and our world is an important part of our kids' education.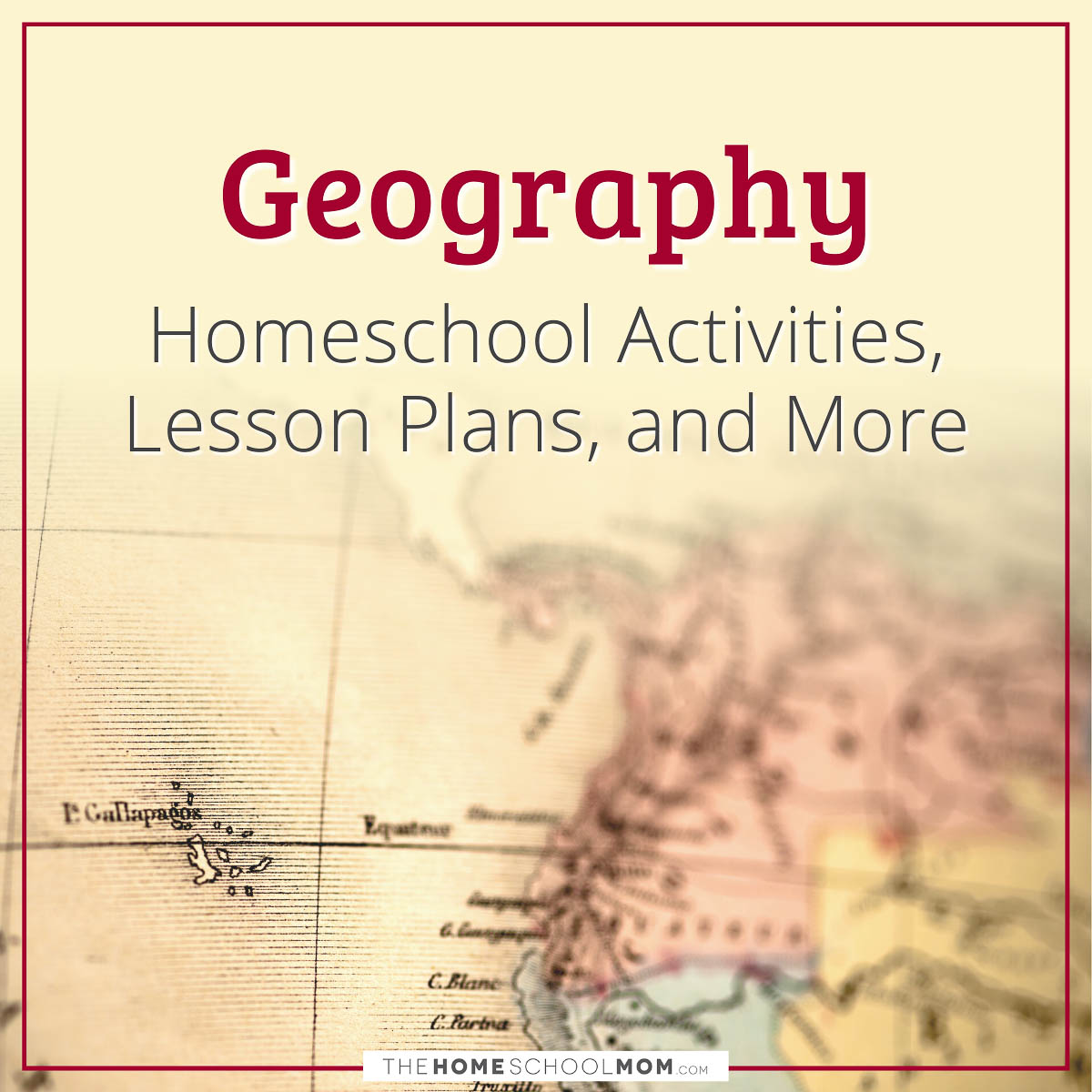 Jump to:
Real World Geography
A study of geography provides foundational knowledge about where we live and beyond.
We want our homeschooled kids and teens to be able to:
Read maps
Locate places
Recognize landforms and landmarks
Understand regional cultures and customs
Comprehend how oceans, rivers, lakes and mountains impact places and people
Plan travel
Understand immigration, trade, and transportation routes
Identify the settings for historical and current events
Eventually, we want our teens to have a good grasp on the "geo" part of "geopolitics."
We've gathered mountains of resources for you to use as your kids learn geography—videos, websites, games, quizzes, maps, lesson plans, puzzles, articles, flash cards, work sheets, curriculum and more.
Our geography resources will help your kids learn:
Map skills
Places and regions
Landforms
Patterns of migration, trade, travel, and culture
Let us help you stoke your kids' curiosity about people and places—at home and around the world!
Geography Websites, Lesson Plans, and More
Age Range Key
Y—Young (PreK-3rd)
M—Middle (4th-6th)
O—Older (7th-12th)
T—Teacher Resources
Seterra World Map Quizzes and Games
Seterra geography games and quizzes can be played online or via mobile app on Apple or Android. They offer more than 400 free games, covering US states and capitals, world countries and cities, flags, rivers, mountains, regions, and more.
GeoInquiries Map-Based Activities  (Y,M,O,T)
ESRI, the creator of the popular online mapping software ArcGIS, has a large collection of inquiry-led, map-based activities that cover a range of subjects, including mapping in literature, earth science, human geography, mathematics, history, and more. Each activity is accompanied by custom, interactive maps.
Geoguessr World Geography Games  (Y,M,O,T)
Geoguessr is an interactive online game that can be played with friends or on your own. Geoguessr teaches players about the world, its people, and places by dropping them somewhere in street view. Players explore and use context clues to determine where in the world they are.
StoryMap Custom Map Builder  (M,O,T)
Learn about maps by creating your own in StoryMap! In addition to creating your own maps, you can find interesting examples in their online gallery of maps, which cover topics like "How the Islamic State is Carving Out a New Country," "The Southern Literacy Trail," "Game of Throne: Arya's Journey," and more.
Google Earth (Y,M,O,T)
Want to know more about a specific location? Dive right in -- Google Earth combines satellite imagery, maps and the power of Google Search to put the world's geographic information at your fingertips.
Google Earth Voyages  (Y,M,O,T)
Google Earth Voyages are guided tours of various areas of the earth or certain topics using Google Earth. Some of the Voyages you can find are National Parks, Urban Development, Changing Forests, Archeological Sites, Architecture, Lakes of the World, World Ecosystems, the Underground Railroad, and more. There are also several games and quizzes, such as "Where on Google Earth is Carmen Sandiego?"
NASA Earth Observations Maps  (M,O,T)
NASA produces hundreds of digital maps to track and measure data on earth. You can explore the planet by Atmospheric, Energy, Land, Life, and Water measurements. Many maps provide both historical and live data.
Little Passports Free Country-Themed Printables (Y,M)
These free companion pages to the Little Passports subscription boxes contain photos, fun-facts, foreign phrases, and activities.
Arizona Geographic Alliance Resources  (T)
The Arizona Geographic Alliance website features a wide selection of classroom-ready maps free for download, as well as over 300 lessons and hundreds of map masters to assist in teaching geography. The Alliance is funded by the National Geographic Education Foundation (NGEF) and Arizona State University School of Geographical Sciences and Urban Planning.
The World's Biomes  (Y,M,O,T)
Biomes are defined as "the world's major communities, classified according to the predominant vegetation and characterized by adaptations of organisms to that particular environment." This University of California Museum of Paleontology website provides information about the six major types of biomes: freshwater, marine, desert, forest, grassland, and tundra. Read about and see photos of each biome and learn about the conservation and preservation of biomes.
Read the USA: Passport to Regions  (Y,M,T)
Students create a passport to the United States. They earn passport stamps by connecting the geographic themes (location, place, human environment interaction, movement, and regions) to literature. Grades 4-5
Continents, Oceans, and Countries - Lizard Point Geography Quizzes (Y,M,O,T)
Test your geography knowledge of continents, countries, rivers, oceans, cities, and more with this extensive collection of online quizzes, printable maps, and other resources from Lizard Point.
Owl & Mouse Educational Software  (Y,M,O,T)
Free interactive maps, printable maps, geography quiz questions and map puzzles to learn United States and world geography. Help your kids gain a vital understanding of geography by using these resources to learn about continents, countries, states, capitals, borders, physical features and cultural monuments.
Adventures of Mo Geography Program (Y, M)
This engaging free online geography program is for early readers. They'll follow the adventures of a dog named Mo who lives in Alaska and travels to Florida, learning along the way! Includes a free children's eBook, a blog post about every state, trivia questions, teaching ideas, and videos for and by kids.
Action Quiz Geography  (Y,M,O,T)
Action Quiz offers kids the chance to play against pretend opponents as they test their knowledge about country locations, capital cities, flags, country shapes, borders, currencies and more. Lots of unique questions that may also have your kids consulting an atlas or globe.
Country Reports  (Y,M,O,T)
Learn anything you want to know about the world's countries on CountryReports.org. Each country report contains cultural, political, historical, geographical, and statistical country information, as well as hundreds of photos and videos.
Free Geography Worksheets  (Y)
A large collection of geography resources from TLS Books that contains printable worksheets, games, puzzles, maps, and activity pages for preschool through 5th grade.
World Atlas  (Y,M,O,T)
World atlas has flags of all countries, states and territories as well as a list of continents, countries, dependencies, islands, territories, lakes, rivers, seas, oceans, mountains, and the highest, lowest, biggest, smallest, tallest, deepest, oldest, youngest, richest, poorest places on the planet.
Homework Help  (Y,M,O,T)
National Geographic Kids provides research guides, resources, and an interactive map maker to help kids who are learning to write country reports, to check facts, and to understand maps and map symbols. They have information about animals, countries, U.S. states and territories, and geography-related book recommendations.
National Geographic Lesson Plans  (Y,M,O,T)
The lesson plans on this site were written by educators and have been tested in the classroom. Together, they address all of the U.S. National Geography Standards, the five geography skills, and the main geographic perspectives. Serving a variety of needs, the plans include a wide range of teaching strategies. The assessment component of each lesson focuses on the knowledge and skills that students will use to answer a guiding geographic question as they address real-world issues. K-12th Grade
Enchanted Learning Geography  (Y)
Dozens of maps, printable coloring pages, worksheets, activity pages, and other geography resources for elementary students.
Online maps  (Y,M,O,T)
Geology.com has a large collection of online maps of the US and world. Explore regions by political boundaries, roads and cities, elevation, landscape, rivers, and more.
Creative Geography Cards  (Y)
Add some creativity to geography class! Make decorated country flash cards that will familiarize your students with the culture of the country. Add important geography facts to the back and use for quizzing! Ages 8 and up.
Explore US National Parks  (Y,M,O)
Explore Yellowstone, the Grand Tetons, the Grand Canyon, and more by video. Learn all about the US National Parks on National Geographic.
National Park Service Educators page  (Y,M,O,T)
From the National Park Service, this is an online resource for educators wishing to utilize all that the NPS has to offer, even if they can't visit the parks in person. "Here you'll find curriculum, fun and games, a guide to park Junior Ranger programs and a host of other fun and educational media created by the National Park Service and our partners.
Mission Geography: Continents  (Y,M,O,T)
National Geographic's education resources about the world's continents.
Atlapedia  (Y,M,O,T)
Atlapedia Online contains full color physical and political maps as well as key facts and statistics on countries of the world.
National Geographic Maps Online  (Y,M,O,T)
National Geographic has hundreds of map resources online. You can find printable maps, interactive maps, and maps on niche topics such as energy use, light pollution, hurricane trackers, tectonic plates, and much much more. These are accompanied by lessons and activities for all ages.
Geography4Kids  (Y,M,O,T)
Geography4Kids extends the subject of geography by presenting the basics of earth science. The website covers earth energy, earth structure, the atmosphere, the hydrosphere, the biosphere, climates, and biogeochemical (BGC) cycles. Includes reading, links to outside sources, bolded vocabulary words, and videos.
More Geography Ideas