When I decided to tackle a blog post about our 7th grade plans, I had to pause and catch my breath. How are my twins already in 7th grade? Why are they taller than me? Will they notice if we do Five In A Row again for old time's sake?
Homeschooling for middle school has lost some of its worrisome stigmas. My oldest, a rising high schooler, completed middle school recently. Sometimes, his learning looked super structured, but often it looked more unschool-ish than I had anticipated.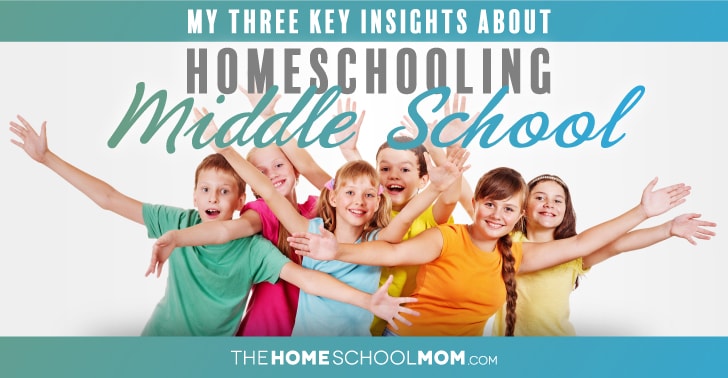 Having been down the middle school path already, here are my three key insights about homeschooling middle school:
Homeschooling middle school doesn't have to be all hardcore.  You don't have to push interests aside in favor of more "serious" subjects. Well, you can, if that's what works for your kid and your family. I have lots of friends who have taken a more structured or traditional approach once middle school hits. The great thing about home education is that you do what works for YOUR family!
We are not bound by the rules and regulations of traditional school (but do be sure to check your state's homeschool laws) and we have the flexibility to nurture their adolescent brains—which, let's face it—are changing rapidly.  Sleep is crucial, hormones abound (I am talking to you too, mom) and the amount of food consumed can be staggering.
Friends and social groups might take center-stage. A desire for more independent learning and outside classes might be something to consider as well.
The best thing? You can design your homeschool middle school to support your kid right where they are. Don't bypass this age and stage by just worrying or focusing on high school. I promise you, there will be plenty of time for that!
Are You an Educational Opportunity Provider?
I previously mentioned in a blog post that I see myself as an Educational Opportunity Provider.
Home education means that we're stepping outside of the typical school model and linking arms with our kids on the path of learning. Sure, there are times when you're doing most of the leading and the directing and the teaching. Kids grow up and their needs change and maybe your ideas on home education change and expand too. Work with your kids to support their interests and make sure they are touching on subject areas that you feel are important for a well-rounded education.
Home education means that we're stepping outside of the typical school model and linking arms with our kids on the path of learning."
I am not the gatekeeper of all the knowledge my kids will ever need to know. Who needs that kind of pressure? I didn't set out to homeschool so that I could be the be-all and end-all to my kids and their academic careers. Just thinking about that makes me want to hide in the closet with a bag of chocolate chips.
 A Look into My Planning Process
As I have mentioned here before, I am not super awesome at detailed planning. It is not my strong suit and it took me years to finally be okay with this and to know that I wasn't short-changing my kids or myself just because I am a Type B homeschooler.
However, I do appreciate a good planning printable and I find value in sitting down in the middle of summer to put some thoughts down on paper. By taking a look at our year (we school five weeks on, one week off ) and having a general idea of what everyone will be tackling, I can get a high-level picture of our year it makes feel centered.
Here's what I do:
Pull out my Plan Your Year program from Pam Barnhill. I invested in this a few years ago and it has been worth it. I love her printables, book, and flexibility of using what works for me and leaving the rest. I grab the forms I need, print them off, and get started. TheHomeSchoolMom also has a printable planner for newsletter subscribers.
Draft an overall vision, family homeschool goals, individual kid goals (I bring my kids into this process), and I drink copious amounts of iced tea and listen to my favorite music.  I eat chocolate. I use fun pens. I high-five myself.
Start blocking off our yearly schedule. As I mentioned, we school five weeks on and one week off.  Next, I circle holidays/vacations/trips that are scheduled. Lastly, I mark off classes, sports, volunteering days, etc.
Print out monthly schedules. I don't ever fill them out completely, but they look pretty!
Make a very loose daily/weekly plan. I hate being boxed in, friends! I use the plan-from-behind method. This means that I keep a daily log of what we actually do versus making a list of what we need to do. It is FREEING! I also might try a loop schedule this year. It sounds cool in theory and I do enjoy a good challenge. TheHomeSchoolMom's Unschooling Record Keeper (part of the printable planner) can help organize your daily logs.
A Look at Our Middle School Plan
The Details: Resources, Classes, and Interest-led Learning
 My twins learn in very different ways. Sometimes, I forget this and give them all the same things the same way at the same time because it makes it easier for me. They are pretty vocal (ahem) about how and what they want to learn and I am generally open to working out a balance that works for them and me.
Main focus: Instead of doing deep dives into every academic subject, we are only focusing on math, writing projects and grammar.
Everything else--all the other subjects--will be a combination of interest-led and via clubs and projects with our homeschool co-op.
Curious about what we're doing? Here's a sneak peek:
Math:  We are back to using Math U See. I love this program even if my kids aren't always thrilled with it.  We've tried three other programs and nothing sticks for us. They will be tackling Pre-Algebra and I will be calling their grandma (a veteran math teacher) for assistance on the regular.
Writing:  This year, we will explore a variety of writing projects with Write Like Crazy. Mary Jo is passionate about helping middle school kids love writing! You can sign up here for her FREE 4-day writing workshop here.
Grammar/Language Arts: We're building our own grammar books using the Everything You Need to Ace English Language Arts in One Big Fat Notebook here (affiliate link) We will go through the lessons, create personalized notebooks and drawings, and hone in on all the fun that is English grammar. There will most likely be cookies.
Geography/Science Club: Our co-op is hosting monthly homeschool geography and science clubs. We will explore various topics, do science experiments, try new foods, and enjoy learning with friends. At home, the twins can dig into the topics however they choose, whether it be via documentaries, online classes, living books, games, etc.
Holiday-themed Poetry Tea Time Club: I am hosting this club for the middle school girls in our co-op. My daughter loves holidays and to decorate. I do not. So, I will prep the poetry and activities and she will handle the decorations. We're using this open-and-go poetry program from Hide the Chocolate.  We will meet monthly at our home to celebrate, read poems, do a craft and enjoy yummy food. You can check it out here.
Boys' Middle School Book Club: A mom in our co-op is hosting this and I am excited for my son to read some great books (he is an avid reader) and make connections with friends. (Interested in starting a book club? Here's how we hosted a teen book club for my older son.)
Extra-Curricular Activities:
Travel basketball for our local homeschool team
Church group
Field trips with our homeschool group
Family trips/vacation
Volunteer opportunities
That's it! When I gave myself permission to not drill down into ALL the subjects, it was freeing. I know my kids and they are always exploring topics that are important to them. I can help them find the resources, answer questions, drive them places, and encourage them along the way.
Yes, I'll relish this role of Educational Opportunity Provider and know that the magic, the mayhem and the mostly awesomeness of middle school homeschooling is right here, right now.