Jump to: Homeschool Co-ops | Homeschooling Classes & Academic Enrichment
Looking for someone to teach physics to your teen? Need a way to avoid teaching algebra? Want to enroll your Kindergartener in a co-op for social time? Homeschool classes and co-ops are a great way to spend time with other homeschoolers and skill-share with other homeschool parents.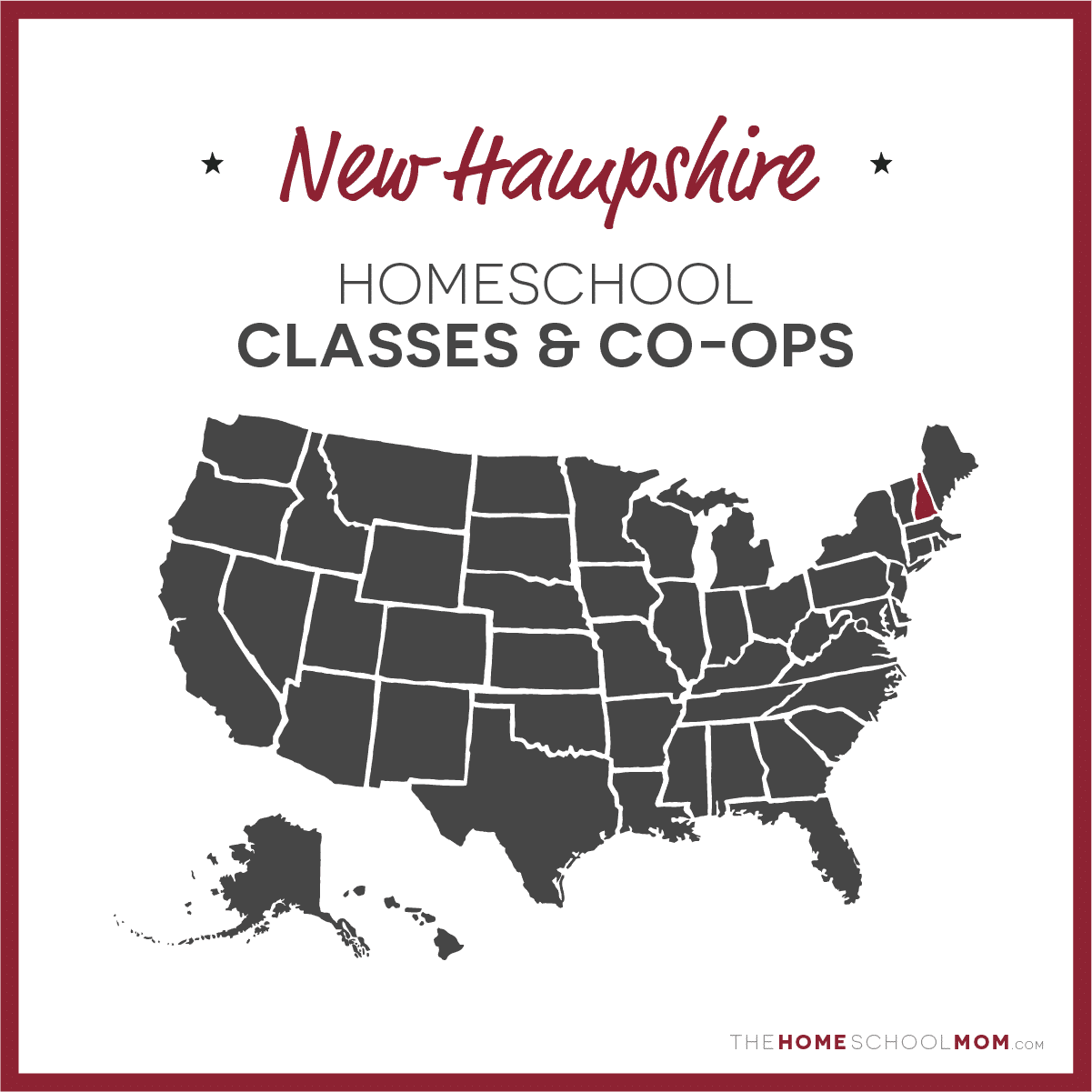 Submit a Local Resource
Our listing of New Hampshire co-ops and academic classes for homeschoolers is ordered alphabetically by city, with co-ops in the first section and all other academic resources below. If you would like to submit a New Hampshire co-op or academic resource, you may do so using the red button above.
New Hampshire Homeschooling Co-ops
Lighthouse Homeschool Co-opLoudon
Our Lady Seat of Wisdom Homeschool Co-OpNashua
We are a homeschool community supporting each other's call to educate our children within the tenets of our Catholic faith by offering a parent-run, family-supporting homeschool co-op in southern NH.
Gear Up HomeschoolersWarner - Kearsarge Area
Gear Up is a homeschooling enrichment community and co-operative in Warner. The aim is to inspire lifelong learning in a community that is supportive, safe and accepting where creativity and curiosity thrive. Co-op op...
New Hampshire Homeschooling Classes & Academic Enrichment
Mayflower TutoringBoston
Mayflower Tutoring is a reputable Plymouth, MA-based tutoring service. It proudly offers online and in-person tutoring sessions for elementary through high school students. Its founder, Matthew Rowe (Ed.M. Philosophy ...
KaiPod Learning in Manchester and Dover offer in-person learning centers designed specifically for homeschool learners (3rd – 12th grade). Each child is matched with a peer group of 8-10 learners that come together in...
James House Farm Educational ProgramHampton
The James House Historical Association of Hampton NH offers a free educational program aligned with NH state curriculum standards for middle and high school level students. Learn all about the history and importance o...
Beaver Brook Nature Center Homeschool ProgramHollis
Beaver Brook Association programs include inquiry based learning and are focused on hands-on activities with lots of sensory stimulating outdoor time for your students to explore and investigate freely using their own...
The Care FarmHollis
Youth Care Farming groups focus on learning about, caring for and spending time with the animals on the farm. Participants will enjoy the many benefits of nature, while learning and practicing healthy coping skills to...
AVA Gallery and Art CenterLebanon- Lakes and Upper Valley Regions
The AVA Gallery and Art Center offers many online and socially-distanced classes for children of all ages. Financial aid is available and the application is confidential, simple, and easy. Also, we are providing volun...
FAITH Fine Arts Integrated Through HistoryLitchfield
A Manchester, NH based fine arts program for homeschool students. At FAITH we strive to provide an excellent Christ-centered, fine arts exposure program. Here history is taught both as an individual subject, as well a...
Palace Theatre Matinee PerfomrancesManchester
The Palace Theatre in Manchester, NH presents school show matinees for select productions at 10:00 am and welcomes homeschooler. Check website for schedule dates and shows.
UNHM STEM Discovery LabManchester
Programs for youth in STEM fields at the University of New Hampshire Manchester STEM Discovery Lab. The UNH STEM Discovery Lab enriches the learning experiences of students in grades K-12 to further encourage them to ...
KaiPod Learning - ManchesterManchester
KaiPod Learning in Manchester and Dover offer in-person learning centers designed specifically for homeschool learners (3rd – 12th grade). Each child is matched with a peer group of 8-10 learners that come together in...
NH Next Step LearningMERRIMACK
Next Step Learning provides several services to assist the NH homeschooler family such as tutoring services, portfolio evaluations and consulting. Offering highly qualified, state certified teachers for tutoring. Inst...
New Hampshire Classical ConversationsNew Hampshire Statewide
CC is a national homeschooling program that uses a Bible based curriculum taught in a christian, classical tradition. Classes are geared for age 4 through high school.
Modern Woodmen of America Youth Education ProgramsNorthcentral Massachusetts, Southern New Hampshire
More than 1.3 million children participate in Modern Woodmen youth educational programs each year, gaining light-bulb moments of understanding through hands-on activities. Representatives donate these free programs to...
Tutoring with Ms. TuellPlaistow
Tutoring with Ms. Tuell - My name is Tiana Tuell and I have a passion for helping children understand literacy in the hopes that they find the confidence and drive to succeed. I specialize in providing multi-sensory r...
STEM programs at Sylvan learning CenterSalem, NH
What You'll Get With STEM at Sylvan of Salem *A ton of fun!: From coding video games to building robots, the hands-on STEM activities are a blast. (Best of all, the kids don't even realize they're learning.) *Teamwork...
Challenge Your ChildSeacoast
Tutoring in NH Seacoast Area - Challenge Your Child is a group of experienced educators who offer evaluation and tutoring services in all subject areas, provide study skills, and test preparation. Tutors with special ...
Go to...