Jump to: Homeschool Arts | Homeschool Sports
In addition to the opportunity to get out of the house and socialize, homeschool sports and arts programs can offer long-term benefits by developing characteristics like leadership, self-confidence, perserverance, and self-esteem. Many organizations and businesses have opportunities specifically for homeschoolers, while others invite homeschoolers to participate in their regular programs.
Not sure how to choose activity/activities for your children? Read how Rebecca narrows down the choice of extra-curricular activities.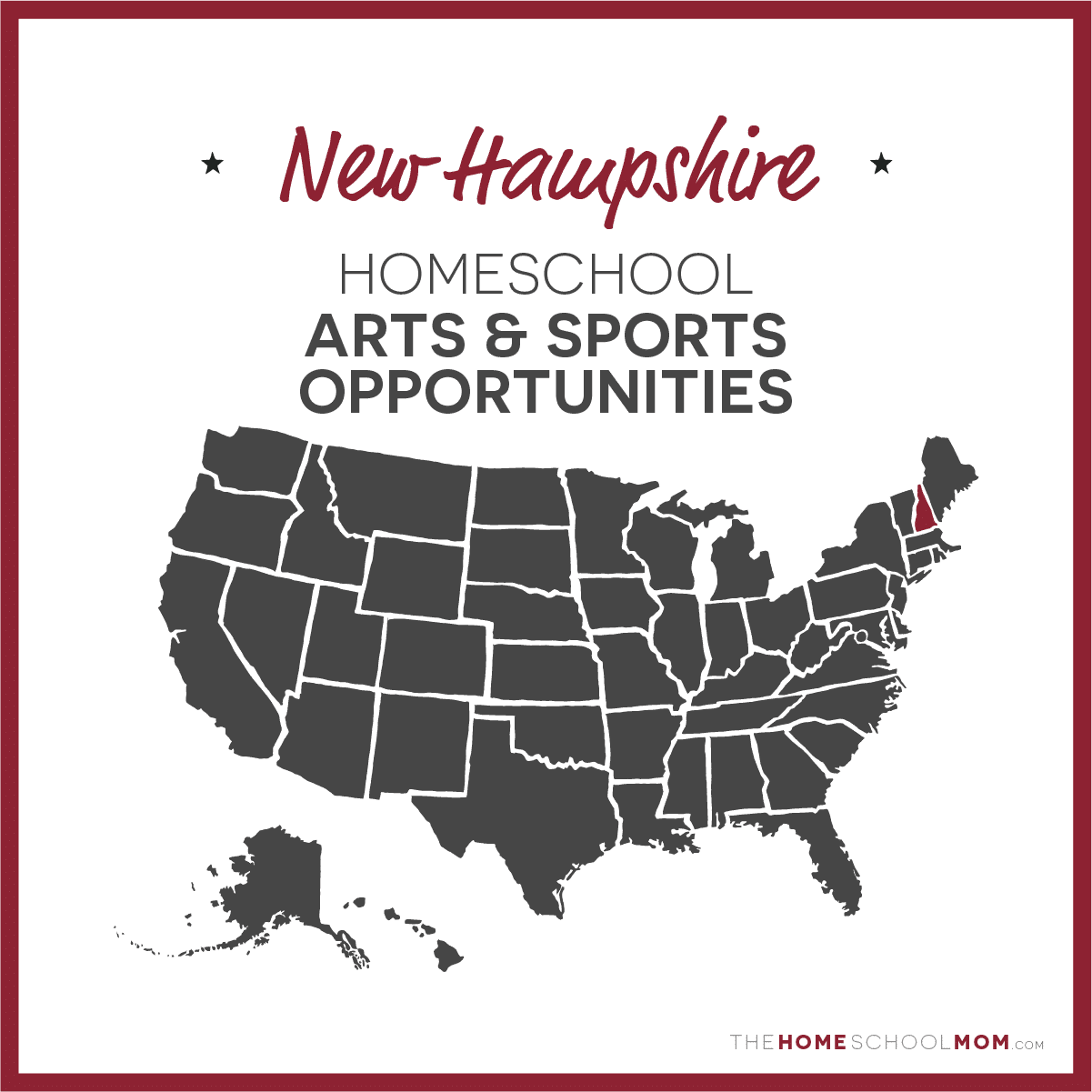 Submit a Local Resource
Our listing of New Hampshire list of homeschool arts and sports programs is ordered alphabetically by city, with arts in the first section and sports in the second section. If you would like to submit an New Hampshire arts or sports program, you may do so using the red button above.
New Hampshire Homeschool Arts Programs
Stained Glass MosaicsAmesbury
Enjoy the Magic of Glass while discovering Stained Glass Mosaics! Each student will have the opportunity to create a unique piece of art as they learn the ancient art of Stained Glass Mosaics. Project choices include ...
Student-Centered Music ProgramsAmherst, NH and surrounding towns
Susan Joy, your Music Teacher's Teacher, offers study of Violin, Cello, Piano, Voice, and Guitar, as well as Composition and Songwriting. This is an age-appropriate individual program designed to compliment and maximi...
Erin Dubois Music StudioBarrington/Rochester
Erin Dubois Music Studio in Barrington, NH is offering flute and piano lessons, chamber ensembles, and music classes for children aged 0-5. Learn how to play a musical instrument in a supportive environment geared tow...
In-Sight Photography ProjectBrattleboro, VT
The In-Sight Photography Project and its Exposures Cross-Cultural Youth Arts Program empower youth, through photography, to find their own creative voices and to communicate their unique personal visions. Classes in p...
Northeastern Ballet - Ballet for homeschoolersDover/Seacoast
Ballet for Homeschoolers is being offered for all ages at Northeastern Ballet Theatre's Dover studio in The McConnell Center. Northeastern Ballet Theatre is not a recital-driven or competition school. Students are tau...
Carol Whalen Art Studio ClassesHampton Falls
Ongoing youth and adult classes are offered in drawing, painting, and mixed media.
Music Lessons with Ian Taker-WalshHaverhill MA
Music Lessons! Instruments include Piano, Guitar, Bass, Banjo, Ukulele, Mandolin. Fields of study include Reading, Performance, Music Theory, Ear Training, Songwriting, Instrumental Composition, Arranging, Audio Engin...
The Music KitKeene
TheMusicKit, Lessons by Design, is offering lessons in piano, guitar, ukulele, fiddle and harmonica to students ages preschool – adult, in Nashua, Keene and online. Kit Bednar, founder of TheMusicKit, has created a un...
AVA Gallery and Art CenterLebanon- Lakes and Upper Valley Regions
The AVA Gallery and Art Center offers many online and socially-distanced classes for children of all ages. Financial aid is available and the application is confidential, simple, and easy. Also, we are providing volun...
FAITH Fine Arts Integrated Through HistoryLitchfield
A Manchester, NH based fine arts program for homeschool students. At FAITH we strive to provide an excellent Christ-centered, fine arts exposure program. Here history is taught both as an individual subject, as well a...
Music Lesson's All DayManchester
Music lesson Programs for home school students. Please register by calling us at (603) 836-7953
Manchester Community Music SchoolManchester
Established in 1983 as a not-for-profit organization, the Manchester Community Music School provides quality instruction and performance opportunities for students of all ages. In a teaching environment dedicated to e...
New Hampshire Homeschool Sports Programs
National Karate InstituteSalem
National Karate Institute offers day and evening martial art classes for homeschoolers. Students work a mind, body and emotion enhancement while also confirming core family values such as honesty a... [Read more...]
Go to...