Field trips are a great way to reboot a bad homeschooling week, get out of the house when everyone has cabin fever, and learn about your local area. Before heading out, check out Jeanne's tips for improving homeschool field trips.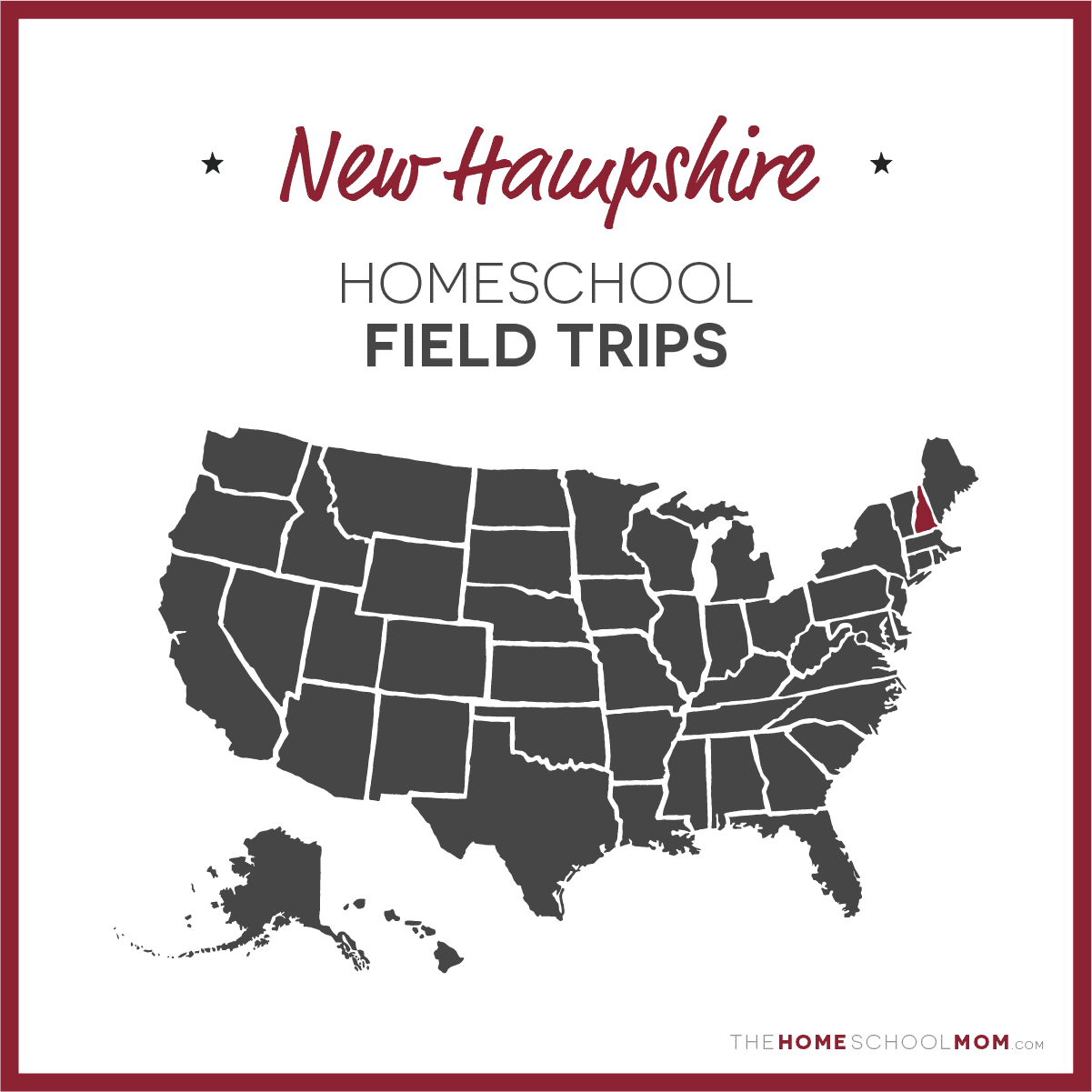 Submit a Field Trip Destination
Our listing of New Hampshire field trips for homeschoolers is ordered alphabetically by city. If you would like to submit a New Hampshire field trip destination, you may do so using the red button above.
An asterisk * after the title indicates that a virtual field trip is also available.
Bear Brook State Park

Allenstown

Bear Brook is the largest developed state park in New Hampshire. There is plenty to do and see for everyone. Hiking, biking, swimming and fishing are a few of the favorites. Canoe rentals are available Catamount Ponds. Fly-fishing enthusiasts will be pleased to know Archery Pond welcomes their speciality and is universally accessible. Across the road from Archery Pond is a special little pond just for children under twelve to fish. If archery is your sport you might already know that Bear Brook boasts two archery ranges. (Bring your own archery equipment.)
Appalachian National Scenic Trail

Appalachian Mountains

The People's Path and America's First National Scenic Trail. The Appalachian Trail (A.T.) is more than 2,175-mile long footpath stretching through 14 eastern states from Maine to Georgia. Conceived in 1921 and first completed in 1937, it traverses the wild, scenic, wooded, pastoral, and culturally significant lands of the Appalachian Mountains.
The Hannah Duston Memorial

Boscawen

The Hannah Duston Memorial, erected in 1874, is the first publically-funded statue in New Hampshire. Located on a small island at the confluence of the Contoocook and Merrimack rivers, the statue commemorates the escape of Hannah Duston, who was captured in 1697 in Haverhill, Massachusetts during the French and Indian War. A short walk from the parking area brings visitors to a pretty picnic spot on the shore of the river. This stretch of the Merrimack River is popular with canoeists.
Wellington State Park

Bristol

Wellington State Park boasts the largest freshwater swimming beach in the New Hampshire State Park system. Hiking trails and picnic areas along the shore afford views of one of the deepest and clearest lakes in the state. Two group picnic pavilions, available for reservation, are located just off the beach in the picnic areas. The park also maintains volleyball and horseshoe courts.
Umbagog Lake State Park

Cambridge

Umbagog Lake State Park offers a beach area for swimming, excellent fishing, wildlife viewing, and boating. Canoe, kayak, and rowboat rentals are offered, as well as transportation for remote site campers. A boat launch and fuel sales are available, as well as a park store. Wildlife viewing includes a variety of birds, deer, and moose.
Eisenhower Memorial Wayside Park

Carroll

This seven-acre memorial park, established in 1979 as a gift from the Bretton Woods Corporation, honors the late President Dwight D. Eisenhower. Views of the Presidential Range in the White Mountain National Forest are a short walk away.
Chesterfield Gorge Natural Area

Chesterfield

Chesterfield Gorge Natural Area spans 13 acres. It offers great opportunities for hiking, as you explore the footpaths along the gorge and enjoy the scenic views.
Beaver Brook Falls Wayside

Colebrook

Beaver Brook Falls Wayside is 7.3 acres in size and is a popular place for hiking. The Park has a scenic picnic area with picnic tables and small picnic shelters. A group use area is also available.
New Hampshire Historical Society Museum

Concord

The mission of the New Hampshire Historical Society's is to educate a diverse public about the significance of New Hampshire's past and its relationship to our lives today. In support of this mission, the Society collects, preserves, and interprets materials pertaining to New Hampshire history.
Echo Lake State Park

Conway

Echo Lake is a great place to take the family for a swim and picnic. Amenities offered at the park include a bathhouse and picnic tables. A scenic trail around the lake provides great views of sheer, 700-foot Cathedral Ledge which towers over the lake. A mile-long auto road and hiking trails lead to the top of Cathedral Ledge where views across the Saco River Valley to the White Mountains can be enjoyed. Both Cathedral and nearby White Horse ledges are popular rock and ice climbing walls.
Saint-Gaudens National Historic Site

Cornish

Augustus Saint-Gaudens was one of America's greatest sculptors. The website offers historical information about Augustus Saint-Gaudens for those who cannot visit in person.
Forest Lake State Park

Dalton

Forest Lake State Park, one of the ten original state parks, was created in 1935. The park spans 397 acres and its 200-foot sandy beach lies on the shore of Forest Lake. Popular activities in the park include swimming, picnicking, mountain biking, fishing, and boating. Amenities include picnic tables, flush toilets, and a group use area and playground.
Robert Frost Farm

Derry

The Robert Frost Farm was home to Robert Frost and his family from 1900-1911. Frost, one of the nation's most acclaimed poets whose writings are said to be the epitome of New England, attributed many of his poems to memories from the Derry years. The simple two-story white clapboard farmhouse is typical of New England in the 1880s. Tours, displays, a trail, and poetry readings are all available at the park. Programs are offered to the public at no charge.
Taylor Sawmill Historic Site

Derry

The 200-year old "Taylor Up and Down Sawmill" is open to the public for sawing demonstrations several times during the spring and summer, offering visitors a glimpse into the beginnings of New Hampshire's forest products industry.
Dixville Notch State Park

Dixville

Dixville Notch State Park spans 127 acres. Within the park is a scenic gorge and waterfalls on two mountain brooks. Hiking trails lead to Table Rock and nearby mountains. The park is also a great spot for picnicking.
Woodman Institute Museum

Dover

A classic "turn of the century" museum with collections displayed in antique cabinets within many unique rooms. Displays the largest collection of minerals north of Harvard University in Boston..shells, birds, mammals, indian artifacts, civil war to include a saddle used by President Lincoln to review his troops, local fire and police, early nautical equipment, musical instruments, antique dolls early paintings to include Tarbell,early furniture, local mill exhibit, early furniture, clocks, military collections,birds,butterflies, and a furnished 1675 colonial garrison house.
James House Historical Association

Epping

A national historic site in Hampton dedicated to preserving the 18th century farmstead of Benjamin James and offering educational programs to individual and group students. Educational programs can be tailored precisely to meet each and every student need. Students learn about life on an 18th century New Hampshire salt marsh hay farm and have the opportunity to visit and participate in hands-on activities as well as perform web-based instructional work.
Androscoggin Wayside Park

Errol

Androscoggin Wayside Park is located along the Androscoggin River and lies within the Thirteen Mile Woods. It is a scenic spot for picnicking and fishing, and a favorite for canoeing.
Mollidgewock State Park

Errol

Mollidgewock State Park lies along the shore of the Androscoggin River within Thirteen Mile Woods Scenic Area, approximately 28 miles north of Berlin and three miles south of Errol. The Androscoggin offers great canoeing and kayaking opportunities for both novice and expert paddlers. The area is a favorite of fishing enthusiasts and is popular for watching moose and other wildlife.
American Independence Museum

Exeter

Discover the stories behind America's revolutionary past and how they relate to your experiences today by visiting the American Independence Museum. Located in historic Exeter, New Hampshire, the museum features stories of the brave men and women who overcame their uncertainties about freedom from Great Britain and established our country.
Rhododendron State Park

Fitzwilliam

Rhododendron State Park is named after the 16-acre grove of Rhododendron Maximum, which is the focal point of the park. The rhododendron grove, which is the largest in northern New England, was designated a National Natural Landmark in 1982.
The Frost Place

Franconia

The Frost Place is a nonprofit educational center for poetry and the arts based at Robert Frost's old homestead, which is owned by the town of Franconia, New Hampshire.
Franconia Notch State Park

Franconia/Lincoln

Franconia Notch is a spectacular mountain pass traversed by a unique parkway which extends from the Flume Gorge at the south to Echo Lake at the north. Franconia Notch was the home of the famous Old Man of the Mountain, the same "Great Stone Face" immortalized by Nathaniel Hawthorne and Daniel Webster. While you are here, stop at the Flume Gorge Visitor Center and walk through the renowned Flume Gorge, ride the exciting aerial tramway at Cannon Mountain, and visit the New England Ski Museum. Take your time, stop for a swim at Echo Lake, net a trout while fly fishing at Profile Lake, ride your bike on the Recreational Trail, watch for rock climbers, hawks, and falcons on Cannon Cliffs, or hike on the Appalachian Trail.
Daniel Webster Birthplace

Franklin

The Daniel Webster Birthplace is associated with the birth and early childhood years of Daniel Webster, one of our country's most respected orators and statesmen. While the site affords a view of the early years of Daniel Webster, it also provides a glimpse of 1700s farm life in the infant years of the United States.
Ellacoya State Park

Gilford

Ellacoya State Park is located in Gilford on the southwest shore of Lake Winnipesaukee, New Hampshire's largest lake. The 600-foot long sandy beach, with views across the lake to the Sandwich and Ossipee mountains, is a great place to spend with the family for a full day of swimming and picnicking. An accessible bathhouse, with showers and a changing area for swimmers, is located near the swimming area. A small park store offers refreshments and souvenirs for sale. An area to launch small boats, such as canoes and those carried on car rooftops, is located to the side of the beach area.
Living Shores Aquarium

Glen

Living Shores Aquarium is an indoor, Year-round, adult, family and group friendly attraction located in Glen New Hampshire. Explore over 32,000 square feet of interactive exhibits and activities. Touch Stingrays and bamboo sharks as they glide along our tide pools, watch tropical fish like Blue Tang swim through the warm Caribbean waters, then, step into our fully immersive aviary where you can interact with colorful lorikeets - they may event land on your shoulder to say hello! Living Shores Aquarium is an ADA compliant facility, has on-site dining and a gift shop.
Moose Brook State Park

Gorham

Located in the White Mountains Region, just north of the Presidential Range, Moose Brook State Park is in an area of unparalleled scenery and offers a variety of outdoor activities. The park is ideally located for fishing in the Peabody and Moose rivers. Moose Brook flows through the park, and after passing through a shallow warming pool, feeds the swimming area with cool, clear mountain water. Picnicking and swimming are enjoyed against the scenic mountain backdrop. The many trails in the park are great for exploring on foot or mountain bike.
Greenfield State Park

Greenfield

Tucked away in this 400-acre park in the southwest corner of the Granite State are ponds, bogs, and a forest that extends to the shore of undeveloped Otter Lake. The park offers opportunities to swim, fish, walk, canoe, camp and picnic in a variety of settings. Walking paths lead to ponds and other points of interest in the park. A small park store offers refreshments and souvenirs for sale.
Sculptured Rocks Natural Area

Groton

Sculptured Rocks Natural Area is a unique example of nature's powerful yet delicate artistry. The Cockermouth River carved a narrow canyon in bedrock on its way to Newfound Lake, beginning as the last ice age drew to a close. Nature used grains of sand suspended in the current to carve the walls of the canyon into curious shapes and create potholes in the bedrock.
Hampton Beach State Park

Hampton

Hampton Beach State Park provides year-round recreation, with Atlantic ocean-front facilities situated along miles of sandy beach. The Seashell complex includes a band shell amphitheater, public information services, comfort station, and first aid. Activities in the park include swimming, fishing, picnicking, and RV camping with full hook-ups in the campground.
Crawford Notch State Park

Harts Location

This 5,775 acre park provides access to numerous hiking trails, waterfalls, fishing, wildlife viewing, and spectacular mountain views. Crawford Notch State Park is rich in history with the famous Willey House. There are picnicking areas, parking for hiking, and scenic pull-offs. Dry River Campground offers 36 wooded sites, with flush toilets and showers.
Bedell Bridge State Historic Site

Haverhill

Bedell Bridge State Park, located along the Connecticut River, is 38 acres in size and a great place for picnicking, fishing, or boating. A Fish and Game boat launch is located within the park. The park was the site of a historic two-span covered bridge, the second longest in the country. The Burrtuss bridge, which connected New Hampshire to Vermont, was destroyed by wind in 1979 and is no longer there.
Franklin Pierce Historic Site

Hillsborough

The boyhood home of America's fourteenth president is a spacious and beautiful, federal style country home which reflects the gracious and affluent living of the nineteenth century. A ballroom, which extends the entire length of the second floor, was used for entertaining neighbors and distinguished families of the state and nation. Franklin Pierce shared Daniel Webster's dedication to national unity and led our country during the most trying of times, the time of slavery.
Silver Lake State Park

Hollis

Silver Lake State Park spans 80 acres and its sandy 1,000-foot beach curves along 34-acre Silver Lake. Popular activities in the park include swimming, picnicking, and boating. Amenities include picnic tables, kayak and paddleboat rentals, flush toilets, and a park store. Please be advised that no lifeguards will be on duty for the 2007 season.
Monadnock State Park

Jaffrey

With its thousands of acres of protected highlands, 3,165-ft. Mt. Monadnock was designated a National Natural Landmark in 1987. There are 40 miles of maintained foot trails, many of which lead to the bare rock summit through unique alpine vegetation. Unsurpassed 100-mile views to points in all six New England states are the reward for a climb. A magnet for hikers, Monadnock is said to be the second most frequently climbed mountain in the world, after Japan's Mt. Fuji. Approximately 12 miles of the trail system in the lower elevations offers ski touring for the experienced cross country skier.
Kingston State Park

Kingston

Kingston State Park is only 14 miles from the New Hampshire seacoast and is close to many attractions such as Canobie Lake Park, The Fox Run Mall, various antique shops, and fine restaurants. The park is 44 acres in size, and includes fireplaces and picnic areas, a playground, softball field, and three game areas for horseshoes and volleyball. Two bathhouses with dressing rooms and flush toilets are available for the 300 feet of swim area, with an extra 100 feet of tree line frontage.
Ahern State Park

Laconia

Ahern State Park spans 128 acres, with 3,500 feet of shoreline on Lake Winnisquam. Activites in the park include fishing, biking, and hiking. The park was transferred to the state in November, 1994 as Governor's State Park, and renamed by statute in 1998. Ahern State Park's vehicle access gate will be closed until further notice due to storm damage. Visitors to the park are welcome, but access is only available on foot.
Endicott Rock

Laconia

Endicott Rock may be the oldest public monument in New England. The name of John Endicott, Governor of Massachusetts Bay, and the initials of Edward Johnson and Simon Willard, Commissioners of the Massachusetts Bay Colony, and of John Sherman and Jonathan Ince, Suveyors, were inscribed on the rock on August 1, 1652. The rock marked the assumed headwaters of the Merrimack River. Under the original Bay Charter of 1629, the northern boundary of the colony was fixed as a line three miles north of the Merrimack.
Aviation Museum of New Hampshire

Londonderry

The New Hampshire Aviation Museum welcomes everyone with an interest in learning more about New Hampshire's exciting aviation history. The Aviation Museum is New Hampshire's only working museum devoted to aviation history in the Granite State. Museum exhibits cover persons, places, events, and artifacts related to the aviation history of New Hampshire. The information presented about the pioneering men and women who have represented New Hampshire in the air will take you back in time.
Stonyfield Yogurt Works visitors center

Londonderry

Stonyfield Yogurt Works visitors center offers a small group educational program for all ages. We do an informative and fun video, play area, games and a discussion that can be tailored to your group's interest. And of course...Free yogurt and smoothie samples!! Please contact Diane at 603 4374040 for more information. The Visitors Center is located at 10 Burton Drive in Londonderry,NH. We look forward to hearing from you! POC:vc@stonyfield.com
Madison Boulder Natural Area

Madison

Madison Boulder is the largest known erratic in New England, and among the largest in the world. Madison Boulder is a huge granite rock measuring 83 feet in length, 23 feet in height above the ground, and 37 feet in width. It weighs upwards of 5,000 tons! A part of this roughly rectangular block is buried, probably to a depth of ten to twelve feet.
SEE Science Center

Manchester

Discover engaging science experiences for Everyone to Enjoy!
Currier Museum of Art

Manchester

Stroll through the different galleries to see American and European art ranging from the Renaissance to current day. Learn about the museum's origins in the new Currier History Gallery and enjoy the Currier's extensive collections of paintings, sculpture, furniture, glass, and ceramics throughout the museum.
Milan Hill State Park Campground

Milan

Milan Hill State Park Campground is located ten miles north of Berlin, near popular areas for hiking, picnicking, fishing, canoeing, kayaking, and wildlife viewing. From this hilltop campground, and the fire tower located there, you can get a complete view of the mountain ranges in New Hampshire, Maine, Vermont, and Canada.
Nansen Wayside Park

Milan

A popular place for picnicking, fishing, and boating. The park spans 14 acres and is the site of the 170-foot steel-framed Nansen Ski Jump, seen towering over the area.
North Beach

Milan

North Beach is a great family location with an Atlantic ocean-front setting - its sandy beach is ideal for swimming and picnicking. Amenities at the beach include a bathhouse, which is open year-round
Fort Constitution State Historic Site

New Castle

Fort Constitution State Historic Site is located on a peninsula on the northeast corner of New Castle Island. It overlooks both the Piscataqua River and the Atlantic Ocean. In 1791, the State of New Hampshire gave the United States the neck of land on which Fort William and Mary and a lighthouse were situated. The fort was repaired, renamed Fort Constitution and garrisoned with a company of United States artillery. Renovations, which included a wall twice as high as that of the colonial fort and new brick buildings, were completed in 1808. It is the ruins of this fort that are seen today.
Fort Stark State Historic Site

New Castle

Fort Stark State Historic Site is located on a peninsula historically called Jerry's Point on the southeast corner of New Castle Island. It overlooks the Piscataqua River, Little Harbor and the Atlantic Ocean. Fort Stark was named in honor of John Stark, commander of N.H. forces at the Battle of Bennington (1777).
Mt. Sunapee State Beach

Newbury

Enjoy hiking, swimming, picnicking, boating, fishing and swimming in the summer/fall months. The campground offers lean-to and platform sites for family camping. Mt. Sunapee State Beach is situated about a mile from the campground and offers many amenities.
North Hampton State Beach

North Hampto

North Hampton State Beach is a great family location with an Atlantic ocean-front setting - its sandy beach is ideal for swimming and picnicking. Amenities at the beach include a bathhouse.
Northwood Meadows State Park

Northwood

This wooded park has a vast wetlands area and is excellent for nature walks and picnicking. The park includes a pond created by a dammed brook - a popular place for fishing and non-motorized boating. The easily accessible trails also make the park an ideal place for biking, hiking, snowmobiling, and cross-country skiing.
Pawtuckaway State Park

Nottingham

Pawtuckaway State Park offers a variety of landscapes, with something to do and see for everyone. There are many opportunities for hiking, with trails leading to many special points of interest, including a mountaintop fire tower; an extensive marsh where beavers, deer, and great blue herons may be seen, and a geologically unique field where large boulders called glacial erratics were deposited when glacial ice melted near the end of the Ice Age.
Cardigan Mountain State Park

Orange

Cardigan State Park spans 5,655 acres and is an excellent area for hiking. A mountain road leads to trails on the west slope of Mount Cardigan as well as a trail to the summit. Mount Cardigan's 3,121-foot treeless granite summit affords outstanding views of west central N.H., with a panorama that includes Mt. Monadnock and the White Mountains, Camel's Hump in Vermont, and Pleasant Mountain in Maine. The Park also includes picnic tables at a great spot for picnicking.
Miller State Park

Peterborough

Located on the 2,290-foot summit and flank of Pack Monadnock in Peterborough, Miller is the oldest state park in New Hampshire. A winding 1.3-mile paved road leading to the scenic summit is open for visitors to drive in summer and on spring and fall weekends. Picnicking and hiking are popular activities at the scenic mountain park. Three main hiking trails ascend Pack Monadnock to the summit. The best known is the Wapack Trail, which is a 21-mile footpath that extends from Mt. Watatic in Ashburnham, Massachusetts to North Pack Monadnock in Greenfield.
Lake Tarleton State Park

Piermont

This 48-acre undeveloped park is easy to get to on Route 25C in Piermont. Lake Tarleton, at 315 acres, offers an unguarded swimming beach and opportunities for fishing and hunting in season. A N.H. Fish and Game boat launch is available less than a quarter mile from the park. Bring a blanket for picnicking in spectacular surroundings - the higher elevation of the park offers beautiful views of the White Mountain National Forest across the lake.
Lake Francis State Park

Pittsburg

Lake Francis is a 2,000 acre lake near the Connecticut Lakes of the Great North Woods region. Hunters and anglers enjoy this park as a base for their respective activities. A boat launch is located in the park. Canoeists enjoy exploring the upper part of the Connecticut River.
Strawberry Banke Museum

Portsmouth

In the heart of historic downtown Portsmouth, New Hampshire, is an authentic nearly 10-acre outdoor history museum dedicated to bringing 300+ years of American history in the same waterfront neighborhood to life. The Museum is a place for everyone to come and explore eight heritage gardens, historic buildings, and traditional crafts, preservation programs, hands-on activities, and the stories told by costumed role-players and the changing exhibits offer hours of fun and discovery.
Discover Portsmouth (NH)

Portsmouth

Discover Portsmouth offers a 12 minute film on the history of Portsmouth, art gallery exhibitions, the historic John Paul Jones House, and in December the Annual Gingerbread House Contest and Exhibition. We invite all levels to enter the Gingerbread Exhibition. Discover Portsmouth is usually open April through December. The John Paul Jones House is open Memorial Day to Columbus Day. Free family arts and crafts projects are offered at various time throughout the year.
Wentworth-Coolidge Mansion

Portsmouth

The former home of New Hampshire's first royal governor, Benning Wentworth, who served in office from 1741 to 1767. The rambling 40-room mansion which overlooks Little Harbor, is one of the most outstanding homes remaining of the colonial era. Its stateliness and impressive interior and furnishings reflect aristocratic life in Portsmouth in the 1700s. The Mansion reflects five distinct periods of architecture. The extraordinary skill of New Hampshire's eighteenth century craftsmen is exhibited in the intricate hand-carved mantelpiece. The council chamber and the spy closet reveal details about daily life and government during the colonial period. Purple lilacs, descendants of the first European stock imported by Wentworth, decorate the grounds.
The Gundalow Company

Portsmouth

Step aboard the Gundalow and head out on the Piscataqua River for an exciting 2.5 hour sail. While onboard, participants will set the sail, steer the vessel, learn to navigate, tow for plankton, and explore the human impact on our watershed. This program is geared towards students ages 7 and up.
Portsmouth Historical Society

Portsmouth

Founded in 1917 to save the John Paul Jones House from demolition the Society now operates the John Paul Jones House and adjacent Discover Portsmouth Center to preserve and explore Portsmouth history. Offering members and the public a wide range of programming, we invite you to visit us in person or online to learn more about the fascinating past of Portsmouth and the Piscataqua region.
John Paul Jones House

Portsmouth

John Paul Jones, colonial America's first sea warrior, was a tenant of the Widow Purcell in this house in 1781 while he supervised the building of the Navy's ship America nearby. Though he loved Portsmouth, he left New Hampshire in 1782 never to return. His house is now the museum of Portsmouth men, women and children, where their stories live.
Discover Portsmouth Center

Portsmouth

This Portsmouth Historical Society pilot project has converted the former city library to a new "one stop" central gateway to the historical, cultural and artistic venues of greater Portsmouth and a new exhibition site displaying the art and history of the region.
Annett Wayside Park

Rindge

Annett Wayside Park is part of the 1,494 acre Annett State Forest and is located near the Cathedral of the Pines National Shrine. It is a beautiful spot for picnicking. A 1/4 mile hiking trail offers a pleasant stroll to the edge of Black Reservoir.
Cathedral of the Pines

Rindge

Cathedral of the Pines' educational programs and public events honor service to the Nation by promoting peace, interfaith understanding, and respect for the natural environment. Situated on a hilltop with a panoramic view of the Grand Monadnock, the Cathedral of the Pines is a breathtaking open-air cathedral and meeting space on 236 acres. Our historic monuments honor the service of American men and women--both military and civilian. We welcome visitors from all over the world to participate in our events and to explore the extraordinary sanctuary grounds, meditate in outdoor chapels and gardens, and learn our history.
Jenness State Beach

Rye

Jenness State Beach is a great family location with an Atlantic ocean-front setting - its sandy beach is ideal for swimming and picnicking. Amenities at the beach include a bathhouse.
Odiorne Point State Park

Rye

Picnickers can enjoy sweeping views of the ocean and rocky shore, and explorers can uncover evidence of past military occupation. An extensive network of trails wind through the dense vegetation and traverse the park. The Seacoast Science Center, which is located in the park, has exhibits relating to the natural and human history of Odiorne and the seacoast area. Other activities in the park include boating, fishing, hiking, biking, nature walks, and cross country skiing. Amenities offered include picnic tables, a huge playground, a boat launch, restrooms, a paved bicycle path, interpretive displays, and educational programs.
Rye Harbor State Park

Rye

Rye Harbor State Park affords scenic views of the Atlantic Ocean, the Isles of Shoals, and Rye Harbor, also called Ragged Neck. Favorite activities enjoyed in the park include saltwater fishing and picnicking with ocean breezes. Amenities offered picnic tables and restrooms.
Wallis Sands State Beach

Rye

Wallis Sands State Beach offers oceanfront swimming, views of the Isles of Shoals, and a sandy beach that families especially enjoy. Beach amenities include a store that sells a variety of items, food, and drinks; and a large bathhouse with hot and cold showers. The park has a grassy area with picnic tables, but fires are not allowed. The parking lot can accommodate 500 cars.
Seacoast Science Center

Rye

The Seacoast Science Center is a "must see" for anyone wishing to discover the natural treasures and rich history of coastal New Hampshire. The Center's dramatic seaside setting, interpretive exhibits, and commitment to creating a memorable, personalized experience for each visitor sets it apart from other museums, aquariums and attractions.
Mount Washington State Park

Sargent's Purchase

Perched on the summit of the Northeast's highest peak, Mount Washington State Park is surrounded by the extensive 750,000-acre White Mountain National Forest. On a clear day, views from the 6,288-foot summit extend beyond New Hampshire as far as 130 miles to Vermont, New York, Massachusetts, Maine, Quebec, and the Atlantic Ocean. The Sherman Adams building, a modern summit building, houses The Sherman Adams Visitor Center, a cafeteria, restrooms, gift shops, the Mount Washington Observatory and its museum. The historic TipTop House is located adjacent to the summit building.
Gardner Memorial Wayside Park

Springfield

Gardner Memorial Wayside Park is part of Gile State Forest, which spans 6,675 acres. The Wayside includes a memorial to Walter C. Gardner II, whose father established Gile State Forest. In addition to the scenic picnic area with picnic tables, it is also a popular place for hiking.
Coleman State Park

Stewartstown

Coleman State Park lies on the shore of Little Diamond Pond in Stewartstown, twelve miles east of Colebrook in New Hampshire's remote north country. The excellent trout fishing in Little Diamond Pond and nearby streams makes Coleman an excellent location for fishing enthusiasts. A boat launch is located within the park; small boats are permitted, but speed is restricted. The park is also a good base for fall hunting. Other activities include hiking, canoeing, snowmobiling, and cross country skiing.
Poore Farm Museum

Stewartstown

The Poore Farm Museum is a historic homestead / settlement documenting one family's life from the 1830's to the 1980s. The house, barn and outbuildings are all in original condition and reflect their use and era. The feeling one gets when you enter the homestead is to step back in time, to a time that existed prior to rural electrification of the northern most regions of NH.
Wadleigh State Beach

Sutton

Wadleigh State Beach offers swimming on beautiful Kezar Lake. Tall pine trees shade the picnic sites located adjacent to the beach, making it an ideal location for families and group outings. Amenities in the park include a bathhouse, picnic tables, and playing fields.
White Lake State Park

Tamworth

The park lies along the shore of White Lake, which is an example of a typical glacial lake. During the Ice Age, glacial ice was buried beneath glacial till or debris. When the ice melted, a depression was created which gradually filled with water. Guests are welcome to enjoy a leisurely walk around the lake on a well-maintained foot path while looking for loons or signs of beaver activity, or to try their hand at the good trout fishing the lake provides.
Remick Country Doctor Museum & Farm

Tamworth

Explore over 200 years of self-sustained living, as we preserve the agricultural way of life in New Hampshire. View exhibits depicting 200 years of Agriculture and history in New Hampshire. Children can enjoy games, toys, farm related books and videos. Also offer horse-drawn wagon and sleigh rides. Outdoor enthusiasts can also enjoy our trail sections for cross country skiing, sledding and snowshoeing.
Rollins State Park

Warner

A 3-1/2 mile long scenic auto road rises from the park entrance through woodlands to the parking and picnic areas. The picnic area, located in a natural wooded glen beneath granite ledges, is historically referred to as the "Garden." It affords views that stretch from Mt. Monadnock to the hills of New Hampshire's coastal plain. The summits of Pack Monadnock, Crotched and Uncanoonuc Mountains, the hills of central Massachusetts, and the Boston skyline are visible on the horizon, while the Mink Hills and Merrimack River Valley can be seen nearby. A one-half mile trail to the summit of Mt.Kearsarge leaves from the picnic area.
Mt. Kearsarge Indian Museum

Warner

One Circle, 1000 Stories, Experience It! Education is the core of our mission and we look forward to welcoming your group on a memorable journey encompassing the amazing diversity of North American Indian cultures and reverence for nature.
New Hampshire Telephone Museum

Warner

Discover 130 years of telephone history at one of our country's finest exhibits of antique telephones and equipment. This educational resource will take you back to the days when people talked to operators, strung phone lines on trees to their neighbors' houses and listened to other peoples' conversations on party lines.
Mt. Kearsarge Indian Museum

Warner

Mt. Kearsarge welcomes all school-age learners, and adults. We invite you to request a day and time that is right for you, and you will receive a guided visit led by a trained Museum Educator. Please note that appointments are required for all groups visiting the Museum. Guided-visit appointments of 10 or more can be made no less than three weeks in advance of the requested visit date. A separate form must be submitted for each visit, and we will do our best to accommodate your request(s). However, due to high volume, your visit is not confirmed until you have received a Program Confirmation.
Clough State Park

Weare

Clough State Park is located on the shore of Everett Lake, a 150-acre lake formed by a dam on the Piscataquog River. Favorite activities in the park include: swimming, picnicking, playing fields, fishing and boating.
Winslow State Park

Wilmo

Winslow State Park is located on the northwest slope of Mt. Kearsarge in Wilmot, New Hampshire. The picnic area is on an 1,820-foot plateau with outstanding views of the White Mountains to the north and the taller of the southern and central Vermont peaks. Mt. Sunapee, Ragged Mountain, and Pleasant Lake dominate the closer landscape. A one-mile foot trail leads from the picnic area to the summit of Mt.Kearsarge. A 1- 3/4 mile trail offers a loop possibility.
Pisgah State Park

Winchester

Pisgah State Park includes over 13,300 acres of rough forested terrain, encompassing a complete watershed north of the Ashuelot River. Within the Cheshire County towns of Winchester, Chesterfield and Hinsdale, the park protects seven ponds (popular for fishing), four highland ridges and numerous wetlands. The area's 21 square miles make it the largest property in the New Hampshire state park system.
Governor Wentworth Historic Site

Wolfeboro

Explore the remains of an extensive northern plantation built just before the outbreak of the American Revolution. Built by New Hampshire's second Royal Governor, John Wentworth, the mansion burned to the ground in 1820. It has been the site of an archaeological dig where artifacts have been carefully pieced together. The artifacts reveal details about daily life and work methods of the privileged class of the period.
Wentworth State Park

Wolfeboro

Wentworth State Park spans 50 acres and is located on the shore of scenic Wentworth Lake. Popular activities in the park include swimming, picnicking, hiking and fishing. Amenities include picnic tables, a boat launch, flush toilets, and a group use area.