TheHomeSchoolMom's local resource listings are sponsored by Time4Learning, where you can find resources, support groups, test prep info, and more.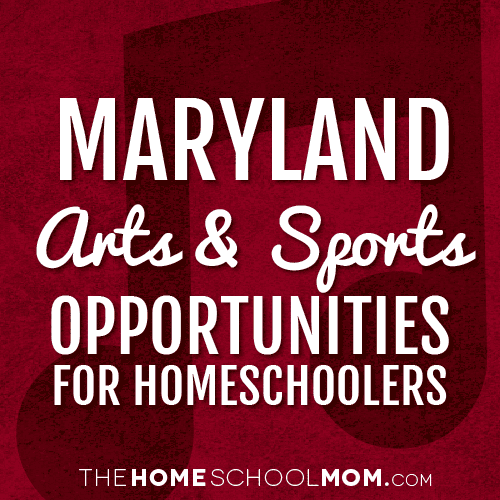 In addition to the opportunity to get out of the house and socialize, homeschool sports and arts programs can offer long-term benefits by developing characteristics like leadership, self-confidence, perserverance, and self-esteem. Many organizations and businesses have opportunities specifically for homeschoolers, while others invite homeschoolers to participate in their regular programs.
Not sure how to choose activity/activities for your children? Read how Rebecca narrows down the choice of extra-curricular activities.
Below is a list of homeschool sports and arts programs in Maryland listed alphabetically by city, with arts resources in the first section and sports resources below. If you would like to submit a Maryland arts or sports resource, you may do so using the red button above.
Homeschool Arts Opportunities in Maryland
Y Center Homeschool Sports and Arts ProgramsAbingdon,Bel Air, Harford County
Homeschool Sports Program Wednesdays 12-2PM. Homeschool Arts & Crafts Wednesdays 2:15PM-3:15PM. Location: Walter and Betty Ward Family Y Center, 101 Walter Ward Blvd. Abingdon, MD 21009. For mor...
Artworks StudioAnnapolis
Artworks offers a variety of art classes for kids of all ages throughout the school year (four 8 week sessions). Students will explore the creative process, develop their artistic skills and exper...
Compass Rose TheaterAnnapolis
Compass Rose Theater is a professional theater company founded on the belief that each artistic experience revitalizes the soul and cultivates the spirit. Compass Rose Theater offers special group ...
Annapolis Shakespeare CompanyAnnapolis
Annapolis Shakespeare Company's mission is to produce bold, re-imagined, entertaining and accessible interpretations of classical works, contemporary plays, and musicals with a core commitment to t...
Music Lessons Homeschool DiscountAnnapolis, Anne Arundel County, Arnold, Crofton, Crownsville, Fort Meade, Gambrills, Glen Burnie,Hanover, Millersville, Pasadena, Severn, Severna Park,
10% off for private guitar, bass, drum, voice, and piano, lessons or 15% off group band or recording classes before 3:30 pm Monday thru Friday on going. Schedule free curriculum consultation with t...
Arlington Arts CenterArlington
Join the Arlington Arts Center for a class that explores the visual arts through a variety of fun and engaging techniques. Observation and imagination will be emphasized while students learn about ...
School of Rock ArnoldArnold
School of Rock offers students of all skill levels age 7-18 a performance-based music curriculum in a fun environment. Weekly private lessons are combined with structured group rehearsals. Student...
A Step Ahead Dance CenterBaltimore
Offers weekday dance daytime classes to meet the needs of the homeschool students. A Step Ahead Dance Center is committed to providing quality dance education to students ages three to adult in a...
School of Rock BaltimoreBaltimore
School of Rock offers students of all skill levels age 7-18 a performance-based music curriculum in a fun environment. Weekly private lessons are combined with structured group rehearsals. Student...
Integro Voice StudioBaltimore
Local voice teacher looking to serve the home schooling community. Depending on your skill level, lessons will incorporate ear training, sight singing and basic piano skills. Children and adults ov...
Ballet NouveauBaltimore
Ballet Nouveau is the New Age of Ballet designed to ignite the love of dance in all students while training the next generation of creative minds and pre-professionals. The Pre-Academy division inc...
The Mitchell School of Fine ArtsBaltimore
Acting as an addendum to the traditional homeschool course of study, the Mitchell School of Fine Arts offers a variety of classes designed to complement the homeschool curriculum. Taught by school ...
Sarah Butcher Art WorkshopsBaltimore
Artist and art educator with over 20 years experience teaching art, digital media and technology courses to students in private school. Offering workshops and classes in art, digital art, photograp...
Glen Music and ArtsBaltimore
Glen Music and Arts provides high quality in-home instruction in Piano, voice, art, and children's Theater. Both private and group instruction can be arranged between the hours of 9:00-7:00. Stude...
Piano and Voice LessonsBaltimore
Piano and Voice Lessons to students of all ages and ability levels. Lessons are available at a home studio in Lauraville, Baltimore, or in-home based on location. Visit the website for more informa...
Flute, Clarinet, and Saxophone LessonsBaltimore
Lessons are a collaborative effort between teacher and student, nurturing a love for music while developing the student's technical and expressive skills. Ms. Luther offers lessons to aspiring w...
Piano Lessons with ElizabethBaltimore County
Offering lessons to brand new students, at any age, how to play the piano effectively and with much joy and fun. Kids work at their own pace to achieve the best results. Offering intermediate and a...
The Dundalk Art SchoolBaltimore County
Offering art instruction for grade K through 8 for homeschoolers. Lessons include acrylics, water color, sculpture, drawing, printing, paper mache, and more while teaching the elements of art and e...
Charm City BalletBaltimore County-Hunt Valley/Cockeysville
Charm City Ballet is a new dance school for ages 3 years to adult. Offering classes during the day. Located in the Hunt Valley/Cockeysville area of MD, in Baltimore County.
Tattered HattersBaltimore Metro Area
Children learn best with hands-on activities. This arts and crafts activity provides a unique teaching opportunity by combining history, geometry and creativity with an end result that is a keepsak...
Music and NarrativeBaltimore/Washington DC area
Children love stories and music. With this precept, Music and Narrative has created children's programs to introduce young listeners to the literature of classical piano music by way of storytelli...
Creative Glass DesignBethesda
Fused glass studio teaching children (up to 4 at a time) how to do fused glass.
International School of MusicBethesda
International School of Music offers private and group instruction in all instruments and voice to students of all ages and levels. Offering numerous fun performance opportunities and optional curr...
Jazz guitar and music theory studiesBethesda
Offering guitar and music theory classes at an in-home studio in Bethesda, MD. Instructor travels to students for larger groups.
Bach to Rock BethesdaBethesda
Bach To Rock is "THE" music school for students of all ages. B2R's unique method is based on the idea that students learn best when they join together in groups to play the music they like the most...
Sassafras StudioBrookeville
Art Studio in the rolling countryside of Montgomery County, offering classical drawing and painting instruction. The artist-owner, Maureen Hartnett is a graduate of MICA and has over 20 years expe...
Maureen HartnettBrookeville, MD
Sassafras Studio, located in scenic Brookeville, MD (North of Olney) is owned and run by an ex-homeschooler, who is a trained artist, with 30 years' experience teaching to all ages. Maureen can tr...
Musical Experience StudiosCalvert County, Prince Frederick
Piano Lessons offered in Calvert County Maryland in the Prince Frederick area. Teaching ages 5 and up, including adults. Instructor provides the beginner lesson book free. Teaching Monday through F...
SOMD Homeschool BandCalvert County, Saint Mary's County
Southern Maryland Homeschool Band students will meet once a week at Annmarie Garden and Sculpture Park in Dowell Maryland. Classes may also be held at your own cooperative or group meeting location...
Southern Maryland Youth Orchestra & ChoirCalvert, Charles, St. Mary's Co
The Southern Maryland Youth Orchestra and Choir (SMYOC) is non-profit working to expand opportunities for talented young musicians in Southern Maryland (Calvert & St. Mary's Counties, primarily...
Especially for HomeschoolersCharles County
Especially for Homeschoolers is an enrichment co-op, where students have the opportunity to participate in clubs that focus on hand-on activities, including cooking, sewing, art, ASL, foreign langu...
Piano Lessons with Cecelia PrinkeyCockeysville
Private piano lessons and music theory lessons for students aged 4 and up. Offering flexible scheduling and discounted tuition to homeschool families
Cockeysville Music Education CenterCockeysville
Piano lessons! Cockeysville Music Education Center has experienced instructors offering individualized piano lessons in a friendly, welcoming environment. Meet your homeschooling musical needs with...
Cecelia Prinkey, piano instructorCockeysville, MD.
Hello Homeschoolers! Cecelia Prinkey offers private piano lessons for students ages 4 and up with tuition discounts and scheduling considerations for homeschool families.
School of Rock ColumbiaColumbia
School of Rock offers students of all skill levels age 7-18 a performance-based music curriculum in a fun environment. Weekly private lessons are combined with structured group rehearsals. Student...
The Music Institute at Howard Community CollegeColumbia
The Music Institute is the non-credit portion of the Music Department at Howard Community College. The Institute offers private lessons in all orchestral instruments, classical and jazz piano, voi...
Drama Learning Center: Homeschool Musical TheatreColumbia
DLC offers a variety of programs that appeal to people of different ages and interests. Young children are introduced to the performing arts in our preschool and beginning acting classes. Children ...
Columbia Association Art CenterColumbia
The Columbia Art Center offers year-round art classes, rotating gallery exhibitions, a gallery gift shop, summer art camp for children, art birthday parties, studio rentals, a Japanese Garden, art ...
Oakland Mills Community AssociationColumbia
The Oakland Mills Community Association is housed in The Other Barn, a beautiful renovated dairy barn. This association hosts multiple events sponsored by the Oakland Mills Village Board. One of th...
Sylvie Beaudoin Piano StudioColumbia
Ms Beaudoin, M.Mus., is a highly qualified instructor and pianist with over 30 years of teaching experience. Her studio offers a broad, innovative and exciting curriculum with lessons carefully pl...
Columbia Center for Theatrical ArtsColumbia
The Columbia Center for Theatrical Arts (CCTA) is a 501 (c)(3) nonprofit organization founded in 1972 by Toby Orenstein at the invitation of visionary developer Jim Rouse. For over 45 years CCTA ha...
Piano & Voice Studio of Christine CastilloColumbia/Howard County
Private piano and voice instruction for beginning through advanced; children aged 4 through adults welcome. Note-reading, ear training, music theory, music history, partcipate in two recitals per ...
Creative ThinkersDC Metro area
Reggio inspired art sessions offered as a one time experience or scheduled weekly or monthly. Ages 2 - 8. Can work one on one or with larger combined group. High quality materials are used and ex...
Historical PerformanceDelaware, Maryland, and Pennsylvania
A Historical Interpreter from Philadelphia, Dr. Daisy Century performs a one woman show of seven historical women like Bessie Coleman, Harriet Tubman, and Sojourner Truth. Contact Dr. Century throu...
Rehwoldt Piano StudioEllicott City
Dr. Lisa Rehwoldt specializes in classical piano training for all ages and abilities. Rehwoldt offers opportunities for students to participate in MSMTA, HCMTA, and MTAGB competitive and non-compet...
Miguel's Atelier Art StudioEllicott City
Miguel's Atelier offers drawing and painting lessons. Lessons are a wonderful and enriching addition for children education curriculum (a required field in Howard County). Home schooled children ca...
The Frederick String InitiativeFrederick
The Frederick String Initiative offers violin, viola, and harp lessons to students in the Frederick region. Students also have the option of joining ensembles. It is based in the heart of the Fr...
Drum for health and fun classesFrederick
Play the drums and learn all about music. Gary R's Drum Company offers private and group lessons. Learn the basics all way to advanced techniques. Also learn basic theory and piano, if interested.
Bach to Rock GaithersburgGaithersburg
Bach To Rock is "THE" music school for students of all ages. B2R's unique method is based on the idea that students learn best when they join together in groups to play the music they like the most...
Music Lessons with ShannonGambrills
Professional musician and music educator specializing in contemporary voice, general music, and bass lessons. Instructor was educated in music theory, voice, class piano, and string instruments at ...
School of Rock GambrillsGambrills
Our results-driven programs combine one-on-one lessons with group band rehearsals, making School of Rock the ultimate music school for kids and adults! Here are some of the many programs we offer: ...
Sirin Art StudioGlen Burnie
Sirin Art Studio offers classes for school-age children (PK-12). Students explore their creativity through various art mediums and techniques, including drawing, painting, sculpting, printing, pott...
Adventure Theatre MTCGlen Echo, Montgomery County
Adventure Theatre MTC is a professional children's theater and Academy with facilities in Glen Echo (theater) and Rockville (MD). Professional plays based on classic and contemporary children's sto...
Suzanne's Music StudioHarford County and Howard County
LEARN TO SING - Philosophy: With the command of a few areas of the body, each person can release his/her entire voice. Through this freedom, one can more fully enjoy his/her own singing and se...
Studio 33 Music And ArtHarwood/Anne Arundel County
Studio 33 offers individual and class instruction in music (drums, percussion, band performance) and visual arts (classical drawing, painting). Classes can be tailored for individuals and groups to...
Home School Connection at The Hockessin Montessori SchoolHockessin
Home School Connection Enrichment Program - The Hockessin Montessori School brings expertise in education and creativity to the home school community through our HOME SCHOOL CONNECTION. This progr...
Sacchetti's School of MusicHuntingtown
A full service music school serving the Calvert County area utilizing eight highly trained teachers in Guitar, Piano, Ukulele, drums, and voice. Come in and try a FREE LESSON!
Naturally Sharp Piano StudioMillersville
Emily Overstreet teaches beginner to intermediate piano students ages 4 and up. Lessons are once a week for $30/lesson. The goal of lessons is to teach at the child's pace and eventually be able to...
Shelley Mathews Violin LessonsMontgomery county
Now accepting prospective students in the studio of Shelley Mathews. Students have been members of MCYO, Maryland All State, Baltimore Symphony Youth Orchestra, National Symphony Summer Music In...
CREATE Arts CenterMontgomery County, Maryland and Washington, DC
CREATE Arts Center in Silver Spring offers classes for homeschool students ages 5-18. Painting, drawing, sculpture, mixed media, portrait, science and art, movement and art. Age 14-18 years can pa...
Cello Lessons with Samantha HegreMount Rainer
Samantha Hegre offers cello lesson to all ages in her Mt. Rainier studio. She seeks to discover each student's learning style and adapt her teaching style accordingly. Music is not a one-size-fits-...
Tilden House Studio Sewing ClassesMt. Rainier, Brentwood, Hyattsville
Tilden House Studio is the private workshop of sewing instructor Allison Lince-Bentley. She has been teaching sewing to children for over a decade and is a mother of two, so she understands the imp...
Dip & Doodle Art StudioNorth East
Doodle School is for homeschool students in grades K-6. Each week students explore different art techniques, mediums and skills. Children discuss artists, their influence and style. Instructor is a...
Astilla Piano StudioNorthEast
As a musician who practices continued learning, evolving and figuring out ways to elevate performance, Christopher has worked as an educator in the Capitol Hill and greater Washington, DC community...
The Drawing ZooReisterstown
Specializes in bringing LIVE animals to classrooms to perform multi-sensory programs that use art to reinforce Science/English, and use that curricula to reinforce traditional art practices. The Dr...
Brian Lotter Piano StudioRockville
Private piano lessons are available from one of the area's best piano teachers, who is also an accomplished performer and composer. Styles available include Baroque, Classical, Romantic, Modern, Ra...
Archbishop Spalding High School Christmas Preview ConcertSevern
We would like to invite students to our Christmas Preview Concert on Friday, December 13 at 10:00 am. The program will last for one hour and is free to homeschoolers and their families. We will pre...
School of Rock Silver SpringSilver Spring
School of Rock offers students of all skill levels age 7-18 a performance-based music curriculum in a fun environment. Weekly private lessons are combined with structured group rehearsals. Student...
MD Music: Piano and Voice LessonsSilver Spring
Group and individual classes are available in Silver Spring, MD for piano and voice. Classes are offered in group and individual formats. All sessions include ear training, music theory, and histor...
The Highwood Theatre Shakespeare ProgramSilver Spring
The Highwood Theatre is an educational theatre company in downtown Silver Spring, MD. The Homeschool Shakespeare program is designed to give students an exciting outlet to express themselves while ...
Washington Revels after-school WorkshopsSilver Springs
Experiencing cultural traditions within a community opens a child's mind while fostering an awareness of the larger world with its rich and varied heritage. Revels Kids workshops address the fundam...
The Washington School of Ballet Homeschool ClassesSouthEast Washington
The Washington School of Ballet's SE Campus will be offering daytime ballet classes for homeschoolers ages 5-10, beginning in September 2019. Classes will take place on Mondays and Wednesdays betwe...
Private Flute Studio, St. Mary's CountySt. Mary's County
Interested in starting or continuing your study of the flute? Weekly, 30-minute lessons taught by a local flutist with 30+ years of playing experience and 20 years as a music educator in the publi...
Kiddie Crusoe Adventure Kids ClassesTimonium
Register for one or more Adventure session(s) and enjoy exclusive open play hours specifically for Adventurers & Members once a week! Adventures starting now with a new theme focus every month. H...
Children's Chorus of MarylandTowson
One of the most comprehensive choral music education programs in the Baltimore Region Combining nurturing play-based learning with ten levels of educational achievement, CCM's School of Music pr...
Classical Guitar Lessons with Kathrin MurrayTowson, MD
Private lessons in classical guitar offered by Peabody graduate, Kathrin Murray. Students as young as 5 years old accepted. Ms. Murray has over 20 years of teaching experience to all ages and abi...
Adrenaline Dance StudioTysons Corner
The Adrenaline Dance Academy offers professional and accessible jazz, lyrical , hip hop, and tumbling programming to your student. Your dancer(s) can expect high quality classes taught by professi...
Drawing and Painting Classes for ChildrenWaldorf
Instructor Tara Scott offering drawing and acrylic painting classes to children ages 5 to 17. Drawing and or painting lessons can be held in your home (up to 15 miles from Waldorf, Md), at instruct...
The Maryland Christian Youth Band and OrchestraWashington D.C. and Baltimore suburbs
The Maryland Christian Youth Band and Orchestra provides multi-level ensemble instruction for band, string orchestra, full orchestra, and jazz band. In addition, group classes are available for Gra...
Yoga for Achievement SkillsWashington, Bethesda, Silver Spring, Takoma Park, Rockville, Arlington
Yoga with Hannah offers personalized yoga sessions, which can focus on anything from a purely physical practice to learning and achievement skills. Hannah is a 200-Hour Registered Yoga Teacher who...
Contempic School of BalletWestminster
Contempic School of Ballet offers creative movement, ballet, tap, jazz and modern classes to children 2-18 years of Age. Classes are offered in the mornings as well as in the evenings from Septemb...
Homeschool Sports Opportunities in Maryland
Y Center Homeschool Sports and Arts ProgramsAbingdon,Bel Air, Harford County
Homeschool Sports Program Wednesdays 12-2PM. Homeschool Arts & Crafts Wednesdays 2:15PM-3:15PM. Location: Walter and Betty Ward Family Y Center, 101 Walter Ward Blvd. Abingdon, MD 21009. For mor...
Homeschool Hurricanes Swim TeamAnnapolis/ Severna Park
This program is designed to meet the needs of swimmers wanting professionally coached practices dedicated to improving stroke mechanics and focus in the water. Swimmers will practice mindful moveme...
CrossFit Catonsville: Martial Arts and CrossFit KidsArbutus, Catonsville/Baltimore County
CrossFit Catonsville is now offering Tae Kwon Do classes and CrossFit Kids. Personal and small group sessions available. Flexible schedule. Call 443.963.9348 or email Chris@crossfitcatonsville.com.
Jing Ying Institute of Kung Fu & Tai Chi; Homeschool Kung Fu ProgramArnold
Jing Ying Institute of Kung Fu & Tai Chi offers the benefits of a well structured and progressive program in a special class for homeschoolers. Classes will improve your strength, flexibility, bala...
Ivey League Mixed Martial ArtsArnold
At Ivey League, we believe martial arts is about so much more than just learning how to punch and kick. We're committed to helping your child develop more confidence, self respect, and motivation i...
Christian Youth AthleticsBaltimore
Christian Youth Athletics provides youth ages 5-15 with the opportunity to play competitive sports in a positive environment. Call 410-882-2217 for more information.
Coppermine FieldhouseBaltimore
Offering indoor and outdoor programs that include Lil' Kickers Soccer, Sports Clinics and Club Teams, Dance, Gymnastics, Birthday Parties, as well as Summer Camps, Winter Camps, and School's Out Ca...
FCA Northern Maryland Team SportsBaltimore
The Fellowship of Christian Athletes offers varsity level sports for the Maryland home school community where high school athletes that are home schooled can play competitively in a faith based env...
True Balance Studio Home School Gym ClassBaltimore County
This class is designed to engage children in weekly physical activities, promote a healthier lifestyle, fulfill your educational needs as well as your child's own personal development and enjoyment...
Animal Assisted Therapy and Vocational TrainingBaltimore County
Come out for a free tour and see how you can utilize an 80 acre farm of opportunities to help motivate your child to succeed and be more independent at home and in the workplace using horse, dog, a...
Glen Arm SportsBaltimore/Harford County
Glen Arm Sports is a new state-of-the-art facility that hosts various sports, leagues, organizations, tournaments and camps. Glen Arm Sports is a place where parents can bring their children to com...
My GymBel Air
My Gym Children's Fitness center offers fun age appropriate fitness classes for children as young as 6 weeks to 13 years old. Children learn new gross and fine motor skills, cognitive skills and l...
Maryland Christian Saints AthleticsBel Air
Maryland Christians Saints is a faith based sports program for homeschooled or private school students who do not have the sport in their school. This is a ministry of Fellowship of Christian Athl...
Roosters Rugby Football ClubBethesda
Founded in Bethesda, Maryland in November, 2016, the Roosters Rugby Club is made up of high school aged players from Montgomery County, MD, Washington DC, and Northern Virginia. We've created a div...
Sport Fit Clubs Homeschool Fitness/P.E.Bowie
Sport Fit offers fitness classes for Home School families who need an active environment to meet their physical fitness goals. Classes are designed for ages 5-13 years, and meet on Monday and Wedne...
Level Up BeFit Kids ClassBowie
Level Up Training Center in Bowie, MD offers midday fitness classes for kids. The classes are taught by certified personal trainers and run Monday-Thursday. They were implemented to help homeschool...
Bowie Baysox Baseball in Education – STEM EventBowie
The Bowie Baysox as a minor league baseball team centrally located between Washington, DC, Annapolis, MD and Baltimore, MD are the class AA affiliate of the Baltimore Orioles. Each season for the p...
Bowie BaysoxBowie
The Bowie Baysox are the double A affliates of the Baltimore Orioles. They Baysox host The Read and Hit a Home Run reading program. If students read four (4) books then they receive two (2) free ti...
Merkel Farm Equestrian CenterBowie/Prince George's County
Merkel Farm Equestrian Center is a family owned and operated equestrian center run by Stephanie Serenati-Merkel. Merkel Farm is nestled between Bowie State University and the Patuxent Wildlife Pre...
Archery – Field Point ArcheryBurtonsville, Bowie, Laurel, Rockville, Silver Spring, Wheaton
This is a great way to meet those PE credits. Archery is a perfect exercise for all physical types and abilities. Archery is low stress, builds high confidence and self-esteem, focus, goal setting,...
FCA Baltimore Bravehearts Volleyball TeamCarroll County
The Baltimore Braveheart Volleyball program is committed to providing the best possible Christian environment for homeschool volleyball players to reach their maximum playing potential through exce...
Get Air CatonsvilleCatonsville
Looking for a fun, physical fitness activity for your home school student? Get Air Trampoline Park in Catonsville is the perfect place for home school students to reap the benefits of physical acti...
Columbia Gym KidSpaceClarksville
Columbia Gym KidSpace is available to rent out space to local homeschooling groups for Physical education and Swimming field trips.
Chris Custom CoachingCollege Park
Junior Golf Instruction includes full swing, short game, putting, fitness, competition, nutrition, on course management, etiquette, rules and history. Great way for kids to get introduced to golf, ...
Skate ZoneCrofton
A unique educational experience for students to learn how the concepts of Science, Technology, Engineering and Math can be found in everyday experiences. Following the completion of the 1hour STEM ...
YMCA Camp Letts Equestrian Center Horses for HomeschoolEdgewater, Anne Arundel County, Maryland
A monthly horsemanship series created especially for home-schooled students between the ages of 5 and 16, that allows students to interact with horses and learn about their environment, needs, beha...
CrossFit PCR: Fitness For KidsEllicott City
CrossFit PCR currently offers programs for kids ages 5-8 and 9-12. The programs focus on the foundations of human movement (squatting, running, jumping, throwing, pulling, picking things up) and th...
Elliott City Soccer ClubElliott City
A Soccer Club based in Elliott City, MD who serve all levels of soccer players and families. Including special needs players as well.
VA AllstarsFairfax
VA Allstars offers tumbling classes as well as open gym with a trampoline during daytime hours for homeschoolers!
Frederick ForceFrederick
A non profit organization that provides a variety of sports for homeschoolers to compete in their favorite sport at a competitive level!
The Little GymGaithersburg
The Little Gym provides fun, educational, and skill-based gymnastics classes for kids ages 4 months-12 years. Young gymnasts benefit from a variety of equipment usage to build up gross motor skills...
Select Swimming AcademyGaithersburg, Germantown, Clarksburg, Rockville, Damascus, Poolesville
A private swimming academy that offers private lessons, group lessons, and swim clinic for ages 2-17 years old. The programs is run out of the Quince Orchard Swim and Tennis Club in Gaithersburg...
Invicta Sports Club: Fencing and ArcheryGaithersburg/Washington DC metropolitan area
Classes and one-time trial sessions in Olympic Sport of Fencing for children ages 5 and up. Fencing is an exciting activity to train sharp minds and reflexes, sport of tactics, and psychology, dubb...
Turner's Skate PalaceHagerstown
Home School Skate 12 noon - 4 p.m. the first Monday of each month. Cost: $5 Includes: admission, skates, and access to moon bounces and tunnels. Snack bar special $2 - slice of cheese pizza and sma...
Ninja Abingdon Martial ArtsKingsville
Offering day-time classes for families who home school. As the Premier Martial Arts School in Harford County, our mission is to provide your family with a quality education in Character Development...
Prince George's Sports & Learning ComplexLandover
The Prince George's Sports & Learning Complex is located on approximately 80 acres adjacent to the Washington Redskins' FedEx Field in Landover, MD. The centerpiece of the Prince George's Sports & ...
Kids First Swim Schools of LaurelLaurel
Providing a warm and safe environment for students. Pools are heated to 90 degrees, the depth of the pool begins at just 2 feet and only goes to 4 feet 9 inches to help the teachers remain hands on...
2nd Gear Brazilian Jiu-jitsu; Classes for KidsLaurel
Students develop a strong sense of confidence in themselves and their ability to overcame any obstacle, no matter how difficult it might seem at first glance. The first obstacle they will experienc...
KidsTime.Live!Laurel
KidsTime.Live in Laurel, MD uses the spacious facilities of Emilia's Gymnastics to offer a wide variety of field trip opportunities. Activities include gymnastic instruction, open gym play, or a Ki...
Home School Gymnastics and Physical EducationMiddle River
Gymnastics, Fit Games,and Health classes for students aged K - 12 taught by gymnastic instructors. Gymnastic and Fit games classes offer an optional written and verbal Health lesson with every cla...
ClimbZone White MarshMiddle River
ClimbZone is truly a revolutionary concept in family entertainment and the most unique indoor climbing experience that has ever been created. All our indoor climbing walls are individually themed. ...
Goldfish Swim School – Owings MillsOwings Mills
Goldfish Swim School at Owings Mills is a state-of-the art swimming facility dedicated to teaching children as young as 4 months old. Goldfish is much more than a swim school. You feel it the m...
DCPG SportsPrince Geoges, Charles County, Anne Arundel , Montgomery, Howard Counties
This organization offers opportunities for children in the DC metropolitan area to create or join teams in order to participate within a sports league. Participation for boys and girls, ages 8-18....
Brick Bodies Reisterstown Swim LessonsReisterstown
Brick Bodies Reisterstown offers swim lessons to children and adults of all ages and skill levels! The year-round swim school creates a fun and safe environment for swimmers to gain comfort and con...
ActiveMONTGOMERY Homeschool Ice Skating ClassesRockville
Ice skating classes that are designed for homeschool skaters ages 6-12. Classes follow Learn to Skate USA program from Basic 1 through Basic 5. Fee includes six 30-minute classes, skate rental, an...
KIDS FIRST Swim School of RockvilleRockville
The KIDS FIRST Swim Schools are the world's largest provider of children's swimming instruction. KIDS FIRST Swim Schools offers wide variety of levels to ensure there is one just right for your chi...
Woodland Horse Centersilver spring
Homeschool horseback riding lessons are educational and hands-on. Spend time outside learning about horsemanship (how to groom, tack, ride and take care of horses). These classes start at the begin...
Jeff Smith Mile High KarateSterling
Jeff Smith Mile High Karate is a martial arts school in Sterling, Virginia providing a perfect venue for children (and adults) to train and get exercise while learning to protect themselves. Progra...
Temple Hills Skating PalaceTemple Hills
Roller Skating Rink for all ages offering public skating, STEM Lesson Program, field trips and group reservations. Private skating events are welcome. Group Skating for as low as $6.50 per person f...
JD FARM AND KENNEL, LLCWestminster
JD Farm and Kennel, LLC is located in Carroll County, Offering a new program to home school students who are eager to explore the wonderful world of horses. Each program will consist of 6 sessions....
Days End Farm Horse Rescue Homeschool ClassesWoodbine
Allow your child the opportunity to learn all about horses through Days End Farm Horse Rescue's (DEFHR's) Homeschool Education Program. This program was designed exclusively for homeschool students...