Field trips are a great way to reboot a bad homeschooling week, get out of the house when everyone has cabin fever, and learn about your local area. Before heading out, check out Jeanne's tips for improving homeschool field trips.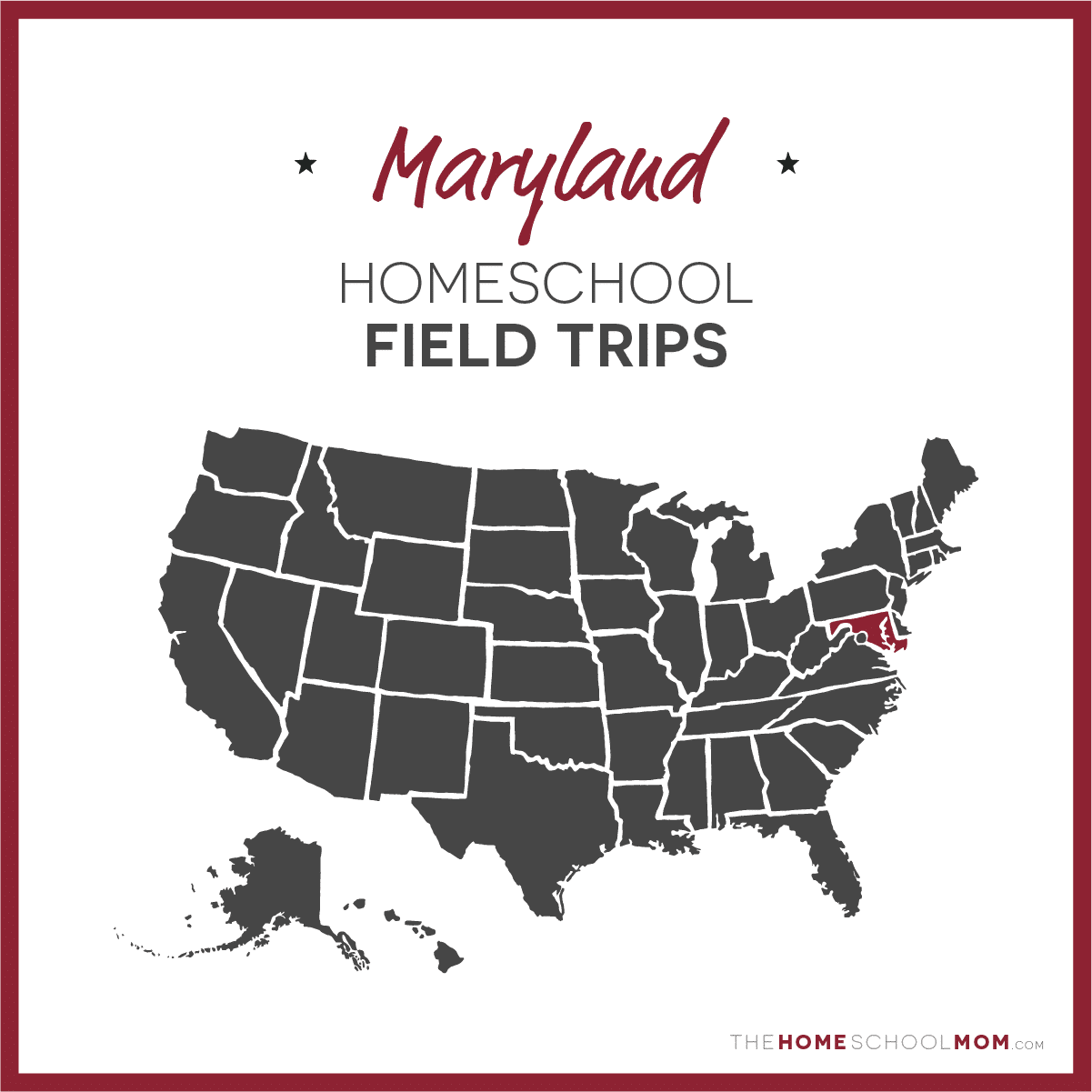 Submit a Field Trip Destination
Our listing of Maryland field trips for homeschoolers is ordered alphabetically by city. If you would like to submit a Maryland field trip destination, you may do so using the red button above.
An asterisk * after the title indicates that a virtual field trip is also available.
George Washington Memorial Parkway

This is the "Road to Adventure" -- originally designed as a grand gateway and greenway to the Nation's Capital. Here, you can learn about the First President and the development of America. As an oasis amid urban development, the Parkway has a variety of park sites that provide opportunities for everything from quiet contemplation to nature exploration to active recreation.
Potomac Heritage National Scenic Trail

Experience the Corridor of Commerce First Imagined by George Washington. The Potomac Heritage National Scenic Trail is a partnership to develop a network of locally-managed trails in a corridor between the mouth of the Potomac River and the Allegheny Highlands. As of mid-2008, 20 trails have been recognized as segments of the National Scenic Trail.
U.S. Army Ordnance Training and Heritage Center

Aberdeen Proving Ground

The Ordnance Museum Foundation, Inc. is a not-for-profit organization dedicated to support the U.S. Army Ordnance Corps Museum at Aberdeen Proving Ground. The Foundation is not a part of the U.S. Army, U.S. Army Ordnance Corps, or the Department of Defense. Has about 230 items, mostly examples of foreign countries' weapons from World War II and I, on display in the field outside the building.
National Colonial Farm

Accokeek

A living history museum depicting life of an average tobacco planting family in Prince George's County in the 1770s. Skilled interpreters lead tours of the farm, highlighting the colonial structures, fields, gardens and animals. The 1770 farm dwelling, an 18th century tobacco barn, a smokehouse, and an out-kitchen are all open to the public. The National Colonial Farm is a recognized leader in the field of historic plant preservation. Weekend visitors to the National Colonial Farm may see sewing, cooking, spinning, dyeing, candlemaking, gardening, woodworking and colonial games.
Piscataway Park

Accokeek

Where visitors can hike a network of trails winding through wetlands, visit a native tree arboretum, and observe an award-wining forest restoration project. Also includes the National Colonial Farm, a living history museum that depicts a Maryland middle-class family farm on the eve of the American Revolution. Through heritage breed livestock and seed saving programs, nearly extinct heirloom crops and animals are preserved for future generations.
Destination Education by Watermark

Annapolis

Destination Education by Watermark is a professional guide service offering educational small group tours that will immerse your family in history and create unique experiences in our State Capital. We tailor your tour for the curriculum you are studying! Eye Spy Colonial Life tour for the younger age, Colonial Stroll for elementary age, and African American Heritage tour for middle school, are only some of the many tours available at your convenience for children of all ages. Pricing starting at $8.50 per child, and some minimums apply.
The Mitchell Gallery at St. John's College

Annapolis

The Elizabeth Myers Mitchell Gallery, located on the campus of St. John's College, is the only fine art museum in Anne Arundel County. Accredited by the American Alliance of Museums in 2012 and dedicated to bringing art of world renown to Annapolis since it opened in 1989, the Mitchell Gallery attracts over 10,000 visitors a year to its museum-quality exhibits which range in theme and diversity for a gallery of its size. Exhibitions have included works of celebrated artists such as Bruegel, Calder, Rembrandt, Rodin, Motherwell and Johns, exhibitions of unique historical and regional interest, such as photography by A. Aubrey Bodine and Marion Warren and The National Craft Show. The Mitchell Gallery serves the community of St. John's and the wider communities of Annapolis and Anne Arundel County as a resource for viewing, discussing, and learning about fine art. For more information, docent tours, programs, and special events, please see our website, or call (410) 626-2556
Sandy Point State Park

Annapolis

Features: Bird watching, boat launch, 6 hp motor boat rentals, canoeing, kayaking, crabbing, cross country skiing, fishing, historic interest, hiking trails, picnic, playground, shelters, swimming, wind surfing.
Annapolis Maritime Museum

Annapolis

The Annapolis Maritime Museum seeks to connect the richness of the maritime heritage of the Annapolis area with our local youth and adults.The Museum operates from a waterside campus on the shores of Back Creek, kids learning about oysterswith unequaled views of Annapolis Harbor and the Chesapeake Bay. The Museum campus is the site of the last remaining oyster packing plant in the area, the McNasby's Oyster Packing Company. Since the McNasby building was severely damaged by Hurricane Isabel in 2003, the Museum's Board of Directors, staff and dedicated volunteers have worked to raise funds to restore the building to create the Bay Experience Center -- an interactive facility like no other.
Banneker-Douglass Museum

Annapolis

The Banneker-Douglass Museum, named for Benjamin Banneker and Frederick Douglass, is dedicated to preserving Maryland's African American heritage and serves as the state's official repository of African American material culture. The museum was dedicated on February 24, 1984. The original museum was housed within the former Mount Moriah African Methodist Episcopal Church in the heart of historic Annapolis. The Victorian-Gothic structure was included in the Annapolis Historic District in 1971 and placed on the National Register of Historic Places in 1973. The recently completed BDM addition is a four-story addition which uses the nineteenth-century brick of the church's north facade as its interior lobby wall. The Banneker-Douglass Museum celebrated its 25th Anniversary on Tuesday, February 24, 2009.
Carroll House

Annapolis

Celebrating three generations and an urban cultural landscape that spans over 300 years, the Carroll House is a restoration-in-progress. This national historic landmark bears great historical significance to the state of Maryland and America as the home of Charles Carroll the Settler, first Attorney General of Maryland who settled here in 1706, his son, Charles Carroll of Annapolis, and his grandson, Charles Carroll of Carrollton (1737-1832). Faced with both persecution and restrictions for his faith, Charles Carroll of Carrollton secured his family's vision of personal, political and religious freedoms for all citizens when he became the only Catholic to sign the Declaration of Independence in 1776. Maryland is now the only state in America in which the homes of all of its signers of the Declaration of Independence still exist and all are located in Annapolis. The Carroll House is one of only fifteen surviving signers' birthplaces in the United States.
Chesapeake Children's Museum

Annapolis

The mission of Chesapeake Children's Museum is to create an environment of discovery about oneself, the peoples, the technologies, and the ecology of the Chesapeake Bay area for all our children and for the children in us all.
Hammond-Harwood House

Annapolis

"The Hammond-Harwood House is one of the most important colonial houses in America."
US Naval Academy Museum

Annapolis

Utilizing three-dimensional and graphic materials, the Museum demonstrates the Navy's role, in war and in peace, in defending and preserving the ideals of our country and mankind. The exhibitions and related research are reminders of our naval heritage - a long record of loyalty, integrity, and service to the nation. The Museum is charged with collecting, preserving, and using in exhibitions and in study programs, the objects, documents, and works of art which relate the history and traditions of the United States Navy. Emphasis is given to objects illustrative of the role of the naval officer and, in particular, that of alumni of the U. S. Naval Academy in the events of our past.
William Paca House & Garden

Annapolis

The William Paca House & Garden is a National Historic Landmark, restored by Historic Annapolis Foundation to its colonial-era splendor. Guided tours of the house take place hourly. You can take a self-paced tour of the garden at any time during opening hours. The House & Garden also offer a uniquely beautiful outdoor space for weddings and other special occasions, as well as an indoor meeting facility.
Appalachian National Scenic Trail

Appalachian Mountains

The People's Path and America's First National Scenic Trail. The Appalachian Trail (A.T.) is more than 2,175-mile long footpath stretching through 14 eastern states from Maine to Georgia. Conceived in 1921 and first completed in 1937, it traverses the wild, scenic, wooded, pastoral, and culturally significant lands of the Appalachian Mountains.
American Visionary Art Museum

Baltimore

Critically acclaimed as an "architectural jewel," the 35,000-square-foot main building combines an elliptical, three-story, historic industrial building with extensive new architecture to contain six galleries, filled with art exploring one central exhibition theme at a time. The central stairway, balustrade and garden gates were beautifully hand cast by metal artist. Contains the Tall Sculpture Barn featured a life-size, interactive chess set of sculpted metal angels and aliens made exclusively from found objects by North Carolina artist, Lyle Estill.
Babe Ruth Museum

Baltimore

The Babe Ruth Birthplace Museum presents the life and times of George Herman "Babe" Ruth, Baltimore's native son who became America's first sports celebrity and an international icon.
Baltimore & Ohio Railroad Museum

Baltimore

Welcome to America's Railroad Museum! Where America's most important, historic and comprehensive collection lives to tell the story of railroading every day. Forty acres of heritage and a world class collection await your discovery!
Baltimore American Indian Center

Baltimore

The Baltimore American Indian Center (BAIC) is an Urban American Indian Center established to assist and support American Indian and Alaskan Native families with moving into an urban environment and adjusting to the culture change they will experience. The BAIC also serves as a focal point for the Indian community for social and cultural activities and to educate non-native people about the cultures of the North American Indian and Alaskan Native communities.
Historic Ships in Baltimore

Baltimore

From fighting the Transatlantic slave trade to daring rescues on the Chesapeake; from riding out hurricanes to providing humanitarian aid and defending the freedoms we hold dear, Historic Ships in Baltimore provides "hands-on encounters with history". Tours and activities, live cannon firings, educational programs and more!
Baltimore Museum of Art

Baltimore

The Baltimore Museum of Art is home to an internationally renowned collection of 19th-century, modern, and contemporary art. Founded in 1914 with a single painting, the BMA today has 90,000 works of art--including the largest holding of works by Henri Matisse in the world. Throughout the Museum, visitors will find an outstanding selection of European and American fine and decorative arts, 15th- through 19th-century prints and drawings, contemporary art by established and emerging contemporary artists, and objects from Africa, Asia, the Ancient Americas, and Pacific Islands. Two beautifully landscaped gardens display an array of 20th-century sculpture that is an oasis in the city.
Baltimore Museum of Industry

Baltimore

The mission of the Baltimore Museum of Industry is to collect, preserve, and interpret the industrial and technological heritage of the Baltimore region for the public, by presenting educational programs and exhibits that explore the stories of Maryland's industries and the people who created and worked in them.
Baltimore Streetcar Museum

Baltimore

Baltimore Streetcar Museum is a non-profit, 501 (c)(3) museum, dedicated to preserving Baltimore's public transportation history, especially the street railway era. Admission includes: Unlimited rides on original Baltimore streetcars, Access to Displays, Audio visual presentation of Baltimore's streetcar history and a Guided Carhouse Tour.
Dr. Samuel D. Harris National Museum of Dentistry

Baltimore

Smile-inspiring exhibitions and innovative programs make a national impact to educate the public about the importance of good oral health to a healthy life. The National Museum of Dentistry inspires people to make healthy choices about oral health by creating and sharing learning opportunities that celebrate the heritage and future of dentistry, the achievements of dental professionals and the importance of oral health in a healthy life.
Eubie Blake National Jazz Institute and Cultural Center

Baltimore

In the late 1960's due to a lack of attention being given to cultural arts, the Neighborhood Parents Club (NPC) took on the task of forming an after school arts program. As a direct result of these efforts, the NPC at Baltimore's Dunbar High School received support for the arts through a demonstration project funded by the Baltimore City Model Cities Agency. The initial grassroots effort, then, evolved into six cultural arts centers around the city. Having come full cycle, the Board, Staff and Community of the Eubie Blake Cultural Center are returning to the original and fundamental vision of those mothers from Dunbar High School by establishing as a basis, programs that provide art support to the children of Baltimore.

Eubie Blake National Jazz Institute and Cultural Center website
Evergreen Museum & Library

Baltimore

Housed in a former Gilded Age mansion surrounded by Italian-style gardens, Evergreen Museum & Library is at once an intimate collection of fine and decorative arts, rare books and manuscripts assembled by two generations of the philanthropic Garrett family, and a vibrant, inspirational venue for contemporary artists. Tour Evergreen's 48 opulent rooms filled with over 50,000 of the Garretts' extraordinary and eclectic belongings. Stroll the grounds, enjoy a concert in the famed Bakst Theatre, a film or lecture in the charming Carriage House, or a contemporary art exhibition in the gallery. Explore Evergreen and enjoy Baltimore's rich history.
Glenn L. Martin Maryland Aviation Museum

Baltimore

The Museum's purpose is to maintain an educational institution dedicated to the promotion, preservation, and documentation of aviation and space history in Maryland, namely, the contributions of Glenn L. Martin and his successful company. Home to the world's oldest airport, three major aircraft manufacturers and many smaller ones, the first commuter airline, and countless other aviation innovations,
Homewood Museum

Baltimore

In 1800, Charles Carroll of Carrollton, a signer of the Declaration of Independence, offered his son a generous wedding gift -- $10,000 to build and furnish a place in the country. Charles Carroll Jr. spared no expense and overlooked no detail in the construction of Homewood, an expression of his family's tremendous political, social, and financial stature. Visit today and experience the beauty and elegance of Homewood Museum -- one of the nation's best examples of Federal Period architecture and a National Historic Landmark. Homewood Museum offers individual and group tours and a year-round calendar of changing exhibitions, concerts, and educational programs.
Jewish Museum of Maryland

Baltimore

The Jewish Museum of Maryland invites students to experience Jewish heritage by visiting the Museum and participating in school programs. Discover the variety and liveliness of Jewish culture, past and present.
Maryland Historical Society Museum

Baltimore

The museum houses an incredible collection of treasures. From 18th- and 19th-century paintings and silver to 20th- century objects of everyday life, the museum collection celebrates Maryland's rich and diverse history. The museum houses the Carey Center for Maryland Life, which showcases the MdHS collections through its core exhibitions, Looking for Liberty: An Overview of Maryland History, Maryland Through the Artist's Eye, and Furniture in Maryland Life. Among its more than 350,000 objects, the most significant collection of Maryland cultural artifacts in the world, are more then 2,000 paintings including the largest collection of works of art by members of the Peale family, a significant collection of maritime-related artifacts, and outstanding collections of 19th-century Maryland painted and inlaid furniture, silver and quilts, costumes, ceramics, and dolls and toys.
Maryland Science Center

Baltimore

The Maryland Academy of Sciences is Maryland's oldest scientific institution and one of the oldest such institutions in the entire nation. A major expansion and renovation of the entire facility was completed in May of 2004. New exhibitions were added on all levels as well as the addition of a permanent hall showcasing dinosaurs and earth sciences, and a dedicated gallery for housing temporary exhibitions. Upgrades to the IMAX Theater introduced 3D film technology and improvements to the physical plant updated and enhanced visitor amenities and services. Today, as it has been in the past, the Maryland Science Center continues to focus on remaining a vital community resource and economic development engine now and in the future.
Maryland Zoo at Baltimore

Baltimore

The Baltimore Zoo was created on April 7, 1876. and is the third oldest zoo in the country. Currently the Zoo's animal collection encompasses more than 1,500 birds, mammals, amphibians and reptiles, representing nearly 200 species. Animals are displayed in natural settings replicating their native habitats. Home school classes at the zoo are intended to provide educational enrichment to home school children ages 5-8. These classes are for the students only, home school teachers are asked to wait outside the classroom or explore the zoo at their leisure.
Mount Clare Museum House

Baltimore

On a rise in the center of Carroll Park in southwest Baltimore stands Maryland's first museum house and one of the oldest and finest examples of colonial Georgian architecture in the city. Mount Clare is a 1760 colonial Georgian home built by one of Maryland's leading patriots and one of our first state senators, Charles Carroll, Barrister. Mount Clare was the center of Georgia Plantation, a self-sufficient plantation with a diverse community. Because of its exceptional value in interpreting our rich national heritage, Mount Clare was designated a National Historic Landmark in 1971. The National Society of the Colonial Dames in America in the State of Maryland has been the steward of Mount Clare since 1917, and owns the museum's collection of nearly 3,000 objects from the 18th and 19th century which includes paintings, furniture, and decorative arts, a majority of which are on display at Mount Clare. Today, Mount Clare Museum House educates the public about all aspects of life on an 18th century plantation including the lives of enslaved Africans and indentured servants. The museum has one of the finest privately owned decorative arts collections in the country, most of which belonged to the Carroll family. It is renowned amongst scholars and collectors alike. The collection consists of English and Chinese export objects as well as many regional objects and furnishings from Maryland, Virginia and Pennsylvania. On exhibit are 16 family portraits by notable artists such as Charles Willson Peale and Robert Edge Pine. This exceptional collection allows us to provide a remarkably personal interpretation of life at Mount Clare -- a rare treat for historic house visitors.
National Aquarium in Baltimore

Baltimore

Through transforming experiences, the National Aquarium Institute inspires people to enjoy, respect, and protect the aquatic world. The Aquarium is home to approximately 16,500 specimens and more than 660 species of animals. The National Aquarium is deeply committed to extending the knowledge and resources gained through daily operations toward the betterment of the natural environment.
National Great Blacks In Wax Museum

Baltimore

The National Great Blacks In Wax Museum is among the nations most dynamic cultural and educational institutions. Because it is a wax museum committed solely to the study and preservation of African American history, it is also among the most unique. This unique museum, the first one of wax in Baltimore, Maryland and the first wax museum of African American history in the nation, is the brainchild of Dr's. Elmer and Joanne Martin. Primarily, the presentation of life-size, life-like wax figures highlighting historical and contemporary personalities of African ancestry defines its uniqueness.
Natural History Society of Maryland

Baltimore

The mission of the Natural History Society of Maryland is to foster stewardship of Maryland's natural heritage by conserving its natural history collections, educating its citizenry, and inspiring its youth to pursue careers in the natural sciences.
Port Discovery Children's Museum

Baltimore

Port Discovery Children's Museum provides experiences which ignite imagination, inspire learning, and nurture growth through play.
The Robert Long House

Baltimore

Oldest existing residence in Baltimore (1765), is the headquarters of the Society for the Preservation of Federal Hill and Fells Point. - The painstakingly restored building originally served merchant Robert Long as both house and business office.
USS Constellation

Baltimore

USS Constellation, the last all sail warship built by the US Navy, is open to the public as a museum in Baltimore's Inner Harbor. The USS Constellation Museum invites guests to discover life on board the only Civil War era vessel still afloat and explore the ship's maritime history.
Walters Art Museum

Baltimore

The Walters Art Museum in Baltimore, Maryland is internationally renowned for its collection of art. The collection presents an overview of world art from pre-dynastic Egypt to 20th-century Europe, and counts among its many treasures Greek sculpture and Roman sarcophagi; medieval ivories and Old Master paintings; Art Deco jewelry and 19th-century European and American masterpieces.
Fort McHenry National Monument and Historic Shrine

Baltimore

"O say can you see, by the dawn's early light," a large red, white and blue banner? "Whose broad stripes and bright stars . . . were so gallantly streaming!" over the star-shaped Fort McHenry during the Battle of Baltimore, September 13-14, 1814. The valiant defense of the fort by 1,000 dedicated Americans inspired Francis Scott Key to write "The Star-Spangled Banner."
Assateague State Park

Berlin

Assateague State Park is Maryland's only ocean park. It is located on Assateague Island, a barrier island bordered on the east by the Atlantic Ocean and on the west by Sinepuxent Bay. Two miles of ocean beaches offer swimming, beachcombing, sunbathing, surfing and fishing. The island's bayside offers visitors the chance to explore secluded coves by canoe or kayak. The marsh areas have a variety of wildlife, including deer, waterfowl and feral horses. Assateague was selected by National Geographic Travel magazine in 1994 as one of the 10 best state parks in the United States.
Rackliffe House Plantation

Berlin

Here is the "cradle" of Maryland's costal history: a prehistoric Native American campground; a colorful connection to early English merchant-planters; target of attacks by British raiding parties; and more recent fame as The Haunted House.
St. Martin's Episcopal Church Museum

Berlin

St. Martin's Episcopal Church endures as one of the most significant religious sites on the lower Eastern Shore, considered by many an architectural gem of Episcopal history. Four Flemish bond brick walls rise from a beveled water table; a glazed brick checkerboard pattern enhances the south wall. The window and door openings are highlighted by rubbed brick borders and jack arches. The south and west entrances are distinguished further by a scroll-shaped decoration. Notable features of the roof construction include the kicked eaves and cove cornices and the underlying structure itself, a massive principal rafter, king-post framing system. The church has been accurately and beautifully restored to its original interior and is open for visitors as a multipurpose museum.
Calvin B. Taylor House

Berlin

Visit this carefully restored early nineteenth century house, located in Berlin's National Register Historic District. The main block of the house has been furnished as a house museum and the west wing as a gallery displaying local memorabilia. Of particular note is the restoration of the wood graining and the magnificent front doorway with its butterfly modillions, sunbursts and fluted engaged columns. The collection which is displayed in the gallery has a particular local flavor. Come and enjoy our shady lawn, historic rooms and fascinating displays. While you are in Berlin, tour our turn-of-the-century commercial district and stroll by some of our many gracious federal era homes.
Assateague Island National Seashore

Berlin

Mutual grooming by Assateague's horses serves to establish and maintain social bonds within the herd. 20kb Want to live on the edge? Visit a place recreated each day by ocean wind and waves. Life on Assateague Island has adapted to an existence on the move. Explore sandy beaches, salt marshes, maritime forests and coastal bays. Rest, relax, recreate and enjoy some time on the edge of the continent.
National Library of Medicine

Bethesda

The National Library of Medicine (NLM), in Bethesda, Maryland, is a part of the National Institutes of Health, US Department of Health and Human Services (HHS). Since its founding in 1836, NLM has played a pivotal role in translating biomedical research into practice. It is the world's largest biomedical library and the developer of electronic information services that deliver trillions of bytes of data to millions of users every day. Scientists, health professionals, and the public in the US and around the globe search the Library's online information resources more than one billion times each year. The Library is open to all and has many services and resources--for scientists, health professionals, historians, and the general public. NLM has nearly 12 million books, journals, manuscripts, audiovisuals, and other forms of medical information on its shelves, making it the largest health-science library in the world.
Ratner Museum

Bethesda

Founded "to foster love of the Bible through the graphic arts" as "a walk through the Hebrew Bible via visual arts." Exhibitions at the Museum include:A permanent collection of the art of Phillip Ratner in sculpting, drawing, painting and graphics. Exhibits of the works of established professional emerging artists change each month. Traveling exhibitions. Adam Bright and the New Zoo,a epilogical fairy tail. Children Literature in Art
The Floortime Center

Bethesda

The Floortime Center is an outpatient clinic in Bethesda suitable for children of all ages. Opening this large facility for field trips Friday afternoons and would love to host a home school group looking for a safe, educational, and fun environment. Trained staff and therapists will be here to support children's social emotional learning in various sensory gyms or symbolic play and arts and crafts style rooms.
Fort Frederick State Park

Big Pool

The site of Maryland's frontier defense during the French and Indian War (1754-1763), the Fort's stone wall and two barracks have been restored to their 1758 appearance. Historic displays are in the Fort, barracks and Visitor Center. The park annually holds military reenactments and other special events. Park lands adjoin the Potomac River and the Chesapeake and Ohio Canal passes through park acreage. Tours are available by request. Daily Living History programming is available from Memorial Day through Labor Day and on weekends in the spring and fall.
Western Maryland Rail Trail

Big Pool

Common activities people enjoy on the trail include hiking, biking, jogging and skating. The easy grade and paved surface make this path ideal for families, the elderly and persons with disabilities (the trail is very wheelchair friendly) to enjoy a trek outside.
Gathland State Park

Boonsboro

Gathland State Park was once the mountain home of George Alfred Townsend, a Civil War journalist. It is the site of a unique collection of buildings and structures that he designed and constructed, some of which have been restored. A large, stone monument dedicated to war correspondents is an outstanding attraction at this day use park. Features: Historic interest, hiking trail, picnicking, visitors center.
Greenbrier State Park

Boonsboro

Greenbrier is a multi-use park providing many kinds of recreation. Features: Camping, boat launch, boat rental, camp store, flat water canoeing, hiking trails, picnic area, playground, swimming May-September (lifeguards Memorial Day to Labor Day), mountain biking and hunting.
South Mountain State Park

Boonsboro

This historic park has over 10,000 acres for year-round hiking along the Appalachian Trail.
Washington County Rural Heritage Museum

Boonsboro

Back to a time when the pace was a bit slower and life centered around the farm, family, and community. At the Washington County Rural Heritage Museum you will learn about our region's beginnings and history, and how our rural and agricultural heritage continue to play a role in Washington County today.
Belair Mansion and Stables

Bowie

Belair Mansion, listed on the National Register of Historic Places, offers a look at Bowie's earliest history. Built circa 1745 for Provincial Governor Samuel Ogle and his wife, Anne Tasker Ogle, the Mansion later became one of the homes of William Woodward, noted American horseman of the 20th century. Enlarged by Woodward in 1914, the Mansion today reflects its 250-year use as a residence.
The National Capital Radio & Television Museum

Bowie

Containing hundreds of rare artifacts relating to the history of radio and television technology and broadcasting. Visitors can stroll through the development of home receivers, listen to radio sound clips on sets from the 1920s to today's satellite radio era, and view vintage TV programs on restored television sets. Chances are good that every visitor will see a radio or TV set like the one parents or grandparents had.
Cedarville State Forest

Brandywine

Features: Hiking, Biking and Equestrian Trails, Family Camping, Picnicking, Fishing and Hunting.
Brunswick Railroad Museum

Brunswick

The Brunswick Railroad Museum preserves this community's railroad heritage through dynamic presentations for railroad fans and history lovers of all ages.
St. Mary's River State Park

Calloway

Features: Boat launch, fishing, flat water canoeing, hiking, horseback, and mountain biking trails hunting, picnicking, boating--electric motor only.
Meredith House

Cambridge

The Meredith House is the home of the Dorchester County Historical Society. This Georgian-style home, built circa 1760 in its present location, displays period furniture, portraits, china, silver, quilts and toys. Also exhibited are the artifacts of the seven governors of Maryland from Dorchester County.
Richardson Maritime Museum

Cambridge

Walk into the Museum and step back into the rich history of Dorchester County's influence on Chesapeake Bay traditional wooden sailing vessels. Bordering the Bay, bounded by broad rivers and laced with countless waterways, the County has been home to hundreds of boatyards since its early settlement. The vessels created beside these waters range from crabbing skiffs and dovetails to clipper ships and schooners. Their designs sometimes went on to affect the course of history, as in the War of 1812, when privateers that were built on Cambridge Creek were highly prized by both sides for their speed and maneuverability.
Chesapeake Bay Gateways Network

Chesapeake Bay region

First thoughts of the Chesapeake Bay often bring up images of crabs and oysters. But, as the largest estuary in North America, the Chesapeake Bay has touched and influenced much of the American story -- early settlement, commerce, the military, transportation, recreation and more. The Bay and its surrounding 64,000 square mile watershed hold a treasure trove of historic areas, natural wonders and recreational opportunities.
Poplar Hill Historic House Museum

Clinton

Poplar Hill on His Lordship's Kindness (a.k.a. just simply "His Lordship's Kindness") is widely recognized as one of the finest examples of 18th century five-part Georgian architecture in America. It is one of only three (3) historic structures in Prince George's County, Maryland to receive the prestigious honor of being designated a "National Historic Landmark." Since 1995, the John M. and Sara R. Walton Foundation, Inc. owns, maintains and operates Poplar Hill as a historic house museum and educational facility. The John M. and Sara R. Walton Foundation, Inc. is a 501 (c) (3) private foundation created in 1988 by the late John M. Walton, Sr. and his wife Sara R. Walton for the expressed purpose of providing for the perpetual preservation of Poplar Hill on His Lordship's Kindness and for its ongoing operation as an educational museum facility.
National Capital Trolley Museum

Colesville

The National Capital Trolley Museum preserves and interprets the heritage of electric and interurban railways of Washington, DC and environs for the benefit of present and future generations, while supplementing its collections with significant national and international objects to enhance its interpretive programs.
College Park Aviation Museum

College Park

The College Park Aviation Museum opened in 1998 and is an affiliate of the Smithsonian Institution. The museum is a 27,000-square-foot, state-of-the-art facility located on the grounds of the world's oldest continuously operating airport in College Park, MD. The airport was founded in 1909 when Wilbur Wright came here to give flight instruction to the first military aviators. Visitors to the museum step into an open 1 1/2 story exhibit space, which highlights the display of unique aircraft and artifacts and tells the story of the airport's many firsts in flight to today. The museum gallery contains historic and reproduction aircraft associated with the history of the airfield, as well as hands-on activities and interpretive areas for children of all ages. Changing exhibits and new programs every month keep visitors coming back for more.
St. Clement's Island Museum

Colton's Point

The St. Clement's Island Museum rests on the east shore of the Potomac River overlooking St. Clement's Island, Maryland's First Colonial Landing in 1634. The Museum's mission concentrates on Maryland's earliest history and Potomac River heritage.
Janes Island State Park

Crisfield

Features: Boat launch, canoe/kayak rental, cabins, camp fire programs, camp sites, camp store, dump station, fishing and crabbing, flat water canoeing and kayaking, historic interest, electric hook ups, hunting, picnicking, playground, shelters, swimming (accessible by boat only), visitor's center, conference center.
Martinak State Park

Denton

Features: Fishing and Boating, Camping, Cabins and Picnicking.
North Point State Park

Edgemere

Hiking and biking trails, tidal fishing, flatwater paddling, birding, historic interests, picnicking and a visitor center. Bikes are not permitted in any protected wildland areas.
Historic London Town and Gardens

Edgewater

Sharing a "lost" colonial town and garden sanctuary on the South River. Early Maryland explores colonial life and daily activities in the colonial port town of London Town. With activities taking place in and around the c. 1760 William Brown House colonial tavern and our historically accurate reconstructions of the Lord Mayor's Tenement and Carpenter Shop, this program transports students to an earlier age. Best for third, fourth, and fifth graders, but adaptable for kindergarten through 12th grade students, homeschoolers, Scouts, and other children's organizations.
Patapsco Valley State Park

Ellicott City

Patapsco Valley State Park features fishing, flatwater and whitewater canoeing, hiking trails, hunting, equestrian trails, picnicking, nature and history study, mountain biking, cross-country skiing.
National Shrine of Saint Elizabeth Ann Seton

Emmitsburg

The National Shrine of Saint Elizabeth Ann Seton welcomes you to explore the life and legacy of Mother Seton at the location where she began a journey that would result in her Canonization as the first native-born saint of the United States of America.
Green Ridge State Forest

Flintstone

Green Ridge is the second largest of Maryland's State Forests consisting of a 46,000-acre oak-hickory forest. Features: Camping, Biking, Fishing/Boating, Hiking/Backpacking, Off-Road Vehicles, Hunting/Shooting Range and Self-Guided Recreational Activities.
Rocky Gap State Park

Flintstone

Rocky Gap Amphitheater, Camping/Lodging, Boating/Fishing, Trails, Self-Guided Recreational Activities, Interpretation/Nature Center and an on-site aviary.
Fort Washington Park

Fort Washington

Fort Washington is the only permanent fortification built to defend the river approach to the Nation's Capital. The website offers historical information about the fort for those who cannot visit in person.
Harmony Hall

Fort Washington

Outstanding early colonial House - A two-and-one-half story eighteenth century Georgian country house of red brick set in Flemish bond. Sixty five acres of wooded areas surround the house. Broad Creek, a tributary of the Potomac River, is part of Harmony Hall's vast and varied agricultural, cultural and natural histories.
Heritage Frederick

Frederick

Discover the rich history of Frederick County and its role that it has played in the nation. Journey through the county's struggles, triumphs and entertainments spanning the colonial period to the cold war era. The voices of our past are shared through museum exhibits, walking tours and specialized programs tailored to the home-school students.
National Museum of Civil War Medicine

Frederick

nteractive educational programs, exhibits, seminars and lectures provide the knowledge that Civil War medicine connects us not only to our past, but is the scientific and historical link to our present and our future. The National Museum of Civil War Medicine is the premiere repository of exhibits and artifacts devoted to the technological and procedural advances made in the medical field between 1861-1865. These changes occurred in the midst of tremendous social and economic upheaval. The Museum is committed to effectively weaving the narrative of suffering soldiers, caregivers, their families and the dramatic and innovative developments in medical treatment. The Museum utilizes its collection to heighten public awareness of the modern medical practices that originated on the battlefields and in the hospitals of this once-divided country.
Rose Hill Manor Park & Children's Museum

Frederick

The first rural hands-on history museum in the United States designed for elementary school-aged children, this delightful museum provides daily history tours up to two hours in length.
Schifferstadt Architectural Museum

Frederick

Schifferstadt, named by Joseph Brunner after his childhood home near Mannheim, Germany, stands on its original site in Frederick, Maryland. Joseph and his family arrived in Philadelphia around 1729. In 1746 he purchased 303 acres of a tract known as "Tasker's Chance" from Daniel Dulany. Schifferstadt, the oldest known house on Frederick still standing, was completed in 1756. Schifferstadt's sandstone walls are two feet thick and its hand-hewn beams are pinned together with wooden pegs. Reinforced arches of stone above the windows and doors on the first floor provide support for the outside walls above them. The roof's unusual kick-up and flared eaves, tremendous "wishbone" chimney, paling insulated interior walls and ceilings, and exposed half-timbering make Schifferstadt an important landmark in the study of German architecture in Maryland.
Monocacy National Battlefield

Frederick

The battlefield is known as the location fro the Civil War battle that saved Washington, D.C. The website offers historical information about the battle for those who cannot visit in person.
Thrasher Carriage Museum

Frostburg

"Make the Journey" on the National Road to the Thrasher Carriage Museum. Costumed docents transport visitors back in time to explore early transportation. Guides and interpretive signs offer a glimpse into the world of the elegant traveler. Stories of the clothing, activities, and lifestyles of Victorian Americans are interspersed with the fascinating details of remarkable vehicles. The Thrasher Carriage Museum, one of the top collections of horse-drawn vehicles, represents every walk of life from the milkman to the wealthy. Pleasure vehicles, funeral wagons, sleighs, carts, and more are on display in the renovated 19th century warehouse. Visitors will enjoy browsing in the General Store gift shop for candles, candy, toys, and more.
Patuxent River State Park

Gaithersburg

Catch and release trout stream, designated hunting areas, unmarked hiking and equestrian trails.
Seneca Creek State Park

Gaithersburg

Hiking and biking trails, boat rental, fishing, flatwater canoeing and kayaking, historic interest, hunting, picnicking, playgrounds, riding trails, picnic pavilions, a restored 19th century cabin, cross-country skiing and vending refreshments.
Girdletree Barnes Bank

Girdletree

The Girdletree Barnes Bank is one of only two small banks remaining in Worcester County. It serves today as a museum, exhibiting items and memorabilia from this rural community's past. A large walk-in vault is being restored. The structure is brick with stone sills. The roof is slate with metal cornice trim and cresting.
Clara Barton National Historic Site

Glen Echo

Clara Barton dedicated her life to help others both at home and abroad, in peacetime as well as during military emergencies. Glen Echo was her home the last 15 years of her life
Glen Echo Park

Glen Echo

Begun in 1891 as an idealistic attempt to create a National Chautauqua Assembly "to promote liberal and practical education", the park became instead the area's premier amusement park from 1898-1968. Today, the park has come full circle, offering year-round educational activities, while two amusement-era destinations (the Spanish Ballroom and Dentzel Carousel) remain major attractions.
Marietta House Museum

Glenn Dale

Marietta House Museum is the former home and plantation of Gabriel Duvall (1752-1844), a U.S. Supreme Court Justice. As an attorney, Gabriel Duvall worked on behalf of over 120 enslaved people who sued in court for their freedom. At the same time, Duvall and his family enslaved multiple generations of people at Marietta. Since 2004, Marietta has been part of the National Underground Railroad Network to Freedom. Field trips and guided tours of the historic house and site Tues-Fri, $5/person, children under 12 free.
Casselman River Bridge State Park

Grantsville

Casselman River Bridge State Park is a 4-acre parcel located east of Grantsville in Garrett County on U.S. Route 40. It is a popular area for fly fishermen, photographers and history enthusiasts. Erected in 1813, and still standing as a picturesque relic of Maryland's early transportation history, the Casselman River Bridge, with its 80 foot span, was the longest single span stone arch bridge in the world during the era of the National Road.
New Germany State Park

Grantsville

Features Boat launch, boat rental, cabins, cross country skiing, camp fire programs, camp sites, snack bar, dump station, fishing, flat water canoeing, hiking trail, historic interest, picnic table & grills, shelters, swimming, nature center.
Savage River State Forest

Grantsville

Features; Biking trails, boat launch, cross country skiing, campsites, fishing, flat water canoeing, hiking trail, historic interest, hunting, picnic, riding trails, shelters, snowmobiling, white water canoeing.
Greenbelt Park

Greenbelt

Make plans to visit Washington, D.C. and stay at Greenbelt Park's campground for only $16. The Greenbelt campground is known for its safety, affordability, peaceful surroundings, National Park Service hospitality and is open all year round.
Hagerstown Roundhouse Museum

Hagerstown

The Hagerstown Roundhouse Museum is dedicated to the preservation of our railroad hertiage and to the men and women who worked for the railroads and made Hagerstown the "Hub City". The collection of historical equipment includes the #132 Diesel-Electric Locomotive built by the Baldwin Locomotive Works in Philadelphia, PA in 1944, two Western Maryland cabooses built in the Western Maryland shops during the 1930's, and Hagerstown & Frederick trolley #168 built in 1918. The Museum is filled with artifacts, photos, railroad art, model railroads, a library, a roster of Western Maryland employees, and a gift shop. There is something for everyone at the Museum. There are trains for kids to run, and specials events include the Trains of Christmas and Railroad Heritage Days.
Discovery Station at Hagerstown

Hagerstown

Discovery Station at Hagerstown, Inc. is a hands-on museum that provides life-long learning experiences to thousands of children and families each year. We create an environment that stimulates curiosity for discovery, exploration, and further investigation through exhibits and programs that focus on Science, Technology, Engineering, Art, and Math (STEAM) principles.Discovery Station group visits and field trips require a minimum of 10 people and a maximum of 60 people per tour. All field trips must be conducted during normal operating hours; not exceeding a 2.5 -hour maximum trip visit.
Washington County Museum of Fine Arts

Hagerstown

The Washington County Museum of Fine Arts was founded by Mr. and Mrs. William Henry Singer, Jr. and incorporated in 1929. The Museum has a long and impressive tradition of cultural leadership in the Cumberland Valley region, providing residents and visitors with access to an outstanding Permanent Collection and an active schedule of exhibitions, musical concerts, lectures, films, art classes and special events for children and adults throughout the year.
Medieval Times Dinner & Tournament

Hanover

Take your homeschool group on the most fun field trip of the century! Watch as your lesson plans come to life in an 11th century-style castle. An interactive educational experience your students will treasure! The history of knights, chivalry, and life in the 11th century are woven into live action-packed jousting, swordplay and medieval games of skill. Our two-hour performance includes a 30-minute eductaional presentation, 90-minute show, lunch and lots of great memories that are sure to make you the class hero!
Susquehanna State Park

Havre de Grace

Susquehanna State Park offers a wide variety of outdoor recreational opportunities as well as historical significance. The park is home to some of the most popular mountain biking trails in Maryland and the river itself beacons fishermen and boaters alike. Susquehanna State Park also contains a very family friendly campground with traditional campsites and cabins. History buffs will be drawn to the restored Rock Run Historical Area with its working grist mill, the Archer Mansion, Jersey Toll House and the remains of the Susquehanna Tidewater Canal. The facility offers a boat launch, campsites, cross-country skiing, fishing, flat water canoeing, hiking trails, historic interest, pet trail, picnicking, pavilions, playground, riding trails, bow hunting area and archery range.
Havre de Grace Decoy Museum

Havre de Grace

Located on the banks of the historic Susquehanna Flats, the Havre de Grace Decoy Museum houses one of the finest collections of working and decorative Chesapeake Bay decoys ever assembled. The museum was established in 1986 as a private, non-profit institution existing to preserve the historical and cultural legacy of waterfowling and decoy making on the Chesapeake Bay. Through tours, lectures, demonstrations, special events, and a series of exhibits that range from single display cases to room-sized waterfowling displays, the Decoy Museum strives to communicate the heritage of Upper Bay decoy making to a national audience.
Steppingstone Museum

Havre de Grace

Steppingstone museum is a private, not for profit museum which preserves and demonstrates the rural arts and crafts of the 1880-1920 period in Harford County. The Steppingstone collection is comprised of domestic arts, skilled trades and husbandry. The Artifacts in each category were used by skilled specialist whose talents are scarce in our present urban and industrial society. The purpose of the interpretive at Steppingstone is the acquisition, preservation and study of the material culture of America's last rural generation, as well as the exhibition and demonstrated use of the artifacts. The museum was established for the education of the younger generation and continues to strive to achieve this goal through a variety of guided tours and craft workshop programs. The visitors can spend the afternoon touring the sites of a once working Harford County farm. The farmhouse, furnished as a turn-of-the-century home, charms the visitor as a guide invites you to share the daily life of the period. Tours include the formal sitting room, sleeping quarters, and kitchen with its wood burning stove and ice box. The stone farmhouse is furnished with antiques from the 1880-1920 time period. Displays of quilts, lacework, dolls, toys, books, and other memorabilia complete this collection.
Greenwell State Park

Hollywood

Features: Fishing, Picnicking, Hunting, Canoeing and Kayaking, Swimming, The park has an honor system, with service charges ($3/vehicle) benefitting the Greenwell Foundation to help operate the park.
Sotterley Plantation

Hollywood

Older than Mount Vernon, older than Monticello, older than the nation itself, Sotterley Plantation stands majestically on the banks of the Patuxent River. It is the only remaining Tidewater Plantation in Maryland that is open to the public with a full range of visitor activities and educational programs. Sotterley's significant architecture features the early 18th-century Mansion, a rare original slave cabin, and a full array of outbuildings set amidst 95 acres of rolling fields, gardens, and riverfront. What stories unfold as you walk through the Sotterley landscape? How have African and European Americans etched their cultures into the natural features of river, wood, and open field? What do the buildings, their locations, and the modifications made to them, reveal about the inhabitants who have existed here over several centuries? Sotterley illuminates the relationship of people to each other and to the land and tells the story of how they shaped and were shaped by a particular place.
Rocks State Park

Jarrettsville

The facility features opportunities for fishing, hiking, picnicking, canoeing and tubing, as well as bow hunting, rock climbing and repelling. Playgrounds, shelters, and comfort stations are available at each of the three picnic areas.
Gunpowder Falls State Park

Kingsville

There are more than 100 miles of trails. The park features excellent trout fishing opportunities, as well as other freshwater and tidal fishing areas. Also offers boat launching, rowboat rental, fuel and a marina store.
Hart-Miller Island State Park

Kingsville

Hart-Miller Island is located in the Chesapeake Bay near the mouth of Middle River and is accessible only by boat. The western shore of the island offers safe mooring, wading and access to a 3,000-foot sandy beach. Campsites, fishing, hiking trails, picnicking, swimming.
River & Trail Outfitters

Knoxville

River & Trail Outfitters provides a variety of educational tours for groups and individuals ages 5 to 95. From History to Ecology, trips can be on the water or land and are designed to fit any budget. Call a Groups Specialist for more details 304.834.9950
SHARE Food Network

Landover

SHARE is a non-profit food network that has offered food resources to families and individuals in the Washington, DC metropolitan area for 32 years. SHARE distributes over 5,500 nutritious food packages monthly. Volunteers are essential for a distribution of this magnitude. SHARE is currently recognized in Washington DC, Maryland and Virginia as a viable source for Student Service Learning. Volunteer assist with every aspect of a food distribution. Students can volunteer individually or as a group (field trip).
Laurel Museum

Laurel

Discover the rich history of Laurel, Maryland, an historic town located on the Patuxent River half way between Baltimore and Washington. Learn about its mill town roots, railroad connections, African-American community and early suburban experiences.
Montpelier House Museum

Laurel

Discover the power of innovation at the Goode Inventions home school program. At this immersive experience, students celebrate the remarkable inventions that have shaped our world. They will learn the fascinating story of Sarah Goode and other African American inventors, uncover the STEM principles behind a variety of ingenious creations, even interact with an early Maryland invention. Scavenger hunts and hands-on activities round out the program, sparking curiosity and inspiring problem-solving. Call 301-377-7817 to make a reservation.
National Electronics Museum

Linthicum

From telegraph and radio to radar and satellites, the National Electronics Museum offers visitors free access to the electronic marvels that have helped to shape our country and our world.
Greenstreet Gardens

Lothian

Annually booking groups for the last week of September and the entire month of October. Start times begin at 9:30am until 12:00pm. The grounds close at 2:30pm. Prices for field trips is $11.00 per students, teacher, and chaperones. This includes 2 1/2 hours on the farm with all activities and educational program promoting life on the farm. Come enjoy all of your favorite activities such as the hayride, the jumping pillow, underground slide, kiddie corn maze, pumpkin bowling, a straw castle and more!
Calvert Cliffs State Park

Lusby

Fishing, Fossil Hunting, hiking trails, historic interest, hunting, picnicking, youth group camping, playground, shelters.
Fire Museum

Lutherville

The Fire Museum of Maryland opened in 1971 as a private, non-profit 501(c)(3) corporation. It ranks as one of the finest fire fighting museums in the United States, and displays apparatus from 1806 to 1957. As an educational institution, the Fire Museum provides a variety of special events for children, fire fighters, and interested adults that introduces them to the history of antique fire apparatus and the related memorabilia.
Chapel Point State Park

Marbury

Chapel Point State Park is located on the beautiful Port Tobacco River, a tributary of the Potomac River. Chapel Point is an undeveloped multi-use park. There is a waterfront area that offers excellent fishing. A Maryland Bay Sport Tidal License is required. Watch your tides before visiting this area. At high tide there is almost no beach. This area has a small sand launch area that is suitable for the launch of small john-boats, canoes and kayaks, and personal watercraft.
Purse State Park

Marbury

Features: Hunting, fishing, bird watching, fossil hunting.
Smallwood State Park

Marbury

Smallwood was the home of General William Smallwood, a Revolutionary War officer who was the 4th Governor of Maryland. His house, called Smallwood's Retreat, has been restored and is open to visitors. Sweden Point Marina has 50 boat slips and excellent access for fishing on the Potomac River.
Washington Monument State Park

Middletown

Features: Historic interest, picnicking, playground, shelters and hiking.
Adventure Park USA

Monrovia

Adventure Park USA is Maryland's largest family entertainment center. Open year-round, there's everything from Laser Tag, Go Karts, and Roller Coasters to Miniature Golf Courses and kiddy rides, with enough adventure for the whole family! Featuring both indoor and outdoor attractions, there's something fun for everyone, with group discounts and the best birthday parties around. Adventure Park USA even has summer camps and before and after-school care for kids! Stay up-to-date with our Event Calendar and start planning your fun-filled trip today. Let the adventure begin!
Ripley's Believe It Or Not Museum

Multiple Locations

Offers museums and attractions in multiple countries focusing on odd and amazing things. Provides videos, details about exhibits, and their history.
Medieval Times

Multiple locations

Exciting, family friendly dinner theater featuring an authentic medieval tournament and feast with jousting knights, and live horses.
National Harbor

National Harbor

National Harbor is a waterfront resort destination set along the banks of the Potomac River overlooking Old Town Alexandria and Mt. Vernon, just south of Washington D.C. Its central location, array of hotel options, restaurants and entertainment make National Harbor the perfect home base from which to enjoy the entire region. Activities are not free but a fun way to visit the DC region. Includes a large Ferris wheel, Carousel, Marina, Outlet shopping, and boat tours.
Queponco Railway Station

Newark

In the village of Newark, Maryland, Queponco Station stands today, silent and unused, a symbol of earlier times when the railroad was a vital part of the daily life of the people of the Eastern Shore. Standing at the halfway point between Berlin and Snow Hill, Queponco Station was erected in 1910. There has been rail service in Worcester County from 1872 until the present time. Due to the lack of demand for passenger service use of the depot dwindled in the 1960's and the building was sold by the Pennsylvania Railroad to a private citizen who used it for storage purposes. In 1991 a local group, Queponco Railway Station, Inc., for to repair and preserve the old railway station. The mission of this group is to save the station and to preserve the heritage of the village of Newark and the railroad. The station is open to the public during the 1st and 3rd Saturday of May through October from 1:00 - 4:00. Open by appointment off season.
Elk Neck State Forest

North East

Elk Neck State Forest is approximately 3300 acres situated in central Cecil County consisting of four separate tracts of land. Elk Neck State Forest is open to the public for hunting, hiking, horseback riding and mountain biking. Shooting ranges for bow, hand gun, shotgun and rifle are also available to the public. Permits are accessed from a self-service honor system located at the Maintenance Complex. The forest supports a diverse habitat with mixed deciduous and evergreen trees and an understory of mountain laurel, azaleas and other native shrubs. Birdwatchers, including members of the Cecil County Bird Club, enjoy observing the forest's abundance of migratory birds. For those interested in wildflowers, the Forest is home to an abundance of natural flora.
Elk Neck State Park

North East

Sandy beaches, marshlands and heavily wooded bluffs comprise the peninsula formed by the North East and Elk Rivers, and the Chesapeake Bay, where this park is located. Several trails meander through the diversified topography, revealing the great variety of plant and animal life. An easy walking trail to Turkey Point Lighthouse provides a view of the Elk River and the Chesapeake Bay.
Upper Bay Museum

North East

This unique museum preserves and interprets the heritage of both the commercial and recreational hunter of the Upper Chesapeake Bay. This is the site of the famed Susquehanna Flats, a hunting paradise that has attracted many famous people, including J.P. Morgan and Grover Cleveland. Wildfowl hunting was once primarily a commercial activity that, along with other maritime industries and commerce, helped support the communities that grew around the Bay. Today such hunting is done on a recreational basis exclusively.
National Building Museum

Northwest

The National Building Museum is America's leading cultural institution devoted to the history and impact of the built environment. The museum tells the stories of architecture, engineering, and design. Looks for special free events in the fall and winter for children and their families. Curriculum Kits provide all of the resources and materials needed to offer Museum programs in your own classroom across the country. A variety of Educator Resource Packets containing numerous lesson plans are available for educators free of charge.
Herrington Manor State Park

Oakland

Herrington Manor was designated as a state park in 1964, and encompasses 365 acres. The park offers swimming, boating in rowboats, canoes and paddle boats, picnicking, hiking, tennis, volleyball and 20 furnished log cabins for rental use year round. Interpretive programs are scheduled during the summer; and popular special events such as maple syrup demonstrations and apple butter making are held in the spring and fall of the year.
Potomac-Garrett State Forest

Oakland

Features: 3-D Archery Range, cross country skiing, camping and shelters, fishing, hiking trails, hunting, picnicking, equestrian trails, and snowmobiling.
Swallow Falls State Park

Oakland

Features: Camping, Hiking trails, Picnic area, pavilion, playground, nature programs during the summer, and the wild and scenic Youghiogheny River can all be found at Swallow Falls State Park. Nearby Herrington Manor State Park, four miles south, offers a 53 acre lake with a swimming beach, boat rentals, and a snack bar during the summer season.
Jolly Roger Amusement Parks

Ocean City

An Ocean City tradition since 1964. Jolly Roger Amusement Park is an amusement park located in Ocean City, Maryland. The park features two locations in Ocean City: one at the pier on the Ocean City boardwalk and one further uptown at 30th Street.
Ocean City Life Saving Station Museum

Ocean City

Shipwrecks, Life-Saving & Rescue, History, Swimwear, Sealife, & More! Seaside Adventure! - The historic Ocean City Life-Saving Station Museum serves as the town's museum. The Beach Room - houses a large collection of bathing fashions, beach toys, and accessories worn by Ocean City beach goers during the past century. The Aquarium Room - contains two 250 gallon saltwater aquariums and several smaller tanks filled with interesting creatures indigenous to the Ocean City waters. Sands From Around the World - is a unique collection of over 200 samples of sand collected by friends of the museum. Davey Jones' Locker - Deep-sea divers share with you unusual objects that have been recovered from the shipwrecks off of Ocean City and the surrounding area. Wreck in the Offing - is a vividly depicted exhibit of the U.S. Life-Saving Service. The Sirens of the Sea - is an exhibit devoted to the mermaid. Several unique dolls' houses - depict the once gracious hotels and notable businesses of Ocean City's past.
Ocean City Life-Saving Station Museum

Ocean City

Take some time to reminisce with our Ocean City Memories or let yourself travel back through time to join the heroic Surfmen of the US Life-Saving Service on a rescue mission. Preview some of our exhibits or look up family history in our genealogy section. When in Ocean City, Maryland join us by taking a tour of the Life-Saving Station Museum. You'll find captivating exhibits featuring the history of the U.S. Life-Saving Service and Ocean City History. We also have on display a Mermaid Collection, Shipwreck Artifacts, Sands of the World, and Bathing Fashions. Aquariums featuring local marine life are a favorite for young and old alike. There is something here for everyone. The meticulously restored building that was once scheduled for demolition, is now a monument to Ocean City History.
Soldiers Delight Natural Environment Area

Owings Mills

Soldiers Delight Natural Environment Area (NEA) is comprised of 1,900 acres of serpentine barren. The area has over 39 rare, threatened, or endangered plant species as well as rare insects, rocks and minerals. Rare grassland plant species are threatened by invasion of Virginia Pines. Currently, a five year effort of removing 1,000 acres of pines and prescribed burning are underway to return the area to natural serpentine habitat. Environmental education programs & hiking.
Oxford Museum

Oxford

The Oxford Museum was founded in Oxford, Maryland, in 1964 by a group of residents dedicated to preserving and displaying Oxford's 300 plus years of colonial and American history. Located in the center of town, the wheelchair-accessible Museum displays a diverse and ever-growing collection of artifacts and memorabilia that chronicles the fascinating story of one of the oldest towns in America and, for its size, one of the most significant. The Museum is able to present a broad spectrum of lectures, displays, research materials, publications, and special exhibits. Our collection has more than 2,500 artifacts representing the cultural, historic and economic evolution of Oxford from one of the country's earliest colonial ports through the American Revolution, the Civil War, the halcyon days of railroads, oysters and watermen, and its place as one of the premier sailing destinations on the East Coast. From the Indians early encampments to the modern day yachtsmen, the Museum presents a snapshot of all these intriguing periods of Oxford history. With only 700 residents, Oxford is remarkably unchanged over the centuries.
Fort Foote Park

Oxon Hill

During the Civil War, Fort Foote was built near the Nation's Capital. It is an earth and log structures designed to be a temporary field fortifications and resist the attack of ground forces. The website offers historical information about the fort for those who cannot visit in person.
Oxon Cove Park/Oxon Hill Farm

Oxon Hill

"Come on down, we'll put you to work" - The diverse history of Maryland and our national heritage can be experienced at Oxon Cove Park. Through hands on activities, living history programs, and more, you can experience farm life and how its changed overtime. Explore how the park evolved from a plantation home during the War of 1812, to a hospital farm, to the park you can visit today.
Patuxent River Naval Air Museum

Patuxent River

Fly through yesterday, today and tomorrow...that is what the Patuxent River Naval Air Museum is all about. It is about the United States Navy's scientific and technological research, development, testing and evaluation of its aircraft and support systems to meet its global mission of furthering our national interests on the high seas.. In addition to numerous outdoor display aircraft that actually played a vital role in the Research, Development, Test and Evaluation (RDT&E) of Naval aviation, The Patuxent River Naval Air Museum also indoor exhibits. These extensive exhibits also convey the RDT&E story in Naval aviation.
Piney Point Light House Museum and Park

Piney Point

The Piney Point Lighthouse Museum is a white two-story structure on the north campus of the park and houses museum exhibits, the Lighthouse Lens Museum Store and offers restrooms and visitor information. Guests are encouraged to begin their visitor experience at the museum where you can sign in, pay admission, and obtain a tour guide who will then provide escort to the Potomac River Maritime Exhibit and the lighthouse and keeper's quarters on the south campus. Those who desire to climb to the top of the lighthouse must be accompanied by a staff person or volunteer. Museum exhibits focus on the construction and operation of the lighthouse, the role of the United States Coast Guard, the attraction of the Piney Point area as a get away for the social elite, and the story of the Black Panther U-1105 German submarine sunk in the Potomac that now serves as Maryland's first historic shipwreck dive preserve
Delmarva Discovery Center

Pocomoke

Tthe Delmarva Discovery Center and Museum (DDC) is a living museum, a place for learning and discovery for visitors of all ages. The immersive and engaging exhibits take visitors on a timeless journey through Delmarva and through the Cypress Swamp. The exhibits focus on the river ecology and the human history of the Pocomoke River and Delmarva. The DDC continues to add to its unique collection, offering return visitors something new to discover each time they visit. The DDC offers a regular schedule of programs, tours, and presentations to families, school classes, youth groups, and other visitors. A new special homeschool series is being formed, with specific programs catered just to homeschoolers! Come check out our hands-on activities!
Costen House

Pocomoke

Costen House was built by Dr. Costen shortly after the Civil War and was lived in by members of his family for over a century. The Costen House and the Hall-Walton Garden are managed under the auspices of the Spirit of Newtown Committee, Inc. whose mission is the preservation of these properties in order to exhibit the life of a small town and Doctor I. T. Costen and his family as they lived from 1870-1920.
Sturgis One Room School Museum

Pocomoke City

Sturgis One Room School Museum, formerly known as Sturgis School, is the only African American One Room School in Worcester County retaining its original integrity. It is a small structure built about 100 years ago on Brantley Road on land that was purchased by William Sturgis in 1888. Sturgis One Room School Museum, Inc. is an organization that actively works to preserve, promote, and protect the rich cultural heritage of Sturgis One Room School and educate our youth to value the school's cultural and historical richness.
Rocklands Farm

Poolesville

"Do you want to know where your food comes from, who raises it, and how it comes to be food? Do you want to experience a farm in a whole new way; fully immersed in an incredible symphony of regenerative farming? Have burning questions about sustainable farming?" Book a tour for your school group today; It's only $10 per person, including students, teachers and chaperones. The 90 minute tour covers our farm ecosystem, livestock husbandry & produce cultivation, your food choices & food shed, and why it all matters. There is a $150 minimum for groups under 15 people.
Thomas Stone National Historic Site

Port Tobacco

When Thomas Stone signed the Declaration of Independence he literally wrote himself into American history. - Immerse yourself in revolutionary history. Visit the restored house and stroll the 322 acres of Haberdeventure, a "dwelling place in the winds". Purchased in 1770 by Thomas Stone, this restored plantation home has been open to the public as a National Historic Site since 1997
Eden Mill Nature Center & Historic Grist Mill Museum

Pylesville

Eden Mill is committed to providing a family friendly environment where people of all ages can explore the natural world. Our programs promote outdoor experiences while learning something new! We teach environmental education with hands-on experience

Eden Mill Nature Center & Historic Grist Mill Museum website
Tuckahoe State Park

Queen Anne

Features: Camping, Youth Group Camping, Cabins, Picnicking/Shelters, Arboretum, Pets, Fishing and Boating, Multi-use Trails, Mountain Bike, Kayak, Paddleboat and Canoe Rentals and Adventure Day Camps.
Wye Oak State Park

Queen Anne

This park gets its name from the Wye Oak. The tree was once the largest and finest of its species in the United States. As a protective site for the great Wye Oak, this 27-acre state park honored the former champion of all white oaks (Quercus alba) in the United States. Limited picnic facilities are available.
Bladensburg Waterfront Park

Riverdale

The Bladensburg Waterfront Park is located on the Anacostia River, one of the most historic waterways in America. Park personnel provide curriculum based classes and programs, interpretive pontoon boat tours, boat and bike rentals, trails, playground and other park amenities. The Battle of Bladensburg Visitor Center is located in the park and is free to all.
Salisbury Zoo

Salisbury

The Salisbury Zoological Park offers Homeschool Programs the first Thursday of the month at 10am.
Ward Museum of Wildfowl Art

Salisbury

The Ward Museum of Wildfowl Art, Salisbury University strives to lead the way for advancing the understanding of wildfowl art and the interrelationships of art, nature and culture. Through educational programs, exhibits and events the Ward Museum builds upon the legacy of Lem and Steve Ward in order to bring young and old to a greater understanding of the human relationship to the natural world. The Ward Museum is a premier educational facility for the study of material culture, living traditions, and environmental concerns for the school children, scholars, and artists who are a part of the community the museum serves.
Woodlawn Manor Cultural Park

Sandy Spring

Woodlawn Manor Cultural Park is home to Woodlawn Museum, Woodlawn Manor, and the Underground Railroad Experience Trail offering your students a variety of opportunities. Tour Woodlawn Manor to learn about this federal era structure, visit the Woodlawn Museum in our historic (1832) stone bank barn to study agricultural life and the history of Montgomery County, MD, or hike the Underground Railroad Experience trail to understand the challenges fugitives faced. Also keep an eye on our special events, including our twice-yearly Homeschool Days!
Sandy Spring Museum

Sandy Spring

The Sandy Spring Museum was established in 1980 as the community was experiencing a rapid change in population and personality. A rural setting of farms, pastureland and, winding roads was becoming a bedroom community of four intersections and upscale commuters. As the museum has grown, it has become a focus for both long-time residents and newcomers--a link, like the spring itself, to a fascinating past. Ours is a history rich in social reform, progressive farming techniques, inventions, education, and cultural achievement. You are invited to share in the past by visiting the exhibits of the Sandy Spring Museum.
Point Lookout State Park

Scotland

Features: Boat launch, boat rental, camp fire programs, camp sites, cabins, camp store, dump station, fishing, flat water canoeing, hiking trails, hunting, historic interest, hook ups, pet trail, picnic area, playground, swimming, Civil War Museum/Marshland Nature Center, pavilion and cottage. All restrooms will be closed for winterization by November 1 and reopened on April 1. Portable toilets will be available in the park.
St. Clements Island State Park

Scotland

Features: Fishing, hiking trails, hunting, picnicking, pavilions (first come/first serve), portajohn.
Seneca Schoolhouse Museum

Seneca

Maryland, Virginia and Washington area children (and of course visiting friends) can enjoy a "back in time" experience of visiting and attending classes at a one room school - without a computer. A carefully researched 19th century school day program is taught by a trained and costumed teacher. The session is given from 10 to 2 o'clock with time out for lunch and outdoor games. This field trip is designed for fourth grade students as local history and is part of the school curriculum. But we're confident, scholars of any age will find the 19th century time travel appealing, informative and fun!
Captain Salem Avery Museum

Shady Side

The Captain Salem Avery House was built c. 1860 on the Banks of the West River in Shady Side, Maryland. Captain Avery, a Long Island fisherman, came to the area to make his living from the abundant waters of the Chesapeake Bay.
Antietam National Battlefield *

Sharpsburg

Virtual field trip onlineConsidered the bloodiest one day battle in American history occurred on September 17, 1862. Includes a number of multimedia presentations available for download. The website offers historical information about the park for those who cannot visit in person.
Heifer Global Village at Shepherd's Spring

Sharpsburg

Heifer Global Village is a collection of authentic model houses from select countries around the world: mud huts, a stilt house, thatch roofs, rain barrels, animal pens, beautiful tapestries, prayer flags, water jugs, hand-painted Mayan tiles, and so much more. These homes represent impoverished areas around the globe where Heifer International has worked to eradicate hunger and poverty through gifts of livestock, education, and caring for the environment. Shepherd's Spring works in partnership with Heifer to provide experiential, highly rewarding programs for children, teens, and adults who can then use their new experiences and insights to go out and make a difference in someone else's life. In partnership with Heifer International (www.heifer.org), the global village offers short and overnight experiential programs on hunger, poverty, social injustice, world cultures, and many other aspects of the world's most desperate communities. Participants can explore the model village, cook meals over an open fire, make decisions with their teammates, and even spend the night in the village! Most programs open to 5th grade and up, but we can accommodate almost anyone. Shepherd's Spring also offers team building, hiking, cooking, and other activities, and a robust Christian summer camp.
Pocomoke River State Park

Snow Hill

Features: Biking trails, boat launch, boat rental, camp fire programs, camp sites, camp store, dump station, food & beverage, fishing, flat water canoeing, hiking trails, electrical hook ups, picnic areas, playgrounds, picnic shelters, swimming pool, visitor center.
Pocomoke State Forest

Snow Hill

Features: Fishing, flat water canoeing, hiking trail, hunting, and mountain biking trails.
Furnace Town Living Heritage Museum

Snow Hill

FURNACE TOWN - enjoy a relaxing visit into 19th century village life. Located in the heart of the Pocomoke Forest, Maryland's only bog&emdash;ore furnace is situated 5 miles north of Snow Hill on the banks of Nassawango Creek. Furnace Town and its Nassawango Iron Furnace (recognized by The American Society of Mechanical Engineers as a National Historic Mechanical Engineering Landmark) comprise an educational site of local archaeological and historical interest. The furnace and buildings are being restored, preserved and interpreted by Furnace Town Foundation, Inc.
Julia A. Purnell Museum

Snow Hill

The Julia A. Purnell Museum offers interpretive exhibits of many aspects of the lives of Snow Hill and Worcester Countians. A time-line parallels the history of Worcester County with the history of the United States. Kitchen and hearth exhibits show visitors the utensils and methods used to keep a happy home during the 18th and 19th centuries. A "general merchandise" welcomes browsers back to a time when communities were built around the local general store. The Victorian era is also represented, complete with clothing, jewelry and everyday items made of silver and exquisitely carved ivory. Machines and tools show the many "modern" improvements Mrs. Purnell experienced. Even the lighter side of life is remembered, with phonographs, toys, books, and bicycles - the Julia A. Purnell Museum offers something for everyone.
Mt. Zion One-Room Schoolhouse

Snow Hill

The Mt. Zion One Room School House, now located on Ironshire Street was built in 1869 near Whiton and used as a school until 1931. It stood empty until Dr. Paul Cooper, Superintendent of Schools, had the building moved to Snow Hill. It was opened to the public in 1964 and has since demonstrated to students and visitors how their forebears were taught in the days of one room schools. Donations of 19th century texts and furnishings make a visit to the school a leap back in time. McGuffy readers, quill pens, inkwells slates and a water bucket are in place just as if the students had been dismissed yesterday.
Purnell Museum

Snow Hill

Welcome to the Heart of the Eastern Shore. The Purnell Museum is home to over 10,000 pieces that highlight local history, including artwork from the museum's namesake, Julia A. Purnell. Come take a journey through the museum's exhibits to learn the story of Snow Hill and Worcester County on Maryland's Eastern Shore.
Calvert Marine Museum

Solomons

Located in Solomons, Maryland, the Calvert Marine Museum is a public, non-profit, educational, regionally oriented museum dedicated to the collection, preservation, research, and interpretation of the culture and natural history of Southern Maryland. Explore the history, culture, and lighthouses of the Chesapeake Bay and Patuxent River all in one place!
Chesapeake Bay Maritime Museum

St. Michaels

The Chesapeake Bay Maritime Museum is dedicated to furthering an interest in, understanding of, and appreciation for the culture and maritime heritage of the Chesapeake Bay and its environs.
National Museum of the American Indian Archives

Suitland

The National Museum of the American Indian Archives support the mission of the Museum to collect, organize, preserve and make available papers, records, images, recordings, and ephemera that accurately reflect the historical and contemporary lives of Native peoples throughout the Western Hemisphere, specifically regarding Native art, culture, knowledge, politics, events, and social movements and developments. The collections also complement the Museum's artifacts and are used for scholarly research, exhibitions, journalism, documentary productions, and other research and educational activities. The Archives provides reference, research, and services to Native Americans, publishers, scholars, museum staff, and the general public. Researchers may view the collection by appointment. Below are descriptions of our major collections.
Deep Creek Lake State Park and Natural Resources Management Area

Swanton

Maryland's largest man-made lake. Access is available for fishing, swimming, and boat launching. Several picnic areas offer excellent views of the lake with easy access to the beach and other facilities.

Deep Creek Lake State Park and Natural Resources Management Area website
Youghiogheny Scenic & Wild River

Swanton

Whitewater boating has become an increasingly popular way for many to experience the wildness of the Youghiogheny. Hunting and fishing is permitted in the park's backcountry areas during regular seasons.
Deep Creek Lake Discovery Center

Swanton

The Discovery Center is a one-of-a-kind educational venue for people of all ages. Through hands-on exhibits that showcase the natural resources of Western Maryland, families can learn about the flora and fauna, wildlife, cultural and historical heritage that have turned this former logging and coal mining region into a popular modern day vacation destination.
Cunningham Falls State Park

Thurmont

Cunningham Falls State Park, located in the Catoctin Mountains, is known for its history and scenic beauty, as well as its 78-foot cascading waterfall. The Falls are located one half mile from the lake in the Houck Area via the Falls Trail.
Gambrill State Park

Thurmont

Two separate areas of Gambrill State Park provide recreational facilities and activities for visitors of all ages. The Rock Run area is located at the park entrance. The High Knob area is located at the top of Catoctin Mountain. Features: Camping, Picnicking, Shelters, Hiking and Nature Trails
Catoctin Mountain Park

Thurmont

Second growth forest and second chances provided a variety of recreational opportunities. President Franklin D. Roosevelt created programs to give people a chance to rebuild their lives from the Great Depression. The Works Progress Administration and the Civilian Conservation Corps gave this land a second opportunity and through re-growth, a new role as a recreation area.
Sky Zone Trampoline Park Timonium

Timonium

Sky Zone Field Trips are both FUN and EDUCATIONAL! Lessons tie directly to what kids are learning in the classroom AND capture their interest like no field trip ever has before! Sky Zone offers open jump, a SkySlam court, SkyRobics fitness classes, Ultimate Dodgeball (when available) and the Sky Zone Foam Zone ne. For just about any age, shape or size, Sky Zone is the ultimate experience!
Arts On Stage at Goucher College

Towson

Each year, Arts On Stage's student matinees reach thousands of school children with our series of affordably priced productions that are suitable in length and content for young audiences. Each offers unique and captivating educational experiences that are guided by current science, math, history, social studies, literature and cross-curricular standards. By tailoring our series to target specific age range demographics, we aim to reach students as young as pre-kindergartners up through seniors in high school.
Hampton National Historic Site

Towson

Hampton is the name of the georgian estate built in the early 1800's. The historic site there tells the story of the people, enslaved African Americans, indentured servants, industrial and agricultural workers, and owners, who worked there.
Hampton National Historic Site

Towson

Hampton is the story of people -- enslaved African Americans, indentured servants, industrial and agricultural workers, and owners. It is also the story of the economic and moral changes that made this kind of life obsolete. When it was finished in 1790, Hampton was the largest house in the United States. Set among beautifully landscaped grounds and gardens, it remains a showplace today.
Merkle Wildlife Sanctuary and Visitor's Center

Upper Marlboro

Merkle Wildlife Sanctuary is the only wildlife sanctuary operated by the Maryland Department of Natural Resources. It is the wintering ground for several thousand Canada geese, the largest concentration on the western shore of the Chesapeake Bay.
Rosaryville State Park and Mount Airy Mansion

Upper Marlboro

Rosaryville is a 982 acre day-use park and the location of the historic Mount Airy Mansion. Miles of trails for hiking, biking and equestrians are available for day use. To gain access to Rosaryville State Park, make a right turn into the entrance just south of Osborne Road while traveling south on U.S. 301. George Washington attended the 1774 marriage of his adopted son, John Park Custis, to Eleanor Calvert at Mount Airy.
James E. Richmond Science Center

Waldorf

The Science Center supplements what students are already learning in classrooms, empowers visiting students to be active participants in their STEM learning, and encourages our future tech leaders to continue exploring science and technology pathways. The science center includes a state-of-the-art 60-foot diameter, 184-seat Digital Dome Classroom, a 6-foot diameter NOAA Science On a Sphere, and an experiential learning Discovery Lab.
Walkersville Southern Railroad

Walkersville

Take a trip back in time . . . on the Walkersville Southern, established in 1991 on the Frederick branch of the old Pennsylvania Railroad. Come see our turn-of-the-century railroad station and freight house. Ride in vintage 1920s passenger cars or on an open flatcar as your rail excursion runs past a 100-year-old lime kiln, and then out into the picturesque Maryland farm country. Come and experience a bit of railroad history!
National Capital Parks-East!

Washington DC Beltway

Includes: Anacostia Park, Capitol Hill Parks, Carter G. Woodson Home NHS, Fort Dupont Park, Fort Washington Park, Frederick Douglass NHS, Greenbelt Park, Kenilworth Park & Aquatic Gardens, Langston Golf Course, Mary McLeod Bethune Council House NHS, Oxon Cove Park/Oxon Hill Farm, Piscataway Park, Sewall Belmont House and Museum
Carroll County Farm Museum

Westminster

The Carroll County Farm Museum, located in Westminster, Maryland, provides the public with the opportunity to experience mid-nineteenth Century rural life. The Carroll County Farm Museum, the first of its kind in Maryland, opened its doors to the public for the first time on August 13, 1966. The Museum grounds include original farm structures, such as the Farmhouse, built in 1852-53, and a bank barn. Other buildings include a Smokehouse, Broom Shop, Saddlery, Springhouse, Living History Center, Wagon Shed, General Store exhibit, and a One-room Schoolhouse. Period artifacts and antiques complete the rural experience for visitors.