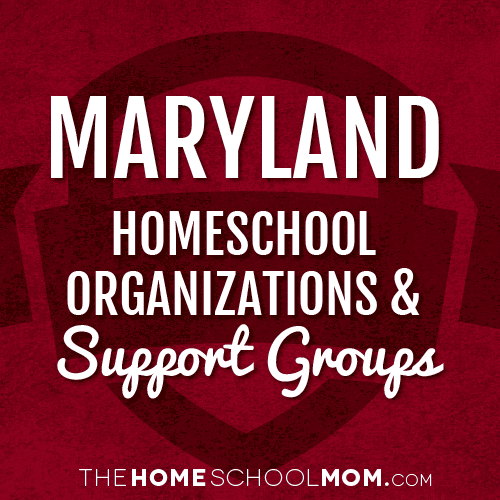 Since homeschooling is regulated at the state level, connecting with local homeschoolers is an important step to start homeschooling in Maryland. State homeschool organizations and local homeschool groups are not just a good place to learn the specifics of legally homeschooling in Maryland—they can also help you to get connected with the local homeschooling community. Many homeschool groups offer co-ops, classes, sports and arts opportunities, and social get-togethers.
Our listing of Maryland state organizations and local homeschool groups is ordered alphabetically by city, with statewide organizations listed first. If you would like to submit a group, you may do so using the red button above.
Use the secondary navigation menu above to quickly make your way to pages for Maryland state organizations, local homeschool groups, classes, co-ops, field trips, and more.
Maryland Homeschool Organizations
Hand In Hand HomeschoolMaryland Statewide
Maryland's only source for up-to-date legislative information, statewide homeschool events and local resources.
Maryland Association of Christian Home Educators (MACHE)Maryland Statewide
MACHE exists to support the Christian home schooling families and support group leaders in the state of Maryland. We provide a quarterly newsletter to member families and groups, offer a discount f...
Maryland Home Education Association (MHEA)Maryland Statewide
MHEA was founded in 1980 to serve and support families of all religious, philosophical and ethnic persuasions. For over seventeen years MHEA has been working for all homeschoolers -- members and no...
Maryland Catholic HomeschoolersMaryland statewide
Maryland Catholic Homeschoolers is a state-wide homeschooling resource organization for Catholic homeschoolers in Maryland.
Maryland Local Homeschool Groups
North County Home Educators (NCHE)Annapolis and surrounding areas
A support group for families in Maryland who have an interest in home education. Most of our meetings are in the northern part of Anne Arundel County, but membership is open to everyone. We invite ...
Arundel HomeschoolersAnne Arundel County
Arundel Homeschoolers is Anne Arundel County's oldest Christian homeschool support group. Members have been serving homeschoolers since 1987 by providing support, encouragement, special events and ...
Baltimore Homeschool Community CenterBaltimore
Baltimore Homeschool Community Center is a great resource for homeschoolers in Maryland. Membership is $350 a year per family. Classes are optional and have additional fees. This homeschool commu...
Home Educators Leading the WayBaltimore
We are Maryland's 1st black owned homeschool group and Umbrella... Our primary goal is to inspire encourage, and empower, Homeschool families. We have become a Consortium of resources for famili...
MDEW HomeschoolingBaltimore County
MDEW Homeschooling connects homeschooling families in the Middle River, Dundalk, Essex, White Marsh and surrounding areas. MDEW is a social group, creating opportunities for families to share infor...
MD_DC_VA_EducatorsBaltimore-Washington Metropolitan area, Hampton Roads (Tidewater) Virginia, Delaware and Pennsylvania.
This groups exists to create an online forum to share resources, activities, ideas, and support among the homeschooling community to include the Baltimore-Washington Metropolitan area, Hampton Road...
Baltimore-Washington Home EducatorsBaltimore-Washington-Northern Virginia
This list is designed for Baltimore-Washington-Northern Virginia homeschoolers as on-line community for open-minded homeschoolers in the region who are interested in participating in a community th...
Educating Our OwnCarroll County
Welcome to the Educating Our Own (EOO) homeschool support group! We are an inclusive homeschool group that serves families in Carroll County, Maryland. Our mission is to provide group activities ...
t g i f homeschool groupCarroll County, Howard County, Baltimore County
t g i f is a Christian homeschool cooperative serving all homeschooling families in Maryland. t g i f offers fun and academic classes for all ages, as well as field trips, special events, and suppo...
Christian Homeschoolers in Southern MarylandCharles, Prince George's, St. Mary's, Calvert and Anne Arundel Counties.
CHISM - The groups purpose is to support each other through issues that affect us as Christian homeschoolers regardless of homeschooling method.
Howard County Homeschooling CommunityColumbia
An active Meetup group where parents can engage their kids in active study, field trips and socials. The calendar offers academics and play dates to help your child thrive both scholastically and s...
Classical Conversations of ColumbiaColumbia, Ellicott City, Elkridge, Laurel and the greater Howard County area.
A Christian classical community providing education and support for families with students aged 4 through high school.
Fathers-And-Mothers-In-Leadership-Instructing-Encouraging-Students (FAMILIESnews)Delmarva area
This is a large group of homeschool families who want to encourage each other and share information, events, curriculum, fieldtrip,ideas
Mason-Dixon Homeschoolers AssociationFranklin County Pennsylvania and Washington County Maryland
Serves homeschool families in Franklin County Pennsylvania, Washington County Maryland, and surrounding areas. We offer co-op classes, support groups, field trips and much more.
Frederick Muslim HomeschoolFrederick
Muslim homeschool group is located in Frederick, Maryland, offering organized co-op classes, field trips, group outings and more!
PALS-FCFrederick and surrounding counties.
An inclusive secular homeschooling support group open to all homeschooling families and is an online Yahoo-Group for members to communicate and network with one another. PALS is intended to provide...
Maryland Association of Christian Home Educators (MACHE)Maryland Statewide
MACHE exists to support the Christian home schooling families and support group leaders in the state of Maryland. We provide a quarterly newsletter to member families and groups, offer a discount f...
FreedomHill Fellowship Ministries UmbrellaMaryland Statewide
The FreedomHill Fellowship Ministry (FHFM) Homeschooling Umbrella was founded in 2007 with the goal to promote the search for personal truth and meaning, embrace diversity, and provide a supportive...
Montgomery Home Learning Network Yahoo GroupMontgomery County
The Montgomery Home Learning Network (MHLN.info) is an inclusive group of homeschooling families in and around Montgomery County, MD. MHLN has a homeschooling parents' support group that meets mont...
Culture at HomeNOVA, So. MD and DC
An African American homeschool support group in the Washington D.C., Maryland and Virginia area with an emphasis on the older homeschooled student. Culture at Home is a support group for families c...
Southern Maryland Homeschool NetworkPrince George's and surrounding counties.
Welcome to the resource page for connecting families that homeschool in southern Maryland to support and information on the web and in southern Maryland. Our support group, Southern Maryland Homesc...
Social Skills Support GroupsRockville,MD and Washington,DC
In groups of 3-7 members, preschoolers through adolescents who are having difficulty in social situations work on communication skills, self-esteem, expressing feelings and learning how to read bot...
Severna Park & Pasadena Teen HomeschoolersSeverna Park
This group is for teen-specific events and classes for homeschoolers in the Severna Park/Pasadena area. Although anyone from any area in Anne Arundel County may join. Hopefully, this will be a pla...
Sankofa Homeschool CommunityWashington
Sankofa is a community of homeschooling families of color who want to grow, learn, and build together. We are dedicated to creating a rich, supportive homeschool village through a combination of so...