Jump to: Homeschool Co-ops | Homeschooling Classes & Academic Enrichment
Looking for someone to teach physics to your teen? Need a way to avoid teaching algebra? Want to enroll your Kindergartener in a co-op for social time? Homeschool classes and co-ops are a great way to spend time with other homeschoolers and skill-share with other homeschool parents.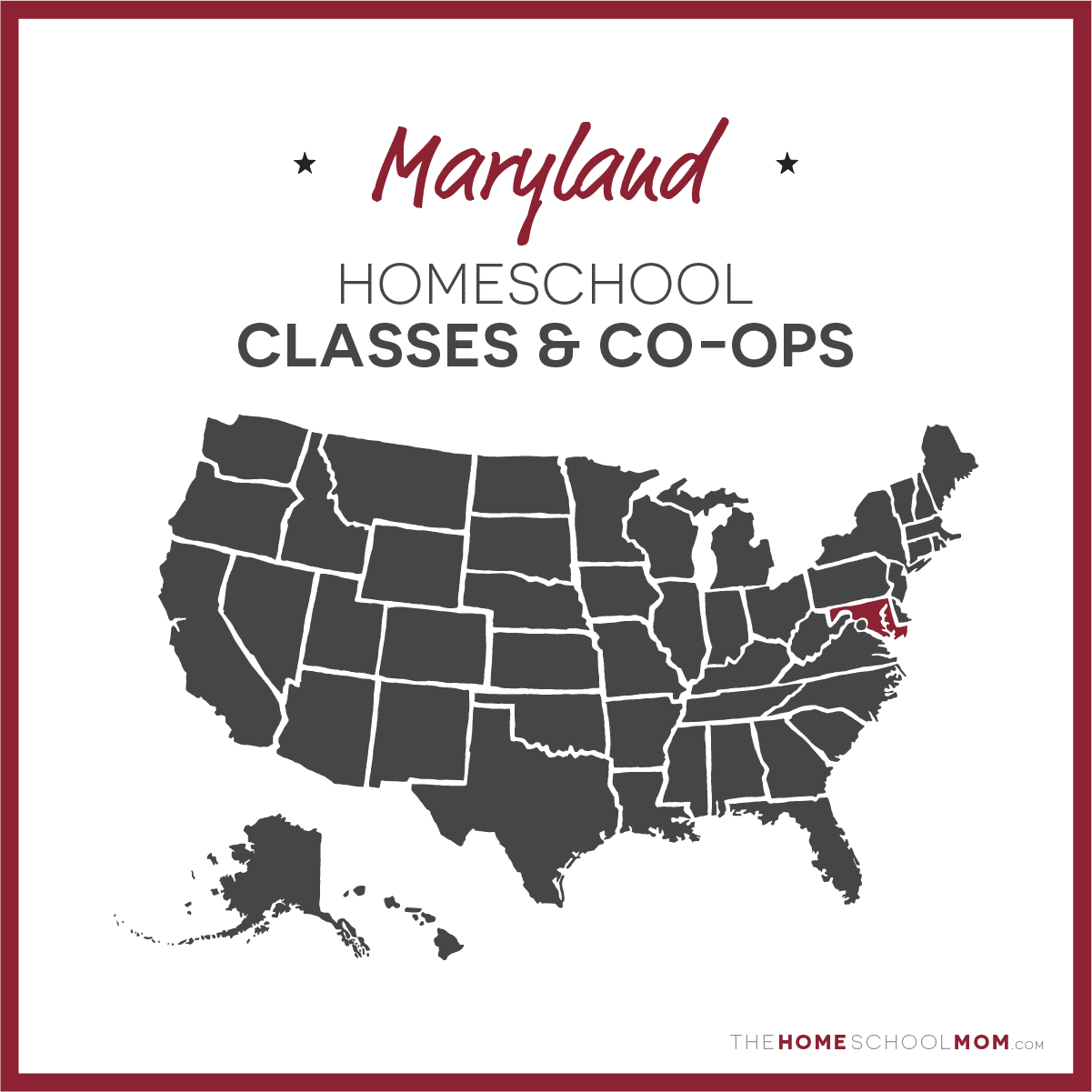 Submit a Local Resource
Our listing of Maryland co-ops and academic classes for homeschoolers is ordered alphabetically by city, with co-ops in the first section and all other academic resources below. If you would like to submit a Maryland co-op or academic resource, you may do so using the red button above.
Maryland Homeschooling Co-ops
Annapolis Classical Tutorial Service (ACTS)Annapolis
"ACTS is a classical homeschooling tutorial in the Annapolis area that meets two days per week with students in Kindergarten through High School. Providing quality instruction and a supportive atmosphere, ACTS offers ...
Unitas Classical Christian CooperativeAnnapolis
Unitas accepts students ranging from K-12, based on the classical model of learning. It is rigorous for the above-average learner, yet offers parents flexibility in tailoring the program to best suit their student(s) ...
Baltimore Unschooling Cooperative, LLCBaltimore
At the Baltimore Unschooling Cooperative, the parents work together to provide a rich environment where the students direct their own learning. Embracing the idea that children are born with an innate desire to explor...
M.O.R.E of BaltimoreBaltimore /Gwynn Oak
The mission at M.O.R.E of Baltimore, Homeschool Co-op is to educate and liberate, by providing an entrepreneurial-based academic plan and the skills needed to be critical thinkers, culturally aware and financially lit...
Bridge Elementary Tutorial Homeschool MinistriesBowie
Bridge Elementary/Bridge Extension (BETH-M/BridgeX) is a Christian elementary and middle school tutorial providing affordable a la carte classes taught by qualified, compassionate tutors for homeschool students in gra...
Anchor Christian CollaborativeCalvert County
Anchor Christian Collaborative is a is a cooperative community that exists to mutually encourage, support, and enhance each family's homeschooling mission--not to replace it. We seek to create a community where famili...
Vita Nova AcademyCarroll county
Vita Nova Academy is a nature-based co-op in which homeschooling families meet together to encourage and support one another in our common endeavor to glorify God and educate our children. We achieve this through the ...
Together Growing in Faith Homeschool Co-operativeCarroll County, Howard County, Baltimore County
Together Growing in Faith Homeschool Co-operative is a Christ-centered inclusive co-operative available to home schooling families of all Christian denominations.
Christiana Homeschool AcademyCarroll, Frederick, Howard, Baltimore counties
Christiana Homeschool is an ecumenical 'co-op' that uses the classical model of education and meets two days a week. Parents provide home instruction the remaining days. Christiana Homeschool is also a 'hybrid' ecumen...
Home Educators of the Eastern ShoreChurch Hill
A support group membership includes website access to our secure databases and information, field trips, holiday parties, yearbooks, game night, team building activities, Moms Night Out, science fair, history/geograph...
Howard County Homeschooling CommunityColumbia
An active homeschooling cooperative and umbrella group where parents can engage their kids in online and in-person classes, field trips and social events. The calendar offers academics and play dates to help students ...
Howard County Homeschool Co-op & UmbrellaColumbia
We provide a communal space for homeschooling families to educate and socialize their children in a relaxed group environment. We offer a 28-week school year from Sept. to May. Co-op classes are held between 9:30AM an...
Passport to LearningColumbia
Passport to Learning is a large, inclusive, secular co-op in Columbia, MD which offers classes for kids from pre-K through high school.
Spartek Academy: An Acton AcademyColumbia
Spartek Academy: An Acton Academy's Homeschool Umbrella supports families with biannual portfolio reviews, county reporting, and invitations to Spartek's Clubs and Events. For families interested in our tutorial, admi...
Cornerstone Homeschool CooperativeEldersburg/Winfield
Classes for those students in grades K-8th are run in a co-op manner. Moms and dads will serve as the teachers and helpers in these classes. Our high school classes are taught by paid tutors. Cornerstone is dedicated ...
Frederick East ClassicalFrederick
Frederick East Classical, Inc. is a 2-day, Christian, classical 'hybrid' homeschool cooperative, meeting in Walkersville, Maryland (Frederick County). This program is designed to assist parents in the homeschooling of...
Homeschooling By GraceFrederick
Homeschooling by Grace is a non-denominational Christian co-op in Frederick, Maryland. HBG meets every other Monday, 8-9 times each semester. Please visit their website to learn more or join the waiting list.
Greensboro Christian Co-opGreensboro
Greensboro Christian Co-op is a cooperative of families seeking to enrich the experience of our home-schooled children and provide support for the parents. GCC is an elective based co-op. Classes are available for Pre...
Harford Classical ChristianHarford County,MD
Harford Classical Christian is a hybrid homeschool program meeting two days per week in Fallston, MD. This comprehensive, Classical program serves Baltimore-area homeschool families and their pre-K through high school...
PACE (Parents As Christian Educators)LaPlata
PACE is a Christian homeschool co-op. Parents As Christian Educators (hereafter referred to as PACE) will also provide support and offer social and educational activities with a distinctively Christian perspective to ...
Crossroads Homeschool Co-opLutherville
Welcome to Crossroads Homeschool Co-op! Crossroads is a homeschool community where each parent serves as a tutor, bringing unique gifts to serve the group as a whole. We strive to be academically rigorous and, when sp...
LEAP CO-OPMontgomery County
LEAP co-op is a Christian co-op that meets in Derwood MD. LEAP meets on Mondays and offers classes for PreK through 8th grade. The co-op is made up of 27-30 families. Classes include science, history, art, music, PE a...
Monocacy Home Educator's Co-operativeMount Airy
Monocacy Home Educator's Co-operative is a secular and inclusive homeschool co-op. It was formed by several homeschooling families in the fall of 1999 and officially began meeting in the spring of 2000. The co-op move...
HisWay Homeschool AcademyReisterstown
HisWay Homeschool Academy is a Christian homeschooling cooperative in the Baltimore County and Carroll County areas. Its mission is to provide children with an individualized, quality education on a solid foundation o...
Rainbow Family Christian AcademySilver Spring
Rainbow Family Christian Academy is a hybrid homeschool program in Silver Spring, MD. Parents can choose 1, 2, or 3 days per week to join our group of students. We operate Monday, Wednesday, and Friday from 9am-3pm. S...
Sligo Creek Co-opSilver Spring
Sligo Creek Cooperative (SCC) is a secular, inclusive, educational cooperative designed to meet the needs of homeschooling families in Montgomery County, Washington, DC, and surrounding areas. We place strong emphasis...
(CCT) California Christian TutorialSouthern Maryland
California Christian Tutorial (CCT) supports Southern Maryland families as they develop their children into mature and discerning followers of Jesus Christ. CCT is a tutorial-model group with a-la-carte classes and se...
Calvary Gospel Home EducatorsWaldorf
Calvary Gospel Home Educators offers: Invitation to our weekly Homeschool Lunch Bunch social hour with concessions Participation in our Bible Academy for kids & teens Weekly group co-op classes for Elementary, Middle ...
Signature Academy Homeschool Co-opWalkersville
We are a homeschool co-op offering mostly academic classes as well as some electives to students in elementary, middle, and high school. Classes are held on Tuesdays in Walkersville, MD.
Sankofa Homeschool CommunityWashington
Sankofa is a community of homeschooling families of color who want to grow, learn, and build together. We are dedicated to creating a rich, supportive homeschool village through a combination of social outlets, field ...
City KidsWashington, D.C. metro area.
City Kids is a parent-run, cooperative education program located in Northwest, D.C. The mission is to provide multicultural, science, literacy, and arts education. Through cooperative planning, community building, and...
Christiana Homeschool AcademyWestminster
Christiana Homeschool Academy is a 'Hybrid' 2-day a week (Monday & Wednesday), drop-off, classical education program that meets in Westminster, MD. Christiana offers a full curriculum for all grades starting in Ki...
Maryland Homeschooling Classes & Academic Enrichment
Hard Bargain Farm Environmental CenterAccokeek
Hard Bargain Farm Environmental Center's education program for elementary and middle school students is designed to promote understanding and stewardship of the natural resources in the Potomac River watershed and the...
Alice Ferguson Foundation Homeschool ProgramsAccokeek
There's a special place in Maryland where students can dig in the dirt, take a hike, and catch an unbeatable glimpse of the Potomac. That place is the Alice Ferguson Foundation. We are proud to serve thousands of Pre ...
Irlen Visual Learning Center of MD and Abilities OT Services Inc.Baltimore
Simple Intervention to address reading and writing challenges, ADD/ADHD, dyslexia, light sensitivity, chronic headaches/Migraines, anxieties and other visual stress symptoms. FREE and PASS Pre-Assessment for Irlen Syn...
What Happens NextBaltimore
WLOY Loyola Radio's award-winning, FREE program, What Happens Next is an exciting way to promote literacy skills, self-confidence, and public speaking proficiency in children. This program encourages young students, r...
Classical Conversations in BaltimoreBaltimore
Equipping parents on how to educate their children from 4 years to 18 years of age.
Therapeutic Alternatives of Maryland (TALMAR):Organic Farming AwarenessBaltimore
In collaboration with Baltimore County Recreation and Parks, TALMAR (Therapeutic Alternatives of Maryland) provides community and educational-based farming field trips and programs comprised of hands-on horticultural ...
Helping Hands Health ServicesBaltimore
Helping Hands mentoring agency helps adults, adolescents, and children in the overall development of their mental health. Mentors can teach and improve social skills, interpersonal relationships, hygiene/grooming, tim...
Classical Conversations - MarylandBaltimore
A tutoring service that empowers and equips moms and dads to homeschool at home using the classical model of education.
Regina Caeli AcademyBaltimore
Regina Caeli Academy is a private, independent University-Style Hybrid® academy operating in the Catholic tradition. Accredited classical academic and extracurricular classes are offered to preschool through 12th grad...
M.O.R.E of BaltimoreBaltimore /Gwynn Oak
The mission at M.O.R.E of Baltimore, Homeschool Co-op is to educate and liberate, by providing an entrepreneurial-based academic plan and the skills needed to be critical thinkers, culturally aware and financially lit...
Little Medical School of BaltimoreBaltimore and surrounding areas
The Little Medical School of Baltimore brings medicine, science, and the importance of health to children in an entertaining, exciting and fun way. Children learn while having fun as they dress up like doctors, veteri...
Civil Air Patrol - Granite Cadet SquadronBaltimore County
Granite Cadet Squadron is a unique Civil Air Patrol unit that meets in central Maryland and caters specifically to homeschooled cadets ages 11-20. The squadron meets during the weekday, offering CAP's youth program fo...
Empowered Learning Transformation CentersBethesda
Empowered Learning Transformation Centers offers programs involving mind-body approaches to optimize learning and focus. This approach offers benefits to people with attention disorders or those who are on the autism ...
Learning Outside the BoxBethesda
Founded by a long-time home schooling mom, Learning Outside the Box offers a variety of in-person classes in geography (4th-12th grade), philosophy (8th-12th), world affairs (8th-12th), finance (8th-12th), and academi...
April McDowell, Literacy TutorBethesda
"With 25 years of teaching experience and an MA as a Literacy Specialist from Columbia University, I support children in their literacy learning in a one-on-one setting from my home in Kensington, MD. I support childr...
Children's Speech Therapy Services, LLCBethesda, Rockville, Potomac, Chevy Chase, Derwood, Gaithersburg, Silver Spring
In-Home & In-School Speech-Language Therapy in Montgomery County, Maryland. Call 240-600-0911 for a FREE 20-minute consultation
Bridge Elementary Tutorial Homeschool MinistriesBowie
Bridge Elementary/Bridge Extension (BETH-M/BridgeX) is a Christian elementary and middle school tutorial providing affordable a la carte classes taught by qualified, compassionate tutors for homeschool students in gra...
Project Excel Academy (PXL Academy) is a Christian homeschool organization that offers oversight, tutoring, study sessions, strengths/character focus and academic strategies to students by utilizing unique, fun, hands...
Bowie BaysoxBowie
The Bowie Baysox are the double A affliates of the Baltimore Orioles. They Baysox host The Read and Hit a Home Run reading program. If students read four (4) books then they receive two (2) free tickets for select dat...
eXtend Homeschool TutorialBowie (Prince George's, Anne Arundel, and surrounding Counties)
eXtend Homeschool Tutorial, formerly Bridge Elementary/Bridge Extension (BETH-M/BridgeX), is a Christian elementary through high school tutorial (1st through 12th grade) located in Bowie, Maryland, providing affordabl...
Renaissance Classical TutorialBowie, Columbia, Ellicott City, Laurel
RCT is a weekly tutorial where students (10-18 yrs) come together to participate in courses that meet their curriculum needs including humanities, math, lab sciences, art, and personal development. Experienced tutors ...
CCT California (Maryland) Christian TutorialCalifornia
California Christian Tutorial (CCT) supports Southern Maryland families as they develop their children into mature and discerning followers of Jesus Christ. Our talented and experienced tutors seek to enhance and exte...
Southern Maryland TutoringCalvert County
Southern Maryland Tutoring offers individualized learning and enrichment in math tutoring and enrichment for all grade levels, PSAT/SAT/ACT prep, and college consulting. One on one instruction allows for the customiza...
Historical Society of Carroll CountyCarroll County
The Historical Society of Carroll County offers the opportunity for elementary-age children to step back in time to the early 1800's at the Sherman-Fisher-Shellman house on East Main St. in Westminster, MD. Docents wi...
Macbeth AcademyCarroll County, Frederick County, Baltimore County, Howard County, Montgomery County
Macbeth Academy is an enrichment program for homeschooling families developed by Stanford University graduates. The program focuses on Common Core, Reading Comprehension Strategies, Academic Writing, and Creative Writ...
Sacred Heart tutorialsCarroll/Frederick county
Providing a Catholic curriculum and faith filled environment for students grade 6th - 12th. Meets on Mondays and Wednesdays at St.Josephs in Taneytown
Inspire SpanishCatonsville
Offering fun, relaxed, and academic Spanish classes and field trips to homeschooled students in the Catonsville area. Join a class or start one for your group.
The BraineryClinton
The Brainery is an educational service provider that provides an online and in-person homeschool tutorial program for students in grades K-8, the program includes instruction in English, Math, Science, and Social Stud...
Granite Classical TutorialColumbia
The mission of Granite Classical Tutorials is to be Christ centered and classical in educational methods and materials. Granite intentionally remains part time (two days a week) because home schooling is also prized. ...
Hope Academy Christian Tutorial & UmbrellaColumbia
Hope Academy exists as a ministry of Hope Bible Church with the mission of supporting local homeschool families, fostering biblical discipleship amongst the members, and above all bringing glory to God. The Hybrid Tut...
USRA STEMaction CenterColumbia, MD
The USRA STEMaction Center offers engaging and exciting STEM programming for students, educators of all types, and the general public. In addition to drop-in workshops and public engagement events, we also serve as th...
Freedom Learning GroupColumbia, MD
Description: This volunteer run group pools their resources to support each other as they share in homeschooling their children four days a week. They offer a structured learning environment for the core subjects. The...
A Balanced Perspective, LLCCrofton
Youth Mental Health and Wellness Workshops A Balanced Perspective, LLC offers youth workshops designed to introduce and optimize the critical life aspects of self-expression, skill-building, and development. These wor...
Learning With Grace homeschool tutorial for students with learning differencesCrownsville
A Christian homeschool tutorial for students with learning differences, such as dyslexia and more. They will be offering a complete program or pick and choose NILD educational therapy for individuals and small groups....
Learning through Animals by Alejandra AbellaDC metropolitan area
Learning through animals provides courses that allow students from K-12 and adults to draw the parallels between human and animal behavior. Each course is built on the premise that all minds are valuable and, by study...
Homeschool Naturalist and Outdoor ExplorersDC/MD/Va Metro Area
The Home School Naturalist Program uses nature observation, awareness and earth based skills to introduce your child to a world of adventure,discovery and learning! This program focuses on cultivating the existing pas...
Historical Performance with Daisy CenturyDelaware, Maryland, and Pennsylvania
A Historical Interpreter from Philadelphia, Dr. Daisy Century performs a one woman show of seven historical women like Bessie Coleman, Harriet Tubman, and Sojourner Truth. Contact Dr. Century through the website to br...
Homeschool Days at Historic London Town and GardensEdgewater/Anne Arundel County
Almost every month of the school season Historic London Town and Gardens offers a unique homeschool program that allows for an intensive study of colonial history for homeschool families. Pre-registration is required ...
Dr. Cheryl Garrett Private Teacher/TutorEldersburg
Teacher/Tutor in a private or homeschool setting. Broad knowledge for ages 10 and older especially.
My Spanish Academy LLCEllicott City
My Spanish Academy is a play-based Spanish immersion program for children of all ages. Program uses a complete thematic unit curriculum that includes engagement activities for every age group. Program methodology incl...
Hickory Fountain Green Rec Youth CenterForest Hill
HFG Youth Center is a program designed by the Hickory Fountain Green Rec Council. It provides a safe environment where middle school students can enjoy DJ Music, Dancing, Sports, Pizza and many more activities. The Yo...
Frederick Community College Homeschool EnrichmentFrederick
With a strong reputation among local and regional homeschool communities, FCC Homeschool Enrichment offers specially designed programs to complement at-home schooling. Weekday instruction is provided by FCC faculty, h...
Art of Problem Solving Academy in GaithersburgGaithersburg
Art of Problem Solving Academy offers a world-class curriculum that teaches students how to solve difficult problems. Since 1993, AoPS books and online courses have trained the world's best math students. AoPS alumni ...
Teen Integrated Math - Montessori-basedGaithersburg
From Michael Waski at The Math Institute, this Montessori-based curriculum is implemented on a family-run organic farm bordered by Seneca Creek State Park. Students, ages 12-18, meet year-round on Tuesdays and Thursda...
Kids Therapy ConnectionGreenbelt
Out-patient pediatric practice, offers occupational therapy for children to help excel all areas of life. A wide range of children can benefit from services offered at Kids Therapy Connection including children who ha...
Regina Caeli Academy of HampsteadHampstead
Regina Caeli Academy (www.rcahybrid.org) provides a classical, hybrid education in the Catholic tradition. Pre K3- 12th grade students attend Socratic, hands-on classes taught by trained tutors two days a week and hom...
Harford Classical ChristianHarford County,MD
Harford Classical Christian is a hybrid homeschool program meeting two days per week in Fallston, MD. This comprehensive, Classical program serves Baltimore-area homeschool families and their pre-K through high school...
Home School Connection at The Hockessin Montessori SchoolHockessin
Home School Connection Enrichment Program - The Hockessin Montessori School brings expertise in education and creativity to the home school community through our HOME SCHOOL CONNECTION. This program offers a variety o...
Idea Lab Kids Home School Enrichment ProgramsHoward County
Are you interested in a Home School opportunity for your student or group. Idea Lab Kids Howard County Home School Enrichment Programs "STEAM" have classes, such as Simple Circuits, Robotics/Lego, 3D Printing, Coding,...
Link EducationHyattsville
Offering foreign language classes in Spanish, French and Mandarin. Additionally, offer academic support in the areas of reading and writing. Writing workshop is a stand-alone class that is available. As a part of the ...
Catholic Schoolhouse of Harford CountyJoppa
Catholic Schoolhouse is a supplemental program designed to enrich homeschool families through a flexible, classical approach to learning, presented in a structured environment. All students, preschool through high sch...
DelawareReadingExpert.comKent & Sussex Counties
Professional reading specialist serving Kent and Sussex counties. Services include evaluating and analyzing student's ability to learn, identifying barriers to learning, developing a structured plan for addressing lea...
Shabach! Christian AcademyLandover
SHABACH! develops and manages homeschool programs to assist parents with the academic objectives of students of all learning styles. They exist to encourage, nurture and support families. The academy administers overs...
The Learning Community InternationalMaryland Statewide
A unique school registered with the Maryland State Department of Education and operated by a non-sectarian, non profit religious organization, The Community, Inc. TLCI honors and welcomes families from all religious a...
Maryland Classical ConversationsMaryland Statewide
Maryland/Delaware/Washington D.C. Classical ConversationsMaryland, Delaware, and Washington D.C.
CC is a national homeschooling program that uses a Bible based curriculum taught in a christian, classical tradition. Classes are geared for age 4 through high school.
Home School Gymnastics and Physical EducationMiddle River
Gymnastics, Fit Games,and Health classes for students aged K - 12 taught by gymnastic instructors. Gymnastic and Fit games classes offer an optional written and verbal Health lesson with every class. (Written material...
EcoAdventures Home School AdventuresMillersville
EcoAdventures offers hands-on, unique, dynamic enrichment programs with a wide range of themes for homeschooling groups. Topics range from rain forests to bugs, nature hikes to fossil digs, and more! EcoAdventures cus...
Severn Run Classical Christian Homeschool Tutorial (SRCCHA)Millersville
The mission of Severn Run Classical Christian Homeschool Tutorial (SRCCHA) is to support and enhance Christian homeschooling families by providing twice-a-week classes, using the Classical method. The vision is to glo...
Fairchild Educational ResourcesMontgomery & Howard Counties
Fairchild provides individual and differentiated tutoring and test prep in all subject areas. Locally owned and operated. Hillary Hytken Morrow is hands on daily ensuring quality educational opportunities in a safe an...
Little Medical School of MarylandMontgomery County, Howard County, Annerundal County, Prince George's County
Little Medical School of Maryland is a STEM/STEAM based program that introduces medical concepts and terminology to students between the ages of 3-15. Our program teaches children about different themed medical concep...
Humane Rescue AllianceNorthwest
The Humane Rescue Alliance's school programs, shelter tours, and camps target upper elementary and middle school students. Participants learn about our organization, our programs, and how we help animals and the peopl...
National Law Enforcement Museum K12 ProgramsNorthWest Washington
Add a workshop to your field trip plans for a truly engaging, unforgettable Museum experience! Workshops are aligned to the Common Core Standards and Next Generation Science Standards. The Museum offers student-center...
Youth For Understanding USANorthwest Washington
A non-profit international educational organization with partners in more than 60 different countries, Youth For Understanding is one of the world's oldest, largest and most respected intercultural exchange programs. ...
iFLY of NottinghamNottingham
This event is designed for Home School Families, Alternative Education institutions and Education Co-ops. Experience how flying accelerates learning with iFLY's STEM Education Program! We will explore the STEM princip...
GEZ: Girls Empowerment ZonePhiladelphia area
GEZ is a 501(c)3 PA nonprofit program for ages 7-14. The President of this organization homeschools her children and knows that the program impact on today's young ladies. The GEZ program offers the following to girls...
Delmarva Discovery CenterPocomoke
The Delmarva Discovery Center and Museum (DDC) is a living museum, a place for learning and discovery for visitors of all ages. The immersive and engaging exhibits take visitors on a timeless journey through Delmarva ...
Creative Community ResourcesPotomac
Open Studio Workshops for 3-5 year olds and Constructivist Workshops for Children 5-8 year olds. Check website for details.
Cheverly STEM Education CenterPrince Georges County
Serving homeschool STEM (Science, Technology, Engineering, Math) learners with student focused, activity based sequential STEM courses. The series of courses will follow a sequential development, starting with fundame...
Pearlstone Forest SchoolReisterstown
Forest School is a powerful outdoor adventure setting for home school students to safely challenge themselves, grow as leaders and build community by integrating and appreciating all life. Participants will play and l...
Kumon MathRockville
Enrolling in the Kumon Math & Reading Program will help build and advance your child's skills to new heights. Daily Kumon Math Worksheets will take about 30 minutes to complete in two sessions a week at a Kumon Ce...
Thompson Academy LLCSalisbury
At Thompson Academy,LLC we seek to provide a parent-supported learning environment that delivers a variety of educational and enrichment classes for homeschooling families of primary and secondary school age children ...
Cornerstone TutorialSeverna Park
Cornerstone is a Christian, non-denominational cooperative homeschool tutorial offering once-a-week tutor sessions to home schooled children at the 8th - 12th grade level. Classes are held every Monday from 8:20 to 3:...
Acers Lane Tutoring and Test PrepSouthWest DC
With experience ranging from university bridge programs to her own classroom, AC Lane, founder of Acers Lane, has been tutoring and teaching since 2010. The mission of Acers Lane is to help students fast-track their b...
CAPE Science Inc.Statewide in Maryland
CAPE Science Inc. is a traveling science education organization that brings hands-on educational programs to students across Maryland and covers a wide variety of topics. This is a great resource for supplementing sci...
Temple Hills Skating PalaceTemple Hills
Roller Skating Rink for all ages offering public skating, STEM Lesson Program, field trips and group reservations. Private skating events are welcome. Group Skating for as low as $6.50 per person for Admission 7 Skate...
Southern Maryland Chess SocietyWaldorf
Southern Maryland Chess Society offers chess tutoring for every age and skill level. The Society is a member of the United States Chess Federation. Members are happy to teach anything from the absolute fundamentals (l...
National Postal Museum ProgramsWashington
Learning that Delivers! The National Postal Museum offers a creative selection of programs that attract a wide audience base of all ages, genders, ethnicities, and interests. Whether it be a workshop, film, family pro...
National Fossil Day at the National MallWashington D.C.
Join paleontologists, educators, and students in fossil-related events and activities across the country in parks, classrooms, and online during National Fossil Day. National Fossil Day is an annual celebration held t...
National Museum of the American Indian ProgramsWashington DC and New York City
The National Museum of the American Indian is the sixteenth museum of the Smithsonian Institution. It is the first national museum dedicated to the preservation, study, and exhibition of the life, languages, literatur...
The French AcademyWashington DC Metro Area
The French Academy is a small French school in the Alexandria/DC/ Baltimore region, offering flexible classes based on the individual needs of the students. Small class sizes allows each team to work intensively on th...
TimberNook West RiverWest River, Anne Arundel county
Play is intrinsically motivated, unstructured, unscheduled, and free flowing. Play is fun! Playing at River's Edge challenges every sensory system including sight, touch, smell, hearing, taste, balance, and self-aware...
Living History CampWestminster
Living History & Farm Camps Living History Camp teaches children, entering 3rd through 6th grades, rural farm life in the 1800s through demonstrations and hands-on experiences. This award winning educational camp comb...
Regina Caeli Academy - BaltimoreWestminster
Regina Caeli Academy is a unique, affordable, 2-day per week hybrid homeschooling program in the classical education tradition. Two days a week are spent at the resource center, and the remaining three days are taught...
Go to...