Jump to: Homeschool Co-ops | Homeschooling Classes & Academic Enrichment
Looking for someone to teach physics to your teen? Need a way to avoid teaching algebra? Want to enroll your Kindergartener in a co-op for social time? Homeschool classes and co-ops are a great way to spend time with other homeschoolers and skill-share with other homeschool parents.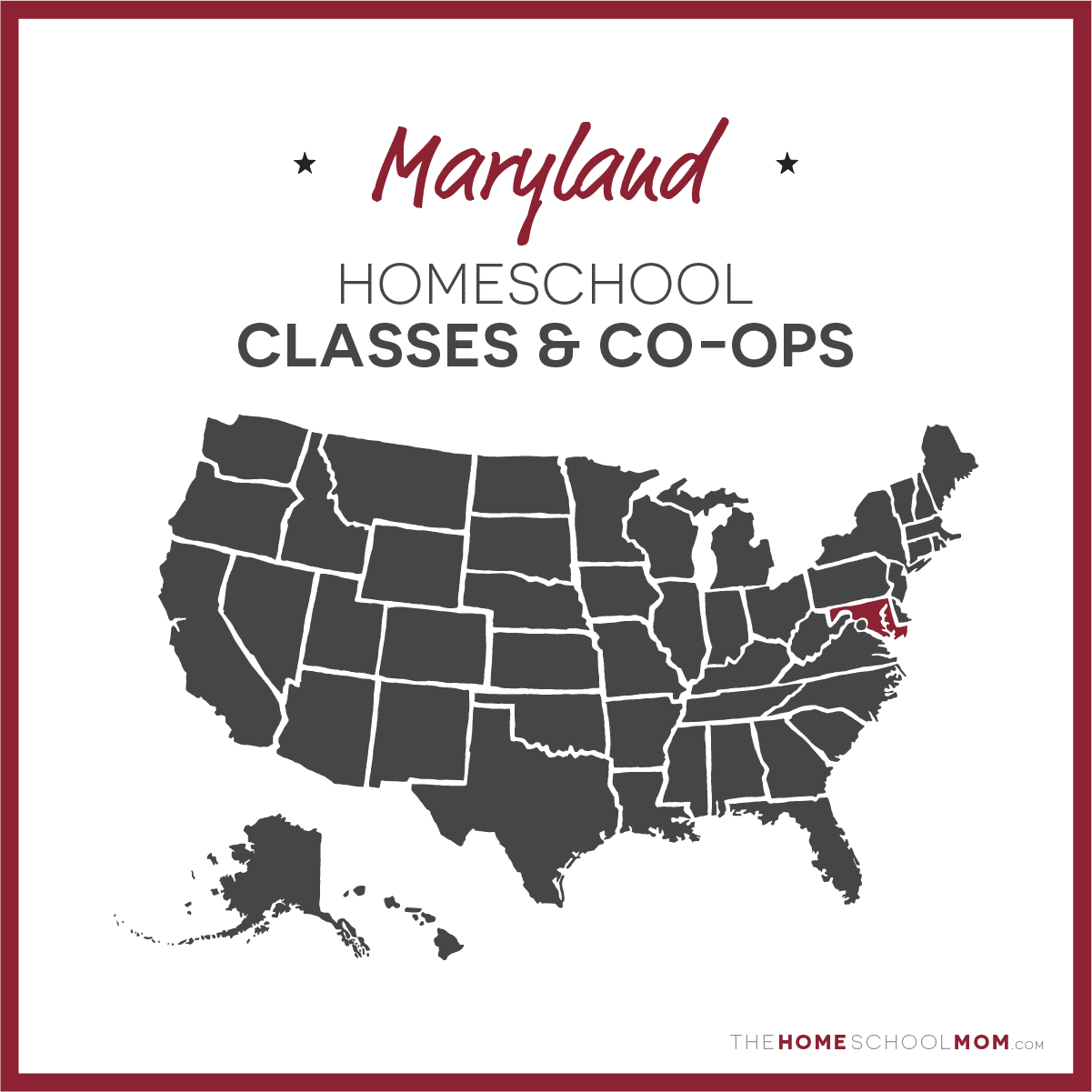 Submit a Local Resource
Our listing of Maryland co-ops and academic classes for homeschoolers is ordered alphabetically by city, with co-ops in the first section and all other academic resources below. If you would like to submit a Maryland co-op or academic resource, you may do so using the red button above.
Maryland Homeschooling Co-ops
Annapolis Classical Tutorial Service (ACTS)

Annapolis

"ACTS is a classical homeschooling tutorial in the Annapolis area that meets two days per week with students in Kindergarten through High School. Providing quality instruction and a supportive atmosphere, ACTS offers its families the best of both worlds - small classes allowing for postive peer interaction and the flexiblity to tailor our lesson plans to your child's learning style while at home. Browse our site and consider how ACTS might partner with your family in its homeschooling journey. "
Unitas Classical Christian Cooperative

Annapolis

Unitas accepts students ranging from K-12, based on the classical model of learning. It is rigorous for the above-average learner, yet offers parents flexibility in tailoring the program to best suit their student(s) needs. Parents meet monthly for support/encouragement, planning, and learning about the classical trivium. Field trips, holiday parties, science/history events, debates, and end of year celebrations showcase student accomplishments. Unitas is a cooperative, and as such, all parents share the responsibilities needed to support the tutors and students throughout the year.
Baltimore Unschooling Cooperative, LLC

Baltimore

At the Baltimore Unschooling Cooperative, the parents work together to provide a rich environment where the students direct their own learning. Embracing the idea that children are born with an innate desire to explore their world and learn. This is not your typical co-op. Learning and activities are student-driven and parent facilitated. There isn't anything parent-planned or executed without the explicit interest/request from one or more of our students. Open from 10am to 4pm Tues/Thur and are in session from September through June.
M.O.R.E of Baltimore

Baltimore /Gwynn Oak

The mission at M.O.R.E of Baltimore, Homeschool Co-op is to educate and liberate, by providing an entrepreneurial-based academic plan and the skills needed to be critical thinkers, culturally aware and financially literate. M.O.R.E of Baltimore, Homeschool Co-op is a 2-Day a week program designed to supplement, not replace, parent's homeschool instruction. We created M.O.R.E of Baltimore, Homeschool Co-op to support, encourage, and engage parents during their homeschool journey. We saw a void in the teaching of African American history and economics in our schools, so we decided to focus on educating the youngest of students on what entrepreneurship could mean for them and their communities.
Anchor Christian Collaborative

Calvert County

Anchor Christian Collaborative is a is a cooperative community that exists to mutually encourage, support, and enhance each family's homeschooling mission--not to replace it. We seek to create a community where families can come together to disciple their children in the instruction of the Lord and to see the world as He does…created through Him and for Him. We do this by providing a variety of dynamic and engaging classes for ages Preschool-High School. During the elementary years, parents assist in providing instruction and support in a cooperative environment. In the middle and high years, students are taught by qualified tutors in classes ranging from Literature to Art to Forensics.
Vita Nova Academy

Carroll county

Vita Nova Academy is a nature-based co-op in which homeschooling families meet together to encourage and support one another in our common endeavor to glorify God and educate our children. We achieve this through the sharing of our individual skills, talents, knowledge, and gifts. As a Nature-Based Co-op we love to take our classes outside! Whether it's exploring Nature, Discovering Science Under Our Amazing Pavilion, or learning History in one of our classrooms, we strive to make all aspects of learning FUN! We provide hands-on lessons that are sure to spark your child's love of learning.
Together Growing in Faith Homeschool Co-operative

Carroll County, Howard County, Baltimore County

Together Growing in Faith Homeschool Co-operative is a Christ-centered inclusive co-operative available to home schooling families of all Christian denominations.
Christiana Homeschool Academy

Carroll, Frederick, Howard, Baltimore counties

Christiana Homeschool is an ecumenical 'co-op' that uses the classical model of education and meets two days a week. Parents provide home instruction the remaining days. Christiana Homeschool is also a 'hybrid' ecumenical program that follows the classical education model from Kindergarten through 12th grade. The small class settings are the perfect environment for learning. All perspective students are encouraged to come for a day to experience what the program offers. Each day begins with grade specific devotions which are typically led by an assigned student.
Home Educators of the Eastern Shore

Church Hill

A support group membership includes website access to our secure databases and information, field trips, holiday parties, yearbooks, game night, team building activities, Moms Night Out, science fair, history/geography fair, camping trips, end of the year picnics, etc. and opportunity to be a part of our co-ops. Co-ops are the second dimension of membership in our group. Once you are accepted as a member of the support group then you are eligible to participate in our cooperatives, if you wish. Currently we have three cooperatives :the Science Cooperative, the History Cooperative and the Wednesday Afternoon Cooperative.
Howard County Homeschooling Community

Columbia

An active homeschooling cooperative and umbrella group where parents can engage their kids in online and in-person classes, field trips and social events. The calendar offers academics and play dates to help students thrive scholastically and socially. Co-op classes for K thru 12.
Howard County Homeschool Co-op & Umbrella

Columbia

We provide a communal space for homeschooling families to educate and socialize their children in a relaxed group environment. We offer a 28-week school year from Sept. to May. Co-op classes are held between 9:30AM and 2:00PM every Wednesday and Friday - with regularly scheduled field trips and social events.
Passport to Learning

Columbia

Passport to Learning is a large, inclusive, secular co-op in Columbia, MD which offers classes for kids from pre-K through high school.
Spartek Academy: An Acton Academy

Columbia

Spartek Academy: An Acton Academy's Homeschool Umbrella supports families with biannual portfolio reviews, county reporting, and invitations to Spartek's Clubs and Events. For families interested in our tutorial, admitted students will enjoy 2-days a week on-campus at Spartek Academy: An Acton Academy, the Acton Academy educational model, and access to clubs, sports, and special events .
Cornerstone Homeschool Cooperative

Eldersburg/Winfield

Classes for those students in grades K-8th are run in a co-op manner. Moms and dads will serve as the teachers and helpers in these classes. Our high school classes are taught by paid tutors. Cornerstone is dedicated to providing excellent academic instruction from a Biblical worldview. Therefore, we only utilize teachers who openly express faith in our Lord, Jesus Christ and sign our statement of faith. Co-op and tutorial classes meet on Mondays at Winfield Bible Church in Winfield, Md.
Frederick East Classical

Frederick

Frederick East Classical, Inc. is a 2-day, Christian, classical 'hybrid' homeschool cooperative, meeting in Walkersville, Maryland (Frederick County). This program is designed to assist parents in the homeschooling of their children by providing academic instruction on Mondays and Wednesdays and guidelines for homework on the 'off' days. Classes offered include Grammar, Writing, Science, History, Latin, Literature, Math and even elective subjects. These classes are small and teachers are well-trained, both of which serve to provide an excellent classroom experience.
Homeschooling By Grace

Frederick

Homeschooling by Grace is a non-denominational Christian co-op in Frederick, Maryland. HBG meets every other Monday, 8-9 times each semester. Please visit their website to learn more or join the waiting list.
Beltway Montessori Children's House

Greenbelt

Beltway Montessori Children's House (BMCH) is a homeschool tutorial and family co-op community devoted to providing education support to families in accordance with the Montessori pedagogy. BMCH offers either a 2-day or 4-day drop-off tutorial option for children in Kindergarten through 7th grade. Our mission is to provide quality, accessible Montessori education to homeschool families within and around Prince George's County, MD. The Montessori curriculum and our trained and certified teachers develop a child's educational independence, care for the environment and community, and their ability to think creatively and communicate their ideas to others to effect real change in the world.
Greensboro Christian Co-op

Greensboro

Greensboro Christian Co-op is a cooperative of families seeking to enrich the experience of our home-schooled children and provide support for the parents. GCC is an elective based co-op. Classes are available for Preschool - Grades 12. A nursery is available for younger children.
Harford Classical Christian

Harford County,MD

Harford Classical Christian is a hybrid homeschool program meeting two days per week in Fallston, MD. This comprehensive, Classical program serves Baltimore-area homeschool families and their pre-K through high school students with its Christ-centered curriculum. Harford Classical Christian has partnered with Redeemer Classical Christian to provide umbrella homeschool reviews for families enrolled at Harford Classical Christian. For more information please visit the website at https://harfordclassicalchristian.wordpress.com/.
PACE (Parents As Christian Educators)

LaPlata

PACE is a Christian homeschool co-op. Parents As Christian Educators (hereafter referred to as PACE) will also provide support and offer social and educational activities with a distinctively Christian perspective to home schooling families. These activities may include, but are not limited to, group classes, special events, parties, sports, support meetings for parents, newsletter publication, and field trips.
Crossroads Homeschool Co-op

Lutherville

Welcome to Crossroads Homeschool Co-op! Crossroads is a homeschool community where each parent serves as a tutor, bringing unique gifts to serve the group as a whole. We strive to be academically rigorous and, when space is available, welcome families who embrace our mission and are able to contribute in substantive ways to our group. The mission of Crossroads Homeschool Co-op is to support Christian homeschool families who desire to associate with like-minded people by providing cooperative, academic instruction and training for the next generation of Christian leaders in a Christ-centered atmosphere, and equipping our students for a life of service to their Savior, homes, churches, vocations, and communities.
LEAP CO-OP

Montgomery County

LEAP co-op is a Christian co-op that meets in Derwood MD. LEAP meets on Mondays and offers classes for PreK through 8th grade. The co-op is made up of 27-30 families. Classes include science, history, art, music, PE and more. The classes change every semester and are taught by LEAP parents. Eight weeks of classes are offered each semester.
Monocacy Home Educator's Co-operative

Mount Airy

Monocacy Home Educator's Co-operative is a secular and inclusive homeschool co-op. It was formed by several homeschooling families in the fall of 1999 and officially began meeting in the spring of 2000. The co-op moved to St. Pauls Lutheran Church in Utica, MD in January of 2001 and have been meeting there ever since. We meet on Wednesday's from 9:00 am - 1:30 pm from late August through early May. We have a 14 week Fall semester with two 7 week sessions and a 14 week Spring semester also with two 7 week sessions.
HisWay Homeschool Academy

Reisterstown

HisWay Homeschool Academy is a Christian homeschooling cooperative in the Baltimore County and Carroll County areas. Its mission is to provide children with an individualized, quality education on a solid foundation of traditional values, Christian character, biblical standards, and faith in Christ Jesus. The curriculum satisfies the core academic requirements for Maryland home education and meets twice a week on Mondays and Wednesdays Northwest Baptist Church in Reisterstown.
Rainbow Family Christian Academy

Silver Spring

Rainbow Family Christian Academy is a hybrid homeschool program in Silver Spring, MD. Parents can choose 1, 2, or 3 days per week to join our group of students. We operate Monday, Wednesday, and Friday from 9am-3pm. Students participate in Chapel, Language Arts, Math, Science, Social Studies, Spanish Basics, Technology, Music Appreciation, and Art. We incorporate scripture, prayer, and worship into our daily schedule. We go on regular field trips also. We have small class sizes and a nurturing teaching staff. Call or email us to set up a tour and see if we are the right fit for your family.
Sligo Creek Co-op

Silver Spring

Sligo Creek Cooperative (SCC) is a secular, inclusive, educational cooperative designed to meet the needs of homeschooling families in Montgomery County, Washington, DC, and surrounding areas. We place strong emphasis both on community building and service to the larger community.
(CCT) California Christian Tutorial

Southern Maryland

California Christian Tutorial (CCT) supports Southern Maryland families as they develop their children into mature and discerning followers of Jesus Christ. CCT is a tutorial-model group with a-la-carte classes and seeks to enhance and extend the home school experience at the middle and high school levels. Founded in 2002, CCT meets in California, Maryland located in St. Mary's County. CCT provides a curriculum geared towards a college preparatory level of education for students in 7th – 12th grade.
Calvary Gospel Home Educators

Waldorf

Calvary Gospel Home Educators offers: Invitation to our weekly Homeschool Lunch Bunch social hour with concessions Participation in our Bible Academy for kids & teens Weekly group co-op classes for Elementary, Middle & High School Students Homeschool Physical Education, Tennis & Health classes in our university-size gymnasium Homeschool Music Department featuring a Homeschool band and choir Elementary, Middle & High School Students programs (i.e. Lego, Awana, etc) FREE participate at our public Book Fair Invitation to our Back to School, End of the Year & holiday events Invitation to ALL of our field trips and quarterly events Access to support and encouragement from fellow homeschoolers
Signature Academy Homeschool Co-op

Walkersville

We are a homeschool co-op offering mostly academic classes as well as some electives to students in elementary, middle, and high school. Classes are held on Tuesdays in Walkersville, MD.
Sankofa Homeschool Community

Washington

Sankofa is a community of homeschooling families of color who want to grow, learn, and build together. We are dedicated to creating a rich, supportive homeschool village through a combination of social outlets, field trips, and the sharing of resources. Sankofa Homeschool Collective Classes are held on Fridays at: Ft. Chaplin Community Center, 4212 East Capitol St. NE Washington, DC 20019
City Kids

Washington, D.C. metro area.

City Kids is a parent-run, cooperative education program located in Northwest, D.C. The mission is to provide multicultural, science, literacy, and arts education. Through cooperative planning, community building, and educational partnerships, City Kids provides academic and enrichment opportunities for families. Families meet two to four times per week (how much is up to each individual family) and programs include science, world cultures/geography, Capoeria, organic food gardening, arts education, writing, a mindfulness program, field trips, and lots of fun play. Activities are hands-on and project based.
Christiana Homeschool Academy

Westminster

Christiana Homeschool Academy is a 'Hybrid' 2-day a week (Monday & Wednesday), drop-off, classical education program that meets in Westminster, MD. Christiana offers a full curriculum for all grades starting in Kindergarten through 12th Grade.
Maryland Homeschooling Classes & Academic Enrichment
Hard Bargain Farm Environmental Center

Accokeek

Hard Bargain Farm Environmental Center's education program for elementary and middle school students is designed to promote understanding and stewardship of the natural resources in the Potomac River watershed and the legacy of farming in southern Maryland. Courses at Hard Bargain Farm immerse students in various field studies involving fun and innovative hands-on activities and field investigations designed to engage all learning styles. Home School programs throughout the school year.
Alice Ferguson Foundation Homeschool Programs

Accokeek

There's a special place in Maryland where students can dig in the dirt, take a hike, and catch an unbeatable glimpse of the Potomac. That place is the Alice Ferguson Foundation. We are proud to serve thousands of Pre K-12 students each year as they interact with science, plants and animals about which many of them – until now – have only read. Join us for a robust and exciting lineup of hands-on activities on topics in science and agricultural education.
Irlen Visual Learning Center of MD and Abilities OT Services Inc.

Baltimore

Simple Intervention to address reading and writing challenges, ADD/ADHD, dyslexia, light sensitivity, chronic headaches/Migraines, anxieties and other visual stress symptoms. FREE and PASS Pre-Assessment for Irlen Syndrome (www.irlen.com) Training for Parents, Educators and Therapists. Research based using carefully calibrated color overlays and spectral filters addressing visual processing and other sensory systems.

Irlen Visual Learning Center of MD and Abilities OT Services Inc. details
What Happens Next

Baltimore

WLOY Loyola Radio's award-winning, FREE program, What Happens Next is an exciting way to promote literacy skills, self-confidence, and public speaking proficiency in children. This program encourages young students, ranging in age from 6-12, to write for pleasure, expanding their imagination and communication skills in the process. Children are read the beginning of an original, suspenseful story. It is then up to each child to create his or her own unique conclusion to the story. After each child writes their ending to the story, with help from our team provided if needed, they are encouraged to practice reading their story aloud. The story is then recorded in our production studio, where its young author is encouraged to read with enthusiasm. These stories are compiled into the show, What Happens Next, which is broadcast on WLOY 1620 AM and streamed online at www.wloy.org every weekend. This is a great option for an extra activity for home-schooled children to partake in and document for home-schooling purposes.
Classical Conversations in Baltimore

Baltimore

Equipping parents on how to educate their children from 4 years to 18 years of age.
Therapeutic Alternatives of Maryland (TALMAR):Organic Farming Awareness

Baltimore

In collaboration with Baltimore County Recreation and Parks, TALMAR (Therapeutic Alternatives of Maryland) provides community and educational-based farming field trips and programs comprised of hands-on horticultural experiences. Such includes cultivating organic gardens, providing an awareness for naturally-grown fruits and vegetables, and enlightening students about sustainable environmental practices. The goal is for students to leave with an appreciation for nature by knowing more about plants, farming, and gardening practices gained through TALMAR's activities.

Therapeutic Alternatives of Maryland (TALMAR):Organic Farming Awareness details
Helping Hands Health Services

Baltimore

Helping Hands mentoring agency helps adults, adolescents, and children in the overall development of their mental health. Mentors can teach and improve social skills, interpersonal relationships, hygiene/grooming, time management, money management, obtaining entitlements, academic performance, anger management, coping strategies, and more! Helping Hands Therapeutic Behavioral Services provides intensive in-home behavior modification services. Offering individual, family, and group therapy services by a licensed clinical social worker. Helping Hands Vocational Program provides support to help individuals find meaningful and competitive employment.
Classical Conversations - Maryland

Baltimore

A tutoring service that empowers and equips moms and dads to homeschool at home using the classical model of education.
Regina Caeli Academy

Baltimore

Regina Caeli Academy is a private, independent University-Style Hybrid® academy operating in the Catholic tradition. Accredited classical academic and extracurricular classes are offered to preschool through 12th grade students two days a week. The parent remains the primary educator by homeschooling the other three days a week, following the same classical curriculum which is fully committed to faithful adherence to the Holy Magisterium of the Roman Catholic Church. Regina Caeli Academy is a response to the need for affordable, authentic, classical education taught in light of the Catholic tradition. The academy is open to all students regardless of race, color, sex, national origin, and ethnic origin.
Supplemental Learning Services

Baltimore

Local Learning Coach and Educational Support Specialist. Supplemental Learning Services serves learners ages 8-14 who are in need of assistance. I help students problem-solve by creating new and novel ways for these learners to adapt to various learning environments. I served as a tutor and mentor in the Washington D.C. Public School system, which led me to start my own business in 2018. Since then, I have helped students demonstrate higher performance in major subject areas (Math, ELA, Social Studies, Science), increase self-esteem and confidence, and establish the foundation to be lifelong learners. Contact supplementallearningservices@gmail.com to see if I would be a good fit for your child.
M.O.R.E of Baltimore

Baltimore /Gwynn Oak

The mission at M.O.R.E of Baltimore, Homeschool Co-op is to educate and liberate, by providing an entrepreneurial-based academic plan and the skills needed to be critical thinkers, culturally aware and financially literate. M.O.R.E of Baltimore, Homeschool Co-op is a 2-Day a week program designed to supplement, not replace, parent's homeschool instruction. We created M.O.R.E of Baltimore, Homeschool Co-op to support, encourage, and engage parents during their homeschool journey. We saw a void in the teaching of African American history and economics in our schools, so we decided to focus on educating the youngest of students on what entrepreneurship could mean for them and their communities.
Little Medical School of Baltimore

Baltimore and surrounding areas

The Little Medical School of Baltimore brings medicine, science, and the importance of health to children in an entertaining, exciting and fun way. Children learn while having fun as they dress up like doctors, veterinarians, nurses, and use medical instruments and understand how the body works. Our programs aim to inspire children to aspire for careers in healthcare. The mission of Little Medical School of Baltimore is to teach elementary and middle school children about the exciting field of medicine. Through hands-on demonstrations, crafts and games, children are actively engaged as they explore the world of medicine. Offering several programs including Little Medical School, Little Veterinarian, Little Nursing, Little Pharmacy, Little Dental, Wilderness Medicine and Sports Medicine, as well as Little Medical School Part 2 and 3 and Little Veterinarian School Part 2 and a Cat program.
Civil Air Patrol - Granite Cadet Squadron

Baltimore County

Granite Cadet Squadron is a unique Civil Air Patrol unit that meets in central Maryland and caters specifically to homeschooled cadets ages 11-20. The squadron meets during the weekday, offering CAP's youth program focusing on leadership development, aerospace education, physical fitness, and character development. CAP cadets progress through self-pace academic studies supplemented by classroom lessons, flight lessons in CAP Cessna aircraft, and opportunities for local, regional, and national activities. As cadets progress in their leadership development, they are given more responsibilities in leadership and classroom. Granite focuses on life skills such as public speaking, test taking, team building, mentorship, and study skills. Adult leaders have homeschool experience. Granite Cadet Squadron meets in-person on Thursday mornings from 9:30-Noon. During the COVID pandemic, meetings are also offered virtually. Annual dues are $35 plus uniform items. Questions? Send email to granite@mdwg.cap.gov
Empowered Learning Transformation Centers

Bethesda

Empowered Learning Transformation Centers offers programs involving mind-body approaches to optimize learning and focus. This approach offers benefits to people with attention disorders or those who are on the autism spectrum.
Learning Outside the Box

Bethesda

Founded by a long-time home schooling mom, Learning Outside the Box offers a variety of in-person classes in geography (4th-12th grade), philosophy (8th-12th), world affairs (8th-12th), finance (8th-12th), and academic writing (10th-12th) as well as an online literature class in comparative science fiction (9th-12th). Specializing in gifted education.
Project Excel Academy

Bowie

Project Excel Academy (PXL Academy) is a Christian homeschool organization that offers oversight, tutoring, study sessions, strengths/character focus and academic strategies to students by utilizing unique, fun, hands-on educational environments to equip those who would benefit from small learning groups, interactive study sessions and individualized academic plans so that they can become successful in their academics. This service is offered 3 days a week on Monday, Wednesday & Friday from 9 am – 2 pm. Half-days are also available.
Bowie Baysox

Bowie

The Bowie Baysox are the double A affliates of the Baltimore Orioles. They Baysox host The Read and Hit a Home Run reading program. If students read four (4) books then they receive two (2) free tickets for select dates in the spring. This program is open to students in P re-K through middle school.
eXtend Homeschool Tutorial

Bowie (Prince George's, Anne Arundel, and surrounding Counties)

eXtend Homeschool Tutorial, formerly Bridge Elementary/Bridge Extension (BETH-M/BridgeX), is a Christian elementary through high school tutorial (1st through 12th grade) located in Bowie, Maryland, providing affordable a la carte classes taught by qualified, compassionate instructors. With a methodology best described as a Classical/Eclectic/Traditional mix, classes are conducted in a group setting, and meet twice a week on Tuesdays and Thursdays at Mt. Oak Church. Classes are offered in the four core disciplines - English/Language Arts, Math, Science, Social Studies/History, as well as Art, Music, and Spanish. Because classes are a la carte, families have the flexibility of signing up for as few or as many classes as they wish. For more information, including class schedules and descriptions, as well as registration, visit www.extendhomeschool.com.
CCT California (Maryland) Christian Tutorial

California

California Christian Tutorial (CCT) supports Southern Maryland families as they develop their children into mature and discerning followers of Jesus Christ. Our talented and experienced tutors seek to enhance and extend the home school experience at the middle and high school levels by providing quality instruction that glorifies God and challenges our students to think clearly. Founded in 2002, CCT meets on Tuesdays or Thursdays (depending on the class) at Cornerstone Presbyterian Church on Town Creek Drive in California, Maryland. CCT provides a curriculum geared towards a college preparatory level of education. CCT students have been accepted into many collegiate institutions including West Point, the U.S Naval and Air Force Academies, Grove City College, University of Maryland, Cedarville and Liberty Universities, Florida Institute of Technology, Virginia Tech, Geneva College and the College of Southern Maryland. Many of our students have received full or partial scholarships and are serving in leadership roles in their academic institutions.
Historical Society of Carroll County

Carroll County

The Historical Society of Carroll County offers the opportunity for elementary-age children to step back in time to the early 1800's at the Sherman-Fisher-Shellman house on East Main St. in Westminster, MD. Docents will lead students through the house to show them how life has changed during 200 years. Check the website for more details. Phone 410-848-6494 to arrange a tour.
Macbeth Academy

Carroll County, Frederick County, Baltimore County, Howard County, Montgomery County

Macbeth Academy is an enrichment program for homeschooling families developed by Stanford University graduates. The program focuses on Common Core, Reading Comprehension Strategies, Academic Writing, and Creative Writing for Grades 2 through 12. Over the course of 12 weeks, enrolled students work with a live instructor. The ultimate goal is to help students develop a passion for learning through innovative teaching strategies, skill building, and fostering self confidence. Subject areas covered include: Writing, Reading, Spanish (all levels), Brazilian Portuguese (all levels), and Logic. There is currently a Private Tutoring option. Parents are provided with semester curriculum and have the option to schedule multiple parent-teacher conferences.
Sacred Heart tutorials

Carroll/Frederick county

Providing a Catholic curriculum and faith filled environment for students grade 6th - 12th. Meets on Mondays and Wednesdays at St.Josephs in Taneytown
The Brainery

Clinton

The Brainery is an educational service provider that provides an online and in-person homeschool tutorial program for students in grades K-8, the program includes instruction in English, Math, Science, and Social Studies. We also provide a specialized program for students with cognitive disabilities in grades 9-Adult. Created by 2 educators, The Brianery looks to provide quality instruction at an affordable rate to students with diverse learning needs. For more information about classes, pricing, and individual tutoring visit TheBraineryExperience.com.
Granite Classical Tutorial

Columbia

The mission of Granite Classical Tutorials is to be Christ centered and classical in educational methods and materials. Granite intentionally remains part time (two days a week) because home schooling is also prized. These three pursuits lead to unique features that are ideal for some families but which may cause Granite Classical Tutorials to be unsuited for others.
Hope Academy Christian Tutorial & Umbrella

Columbia

Hope Academy exists as a ministry of Hope Bible Church with the mission of supporting local homeschool families, fostering biblical discipleship amongst the members, and above all bringing glory to God. The Hybrid Tutorial program offers both core and elective classes for 1st through 12th grade two days per week. Tutors instruct the students in the classroom on Tuesdays and Fridays each week during the school year while the parents are responsible for teaching the curriculum at home on the other days of the week. We also offer 1/2 day preschool and kindergarten enrichment programs on Fridays. Our goal is to offer a program to assist parents as they strive to fulfill their God-given role in training and educating their children. Hope Academy hosts student life events and field trips throughout the school year and we also offer a state recognized Homeschool Umbrella program for members of the Tutorial program. Enrollment in Hope Academy is open to all Maryland residents. Hope Academy also offers Umbrella Oversight in addition to co-op and tutorial classes and enrichment.
USRA STEMaction Center

Columbia, MD

The USRA STEMaction Center offers engaging and exciting STEM programming for students, educators of all types, and the general public. In addition to drop-in workshops and public engagement events, we also serve as the program delivery partner for FIRST LEGO League Junior and FIRST Tech Challenge robotics programs in the region. For more information, to sign up for a workshop, or details on individual events - please visit the website.
Freedom Learning Group

Columbia, MD

Description: This volunteer run group pools their resources to support each other as they share in homeschooling their children four days a week. They offer a structured learning environment for the core subjects. They are for local Howard County MD families who want their educational and medical choices for their family to be respected.
A Balanced Perspective, LLC

Crofton

Youth Mental Health and Wellness Workshops A Balanced Perspective, LLC offers youth workshops designed to introduce and optimize the critical life aspects of self-expression, skill-building, and development. These workshops will provide a safe space for young people to meet together while they learn, explore, and discuss various topics that pertain to their growth stages. Brought to you by licensed mental health clinician and youth specialist, our vision is to integrate our speciality coupled with a passion for advocating for mental health and wellness to our community. We are striving to provide support and promote understanding as we help students build self-awareness, confidence, and strength from within. Workshops travel to the community.
Learning With Grace homeschool tutorial for students with learning differences

Crownsville

A Christian homeschool tutorial for students with learning differences, such as dyslexia and more. They will be offering a complete program or pick and choose NILD educational therapy for individuals and small groups. Reading programs for all levels of readers using the Orton and Gillingham approach. Electives to choose from such as soccer, art, music, and drama.

Learning With Grace homeschool tutorial for students with learning differences details
Spark Ministries

Damascus

Spark Ministries is a Wednesday morning drop off program which includes Lil' Sparks (infant-preschool ages) and Spark Kidz (Kindergarten through 5th grade). Lil' Sparks focuses on social, spiritual and academic skills through Bible stories, music, crafts, and Recreation time. Spark Kidz focuses on extracurricular subjects which include bible study, art, music and PE. Classes meet from 9:30-11:30 am. We ask that parents sign up to volunteer two to three times a year to help in the classroom as needed. During the time of the classes we have Moms Rekindled which is an amazing moms group that meets, for anyone who is interested. The total cost of the program for the year is $405.00 per child. If you have more than 1 child, each additional child will recieve $50 off. If you need a scholarship and/or have any additional questions please email valerie.bartel@redeemer.us
Learning through Animals by Alejandra Abella

DC metropolitan area

Learning through animals provides courses that allow students from K-12 and adults to draw the parallels between human and animal behavior. Each course is built on the premise that all minds are valuable and, by studying the lives and behavior of animals, students walk a mile in anothers ...paws!. They learn not to judge others, to communicate more honestly, and to learn what truly matters. Courses utilize images, video, the latest scientific research and open discussion. Sessions are typically 8 weeks but can be adjusted to fit any group or program, and are now available in the DC metro area
Homeschool Naturalist and Outdoor Explorers

DC/MD/Va Metro Area

The Home School Naturalist Program uses nature observation, awareness and earth based skills to introduce your child to a world of adventure,discovery and learning! This program focuses on cultivating the existing passions found in children, their natural curiosity and their innate love of nature. We then add layers of hands-on experience in naturalist and wilderness skills including; tree & plant ID, natural fibers, sensory awareness, emergency fire building, lost proofing, wild food gathering and preparation, animal tracking & ID, practical wilderness skills & more. These skills are the foundation that are built upon as your child advances each season through the many different levels of this program.
Historical Performance with Daisy Century

Delaware, Maryland, and Pennsylvania

A Historical Interpreter from Philadelphia, Dr. Daisy Century performs a one woman show of seven historical women like Bessie Coleman, Harriet Tubman, and Sojourner Truth. Contact Dr. Century through the website to bring history to your Home Schooling programs, meetings, conferences, seminars, classes or special events.
Homeschool Days at Historic London Town and Gardens

Edgewater/Anne Arundel County

Almost every month of the school season Historic London Town and Gardens offers a unique homeschool program that allows for an intensive study of colonial history for homeschool families. Pre-registration is required for all homeschool programs. Register online or call 410-222-1919 to reserve your spot. All registration fees are non-refundable. For more information, contact the Public Programs Administrator at 410-222-1919 x211 or by email at education@historiclondontown.org.
Dr. Cheryl Garrett Private Teacher/Tutor

Eldersburg

Teacher/Tutor in a private or homeschool setting. Broad knowledge for ages 10 and older especially.
My Spanish Academy LLC

Ellicott City

My Spanish Academy is a play-based Spanish immersion program for children of all ages. Program uses a complete thematic unit curriculum that includes engagement activities for every age group. Program methodology includes: music, art, reading, writing, pretending play, activities based on age and interest, vocabulary, physical expression and more. My Spanish Academy LLC always offers a FREE trial class and complementary activities for FREE every month to enrich and promote the Spanish language practice.
Hickory Fountain Green Rec Youth Center

Forest Hill

HFG Youth Center is a program designed by the Hickory Fountain Green Rec Council. It provides a safe environment where middle school students can enjoy DJ Music, Dancing, Sports, Pizza and many more activities. The Youth Center Program is open to 6th, 7th, and 8th graders living in the Southampton Middle School boundary area. This includes; North Bel Air, Forest Hill, Churchville, Fountain Green, and Hickory. It is held on selected Fridays throughout the year, September-March, at Southampton Middle School from 6:45-9:30pm. Cost is $60.00 for the year. Please contact hfgyouthcenter@gmail.com if interested.
Backyard Classroom at the Crowe's Nest

Fort Washington

Backyard Classroom is a weekly nature class in Fort Washington, MD for kids 2-7 yrs. We learn about the local ecosystem with fun activities and form friendships during free play in our fun backyard with a slide, rock wall, trampolines, jungle gym, and rotating fun toys. By connecting to the planet and learning about the world around them, vital skills are organically absorbed. We dive deeper into the things we see everyday and encourage play with them too (plants, animals, fungi, dirt, water, etc.). Everyone present no matter their age will increase their dexterity, observation and exploratory skills, and learn facts about their local ecosystem (our focus). You also will get an activity idea (cheap/free and very simple) to do at home with your kid(s) that will coincide with that week's activity (repetition is key!). Unschooling, Charlotte Mason, and Montessori methods are integrated and everything is secular and nature based. Siblings under 2 are free and there's a 25% off discount for siblings 2+. Check out @NaturalNests on social media to learn more and signup for the season or attend as a drop-in.
Frederick Community College Homeschool Enrichment

Frederick

With a strong reputation among local and regional homeschool communities, FCC Homeschool Enrichment offers specially designed programs to complement at-home schooling. Weekday instruction is provided by FCC faculty, homeschool parents and educational professionals. Small classes deliver age-appropriate subjects organized by age group (7-8, 9-12 and 13-16 years). Hands-on learning in a variety of academic areas includes science & technology, creative arts, history & cultures, literature and languages.
Art of Problem Solving Academy in Gaithersburg

Gaithersburg

Art of Problem Solving Academy offers a world-class curriculum that teaches students how to solve difficult problems. Since 1993, AoPS books and online courses have trained the world's best math students. AoPS alumni include many winners of international math and science competitions, including the recent world championship Math Olympiad team. AoPS Academy prepares your student for the challenges of top-tier universities and internationally competitive careers. AoPS classes provide customized, rigorous instruction from highly-educated teachers; small, highly-interactive classes with outstanding peers that will inspire your child to fulfill his or her potential; comprehensive communication with you, including weekly emails detailing your child's progress.
Teen Integrated Math - Montessori-based

Gaithersburg

From Michael Waski at The Math Institute, this Montessori-based curriculum is implemented on a family-run organic farm bordered by Seneca Creek State Park. Students, ages 12-18, meet year-round on Tuesdays and Thursdays. Arithmetic, geometry, and algebra topics are covered in a multi-faceted student-led approach with lessons, activities, projects, history, group seminar and reviews. Classroom time is balanced by on-farm activities and nature immersion while supported by an active homeschool cooperative of parents with elementary-aged children.
Kids Therapy Connection

Greenbelt

Out-patient pediatric practice, offers occupational therapy for children to help excel all areas of life. A wide range of children can benefit from services offered at Kids Therapy Connection including children who have difficulty with coloring, drawing, writing, paying attention, sitting still, and listening to directions. An individualized and child-centered approach is used to help promote success. Experienced therapist, who has worked with homeschool communities in Anne Arundel County, MD and Fairfax County, VA.
Regina Caeli Academy of Hampstead

Hampstead

Regina Caeli Academy (www.rcahybrid.org) provides a classical, hybrid education in the Catholic tradition. Pre K3- 12th grade students attend Socratic, hands-on classes taught by trained tutors two days a week and homeschool on the remaining days. Regina Caeli supports the home portion of the week through a complete 5 day directed program, making homeschooling possible for any family. Regina Caeli Academy: 1205 Main Street Hampstead, MD 21074 For more information, please contact our admissions representative at admissions@rcahybrid.org or Phone: 410.489.3111
Harford Classical Christian

Harford County,MD

Harford Classical Christian is a hybrid homeschool program meeting two days per week in Fallston, MD. This comprehensive, Classical program serves Baltimore-area homeschool families and their pre-K through high school students with its Christ-centered curriculum. Harford Classical Christian has partnered with Redeemer Classical Christian to provide umbrella homeschool reviews for families enrolled at Harford Classical Christian. For more information please visit the website at https://harfordclassicalchristian.wordpress.com/.
Home School Connection at The Hockessin Montessori School

Hockessin

Home School Connection Enrichment Program - The Hockessin Montessori School brings expertise in education and creativity to the home school community through our HOME SCHOOL CONNECTION. This program offers a variety of enrichment subjects for children in Kindergarten through 8th grade including Art, Physical Education, Music, Spanish, S.T.E.M, Technology and Steel Drums (Middle School level only). Classes are prepared and taught by the HMS experienced instructional staff and teachers. Home School Connection Math Support Program - Teaching Mathematics can be an overwhelming task in a home school environment. The Elementary and Middle School staff of The Hockesson Montessori School are offering expertise in academics for parents and students in 4th, 5th, 6th, 7th, and 8th grade.

Home School Connection at The Hockessin Montessori School details
Idea Lab Kids Home School Enrichment Programs

Howard County

Are you interested in a Home School opportunity for your student or group. Idea Lab Kids Howard County Home School Enrichment Programs "STEAM" have classes, such as Simple Circuits, Robotics/Lego, 3D Printing, Coding, Genetic/DNA, Bio Exploration/Kids Chemistry, Anatomy, Physical Science and Culinary classes for K - 8th Grade. Cost for each class includes all needed supplies. Students just come to learn and explore.
Link Education

Hyattsville

Offering foreign language classes in Spanish, French and Mandarin. Additionally, offer academic support in the areas of reading and writing. Writing workshop is a stand-alone class that is available. As a part of the language program, cultural events are offered as well. Classes are held in the mornings, afternoons, evenings and weekends.
Catholic Schoolhouse of Harford County

Joppa

Catholic Schoolhouse is a supplemental program designed to enrich homeschool families through a flexible, classical approach to learning, presented in a structured environment. All students, preschool through high school, study the same topics, creating family unity. The whole family has a place at Catholic Schoolhouse.
DelawareReadingExpert.com

Kent & Sussex Counties

Professional reading specialist serving Kent and Sussex counties. Services include evaluating and analyzing student's ability to learn, identifying barriers to learning, developing a structured plan for addressing learning challenges, and holding student accountable to ensure success. Orton-Gillingham, Reading Assist, and Brain Integration Therapy are a few "tools in the toolbox" utilized by DelawareReadingExpert.com. This reading specialist is often able to help students find success when previous efforts have failed. Therefore, she is willing to work with students outside of Delaware. While some onsite visits are necessary, the goal is to minimize these via use of video conferencing technology (e.g. Skype, Google Hangout).
Shabach! Christian Academy

Landover

SHABACH! develops and manages homeschool programs to assist parents with the academic objectives of students of all learning styles. They exist to encourage, nurture and support families. The academy administers oversight for students grade K-12th grade and provides oversight of education environments, consultations, curriculum selection assistance, and record keeping. They offer parent fellowships, workshops, field trips, group classes, activities, testing, newsletters, high school diplomas and graduation programs.
The Learning Community International

Maryland Statewide

A unique school registered with the Maryland State Department of Education and operated by a non-sectarian, non profit religious organization, The Community, Inc. TLCI honors and welcomes families from all religious and philosophical traditions. TLCI has been successfully supporting and guiding parents and their children in creating their own unique learning programs since 1984. Our graduates have been admitted to Ivy League colleges, technical and arts schools, all state colleges, military academies, and more.
Maryland Classical Conversations

Maryland Statewide
Maryland/Delaware/Washington D.C. Classical Conversations

Maryland, Delaware, and Washington D.C.

CC is a national homeschooling program that uses a Bible based curriculum taught in a christian, classical tradition. Classes are geared for age 4 through high school.

Maryland/Delaware/Washington D.C. Classical Conversations details
Home School Gymnastics and Physical Education

Middle River

Gymnastics, Fit Games,and Health classes for students aged K - 12 taught by gymnastic instructors. Gymnastic and Fit games classes offer an optional written and verbal Health lesson with every class. (Written materials are emailed to parents every Sunday, for the upcoming class that week) For those who are looking for a Health course for credit, the 36 weeks health lessons will cover basic nutrition, pre and post exercise care, basic biology, fundamentals of anatomy, fitness first aid and common injuries, exercise related to hormones and mood, and basics on how age enhances and decreases aspects of physical performance. All abilities and "handi-capable" friendly classes!
EcoAdventures Home School Adventures

Millersville

EcoAdventures offers hands-on, unique, dynamic enrichment programs with a wide range of themes for homeschooling groups. Topics range from rain forests to bugs, nature hikes to fossil digs, and more! EcoAdventures customizes classes to fit your needs. Unique features include a rain forest, crocodile pond, live animal interactions, and feeding demonstrations. Each class will have class objectives, a review sheet to take home, and "homework". At the end of the session each student will take home a certificate to show completion of the session.
Severn Run Classical Christian Homeschool Tutorial (SRCCHA)

Millersville

The mission of Severn Run Classical Christian Homeschool Tutorial (SRCCHA) is to support and enhance Christian homeschooling families by providing twice-a-week classes, using the Classical method. The vision is to glorify God by equipping students with the tools necessary for a lifetime of learning, so they will be intellectually fit, spiritually grounded, and able to reason within the framework of a Biblical world view.

Severn Run Classical Christian Homeschool Tutorial (SRCCHA) details
Fairchild Educational Resources

Montgomery & Howard Counties

Fairchild provides individual and differentiated tutoring and test prep in all subject areas. Locally owned and operated. Hillary Hytken Morrow is hands on daily ensuring quality educational opportunities in a safe and relaxed learning environment. Come grow and enjoy the knowledge that your child is thriving in school (and life) through one on one tutoring, test prep, and college guidance.
Little Medical School of Maryland

Montgomery County, Howard County, Annerundal County, Prince George's County

Little Medical School of Maryland is a STEM/STEAM based program that introduces medical concepts and terminology to students between the ages of 3-15. Our program teaches children about different themed medical concepts through interactive activities and courses. We offer a number of different courses including little medical school, little veterinary school, little pharmacy school, little sports medicine, and more! LMS's programs are designed by doctors and combine learning with fun activities! Little Medical School of Maryland serves a number of different counties in the greater Maryland Area. We are able to do assemblies, full day camps, half day camps, 6, 8 or 12 week long classes, parties, scouts badges, and more!
Humane Rescue Alliance

Northwest

The Humane Rescue Alliance's school programs, shelter tours, and camps target upper elementary and middle school students. Participants learn about our organization, our programs, and how we help animals and the people who love them. Programs, traditionally offered in person, are now offered virtually, providing opportunities for students to learn from our staff, volunteers, other experts, and meet animals up close on their computer screens. HRA's humane education programs can be scheduled as virtual visits to classrooms, after-school programs, scout troops, and other youth groups interested in making their community a better place for animals and people. In addition, students, families, and educators are invited to explore HRA's virtual Animal Academy with online learning lessons, resources and readings, videos, and more.
National Law Enforcement Museum K12 Programs

NorthWest Washington

Add a workshop to your field trip plans for a truly engaging, unforgettable Museum experience! Workshops are aligned to the Common Core Standards and Next Generation Science Standards. The Museum offers student-centered workshops that meet both Girl Scouts of the USA and Scouting BSA badge requirements.
Youth For Understanding USA

Northwest Washington

A non-profit international educational organization with partners in more than 60 different countries, Youth For Understanding is one of the world's oldest, largest and most respected intercultural exchange programs. More than 275,000 students and their host families have benefited from the support and expertise of YFU. The YFU global network is united by the belief that full cultural immersion is the most effective means to gain the skills needed to thrive in an increasingly multicultural, interconnected and competitive global society. The global YFU network is united by the belief that curiosity about the world expands cultural awareness and acceptance of other ways to live, which leads to broader perspective and greater understanding. Selected to administer more government and corporate scholarships than any other high school exchange program, YFU has remained a trusted leader of intercultural exchange programs since 1951 because of its commitment to safety, reputation for quality, and exceptional support services. YFU's international exchange programs offer students the opportunity to see the world upload on our outbound study abroad programs, and for families to bring the world into their home by hosting an inbound international student. By hosting, you can give your family authentic exposure to not only a specific culture and language, but also broad, global thinking and international perspective! We're looking to send American homeschooled students abroad, as well as looking for host families to welcome international students into their home.
iFLY of Nottingham

Nottingham

This event is designed for Home School Families, Alternative Education institutions and Education Co-ops. Experience how flying accelerates learning with iFLY's STEM Education Program! We will explore the STEM principles behind our wind tunnel technology through exciting lectures, test flights, and lab activities for grades K-12. Our program is aligned with all state and national standards and flexible to fit the needs of your student.
GEZ: Girls Empowerment Zone

Philadelphia area

GEZ is a 501(c)3 PA nonprofit program for ages 7-14. The President of this organization homeschools her children and knows that the program impact on today's young ladies. The GEZ program offers the following to girls and engagements for Moms * Customized 5 week Summer Experience/Camp (both overnight & day camp options available)-June 24-August 2,2018. Registration opens Dec 1, 2018 * Mother-Daughter Weekend Retreat-May 31 - June 2,2019. Registration opens January 2019 (5th-8th grade girls) * Particpation In academic enrichment(Math, Reading & Language)-email us for details *Saturday Program: September 2019-May 2019 - Are you & your Powerful girl ready to join us? Spend 2 Saturdays a month exploring different genres of Music, Art, Science and Culture. Includes surprise guests and field trips. Registration opens September 1, 2019 GEZ@TheWomensEmpowermentSeries.org
Delmarva Discovery Center

Pocomoke

The Delmarva Discovery Center and Museum (DDC) is a living museum, a place for learning and discovery for visitors of all ages. The immersive and engaging exhibits take visitors on a timeless journey through Delmarva and through the Cypress Swamp. The exhibits focus on the river ecology and the human history of the Pocomoke River and Delmarva. The DDC continues to add to its unique collection, offering return visitors something new to discover each time they visit. The DDC offers a regular schedule of programs, tours, and presentations to families, school classes, youth groups, and other visitors. A new special homeschool series is being formed, with specific programs catered just to homeschoolers! Come check out our hands-on activities!
Creative Community Resources

Potomac

Open Studio Workshops for 3-5 year olds and Constructivist Workshops for Children 5-8 year olds. Check website for details.
Cheverly STEM Education Center

Prince Georges County

Serving homeschool STEM (Science, Technology, Engineering, Math) learners with student focused, activity based sequential STEM courses. The series of courses will follow a sequential development, starting with fundamentals and building towards more advanced concepts. These courses will appeal to students interested in developing scientific explanations for natural phenomena as well as the technologically-minded.
Pearlstone Forest School

Reisterstown

Forest School is a powerful outdoor adventure setting for home school students to safely challenge themselves, grow as leaders and build community by integrating and appreciating all life. Participants will play and learn in the woods, identify edible and medicinal plants, track wild animals, make fire by friction (no matches!), and build native american shelters (big ones!). Geared towards youth ages 7 and older.
Kumon Math

Rockville

Enrolling in the Kumon Math & Reading Program will help build and advance your child's skills to new heights. Daily Kumon Math Worksheets will take about 30 minutes to complete in two sessions a week at a Kumon Center, and then another five assignments to be completed at home. Your child will work at his or her own pace, mastering each new concept before moving on. With each worksheet, you'll find your child accelerating important math skills. Many Kumon parents ultimately find their children mastering concepts that put them grade levels ahead of their peers. This program starts from age 3 to advanced level high school. By enrolling in Kumon, your child actively develops critical, self-learning skills. Offer per Seena Gill: Mention TheHomeSchoolMom.com and get 50% off registration fees!
Thompson Academy LLC

Salisbury

At Thompson Academy,LLC we seek to provide a parent-supported learning environment that delivers a variety of educational and enrichment classes for homeschooling families of primary and secondary school age children in a manner that educates the whole child for future success.
Cornerstone Tutorial

Severna Park

Cornerstone is a Christian, non-denominational cooperative homeschool tutorial offering once-a-week tutor sessions to home schooled children at the 8th - 12th grade level. Classes are held every Monday from 8:20 to 3:30 at the Severna Park Evangelical Presbyterian Church in Pasadena, Maryland. Cornerstone Tutorial has 20 years tutorial experience offering classes in Math, Science, Language Arts, History, Art, Spanish and electives.
Acers Lane Tutoring and Test Prep

SouthWest DC

With experience ranging from university bridge programs to her own classroom, AC Lane, founder of Acers Lane, has been tutoring and teaching since 2010. The mission of Acers Lane is to help students fast-track their boldest academic goals. Acers' academic enrichment and tutoring services help clients master the content, not just teach to a test. During the first session, the "Acers Method" is introduced to deconstruct problems for any subject area. This method guides students through underlying concepts, problem-solving strategies and potential pitfalls to avoid. By focusing on the content, not just test taking skills, clients translate valuable skills into confidently pursuing their academic and career goals.
CAPE Science Inc.

Statewide in Maryland

CAPE Science Inc. is a traveling science education organization that brings hands-on educational programs to students across Maryland and covers a wide variety of topics. This is a great resource for supplementing science lessons as they have access to equipment that is often too expensive for small groups to afford and maintain. Programs include interactive science demonstrations, engineering challenge activities, and night time astronomy and stargazing events.
Temple Hills Skating Palace

Temple Hills

Roller Skating Rink for all ages offering public skating, STEM Lesson Program, field trips and group reservations. Private skating events are welcome. Group Skating for as low as $6.50 per person for Admission 7 Skate Rental. STEM Lesson Program is open to groups of 50 or more, offering hands-on STEM concepts that relate science, technology, engineering and math to roller skating! Skate Lessons every Saturday morning and Birthday Party Packages!
National Postal Museum Programs

Washington

Learning that Delivers! The National Postal Museum offers a creative selection of programs that attract a wide audience base of all ages, genders, ethnicities, and interests. Whether it be a workshop, film, family program, lecture, or performance, the Museum's Postal Pastimes provide participants with a quality visitation experience that makes learning exciting, enriching, and interactive.
National Fossil Day at the National Mall

Washington D.C.

Join paleontologists, educators, and students in fossil-related events and activities across the country in parks, classrooms, and online during National Fossil Day. National Fossil Day is an annual celebration held to highlight the scientific and educational value of paleontology and the importance of preserving fossils for future generations. Learn more, Dig 20 Ideas Inspired by National Fossil Day.
National Museum of the American Indian Programs

Washington DC and New York City

The National Museum of the American Indian is the sixteenth museum of the Smithsonian Institution. It is the first national museum dedicated to the preservation, study, and exhibition of the life, languages, literature, history, and arts of Native Americans. Established by an act of Congress in 1989, the museum works in collaboration with the Native peoples of the Western Hemisphere to protect and foster their cultures by reaffirming traditions and beliefs, encouraging contemporary artistic expression, and empowering the Indian voice. Check Web Site for newest classes
The French Academy

Washington DC Metro Area

The French Academy is a small French school in the Alexandria/DC/ Baltimore region, offering flexible classes based on the individual needs of the students. Small class sizes allows each team to work intensively on the curricula, exchange information faster, and prepare classes according to the needs of students. This methodology aims at re-creating a natural language environment in a French cultural context. The goal is to offer the highest caliber of French education though highly qualified teachers and individualized classes.
TimberNook West River

West River, Anne Arundel county

Play is intrinsically motivated, unstructured, unscheduled, and free flowing. Play is fun! Playing at River's Edge challenges every sensory system including sight, touch, smell, hearing, taste, balance, and self-awareness to cultivate social, physical, intellectual, emotional and spiritual growth. Playing this way is a WHOLE child challenge which we call "play with a purpose"! Outdoor play is the primary way young children learn about the world and society around them. American Academy of Pediatrics recommends a daily minimum of 2 hours of active play for 3-5 year olds and states children are more likely to be active when outdoors and engaged in free play. Offering Forest Play, Forest Camps, Forest in school, Forest Homeschool, and Forest party options for explore your play in the outdoors
Living History Camp

Westminster

Living History & Farm Camps Living History Camp teaches children, entering 3rd through 6th grades, rural farm life in the 1800s through demonstrations and hands-on experiences. This award winning educational camp combines learning and having fun in a unique setting. Children learn old-time skills, old-fashioned games, and make craft projects to take home. Farm Camp lets children experience living off the land as farmers for a week- caring for animals, gardening, cooking and more! Farm Camp July 24 – 28 Rising 4th – 6th Graders Living History Camp June 26 – 30 Rising 3rd & 4th Graders July 10 – 14 Rising 5th & 6th Graders August 7 – 11 Rising 7th & 8th Graders
Regina Caeli Academy - Baltimore

Westminster

Regina Caeli Academy is a unique, affordable, 2-day per week hybrid homeschooling program in the classical education tradition. Two days a week are spent at the resource center, and the remaining three days are taught in the home with plans that are already prepared for the home lessons. We are unified by the same classical curriculum and fidelity to the Catholic Church. All staff and tutors at RCA sign an Oath of Fidelity to the Roman Catholic Church. Our RCA motto is "training the mind to form the soul." https://rcahybrid.org/