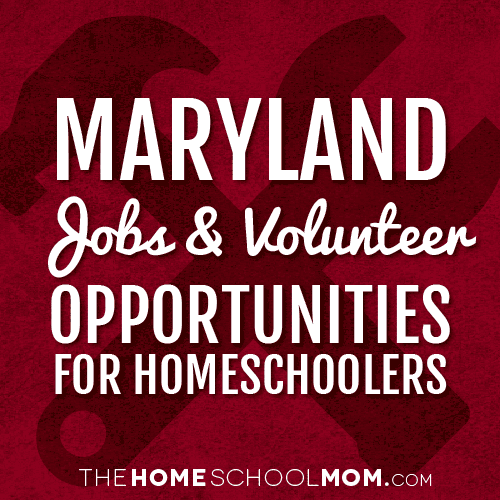 Our listing of Maryland jobs and volunteer opportunities for homeschoolers is ordered alphabetically by city. If you would like to submit a Maryland co-op or academic resource, you may do so using the red button above.
Use the secondary navigation menu above to quickly make your way to pages for Maryland state organizations, local homeschool groups, classes, co-ops, field trips, and more.
Maryland Homeschooling Jobs & Volunteer Opportunities
Seasons Hospice and Palliative Care High School InternshipsBalimore
Are You Looking for High School Volunteer/Internship Opportunities in the Health Field?Seasons Hospice Maryland has recently started accepting High School students to the Volunteer/internship p...
DRD Pool Management, Inc.Baltimore County/City, Harford County, Howard County, Carroll County, Anne Arundel County
DRD Pool Management, Inc. ia a commercial pool management company looking to hire students 15 years of age and older as lifeguards, head guards, and pool managers. Will hire over 1200 for the summe...
Opportunity to host an international studentHoward/Baltimore/Anne Arundel County in Maryland
Six international students are looking for host families to stay with. Four of them are going to Glenelg Country School in Howard County and two of them are going to Severn School in Anne Arundel C...
Youth For Understanding USANorthwest Washington
A non-profit international educational organization with partners in more than 60 different countries, Youth For Understanding is one of the world's oldest, largest and most respected intercultural...
Brooke Grove Volunteer OrientationOlney
The volunteer program at Brooke Grove Retirement Village provides a range of volunteer opportunities for students age 13 and older seeking to earn SSL hours for their graduation requirement. Opport...
SSL Volunteer OrientationSandy Spring/Olney
Brooke Grove Retirement Village provides a range of volunteer opportunities in a safe, low-key environment. We ensure students have the experience and documentation needed to fulfill their SSL requ...