Activities, Lesson Plans, and More
Age Range Key
Y—Young (PreK-3rd)
M—Middle (4th-6th)
O—Older (7th-12th)
T—Teacher Resources
Law Focused Education Inc. - Online Games  (Y,M,O,T)
A favorite for the latest in civic and law-related education materials and programs. LFEI pledges to provide pre-service and kindergarten through high school teachers updates on quality professional development opportunities, information on available curriculum, and teaching resources such as the "Lesson Plan of the Month" feature. Additionally, teachers and students alike will be able to access fun, interactive web games built around key civic knowledge and skills.
Bill of Rights Institute  (Y,M,O,T)
The Bill of Rights Institute offers a variety of educational resources free of charge. Weekly eLessons offer 20-minute discussion guides for middle and high school history and government teachers. Each eLesson includes a lively background reading, discussion questions and extension options. They are an excellent source of lessons relating to primary source documents having to do with the Constitution and the Bill of Rights.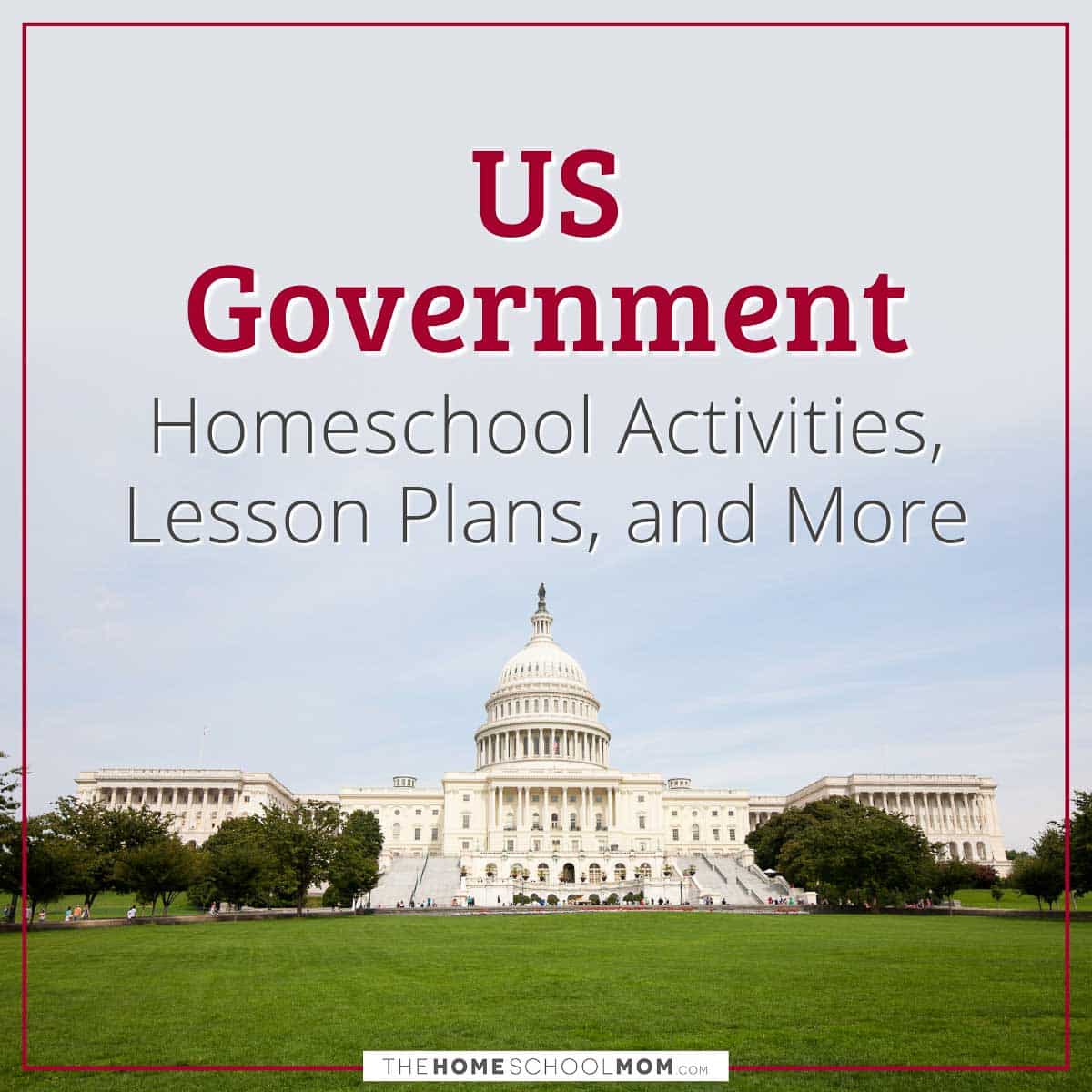 CIA Spy Kids  (Y,M,O,T)
Welcome. We're glad you're here to learn more about the Central Intelligence Agency. The CIA is an independent US government agency that provides national security "intelligence" to key US leaders so they can make important, informed decisions. CIA employees gather intelligence (or information) in a variety of ways, not just by "spying" like you see in the movies or on TV (though we do some of that, too). On the following pages, you can read more about us, play some games, and help us solve some puzzles. Throughout this section, you'll also see some top secret things you won't find anywhere else.
CIA for Parents & Teachers  (Y,M,O,T)
While the CIA Kids' Page provides kid-friendly information about the Agency, this page gives you additional resources, lesson plans, and discussion points for you and your children/students to learn more about the CIA and its history of intelligence. At the CIA, we know parents and teachers are valuable resources for children, especially when they have questions or are seeking advice. In this section, you'll find the following useful information:Internet Safety, Teacher Resources and Suggested Lesson Plans, how to use the CIA Web Site in the classroom and topical lesson-plans about the CIA, its history, and its role today. Help Kids Say No to Drugs How-to advice on helping children avoid drug abuse.
FiscalNote  (M,O,T)
FiscalNote was founded with the principle of bringing people closer to their governments. They have created a tool to help you quickly identify and contact elected officials including, members of Congress currently representing you. Regardless of your political affiliation, you have the power to make your voice heard by contacting your representatives and advocating for the issues that matter most to you.
Federal Reserve Education Lessons  (Y,M,O,T)
The materials are sorted into three main categories: Economics, Personal Finance, and Social Studies/History. For easy reference, each resource is listed with its appropriate audience and media type. For grades K-12, college, and adult.
Intelligence Squared U.S.  (M,O)
Intelligence Squared U.S. is a nonpartisan, nonprofit organization whose mission is to address the polarization of U.S. politics and "restore critical thinking, facts, reason, and civility to American public discourse." It produces a debate podcast in which listeners are polled before and after the debate to see how their opinions changed after listening to the discourse.
About the United States  (M,O,T)
Learn about the branches of the US government, government agencies, elected officials, laws, the American Flag, US data and statistics, and more on USA.gov.
Ben's Guide to the U.S. Government  (Y,M,O)
Ben's Guide to the U.S. Government is an educational website "designed to inform students, parents, and educators about the Federal Government, which issues the publications and information products disseminated by the GPO's Federal Depository Library Program." It contains interactive, age-appropriate guides on the Branches of Government, How Laws are Made, the Election Process, the Federal vs State Government, Federally Recognized Tribes, and Symbols, Songs & Structures. Also included are games, quizzes, and puzzles. For ages 4-14.
Kids in the House  (Y,M,O)
"The Kids in the House website is a public service provided by the Office of the Clerk of the U.S. House of Representatives. Our mission is to provide educational and entertaining information about the legislative branch of the United States Government to students of all ages. Topics covered include the role of the U.S. House of Representatives, the legislative process, and House history."
Unit: Mr. Donn's American Government for Kids  (Y,M,T)
Mr. Donn's Site for Kids & Teachers has an American Government for Kids unit that covers the nation's founding, the Constitution and Bill of Rights, the branches of government, elections, and more. Includes lesson plans, presentations, activities, games, quizzes, and more.
Mr. Nussbaum's United States Government Unit  (Y,M,T)
Mr. Nussbaum Learning+Fun has an excellent collection of US Government lesson plans for kids that, in addition to covering the branches of government, take an in-depth look at various federal agencies and departments like the Department of Justice, Department of Education, Department of Homeland Security, and more. Includes lessons, interactive maps and tours, printable activities, and more. For grades 3-6.
Mr. Tredinnick's United States Government Class  (O,T)
Mr. Tredinnick is a high school social studies teacher who has generously made his comprehensive curriculum available online for free. "This semester long course will examine the democratic foundations, structures, and institutions of American government at local, state, and national levels. Students will study the political processes to gain understanding of the role of the individuals in the decision-making process of American government. Students will also learn about the rights and responsibilities of the citizens of the United States. By investigating American government though a variety of methods, including examining primary source documents, conducting research projects, class discussion, and written essays students will gain a deeper understanding of the function of the United States Government."
Unit: US Government and Civics  (O)
Khan Academy has an excellent full, US Government and Civics online course that covers the Nation's founding, Branches of Government, Civil Rights, Citizenship, Political Ideologies, Political Participation, and more.
Unit: Democracy in America  (O)
Democracy in America is a "comprehensive video course for high school teachers on civic knowledge, skills, and dispositions based on an established civics framework" from the Annenberg Foundation. This 15-part unit covers the Constitution, Federalism, Civil Liberties, the Branches of Government, bureaucracy, elections, interest groups, the media, and more.
Balancing Three Branches at Once: Our System of Checks and Balances  (M,O,T)
This lesson plan from EDSITEment has students use primary source documents to explore the branches of government and system of checks and balances written into the Constitution. For grades 6-8.
Congressional Committees and the Legislative Process  (O,T)
This lesson plan from EDSITEment "introduces students to the pivotal role that Congressional committees play in the legislative process, focusing on how their own Congressional representatives influence legislation through their committee appointments. Students begin by reviewing the stages of the legislative process, then learn how committees and subcommittees help determine the outcome of this process by deciding which bills the full Congress will consider and by shaping the legislation upon which votes are finally cast." For grades 9-12.
The Supreme Court: The Judicial Power of the United States  (M,O,T)
This lesson plan from EDSITEment has students examine the US Constitution and landmark Supreme Court cases to learn about the federal judiciary. For grades 6-8.
The President's Roles and Responsibilities: Communicating with the President  (Y,M,T)
Through these lessons from EDSITEment, "students learn about the roles and responsibilities of the U.S. president and their own roles as citizens of a democracy." For grades K-5.
The President's Roles and Responsibilities: Understanding the President's Job  (M,O,T)
This lesson plan from EDSITEment takes a deeper look at both the "official and unofficial roles and responsibilities of the President of the United States." For grades 6-8.
Suggested Reading About US Government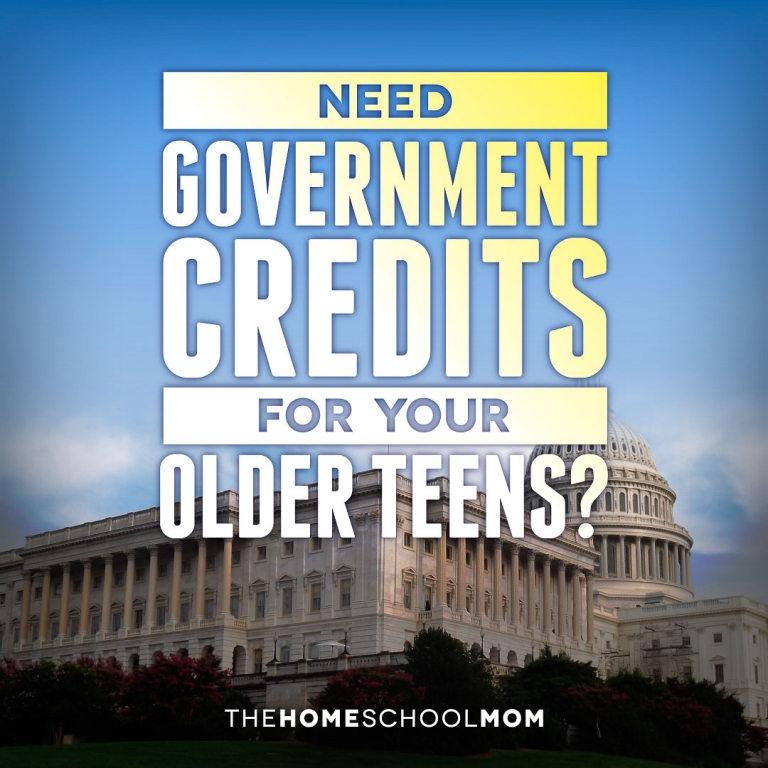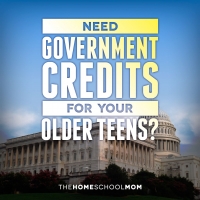 Don't depend on boring government textbooks; use an activities approach to learning how government works. If teens do these activities, talk about their experiences with you and others, and follow rabbit trails online, they will likely retain more knowledge about how government works than if they just read from a government textbook. Read More »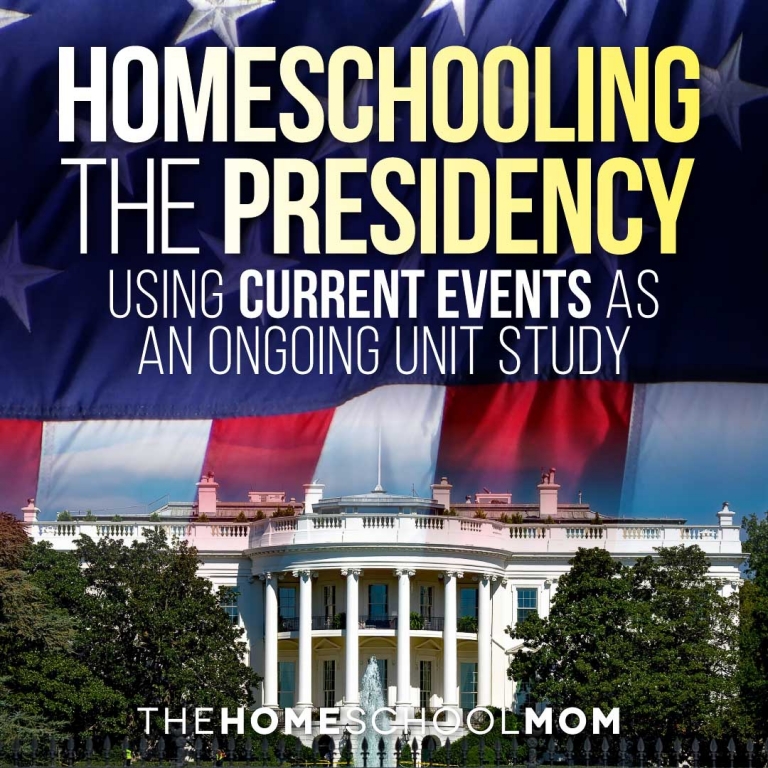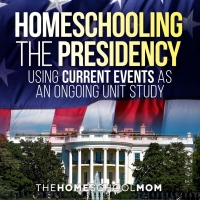 Are you homeschooling the presidency? No matter our political views, there are issues brought up by the current presidency that our children can learn from. As homeschoolers, we can help them learn about government through most of their homeschooling years, even without an official course. Read More »