Just over a year ago, our home and many of our rural neighbors' homes were damaged by Hurricane Sandy, which severely (and somewhat anonymously) affected a narrow swath of property in the mountains of Virginia before making its way as Superstorm Sandy to a much better publicized hit on northern coastal towns. While my son was unlikely to have been alone in such a situation (it was long predicted to be a serious storm for our immediate area),  he was interested in our preparedness and response to the storm.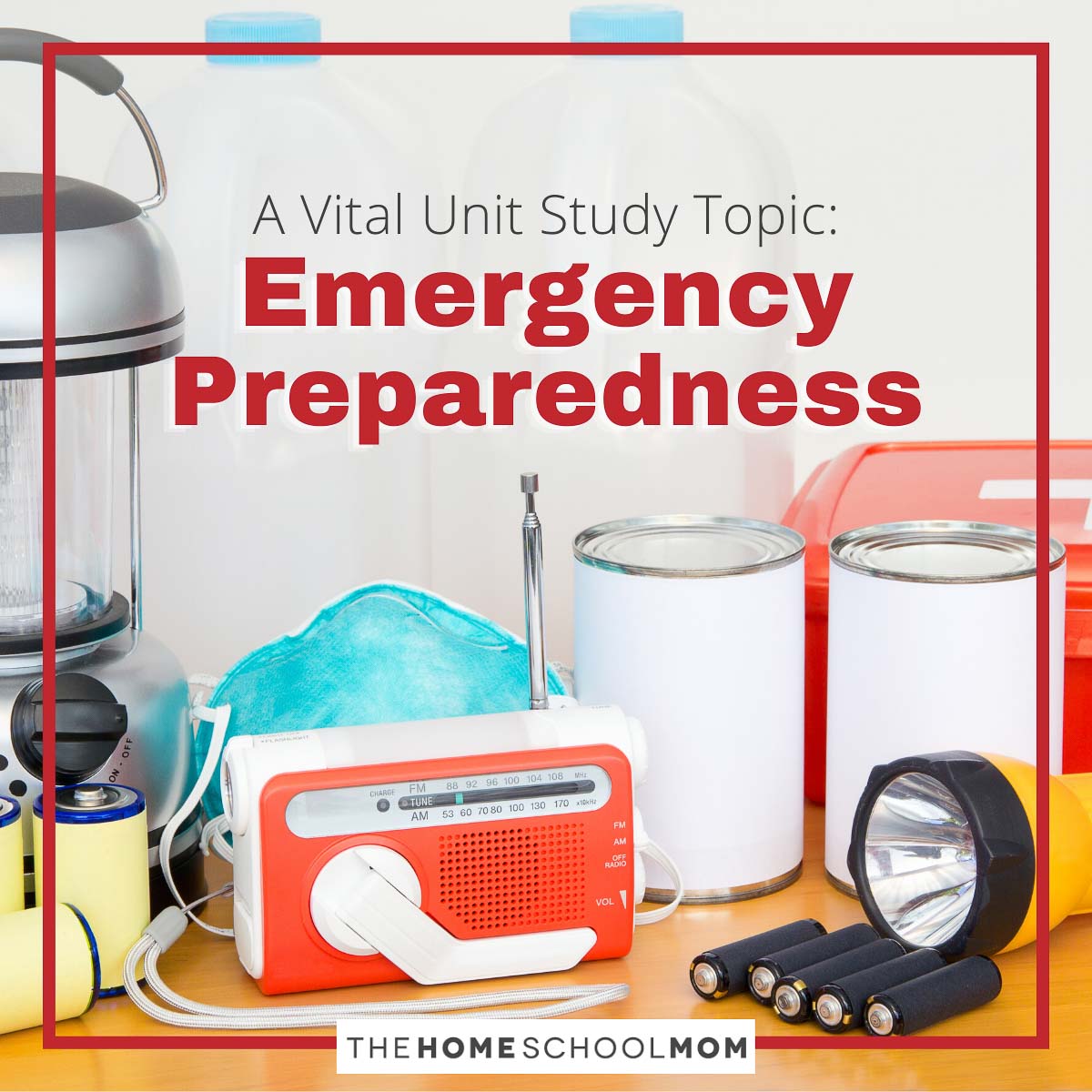 After a harrowing night spent in our basement without power as the storm's wind shook us and the rains came indoors, the next day we made our way to the local volunteer rescue squad to request additional water. We had some water on hand, but not enough to last the week that the power might be out, and they were able to help us out.
Our home was habitable, so after we got the worst of the mess temporarily blotted up, stacked up, and cleaned up, we were able to cook grilled cheese sandwiches on our wood stove, which also supplied us with heat during the coming cold days.
It took months to get the water and wind damage sorted out.
We also were living in Mississippi when Hurricane Katrina hit. We lived in the northwest corner of the state and escaped the devastation faced by those further south, but still had some damage, and our town was inundated with refugees coming north and aid workers heading toward the Coast.
These situations made us think about emergency preparedness in general.
Are You Prepared?
Is your home ready to weather an emergency? Is your family ready to respond? Might your kids be home alone in an emergency situation?
Once some of your kids have reached the age and stage where they are responsible enough to stay home by themselves, you need to help them know how to avert problems and be prepared as possible for emergencies that could arise.
Of course, these emergency preparations are valid for any family, but homeschooled kids may find themselves at home when a greater number of potentially helpful neighbors are working or at school.
Additionally, homeschooling parents may think in terms of a more gradual approach to our kids being home alone because at least in the early years, we're at home a lot ourselves. We may not make the big cognitive shift of thinking about whether the kids know what to do in our absence.
This might be different from parents who decide that this is the year that a son or daughter can let himself or herself in the house every day after getting off the school bus in the afternoon.
Here are just a few ideas that might help in an emergency:
Post emergency phone numbers on every level of the house. Write out the house address, too, in case a kid should have trouble remembering it in an emergency. When we've lived in remote rural areas, I've even typed out the directions to our house, mentioning landmarks and road names and numbers that would assist a helper in making way to our home.
Include a number for poison control.
Make sure kids know how to use door locks and dead bolts.
Have clear cooking rules that are well-correlated to the kids' competence level.
Have fire extinguishers, and make sure your kids know their location and how to operate them. (Spray can fire extinguishers are a tempting substitute, but they were judged to be a poor substitute by Consumer Reports.)
Help kids understand fire escape routes from the home, and designate a safe meeting place outside.
Have a well stocked first aid kit and make sure kids know where it is and how to use it.
Consider having your kids take a first aid course and CPR.
If you live near neighbors, help your kids know which neighbors' homes they should seek assistance from.
Make sure your kids know the location of flash lights and batteries in case of a power outage.
Make sure your kids know where and how to take shelter on your property in the case of a tornado or severe thunderstorm.
If you are in a part of the country that gets severe weather, use a NOAA weather radio and help your kids know what counties and areas to listen for in case local emergency alerts are issued.
Have non-perishable food items, water, and a manual can opener set aside for the hours and days following an emergency.
Make sure your house number is visible.
Your particular situation may require additional emergency prep because you are in a rural area, because your teen may be caring for younger siblings, because you may live in an earthquake, blizzard, or flood zone, or because you don't live in a safe neighborhood.
Plan an Emergency Preparedness Unit Study
Working on emergency preparedness as a unit study is a great way to develop important life skills. FEMA (Federal Emergency Management Agency in the U.S.) offers emergency planning resources for kids, parents, and educators, including this supplemental curriculum differentiated for lower and upper elementary levels, middle school, and high school. The American Red Cross also offers a guide to prepare your home and family for emergencies, as well as an online Red Cross Be Ready learning module .  There are also numerous fire safety programs online, and your local fire department may have a fire safety program it can present for your homeschool group.
Some families have combined an emergency prep project with service work such as volunteering for their local fire or rescue organization or disaster relief agency. In Mississippi, we were friends with a homeschooling family who were amateur ("ham") radio operators. When cell phone towers are down and power is out, these radio operators can be a lifeline, helping emergency workers get to people who are in dire need.
In many communities, churches have provided food and shelter during times of crisis; can you help with a faith-based mission to prepare for disaster response?
Talk to your kids about the possible situations that could occur. We can never think of everything, but there are some precautions that will help our kids if they should face an emergency when they're home alone, or if our family faces an emergency situation together.