This post was originally published as the introduction to an issue of TheHomeSchoolMom newsletter. Sign up here and get access to subscriber exclusive printables.
We're halfway through February. Can we do this?
February is the second semester version of October.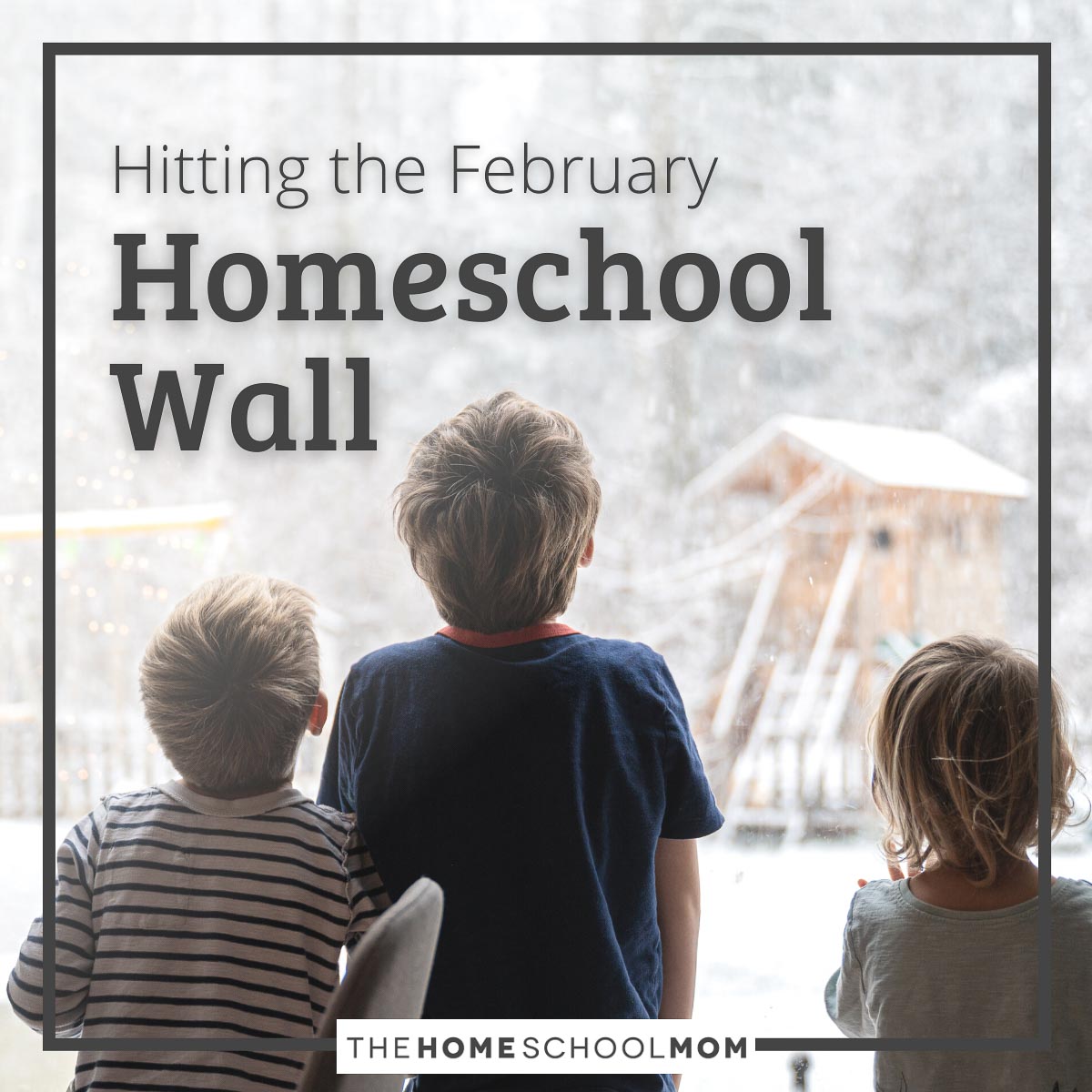 October 1 is Curriculum's Not Working Day, when we start to hit the wall with those initial well-intentioned plans for the school year, and February is the second-semester month when we discover that our fresh After-the-New-Year Re-start is sputtering.
Plus? Mud. Or your version of weather paradise, which might be snow or rain. But where I have lived and homeschooled, February is a freeze and thaw of mud, which, when mixed with my boys, dogs, and an occasional topping of snow, creates impossibly dirty wet shoes, clothes, and floors.
How to get perspective on the February blahs, when new pencils aren't sharp and our own minds don't feel so sharp either?
Know this really is part of a seasonal cycle, and many homeschoolers feel annual challenges of homeschooling during February. It's when we realize that a whole "school year" takes the shape of a marathon.
Know you actually don't have to arrange homeschooling in the form of a traditional school year. You may have more flexibility in scheduling your homeschool year than you realize.
Know that the pandemic matters, with its closures and travel restrictions hemming us in. Yes, indeed, February is more February-ish this year. Give yourself a break from guilt for not feeling inclined to "make the best of things."
Know that you can take a break or change things. Try a dose of interest-led learning, celebrate a made-up holiday, switch from curriculum to binging on movie/novel pairings with your kids. Try to get outside more, and get yourself and the kids moving with indoor workouts for homeschool physical education.
Know that families whose kids are enrolled in public school, especially those doing remote learning, may also be mired in February. A lot of attention has been focused on public school students being behind because of the pandemic. If everyone is "behind," is anyone behind?
Know that some families using the unschooling approach are likely more accustomed to departing from school schedules and customs, and unschoolers might be the families to watch in February during a pandemic. For example, maybe it's time to start strewing, a technique made popular by unschoolers.
Many people already "know" these things and still are struggling. You may be one of them. You may be someone whose kids have not only lost social and academic opportunities, but you or your kids may have suffered loss, illness, hunger, or financial harm during the last year.
I want to kum ba yah us past this point, and I think of friends and family members who survived the Great Depression and the Great Recession and segregation and previous domestic and international crises and conflagrations. And I think of those who didn't survive.
And I look up from my writing and out the window and see a cardinal in my backyard. In my part of the world, it's said that the robin is the herald of spring, but here is this flaming red cardinal, against a spot of snow, staying all winter.
"Here, here, here," she sings. And we all are here, homeschooling together, outlasting this winter, one day at a time. If you can, take hope. If you can't, take some of my heart. My heart sees all of us in our kitchens, scratching out dinner and grocery lists and learning plans, looking out our windows for a flutter of wings.