Soooooo...it's been cold and rainy for days on end.
At least in my neck of the woods.
It's too wet and muddy to go to the playground and as newbs to our state, we just don't have the proper outdoor gear to enjoy extended periods out in the cold.
When it's gray and dreary and the weather just won't let up, what's a mom to do?
Move the party indoors, of course!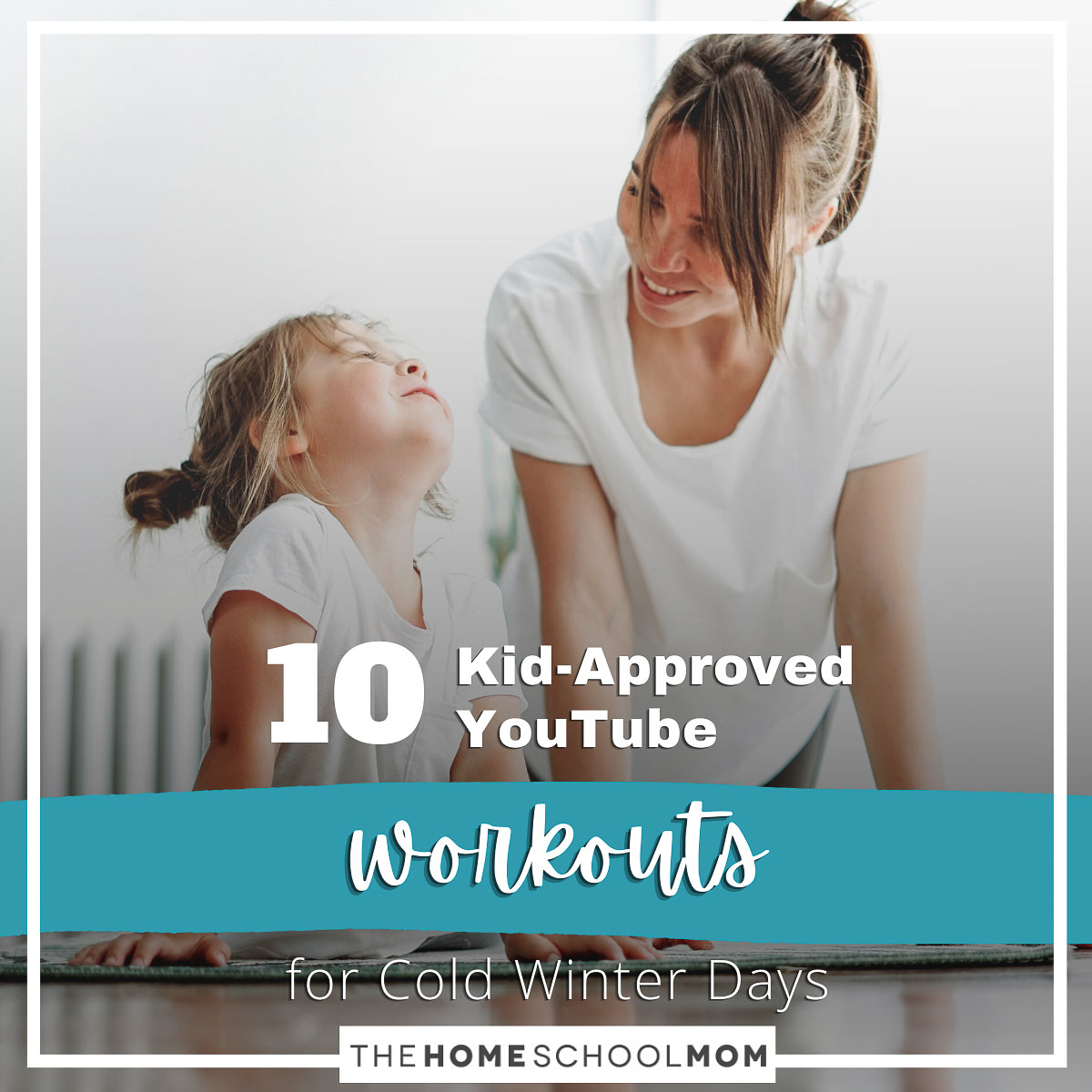 I've previously written about ways to keep high-energy kids entertained indoors that are screen-free, in case that's more your jam.
But today we're going to talk about YouTube workouts specifically geared toward kids.
These are perfect for homeschool P.E. class or a fun change of pace when your kids are climbing the walls.
Here we go!
Cosmic Kids Yoga - Sonic the Hedgehog
Sonic the Hedgehog is a longtime fan favorite - especially after the recent release of the live-action movie in theaters.
Jaime Amor is a fan favorite too.
And for good reason. 
She's taken characters and stories kids love and turned them into exciting yoga adventures.
This makes yoga accessible for even the tiniest of tots.
Her video retelling the story of Sonic the Hedgehog is superb and sure to please kids of any age.
Kidz Bop Kids - Castle On The Hill (Drumming Exercise With DrumFIT)
This channel is another favorite for kids, as evidenced by their 2 million+ subscribers.
They take top trending songs and remake them into kid-friendly sing-alongs.
Even better, they now have dance-alongs that get kids up and moving.
Their DrumFIT video set to Castle On The Hill is upbeat and unique.
And it makes use of those yoga balls we all have sitting around somewhere.
Moe Jones - Kids Workout
This video by Moe Jones is straightforward and to the point.
That's what makes it so fantastic.
It gets the job done (while still being plenty of fun!).
It's a workout that will get your kids off the couch and on their feet.
PopSugar Fitness - Family Fun Workout
Here's another workout the whole family can do together.
This video by PopSugar Fitness is perfect for an afternoon pick-me-up.
PopSugar Fitness also has a whole slew of workouts on their channel for the grownups to enjoy too.
Ryan's World - Workout at Home with Ryan
If you have kids under 5, you've probably heard of Ryan's World.
Ryan is a YouTube sensation who's racked up 28 million suscribers with his adorable toy reviews.
He's now a household name with his own TV show and product line in stores.
Well, I guess Ryan decided to get in on the YouTube fitness fun.
This workout is geared toward younger kids, but older siblings may enjoy it as well.
Alo Yoga - Dino Yoga with Andrew Sealy
Do you have a dino lover?
If you do, they're going to love this workout by Alo Yoga.
Even better, Alo Yoga has an entire playlist of kid-friendly yoga videos families can do together at home.
Fitness Blender - 25 Minute Kids Workout
Fitness Blender is a well-known name in the world of fitness.
They've been putting out great content for years on YouTube and on their website.
They have a huge library of workouts for every fitness level and ability.
Now, they've put out a video just for kids (though moms and dads can certainly join in the fun!).
Fitbit - 10-Minute Family Fun Cardio Workout
Another well-known name, Fitbit is putting out content for kids too.
Whether you have one or not, you know they're making waves in the fitness industry with their line of activity trackers and handy app available on all your smart devices.
Well, their YouTube channel is another resource they're providing for those looking to improve their health.
That's where you'll find this gem - a 10-minute cardio workout fun for the entire family.
Pinkfong - Baby Shark Workout
If you've got a toddler or preschooler, you're probably familiar with Baby Shark - this generation's version of The Song That Never Ends.
If your kids like Baby Shark, show them this fun workout.
They're gonna love it!
Maybe plan to buy earplugs for yourself though.
GoNoodle - The Loud House Dance Remix
A channel known and loved by teachers everywhere, GoNoodle is a great resource for parents at home too.
Their videos provide short "brain breaks" to get kids up and moving throughout the day.
If you want to use this channel for homeschool P.E. class on occasion, create a playlist of your child's favorite videos.
Here's a fun one in the theme of Nickelodeon's popular cartoon, The Loud House.
Wrapping It Up
Thank goodness for technology, amirite?
With YouTube and the ability to stream to our TVs and other smart devices, we can bring the gym home - for free!
Check out these videos.
Bookmark the ones you like.
Subscribe to the channels you enjoy.
Before you know it, you'll have your own digital library full of fun fitness activities for your kids to compete at home on those days when you need an indoor P.E. solution.
What are your favorite workouts on YouTube for kids? Share in the comments below.