We've been homeschooling for a while. Like, more than a while. We've been homeschooling for so long that I forget what life was like before we homeschooled. We've gone from preschool to elementary to middle school to all three kids now being in high school. It's positively wild, friends.
One moment you're reading aloud Blueberries for Sal (for the 37th time) and making lapbooks and the next moment you're scheduling appointments for driver licenses and researching dual enrollment at the local community college.
I've shared our family's homeschool journey in detail over the last several years, both in blog articles, social media posts, and homeschool conference talks. At this stage, I'm quite happy with how we've approached homeschooling, given our family's various needs at one time or another.
That said, I've had time to reflect on several things I would have done differently.
Perhaps it's my age, the time of year, or the fact that my oldest is heading into his last official year of homeschooling. Perhaps I see how different homeschooling is and can be than it was when we first started over a decade ago.
I'm sharing five things I would have done differently in our homeschool. My hope is to encourage those who are just starting out and to encourage those who, like me, are nearing the end of this chapter of homeschooling. You don't have to do it all. You won't do it all. And that's okay.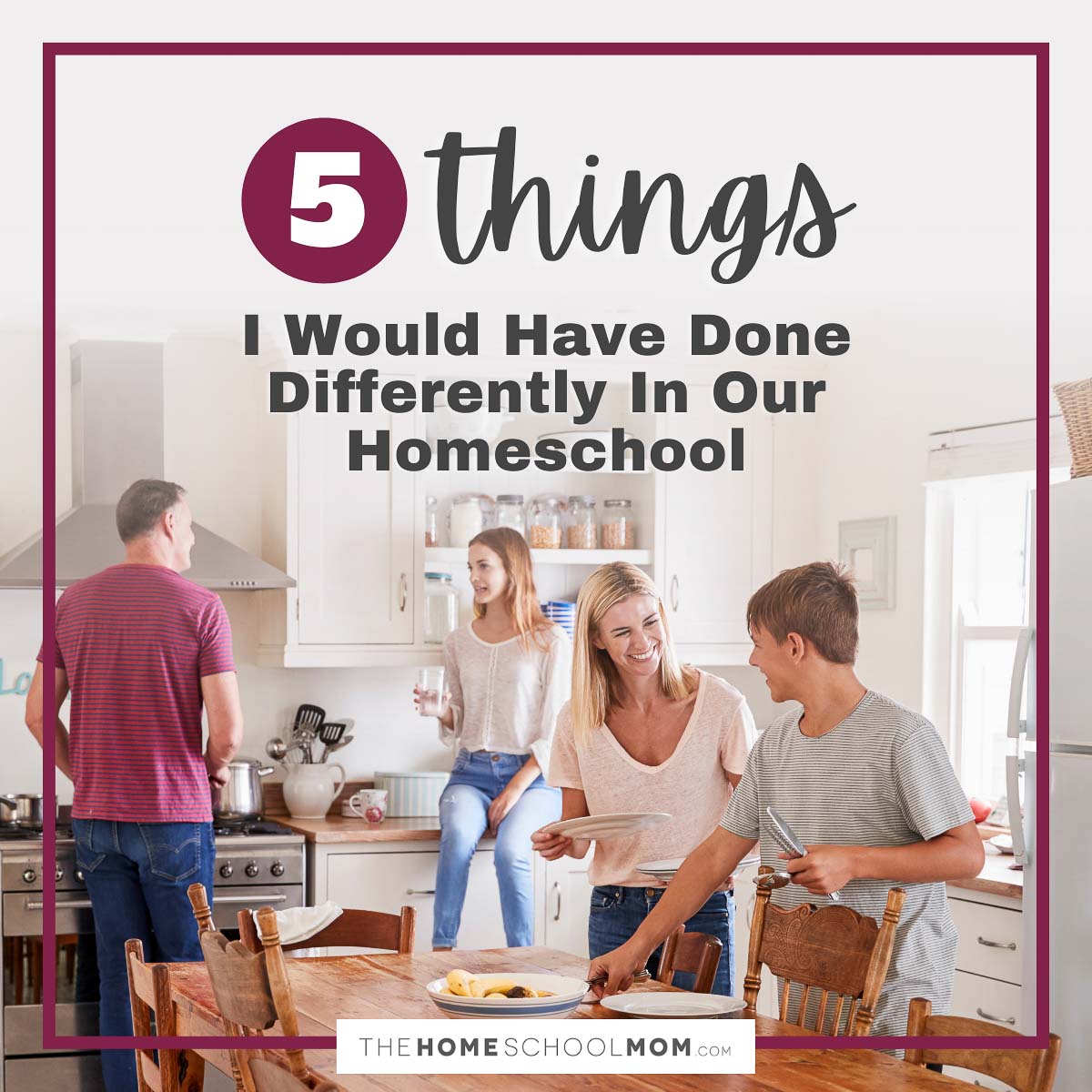 Looking back, here are my thoughts on what I would have done differently.
1- I would not have purchased homeschool curricula because "everyone" else was using them
This was a huge issue for me when I was a new homeschooling parent. As someone who likes to research, then research some more, then ask 239 people for their thoughts and experiences, I wanted my children to have the best homeschooling experience (whatever that meant).  
Some of this had to do with not trusting myself as a new homeschooler and some of it had to do with wanting to check the boxes in a certain way. I think this is normal. But, I often spent lots of time and money on programs that I knew (deep down) would probably not fit my kids (especially my oldest son) and it caused unneeded stress.
I can't tell you how many times I bought (and then sold or donated) "popular" packaged curricula. Anyone else? Yes, I can see you raising your hands too. It's okay because we learn and grow, right?
2- I would have included learning a foreign language
I studied French for 8 years and even double-majored in it in college. I wrote a children's book in French for my senior honor thesis. But once I graduated, I rarely spoke it or wrote it, or read it.
Fast forward to homeschooling three children. We tried Spanish with them when they were early elementary-aged, but it didn't stick. We got side-tracked by moving and health issues and keeping up with a foreign language curriculum just didn't feel like a priority.
I do wish we had circled back to it a few years ago. And while I know we can still pick up and learn a new language (my younger son has taken an interest in American Sign Language), it can be more challenging to grasp and retain another language the older you get. We will see what happens.
With so many apps and online programs now available, learning a foreign language can be handled in a variety of ways.
3- I would have traveled more
Truth be told, one of the reasons we decided to homeschool was so we could travel more and at off-season times. We'd talk about it. A lot. We sometimes followed through with plans (a trip to San Diego in 2014 and a few trips to Disney World and the beaches in North Carolina).
Perhaps it was job stuff, health issues (this rotated around each family member), or just not prioritizing it. We're hoping to sneak in some more trips over the next few years before everyone graduates. There are still memories to be made.
4- I would have focused less on "what's next"
Listen, no matter how chill I want to be (or thought I was), I sometimes (okay often) worried about what was next when it came to homeschooling.
For example, when one kid would show an interest in a topic, I would immediately brainstorm two dozen ways to turn it into a full-blown unit study.  Or, we would finish a book or a project and I'd immediately jump to the next thing before we could fully process what we'd just learned or experienced.
I sometimes find myself doing this now that my kids are all in high school. I feel like there's a homeschool hourglass and the sand is pouring from the top to the bottom faster than I can comprehend. I know, deep down, that what's next is not always as important as what's now and that everything will, most likely, work out how it's supposed to.
5- I would have made more time for self-care + my interests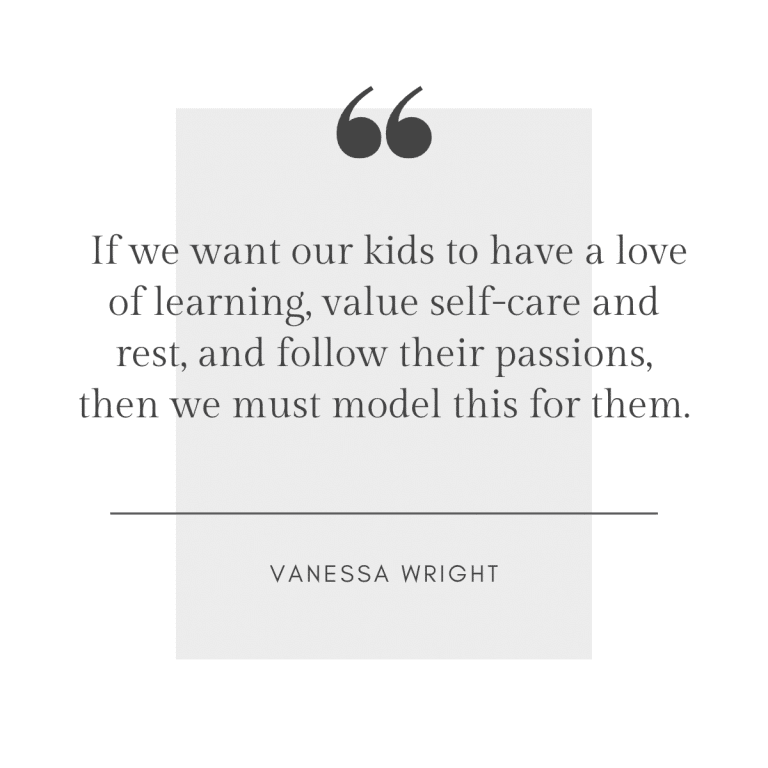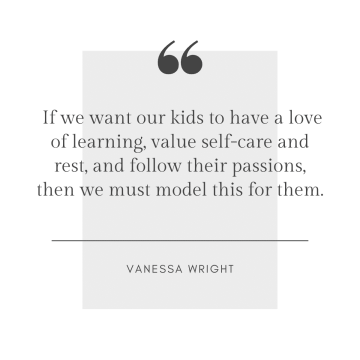 Homeschooling your children requires a vast amount of time, energy, diligence, love, grace, patience, snacks, hot tea, and breathing space. It can be quite easy to dive into homeschooling and forget everything else you enjoy or fills you up as a human. I've been there.
Having a hobby and making time for your interests outside of home education is vitally important.
I didn't realize this in the early stages of our homeschool journey. When I wasn't homeschooling the kids, I was reading about, talking about it, or brainstorming ideas to make our homeschool the best it could be. I don't fault myself (or anyone else for this).
If we want our kids to have a love of learning, value self-care and rest, and follow their passions, then we must model this for them. We must talk to them about our interests and hobbies and things that light us up outside the world of home education.
I am thankful I realized this a few years ago. I truly believe we, as homeschooling parents, must take care of ourselves if we want to make it to the end not just intact but thriving.
The One Thing I Wouldn't Change
Despite all the things I wish we would have done differently, I don't ever regret taking the leap over ten years ago into home education. As with most important life decisions, this one hasn't always been easy or free of fears, tears, and doubts.
The growth, the changes, the opportunities, and the connections are something I'll always be grateful for, especially as we navigate these last few years of homeschooling.