Dear Homeschool Parent,
I say this in the nicest possible way with my sweetest voice:
YOU NEED A HOBBY!
You need an interest outside of homeschooling. You need time away from planning and teaching and making crafts and blowing up things in your kitchen. You need to rest your voice from all the reading. You need something that is not pre-algebra equations. You need to plan a field trip for yourself and not another one to the zoo.
Stay with me.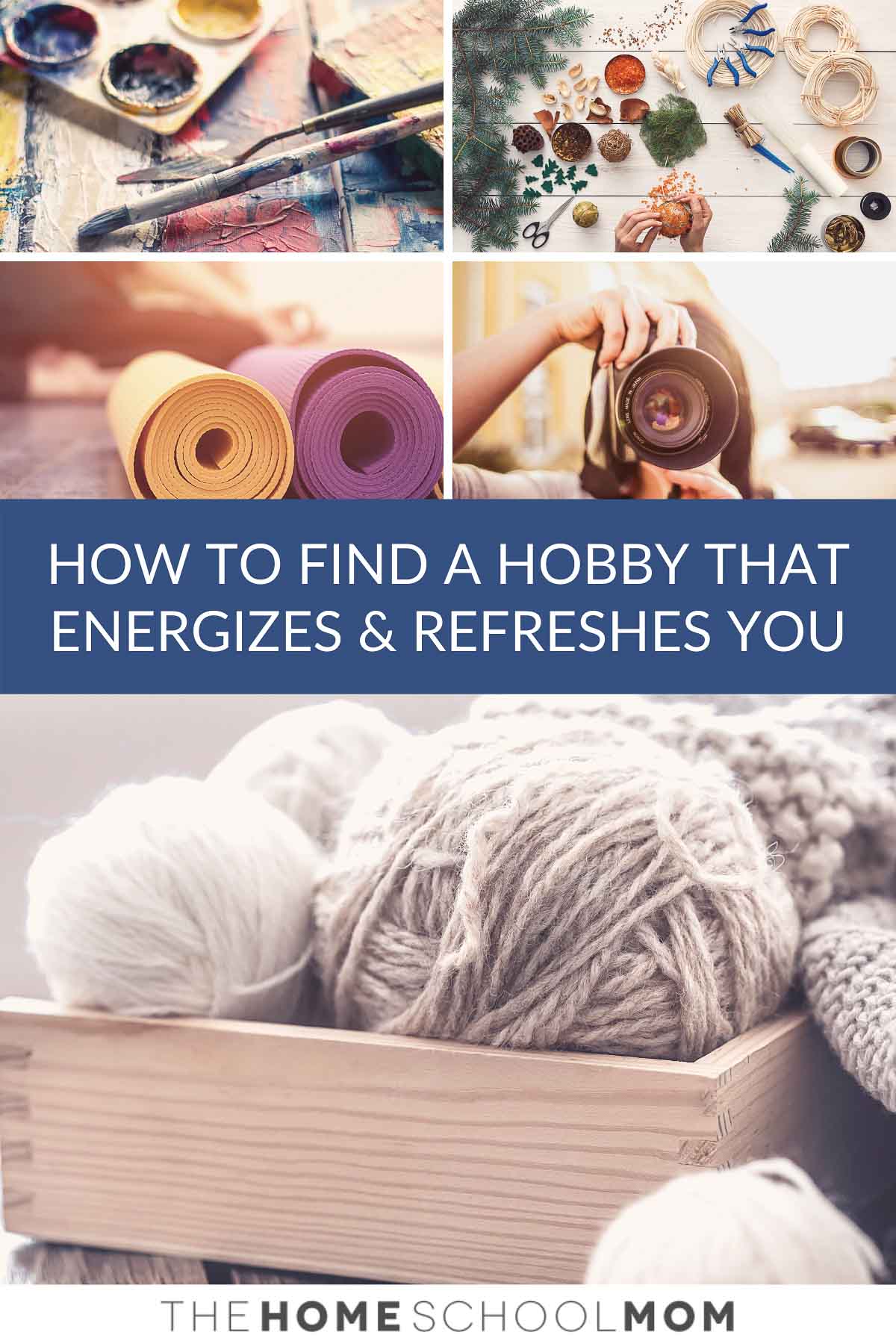 All of the energy you spend cultivating and curating an amazing home education experience for your children is a gift. And you're rocking it. Please save some of your energy and curiosity for yourself.
Warmly and a bit pushy,
A veteran homeschool mama who wants what's best for you
Why You Need a Hobby
First off, I am not crazy about the word hobby, so maybe the word I am looking for is passion or interest. But let's stick with the word "hobby" for now and I will trust you know where I'm leading you.
As parents, particularly homeschooling ones, we spend lots of time helping our kids find a hobby, financing their hobby, learning about their hobby, and maybe even helping them turn their hobby in a job or business venture. We give them our all and we expound on the joys of interest-led learning and diving down rabbit holes and then taking photos of their wonderful ideas and sharing them on Instagram.
What about you, friend? When was the last time you did something that lights you up and is something that is just for you? When was the last time you spent an hour (or even 15 minutes) doing something, anything, that brings you joy or makes you feel good and is not related to homeschooling or parenting?
If you love this idea but don't know where to start, I've got you covered. I truly believe homeschool parents must invest in personal development and hobbies. It's important for you and important for children to see you modeling this awesomeness. Grab your tea or coffee. Go on, I'll wait while you warm it up in the microwave. Grab a cookie, a pen, and journal too.
4 Easy Steps to Finding and Making Time for Your Hobby
Brainstorm. I love a good brainstorming session. Maybe it's the writer in me or the homeschool mama in me (or both). I also love lists! Carve out a few minutes and grab your journal and write down all the things that interest you or that you want to try. Anything goes—and don't edit yourself.

These interests can cover a variety of options such as new sports, new exercise routines/methods, writing, drawing, painting, baking, and bird-watching. Give yourself the freedom to dream big and explore.

Narrow down your interest/hobby. Now that you've got your list, circle the items that stand out the most to you. Let your intuition guide you. Also, be sure to take into account the season of life you're in regarding your family and homeschool. Do you yearn to hike the Appalachian Trail but have lots of small children? No problem! Maybe you start by looking for local places and shorter-distance hikes.

I recommend having a list of two to four hobbies you can legitimately pursue so that you don't get discouraged. You're doing this exercise to add joy and fun and learning and growth to your life.

Research (but not too much!). Raise your hand if you over-research things? I am pretty sure it's a required skill for homeschooling parents. You want to spend some time researching your hobby. This can be fun! Grab some books, talk to other people with similar hobbies, and get those mad Googling skills going.

When I decided to make yoga a part of my life, I spent some time chatting with friends familiar with yoga, researched which mat to purchase, what to do as a beginner, etc. I bought a couple of yoga magazines too. I felt encouraged to make a plan for myself. Which leads me to the last step.

Do it. As much fun as it is to research and plan, you've got to make time to actually enjoy your hobby! Start small, if necessary. When I started yoga, I carved out time to do a 30-day challenge and each practice was around 30 minutes a day. I also enjoy writing poetry and I can do that in the quiet spaces of journaling. Each day, I put my hobby/interest time in my planner.

Also, tell your family you're starting a new hobby. Let them know this is important to you and that you'll be taking x-amount of time each day or week to devote to your interest. Set boundaries for yourself. Being stressed out while trying to do something you enjoy isn't the point. It's also the quickest way to crush your interest.
There's no perfect time to start a new hobby. But, I truly believe that having interests and hobbies outside of homeschooling/parenting is crucial. Take the time for yourself and to live your life and to, dare I saw, home educate yourself. All of the amazing resources you use to craft a wonderful education for your kids can work for you too.
Tell me, what hobby or interest are you currently pursuing? I would love to know!