Visiting with family and friends is the highlight of the holidays for many homeschoolers. Unfortunately, before the festivities and merry-making can begin comes a part of the holidays that most families dread—the process of "getting there"!
Although Thanksgiving, Christmas, and New Year's are some of the most wonderful, family-filled events of the year, they also usually mean plenty of time in the car.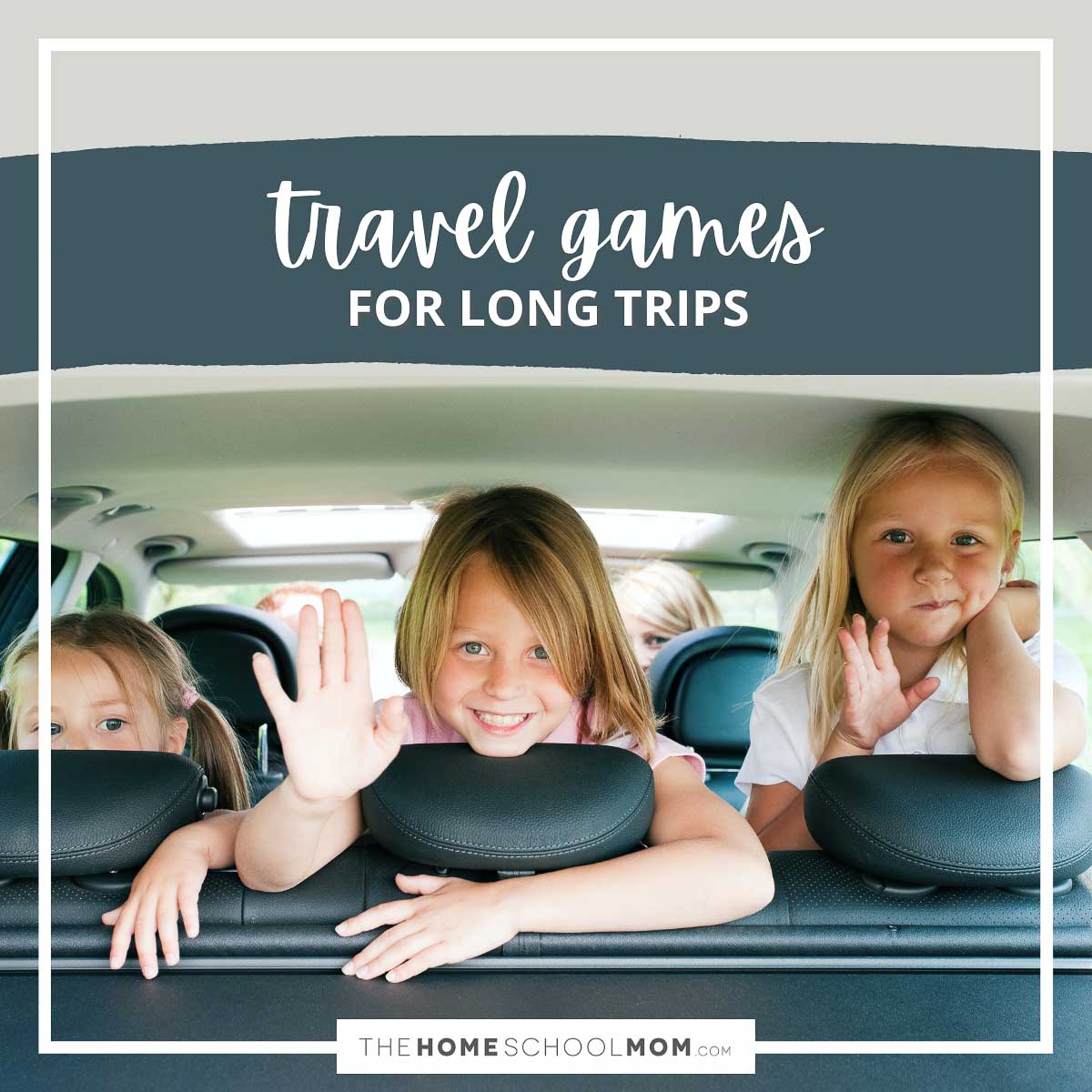 There are many great ways homeschoolers can pass the time – ideas that can encourage family togetherness, facilitate learning, and let kids have fun!
This holiday season, think outside the box for car journeys and change those "Are we there yet"s to "Wow, that trip went by fast"!
Try creating a story where each person begins with only one sentence, such as "Once upon a time there was a young boy". The next person then adds another sentence to the story, and the process continues with each person providing just one sentence, until the story takes on a life of its own! A variation of this is that the storyteller stops whenever he/she wants, and the next person must pick up where the first person left off.
Make pipe cleaner sculptures. Bring along some pipe cleaners and have children see what kinds of creative sculptures they can make. Use people, landmarks, or other things you see along the way as ideas for the sculptures. Click here for pipe cleaner sculpture ideas.
Do an activity book. Assemble your own from coloring pages, word searches and crossword puzzles, tic tac toe boards, and more.
Bring some string. Have children make string figures, such as cat's cradle. Challenge kids' creativity and dexterity with figures such as a star, butterfly, man climbing a tree, and more! Click here for instructions on how to make multiple string figures.
Listen to history. For elementary aged children, consider The Story of the World audiobooks on CD by Susan Wise Bauer (affiliate link). These fascinating CDs tell the history of the world, beginning in ancient times (volume 1) through modern times (volume 4). Told in a story-like format and narrated by Jim Weiss and Barbara Alan Johnson, The Story of the World provides excellent overview of world history which children find engaging.
Play 20 Questions. One person chooses a person, place or thing. Other members must try and guess what the first person chose, by only asking "yes" or "no" questions. Players must guess the answer in fewer than 20 questions.
Play Imaginary Hide and Seek game, a variation of 20 questions. One person picks a place in the house and imagines he/she is hiding there. Persons "hiding" can be any size, so in this game it is possible to hide in a dresser drawer, inside the dishwasher, or anywhere else! Other players ask "yes" or "no" questions to "find" the person hiding!
Gift wrap snacks and toys from home. Simply by wrapping them, the items become more interesting! This is especially effective if the toys are not regularly used toys, or ones that have been forgotten at the bottom of the drawer.
Play the alphabet game. Look for words that begin with each letter of the alphabet, starting with "A", on signs, landmarks, or license plates.
Invent a story about the people in the car next to you. Be creative and let the whole family get in on the fun!
Bring some balloons. Blow up the balloons and toss them around inside the car for some creative fun that even babies can enjoy. Consider bubbles for a variation on this idea.
Find license plates. Print out this checklist of the fifty states, and have children check off each license plate they see along the trip. Get the whole family involved to make it even more fun!
Sing along to favorite songs. Each family member gets to choose a song and the whole family does karaoke in the car!
Invent a better car. Brainstorm things you could add to your car to make the trip more inviting. Each person gets to add improvements. Cappuccino maker, anyone?
Play car Bingo. Our printable Holiday Travel BINGO game will keep kids watching for all kinds of holiday sights as they travel.
Mystery writing. Have one child "write" or draw on the other child's hand with his/her fingers, and have the other child guess what the first is writing.
Use printable games. Click here for a variety of printable games, such as connect the dots, roadside scavenger hunt, and more.
Bring a set of cards or a card game such as Uno or SkipBo. Click here for a list of card games.
Enjoy your holiday travels!