TheHomeSchoolMom may earn affiliate commissions from purchases made using links on this page. Read our full
disclosure
.
Gift-giving doesn't have to be stressful! With this idea list of over 100 of the best gifts for homeschoolers, you can cross off your gift list with educational gifts that are fun AND promote learning and creativity.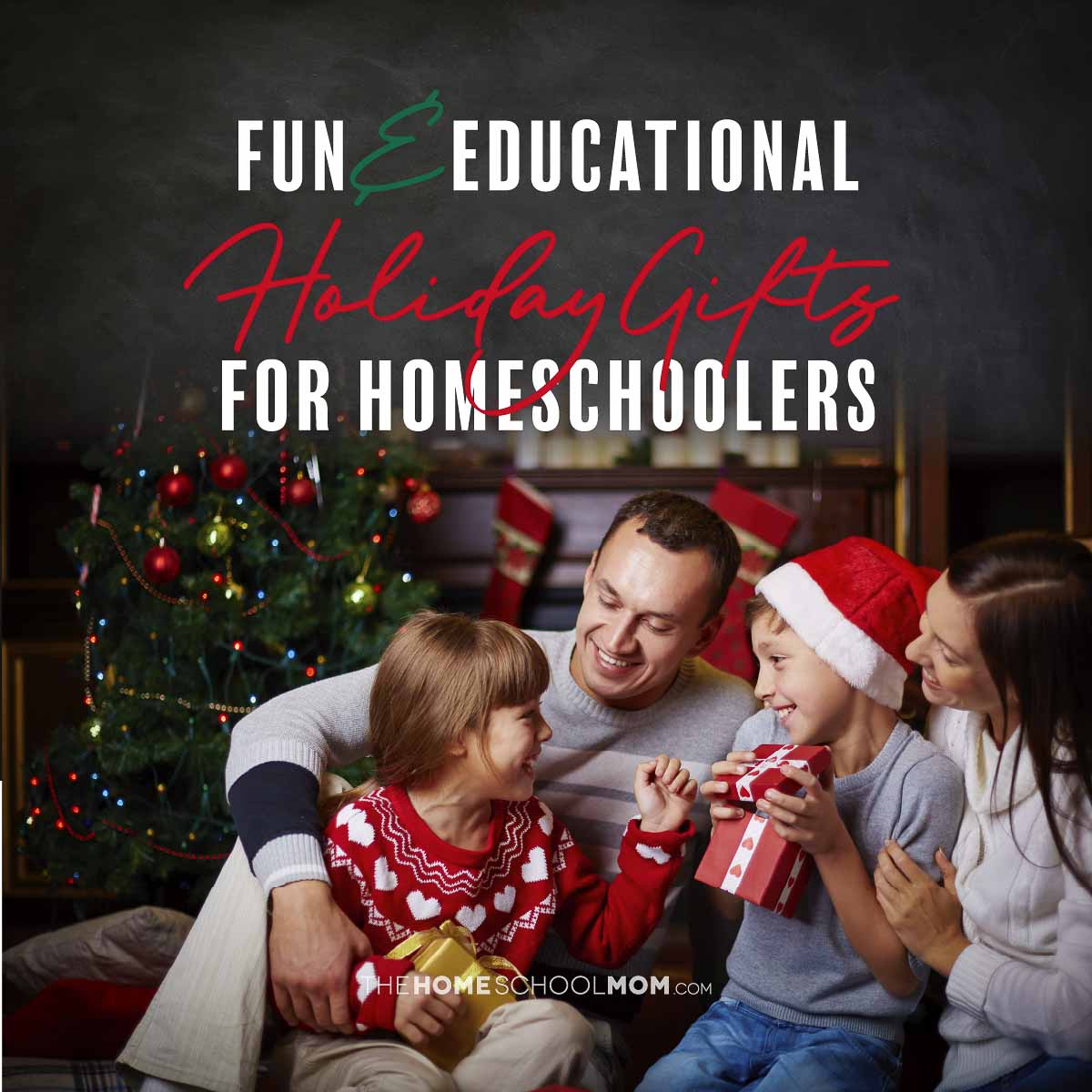 Here's a round-up of some of my favorite gifts for homeschoolers along with some links for projects, lessons, and other ideas that will get kids moving, creating, building, and exploring.
Grab a cookie, a mug of your favorite hot beverage, and start making your list (and check it twice!)...
Jump to:
🧶 Hobby Supplies & Experiences (music, baking, cooking, etc.)
🎨 Arts & Crafts Supplies
I love combining several types of supplies, different weights of paper (drawing, watercolor, pastels) to create a huge art kit for an extra special holiday gift.
Chalk pastels (check out these amazing FREE tutorials here)
Sketchbooks
Modeling clay. Here are some fun ideas to try!
Colored pencils (we love the ones by Prismacolor)
Markers (dual-brush markers and chalk markers are cool alternatives!). My kids love these FREE videos from Art for Kids Hub!
Paint (watercolors, acrylic, oil, craft, etc.) and paintbrushes (check out Alicia Gatehouse's online art classes)
Art canvases
Art supply caddy (who doesn't LOVE a new caddy?!)
Paint pens
Peg dolls (click here for a DIY family portrait project)
Spray paints (for outdoor projects)
Beads and jewelry making supplies
Art desk or drafting table
Lightbox and lightbox crafts and ideas!
Pens (gel pens, drawing pens, calligraphy pens)
Washi tape (here are so many fun projects to try!)
Stamps and stamp pads (great for making homemade cards and we can count this as handwriting, right?)
Easel
Perler bead kits and accessories. Check out these cool ideas and tutorials!
Fairy Garden supplies (I love this great workshop all about fairy gardens!)
✒️ Writing Supplies
Blank notebooks
Pens (gel pens, calligraphy pens, colored pens)
Writing prompt books
Handlettering book and pens (see this video for how to handletter)
Rory's Story Cubes
Dictionary
Thesaurus
Lap desk
Pencil/Pen case
Baby name book (great for researching character names for stories)
Biography of your child's favorite author
Postcards
🌎 Educational Supplies & Memberships as Gifts
🤖 Educational Subscription Boxes
⛺ Supplies for Outside Fun
Tent
Camping supplies
Tree swing
Roller skates or roller blades
Bicycle
Pogo stick
Skateboard
Sports equipment
Cornhole set (here's a DIY video to check out)
Badminton set
Volleyball net and accessories
Sidewalk chalk
Trampoline
Binoculars
Telescope (here's a list of the best telescopes for kids)
Gardening tools and supplies. New to gardening? Find some ideas here!
🧰 Supplies for Projects & Building
🧮 Classic Toys
Speak & Spell (I wore mine out in 1984. It's true. I plan to buy myself another one this holiday season.)
Rubik's Cube. Check out these videos!
Wooden abacus
You can double the impact of all of these educational gifts for kids when you invest in relationship-building by using them together—working on art projects, designing building projects, attending events, cooking/baking, camping, spending time together doing outside hobbies, and more. I'd love to hear which gifts your kids enjoyed the most in the comments below!
* Disclaimer - I am the homeschool liaison for Big Life Journal