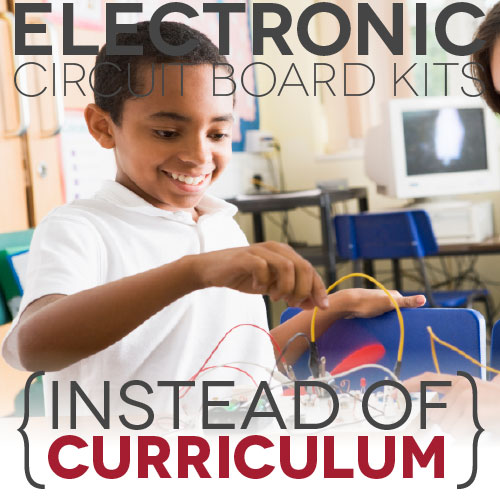 Working with electronic circuit boards may sound ambitious or advanced, but my kids enjoyed playing with these as part of their science and technology learning when they were in their early elementary years. They learned many concepts about creating circuits from hands-on play,  in particular by using a kid-friendly Snap Circuits® Kit (affiliate link) from Elenco.
These sets, designed for ages 8 and up, have standardized the various possible elements of a circuit by embedding them into snap-together plastic pieces, so young children don't have to learn circuitry with fussy wires and uncooperative pieces that challenge fine motor skills.
There are project guides and diagrams for the kits, including how to build circuits activated by sound, light, temperature, and motion. Some of the projects kids have made include alarms, radios, speaker amplifiers, and motion detectors.
Certainly we could have done a science unit where we used a curriculum to read about concepts of electricity and circuitry, but using this kit instead of curriculum made the concepts come alive through play and experimentation. I provided very little guidance, just helping the kids get started and providing them time to use the kit when their space wasn't invaded by their baby brother -- sometimes the most important role of a homeschool mom!
As my older sons aged, they advanced to other electronics projects, but the Snap Circuits® kit was passed down to the youngest, making it a long-time presence in our home and well worth the investment. We had the most basic set, but I do think this is a toy/project kit that may be worth adding to, perhaps bringing to the attention of grandparents who may enjoy providing upgrades and accessories.
One of our sons in particular was attracted to electronics, and following his mastery of the Snap Circuits® kit, I remember taking him to Radio Shack where a helpful representative guided him to parts to make his own customized circuit board. By then he was ready for the frustrating little wires and conductors and capacitors and already understood the power of the electronic circuit.
Many years and lots of circuits later, as a young adult, he's become more of a software guy than a hardware guy, studying computer science at university. However, I still like to remember those early homeschooling days, when his face wrinkled in concentration as he worked to construct a circuit to power a small motor, which then operated a tiny electronic fan. I'm sure I admired the cool breeze and whispered a few words of thanks to the people who design and sell Snap Circuits®