What Now? Homeschooling?
As schools around the country publish their plans for the upcoming academic year, homeschool advocates continue to see more families who tried homeschooling last year deciding to continue.
For real, this time—not the suddenly-home-from-school situation parents faced when schools suddenly closed.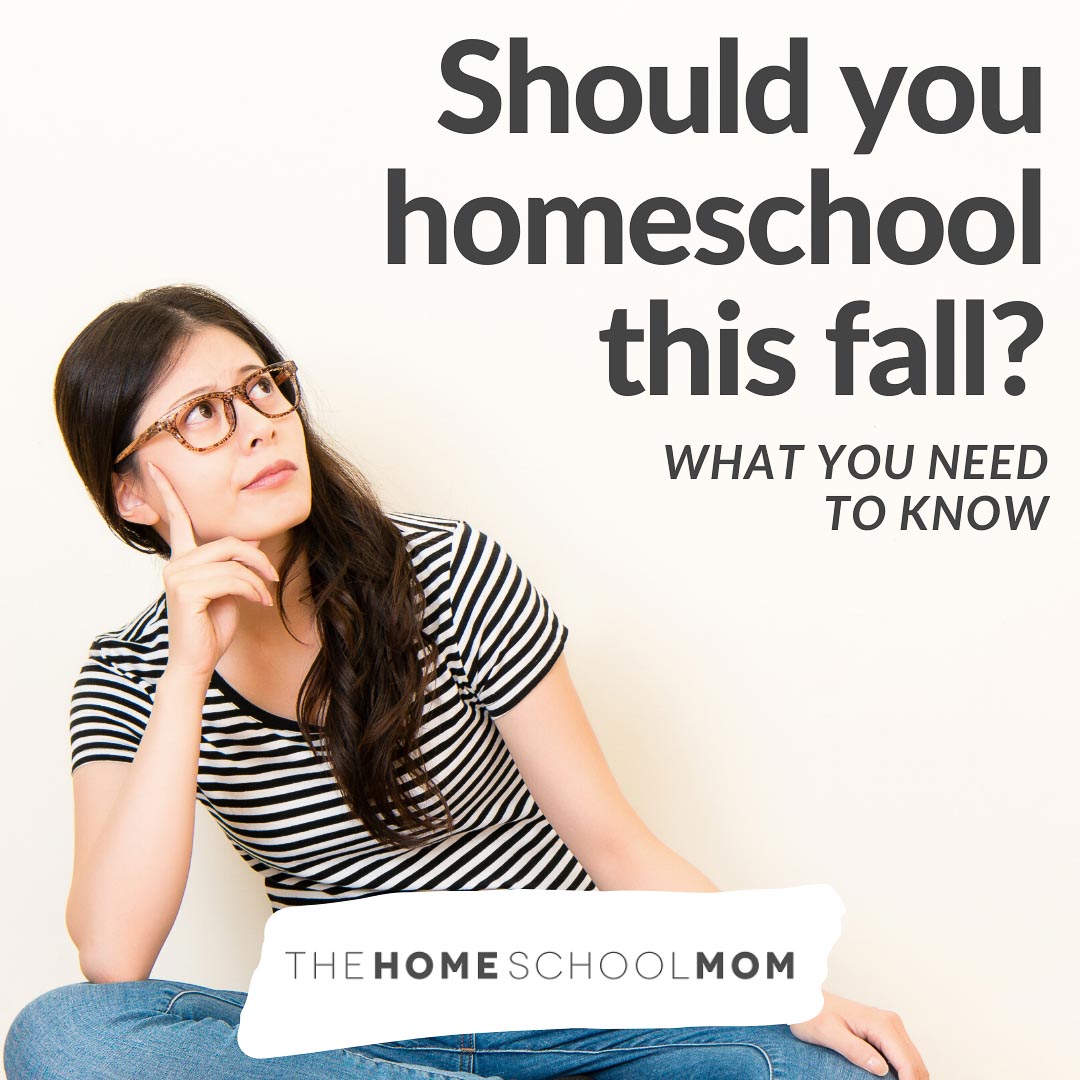 You may be one of them, or as an already-established homeschooler, you may be helping a friend or family member transitioning from suddenly schooling at home to independent homeschooling.
Parents coming to homeschooling from the crisis experience of "remote public school, done at home" often haven't had the opportunity to learn about independent homeschooling.
Here are a few suggestions of things to consider.
Jump to:
Decide if homeschooling is right for you
As Amanda writes, "Choosing to homeschool is not an irreversible decision any more than putting [your children] in a certain school or using a specific curriculum (although there are special considerations for homeschooling high school), but it will affect your whole family, so it's worth putting some thought into."
Here is what you need to know in order to decide if homeschooling is right for you.
If you decide homeschooling is the best option for your family...
Do the paperwork
Families were thrust into "school at home" when public schools closed, and they did so with full knowledge of public school officials. In many states, intentional homeschooling and opting out of public school requires notification to the school division or state department of education. Not following the laws around homeschooling can result in truancy charges. Check state homeschool laws.
Consider deschooling
Parents might be homeschooling for a limited period, planning to send kids back to school in the future. This can be at odds with the first advice most new intentional homeschoolers get, which is to "deschool."
That's right, the suggestion is to take a break from "school ways" and learn how kids can learn at home. Read about deschooling. A homeschooling parent recently told me "deschooling is the best advice I avoided—and I ended up having to do it anyway."
You may find your kids make more progress when you take time to re-connect with them instead of pushing school-type academics on a school calendar.
Watch those high school credits
In some states, public high schools will not award or accept credit for learning done as an intentional, independent homeschooler. Enrolling in a program provided by and administered by public school might be preferable. Yes, that would still be "public school at home."
If your high schooler plans to return to public school, you should research how high school learning done at home could be done for school credit. Of course, we don't know if these unusual circumstances will make schools more or less flexible.
Expect that your curriculum might not work
Go ahead, choose a curriculum. Or put together many resources to make your own program. But understand that homeschoolers experiment with and change curricula frequently, and some, including highly successful homeschoolers, don't use a curriculum or "program" at all. Expect adjustments!
Understand that this still isn't normal homeschooling
Homeschoolers are known to joke about how they are never actually at home. We homeschoolers love our co-ops, but the ability to gather in groups has changed with state mandates restricting public gatherings. Physical distancing restrictions vary by state, and how homeschool co-ops and classes choose to implement them may or may not mean that even though you are really homeschooling, this isn't normal homeschooling.
Explore "bubble schooling"
For homeschoolers who want or need to continue physical distancing, consider "bubble schooling." Come together with another family or a few families who share similar feelings about risk and make a "bubble"  or "quaranteam" with them.
You could share simple field trips, create a small co-op, get together for playdates, and tutor one another's children through tough spots.
Be honest with each other about each family's exposure to "the rest of the world." Set expectations for how the bubble would change if one family needs to start interacting in the public more or even if someone gets exposed or becomes sick.
Some things to decide:
where you feel safest meeting
what the hand-washing expectations will be
what the mask-wearing expectations will be
Bubble schooling won't give your kids the usual range of social and academic activities available to homeschoolers during normal times, but it might be lower risk than school attendance or participation in a large indoor co-op.
If you're not concerned about exposure risk, of course you won't be interested in forming "social bubbles" with other families.
Risk tolerance, personal risk factors, and perceptions of the risk level vary widely. That's a great topic of discussion with your middle schoolers and high schoolers. Have them join you in googling up some articles and studies about why risk is perceived differently.
If you do decide to bubble school with others, share and discuss articles like this one from the MIT Technology Review that gives suggestions for negotiating a "bubble" with other people.
You'll navigate your best homeschool year by seeking to understand.
Frequently asked questions
We've got all the info for getting started at our Homeschooling 101 tab, and the topics above cover some important first concepts. In addition, we've seen potential homeschoolers recently ask the following questions: