A homeschool co-op is a group of families who meet together and work cooperatively to achieve common goals. Co-ops can be organized around academics, social time, the arts, activities, crafts, service work, or projects—or some combination of these.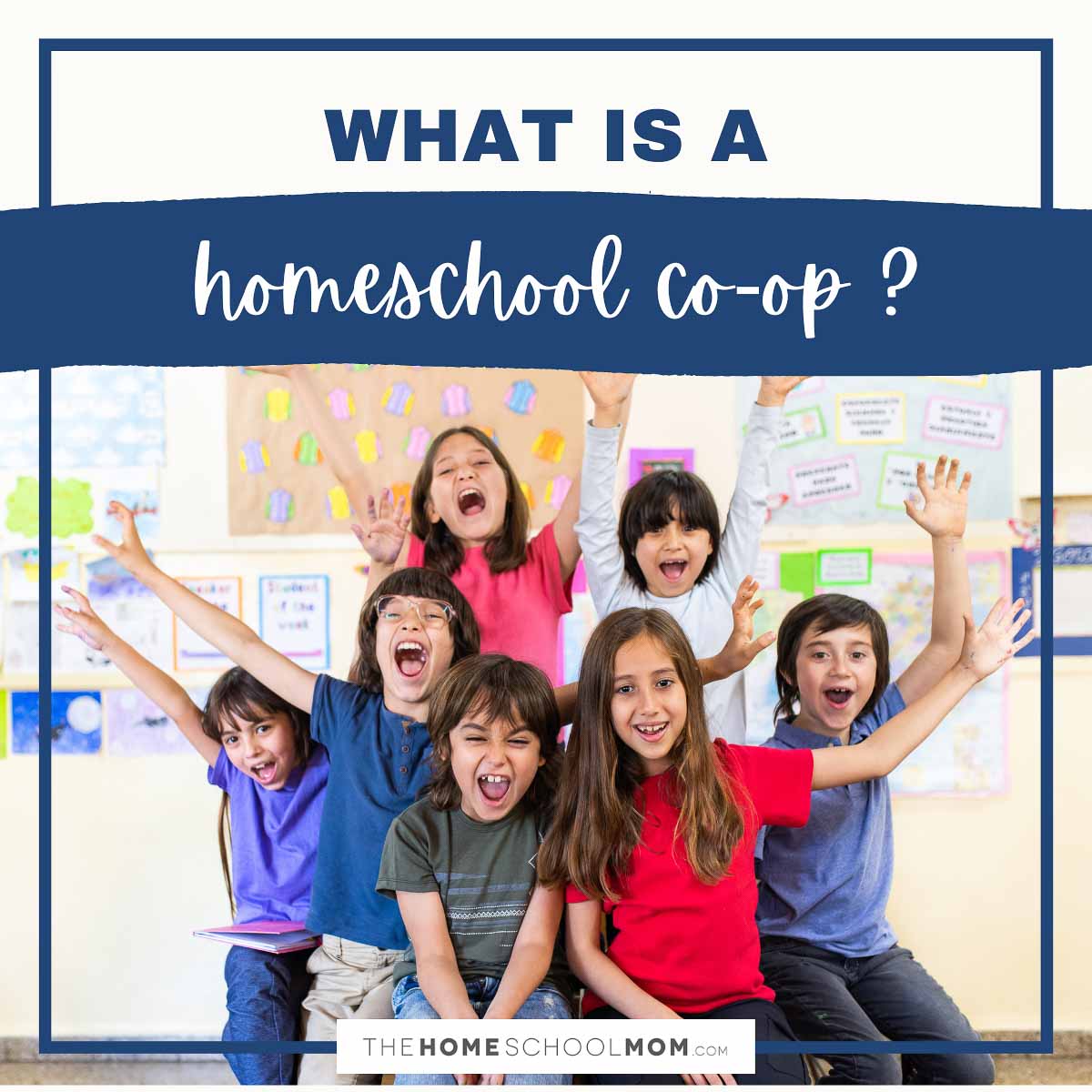 Jump to:
How do co-ops work?
Activities and classes that are part of a co-op may be led by parents, or the parents may chip in to pay all or some of the teachers and activity leaders. There may be as few as three families in a small co-op or as many as several hundred children in the largest co-ops.
Co-ops may meet in homes, churches, libraries, or community centers. In the United States, homeschool co-ops commonly meet once a week from "after Labor Day" to "before Memorial Day"—but some meet twice monthly or once per month, year round. A co-op's meeting frequency and yearly calendar is up to the co-op organizers.
More rarely, co-ops use what's called a university model, meeting once, twice, or three days a week with a full slate of homework to completely cover typical academic credits. These co-ops and their assignments to be completed at home usually make up the bulk of a child's education, and they work much the same way that accredited university model private schools work.
Other co-ops are more enrichment-oriented, with a focus on the arts, social time, or unique angles on traditional subjects. Children in these co-ops typically do most of their learning outside of their co-op, but co-op is one more experience that builds their knowledge and provides them with a chance to be with friends or do something interesting.
Are homeschool groups and homeschool co-ops the same thing?
Local homeschool groups tend to be larger and more general purpose than co-ops. Homeschool groups may also have field trips, park days, parent meetings, talent shows, book clubs, parties, and more. Some homeschool groups may have an official co-op that is one of their many activities. Other co-ops are completely independent of any larger homeschool group. Often, people meet at a homeschool group and spin off in their own smaller co-op.
There is also a mini-version of a co-op that is sometimes called a club. These typically are arranged around one activity or academic subject area, and may meet less frequently, often monthly. Examples of these are book clubs, nature clubs, and geography clubs.
Some clubs may take on a team aspect, such as a competitive robotics team, Future Problem Solvers, or Destination Imagination team, and they'll meet as often as needed to prepare for upcoming events.
Who's in charge of a co-op?
Less formal co-ops are typically led by one or two main leaders who form the co-op with a specific vision, usually in support of goals for their own children. They usually call planning meetings, arrange for a meeting location, and strongly influence the schedule and offerings of the co-op. They'll typically try to find other parents who share their vision and who are willing to work cooperatively on the details of activities or classes. Most decisions are made by consensus, with guidance from the leaders.
More formal and larger co-ops may have a board of directors and a designated administrator who takes care of day-to-day operations at the co-op. Decisions for these co-ops are usually governed by a vote by the directors, who are frequently parents of children participating in the co-op.
Some co-ops may be ministries of churches, and therefore they may fall under a church's administration.
How can I find a co-op?
TheHomeSchoolMom's local resource database can help you find a homeschool co-op near you, and you can also network with other homeschoolers through email lists, Facebook, homeschool groups, and your library to find co-ops.
To learn more about finding and fitting into a co-op, look for my upcoming post, Joining a Co-op.