Are you a short-term homeschooler?
Some people know they will homeschool before their children are born. Some begin homeschooling after their children spend some time in school, but then they decide to homeschool "forever" -- or at least, for years. Others decide to take it "a year at a time," but the implication is that if it works out, homeschooling will be ongoing.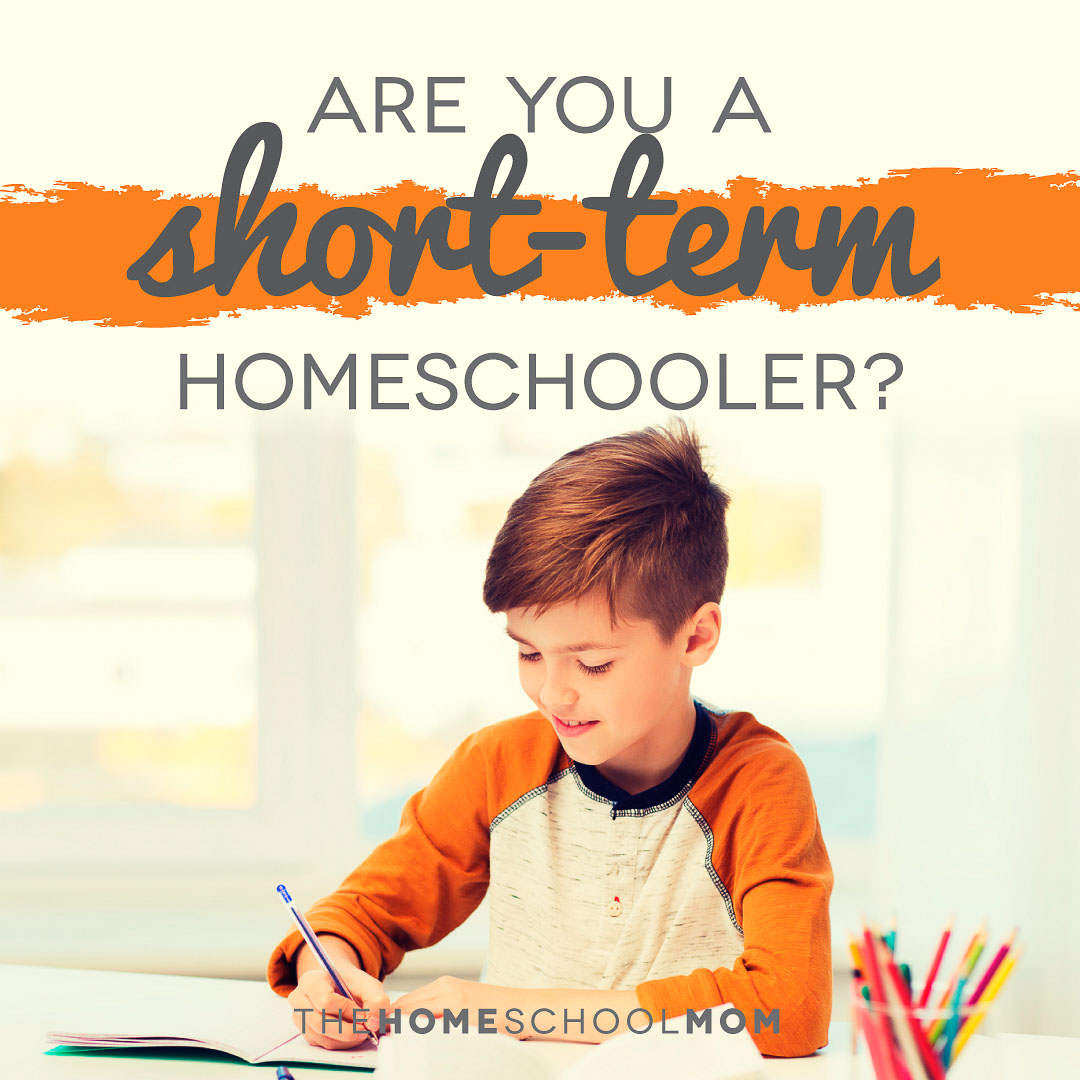 And then there are short-term homeschoolers: people who homeschool for a summer, a semester, or a year, knowing their children will return to school. Many of them consider themselves accidental homeschoolers.
What are the reasons for short-term homeschooling?
Negative school situation. Parents often want to do short term homeschooling in order to get their children out of a negative school situation that has shown no promise of improvement, despite concerted efforts on the part of parent and child. This can include homeschooling because of bullying by other children, humiliation by a poor teacher, a dangerous atmosphere, poor grade placement, exceedingly long bus rides, or failure of a school to carry out IEPs for children who have special needs. In other words, it's situational, and parents want to do something else because the current situation is untenable.
School refusal. Some kids are so uncomfortable with school attendance that they refuse to attend. Homeschooling may be seen as a short-term measure that can continue a child's education even as the parent hopes that the child will be willing to attend school in the future.
Academic remediation. Homeschooling is efficient and effective. Some families want to homeschool only because their child is considered behind by school standards in specific academic skills or knowledge, and they feel extra time working one-on-one with a parent or tutor will provide the academic boost that is needed. Their plan is to re-enroll their child in school when she or he has "caught up." Many people who are homeschooling for remediation will take it on as "summer schooling" if not for a full semester or year. If you are interested in homeschooling to remediate academic problems, you will want to read about homeschooling the child who is behind in school.
Special needs. Some families may homeschool when their child's special needs are not being met through a specific school. These parents should consider whether their child is being encouraged to homeschool and pushed out by their school. However, sometimes bypassing a particular school that has been more uncooperative or has fewer resources may be an overall benefit, even if the child will be re-enrolled when she or he ages into a different school. Homeschooling children who have been labeled as having ADD or ADHD may give those kids an environment that is more conducive to their learning style.
Parent's health. When a parent has a serious health problem or terminal illness, maximizing a child's time with the parent may make a lot of sense. That parent may not be able to be the one who is "in charge of" the child's homeschooling, but a family may benefit from time spent together during a special few months or an uncertain year.  Of course, the adults need to consider the child's desires and ability to be in a situation that may feature frequent crises, suffering, and hard times. Still, there may be no substitute for having generous time to love one another when time is not going to be so generous in the long run.
Child's physical health. Homeschooling children who have chronic illnesses or serious injuries can make a lot of sense. While public schools do offer homebound instruction, some families find it inflexible and unrealistic, or not enough resources are provided because of a school's financial limitations. Some families simply switch to homeschooling while their children heal or recover strength. Homebound and homeschooling are distinct and are governed by separate laws; if you plan to homeschool a child for health reasons who was previously receiving homebound instruction, in most states you cannot simply "unofficially slide" from one to the other. You should learn your state's laws for homeschooling.
Child's emotional and mental health. This has been alluded to earlier -- a child who is bullied at school or who is refusing to attend school may have emotional challenges that will be helped by getting them out of the school situation. However, there are also other mental health challenges, such as depression, anxiety, and other conditions which may be difficult to treat when a child is in school. Homeschooling allows a family to prioritize emotional health, even over academic achievement.
Reconnection. Related to emotional health, some parents find their children in school are drifting away from valuing family relationships. They spend a lot of time with peers and adults who are not part of the family, and they are busy with friends, homework, or activities -- some of which may be positive and some of which may be negative. Parents want an opportunity for their kids to reconnect through generous family time.
Behavior problems. Related to the need to reconnect, emotional health, and possible peer dependence, some parents want to address a child's negative behavior that has been occurring in school. It can be difficult for parents to know the full situation around behavior problems they can't see. Having a child at home can provide valuable information about the root of behavior issues, as well as time to help a child learn to manage. Some parents see that schools are dealing with many children and may take an adversarial role with kids who do not behave as expected. At home, parents may choose to be allies with their children in helping them learn more positive behavior. Some children benefit from extra time to work with therapists or be in an environment that is less stressful and more likely to reinforce positive behavior.
A break. Some parents simply feel that their kids will benefit from a break from regular school. They want their children to have an opportunity to get away from school requirements and constraints, so they can experience a more relaxed schedule or learning dedicated to their own interests. Parents might sense their child is losing touch with authentic interests or burning out from having nose-to-the-grindstone. They want their child to take a leave of absence and return to school refreshed after a long break, with renewed curiosity.
Unique opportunity. Sometimes a special opportunity comes along that school simply cannot accommodate. Perhaps your family is going to travel cross country in an RV. Perhaps a special mentor is going to become available in your child's special area of interest. Maybe there is a life or learning opportunity that a parent wants to create -- or that a child is seeking -- that will be unique and valuable. Learning within the family often fits these opportunities far better than attending the same brick and mortar school on the same schedule each day, week, and month. Homeschooling can flex around these opportunities.
Frequent moves. Military families and others who know they will experience multiple short-term moves sometimes choose to homeschool during the period when they expect the most transitions. While they intend for their children to attend school in the future, they believe their children will do better with the consistency of homeschooling through the physical moves, rather than starting over at multiple schools within several years. Read more in my article about homeschooling and moving.
Natural disaster. Schools are not immune to hurricanes and fires. While communities often try to rally quickly to hold classes in alternative locations when schools are damaged or destroyed, some parents prefer to keep their children home until a new school setting becomes permanent. They want to spare the child the numerous transitions or help deal with a child's anxiety about the hurricane, earthquake, flood, or fire.
Some of these reasons for short-term homeschooling may be born of desperation; others may be born of optimism. For some, homeschooling short-term is a decision of last resort -- parents do not see another option that is positive for their child, and they are anxious to have him or her back in school as soon as possible. For others, homeschooling is seen as something they'd love to continue to do, but financial obligations or other scenarios block consideration of longer-term homeschooling.
In all cases, parents should be aware of the limitations of short-term homeschooling, even as their children may also reap some potential benefits. We'll look at some of that in my next article about short-term homeschooling.
In the meantime, if you are considering short-term homeschooling, you can know that other families are also homeschooling for a specific duration, although their reasons may be different. Many people meet their children's educational needs with an interlude of planned homeschooling even though their children will spend most of their years attending public or private school.
And beware: some short-term homeschoolers I have met during my twenty years of homeschooling have ended up homeschooling a little longer than expected! You never know.