The yellow legal pad had a line down the middle: the pros and cons of homeschooling were written on opposite sides of the blue-inked vertical line. Not content with that, I flipped to the next page and drew another line down the middle: pros of public school to the left and cons of school to the right.
July is the decision point.
Are you really going to start homeschooling?
Are you really going to continue homeschooling? Even though it's time for middle school? Or high school? Or you're having a baby? Or going back to work? Or moving? Or divorcing?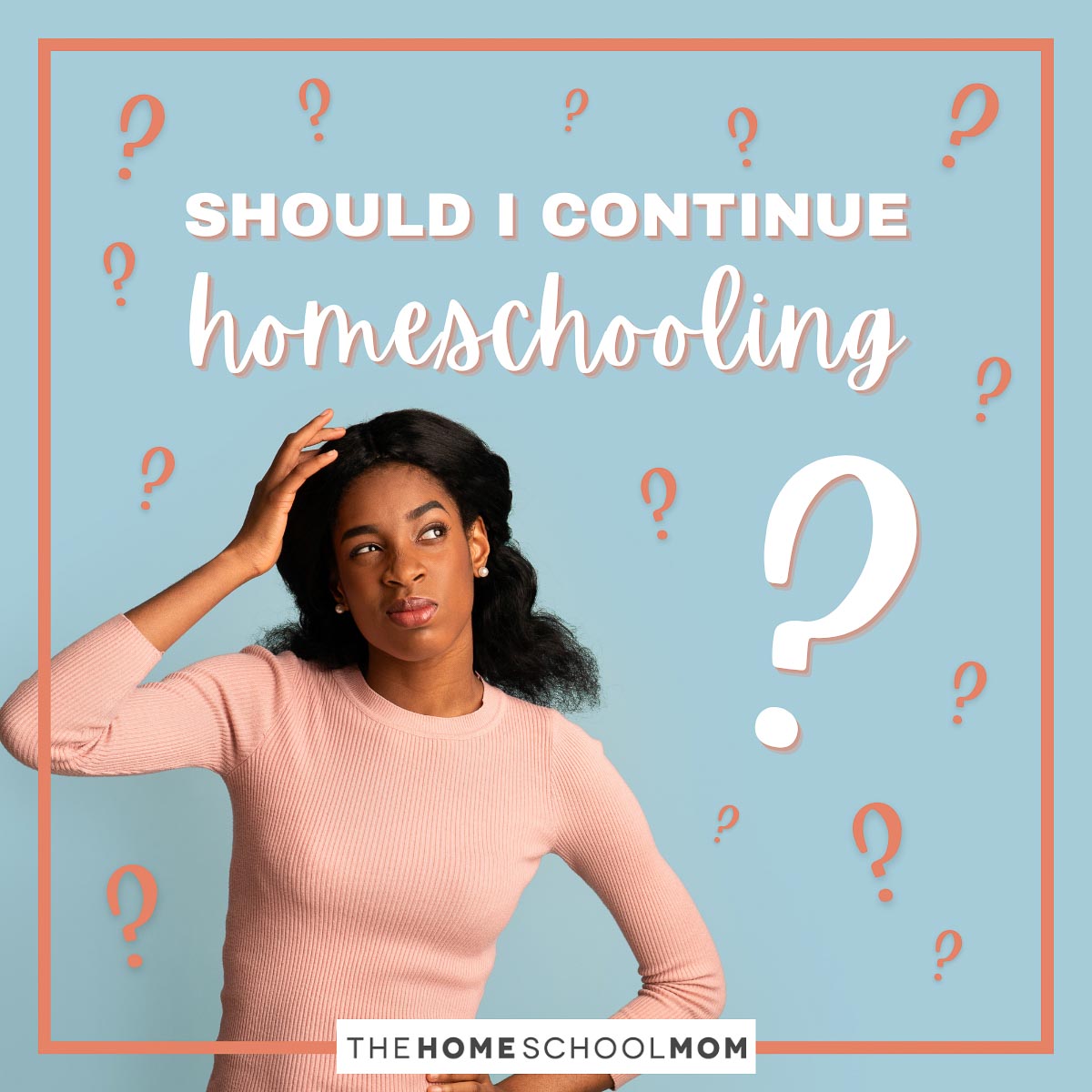 Are you going to change your homeschool curriculum? Try something more relaxed? More structured? More economical? More hands-on? More interest-led? More standards-based?
Are you going to stop homeschooling and send your child to school?
Homeschooling, Public Schooling, New Curriculum . . .
This is the month of hard choices for many parents who are considering the best way to educate their children. Everyone is looking for evidence of the effectiveness of various education strategies, writing out lists of pros and cons—of homeschooling, of specific curriculum, of going to public school, of unschooling.
Homeschooling provides a more flexible schedule, but school feels like it is more of a sure thing.
School takes children away from home for a tremendous amount of time, but homeschooling takes a tremendous amount of parental time and energy. Still, from the kids' point of view, homeschooling is efficient.
Homeschooling allows for building close family relationships, but school is where people say your kids will make friends.
Interest-led learning is more engaging to your kids, but traditional homeschool courses so neatly fill those spots on the homeschool transcript.
Public high school can provide all those great high school experiences, but public high school provides a setting for so many risky high school experiences.
And so much more.
Sometimes the lists of benefits don't talk to us in ways that make decisions clear. We feel muddled, uncertain, gripped by anxiety that we won't choose well for our children. I get it. I hear from people like Cheryl, who wrote to me asking, "Help! Should I homeschool?"
And, by the way, doing a trial of homeschooling over the summer may or may not be helpful in the decision-making process.
Make the School Choice You Can Get Behind
In her TED Talk "How to Make Hard Choices," philosopher Ruth Chang says,
Fear of the unknown, while a common motivational default in dealing with hard choices, rests on a misconception of them. It's a mistake to think (that) in hard choices, one alternative really is better than the other, but we're too stupid to know which. (It's a mistake to think that) since we're too stupid to know which, we might as well take the least risky option. Even taking two alternatives side by side with full information, a choice can still be hard. Hard choices are hard not because of us or our ignorance; they're hard because there is no best option.
Chang says that people frequently try to compare alternative choices, see them as being on par with one another, and end up choosing what seems like the safest option.
She suggests that when we're in this situation, a more satisfying option is to make the choice you can get behind.
When we create reasons for ourselves to become this kind of person rather than that (kind of person), we wholeheartedly become the people that we are. We become the authors of our own lives. . . . Hard choices are precious opportunities for us to celebrate what is special about the human condition.
What will you get behind during this decision-making time?
There is no one right answer for every family.
Making a Schooling Change
In this month's newsletter, TheHomeSchoolMom features an article of mine called "When Your Child Goes from Homeschooling to Public School," to help with the transition if that is the decision you will be getting behind. (If you're not signed up, be sure to subscribe to TheHomeSchoolMom Newsletter. It's free and packed with ideas.)
Of course, TheHomeSchoolMom website itself is full of resources and information you will find helpful if your decision is to homeschool. New and prospective homeschoolers can start with Homeschooling 101.
If you're leaving homeschooling behind, if you're leaving public schooling behind, if you're sculpting a new way of homeschooling because your curriculum is not working, may you not make the decision because of reasons that were brought to you, but because of, as Chang says, "the power to create reasons for yourself."
Be the author of your own life.
It was a ridiculous time for me to start homeschooling, and the notes written on my yellow sheet showed that. I would have a young baby when we started homeschooling. I enjoyed running my own communication business while the older boys were in school. One of my clients was our local school division! With homeschooling and a baby, I'd have to close my business. And our children attended school in one of the best school divisions in our state!
Everyone brought me the reasons why keeping the children in school was for the best. It was the safest choice, the path of least resistance.
But I was not making this decision without resources to carry out either alternative. I could do it. I could make either educational choice work. But I knew which choice I wanted to get behind: Homeschooling.
The yellow pad's list could not calculate my heart. For the next twenty years, we learned together at home. A hard choice at the time I made it, but the choice I could get behind.