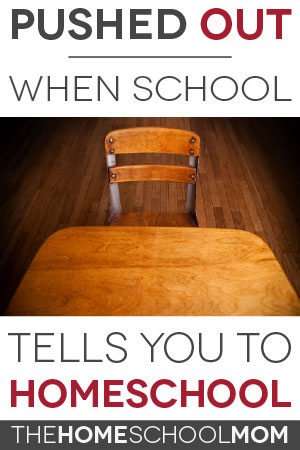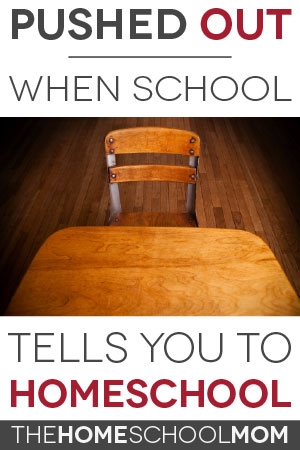 What if the school is telling you to homeschool?
More and more in the homeschool world, we hear from parents whose children have become known as force outs or "push-outs."
That's because they are children who did not drop out of school or did not have parents who eagerly chose to homeschool, but who were strongly encouraged to withdraw -- pushed out -- by school officials. Their parents were not seeking to homeschool, but were pushed to do so, being told that the school cannot meet the child's needs. Homeschool advocates are taking note of the many stories of kids who are pushed out of school to homeschool.
Homeschooling can be a great way for children to learn, but parents in this situation need to be aware that the local public school is obligated to provide an appropriate education for the child.
Why Kids Are Pushed Out
Children may be pushed out because they have special needs, because they have behavior problems, because they run afoul of zero tolerance policies, because they have attendance problems, because their parents are seen as squeaky wheels, or because they will not perform well on important tests.
There are also cases where students at risk of dropping out have been pushed out, because withdrawing to homeschool does not count against a school's or state's drop-out statistics.
In some places, schools have been charged with using truancy laws to push students out, as reported by the National Center for Youth Law (NCYL). The NCYL said of some Texas school districts, "Students are being pushed out in various ways including being forced into GED programs, alternative schools, and being coerced into mandatory homeschooling." (italics/bold is my emphasis)
The School/Teacher May Be Trying to Help Your Child
Now this is tricky to talk about because it can have some pretty subtle aspects. First, the educators may be telling you this in all sincerity and with your child's best interests in mind. They may know that there is realistically no way that your child's needs are going to be met with the resources present in their school or school division, and they may authentically feel that the child will be spinning wheels and that the system will never be able to gear up to provide the kind of attention and instruction that would help the student thrive.
Teachers and administrators may even be speaking to you personally, as a kindness, quietly assessing that your child's needs are not going to be met in the place where they work. While individual teachers and administrators may have every child's best interests at heart, the system may not be adequately funded to meet all the competing needs -- or it may be that the institution of school itself just is not designed to do so effectively. However, public education is supposed to work for all kids. Your child, like all children in the United States, is entitled to a free and appropriate public education financed by taxes.
The School May Be Trying to Protect Itself
In some cases, schools are shirking their duty to provide that education -- because of course it is better in some ways for the school if they do not have to provide help to children who have more challenges. Children who are behind or have special needs cost more to educate, require more resources, and may hurt performance measures by which educators and schools are judged.
I wish I could say this were not true, but some communities have quite a few such children who have been "pushed out." Again, this is tricky to talk about, because in some cases, parents who could become well-prepared to homeschool have made good choices to remove their children from school, and the child is recovering from problems in school and learning a lot through homeschooling. In other cases, parents who are not really in a position to homeschool are floundering, and their children may not be better off if they are at least not well cared for.
The Parents Would Need to Commit to Homeschooling
What do I mean by "parents who are not really in a position to homeschool"? I mean parents who are new to homeschooling but not able to make a commitment to be present for their children due to work, financial responsibilities, mental health issues of their own, medical crises, relationship issues, or other problems. People who have been homeschooling a long time often have enough roots in "the homeschooling community" and can figure out how to make things work when they are in some kind of crisis. However, for new parents whose kids were basically pushed out of the school system, it can be difficult to make the transition to homeschooling if you are struggling in other ways and don't have support.
It's not impossible. People from all walks of life and with all kinds of challenges can and do make homeschooling work. You can be one of them. But sometimes children who are pushed out of school and into homeschooling end up in situations where parents are unable to spend time with their children due to work and financial obligations, where parents are unable to understand how to get books and resources to help their children learn, or where parents have mental health or physical health problems that prevent them from making their children's education and care a priority.
Homeschool communities are often ill-suited to deal with "push-outs." For example, homeschooling co-ops (learning cooperatives) may be intended just to supplement learning done at home, but new homeschooling parents whose kids have been "pushed out" don't realize this and don't have a plan for meeting their kids' learning needs otherwise.
The Parents Must Realize That Support May Be Limited
New homeschooling parents with "pushed out" kids may look for resources in homeschool groups and co-ops that simply don't exist. Accustomed to school and its many services, they struggle with the fact that they themselves have the sole responsibility for their child's education. They may even find themselves unwelcome in some homeschool groups and circles because they frustrate other parents by requesting "services" that do not and cannot exist in an all-volunteer situation, where parents are accepting responsibility for 100 percent of their own children's education. They may not get the kind of parental "shepherding" that is expected for children who are participating in homeschool activities.
I don't mean to discourage anyone who is feeling pushed to homeschool by school administrators.
But please -- have your eyes wide open.
You don't have to be a perfect parent or have all your problems solved to homeschool by any means -- anyone with commitment can homeschool -- but --
Are you in a position to take on this responsibility? Do you have support from family or friends who will help you? Can you learn about educational resources that will help your child? Can you spend first-hand time with your child? Are you motivated to homeschool when that was never part of your expectation?
And are you ready to let the school division off the hook?
The Parents May Find That Homeschool Is the Right Choice
The answer for many parents is yes.
They are tired of struggling with a school division that has delayed and delayed offering appropriate help, or that has not been compliant in following an educational plan that has been agreed upon for a child. Or maybe the school is compliant with the plan, but the interventions and services that are supposed to help are not working. While they would like to see their child get an appropriate education at school, as parents, they cannot wait any longer to see if that will happen. Months and years are ticking away.
They say yes. My child might be being pushed out of school, but I'm up for it. I have the ability to see that my child learns, and I am committed to making it a priority. I understand that things in "the homeschool world" are going to be different from school and might not work like I expect, but I'm willing to learn and roll with it. I have my problems like everybody else, but my head is above water enough that I can handle this.
They say -- it can't get any worse for my child than his or her current experience in school.

If you are ready to say yes to this, then you are ready to look at homeschooling. But I want to be clear that school authorities cannot direct you to withdraw your child from school in order to homeschool, and you should not feel intimidated into making a decision you do not feel confident about.
If you decide to keep your child in school, you may need to find school-related advocates or resources to help get your child's needs met. For example, many parents have used the resources at Wrightslaw to learn more about how to advocate for their children who have special needs.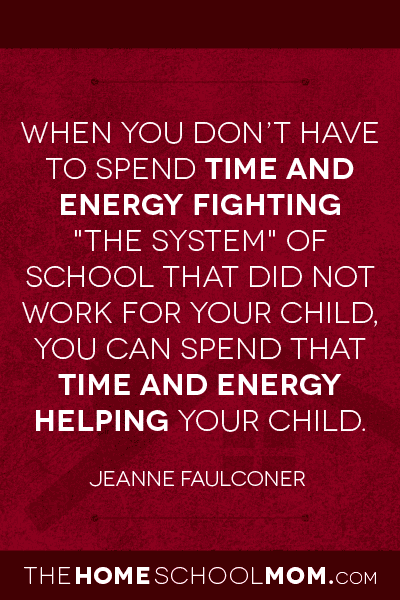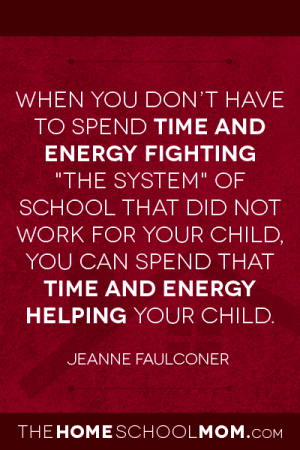 On the flip side, there are many happy and effective homeschooling parents today who came to homeschooling because schools were unable to meet their children's needs. Some of these children were "behind" in school, some were "advanced," some have unusual interests, and some have special needs. In thousands of families in the U.S. and around the world, their parents have created a more effective education than the children were receiving in school. Frankly, this is why some teachers and administrators have begun to see it -- personally -- as a realistic option.
What can start out as frightening and something you never intended to do, can turn out to be homeschooling that is not a last resort.
When you don't have to spend time and energy fighting "the system" of school that did not work for your child, you can spend that time and energy helping your child.
I know story after story of amazing progress of children who were withdrawn from school to homeschool, especially children who are diagnosed or labeled with ADD/ADHD.
Homeschoolers have a wide variety of attitudes toward public schools (see "Do Homeschoolers Hate Public Schools?"), but many understand that children who are encouraged to leave school may have social, emotional, and academic issues that homeschooling can help.
Consider homeschooling as one way to approach problems your child is having at school, but don't be pushed against your will.