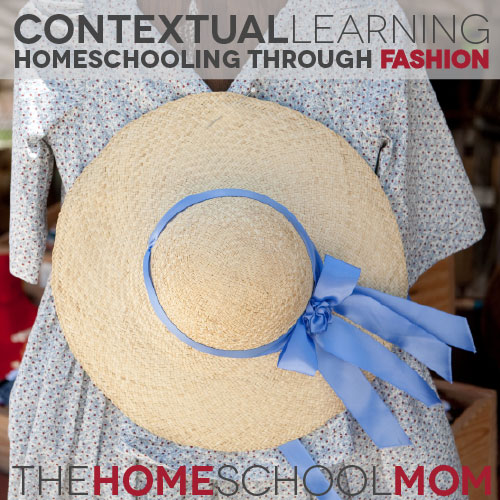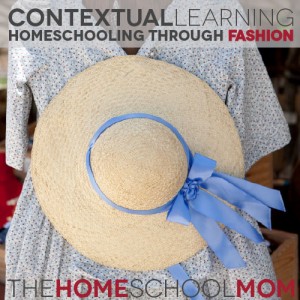 This year in my role as a homeschool evaluator, I met a number of tweens and teens who are interested in fashion. As we went through their portfolio of work and talked about their year, I was fascinated with the ways they had woven their interest in fashion with their academic studies.
A Fashion Unit Study
Two of the teens I met with had taken their interest in current fashion into the past -- studying the typical dress and accessorizing of women and men in earlier periods of history. They also took their fashion interest international -- studying the current typical dress of modern-day people in other parts of the world.
Both of these girls (who did not know each other -- they had arrived at this independently) had done extensive research to be able to portray the styles of other times and other places, and they could explain how the fashion reflected the culture, religious beliefs, gender roles, classes and roles in society, and daily life. They were articulate about the historical times and geography of the world as they discussed the observations they had made about fashion in these distant centuries and far-off places. Their sketch books were luscious and detailed, with notes about how the particular fashion depicted was connected to the facts of its people and place -- not to mention that the sketches were art in their own right.
Several other teenagers had designed and made their own clothes. One did research to make a historically accurate costume for a theatrical performance. Another took her fashion-of-another-country to her homeschool geography club meeting, where she performed a culturally significant dance wearing the costume and made a presentation about the country.
A sixth grader designed and sewed a lovely sun dress, learning new sewing skills by reading instructional books and watching videos. Her comprehension was on display -- she wore the dress to the evaluation meeting.
Many of these girls had a strong sense of fashion as art, design, individual expressiveness, and creativity. Some had looked into the business side of the fashion industry, including doing some early career exploration.
Several had also looked at the psychology and sociology of fashion, including the effect of fashion and the fashion industry on personal body image, cultural expectations of women, and the connection between attractiveness, fashion sense, and success. Nothing like a little introspection about socialization among the homeschooled.
One young man, for whom the appeal of fashion includes vocational interest in becoming a hairstylist and owning his own salon, told me that his interest in fashion and historical hairstyles made all kinds of unique facts memorable. The young man had visited Fredericksburg where the Union army met defeat in a particular battle.
"Sideburns," he told me, "were named after the Civil War General Ambrose Burnside, who lost at Fredericksburg." Then we had an in depth discussion about the other Civil War sites that he had visited during the past year.
People can peg all kinds of knowledge to their own interests, and homeschoolers have the time to explore connections between their interests and traditional academics. This is contextual learning -- relating new knowledge to existing knowledge, placing it in a context of the learner's experience.
Being able to capitalize on context and connection is one of the benefits of homeschooling. This year, I learned about fashion as a connector to history, art, geography, and reading comprehension for some homeschooled middle and high schoolers, but I've also seen it happen in other ways:
as kids test the water quality in their local stream, through that firsthand experience, they learn some biology, chemistry, and environmental science
as kids interview their grandparents about the Great Depression or World War II, they become interested in these periods of history because of their family connection to them
as a kid spends many of his childhood hours as an apprentice in a bicycle shop, he becomes fascinated with physical science, then physics, and ultimately, majoring in engineering
This kind of contextual learning works no matter what the approach to education -- but homeschooling provides kids with the time and flexibility to pursue their passions and make the most of the connections.
Homeschooling parents can help kids take advantage of contextual learning by considering their approach to homeschooling carefully:
Does the curriculum support making connections and providing context?
Is unschooling, eclectic homeschooling, or using unit studies a possibility, so that kids can spend significant time following their interests and developing them as a lens for other learning?
Can parents use some inquiry-based techniques, to help kids learn to make connections?
This is not to say that learning about fashion isn't worthy in its own right. In fact, as a bonus for hanging with this blog post, I'll share a link for a just-for-fun fashion unit study here. For grades 4-8, The Smithsonian Institution offers a unit about Clothing and Social Change in America.
In addition to being cool and helping you understand how to look good, studying fashion because you want to is an exercise in autonomy.
Combined with the opportunity to make connections, this creates an ultimate kind of fashion sense.