Field trips are a great way to reboot a bad homeschooling week, get out of the house when everyone has cabin fever, and learn about your local area. Before heading out, check out Jeanne's tips for improving homeschool field trips.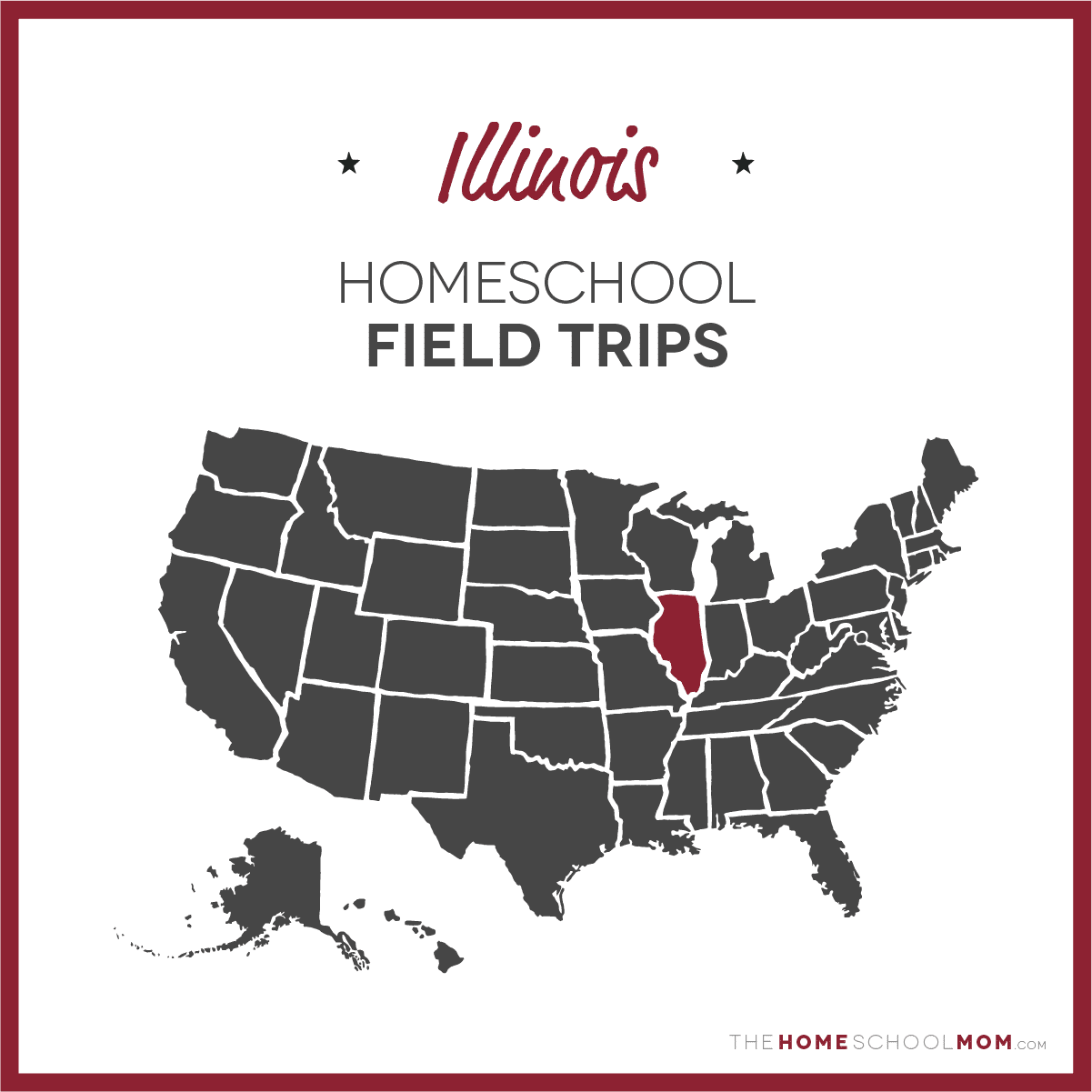 Submit a Field Trip Destination
Our listing of Illinois field trips for homeschoolers is ordered alphabetically by city. If you would like to submit a Illinois field trip destination, you may do so using the red button above.
Lewis & Clark National Historic Trail
Lewis & Clark, in their quest for a water route to the Pacific Ocean, opened a window onto the west for the young United States.
Alton Museum of History and ArtAlton
The Alton Museum of History and Art was founded in 1971 to preserve the great heritage of our community. Through the exhibits, we share with you our past and present so that you too may discover the people, places and events that influenced our ancestors and continue to shape our destiny.
Apple River Canyon State ParkApple River
Apple River Canyon State Park is in the hilly northwest art of Illinois in Jo Daviess County near the Wisconsin border. This scenic canyon area was formed by the action of the winding waters of Apple River. Limestone bluffs, deep ravines, springs, streams and wildlife characterize this area which was once a part of a vast sea bottom that stretched from the Alleghenies to the Rockies.
Aikman Wildlife and Prehistoric AdventureArcola
Come visit Aikman Wildlife Adventure for a variety of adventures for the whole family! Each adventure provides a different experience from driving through our mile-long path of zebras, camels, water buffalo and more to walking among our hyenas, wolfdogs, petting zoo and others! You can also experience one of our more interactive adventures by feeding our large herbivores on a safari-like Wagon Adventure or getting Behind The Scenes to learn more about our animals. Take a trip to the past! In the Museum of Prehistoric Life see and interact with life size examples of animals from the past. Then experience encounters with some of the animals of today in our Walk-Thru Adventure.
Arlington Heights Historical MuseumArlington Heights
The site of the Frederick W. Muller home and soda pop factory, the museum complex includes the original 1882 Victorian home, the coach house, 1906 soda pop factory, the 1908 Banta house and a replica 1830's log cabin.
Anderson Lake State Fish & Wildlife AreaAstoria
In the early half of the 1900s, Anderson Lake was a private shooting grounds for one of the many once-famous duck clubs that dotted the Illinois River valley. Since the first land purchases by the state in 1947, the site has been operated as a public hunting and fishing area.
Weinberg-King State Fish & Wildlife AreaAugusta
Park visitors enjoy picnicking, camping, hunting, trails, and fishing.
SciTech Hands-On MuseumAurora
Come to SciTech, where science is an adventure! Play with our engaging exhibits while you explore our spacious and colorful museum. At SciTech we give our visitors an opportunity to explore science in a comfortable, family-friendly environment. Over 200 engaging, hands-on exhibits and daily science shows will intrigue and excite you and your family.
Aurora Regional Fire MuseumAurora
The Aurora Regional Fire Museum is a nonprofit, tax exempt educational institution whose purpose is to preserve Aurora's old Central Fire Station for use as a museum. The Aurora Regional Fire Museum will preserve and exhibit the artifacts and history of Aurora and surrounding area fire departments, as well as teach and promote fire safety and prevention.
Kaskaskia River State Fish & Wildlife AreaBaldwin
The Kaskaskia River State Fish & Wildlife Area (KRFWA) visitors enjoy boating, fishing, hiking and hunting.
James "Pate" Philip State ParkBartlett
The park contains the remnants of a tall grass prairie. Remnant wetland survive in the center of the park and is home to an Illinois endangered species, the dwarf bur reed.
Batavia Depot MuseumBatavia
We must preserve the rich history of Batavia, Illinois, and the Batavia Township for the enrichment and benefit of generations to come.
Iroquois County State Wildlife AreaBeaverville
The Iroquois State Wildlife Area exhibits some of the finest and most extensive prairie marsh and sand dune vegetation remaining in Illinois. It also contains the largest single tract of rare native savanna remaining in Illinois. Visitor enjoy dog training areas, archery, a hand trap range, picnicking, hiking, snowmobiling, concessions, and hunting.
Cache River State Natural AreaBelknap
Cache River State Natural Area was carved long ago by glacial floodwater of the Ohio River. Today, the area boasts massive cypress trees whose flared bases, called buttresses, exceed 40 feet circumference. Many are more than 1,000 years old.
Mermet Lake State Fish & Wildlife AreaBelknap
Mermet Lake State Fish and Wildlife Area is made up of an old cypress swamp now used for waterfowl hunting. The lake is closed October though waterfowl hunting season and is re-opened in December. Visitors enjoy boating, hunting, fishing, picnicking, and hiking.
Sielbeck Forest State Natural AreaBelknap
Visitors enjoy hunting, fishing, and hiking.
Labor & Industry MuseumBelleville
The Labor & Industry Museum is the only public institution devoted to the history of the labor and industry of Belleville and southwestern Illinois. Belleville was one of the most significant centers for the growth of Illinois industry, which ranked third in the nation in the late 19th century. The Museum's mission is to chronicle and interpret the area's rich cultural heritage of labor and industry.
Shelbyville State Fish and Wildlife AreaBethany
Park visitors enjoy hunting, trails, trapping, boating, and fishing.
Bishop Hill State Historic SiteBishop Hill
We invite you to taste the history of this once-bustling 19th century settlement. Sample our fascinating museums, quaint eateries, unique gift shops, and art galleries. Peek into the past at our seasonal festivals and holiday celebrations. Spend hours or days here with family & friends. Renew your spirit in this peaceful prairie retreat.
McLean County Arts CenterBloomington
One of the oldest, community-based, non-profit, art organizations in the midwest. Our mission is to support and encourage the visual arts in McLean County. MCAC features 12 exhibitions yearly, which include the works of local, regional and nationally known artists. MCAC offers classes for children and adults that include painting, drawing, photography, ceramics, jewelry, art history, appreciation and printmaking. MCAC performs a vital function in our community by encouraging and promoting the work of local artists.
McLean County Museum of HistoryBloomington
The McLean County Museum of History traces it roots back to 1892, the year the McLean County Historical Society was founded. The original Museum opened in 1904 when Historical Society members had collected enough material, in the form of presented papers, transcribed reminiscences, and donated objects, to share the collection with the public.
Millers Park ZooBloomington
Featured exhibits include the Tropical America Rainforest, ZooLab, Katthoefer Animal Building, Wallaby WalkAbout, Children's Zoo and Animals of Asia.
Prairie Aviation MuseumBloomington
Inspiring generations to accomplish things that may at first appear impossible. PAM's objectives are met with the following Statement of Purpose: To create an environment in which to learn about the contributions of aviation to our community and nation, by those who persevered. To broaden the scope and structure of the Prairie Aviation Museum spanning over 100 years of flight. To collect, preserve, and display aircraft and related items, keeping alive the story of flight. To have our visitors feel educated, entertained, and inspired.
Rend Lake State Fish & Wildlife AreaBonnie
The Rend Lake State Fish and Wildlife Area was specifically created to provide public hunting and other recreational opportunities. Visitors enjoy fishing, hunting, boating, and camping.
Exploration Station...a children's museumBourbonnais
Exploration Station is a hands-on exploration and discovery museum for children and their families, teachers and other caregivers. Children of all ages are welcome at the museum, however, the majority of the exhibits are designed for children between the ages of 2-8 years old. There is a toddler area for the little ones, children 36" and under are allowed in the toddler area.
Kankakee River State ParkBourbonnais
Kankakee River State Park offers visitors fishing, canoeing, hunting, camping, hiking, and bicycling.
Bourbonnais Grove Historical SocietyBourbonnais
Bourbonnais is a vibrant, friendly community known as "The Village of Friendship" to more than 16,000 residents of many cultures and faiths. You will discover the Village of Bourbonnais is a great place to work, play and raise a family.
Mazonia-Braidwood State Fish & Wildlife AreaBraceville
The park is primarily used for sport fishing and a waterfowl hunting. Off hunting season, the park provides sanctuary and habitat for migrating waterfowl. Mazonia is also known for Pennsylvanian age fossils. Day permits are available and required to collect fossils. Fossil collecting season runs from March 1 to September 30.
Jubilee College State ParkBrimfield
Jubilee College State Park visitors enjoy mountain biking, camping, fishing, picnicking, equestrian facilities, hunting, and winter sports.
Brookfield ZooBrookfield
Brookfield Zoo has had an international reputation for taking a cutting-edge role in animal care and conservation. The primary goal of the zoo is to inspire conservation leadership by connecting people with wildlife and nature.
Cairo Custom HouseCairo
Constructed in 1872 this historic building once housed a post office, a courtroom, and other government agencies. Today the building contains a museum exhibiting local memorabilia.
Banner Marsh State Fish & Wildlife AreaCanton
Banner Marsh provides various outdoor activities, including hunting, fishing, boating, dog training, picnicking, wildlife observation and photography.
Rice Lake State Fish & Wildlife AreaCanton
Rice Lake provides a stop over area for migrating waterfowl and is an excellent place for wildlife observation. Visitors have encountered the endangered American bald eagle, which uses the bottomland timber for roosting. The park offers hunting, fishing, camping, and picnicking.
Southern Illinois University MuseumCarbondale
The University Museum serves Southern Illinois University Carbondale, the greater Southern Illinois community and beyond as a steward of the past and a gateway to the future. We collect, preserve, research, display and educate using a diverse and engaging range of artifacts and objects and educational methods. The Museum illuminates the local and world connections behind the arts, humanities, and sciences. As a teaching museum, we offer hands-on opportunities in progressive museum practices and provide leadership to museums across the region.
Eldon Hazlet State Recreation AreaCarlyle
The park boats the largest manmade lake in Illinois. Visitors enjoy fishing, picnicking, boating, group camping, sailing, camping, hiking, hunting, a swimming pool, and cottage rentals.
South Shore State ParkCarlyle
The park provides recreational opportunities, including small-boat access, five day-use areas for picnicking, a 3/4-mile hiking trail, and bank-fishing opportunities. Observing wildlife, especially white-tailed deer and wild turkey, is another popular activity. Park visitors enjoy an archery trail, fishing, picnicking, boating, and hunting.
Cave-In-Rock State ParkCave-In-Rock
The heavily wooded park is named for the 55-foot-wide cave that was carved out of the limestone rock by water thousands of years ago. Trails winding along the riverbank offer views of riverboats, barges and other river scenes.
Champaign Country Historical MuseumChampaign
The mission of the Champaign County Historical Museum is to discover, collect, preserve, exhibit, study, and interpret objects relating to the history of the County, and to provide educational programs about the County's heritage and the Museum's collections. Our Quilt Collection: Many beautiful quilts have been generously donated to the Champaign Country Historical Museum over the years, and our collection currently consists of nearly 50 quilts. Many date from the mid to late nineteenth century, and include beautiful examples of many popular quilting patterns and techniques that combine to form a truly diverse and exceptional collection.
Krannert Art MuseumChampaign
Krannert Art Museum and Kinkead Pavilion is a catalyst in the University of Illinois at Urbana-Champaign and the extended community to support interdisciplinary collaboration and the synthesis of knowledge for the benefit of current and future generations. The museum is a cultural destination and a virtual presence that strives to enrich the human experience by inviting visitors to make connections through the visual arts between the past and present, between what is understood and what is unknown.
Orpheum Children's Science MuseumChampaign
Providing children the opportunity to explore and understand their world through engaging exhibits and innovative programming, creating an atmosphere where imagination, learning and fun combine to encourage a life-long interest in science. The Orpheum has been in operation for over 19 years enriching the community through camps, after school, classes, special events, exhibits and field trips. The Orpheum has great birthday parties, facility rentals, and volunteer opportunities.
Jim Edgar Panther Creek State Fish & Wildlife AreaChandlerville
Visitors enjoy an archery range, horseback riding, biking, hunting, boating, fishing, camping, picnicking, canoeing, and hiking.
Sanganois State Fish & Wildlife AreaChandlerville
Sanganois is one of the few state owned refuges and public hunting areas along the Illinois River. The park was once a private duck clubs, but was purchased for public use in 1948.
Channahon State ParkChannahon
Channahon State Park is the official trailhead for the Illinois & Michigan Canal State Trail. Channahon is an Indian word meaning "the meeting of the waters" and signifies the joining of the DuPage, Des Plaines and Kankakee Rivers. An Interpreter is on site four days a week to provide information on the restored Locks 6 & 7 and the locktender's house. Public programs and tours are available as well as organized group and school group programs.
Fox Ridge State ParkCharleston
Fox Ridge State Park is known for its steep, thickly wooded ridges, broad, lush valleys and miles of rugged, scenic hiking trails. Visitors enjoy boating, hiking, hunting, camping, picnicking, horseback riding, and fishing.
Fults Hill Prairie and Kidd Lake Marsh State Natural AreasChester
Fults Hill Prairie Nature Preserve offers visitors a chance to see upland, woodland, prairie and glade communities. It has the largest complex of high-quality loess hill prairies in Illinois.
Piney Creek Ravine State Natural AreaChester
Piney Creek Ravine is a dedicated state Nature Preserve. Piney Creek Ravine contains the largest body of prehistoric rock art in Illinois.
Randolph County State Recreation AreaChester
Randolph County State Recreation Area offers fishing, hiking, picnicking, boating, hunting and camping.
Chicago AthenaeumChicago
An International Museum of Architecture and Design, appropriately based in the world's first city of modern architecture and design - Chicago. Founded in 1988, the Museum is dedicated to the Art of Design in all areas of the discipline: architecture, industrial, and product design, graphics, and urban planning. The Museum's mission is the advancement of public education about the value of Good Design - from the "spoon to the city" - and how design can positively impact the human environment.
Chicago Children's MuseumChicago
Chicago Children's Museum's mission is to create a community where play and learning connect. The museum's primary audience is children up through the fifth grade including their families, along with the school and community groups that support and influence children's growth and development. The museum also offers a variety of volunteer opportunities and college internships. Fifteen permanent exhibits and programming spaces provide innovative learning experiences for children and their caregivers. The museum serves more than 500,000 visitors annually. CCM also reaches out beyond its walls by making a significant investment of resources in neighborhoods across Chicago, particularly to children who might not otherwise have access to the museum's rich array of resources.
William W. Powers State Recreation AreaChicago
The park is named for William W. Powers, a former state legislator, who provided annual Christmas parties for children, baskets of food, and fuel for less fortunate ones during the depression years. Today, visitors enjoy fishing, picnicking, boating, winter sports, and hunting.
Chicago History Museum Chicago
Stands at the crossroads of America's past and its future. If you live in Chicago or visit here and are curious about the city's past, present, and future, the Museum should be your first stop.
DePaul University Art Museum Chicago
The DePaul University Art Museum extends the institution's commitments to excellence, diversity and social concerns through innovative exhibitions, programs, and events that analyze the variety and depth of artistic expression. The Museum acquires, preserves and displays the University's diverse and growing collection of works of art. Its exhibitions, programs and collections engage the wide expertise represented in the University's community of knowledge, giving visible and accessible form to the intellectual and creative work of faculty and students through collaborative exploration of cultural production. For the DePaul community and for wider audiences the gallery serves as a laboratory for the exploration of innovative approaches to art and culture.
DuSable Museum of African American History.Chicago
Developed to preserve and interpret the experiences and achievements of people of African descent, it is dedicated to the collection, documentation, preservation and study of the history and culture of Africans and African Americans. The DuSable Museum is proud of its diverse holdings that number more than 15,000 pieces and include paintings, sculpture, print works and historical memorabilia. Special exhibitions, workshops and lectures are featured to highlight works by specific artists, historic events or collections on loan from individuals or institutions.
eta Creative Arts FoundationChicago
eta CREATIVE ARTS FOUNDATION seeks to be a major cultural resource institution for the preservation, perpetuation and promulgation of the African American aesthetic in the City of Chicago
Field MuseumChicago
The Field Museum was founded to house the biological and anthropological collections assembled for the World's Columbian Exposition of 1893. These objects form the core of the Museum's collections which have grown through world-wide expeditions, exchange, purchase, and gifts to more than twenty million specimens. The collections form the foundation of the Museum's exhibition, research and education programs, which are further informed by a world-class natural history library of more than 250,000 volumes.
Garfield Park ConservatoryChicago
Visit the Conservatory, one of the largest botanical conservatories in the world and participate in a number of special events and activities!
Raging Waves WaterparkChicago
Whether a company event, church group, or rewarding employees with individual use tickets; Illinois' Largest Waterpark is the perfect place for your summer event!
Goodman TheatreChicago
Established in 1925, Goodman Theatre has been a part of life in Chicago for over 80 years. Every season, the Goodman presents the work of an extraordinary group of local, national and international artists.
Hellenic Museum and Cultural Center Chicago
Mission Statement: To be the nation's foremost center of Hellenic history, culture and the arts, where the public can explore the legacy of the Greek immigrant experience in America and examine the influence of Hellenic culture and people from antiquity to the present
International Museum of Surgical ScienceChicago
xplore the history of surgery through the eyes of doctors, artists and historians. The Museum's collections portray the mysteries and milestones that have shaped modern surgical science. Exhibits on surgery and its related science include, Anesthesia, Radiology, Orthopedics, Urology, Cardiology, and Opthamology, as well as the surgical history of various countries give visitors a well-rounded sense of medical history.
Jane Addams Hull-House MuseumChicago
The Jane Addams Hull-House Museum, owned and operated by the University of Illinois at Chicago, is a historic site and memorial to Jane Addams, her innovative settlement house programs and associates, and the neighborhood they served. Housed in two original Hull-House buildings, the museum is an internationally recognized symbol of multicultural understanding, reflecting the long Hull-House tradition of social service and reform, educational innovation, and urban research.
John G. Shedd AquariumChicago
Welcome to Shedd Aquarium. Let the Fantasea Begin! Strap a mask and flippers onto your imagination and chart a course to Shedd Aquarium. Have you ever gotten eye-to-eye with a dolphin? Or met a penguin on a stroll to the South Pole? Or immersed yourself in an Amazon flooded forest? At Shedd, it's all possible.
Kohl Children's Museum of Greater ChicagoChicago
A place where children ages birth to 8 are Learning to Grow! Kohl Children's Museum of Greater Chicago is a hands-on learning laboratory for children ages birth to 8. All of our exhibits and programs are aligned to the Illinois State Learning Standards and are designed to make learning fun and interesting for young children.
Lincoln Park Zoo.Chicago
Lincoln Park Zoo is located in the shadow of Chicago skyscrapers. Visit wildlife while the Sears Tower hovers int eh distance. This zoo is free to the public and open 365 days a year.
Loyola University Museum of Art Chicago
The Loyola University Museum of Art (LUMA) was founded in 2005 on the Water Tower Campus of Loyola University Chicago. LUMA is located on the Magnificent Mile at the Water Tower in Lewis Towers, an historic 1927 Gothic Revival building. The museum with 35,000 sq. feet contains eight exhibition main galleries, the William G. and Marilyn M. Simpson Lecture Hall, the Solomon Cordwell Buenz Library of Sacred Art and Architecture and the Museum Store, the Push Pin Gallery and the Harlan J. Berk Ltd. Works on Paper Gallery. LUMA welcomes new members and volunteers at all levels of participation. The mission of the museum is illustrated and introduced in the first floor lobby with the Windows of Faith representing the five major world faiths of Hinduism, Judaism, Buddhism, Christianity, and Islam.
Pritzker Military Museum and LibraryChicago
The Pritzker Military Museum & Library is a non-partisan, non-governmental museum dedicated to military history, military affairs, and national security public education. It hosts a large online collection of historical photographs, artifacts, memorabilia, books, videos, magazines, and veteran biographies, most of which is available online.
Museum of Broadcast CommunicationsChicago
Preserving History and protecting the Environment. The only museum dedicated to broadcast history in the nation and home to America's only National Radio Hall of Fame.
Museum of Contemporary ArtChicago
One of the nation's largest facilities devoted to the art of our time, the Museum of Contemporary Art (MCA) offers exhibitions of the most thought-provoking art created since 1945. The MCA documents contemporary visual culture through painting, sculpture, photography, video and film, and performance. Located in the heart of downtown Chicago, the MCA boasts a gift store, bookstore, restaurant, 300-seat theater, and a terraced sculpture garden with a great view of Lake Michigan.
Museum of Science and IndustryChicago
Chicago's Museum of Science and Industry, one of the largest science museums in the world, is home to more than 35,000 artifacts and nearly 14 acres of hands-on exhibits designed to spark scientific inquiry and creativity.
360 CHICAGO Observation DeckChicago
Soaring 1,000 feet over legendary Michigan Avenue is one of the city's most unique attractions:360 CHICAGO. Located on the 94th floor of the John Hancock Center, 360 CHICAGO offers breathtaking views of Chicago's skyline, lakefront and four neighboring states. It's also the only place you can enjoy TILT; Chicago's highest moving experience. This one-of-a-kind marvel tilts guests out from the 94th floor providing the most thrilling views of the city. Included in admission are our interactive learning displays, construction exhibit, and Sky School!
National Italian American Sports Hall of FameChicago
Located in Chicago's historic "Little Italy" neighborhood, the National Italian American Sports Hall of Fame is a 501 (c)(3) non-profit educational institution dedicated to preserving and promoting the history and heritage of Italian Americans in sports. Our collection aims to honor and preserve Italian Americans who have made lasting contributions to sports and society. The NIASHF has awarded over $6 million in scholarships to students from all backgrounds for their academic and athletic endeavors through our Second Wind and A Level Playing Field outreach programs.
National Vietnam Veterans Art MuseumChicago
The National Vietnam Veterans Art Museum inspires greater understanding of the real impact of war with a focus on Vietnam. The museum collects, preserves and exhibits art inspired by combat and created by veterans.
Oriental Institute MuseumChicago
The Oriental Institute is a research organization and museum devoted to the study of the ancient Near East. Founded in 1919 by James Henry Breasted, the Institute, a part of the University of Chicago, is an internationally recognized pioneer in the archaeology, philology, and history of early Near Eastern civilizations.
The Peggy Notebaert Nature MuseumChicago
The Chicago Academy of Sciences and its Peggy Notebaert Nature Museum inspire people to learn about and care for nature and the environment. The Academy improves quality of life in Chicago and the region by delivering superior environmental and science education programs to students and teachers, by offering Museum exhibitions and conducting public programs that foster green living, and by restoring local ecosystems and advancing scientific knowledge through collections and research.
The Renaissance SocietyChicago
The Society presents art seldom seen in the midwest, giving the public opportunities to investigate the most recent developments in contemporary art. At the same time, the museum is equally committed to fostering the development of Chicago's own rich artistic resources.
Sears Tower Skydeck Chicago
The 99th floor Skydeck offers spectacular views spanning up to 50 miles and 4 states! Explore Chicago top to bottom......and from yesterday to today. Voted one of the 7 Wonders of Chicago by Chicago Tribune Readers. Chicago's most visited and highest observatory. You haven't seen Chicago until you've seen it from the Sears Tower Skydeck. The best view of Chicago and beyond from the tallest building in the Western Hemisphere. Interactive displays highlight the character and characters of this great city. Knee High attractions for kids.
David and Alfred Smart Museum of ArtChicago
Located on the University of Chicago's Hyde Park campus, the Smart Museum of Art houses a permanent collection of over 10,000 objects, spanning five millennia of both Western and Eastern civilizations. The scope of its permanent collections, combined with groundbreaking special exhibitions, a focus on research and teaching by University of Chicago scholars, and distinguished outreach and educational programs geared to both adults and school age children, make the Smart one of the Midwest's most dynamic and innovative educational institutions in the visual arts.
SpertusChicago
Spertus is a Jewish institution grounded in Jewish values that invites people of all ages and backgrounds to explore the multi-faceted Jewish experience. Through its innovative public programming, exhibitions, collections, research facilities and degree programs, Spertus inspires learning, serves diverse communities and fosters understanding for Jews and people of all faiths, locally, regionally and around the world.
Swedish American Museum CenterChicago
The Brunk Children's Museum of Immigration is an interactive, hands-on museum for children ages 3-12. The facility is on the third floor of the Swedish American Museum Center and offers children the chance to experience the immigration phenomenon firsthand. They will engage in a myriad of historical tasks in a century-old Swedish farmhouse, or stuga, replicated in authentic detail. A 20-foot immigrant steamer will take them to America, where they will learn about life in a pioneer log cabin. A Viking ship and a refugees' raft enhance the immigration story, past and present.
Terra Foundation for American ArtChicago
The Terra Foundation for American Art is dedicated to fostering exploration, understanding, and enjoyment of the visual arts of the United States for national and international audiences. Recognizing the importance of experiencing original works of art, the foundation provides opportunities for interaction and study, beginning with the presentation and growth of its own art collection in Chicago. To further cross-cultural dialogue on American art, the foundation supports and collaborates on innovative exhibitions, research, and educational programs.
Shedd Aquarium - Educational Wild Reef teacher and student guidesChicago
Contains a treasure trove of aquatic science resources for K-12 teachers and students. Wild Reef teacher and student guides cover topics of ecology, evolution and the relationships between organisms.
Ukrainian Institute for Modern ArtChicago
To leave home and start a new life in an unfamiliar place is at the core of the immigrant experience. For the artist, there is much to process--new cultures, colors, forms, sensations, and environments, all different from those left behind. New roots form atop old ones, and the past never strays far from reach. Since the beginning of the 20th century, more than five million Ukrainians have emigrated from their homes in Ukraine, Poland, and Russia to settle abroad. Then as now, artists have been among the most vibrant and vital figures of emigre society. The permanent collection of the Ukrainian Institute of Modern Art traces their experience.
Ukrainian National MuseumChicago
The Ukrainian National Museum collection consists of over 1,140 artifacts including those related to traditional folk arts, agricultural tools, artwork, musical instruments, trophies, and much more.
Giants in the ParkChicago
Scout Lincoln Park and encounter bronze GIANTS of history and literature on a Giants in the Park field trip that is part scavenger hunt, part monument tour, and part statues rededication ceremonies. Topics unveiled include Lincoln the Man, LaSalle and the Chicago portage, Benjamin Franklin and character development, Grant an American hero, and Eugene Field's childrens poetry. Price includes a copy of "Giants in the Park ACTIVITY BOOK for Growing Giants." Adaptable to students 3rd grade and up.
Woman Made GalleryChicago
Woman Made Gallery is a not-for-profit organization founded in 1992. Its goal is to support women in the arts by providing opportunities, awareness, and advocacy. It specifically accomplishes this through monthly thematic exhibitions which raise public awareness and recognition of women's cultural contributions.
Adler Planetarium and Astronomy MuseumChicago
Take a spin around the Universe and dive into the latest space science discoveries. The Adler Planetarium seeks to inspire the next generation of explorers and scientists. The Adler's array of educational offerings -- from interactive demonstrations to graduate level coursework--are designed to equip participants with the skills and desire to learn more about our Universe.
Art Institute of ChicagoChicago
Virtual field trip onlineThe purposes for which the Art Institute of Chicago is formed are: to found, build, maintain, and operate museums, schools, libraries of art, and theaters; to provide support facilities in connection therewith; to conduct appropriate activities conducive to the artistic development of the region; and to conduct and participate in appropriate activities of national and international significance;
Balzekas Museum of Lithuanian CultureChicago
The Balzekas Museum of Lithuanian Culture is a major player in the Lithuanian cultural life and scholarship in the United States.
Siloam Springs State ParkClayton
Park visitors enjoy fishing, hunting, boating, hiking, picnicking, camping, concessions, horseback riding, and winter sports.
Weldon Springs State ParkClinton
Weldon Springs State Park offers fishing, boating, picnicking, camping, hiking, and wildlife viewing. Mild weather activities include pitching horseshoes. Winter events include sledding, tobogganing, ice fishing and cross-country skiing.
Dewitt County Museum Clinton
Discover the connection between C.H. Moore and Abe Lincoln.
Coffeen Lake State Fish and Wildlife AreaCoffeen
Coffeen Lake offers fishing, boating, picnicking and hunting. Watch the Bald Eagles at Coffeen Lake at the Eagle Cam Link.
Argyle Lake State ParkColchester
Known as a fisherman's delight, Argyle Lake State Park has a full complement of recreational opportunities. Argyle Lake offers picnicking, camping, hiking and boating facilities in a scenic, natural setting.
Cahokia MoundsCollinsville
One of the greatest cities of the world, Cahokia was larger than London was in AD 1250. The Mississippians who lived here were accomplished builders who erected a wide variety of structures from practical homes for everyday living to monumental public works that have maintained their grandeur for centuries. Cahokia Mounds offers special events year-round. With such a variety of events from fine art shows to craft workshops, there's something for everyone.
Vermilion County War MuseumDanville
The Vermilion County War Museum is located in Danville, IL original public library building. Constructed in 1903, The Illinois war museum displays memorabilia and artifacts from the Revolutionary War to Operation Iraqi Freedom.
Children's Museum of IllinoisDecatur
A hands-on,interactive museum for children ages three to twelve! Its exhibits and activities complement and enhance children's educational opportunities, particularly in the arts and sciences. The museum contributes to the community's quality of life as an educational facility, visitor attraction,family activity, and a site for volunteerism.
Hieronymus Mueller MuseumDecatur
Hieronymus Mueller emigrated from Germany in 1850. At just 25 years old, in 1857, he founded Mueller Company in Decatur, Illinois. He and his descendants owned and managed Mueller Co. from 1857 to 1986. They took pride in their products, employees and community.
The Macon County History MuseumDecatur
The Macon County History Museum offers tour opportunities for students of "all ages" to learn more about the history of Decatur and Macon County. As the only official "Looking For Lincoln" Coalition Site in Macon County, the Museum offers visitors the opportunity to learn more about the area's rich Lincoln Heritage while watching a short video about that heritage in the Abraham Lincoln Theater. Abraham Lincoln and his family made Macon County their first home in Illinois after arriving from Indiana 1830, with Lincoln giving his first political speech in Decatur, as well as practicing law in Macon County's first two courthouses. The story of Lincoln's life in Decatur and Macon County is chronicled in several informative exhibits, with visitors being able to tour the Lincoln Log Courthouse located in the Museum's Prairie Village Complex where Lincoln participated in numerous legal cases that was used in Macon County in the late 1830's.
Scovill ZooDecatur
Scovill Zoo's education programs offer opportunities designed to help animal lovers of all ages explore and discover the animal kingdom through unique and innovative experiences. From our Zoo Academy to our Mobile Zoo, our education programs provide fun, hands-on connections to the animal world. While you are here, take a spin on Scovill Zoo's beautiful Endangered Species Carousel! Specially designed for Scovill Zoo, the carousel is unique to Central Illinois. It features 30 colorful, hand-carved wooden animals, representing protected and endangered species from across the globe.
Ellwood House MuseumDeKalb
Ellwood House, a grand Victorian mansion, is located in a lovely park in the heart of DeKalb, Illinois. Inside, crystal chandeliers sparkle, gilt mirrors shine, and antique woodwork gleams. A visit to this elegant home brings the past to life! Built by barbed wire millionaire Isaac L. Ellwood in 1879, the mansion remains with its original furnishings just as when the Ellwood family lived there decades ago. Experience a by-gone era as you tour the great English living room with its vast stone fireplace, the mahogany-panelled dining room, and the magnificent rotunda with a three-story spiral staircase. The many restored bedrooms, servants rooms, and service areas provide a glimpse of a complete household at the turn of the twentieth century.
Donnelley/DePue State ParkDePue
The Donnelley/DePue State Fish and Wildlife Areas complex is managed primarily for migratory waterfowl. Visitors enjoy fishing, boating, a nature preserve, hiking, photography, and hunting.
Des Plaines Historical SocietyDes Plaines
The Des Plaines History Center collects, preserves, and interprets the history of Des Plaines and its people, highlighting Des Plaines' rich historical and cultural heritage with rotating history and art exhibits. The History Center is also home to the beautiful and historic Kinder House, a 1907 Victorian home open daily for tours, as well as a slate of entertaining, hands-on programs for people of all ages and abilities that encourage guests to explore history in an entirely new way.
McDonald's #1 Store MuseumDes Plaines
McDonald's #1 Store Museum is a recreation of the first McDonald's Restaurant opened in Des Plaines, Illinois by McDonald's Corporation founder, Ray Kroc, on April 15, 1955.
Polish Museum of AmericaDes Plaines
The Polish Museum of America, founded in 1935, is one of the oldest and largest ethnic museums in the United States of America. Located in the heart of the first Polish neighborhood in Chicago, it promotes the knowledge of Polish history and culture, especially promulgates Polish and Polish American art in its paintings, sculptures, drawings and lithographs by well-known artists.
Clinton Lake State Recreation AreaDeWitt
Clinton Lake offers picnicking, hiking, camping, swimming, water skiing, boating, and hunting.
Santa's VillageEast Dundee
Santa's Village is the perfect field trip. Join us for our Education Day in the Spring and Fall and we also offer group special days on any operating calendar day. The park features 24 Rides, Animal Attractions, Live Entertainment, Games, and plenty of Fun Foods. We offer educational based field trip, Back of House Tours, and much more.
Frank Holten State Recreation AreaEast St. Louis
Frank Holten State Recreation Area is located in East St. Louis. The park operates an 18-hole golf course and facilities for fishing, picnicking, and other outdoor recreational activities.
Elgin MuseumElgin
The Museum is housed in an 1856 landmark building known as Old Main that was once part of the Elgin Academy. It is listed in the National Register of Historic Places. Through permanent and changing exhibits, the museum brings to life Elgin's rich heritage. Permanent exhibits include Elgin National Watch Company, the E. Maude and Carl Parlasca Native American Collection, and Elgin Road Race memorabilia.
Elgin Public MuseumElgin
Elgin Public Museum is the only natural history museum in the Fox Valley area. The museum offers exhibits and educational programs with natural history and cultural themes for families, school groups, scouts, clubs, organizations, homeschoolers, and anyone who wants to have fun while learning!
Elmhurst Art MuseumElmhurst
The Elmhurst Art Museum is the cultural center of DuPage County, Illinois. Specializing in late 20th Century American Art, its award winning building was designed around McCormick House, one of only three Ludwig Mies van der Rohe designed residences built in the United States and the first such residence in the U.S. to be reconceived as part of a regional art museum.
Elmhurst Historical MuseumElmhurst
Elmhurst Historical Museum offers extensive resources for authors, researchers, residents, and students to discover more about Elmhurst history.
Lizzadro Museum of Lapidary ArtElmhurst
The Lizzadro Museum displays gemstone treasures created by ancient craftsmen as well as by contemporary artists. The building itself is a gem, designed to resemble a jewel box in a park setting.
Theatre Historical Society of America Elmhurst
THSA is the only organization in the U.S. which exclusively records and preserves the rich architectural, cultural and social history of America's theatres. THSA is on the second floor of the York Theatre building. The Society also operates the following, located there: The American Theatre Architecture Archives, which contains an extensive collection of photographs, slides, negatives, books, blueprints, clippings, videos, printed programs, and other material on historic theatres, primarily in the U.S. The American Movie Palace Museum, featuring exhibits of photographs, artworks, antiques, artifacts, and other memorabilia relating primarily to the "golden age of the movie palace."
Saline County State Fish & Wildlife AreaEquality
The park was once the site of springs and wells that furnished brine for one of the two salt works in the area. Today, park visitors enjoy hunting, boating, fishing, a lake, camping, hiking, picnicking, concessions, trails, and horseback riding.
Evanston History CenterEvanston
The mission of the Evanston History Center is to collect, preserve and interpret the rich history of the City of Evanston and all its people through exhibits, educational programs and research facilities.
Frances Willard HouseEvanston
The Frances Willard House is one of two vertical board-and-batten houses remaining in Evanston, Illinois. The Willard House is both an Evanston Landmark and a National Historic Landmark. It is located at 1730 Chicago Avenue in Evanston. - Managed by The Woman's Christian Temperance Union
Mary and Leigh Block Museum of ArtEvanston
The Mary and Leigh Block Museum of Art, Northwestern University, is the fine arts museum of Chicago's North Shore, offering focused visual arts programming for the Northwestern University community and the greater Chicago area. The Museum mounts several exhibitions a year, organizes numerous lectures, symposia, and workshops with artists and scholars, and screens classic and contemporary films at Block Cinema. We also reach national and international audiences through our traveling exhibitions, publications, and Web site. Our expanding permanent collection -- consisting primarily of works on paper -- distinguishes the Museum as an important repository of original works of art.
Mitchell Museum of the American IndianEvanston
We are the only museum in the Chicagoland area that focuses exclusively on the history, culture and arts of the North American native people. The Museum's collections range from the Paleo-Indian period through the present day. Permanent exhibitions depict the Native American cultures of the Woodlands, Plains, Southwest, Northwest Coast and Arctic.
Eagle Creek State Recreation AreaFindlay
The park offers boating, hiking, picnicking, camping, fishing, and hunting.
Sand Ridge State ForestForest City
The park lies within the largest of Illinois' State Forests, and contains native oak-hickory, extensive plantations of pine, sprawling open fields, grasslands, and completely unique sand prairies. Visitors enjoy hiking, picnicking, camping, snowmobiling, horseback riding, trails, a hand trap range, and hunting.
Battle of Chaplin CreekFranklin Grove
Sponsored by the Franklin Grove Area Historical Society & hosted by Battery G, 2nd Illinois Light Artillery. Needed are Civilian re-enactors to man the village stores, the blacksmith shop, the village jail, the schoolhouse, etc. We need Union and Confederate Infantry, Cavalry, Medical, (Artillery by invitation only). Check website for event held in June.
Franklin Creek State Natural AreaFranklin Grove
Franklin Creek State Natural Area offers a historic grist mill, cross country skiing, hiking, snowmobiling, hiking trails, horseback riding, fishing, and hunting.
Stephenson County Historical SocietyFreeport
The mission of the Stephenson County Historical Society, in partnership with the Freeport Park District, is to preserve, present, and promote local and regional history. This is achieved by maintaining and collecting quality artifacts, by educating the community, by collaborating with other institutions and organizations, and by interpreting and professionally presenting our local history. By fulfilling our mission, we unify the Stephenson County community through pride in its rich and historical traditions.
Galena History MuseumGalena
All housed in an 1858 Mansion Part of the excitement of the museum is its setting -- a beautiful Italianate home built as a private residence by Galena merchant Daniel Barrows. Much of the home's original detail still exists. So step back in time and explore Galena's past in the ambiance of 19th century surroundings.
Old Market HouseGalena
The Old Market House, constructed in 1845-1846, was the focal point of community life during Galena's heyday. The greek revival Old Market House sheltered vendors and shoppers, who gathered in the heart of the river city's business district until 1910. Ownership of the building was transferred to the State of Illinois in 1947, and the Old Market House was restored in 1955. Today the Old Market House State Historic Site is managed by the Illinois Historic Preservation Agency and is the scene of many changing exhibits, meetings and special events.
Ulysses S. Grant HomeGalena
On August 18, 1865, Galena celebrated the return of its Civil War hero General Ulysses S. Grant. Following a jubilant procession with much flag waving and speeches, a group of Galena citizens presented the General with a handsome furnished house on Bouthillier Street. The house is managed by the Illinois Historic Preservation Agency as the U.S. Grant Home State Historic Site.
Galesburg Railroad MuseumGalesburg
Railroad memorabilia housed in a Pullman parlor car and a collection of restored railroad cars that include a steam engine, postal and express agency and caboose.
Geneva History CenterGeneva
Peck Farm ParkGeneva
Peck Farm Park features 365 acres of restored prairie with walking trails for walking, biking, and hiking. Visitors can also enjoy a sensory garden, observation silo, outdoor amphitheater, seasonal Butterfly House, History Gallery, Nature Center and play ground. Peck Farm Park would also like to offer Homeschool specific programs on flora and fauna of the prairie, ecosystems, rocks, birding, amphibians and so much more. We look forward to hearing from you about programs that your community might be looking for.
Harry "Babe" Woodyard State Natural AreaGeorgetown
Harry "Babe" Woodyard State Natural Area offers visitors a chance to hike, hunt and fish. The park provides habitat for 23 forest interior species and supports 12 state endangered or threatened species.
Willowbrook Wildlife CenterGlen Ellyn
Willowbrook Wildlife Center is an education center and a wildlife rehabilitation center operated by the Forest Preserve District of DuPage County. Our goal is to provide rehabilitation to native and passing migrant wildlife of DuPage county and education on the biological and ecosystems current and native to this area. We achieve these goals through our rehabilitation facilities and educational staff.
Chicago Botanic GardenGlencoe
From the farmhouse to the White House, vegetable gardening has captured the imagination and attention of seasoned as well as novice gardeners across the nation. The Garden is a place of ever-changing natural beauty that makes each visit unique. Late-spring bulbs are wowing visitors with their multiple charms. Take a walk in McDonald Woods, the Garden's 100-acre restored oak woodland, where spring's ephemeral wildflowers beckon among the tall native trees. Learn what the Garden is doing to save the world's plants, and what you can do to support the Garden's efforts: Save the plants. Save the Planet.
Glencoe Historical Society Glencoe
Our Museum contains several permanent exhibits as well as multiple thematic exhibits each year drawn from the Society's collection. The Research Center manages the collections and is available to genealogists, historians, and others who have questions about Glencoe's history
Historic Wagner FarmGlenview
Step back in time to farm life from decades past. The 18.6 acre Historic Wagner Farm is one of the last working dairy farms in Cook County and is open to the public for recreation and learning. The farm provides a unique opportunity for families to learn about our farming heritage and experience first-hand "the way things used to be."
Golconda Marina State Recreation AreaGolconda
Golconda Marina is a full-service boat marina with 206 slips.
Ferne Clyffe State ParkGoreville
An abundance of ferns, unique geological features and unusual plant communities make Ferne Clyffe an outstanding natural scenic spot. Visitors enjoy fishing, a nature preserve, camping, picnicking, hunting, horse and hiking trails.
Mississippi River State Fish & Wildlife AreaGrafton
Awe-inspiring bluffs tower and breathtaking views awaits visitors to the Mississippi River State Fish and Wildlife Area.Visitors enjoy birding, boating, hunting, picnicking, and camping.
Pere Marquette State ParkGrafton
The park is famous the exceptional colors in the fall and for its winter bald eagles. Park visitors take advantage of a variety of year-round recreational opportunities, including horseback riding, camping, hiking, fishing, hunting, and boating.
Horseshoe Lake State Park (Madison County)Granite City
Horseshoe Lake visitors enjoy fishing, hunting, bird-walks, hiking, boating, picnicking, and camping.
Grayslake Historical SocietyGrayslake
Promoting and preserving pioneering history that has charted more than a century of progress.
Ray Norbut State Fish & Wildlife AreaGriggsville
Archeologists discovery of more than a dozen burial mound groups suggests the area was a once a prehistoric mortuary camp. Additionally, a limestone kiln was found which was used to make masonry mortar in the mid- to late 1800s. There are also several 19th-century homesteads and a family cemetery. Visitors enjoy hiking, hunting, fishing, and winter eagle watching.
Wildlife Prairie State ParkHanna City
Wildlife Prairie State Park is a zoological park that contains 50 different species of animal native to Illinois. Visitors learn about wolves, bison, waterfowl, black bears, elk, cougar, otter and much more. The park offers hiking, biking, fishing, and lodging, and a train ride.
Green River State Wildlife AreaHarmon
The Green River State Wildlife Area is a wildlife restoration area offering visitors a chance to hunt, hike, and bird watch.
Putnam County Historical Society - Agricultural MuseumHennepin
The home of antique farm equipment, a permanent exhibit on the history of corn in the United States, a permanent exhibit on the Illinois River and area wildlife and many other exhibits too numerous to mention. While no regular hours have been established, the museum is available by appointment and at least once a year in August for our annual open house.
Crawford County State Fish and Wildlife AreaHutsonville
Crawford County State Fish and Wildlife Area offers hunting, fishing, picnicking, and wildlife viewing.
Volo Bog State Natural AreaIngleside
Volo Bog is the only "quaking" bog in Illinois to have an open water center. Visitors enjoy hiking, hunting, picnicking, and a visitors center.
Sam Dale Lake State Fish & Wildlife AreaJohnsonville
Visitors enjoy fishing, hunting, picnicking, camping and swimming.
Joliet Area Historical MuseumJoliet
Your visit to the Joliet Area Historical Museum is a journey through time. Here you will experience how people lived, worked, traveled and built the foundation for today's thriving community. Walk through a life-size replica depicting the building of the historic Illinois Michigan Canal. Stroll down a turn-of-the-century street past store fronts showcasing fashions of yesteryear. Browse through a hardware store. Take a virtual ride on a replica trolley. Along the way, meet life-size models, interact with touch-screen visuals, view award-winning audio-visuals and learn how the past shaped the world you now enjoy.
Museum of Victorian LifeJoliet
The museum was founded in memory of Seth Magosky and his work in researching the History of Joliet and Will County. Through his writing, his books, newspaper articles, his radio program, tours, television program and involvement in the community shared and encouraged his love of history and architecture.
Union County State Fish & Wildlife AreaJonesboro
The Union County State Fish & Wildlife Area was acquired by the Illinois Department of Natural Resources in the late 1940s and developed a wintering goose population in excess of 50,000 birds by 1964. Public use in the refuge is limited to sightseeing and wildlife photography. No hunting is allowed.
Trail of Tears State ForestJonesboro
The Trail of Tears State Forest is a multiple-use site managed for timber, wildlife, ecosystem preservation, watershed protection and recreation. Visitors enjoy camping, horseback riding, picnicking, hunting, trails, and hiking.
Big River State ForestKeithsburg
Big River State Forest in western Illinois' Henderson County is 8 miles north of Oquawka on the Oquawka-Keithsburg blacktop. The 200-acre Oquawka Refuge, acquired by the state in 1925, contains the area's oldest pine plantation.
Kewanee Historical SocietyKewanee
The Historical society was organized November 6, 1976. - Three floors of local history include our 300 scrapbooks of early factories, business, churches and other landmarks. - Kewanee is an Indian name meaning .. Prairie Chicken.
Johnson-Sauk Trail State Recreation AreaKewanee
Johnson-Sauk Trail State Park visitors enjoy boating, picnicking, camping, hunting, playgrounds, concessions, Ryan's Round Barn, trails, fishing, and winter sports.
Ingrams Pioneer Log Cabin Village Kinmundy
Ingram's Pioneer Log Cabin Village offers you the opportunity to enjoy a leisurely walk along the streets of the Log Cabin Village and be transported back in time to a pre-civil war era. Visit log cabins built from 1818-1860.
Stephen A. Forbes State Recreation AreaKinmundy
The park offers visitors fishing, a beach, hiking, picnicking, boating, swimming, camping, horseback riding, trails, concessions, and hunting.
Marshall State Fish & Wildlife AreaLacon
The park offers picnicking, boating, fishing, hiking trails, camping, hunting, and winter sports.
Garfield Farm and Inn MuseumLaFox
The museum offers a variety of educational, family, and entertainment events. Seminars are held on such topics as prairie, woodlands, and wetlands management; bat and blue bird box construction; and fruit tree grafting. Specials shows bring rare breed livestock, heirloom garden products and seeds, and collections of antique farm tools. Prairie walks are conducted monthly. And there are social events like barn dances and a candlelight tavern reception at the Inn in December.
Wildlife Discovery CenterLake Forest
The Wildlife Discovery Center is a facility that promotes programs that are geared for people of all ages who have an interest in plants, wildlife and the environment. Education, recreation and responsible stewardship through real life experiences are the primary focuses of this program. People will learn how important it is to respect the delicate balance between the needs of wildlife and the needs of other and how we all can exist together with a deep sense of respect for conservation of our dwindling and precious natural resources. Over 100 species, comprising of reptiles, amphibians and raptors, represent our collection.
Argonne Information CenterLemont
Argonne welcomes all members of the public age 16 or older to take guided tours of our scientific and engineering facilities and grounds. For children under 16, Argonne offers a range of hands-on learning activities suitable for K-12 field trips and scout outings.
Lake Le-Aqua-Na State Recreation AreaLena
Lake Le-Aqua-Na State Recreation Area offers multi-use trails, picnic areas, and RV, tent, equestrian and youth group campgrounds. Lake Le-Aqua-Na's name is the result of a contest. The name is a combination of the town of Lena and the Latin word for water, aqua.
Lincoln Log Cabin State Historic SiteLerna
Lincoln Log Cabin State Historic Site is an 86-acre working historic farm, and a part of the Abraham Lincoln National Heritage Area. This site preserves the 19th-century home of Thomas and Sarah Bush Lincoln, father and step-mother of our 16th president. Abraham Lincoln was a lawyer living in Springfield by the time his parents moved here, but his burgeoning law practice often brought him to Charleston and the farm, especially during the 1840s. Abraham Lincoln also owned a portion of the farm which he deeded back to his father and step-mother for their use during their lifetime.
Moraine View State Recreation AreaLeRoy
Visitors enjoy picnicking, camping, hiking, swimming, fishing, boating, horseback riding, and hunting.
Dickson Mounds MuseumLewistown
The Dickson Mounds Museum, a branch of the Illinois State Museum and a National Historic Site, is one of the major on-site archaeological museums in the United States. It offers a unique opportunity to explore the world of the American Indian in an awe inspiring journey through 12,000 years of human experience in the Illinois River Valley. Visitors to the museum, in west-central Illinois, encounter innovative interpretive exhibits; exciting hands-on activities; archaeological sites; and a variety of special events in a rural setting.
Lake County Discovery MuseumLibertyville
The Lake County Discovery Museum provides a fun, well-rounded museum experience close to home. Hands-on interactive exhibits introduce the history of Lake County in a fun learning environment. The museum also displays the nation's largest permanent exhibition on the history and significance of postcards. Changing exhibits in our special exhibition galleries take inspiration from art, history and popular culture.
Lincoln Heritage Museum (LHM)Lincoln
Every second Tuesday of the month the Lincoln Heritage Museum offers discounted admission ($4) and a mini field trip experience to homeschool families. The field trip experience consists of an interactive tour through Abraham Lincoln's life, 19th century games and educational activities including stump speech writing and scavenger hunts. The Lincoln Heritage Museum allows visitors to appreciate the incredible life and legacy of Abraham Lincoln, particularly as it pertained to Illinois. Please call ahead if you have more than 10 people in your group.
Edward R. Madigan State Fish & Wildlife AreaLincoln
Park visitors enjoy picnicking, fishing, canoeing, a 7-mile hiking/bicycle trail, and hunting.
Scrims Esports Gaming CenterLisle
Scrims Esports Gaming Center features 60 high-end gaming PCs in a fully networked LAN center. Field Trips to Scrims Center not only offer video gaming fun, but also allow students to see the connection between STEM education and the fast-growing video gaming industry. Scrims Center staff will provide a tour of our center and the inner workings of our 5TB server, our gaming software, and a hands-on tour of gaming computer hardware as we break one down and put it back together again. And, of course, we round out the visit with a little video gaming fun!
Morton ArboretumLisle
The Morton Arboretum is an internationally recognized nonprofit organization dedicated to the planting and conservation of trees. Its 1,700 acres hold collections of more than 4,000 kinds of trees, shrubs, and other plants from around the world. The Arboretum offers extensive educational programming for all ages, conducts leading research on tree health and tree improvement, breeds and introduces hardy and disease-resistant trees and shrubs for distribution throughout the Midwest, and presents nature-related activities year-round for people of all ages and interests.
Lombard Historical MuseumLombard
The Museum house is original to the site on which it stands. - It was built in the early 1880's, but the interior rooms have been restored to the period of the 1870's. As Lombard was incorporated into a village in 1869, our house epitomizes middle class life of the very first year of the Village of Lombard.
Rock Cut State ParkLoves Park
Park visitors enjoy hunting, picnicking, a beach, equestrian trails, swimming, boating, fishing, trails, camping, winter sports, and concessions.
Woodford State Fish & Wildlife AreaLow Point
Woodford State Fish and Wildlife Area is an excellent winter fishing area and a favorite stopping point for waterfowl during migration. Park visitors enjoy boating, fishing, picnicking, camping, hiking, trails, and hunting.
Mackinaw River State Fish and Wildlife AreaMackinaw
The park offers a canoe access and canoeing, fishing, hiking, hunting, a nature preserve and picnicking.
Museum of the Grand Prairie (formerly the Early American Museum)Mahomet
The mission of the Grand Prairie Museum is to collect, preserve and interpret the history of East Central Illinois, specifically Champaign County, for the education and enjoyment of present and future generations
Giant City State ParkMakanda
Giant City Nature Trail is home to the "Giant City Streets" formed 12,000 years ago by huge bluffs of sandstone. Today, visitors enjoy hunting, camping, playgrounds, rock climbing and rappelling, hiking trails, horseback riding, and a visitor center.
Spring Lake State Fish and Wildlife AreaManito
Visitors to the park enjoy biking, boating, fishing, hunting, camping, and hiking.
Illini State ParkMarseilles
Named for the native Americans who once inhabited the area, Illini State Park visitors enjoy boating, winter sports, camping, fishing, hiking, and picnicking.
LaSalle Lake State Fish & Wildlife AreaMarseilles
LaSalle Lake is a manmade formed by levees that rise above the surrounding land. Park visitors enjoy boating, fishing, and camping.
Lincoln Trail State ParkMarshall
Three Native American groups, the Miami, Kickapoo and Mascouten, occupied the site before it was ceded to the United States in the early 19th century. Today, park visitors enjoy boating, hiking, the Lincoln Heritage Trail, camping, picnicking, concessions, Restaurants, hunting, winter sports, and fishing.
Moraine Hills State ParkMcHenry
Moraine Hills State Park offers biking, geology interpretive programs, boating, hiking, concessions, picnicking, cross country skiing, hunting, and fishing.
Hamilton County State Fish & Wildlife AreaMcLeansboro
Hamilton County State Fish and Wildlife Area houses Dolan Lake, an earthen dam constructed in 1962. The lake contains largemouth bass, bluegill, sunfish, crappie, channel catfish and bullheads. Winter fishing is allowed when the ice is thick enough.
Ten Mile Creek State Fish & Wildlife AreaMcLeansboro
The Ten Mile Creek State Fish and Wildlife Area provides a wide range of outdoor recreation opportunities which include wildlife viewing, hiking, fishing, target shooting, hunting and trapping.
Mendota Museum & Historical SocietyMendota
Mendota Museum and Historical Society's Mission is to promote the preservation of the history of Mendota, its railroads and recognizing agricultural heritage through three museums.
Illinois Mennonite Heritage Center Metamora
Collecting, Interpreting, Preserving, Sharing artifacts and information relating to the faith and life of Mennonites in Illinois
Metamora Courthouse Metamora
The Metamora Courthouse was built in 1845 and served as the center of county government until the county seat was moved to Eureka in 1896. It is one of two surviving courthouses on the historic Eighth Judicial Circuit traveled by Abraham Lincoln. In 1978 the Courthouse was added to the National Register of Historic Places. The first floor of the two-story brick structure contains a central hall flanked by two exhibit rooms, one displaying artifacts of early local history, the other with exhibits describing the 1850s court system and Lincoln's life on the Eighth Judicial Circuit. On the second floor, the former courtroom and two small chambers are furnished to represent the era during which Lincoln practiced law. Visitors may take guided tours of the building or view the rooms and exhibits on their own. A ten-minute video history of the building, which includes images and interpretation of the second floor, is available for viewing. The building's first floor is accessible to persons with disabilities, the second floor is not.
Fort Massac State ParkMetropolis
Fort Massac State Park is a historic with a replica of the 1802 American fort for which the park is named. The fort area contains two barracks, three block houses, officer quarters, a well, a stockade and a fraise fence. The site also has the archaeological outline of the 1757 French Fort. Recreations of pioneer life of the 1700s take place during the annual Fort Massac Encampment and several living history weekends each year to bring the past to life, letting you experience it yourself. Visitors also enjoy picnicking, camping, hiking, boating and hunting opportunities.
Horseshoe Lake State Fish & Wildlife Area (Alexander County)Miller City
Horseshoe Lake State Fish & Wildlife Area contains wild lotus, bald cypress, tupelo gum, and swamp cottonwood trees. Visitors enjoy camping, hunting, and picnicking.
John Deere PavilionMoline
The John Deere Pavilion was created as a celebration of the past, present and future of agribusiness. Interactive exhibits mingle with actual John Deere equipment, creating a unique, hands-on and climb-on experience for visitors.
Rock Island County Historical SocietyMoline
Celebrating 100+ years of collecting and preserving the history of Rock Island County The Rock Island County Historical Society is a non-profit organization founded in 1905 by a group of community leaders dedicated to preserving the history of Rock Island County. Our facilities are located in an 1870s home and adjoining research archival library in an historic district of Moline, Illinois. In 1992, a library was built to collect the records which were formerly kept in the basement of the house. The library is used extensively by local and visiting genealogists, businesses, the news media and the academic community. The wealth of materials in the library continues to grow, and a volunteer staff provides assistance.
Belgian Museum of the Quad CitiesMoline
The Center for Belgian Culture was established to preserve and share our proud heritage, forming a social and professional network to help Belgians residing in, or visiting the Quad Cities area. And of course we promote the image of Belgium and encourage the ties of social relations between Belgians in the Quad Cities and elsewhere in the world.
Monticello Railway MuseumMonticello
An all-volunteer organization in central Illinois with an operational railroad yard open to the public. We offer train rides on weekends and holidays from May through October, regardless of weather conditions, as well as a number of special events throughout the year. We also collect, preserve, interpret, and exhibit materials and artifacts from throughout the fascinating history of trains and railroading. Come explore our many rail cars and other equipment, and view our museum displays.
William G. Stratton State ParkMorris
Named after an Illinois governor, the William G. Stratton State Park was developed in 1959 to provide boat access to the Illinois River. Any one of four public boat launching ramps will provide your start to an afternoon of boating, fishing or water-skiing. A jet ski launching area is located a short distance to the east of the boat ramps.
Gebhard Woods State ParkMorris
Gebhard Woods State Park was originally Rod and Gun club facility. Today the park offers visitors fishing, trails, boating, camping, an interpretive program, and picnicking.
Goose Lake Prairie State Natural AreaMorris
Goose Lake Prairie State Natural Area serves as an example of the prairies that once covered nearly 60 percent of the Illinois. Goose Lake Prairie is a protected nature preserve which provides important nesting habitat for the endangered upland sandpiper and Henslow's sparrow birds.
Heidecke Lake State Fish & Wildlife AreaMorris
Heidecke Lake State Fish and Wildlife Area visitors enjoy fishing, boating, camping, hiking, hunting, Cross Country skiing, and a interpretive visitor center.
I & M CanalMorris
Illinois & Michigan Canal offers 96 miles of state parks, restored historical sites, wildlife, and distinctive landscapes for history buffs, nature lovers and sportsmen.
Morrison-Rockwood State ParkMorrison
The park offers boating, fishing, picnicking, camping, trails, concessions, and hunting.
Beall Woods State ParkMount Carmel
Beall Woods offers camping, hiking, picnicking, and fishing.
Moweaqua Coal Mine MuseumMoweaqua
The Moweaqua Coal Mine Museum was dedicated on May 25, 1986. The museum houses a number of coal mining artifacts from the Moweaqua Coal Mine, which ceased operation in 1935. The most remembered fact about the Moweaqua Coal Mine is the mine disaster; however pictures, newspaper clippings, coal mining tools and other mine related material are also on display. There is no charge for the museum. Donations are accepted.
Wabash County MuseumMt. Carmel
Exhibits: Banking Through Changing Times. The Influence of the Automobile on Wabash County. Celebrations of Life, What We Wore. A Tribute to Brace Beemer: The Lone Ranger. Neighborhood Groceries: Where Have They Gone? The Clubs and Organizations. The Oil Boom Era. 1900: A Year in Retrospect. Churches Around Wabash County.
White Pines Forest State ParkMt. Morris
The White Pines Forest was for years the principal route east and west across the northern part of the state. Today, visitors enjoy hiking, fishing, camping and picnicking.
Cedarhurst Center For The ArtsMt. Vernon
Nestled on a 90-acre site in southern Illinois, Cedarhurst celebrates the arts year-round with exciting visual and performing arts programs for the public. Explore rolling meadows and woods, home to Cedarhurst Sculpture Park, the museum's outdoor gallery with over 60 large-scale sculptures. Visit the Mitchell Museum with contemporary art exhibitions in two galleries, including the Children's Gallery. Enjoy works by Mary Cassatt, Maurice Prendergast, Childe Hassam and more, part of the museum's American painting collection acquired by founders John R. and Eleanor R. Mitchell.
Spitler Woods State Natural AreaMt. Zion
Park visitors enjoy camping, picnicking, a Nature Preserve Area, and Hiking.
Medieval TimesMultiple locations
Exciting, family friendly dinner theater featuring an authentic medieval tournament and feast with jousting knights, and live horses.
General John A. Logan MuseumMurphysboro
John A. Logan's fame did not end with his death -- he would be honored well into the twentieth century as the founder of Memorial Day. It is the mission of the General John A. Logan Museum to use the life and accomplishments of General John A. Logan and his family to educate the general public about the lives of Southern Illinois residents as they accommodated the sociological, political, economic, and technological changes of the nineteenth century.
Kinkaid Lake State Fish & Wildlife AreaMurphysboro
Park visitors enjoy boating, fishing, camping, hunting, and picnicking.
Kinkaid Lake State Fish & Wildlife AreaMurphysboro
The park offers boating, fishing, picnicking, camping and hiking.
DuPage Children's MuseumNaperville
DuPage Children's Museum is made up of many different exhibit neighborhoods and has three floors--each one special in its own way. Each neighborhood is packed with exciting ways to explore art, math, science and how they work together in the world. There are also three Young Explorers neighborhoods (adjacent to our other exhibit neighborhoods) designed for children up to 24 months.
iFLY Indoor Skydiving of NapervilleNaperville
Your students will get fired up about math & physics when they see it come to life in a state-of-the-art wind tunnel. Our STEM educators guide students through an immersive, hands-on experience that consists of an interactive presentation on real-world STEM applications led by STEM Educator, lab activity/immersive experiments (based on grade level), physics demonstrations in the wind tunnel, and one-on-one flying with a certified world-class iFLY flight instructor. It's so much more than a lesson, it's an enriching day of fun and learning that they'll remember the rest of their lives!
Naper SettlementNaperville
Our living history museum tells the story of daily life in Naperville as it changed from a simple frontier outpost to a bustling turn-of-the-century community. With costumed villagers, annual events and special exhibits, you never know what a visit to the Settlement will bring! Enjoy the experience as your pulse slows and you breathe a little easier in our 19th century world.
Washington County State Recreational AreaNashville
Purchased in 1959, the Washington County State Recreational Area is a popular visiting site for outdoorsmen and nature lovers. Visitors enjoy hunting, boating, fishing, hiking, camping, and picnicking.
Nauvoo State ParkNauvoo
The area was first named Quashquema, a Fox Indian word meaning "peaceful place." Today, the name is Nauvoo, a Hebrew word for "beautiful place" or "pleasant land." Park visitors enjoy fishing, boating, camping, and hiking. There is also an annual grape festival.
Mormon Pioneer National Historic TrailNauvoo, IL to Salt Lake City, UT
70,000 Mormons, led by Brigham Young, traveled from Nauvoo, Illinois, to Salt Lake City, Utah between 1846 to 1869 in order to escape religious persecution.
Peabody River King State Fish and Wildlife AreaNew Athens
The park is a former coal mining site with more than 20 fishing lakes and a waterfowl refuge. Visitors enjoy boating, a boat launching ramp, canoeing, fishing, hunting, and picnicking.
Newton Lake State Fish & Wildlife AreaNewton
The park is a day use conservation area. Visitors enjoy fishing, picnicking, trail use and deer hunting.
Sam Parr State Fish & Wildlife AreaNewton
Park visitors enjoy boating, hiking, hunting, camping, picnicking, horseback riding, trails, and fishing.
Children's Discovery Museum Normal
Visit the Children's Discovery Museum located in uptown Normal, Illinois. Explore, imagine, create and play with three floors of amazing hands-on exhibits
Graue MillOak Brook
One summer morning in 1852, Fred Graue entered his mill and turned the wheel that opened the sluice gates outside. Water from Salt Creek rushed into the millrace and the wooden waterwheel began to turn for the first time. It would turn the machinery that would grind grain for the next seventy years. Today, Graue Mill is the only operating waterwheel gristmill in Illinois.
Children's Museum in Oak LawnOak Lawn
The Children's Museum in Oak Lawn has eight interactive exhibits geared for ages 2 to 10 including a puppet theater, a market, a water table and periscopes. There is an "Art Cart" on hand where children can create their own kite and watch it fly around the museum and different themed craft projects each week. Located in a beautiful park setting, there is an outdoor playground and a nearby lake with a "catch and release" fishing program.
Wonder WorksOak Park
This Childrens' Museum has 6,400 square feet of fun and exploration for kids up to age 10.
Ernest Hemingway Birthplace and MuseumOak Park
Explore displays featuring rare photographs of Hemingway, his childhood diary, letters, early writings and other memorabilia. Exhibits and videos at the Museum focus on his first 20 years in Oak Park, and its impact on his later works. - The Ernest Hemingway Foundation of Oak Park operates the Hemingway Museum and the Hemingway Birthplace Home.
Frank Lloyd Wright Home and StudioOak Park
The Frank Lloyd Wright Home and Studio (1889/1898) served as Wright's private residence and workplace from 1889 to 1909 - the first 20 years of his career. Wright used his home as an architectural laboratory, experimenting with design concepts that contain the seeds of his architectural philosophy. Here he raised six children with his first wife, Catherine Tobin. In 1898, Wright added a studio, described by a fellow-architect as a workplace with "inspiration everywhere." In the Studio, Wright and his associates developed a new American architecture: the Prairie style, and designed 125 structures, including such famous buildings as the Robie House, the Larkin Building and Unity Temple. We invite you to visit and experience the restored site as it appeared in 1909, the last year that Wright lived in the Home and worked in the Studio.
Walnut Point State ParkOakland
Walnut Point State Park has it all. With its woods, water and wildlife, visitors enjoy fishing, hunting, camping, hiking, picnicking, and cross-country skiing.
Kickapoo State Recreation AreaOakwood
Kickapoo State Recreation Area visitors enjoy hiking and running, scuba diving, boating, camping, hunting, winter sports, canoeing, mountain biking, concessions, and fishing.
Middle Fork State Fish & Wildlife AreaOakwood
Park visitors enjoy fishing, archery, trails, hiking, picnicking, snowmobiling, camping, horseback riding, a trap range, canoeing, hunting, and cross country skiing.
Okawville's Heritage House Museum Okawville
The Heritage House Museum property, listed as the Frank Schlosser Complex, was placed on the National Register of Historic Places in 1983, joining the already-listed Original Mineral Springs Hotel and Bathhouse.
Delabar State ParkOquawka
The park is named to honor two brothers, Roy and Jack Delabar, who donated the site to the state in 1959 to be developed as a state park. Visitors enjoy picnicking, camping, hiking, fishing, boating, and winter sports.
Castle Rock State ParkOregon
Castle Rock State Park contains rock formations, ravines, and unique northern plant associations. A sandstone bluff, adjacent to the river, has given the park its name. Visitors enjoy camping, hiking, picnicking, and hunting.
Stronghold Camp & Retreat CenterOregon
All ages are welcome. This 360 acre, mostly wooded campus has 6 separate ecosystems providing an excellent outdoor education experience. Our flexible classes give you the program you want and need. The teams' course, high ropes course and other unique "perceived-limitations" challenges provide your team impressive opportunities to grow together. The on site Castle provides a story like no other. The Strong Castle is open for tours and classes can be offered on castle culture.
Lowden State ParkOregon
Lowden State Park visitors enjoy boating, camping, picnicking, trails, and fishing.
Lowden-Miller State ForestOregon
The park offers hunting, hiking, nature trails, equestrian trails, and camping.
Little White School MuseumOswego
Holds the rich history of the community and reflects the spirit of its early residents. Built as a church in 1850, then used as a one-room school until the mid 1960's, the building is now preserved and maintained by a cooperative agreement between School District 308, the Oswegoland Park District, and the Oswegoland Heritage Association. Open to the public, the White School Museum is an archive of local Oswegoland history. Step in and take a step back in time.
Buffalo Rock State ParkOttawa
Buffalo Rock State Park is located on a bluff which was once an island in the Illinois River. Now standing majestically on the north bank, this promontory affords a magnificent sweeping view of the Illinois River. Located approximately three miles west of Ottawa in LaSalle County, this 298 acre park has long been a favorite picnic area, as well as a nature lovers delight. The area of Buffalo Rock was the home of the Illinois Indians when Louis Jolliet, the French explorer, and the Jesuit missionary priest Father Jacques Marquette made their trip up the Illinois River in 1673. Later the Illinois Tribe was virtually annihilated in protracted warfare with the aggressive Iroquois.
Bicentennial Art Center & MuseumParis
The Art Center, a non-profit organization, offers a full range of art activities and programs to the residents and artists of the region including exhibitions, classes and workshops, tours to other art centers and events, community outreach programs, and, scholarships for talented youth. The Art Center maintains a permanent collection, the nucleus of which are the paintings by Alice Baber, a native of Edgar County, who achieved international recognition in 1960's and 70's. Other collection pieces include paintings, drawings, prints, and three-dimensional pieces by artists with national and regional reputations.
1950s Park Forest House MuseumPark Forest
1950s Park Forest House Museum shows life in American suburbia in 1948-1953, and provides a home for the Park Forest Local History Collection and Archive, in a facility with paid staff and space for exhibits, research, and education. It is our goal to inspire the high level of community involvement which has contributed to the livability of Park Forest, and to help make the village a heritage tourism destination.
Peoria ZooPeoria
The zoo features animals from Africa, Asia and Australia. The zoo has added the Peoria PlayHouse Children's Museum on site to create a daylong destination for learning through play that equips local kids with the tools to succeed.
Peoria Riverfront MuseumPeoria
The Discovery Center is an area for children of all ages to enjoy hands-on art & science exhibits. The area features more than 30 different displays to challenge and delight the mind, including the mineral house, the cloud ring, the duck-in kaleidoscope, shadow walls, the ever-popular pin wall, and much more.
African American Hall of Fame MuseumPeoria
The African American Hall of Fame Museum was founded in 1987 by a small group of civic leaders with a mission to educate through preserving and promoting art and history that highlight African American achievements and individuals that have had an impact on the African American experience, in our community and beyond.
Lincoln's New Salem State Historic SitePetersburg
Virtual field trip onlineStep back in time 150 years and see Lincoln's New Salem the way it looked when Abraham Lincoln was a young adult. Whether you are coming for the day or to stay an entire week, get to to know Lincoln's New Salem before you actually arrive. See authentic blacksmiths and railsplitter. Stop by our country store and browse the handmade items. If you get a craving for something to eat, visit our full service restaurant. Join us for a walk in the woods or for a performance at the Theatre in the Park
Pyramid State Recreation AreaPinckneyville
Pyramid State Recreation Area is the largest State Recreation Area in Illinois. It was named after a coal mine that once existed in the area. Visitors enjoy boating, hiking, hunting, trials, camping, picnicking, fishing, and horseback riding.
Beaver Dam State ParkPlainview
Beaver Dam State Park offers fishing, picnicking, hiking, and tent and trailer camping.
Livingston County War MuseumPontiac
Come visit our displays from World War I to the present. We are staffed by veterans and are located in the Old City Hall building next to the Route 66 Museum in beautiful downtown Pontiac.
Bureau County Historical SocietyPrinceton
The Bureau County Historical Society Museum consists of two buildings that are next door to each other: the Clark-Norris Home, a handsome Prairie Square mansion built in 1900, and the Newell-Bryant House, a stately Greek Revival house dating back to 1853.
Prophetstown State Recreation AreaProphetstown
Prophetstown State Park was once the site of an American Indian village. Today, visitos enjoy camping, picnicking, horseshoe courts, swimming, fishing, hunting, trails, and hiking.
Quincy Art CenterQuincy
A museum celebrating visual arts, is set in the beautiful Historical District of Quincy, Illinois where avenues are bordered by arching trees. Since 1923, the Quincy Art Center has focused its energies promoting the growth and appreciation of the visual arts in Quincy and the surrounding areas by hosting art exhibits of local and world-renowned artists and providing educational programs for the communities it serves.
Villa Katherine CastleQuincy
Just south of Warsaw on the Mississippi there stands a Moorish castle. Inside, ornate wooden lattice work twists shadows up the walls of a narrow stairway. Railings, doors, windows, ceilings, all are beautifully carved. It is as if you stepped into a rich merchant's home in northern Africa but there is no furniture. George Metz, rich playboy and world traveler of the late 1800s, built the castle for his sweetheart who died before its completion. Rumor also has it that Metz buried his pet dog Bingo with a big cache of gold somewhere on the property. Numerous attempts to exhume Bingo prove fruitless.
Ramsey Lake State Recreation AreaRamsey
Visitors enjoy the picturesque woods, secluded picnic areas and excellent fishing and hunting opportunities.
The Riverside ARTS CenterRiverside
We offer over thirty art classes each term (Winter, Spring, Summer, and Fall) for children and adults in mediums ranging from clay, to oil painting, to fused glass jewelry, to printmaking. The RAC also offers provide tours, field trips, and curricula-based workshops for public and private schools and professional development opportunities for teachers.
Sangchris Lake State ParkRochester
Park visitors enjoy fishing, boating, camping, hunting, hiking and a dog training course.
Discovery Center MuseumRockford
The amazing Discovery Center Museum is full of over 250 exciting hands-on exhibits spread over a two-floor area. Out in the museum's backyard, visitors can explore Rock River Discovery Park, a giant, multi-level science park with a hands-on twist! The museum also hosts traveling exhibits, special events and programs throughout the year.
Erlander Home MuseumRockford
The Erlander Home Museum is a cultural centerpiece of Rockford's Swedish ancestry community,and a major asset of the Society. The Museum is located within the home which was built for John Erlander and his family in 1871, within the historic Haight Village of Rockford.
Ethnic Heritage MuseumRockford
Local history lives on in a quaint home built in 1850 and known today as The Ethnic Heritage Museum . Here, you will find six fascinating galleries devoted to the primary immigrant groups that settled in southwest Rockford, IL. African-American, Hispanic, Irish, Italian, Lithuanian and Polish. Through displays of early Rockford's maps, everyday artifacts, vintage clothing and more, visitors of all ages can learn about Old Worldcustoms and traditions. Historical photographs tell the stories of the earliest settlers who established factories near the old "waterpower district" and built their homes nearby. By comparing early with current lifestyles, the museum strives to bridge the gap between yesterday and today ... encouraging visitors to relive the past with a clear focus on Rockford'sbright future.
Midway Village Museum Rockford
Find Your Place in History! Midway Village Museum is a 136-acre campus conveniently located near I-90 yet comfortably nestled among the trees to give visitors the step-back-in-time experience. The museum is a Victorian Village (1890 to 1910) of 24 historical buildings filled with artifacts of the era as well as several beautiful 19th century gardens. Interpreters in authentic period dress are available seasonally for guided tours.
Atwood CenterRockford
The Atwood Center located inside 334-acre Seth B. Atwood Park is a great location for groups of all ages to learn about local ecosystems like forests and prairies, local animals and their food web, and history surrounding the Rockford region. Students have been coming out since 1957 to participate in activities like archery, shelter building, field science, Kishwaukee river study, and more to create a memorable experience in the outdoors. The Atwood Center also features a live Bird of Prey exhibit with seven birds that can be seen by visitors year round.
Riverfront Museum ParkRockford
A one-stop destination in Rockford for the arts and sciences.
Rockford Art MuseumRockford
A Partner in Excellence of the Illinois Arts Council, Rockford Art Museum impacts the quality of life for people of all ages through visual arts programs of collection, exhibition and education. From its beginnings as the Rockford Sketch Club in 1888, to incorporation as the Rockford Art Association in 1913, RAM boasts a rich history that reflects the past, present and future of the Rockford region.
Swedish Historical SocietyRockford
The Swedish Historical Society aim is to preserve history, provide education, and serve the community through charity. The Society also offers Swedish translation services and Swedish language instruction.
Tinker Swiss Cottage MuseumRockford
An educational, not-for-profit institution, dedicated to the preservation of and access to historic Tinker Swiss Cottage, its collections, and the legacy of the Robert
Burpee Museum of Natural HistoryRockford
Burpee Museum is the perfect destination for a focused field trip--not so large as to be intimidating but with enough to satisfy any enquiring mind!
Isle A La Cache MuseumRomeoville
Isle a la Cache Museum has been completely renovated and reopened in June 2007. All new exhibits, many of them interactive, an enlarged display area, and enhanced native landscaping around the museum make for a totally new experience for museum visitors.
Historic Auto AttractionsRoscoe
Virtual field trip onlineTake a journey through time where history and entertainment meet. Enjoy more than 70 historic vehicles and hundreds of pieces of history that take you beyond the concept of most auto museums. Travel from the old west days to the days of Al Capone and Bonnie & Clyde to TV land, legends of racing, famous cars & famous stars, and more. You will be amazed at this collection of historical facts and memorabilia. You will be transported to the day President Kennedy was assassinated. See the chair that President Lincoln sat in his famous portrait, the dress worn by Marilyn Monroe, the 1976 Bicentennial money car & Johnny Cash's 'One Piece At A Time Car', Batmobiles, Charlie's Angels, Sanford & Son, Flintstone's and more.
iFLY Indoor Skydiving RosemontRosemont
Your students will get fired up about math & physics when they see it come to life in a state-of-the-art wind tunnel. Our STEM educators guide students through an immersive, hands-on experience that consists of an interactive presentation on real-world STEM applications led by STEM Educator, lab activity/immersive experiments (based on grade level), physics demonstrations in the wind tunnel, and one-on-one flying with a certified world-class iFLY flight instructor. It's so much more than a lesson, it's an enriching day of fun and learning that they'll remember the rest of their lives!
Schuyler County Historical Jail Museum and Genealogical CenterRushville
The Schuyler Jail Museum houses artifacts of the history of Rushville and Schuyler County. A research library for genealogists is part of the museum.
Saline County Museum DirectorySaline County
Gateway to the Shawnee National Forest - Area Musuems.
Mississippi Palisades State ParkSavanna
Park visitors enjoy boating, hunting, trails, camping, winter sports, picnicking, and fishing.
LEGOLAND Discovery Center ChicagoSchaumburg
LEGOLAND Discovery Center Chicago is the ultimate indoor LEGO playground with 2 rides, 10 LEGO build & play zones, a 4D cinema, and much more. These activities are all available during a field trip to visit! The center is designed specifically for children aged 3 to 10 years old as everything is kid-sized. Inspire your group's imagination with educational play that harnesses the limitless creative possibilities of LEGO bricks. Groups of 10 or more receive discounted pricing. See website for more details and information on how to book your BRICKTASTIC visit!
Shabbona Lake State Recreation AreaShabbona
Park visitors enjoy boating, fishing, picnicking, cabins, camping, hiking, hunting, concessions, and winter sports. Shabbona Lake is a pilot site for disabled visitor accessibility.
Hennepin Canal State TrailSheffield
Hennepin Canal Parkway State Park is for visitors who want to boat, picnic, hike, fish, and have good old fashioned family fun.
Mautino State Fish and Wildlife AreaSheffield
The park is made up of unclaimed strip mining land. Visitors enjoy stocked lakes for fishing, boating, boat launch ramps, canoeing, and hiking.
Illinois Holocaust Museum & Education Center Skokie
The Illinois Holocaust Museum and Education Center is a project of the Holocaust Memorial Foundation of Illinois. This new world-class museum is dedicated to preserving the memories of those lost in the Holocaust and teaching current generations about the need to fight hatred, indifference and genocide in today's world.
Midwest Carvers MuseumSouth Holland
View more than 1,000 unique woodcarvings crafted by local and international artists.
World Shooting & Recreational ComplexSparta
The complex is designed as an recreation area for shooters. Visitors enjoy camping, cowboy action shooting, fishing, rifle/pistol ranges, skeet shooting, sporting clays, and trapshooting.
Chain O'Lakes State ParkSpring Grove
Chain O Lakes State Park is a water oriented recreation area for boaters, anglers and skiers.
Henson Robinson ZooSpringfield
The zoo is home to more than 300 animals native to Australia, Africa, Asia and North and South America. Over 90 species of native and exotic animals are housed here among naturalistic exhibits. The zoo participates in scientific research studies and conservation efforts in addition to providing a fun and educational environment for people of all ages.
Illinois State Historical SocietySpringfield
The mission of the Society is to foster awareness, understanding, research, preservation, and recognition of history in Illinois.
Illinois State MuseumSpringfield
Illinois State Museum promotes discovery, learning, and an appreciation of Illinois' natural, cultural, and artistic heritage. The Museum's extensive collections and research activities provide the foundation for exhibitions and public programs that tell the story of the land, life, people, and art of Illinois. The Illinois State Museum is headquartered in Springfield with branch facilities throughout the state.
Lincoln Home National Historic SiteSpringfield
Virtual field trip onlineThere are a variety of visitor activities available at Lincoln Home National Historic Site. Free Ranger led tours of the Lincoln Home are the central feature of the site. The Visitor Center offers orientation and interpretive films. The website offers historical information about the park for those who cannot visit in person.
Abraham Lincoln Presidential Library and MuseumSpringfield
St. Charles History MuseumSt. Charles
The St. Charles History Museum offers exhibits on St. Charles and St. Charles Township history. The museum features a timeline of important St. Charles events that have taken place from 1833 until the present. Featured are military service (Civil War through Vietnam War) grave robbing riot, education, millionaires, industry, agriculture and tourism in the Roaring Twenties. The museum is located in the historic McCornack Oil Company building constructed in 1928.
Italian Cultural CenterStone Park
The Center began modestly in Stone Park, Illinois in May, 1970. - The original Seminary building facilities, which were left vacant after construction of the new wing on Division Street, were used initially by Father August Feccia to create a library, art gallery and meeting space.
Hidden Springs State ForestStrasburg
Hidden Springs was chosen for this park's name because of the seven known springs on the property which were used for drinking water by the early settlers. Today, these springs are covered over by silt and vegetation. Visitors to the park enjoy camping, fishing, hiking, hunting and picnicking.
Air Classics Museum of AviationSugar Grove
Air Classics is an aviation museum located at Aurora Municipal Airport - ARR where the aircraft actually fly. You can sit in an A-7 that flew in the Gulf War and climb into the pilot's seat of a UH-1 Huey helicopter. The museum's collection includes aircraft, vehicles, uniforms and other aviation memorabilia from the 1930s to the present time.
Red Hills State ParkSumner
Red Hills State Park offers picnicking, camping, hiking, boating and fishing in the summer. Winter visitor can ice skate and ice fishing. The park property was once the first land in Illinois ceded by Native Americans to the United States.
America's largest railway museum!
McHenry County Historical SocietyUnion
Not only will you be able to go back in time & meet the Patricks (and their servants), you'll be able to go many places in Marengo and even Chicago. Catch "bicycle fever," find out who came to the Marengo Opera House and take a trip to the World's Columbian Exposition. Find out what life was like in the "Gay '1890's" and enjoy your trip back in time.
Matthiessen State Park beautiful rock formations are a paradise for those interested in geology. Visitors can horseback ride, camp, hunt, picnic, mountain bike, use archery ranges, and hike trails. There is also a radio-controlled model airplane field.
Starved Rock State Park visitors enjoy fishing, picnicking, boating, hiking, camping, hunting, winter sports, and a lodge.
Carlyle Lake State Fish & Wildlife AreaVandalia
Carlyle Lake is a 26,000-acre multipurpose lake administered by the U.S. Army Corps of Engineers. The Department of Natural Resources has a 25-year lease on part of the Army Corps' property to conduct a variety of habitat management measures aimed at increasing food, shelter and nesting areas for numerous wildlife species.
Cuneo MuseumVernon Hills
Built as a private residence, the Cuneo mansion is now a historic house museum, which is really many museums blended into one. As a "living museum," the building and gardens preserve in vivid detail the flavor of an era and a way of life. The grand spaces of the Venetian style architecture, filled with antique furnishings and artwork and the quiet paths through the manicured grounds allow the visitor to savor the elegant splendor of the "gilded age." The Cuneo mansion is one of the few surviving manor homes from the early 20th century settlement of gentleman farmers in the fields south of Libertyville, which included Joseph Medill Patterson of the Tribune and Adlai Stevenson, the presidential candidate. Now surrounded by busy suburban development, the museum is a magnificent relic of the domestic opulence and rustic retreat of that former period.
Snakeden Hollow State Fish & Wildlife AreaVictoria
Named for the small creek that "snakes" its way through the property, Snakeden Hollow visitors enjoy hunting, boating, and fishing.
Tunnel Hill State TrailVienna
The park is one the site of a once thriving railroad track. Today, the track is gone but visitors can bike and hike to remnants of the tracks.
Safari LandVilla Park
Safari Land is a large, INDOOR theme park perfect for those rainy days. With 12 lanes of bowling, 8 attractions, plus over 100 arcade games. Keeping ages 4 to 14 busy with a $15 ride wristband during the week. Group package pricing (15 or more) ranging from $9.50 to $15 which includes pizza and pop. Parking and entry is always free. Learn about working as a team, or mathematical learning with safari dollars.
Villa Park Historical Society Villa Park
This summer the Villa Park Historical Society will again participate in the "Passport To Adventure Program" for children ages 4 to 12. "Passport Books" will be (free of charge) at our Museum, and at various other area museums,nature centers, etc. Each museum or nature center has a page in the books with a space for a "passport stamp" The program is designed to encourage children and their families to visit various locations.
Warrenville Historical MuseumWarrenville
The purpose of the Warrenville Historical Society is to bring together those interested in Warrenville's history, and to collect, preserve and display objects and documents that illustrate that history. The Warrenville Historical Society was organized in 1980 and the Society opened the Warrenville Historical Museum in 1984. Space was provided for the Museum in one room of the Greek Revival Style Albright Building through the generosity of the City of Warrenville, interest groups, businesses and individuals. The museum now encompassed the entire building.
Waukegan Historical SocietyWaukegan
The Waukegan Historical Society operates the Haines House Museum and the John L. Raymond Research Library, both located amidst the gentle rolling landscape of Bowen Park in far northeastern Illinois. Whether you are coming to view the Victorian decor, an exhibit on Waukegan history, or researching the history of your house or family, you will find that the Waukegan Historical Society offers something for everyone.
Cosley ZooWheaton
The Cosley Zoo is a nationally recognized zoo offering an intimate experience with a large variety of domestic farm animals and native Illinois wildlife. The zoo also features a historical train station, a railroad caboose, a tree-lined picnic area, a unique gift shop and a seasonal concession stand.
Kline Creek FarmWheaton
Step back in time and experience what life was like on a DuPage County Farm in the 1890s. Stroll through restored farmstead structures and meet the historically-costumed interpreters operating this living-history farm using the tools and techniques of the past. Activities and events at the farm re-create the seasonal rhythms that have governed farm life for centuries. There is always something to see, do and learn at Kline Creek Farm.
Cantigny ParkWheaton
500 Acres of Adventure Awaits! Cantigny Park is the 500-acre former estate of Colonel Robert R. McCormick, the longtime editor and publisher of the Chicago Tribune. Opened to the public in 1958. It is home to: The Robert R. McCormick Museum, The First Division Museum, Cantigny Gardens (Nearly 30 acres of formal gardens, theme plantings and statuary), Education Center, Walking Trails (nearly 3 miles) and spacious Picnic Area, and newly renovated playground. Admission to the Cantigny Park is always free. There is a parking fee for the park. The museum is closed on Mondays.
Wayne Fitzgerrell State Recreation AreaWhittington
People interested in water sports, horseback riding, picnicking or hiking will find that Wayne Fitzgerrell has plenty to offer. The site also provides ample opportunities for birders, wildlife observers and photographers, fishing tournaments, pleasure boaters, water skiers and anglers.
Wilmette Historical MuseumWilmette
Dedicated to exploring, preserving, and sharing the lively history of Wilmette and its surroundings on the North Shore of Chicago. Located in a beautiful 1896 landmark building at 609 Ridge Road in Wilmette, the Museum is operated by the Wilmette Historical Society, a volunteer organization, and by the Village of Wilmette.
Des Plaines Fish & Wildlife AreaWilmington
The Des Plaines Fish and Wildlife Area offers picnicking, fishing, camping, boating, equestrian trails, hunting, a nature preserve, hand trap lessons, shooting sports, dog training, and disabled access areas.
Wolf Creek State ParkWindsor
Park visitors enjoy boating, picnicking, camping, horseback riding, fishing, hunting, snowmobiling, hiking, archery, and swimming.
Winnetka Historical SocietyWinnetka
Winnetka Historical Society was founded in 1932. As we embark on the 21st century, we are pleased to own and operate two historic buildings in Winnetka. Our Museum and headquarters at 411 Linden Street houses gallery space and is open for research, using our reference library, photograph collections and house files. The Schmidt-Burnham Log House offers visitors a glimpse of life in the 1850s through the interpretation of costumed docents.
North Point MarinaWinthrop Harbor
Visitors come to the North Point Marina to relax and watch the scenic views. The marina is a full service Marina with boat maintenance and repair, fuel, dry winter storage, transient slips, club room, beaches, ship's store and restaurants.
Chester Gould-Dick Tracy MuseumWoodstock
A non-profit organization established to display, promote and honor the work, achievements and the life of Chester Gould (1900-1985), creator of the "Dick Tracy" comic strip and character. The museum perpetuates the legacy of Dick Tracy and the heritage of the comic strip, and Crimestoppers, through the development of the "Crimestoppers Youth Program," developed in 2000.
Rock Island State TrailWyoming
Park visitors enjoy cross country skiing, hiking, biking, and camping.
Silver Springs State Fish and Wildlife AreaYorkville
The park offers a natural prairie restoration project giving visitors a feeling of the original landscape with native wildflowers, songbirds, waterfowl and upland game. Visitors enjoy picnicking, fishing and hiking in summer, and ice fishing, sledding, ice skating and cross-country ski trails available for the winter.
A working museum dedicated to preserving the arts of hot metal casting and composition, letterpress, multigraphing, stone lithography and bookbinding.
Adeline Jay Geo-Karis Illinois Beach State ParkZion
Illinois Beach State Park visitors enjoy fishing, a beach, hiking, picnicking, biking, swimming, camping, a Lodge, trails, and concession. Pets are allowed on site.
Go to...