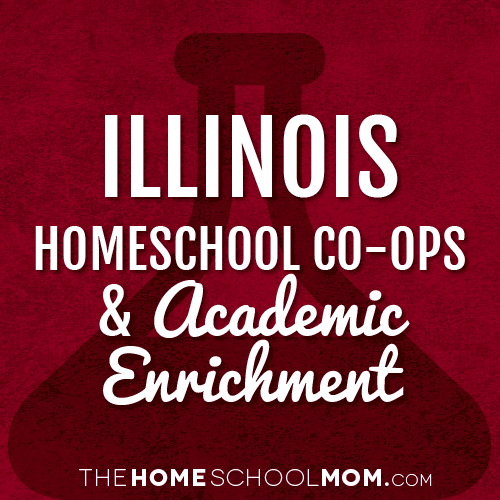 Looking for someone to teach physics to your teen? Need a way to avoid teaching algebra? Want to enroll your Kindergartener in a co-op for social time? Homeschool classes and co-ops are a great way to spend time with other homeschoolers and skill-share with other homeschool parents.
Our listing of Illinois co-ops and academic classes for homeschoolers is ordered alphabetically by city, with co-ops in the first section and all other academic resources below. If you would like to submit a Illinois co-op or academic resource, you may do so using the red button above.
Use the secondary navigation menu above to quickly make your way to pages for Illinois state organizations, local homeschool groups, classes, co-ops, field trips, and more.
Illinois Homeschooling Co-ops
Joy in Learning Homeschool AcademyChampaign
Joy in Learning Homeschool Academy was founded in 2009 in order to create an academically-focused, college preparatory, and nonsectarian learning environment for homeschooling families in the Champ...
Christian Workshops of the Fox ValleyElgin
CWF is a Christian home school co-op offering classes for homeschooled children pre-school through high school.Students meet Mondays from 9:45am - 2:30pm at Epworth United Methodist Church in Elg...
Homeschool KingdomElmhurst
Homeschool Kingdom offers gym, art, science, acting, piano, guitar, voice, dance, karate, Spanish, programming/engineering/robotics to all ages including High School level classes. Connect Hour al...
The Learning VineNaperville
The Learning Vine is a homeschool co-op that partners with parents to provide academic, elective, and enrichment classes. This co-op offers Kindergarten through 12th grade academic classes on Mond...
TEC (Tri Cities Enrichment Co-op)North Aurora
Tri Cities Enrichment Co-op is a Christian homeschool co-op designed to foster academic excellence through weekly selected classes taught by some member-parents and other qualified instructors. Cou...
True North of RockfordRockford
True North of Rockford Homeschool is dedicated to providing educational and social opportunities for Rockford-area families. This is a secular group that welcomes the whole spectrum of belief syste...
GreenhouseWheaton
A weekly classical co-school campus supporting Christian homeschool families in their pursuit of servant leadership, thriving academics and a nurturing community. Greenhouse comes alongside homesch...
Illinois Homeschooling Classes & Academic Enrichment
Champaign County Forest Preserve DistrictChampaign County
The Champaign County Forest Preserve District's Museum and Education Department is offering homeschool classes and educational resources for families looking to supplement their science and history...
Illini TutoringChampaign-Urbana
Illini Tutoring is a small group of tutors who specialize in middle school - college levels of math and science. Tutors are particularly interested in homeschool tutoring and helping older students...
Anita Purves Nature CenterChampaign-Urbana
Bring your students to the nature center, or have a traveling naturalist come to you! The Anita Purves Nature Center offers a variety of environmental education programs and services to area educat...
West Suburban French TutorChicago
Bonjour! West Suburban French Tutor is a company providing private French lessons, Group lessons, Preschool lessons, and Home School Group lessons in the western suburbs of Chicago. Home School gr...
Singapore Math Learning CenterChicago
Singapore Math Learning Center offers online 1-1 tutoring and classes using the Singapore Mathematics method.The Singapore Mathematics framework was developed on the basis that problem solving...
TechGirlz: Free Tech Workshop for Middle School GirlsChicago
Free Tech Workshop for Middle School Girls! You Can Be A Photographer: Photography For Marketing September 28 @ 12:00 pm - 3:00 pmHave you ever wanted to make awesome edits to your photos? In...
Classical Conversations of Chicago West and Southwest SuburbsChicago Western Suburbs
Classical Conversations is a community of families drawn together by their desire to educate their children classically at home with a Biblical worldview. Classes are available for children ages 4-...
Cernal Earth and Science Center PlanetariumCook County
The Cernan Earth and Space Center welcomes homeschoolers to attend their programs within a group or as individual families. There are programs for all ages of students covering astronomy, geology, ...
Math PlaysDarien
Math Plays is a math enrichment program and offers classes to children 18 months - 4th grade. During a Math Plays class, children practice essential foundation skills and math concepts through fun ...
Des Plaines History CenterDes Plaines
The Des Plaines History Center offers two monthly "Hands On History" programs that explore historical and cultural topics with an interactive presentation and craft activity. These are FREE and cat...
Leslie Murphy Resourceful AcademicsDowners Grove
A private reading and writing tutor with over 10 years of experience providing individualized, multi-sensory instruction for children ages 5 - 18 serving students located in Naperville and Downers ...
Eagle's Wing Learning CenterDowners Grove
Eagle's Wing is a homeschool resource center offering homeschool curriculum planning and support. Classes for grades 1-12 three days per week at Eagles's Wing Learning Center beginning in the fall ...
S.T.R.E.A.M. Tutoring, Classes, Camps, and Parties for science, technology, reading, engineering, arts, and math.DuPage County
This group specializes in tutoring homeschool students K-12 in all areas and providing science lab classes, art and writing workshops, as well STEM training in the summer and throughout the school ...
Liberty Liberal Arts AcademyElgin/Fox Valley
"Educating Outside the Box and Inside the Church". Offering affordable, creative, and challenging core and fine arts Christian education classes for Homeschoolers in Fox Valley, IL. Meeting every ...
Homeschool KingdomElmhurst
Homeschool Kingdom offers gym, art, science, acting, piano, guitar, voice, dance, karate, Spanish, programming/engineering/robotics to all ages including High School level classes. Connect Hour al...
Heritage Christian SchoolFrankfort
Heritage Christian School offers home school families the opportunity to expand the children's training in areas such as science, math, music, and physical education by allowing parents enroll stud...
Wildlife Prairie ParkHanna City
Monthly Homeschool Classes at Wildlife Prairie Park 3826 N. Taylor Rd. Hanna City, IL 61536 Topic: Eyes on Eagles; Learn about our Nation's Bird! See wedsite for date of each monthly class
C2 Education DeerfieldHighland Park, Deerfield, Lake Forest, Northbrook, Bannockburn, Riverwoods
My name is Michelle Michelson and I am the Center Director at C2 Education Deerfield. We are a learning center that specializes in customized curriculum for tutoring programs for students from Kind...
Illinois Classical ConversationsIllinois Statewide
CC is a national homeschooling program that uses a Bible based curriculum taught in a christian, classical tradition. Classes are geared for age 4 through high school.
Pilcher Park Nature CenterJoliet
Pilcher Park Nature Center offers 18 field trips based on science and history. The goal of the park is to bring science and history alive in through hikes and hands-on activities. Programs cover...
AFA – Academics, Fitness and the ArtsLake and surrounding Counties
An innovative format that focuses on Academics, Fitness and the Arts. Children participate in a variety of fun skills and techniques which enhances their knowledge, health and creative abilities. ...
After the PeanutLockport
This company teaches students to think and solve real world problems through active STEM quests. Through these innovative and exploratory quests, students delve into their creative side while coll...
Long Grove Country SchoolLong Grove
LGCS is excited to be partnering with the University of Illinois Extension to offer 4H Programs for our Elementary Clubhouse starting in September. Programs will be offered for elementary age child...
Temple Christian School Homeschooling support servicesMoline
Temple Christian School Offers the following services to homeschooling families in the Moline, Illinois area. Administering Stanford Achievement Tests annually. Sign up deadline January 31. Ass...
Daniela BiseniusNaperville
Professional violinist, performer and teacher has openings for students during the week, mornings, for violin and viola lessons. Cntact Daniela at 630) 504-9221.
The Learning VineNaperville
The Learning Vine is a homeschool co-op that partners with parents to provide academic, elective, and enrichment classes. This co-op offers Kindergarten through 12th grade academic classes on Mond...
Lorado Taft Field CampusOregon
Lorado Taft has over a 60-year history of providing outdoor education to elementary and middle school students. Offering options for schools or homeschool groups to come and enjoy a day of learning...
Homeschool Club at Two Rivers YMCAQuad Cities
Two Rivers YMCA offers a range of homeschool extra-curricular resources, including weekly classes in art, science experiments, and PE, beginning in September and ending in May. Additional opportuni...
Rockford Art Museumrockford
Each year RAM offers 16 homeschool classes that are structured into 4 themed units of 4 classes each, and run September through May. One session of each 90-minute class is held Wednesdays for grade...
Classical Conversations in Rolling MeadowsRolling Meadows
A Classical Christian community that meets on Thursdays for 12 weeks in fall and 12 weeks in the spring in order to equip and encourage parents and students as they homeschool. Classical Conversat...
All On The TableSaint Charles
Sara Rose is a Nutritional Lifestyle Consultant offering custom culinary and nutrition programs for students all ages.
Homelink Learning CenterSt. Louis/South Area
Homelink is a homeschool learning center (not a co-op) that is an arm of the support group called S.H.A.R.E. in St. Louis, Missouri. Homelink offers once-a-week classes that provide guided indepen...
The Great Adventure Lab STEM ClassesWashington
Pre-K - 5th graders are having a blast with Great Adventure Lab STEM enrichment courses. From Lego Robotics to Storybook Science to Video Game Programming to Space Engineers, students are developin...
Home School Animal Explorers at DuPage County Animal Care and ControlWheaton
Home School Animal Explorers is a six-week program held during the day for home schooled students ages 7-10 and 11-15. Each six week session is designed to not only allow home-educated children to ...