Jump to: Homeschool Co-ops | Homeschooling Classes & Academic Enrichment
Looking for someone to teach physics to your teen? Need a way to avoid teaching algebra? Want to enroll your Kindergartener in a co-op for social time? Homeschool classes and co-ops are a great way to spend time with other homeschoolers and skill-share with other homeschool parents.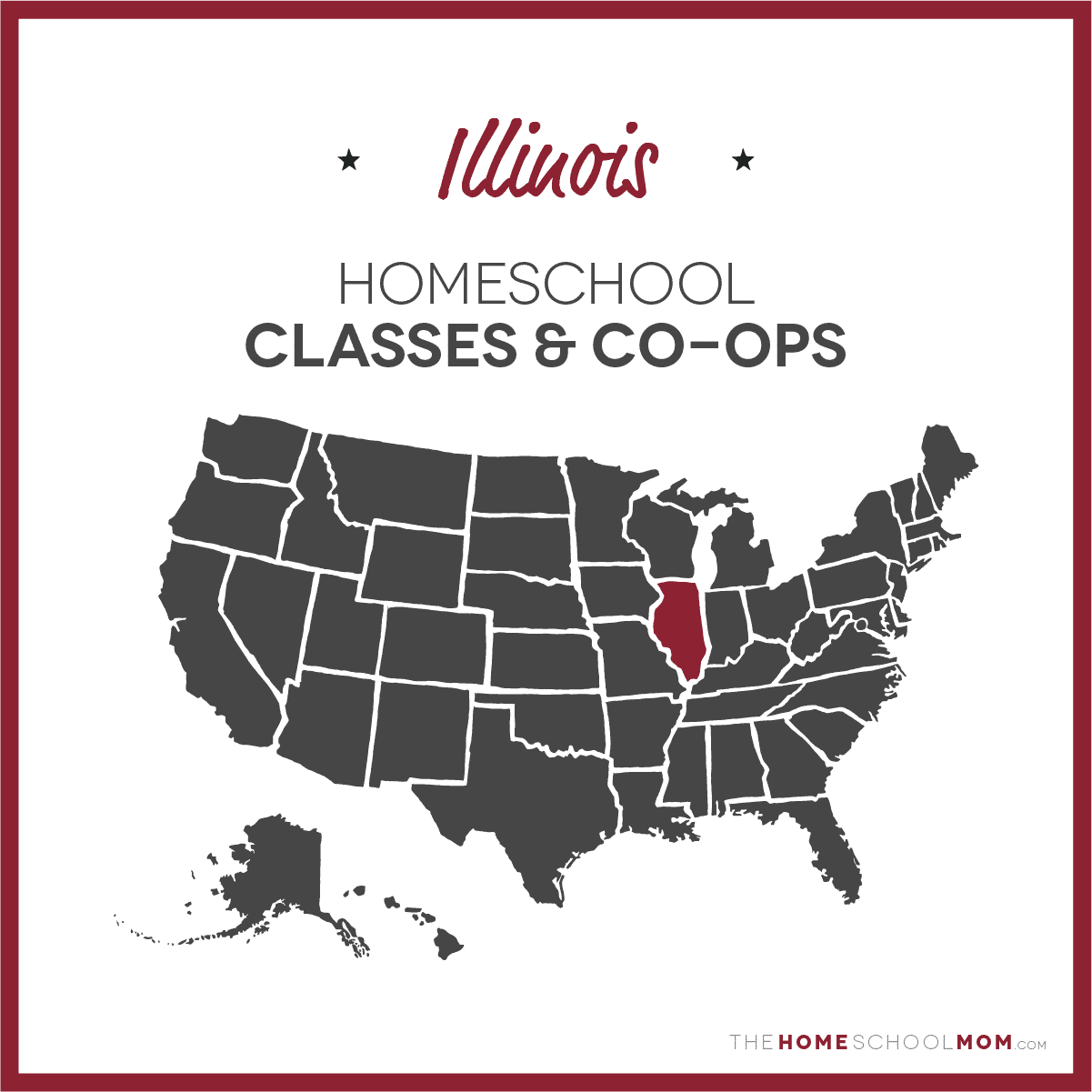 Submit a Local Resource
Our listing of Illinois co-ops and academic classes for homeschoolers is ordered alphabetically by city, with co-ops in the first section and all other academic resources below. If you would like to submit a Illinois co-op or academic resource, you may do so using the red button above.
Illinois Homeschooling Co-ops
HEART Homeschool Enrichment

Barrington

H.E.A.R.T. is a nine-month, weekly enrichment program that employs passionate, Christian instructors in the areas of art, science, Spanish, physical education, music, and more. H.E.A.R.T. is a program that allows children to learn together in an engaging, exciting, and stimulating environment that upholds your values. H.E.A.R.T. serves students Pre-K through 8th grades every Thursday throughout the school year.
Wellspring Community

Bloomington

A homeschooling cooperative that offers academic classes for K-12 students.
Christian Homeschool Connection

Champaign-Urbana

Christian Homeschool Connection (CHC) is a network of homeschooling families in and around Champaign-Urbana. While doctrinal differences may exist, our membership finds community and support within a variety of homeschooling styles. CHC is a volunteer led and run organization and encourages all members to give their time and talents to support each other. Family Center is an optional Thursday morning co-op which meets in the fall and spring for approximately 12 weeks per semester. Classes are taught by parents on a wide variety of topics for all ages. Some members of CHC attend Family Center, while others do not. In order to sign up for Family Center, one must first be a member of CHC.
Young Explorers of Coles County Homeschoolers

Charleston

Young Explorers is a non-profit, multi-denominational, community of Christian homeschool families in Coles County, Illinois.  We meet once a week to give our children both educational and social experiences, as well as field trip, community service projects, and school party opportunities. Young Explorers currently serves 4/5 year old preschoolers through 8th grade.  We offer a wide range of academic as well as elective classes including P.E., art, and music.  All classes are taught by the parents and volunteers from the community.  Each week, students bring their lunches and enjoy lunch together in our lunchroom, followed by recess either on the playground or in the gymnasium.
Christian Home Educators Support System

Chicago

Empowering parents to take the lead in their children's education.
Veritas Academy Chicago

Chicago

We are a Christ-centered, Classical Scholé Homeschool Co-op Community in the City of Chicago. Our mission is to support one another in the journey of training our children through prayer, the development of a Christian classical education framework, the pedagogy of restful learning, and complementary educational seminars, learning projects, field trips, and community service projects. Together, we are pursuing spiritual, academic, and emotional growth, all for the glory of God. We offer classes for Pre-K through High School (with a nursery for babies) on Mondays, with an optional second day for enrichment and field trips on Wednesdays.
Irving Park Homeschool Group

CHICAGO

The Irving Park Homeschool Group serves homeschooling families in and around the Chicagoland area. Our hybrid learning program promotes creativity, fosters academic excellence, and builds community. Through our parent and organizational partnerships, we are able to provide homeschooling students ages 5-18 a variety of academic classes and enrichment opportunities. Our Tuesday program and Thursday classes are held at The Irving Park Lutheran Church Gymnasium complete with two adjacent classrooms, a full working kitchen, and stage. We offer two semesters of learning: Fall semester (September - December) and Spring semester (January- April).
Teen Learning Lab of Greater Chicago

Chicagoland

Teen Learning Lab of Greater Chicago is a 501(c)(3) nonprofit offering year-long, rigorous, and unique courses in a wide variety of academic subjects. Our courses are connected by common themes and are geared toward intellectually curious homeschooled teens ages 13 and up in the Chicago metropolitan area. Our teachers are area experts in their fields.
Hilltop Christian Community

Crystal Lake

Hilltop Christian Community is a hybrid homeschool cooperative. HCC families work together to emphasize fellowship, discipleship, and support through our morning cooperative enrichment classes. The afternoon transitions to individualized academic options where students can choose from a variety of core and elective classes. Classes typically include history, science, math, language arts, and electives like worldview, theology, photography, or engineering. All classes are taught from a biblical worldview. Hilltop meets on Fridays from September-May, west of McHenry. The morning enrichment co-op is from 9:00-12:00. Lunch and clean-up are from 12:00-1:00. The optional afternoon academic options for the older students start at 1:00.
Barb City Co-op

DeKalb

A secular, inclusive co-op serving kids from preschool through high school. We offer a variety of classes meant to supplement home learning, including Spanish and French, science, social studies, arts, and more! Classes are affordable, with a flat fee per family for as many classes as you want. Contact us on Facebook for more info or to start enrollment.
Christian Workshops of the Fox Valley

Elgin

CWF is a Christian home school co-op offering classes for homeschooled children pre-school through high school. Students meet Mondays from 9:45am - 2:30pm at Epworth United Methodist Church in Elgin. One parent of each family volunteers to teach at least one class which keeps the co-op reasonably priced.
G.I.F.T. Homeschooling Co-op

Elgin

Godly Influenced Fine Arts Training (G.I.F.T.) is a Christian co-op enrichment program that offers fine arts classes to homeschoolers of all ages (pre-school through adult). G.I.F.T. meets from 8:30-3pm on THURSDAYS in Huntley, Illinois at Church on the Rock
Olivewood Academy

Elgin, IL

OliveWood Academy is a a learner driven, hybrid school that seeks to come alongside families two days a week to provide opportunities for learning that are better suited for a group setting. Olivewood Academy strives to develop learners who grow in independence and autonomy over their learning. In the morning, students work on core skills. In the afternoon, students work on group projects and an emphasis is placed on critical thinking creativity, collaboration, and communication. Registration for new families opens on April 1st. Private tours and shadow days are being scheduled this spring to see if OliveWood might be a good fit for your family. OliveWood Academy, located in Elgin, IL., is a two day program that meets on Mondays and Tuesdays from 8:45-3:00 p.m.
Homeschool Kingdom

Elmhurst

Homeschool Kingdom offers gym, art, science, acting, piano, guitar, voice, dance, karate, Spanish, programming/engineering/robotics to all ages including High School level classes. Connect Hour allows parents to build friendships while we encourage each other in the discipleship of our children. Yearbook, Graduation, Field Trips, Parent Outings. Christian Co-operative group serves the greater Chicagoland area in DuPage County.
Veritas Christi

Huntley

Veritas Christi (Latin for "Truth of Christ") is a homeschooling cooperative of Catholic families that meets in Huntley, Illinois. We gather once a week on Wednesdays for Mass, classes, and community. Opportunities include courses for Preschool through High School children, as well as special events (group field trips, park play dates, liturgical year celebrations, etc). Veritas Christi is an entirely volunteer-run organization. Our success depends on the generous support and volunteerism of parents.
Beloved Community Co-op

Indianapolis

Beloved Community Co-op is a Christ-centered, diverse, equitable, and inclusive homeschool cooperative that offers a safe and connected community, a rich and robust education, and above all else, radical love to children of all ages and all families from all walks of life.
Guiding Arrows - Illinois

Jerseyville

Guiding Arrows homeschool co-op exists to provide enrichment classes for homeschoolers, encouragement for homeschooling parents, and social opportunities for homeschooling families within a Christian Setting.
Horizon Home Educators Co-op

Mahomet

The Horizon Homeschool Cooperative provides an opportunity for Christian homeschooling families to partner together to create a cooperative teaching and learning environment for grades kindergarten through twelfth grade.
Apple Tree Christian Homeschoolers Inc.

McHenry

Apple Tree Christian Homeschoolers Inc. is a Christian homeschooling co-operative for children 1st-12th grade and their younger siblings. We desire to bring glory to God by providing activities, fellowship, and learning opportunities to enhance a family's homeschooling journey. We meet several times monthly in Lake Villa, IL on Wednesdays, September through April. Apple Tree has a scope and sequence for each grade that offers alternating unit studies of history, science, and literature, along with weekly music, drama, physical education, and art.
Natural Discovery Forest School

Monee

Outdoor homeschool enrichment programs for Preschool through Grade 5. For Preschool (ages 3-5): half-day, drop-off program 3 days a week (Tuesday-Thursday). For Grades K-5 (ages 6-11): full-day, drop-off program 3 days a week (Tuesday-Thursday). Family Forest Days: co-op program on Mondays or Fridays for families to enjoy nature time together.
The Learning Vine

Naperville

The Learning Vine is a homeschool co-op that partners with parents to provide academic, elective, and enrichment classes. This co-op offers Kindergarten through 12th grade academic classes on Monday and 9th through 12th grade academic labs on Friday. On Friday Learning Vine also offers a variety of enrichment classes for preK through 12th grade including art, physical education, foreign language, home arts and STEM labs.
TEC (Tri Cities Enrichment Co-op)

North Aurora

Tri Cities Enrichment Co-op is a Christian homeschool co-op designed to foster academic excellence through weekly selected classes taught by some member-parents and other qualified instructors. Course content is developed and taught by these respective course instructors. Certain courses will require more work at home and parent participation than others. Parent participation is essential to the success of TEC; therefore, parents are expected to serve in a number of facilitating capacities throughout the year. Through group participation and family commitment to TEC, the co-op can achieve its goal of providing a positive and safe learning environment beneficial for children to learn academics, responsibility, accountability and appropriate social skills in a Christian context.
Tri-Cities Enrichment Co-op

North Aurora

Tri-Cities Enrichment Co-op is a Christian homeschool group of families who meet on Mondays in order to provide various classes to our children.
Schola Rosa: Abp. Fulton Sheen co-op

Peoria

Schola Rosa is a group of Catholic families in Peoria, Illinois who work together to offer classes for their homeschooled students. 
True North of Rockford

Rockford

True North of Rockford Homeschool is dedicated to providing educational and social opportunities for Rockford-area families. This is a secular group that welcomes the whole spectrum of belief systems, family structures, and homeschooling styles. The intent is to provide a group in which homeschooling families can connect, exchange ideas, and learn in a fun, supportive environment.
Forest City Christian Co-op

Rockford
Rockford Homeschoolers' Hub

Rockford

Rockford Homeschoolers' Hub is a dynamic, democratically-run, family/student-led educational co-op.
Immaculate Heart Homeschool Co-op

Rockford

Immaculate Heart Homeschool Co-op is a Catholic organization dedicated to reinforcing the truths of the Faith, providing classes in the special subjects, and enjoying wholesome fun in group activities. The group meets on Tuesdays, from 9 a.m. to 12:30 p.m. Our start date for next year is September 19, 2023. Classes offered for the 2023-2024 school year include religion, art, drama, music, physical education, science (experiments), and sewing. Please visit the group's website for more information.
Hallstrom Homeschool Co-Op

Rockford

The purpose of Hallstrom is to come alongside home school Christian parents who desire their children to grow strong in the Lord and to receive an outstanding education. Hallstrom offers home schooling families a unique co-op experience with an emphasis on flexibility, affordability, quality, and high Biblical standards. Families will find academic and elective classes at Hallstrom to complement any home schooling approach. Hallstrom Home School Workshops (Hallstrom) offers over 100 classes pre-K through high school. Hallstrom offers basketball and volleyball through Rockford FIRE sports teams.
Stateline STEM Academy

Roscoe

An alternative homeschool that offers core curriculum classes and STEM based classes.
Heritage Home School Workshop

St. Charles

Heritage Home School Workshops is a group of families who come together to support one another and share in homeschooling their children. Classes are offered Mondays and Thursdays at two different locations. Online classes are available as well.
Catholic Schoolhouse

St. Louis/ MetroEast

More than an academic co-op, Catholic Schoolhouse is a structured program meeting weekly for homeschoolers that includes chorus, two hours of classroom instruction, hands-on science, art projects, and opportunities for socializing after class. Catholic Schoolhouse utilizes a classical education curriculum which educates from preschool to the senior year of highschool.
Good Shepherd Homeschool Co-op

Sycamore

We are a parent led conservative homeschool co-op that follows the classical education model, classes run in 6 week increments. Parents decide if and when they can teach a 6-week class topic or participate in another way. Class costs are meant to stay low because many homeschool families live on one income. Most classes cost $18/child per session. Students: K-5th with possibility for growth when needed. Yearly Schedule: August-May, we meet on Thursdays.
Greenhouse

Wheaton

A weekly classical co-school campus supporting Christian homeschool families in their pursuit of servant leadership, thriving academics and a nurturing community. Greenhouse comes alongside homeschool families, providing exceptional experiential academic and social opportunities, designed to build virtue and understanding within a uniquely Christian Classical environment. Greenhouse provides structure, community, tradition and a selection of enriching electives.
Classically Catholic Memory Co-op

Wood Dale

We are a Classically Catholic Memory co-op. We meet every other Wednesday during the school year from 9-12:30. We offer CCM, Science with a professional science teacher and Gym class for K-6th graders and Catechesis of the Good Shepherd for 3-6 year olds. We also have a nursery for younger siblings, and a Chemistry class for 7th and 8th graders. For more information please email Courtney Weicher at courtney.weicher@gmail.com
Illinois Homeschooling Classes & Academic Enrichment
Classical Consortium Academy

Barrington

Classical Consortium Academy is a classical, Christian hybrid school that combines the expertise and accountability of a rigorous classical school and the flexibility and nurturing of homeschooling making CCA "the best of school and home." CCA serves students k-12th grades with a complete curriculum one to two days per week.
Dearing Country Farms

Bloomington/Normal/Champaign

Dearing Country Farms is a small sustainable family farmstead in Bloomington, IL, started 17 years ago using regenerative farming practices and growing meat, eggs and produce naturally. On-Farm courses are now being offered starting in the spring. These in depth, hands-on courses will be 4 hours in length and cover a wide variety of topics from Primitive and Pioneering skills and Agriculture basics to Auto and Home Maintenance and Repair. Brad Dearing has been teaching for 27 years in Industrial Technology, STEM and Agriculture at the middle, high school as well as university levels and brings a wealth of knowledge to the learner. Attendance is limited, so signup and reserve your spot before the classes fill.
Hidden Oaks Nature Center Nature Programs

Bolingbrook

Hidden Oaks Conservation area ensures that visitors of all ages and backgrounds have opportunities to connect with nature. Through interactive exhibits and hands-on activities, Hidden Oaks Nature Center inspires curiosity and exploration of the natural world in guests of all ages. Whether hitting the trails, participating in innovative nature programs, coming out for a special event or joining our summer/winter camps, there's something for everyone at Hidden Oaks.
Champaign County Forest Preserve District

Champaign County

The Champaign County Forest Preserve District's Museum and Education Department is offering homeschool classes and educational resources for families looking to supplement their science and history curriculum. Please visit the website or call 217-896-2455 for more information.
Illini Tutoring

Champaign-Urbana

Illini Tutoring is a small group of tutors who specialize in middle school - college levels of math and science. Tutors are particularly interested in homeschool tutoring and helping older students with advanced math (through calculus II) and science (biology, chemistry, physics, and more).
Anita Purves Nature Center

Champaign-Urbana

Bring your students to the nature center, or have a traveling naturalist come to you! The Anita Purves Nature Center offers a variety of environmental education programs and services to area educators. Programs complement local school district curricula and are Illinois Learning Standards-based. Home school groups are also invited to use these services.
West Suburban French Tutor

Chicago

Bonjour! West Suburban French Tutor is a company providing private French lessons, Group lessons, Preschool lessons, and Home School Group lessons in the western suburbs of Chicago. Home School groups can meet at a local location or in the home of one of the members of the home school group. The owner and teacher is a certified French educator with 11 years of experience. Days and times are flexible and can be tailored to your groups' needs. Please contact to discuss your language learning needs. Merci!
Singapore Math Learning Center

Chicago

Singapore Math Learning Center offers online 1-1 tutoring and classes using the Singapore Mathematics method. The Singapore Mathematics framework was developed on the basis that problem solving is central to learning math and uses the concrete to pictorial to abstract learning approach to encourage active thinking, understanding and communication of math concepts and problem solving. This proven method has been adopted in schools in the US and around the world. All our tutors are experienced in the Singapore Mathematics curriculum. Tutoring is done online, or on integrated whiteboard.
Healthy Hands Cooking Classes by Chef Niquenya

Chicago

Niquenya Collins, owner and Executive Chef of Cocoa Chili Foods, is a Certified Healthy Hands Cooking Instructor. Healthy Hands Cooking Instructors are laser-focused on providing age specific nutrition education, quality content and whole foods recipes. The educational resources offered help fight obesity and related illnesses by empowering and educating children and families in the critical skill of nutrition and healthy cooking so that they can make informed decisions for a lifetime of wellness. Instructors teach quality classes, camps, cooking clubs, after school programs, birthday parties, and more. Cocoa Chili Foods is an educational foodie experience with a social mission to expose communities to resources and opportunities that improve the lives of those served.
Hungarian Language Classes

Chicago area, Melrose Park, IL

Hungarian language classes for all ages.
Classical Conversations of Chicago West and Southwest Suburbs

Chicago Western Suburbs

Classical Conversations is a community of families drawn together by their desire to educate their children classically at home with a Biblical worldview. Classes are available for children ages 4-12th grade. Following the classical model, children will participate in weekly presentations, memorization, science projects and fine arts. As they grow, added classes in grammar and writing are built in to this wonderful core curriculum. A full curriculum is available for children ready for grades 7-12. Contact Support Manager, Angela Walters, at awalters@classicalconversations.com.

Classical Conversations of Chicago West and Southwest Suburbs details
Snapology of Chicago

Chicagoland

Snapology's school enrichment programs focus on reinforcing age-appropriate concepts through creative play, with building and manipulation of various LEGO® models surrounding various themes. Our activities challenge children to cultivate problem-solving skills, improve their social development, and build confidence through teamwork, collaboration, group decision making, critical and creative thinking, verbalization and presentation skills practice. Snapology classes and programs are available to support your homeschool education goals. Save time and simplify your life by allowing your child to benefit from Snapology's play-based classes. Our curriculum can be adapted as customized to accomplish your goals. Children can enroll in regularly scheduled programs, or Snapology can come to your co-op or playgroup for your own class or event. Offering online and small group classes. Homeschool parents can contact us to create in-person enrichment classes specifically designed for their individual needs.
Cernal Earth and Science Center Planetarium

Cook County

The Cernan Earth and Space Center welcomes homeschoolers to attend their programs within a group or as individual families. There are programs for all ages of students covering astronomy, geology, biology, ecology, history, and engineering. They are pleased to work with you to find a program to fit your needs as a homeschooler.
Double J Riding Club

Countryside

Double J Riding Club classes and activities are designed to support both homeschooled students and students away from school with hands on learning in a variety of academic, physical, and social areas including: Early Childhood Education, Science, Creative Arts, History and Cultures, Equine and Animal Sciences, Nature, and Physical Education. Taught by trained professionals, each class/activity is comprised of no more than 8 students providing a small, safe, and stimulating environment, in which students are able to interact and collaborate with their peers around rich and developmentally appropriate curriculum. Our classrooms take place both indoors and outdoors and provide a unique environment to learn about animals, plants, and ecology through interacting with them rather than just reading about them. We emphasize fostering a child's intellectual, social, physical, and emotional growth using our farm and small animals, gardens, and nature. Programs run Fall - Spring and are open to children from 12 months-15 years. All ages are recommended ages.
Math Plays

Darien

Math Plays is a math enrichment program and offers classes to children 18 months - 4th grade. During a Math Plays class, children practice essential foundation skills and math concepts through fun games and activities. Classes are separated by ages/grades and are always kept small.
Des Plaines History Center

Des Plaines

The Des Plaines History Center offers two monthly "Hands On History" programs that explore historical and cultural topics with an interactive presentation and craft activity. These are FREE and cater toward children ages 5-10, but all are welcome to participate. Offering high quality, hands-on programming that will keep students not only engaged, but entertained and excited about the history of the Chicagoland area and beyond. Families of all age levels and abilities are welcome! Customized and private programs are available upon request!
Leslie Murphy Resourceful Academics

Downers Grove

A private reading and writing tutor with over 10 years of experience providing individualized, multi-sensory instruction for children ages 5 - 18 serving students located in Naperville and Downers Grove, IL.
Eagle's Wing Learning Center

Downers Grove

We are a Charlotte Mason co-school offering an academic program 3 days per week for students in pre-k through grade 12.
S.T.R.E.A.M. Tutoring, Classes, Camps, and Parties for science, technology, reading, engineering, arts, and math.

DuPage County

This group specializes in tutoring homeschool students K-12 in all areas and providing science lab classes, art and writing workshops, as well STEM training in the summer and throughout the school year.

S.T.R.E.A.M. Tutoring, Classes, Camps, and Parties for science, technology, reading, engineering, arts, and math. details
Liberty Liberal Arts Academy

Elgin/Fox Valley

"Educating Outside the Box and Inside the Church". Offering affordable, creative, and challenging core and fine arts Christian education classes for Homeschoolers in Fox Valley, IL. Meeting every Wednesday during the School Year at Larkin Avenue Baptist Church 1158 Larkin Avenue, Elgin, IL. See website for fees, class descriptions and teacher bios.
Homeschool Kingdom

Elmhurst

Homeschool Kingdom offers gym, art, science, acting, piano, guitar, voice, dance, karate, Spanish, programming/engineering/robotics to all ages including High School level classes. Connect Hour allows parents to build friendships while we encourage each other in the discipleship of our children. Yearbook, Graduation, Field Trips, Parent Outings. Christian Co-operative group serves the greater Chicagoland area in DuPage County.
Heritage Christian School - Illinois

Frankfort

Heritage Christian School offers home school families the opportunity to expand the children's training in areas such as science, math, music, and physical education by allowing parents enroll students in individual classes. If you don't have the facilities for chemistry or if you struggle teaching advanced math, you can enroll you child in just the right course. The school is a conservative Christian school that emphasizing sacred and classical musical style offering band, choir, and handbells.
It's Sew Simple With Sandy

Glen Ellyn/Lombard

Sandy teaches small group sewing lessons from her sewing studio. You can bring your own sewing machine, but not necessary since machines can be provided Each month features a new theme of projects that include instructions, materials, and supplies. Do you have commercial pattern you always wanted to try? Bring the pattern and materials to Sandy and she will walk you through the steps to a beautiful finished project.Sandy will show you how simple sewing can be.
Wildlife Prairie Park

Hanna City

Monthly Homeschool Classes at Wildlife Prairie Park 3826 N. Taylor Rd. Hanna City, IL 61536 Topic: Eyes on Eagles; Learn about our Nation's Bird! See wedsite for date of each monthly class
C2 Education Deerfield

Highland Park, Deerfield, Lake Forest, Northbrook, Bannockburn, Riverwoods

My name is Michelle Michelson and I am the Center Director at C2 Education Deerfield. We are a learning center that specializes in customized curriculum for tutoring programs for students from Kindergarten to 12th grade! Offering free Grade level testing, and free seminars on hot academic topics, from Study skills, to grammar crammers, to how to help with homework.
Imaginative SLP

Illinois

Imaginative SLP offers individualized, virtual hands-on speech-language therapy for children ages 3-14 (preschool- Eighth) who reside within the state of Illinois. All services are rendered by a certified Speech-Language Pathologist licensed to practice within the state of Illinois and in possession of the ASHA Certificate of Clinical Competence (CCCs). Popular areas of service include: speech-sound production, following directions, answering questions, vocabulary expansion, reading/listening comprehension, critical thinking, and inferencing. Imaginative SLP also offers group language enrichment classes that focus on age appropriate skills. Preschool language enrichment classes may work on answering questions, following directions, vocabulary expansion and basic concepts. Language enrichment classes for older students may consist of focusing on reading comprehension skills and strategies, vocabulary expansion (multiple meaning words, antonyms and synonyms), critical thinking and inferencing. Classes are tailored to group needs.
Illinois Classical Conversations

Illinois Statewide

CC is a national homeschooling program that uses a Bible based curriculum taught in a christian, classical tradition. Classes are geared for age 4 through high school.
Pilcher Park Nature Center

Joliet

Pilcher Park Nature Center offers 18 field trips based on science and history. The goal of the park is to bring science and history alive in through hikes and hands-on activities. Programs cover topics including maple syrup, geology, trees, the Underground Railroad, wilderness survival, pond study, and much more. All field trips meet current state learning standards. Offers field trips year-round with special events for the general public. Programs last from one to four hours.
RoboThink

Lake Bluff

RoboThink is a STEM education provider providing robotics, coding and entrepreneurship education for kids from ages 5-14.
After the Peanut

Lockport

This company teaches students to think and solve real world problems through active STEM quests. Through these innovative and exploratory quests, students delve into their creative side while collaborating, communicating, and critically thinking.
Long Grove Country School

Long Grove

LGCS is excited to be partnering with the University of Illinois Extension to offer 4H Programs for our Elementary Clubhouse starting in September. Programs will be offered for elementary age children as Enrichment Programs (4pm-5pm) and Homeschooling (12:45pm-2:15pm). Some of their programs topics include Creative Arts, STEM, Environmental Science and leadership programs for older (high school age children). There will also be a rocket program added to the schedule. Students participating in 4H Programs will be working on an annual school year project with the opportunity to display their projects at the County Fair in July. 4H Programs are broken into age groups for children ages 8+ and children between the ages of 5-7 years old. LGCS will have the same age groups.
Daniela Bisenius

Naperville

Professional violinist, performer and teacher has openings for students during the week, mornings, for violin and viola lessons. Cntact Daniela at 630) 504-9221.
The Learning Vine

Naperville

The Learning Vine is a homeschool co-op that partners with parents to provide academic, elective, and enrichment classes. This co-op offers Kindergarten through 12th grade academic classes on Monday and 9th through 12th grade academic labs on Friday. On Friday Learning Vine also offers a variety of enrichment classes for preK through 12th grade including art, physical education, foreign language, home arts and STEM labs.
Children's Discovery Museum Home School Programs

Normal

Home School programs are available to all students between the age of 5 and 13. We ask that families sign their child up for the appropriate section. These programs allow children to experience STEAM based activities and concepts through hands-on experiments, building, and play. Times: 9:30 – 11:30 a.m. Cost: $15 Members / Museums for All $20 Non-Members
Lorado Taft Field Campus

Oregon

Lorado Taft has over a 60-year history of providing outdoor education to elementary and middle school students. Offering options for schools or homeschool groups to come and enjoy a day of learning in the outdoors. Full-time Taft staff will teach all aspects of the program throughout the day. Chaperones are required for supervision or other student needs. $26 per person includes 6.5 hours of classes plus 2 delicious meals. Contact website for more information and a brochure of program options.
Athena Hybrid Academy

Oswego

Athena Hybrid Academy offers academic classes for public, private, or homeschool credit by providing a homeschool instruction and individual tutoring. This new educational experience is designed to build character, intelligence, and readiness for life after high school. Athena classes can be paired with a split schedule between Athena and your local public or private school. Athena can also supplement your own homeschool or handle the majority of homeschool instruction. Regular school year and summer classes are available in a wide range of subjects including history, English, math, etc. Athena also offers some unique classes such as a public speaking class focused on the Bible, investing and technical analysis, yoga, and more.
ACES Homeschool Groups

Oswego (Fox Valley)

How do you define success for your child? For some it may be meeting certain developmental milestones. For others it may be the achievement of a particular academic skill. ACES Education understands that success can be defined many ways. ACES works alongside families to reach specific educational goals. ACES offers fun and engaging programs for students throughout the year including homeschool programs, summer camps, tutoring, parent support, consultations, and the popular Annual Homeschool Fair! ACES serves families in the far western suburbs of Chicago. Programs provide families with additional support for their home education. Together we learn better! ACES Homeschool Groups are half day (ages 4-7) and whole day (ages 6-14) or "a la carte" classes (ages 5 and up) that meet in downtown Oswego, IL. All classes are led by teachers; parents drop off students during the sessions. Academic programs are offered September-May.
Health Homeschool Classes at the Peoria PlayHouse Children's Museum

Peoria

The Peoria PlayHouse Children's Museum offers STEAM Homeschool classes in which students explore careers related to science, technology, engineering, art, and mathematics. Hands-on activities included! Join the Playhouse for a fun and interactive homeschool class where children will explore topics related to the human body. This class is open to children ages 5-12 years old. Classes will be held at the Bonnie Noble Center, on the third Thursday of the Month from 2pm-4pm. January 19th: Brain Boost February 16th: Teeth To Treasure March 16th: Happy Heart April 20th: Eye Look, Eye See

Health Homeschool Classes at the Peoria PlayHouse Children's Museum details
Lumen Christi Home Education Cooperative in the Catholic Tradition

Richmond

Lumen Christi - Home Education Cooperative in the Catholic Tradition offers support for Catholic homeschooling families in their quest to know, love, and serve the Lord through the richness of the Roman Catholic Tradition. We are a Catholic community of parents and children in which the Light of Jesus Christ and His Holy Catholic Church is perpetuated, celebrated, and nourished through the Sacraments, enrichment and academic classes, special events and fellowship opportunities.

Lumen Christi Home Education Cooperative in the Catholic Tradition details
Rockford Art Museum Homeschool Art Classes

rockford

Each year RAM offers 16 homeschool classes that are structured into 4 themed units of 4 classes each, and run September through May. One session of each 90-minute class is held Wednesdays for grades K–4 (9am-10:30am) & 5–8 (11am-12:30pm) & 2 hour sessions for high school students 9am-11am Thursday mornings.
Severson Dells Nature Center

Rockford

Homeschool students/families are invited to join Severson Dells Nature Center for a variety of lessons throughout the school year. This is a great opportunity to get your homeschooler(s) involved in hands-on, minds-on environmental education throughout the year. All lessons are at least partly outdoors, and most are entirely outside, so be sure everyone is dressed for the weather (closed-toe shoes required). For students ages 8 years and older.
Classical Conversations in Rolling Meadows

Rolling Meadows

A Classical Christian community that meets on Thursdays for 12 weeks in fall and 12 weeks in the spring in order to equip and encourage parents and students as they homeschool. Classical Conversations covers history, science, geography, English grammar, Latin, a Timeline, and Math facts.
Freestyle Learning

South Suburbs Chicago

FSL offers support and resources for working parents who desire to homeschool but can't. Their purpose gives children the confidence to master their academic and developmental skills. Open daily from 8:00 a.m. until 3:30 p.m. with extended care options available, students receive daily assistance with their assignments, tutoring, 1:1, and group sessions. Extracurricular classes such as Business, Music, and Spanish are offered weekly. Their trained staff is available to aid parents with choosing a curriculum and creating a lesson plan that will nurture and not hinder their child's academic journey.
Homelink Learning Center

St. Louis/South Area

Homelink is a homeschool learning center (not a co-op) that is an arm of the support group called S.H.A.R.E. in St. Louis, Missouri. Homelink offers once-a-week classes that provide guided independent learning for students in grades K-12. The classes can provide the full home school academic experience or may be considered enrichment classes that extend and deepen the learning that is occurring in your home school. Prices vary depending on the teacher and the subject. Meets at former St. Andrew Catholic Church School, 309 Hoffmeister, St. Louis, MO 63125
IL Poison Center's Poison Prevention Education Course

Statewide in Illinois

The IL Poison Center's (IPC) free online Poison Prevention Education Course (PPEC) is available in both English and Spanish. Anyone age 13 or older, living and/or working in Illinois is welcome to complete the course and utilize the online Poison Prevention Education Resource Center. The course consists of seven quick, easy lessons and corresponding quizzes. Each lesson/quiz takes about 3-5 minutes each to complete (takes less time when you use a mobile device). You can complete the course at your convenience. The course covers: *Facts About U.S. Poison Centers *Facts about Poisons *Potential Poisons *Who is at Risk of Poisoning *How to Prevent Poisonings *What to do in Case of a Poisoning *How to Share Poison Prevention Information After completing the online course, you will receive a Certificate of Completion and unlimited access to order and/or download a variety of free education/presentation/promotion materials to share with others anytime you want them (stickers, magnets, safety packets, posters, children's paint sheets, etc.). BONUS: Free Continuing Education Credit (CEC) available.

IL Poison Center's Poison Prevention Education Course details
Spark Literacy Center, LLC

Wheaton

This resource/reading clinic provides initial assessments to determine a customized reading plan for the student. Progress monitoring of skills is ongoing and woven into each session. Strategic, research-based lessons are based on the five foundations of reading instruction: Phonemic awareness, phonics, vocabulary, fluency, and comprehension. While there is no set "number of sessions" for a student to attend, a semester is ideal. A formal recommendation will be made after the initial assessments are complete.
Classically Catholic Memory Co-op

Wood Dale

We are a Classically Catholic Memory co-op. We meet every other Wednesday during the school year from 9-12:30. We offer CCM, Science with a professional science teacher and Gym class for K-6th graders and Catechesis of the Good Shepherd for 3-6 year olds. We also have a nursery for younger siblings, and a Chemistry class for 7th and 8th graders. For more information please email Courtney Weicher at courtney.weicher@gmail.com
Oak Meadows Christian Academy

Wood Dale

We are a Homeschool Educational Support Center that meets 3 days a week (Tuesday-Thursdays) with biweekly Friday Field Trips. We offer both co-school & drop-in Enrichment Afternoons for PreK through 8th grade. We take care of grading, lesson plans and curriculum scope to support parents so they can feel confident homeschooling. Our program runs yearly from mid-September to the end of May.