TheHomeSchoolMom's local resource listings are sponsored by Time4Learning, where you can find resources, support groups, test prep info, and more.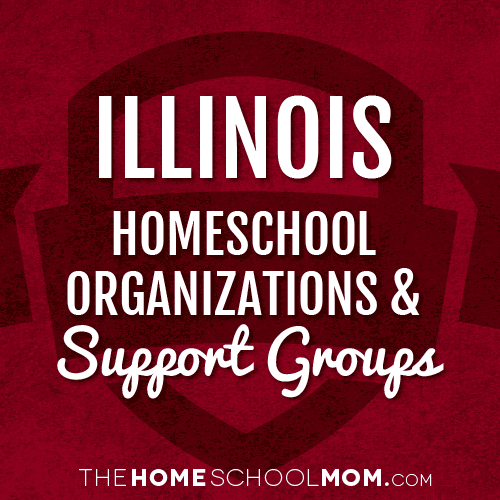 Since homeschooling is regulated at the state level, connecting with local homeschoolers is an important step to start homeschooling in Illinois. State homeschool organizations and local homeschool groups are not just a good place to learn the specifics of legally homeschooling in Illinois—they can also help you to get connected with the local homeschooling community. Many homeschool groups offer co-ops, classes, sports and arts opportunities, and social get-togethers.
Our listing of Illinois state organizations and local homeschool groups is ordered alphabetically by city, with statewide organizations listed first. If you would like to submit a group, you may do so using the red button above.
Illinois Homeschool Organizations
Illinois Christian Home Educators (ICHE)Illinois Statewide
"The mission of ICHE is to call, encourage, and assist Christian families to trust our trustworthy God through practicing a home-based, family-funded, multi-generational, life-long discipleship tha...
Illinois Local Homeschool Groups
CHAMPs HomeschoolArlington Heights/NW Chicago Surburban Area
Christian Homeschool Arts & Music Programs - enrichment cooperative meets weekly throughout school year
SCCCHEBelleville
St. Clair County Christian Home is intended to provide useful information to aid families in their endeavor to educate their children at home. Please contact us if you have any questions conerning ...
Nichols Community CenterBelleville
A resource facility for classes, groups or events. Nichols Community Center has multiple classrooms, a gym, ballet/dance room, youth specific rooms and some supplies. Please contact Nichols Commu...
Crossroads Area Home School AssociationBloomington
CAHSA unites Central Illinois homeschoolers in the area where I-74, I-39, I-55 and IL-51 connect. This website is a resource for those who have chosen homeschooling as the best route for educating ...
National Parenting Education Network (NPEN)Chicago
The vision of the National Parenting Education Network (NPEN) is that all parents/families will have the information, resources and support needed to provide a nurturing relationship and an optimal...
Homeschool KingdomElmhurst
Homeschool Kingdom offers gym, art, science, acting, piano, guitar, voice, dance, karate, Spanish, programming/engineering/robotics to all ages including High School level classes. Connect Hour al...
Scott Area Military Home EducatorsFairview Heights
A group of military related families living around Scott AFB. Membership to our group provides families with information about educational as well as social opportunities. SAMHE membership provid...
Westside HOUSEForest Park and surrounding areas
Home Oriented Unique Schooling Experience is an inclusive, non-sectarian network of homeschooling support groups. The Westside HOUSE chapter meets the second Friday of each month at the Forest Par...
Northern Illinois Christian Home Educators (NICHE)Freeport
A member led homeschool parent support group and co-op, our mission is to provide support, encouragement and prayer to our members. Come find your NICHE with us! Contact us for more information, or...
Illinois H.O.U.S.E.Illinois Statewide
H.O.U.S.E. (Home Oriented Unique Schooling Experience) is a network of homeschool support groups whose purpose is to support families in exercising their right to homeschool regardless of age, colo...
Homeschooling in IllinoisIllinois Statewide
Explore Homeschooling in Illinois
Illinois Christian Home Educators Support GroupsIllinois Statewide
ICHE's vast network of Support Groups reaches all parts of Illinois. These locally based groups provide mentoring, schooling resources, curriculum ideas, prayer support, and the individual "hand...
Saint Scholastica Home School GroupLake & McHenry Counties, IL & Southern WI
Established in 1985, SOSS is a vibrant, active Catholic Home School Group that has 50-70 families in a typical year. A variety of committees provide activities and events throughout the school yea...
FOCHEMadison County and Surrounding Areas
Family of Christian Home Educators is a Christian Homeschool Group providing information, support, and guidance to ALL Homeschoolers while seeking God's wisdom, knowledge and guidance and sharing G...
Homeschool Resource CenterMonee
The Homeschool Resource Center exists to provide information, advice, encouragement, fellowship, and resources to Christian homeschooling families. The Center also conducts monthly meetings that in...
Many Rivers UnschoolersNaperville, Aurora, Joliet
An all inclusive homeschooling group. We practice child-led learning, as opposed to following a set curriculum. We meet every Wednesday for an unstructured play group, and on other days for specia...
Splendor of Truth Catholic Home Educators (SOTCHE)Northeastern region
Splendor of Truth Catholic Home Educators, or SOTCHE (pronounced SAH-chee), is a group of homeschooling Catholic families. The group's location spans the Illinois/Wisconsin border: from southeaster...
Illiana Homeschool SocietyNorthwest Indiana and Northeast Illinois
We are a group of homeschool families in NW IN and NE IL joining together to promote socialization and education. We welcome ALL families.
Three Rivers Homeschool NetworkPaducah
The Three Rivers Homeschool list functions to connect homeschooling families and their support groups in western Kentucky, southern Illinois, and northwest Tennessee. Its purpose is to keep familie...
Association of Peoria Area Christian Home EducatorsPeoria
"Helping Parents Excel in Home Educating Their Children from a Christian Perspective". The vision of APACHE is threefold: To provide education and information to parents. To provide activities to...
Peoria Area HomeschoolersPeoria
Enhancing the home education experience for homeschooling parent/guardians of all backgrounds in the Peoria area. PAH provides an opportunity for members to provide support, play dates, field trips...
Apache Association of Peoria Area Christian Home EducatorsPeoria
Helping parents excel in home educating their children from a Christian perspective, Apache is a non-profit homeschooling association located in Central Illinois. APACHE provides a yearly home educ...
SVCHE Sauk Valley Christian Home EducatorsRock Falls
This resource group supports homeschoolers in the Sauk Valley Area (Ogle, Whiteside, Carrol, Lee, Bureau Counties). SVCHE offers parent-led enrichment classes, field trips, parties, and graduation ...
Illinois Homeschoolers for Open Peaceful EducationRockford
I-H.O.P.E exists to offer supplemental classes, field trips, and other enrichment activities for homeschoolers and their families. I-H.O.P.E provides support and encouragement to all; regardless of...
True North of RockfordRockford
True North of Rockford Homeschool is dedicated to providing educational and social opportunities for Rockford-area families. This is a secular group that welcomes the whole spectrum of belief syste...
Homeschool Friends of St Charles (and surrounding areas)Saint Charles
This group is for all preschool, grade school, middle school and high school homeschoolers within 20 min of Saint Charles (or the willingness to drive to St Charles). This new meetup group's go...
Schaumburg H.O.U.S.E.Schaumburg, Elgin, Streamwood, Wheaton, and Bartlett
A non-sectarian group of homeschoolers that support all educational philosophies and family lifestyles. We facilitate activities, classes, cultural events, and general gatherings to aid our childr...
Grassroots HomeschoolersSouth Suburban Chicagoland Area. Matteson, IL
Grassroots is open to anyone with an interest in homeschooling. Based in Matteson, Illinois, this is a non-denominational, nonsectarian, registered non-profit organization that has existed since 19...
Christian Homeschooling AssociationSpringfield
Christian Homeschooling Association (CHA) is located in Springfield Illinois and serves the central Illinois Homeschool community. The organization was founded to provide education and support for ...
Central Illinois Interest Group of Mocha Moms, Inc.Springfield
About Mocha Moms, Inc. Mocha Moms, Inc. began in 1997 as a support group for African American at-home moms. We have since expanded our scope to include all mothers of color regardless of employme...
SHARE (St. Louis Homeschooling Activities, Resources, and Encouragement)St. Louis City and County
S.H.A.R.E. (St. Louis Homeschooling Activities, Resources and Encouragement) is a large independent support group founded and operated by volunteer parents who home educate their children in the Gr...
Teaching Homes for ChristWest Chicago
Teaching Homes is a low cost support group and collection of Christian families that are home schooling all or some of their children and want to share our love of Jesus Christ. Encouragement and ...