Homeschooling is regulated at the state level, so connecting with local homeschoolers is an important step to start homeschooling in Illinois. Find the Illinois homeschool groups closest to you and get connected with your local homeschooling community, learn about the homeschool requirements in Illinois, and discover the co-ops, classes, sports and arts opportunities, and social get-togethers in your area.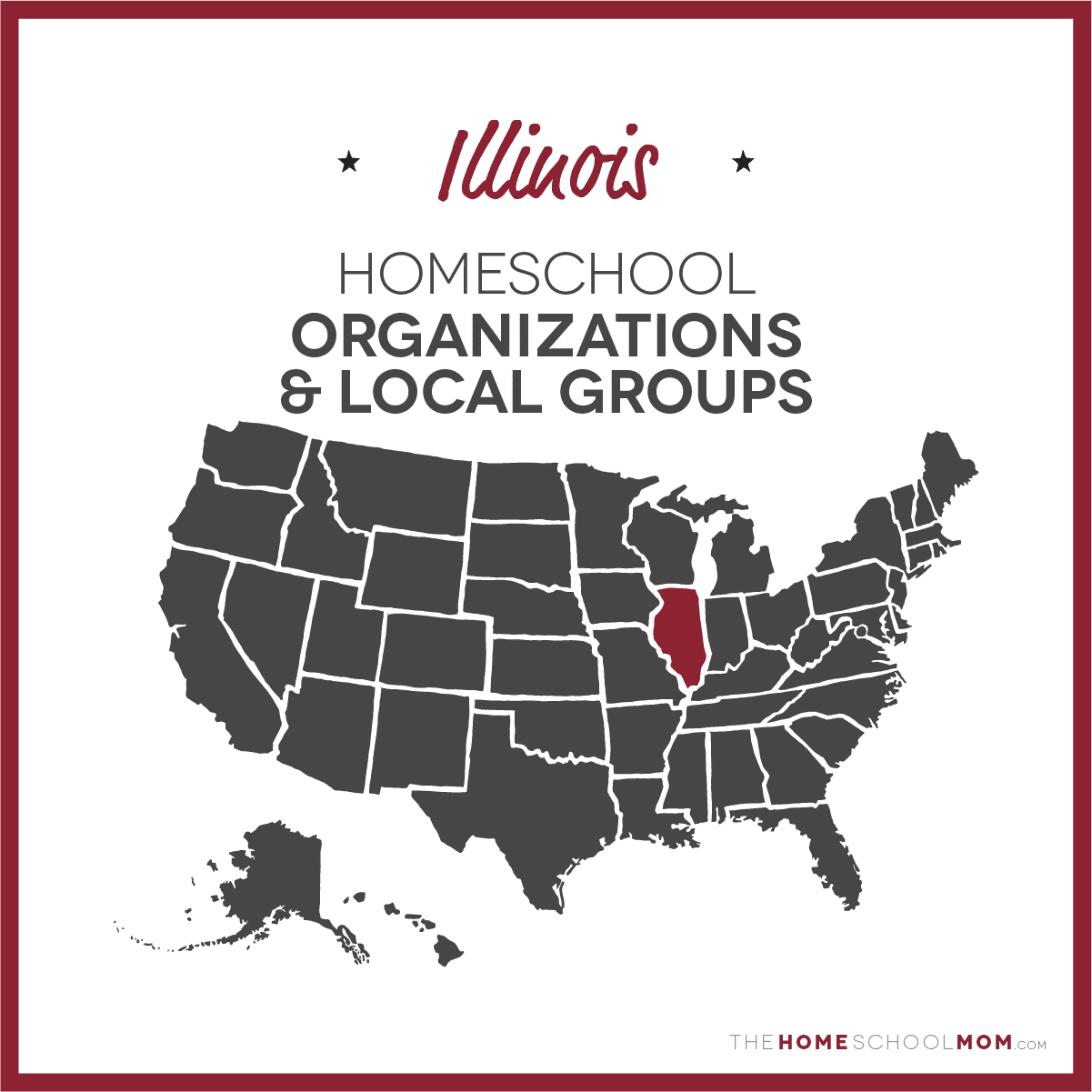 Submit a Local Resource
Jump to: State Organizations | Local Groups
Our listing of Illinois state organizations and local homeschool groups is ordered alphabetically by city, with statewide organizations listed first. If you would like to submit a group, you may do so using the red button above.
Illinois Homeschool Organizations (Statewide)
Illinois Christian Home Educators (ICHE)

Illinois Statewide

"The mission of ICHE is to call, encourage, and assist Christian families to trust our trustworthy God through practicing a home-based, family-funded, multi-generational, life-long discipleship that builds Christian character, pursues excellence in academics, nurtures an ever-deepening faith, and impacts our world for Jesus Christ." Large site with many resources.
Illinois Local Homeschool Groups
MECHE: Metro East Catholic Home Educators

Alhambra
SCCCHE

Belleville

St. Clair County Christian Home is intended to provide useful information to aid families in their endeavor to educate their children at home. Please contact us if you have any questions conerning home education.
St Clair County Christian Home Educators

Belleville

SCCCHE is a homeschool enrichment group designed to help and encourage Christian families in their home education journey. There is a co-op, music and drama groups, field trips, monthly meetings, educational competitions, talent shows, and many other events.
Crossroads Area Home School Association

Bloomington

CAHSA unites Central Illinois homeschoolers in the area where I-74, I-39, I-55 and IL-51 connect. This website is a resource for those who have chosen homeschooling as the best route for educating their children. Here they will find information about classes, activities, field trips, and communications with other homeschoolers in the area.
Crossroads Area Home School Association (CAHSA)

Bloomington-Normal

Crossroads Area Home School Association (CAHSA) represents families near Bloomington-Normal, IL who have chosen to homeschool their children. CAHSA provides a sense of community and an easily accessible network of communication and resources which equip parents, enhancing the experience for students. As families make the decision to begin homeschooling or move into the Crossroads Area, our purpose is to make them aware of the opportunities and resources available to them. There is no formal membership and no fee to be a part of this association. We encourage families to join the CAHSA Google Group, a private email network, and the CAHSA Facebook group, which are used to share information, ideas, materials or requests. CAHSA's website includes a vast amount of local resources and opportunities.  
Christian Homeschool Connection

Champaign-Urbana

Christian Homeschool Connection (CHC) is a network of homeschooling families in and around Champaign-Urbana. While doctrinal differences may exist, our membership finds community and support within a variety of homeschooling styles. CHC is a volunteer led and run organization and encourages all members to give their time and talents to support each other. Family Center is an optional Thursday morning co-op which meets in the fall and spring for approximately 12 weeks per semester. Classes are taught by parents on a wide variety of topics for all ages. Some members of CHC attend Family Center, while others do not. In order to sign up for Family Center, one must first be a member of CHC.
National Parenting Education Network (NPEN)

Chicago

The vision of the National Parenting Education Network (NPEN) is that all parents/families will have the information, resources and support needed to provide a nurturing relationship and an optimal environment that will encourage their children's healthy growth and development.
Christian Home Educators Support System

Chicago

Empowering parents to take the lead in their children's education.
Our Lady Queen of Peace Homeschool Group

Chicago

Our Lady Queen of Peace is a Catholic homeschool support community based in the Northwest Chicago suburbs. The aims of our group are to foster friendship through social, educational, and spiritual events and field trips led by group volunteers. New members are welcome. We suggest you "try us out" for a month. We have several regular activities such as Park Days, Monthly Mass, Holiday Parties, Clubs, and Field Trips.
Hilltop Christian Community

Crystal Lake

Hilltop Christian Community is a hybrid homeschool cooperative. HCC families work together to emphasize fellowship, discipleship, and support through our morning cooperative enrichment classes. The afternoon transitions to individualized academic options where students can choose from a variety of core and elective classes. Classes typically include history, science, math, language arts, and electives like worldview, theology, photography, or engineering. All classes are taught from a biblical worldview. Hilltop meets on Fridays from September-May, west of McHenry. The morning enrichment co-op is from 9:00-12:00. Lunch and clean-up are from 12:00-1:00. The optional afternoon academic options for the older students start at 1:00.
DeKalb County Home Educators

DeKalb

DCHE is a homeschool group located in DeKalb County. We offer a wide variety of events and meetups for homeschoolers of all ages. Join us on Facebook to connect with other parents and find an event for your family!
East Central Illinois Home Educator Network

East Central Counties

East Central Illinois Home Educator Network (ECIHEN) provides opportunities for Christian homeschool families seeking support in the home education of their children.
Homeschool Kingdom

Elmhurst

Homeschool Kingdom offers gym, art, science, acting, piano, guitar, voice, dance, karate, Spanish, programming/engineering/robotics to all ages including High School level classes. Connect Hour allows parents to build friendships while we encourage each other in the discipleship of our children. Yearbook, Graduation, Field Trips, Parent Outings. Christian Co-operative group serves the greater Chicagoland area in DuPage County.
Northern Illinois Christian Home Educators (NICHE)

Freeport

A member led homeschool parent support group and co-op, our mission is to provide support, encouragement and prayer to our members. Come find your NICHE with us! Contact us for more information, or visit one of our monthly parent meetings August through April.
North Shore Homeschool Group

Glenview and surrounding areas

North Shore Homeschool Group (Illinois) is an in-person secular social community for homeschoolers. Our organization provides resources, support, and connections to neighbors through social gatherings, education, and recreation.
Illinois Christian Home Educators Support Groups

Illinois Statewide

ICHE's vast network of Support Groups reaches all parts of Illinois. These locally based groups provide mentoring, schooling resources, curriculum ideas, prayer support, and the individual "hands and feet" of ministry.
Kankakee Christian Home Educators (KCHE)

Kankakee County

Kankakee Christian Home Educators (KCHE) is a support group with many members from Kankakee County and surrounding counties.
Saint Scholastica Home School Group

Lake & McHenry Counties, IL & Southern WI

Established in 1985, SOSS is a vibrant, active Catholic Home School Group that has 50-70 families in a typical year. A variety of committees provide activities and events throughout the school year, some that meet on a monthly basis. All activities vary but include events centered around the Liturgical calendar, scholastic activities, monthly teen and tween groups, and a monthly Mom's meeting geared towards mutual support and sharing of information relevant to homeschooling and the Catholic faith.
Homegrown Lilacs Resources & Support

Lombard

Homegrown Lilacs is a Lombard, IL homeschool community group offering resources, group outings, encouragement and support. A group bringing together likeminded families, because, the Best Lilacs are Homegrown!
Marshall County Il Area Homeschoolers

Marshall County

Building a community for home educators in or near Marshall County Illinois. We focus on social time, events and educational opportunities. Our Facebook group has all the up to date events taking place with our community.
Greenhouse Homeschool Community of Matteson, Illinois Area

Matteson

Greenhouse Homeschool Community of the Matteson, Illinois Area is a network of families enjoying the beautiful journey of home education together. Greenhouse Homeschool Community park days, mom's nights, field trips, and other activities connect homeschoolers so we can develop friendships, encourage one another, and share wisdom and resources. Greenhouse Homeschool Community is not designed to be an academic supplement to home education, nor is it associated with a particular homeschool curriculum or specific to religious affiliation. Instead, Greenhouse Homeschool Community brings together homeschoolers from many walks of life who connect based on their shared passion to educate their children at home, and their desire to do so within a supportive network.

Greenhouse Homeschool Community of Matteson, Illinois Area details
Grassroots Homeschoolers

Matteson

Our support group was founded in 1982 and is located in the south suburbs of Chicagoland, Illinois. We meet in person on the first and third Wednesday of each month from 11:30 to 2:30 at St. Paul's Church fellowship hall/gym at 6201 Vollmer Rd in Matteson. All ages are welcome and moms must stay with their children. We have field trips, mom's nights and themed programs. We also have a formal graduation and awards night for all the children. We are a non-denominational and non-sectarian cooperative group open to everyone providing planned educational and social activities. Check out our public Facebook page for updates. There is also a member's only Facebook page.
Heart of Mary Educators

Moline

Heart of Mary Educators is a local group and community of Catholic homeschoolers in Moline, Illinois
Homeschool Resource Center

Monee

The Homeschool Resource Center exists to provide information, advice, encouragement, fellowship, and resources to Christian homeschooling families. The Center also conducts monthly meetings that include discussions on various subjects pertaining to the heart of homeschooling and home discipleship. There are also two co-ops, e-mail information loop, larger lending library, used curriculum, etc.
North Shore Homeschool Group

North Shore Areas

North Shore Homeschool Group (Illinois), is a diverse social community for fellow homeschoolers. Offering resources, support, and connections with neighbors through local events. Together we create and attend social gatherings, group field trips and more.
Splendor of Truth Catholic Home Educators (SOTCHE)

Northeastern region

Splendor of Truth Catholic Home Educators, or SOTCHE (pronounced SAH-chee), is a group of homeschooling Catholic families. The group's location spans the Illinois/Wisconsin border: from southeastern Wisconsin to northeastern Illinois. Members are families from Racine, WI to Lake Bluff, IL and from Lake Michigan to McHenry County, IL. Most activities take place near the Kenosha, WI and Gurnee, IL areas.
Association of Peoria Area Christian Home Educators

Peoria

"Helping Parents Excel in Home Educating Their Children from a Christian Perspective". The vision of APACHE is threefold: To provide education and information to parents. To provide activities to assist parents in their efforts. To promote understanding and acceptance of home schooling as an excellent means of education. Some of APACHE's activities include: a monthly newsletter, annual convention and curriculum fair, library, choir, a track and field day, history fair, science fair, talent night, and smaller local support groups and parents' meetings.
Peoria Area Homeschoolers

Peoria

Enhancing the home education experience for homeschooling parent/guardians of all backgrounds in the Peoria area. PAH provides an opportunity for members to provide support, play dates, field trips, and networking opportunities to each other.
Apache Association of Peoria Area Christian Home Educators

Peoria

Helping parents excel in home educating their children from a Christian perspective, Apache is a non-profit homeschooling association located in Central Illinois. APACHE provides a yearly home education convention, used curriculum fairs, information and support for new homeschooling families, monthly newsletters and fellowship and educational opportunities throughout the year.

Apache Association of Peoria Area Christian Home Educators details
St. Therese Catholic Home Schooling (Peoria)

Peoria

St. Therese Catholic Home Schooling is a group of Catholic home schooling families in the Peoria, Illinois, area. They offer all sorts of field trips, social activities, classes, etc. Please email them at st.therese.peoria@gmail.com and let them know a little bit about yourself. Their Membership Coordinator will be in touch with you soon.
Many Rivers Unschoolers

Plainfield

An all inclusive homeschooling group. We practice child-led learning, as opposed to following a set curriculum. We meet every Wednesday for an unstructured play group, and on other days for special field trips and special-interest groups. Our special-interest groups currently include anime club, science club, game day, gym day, fiber arts group, and parent's night out. We also produce Undercurrents, our own journal of arts and literature, and participate in homeschool acting classes, swimming, and skating days.
Greater Rochelle Area Christian Educators (G.R.A.C.E.)

Rochelle and surrounding area

Greater Rochelle Christian Educators, or G.R.A.C.E., was established in 2003 as a homeschool workshop. Our members work together to provide a Christian-focused, fun educational day for students once a week. G.R.A.C.E. is proud to offer a wide variety of classes ranging from pre-k through high school levels. Our dedicated teachers are passionate about their content areas and seek to support parents in their homeschooling journeys, not replace them. Class offerings include academics, electives and just plain enjoyable options. We have over 65 different classes for you to check out for the fall semester! Parents are not required to teach, but one parent is responsible to participate in the weekly running of the program through various volunteer opportunities. We are not a school, therefore, a parent needs to be on the premises while his or her students are in classes. We meet in Rochelle, Illinois on Fridays starting in September and continuing until early May. For more information, please visit our website www.gracerochelle.org. New family applications can be obtained by emailing newfamily@gracerochelle.org.

Greater Rochelle Area Christian Educators (G.R.A.C.E.) details
Sauk Valley Christian Home Educators

Rock Falls

Sauk Valley Christian Home Educators is a group of about 50 Christian homeschooling families from the Sauk Valley area. We generally meet together regularly throughout the school year for Friday School, field trips, family activities, and seasonal parties.
Homeschool Friends of St Charles (and surrounding areas)

Saint Charles

This group is for all preschool, grade school, middle school and high school homeschoolers within 20 min of Saint Charles (or the willingness to drive to St Charles). This new meetup group's goal is to make all feel welcome and friended, from preschoolers to the tweens and teens, helping homeschool neighbors to meet and build meaningful relationships. Events are posted solely by fellow homeschool families (no for-profit events, please). All members are encouraged, but not required, to post events as often as possible. Member dues that total above Meetup group fees will be donated to Kane County Forest Preserve.

Homeschool Friends of St Charles (and surrounding areas) details
Schaumburg H.O.U.S.E.

Schaumburg, Elgin, Streamwood, Wheaton, and Bartlett

A non-sectarian group of homeschoolers that support all educational philosophies and family lifestyles. We facilitate activities, classes, cultural events, and general gatherings to aid our children in making friends and being part of a larger community. Schaumburg H.O.U.S.E. is a chapter of Illinois H.O.U.S.E., the statewide organization (Home Oriented Unique Schooling Experience).
Grassroots Homeschoolers

South Suburban Chicagoland Area. Matteson, IL

Grassroots is open to anyone with an interest in homeschooling. Based in Matteson, Illinois, this is a non-denominational, nonsectarian, registered non-profit organization that has existed since 1982. The purpose is to support and nurture homeschooling families. They provide a social network of growth and camaraderie as well as practical information to our community members and all others who are either actively involved in homeschooling or considering embarking on the homeschooling adventure. This is a diverse group with members spread across the entire Chicago Southland region. Participants range in age from pre-K all the way up through high school, and even have a few baby brothers and sisters who join in the fun. Grassroots is a family-friendly organization.
Central Illinois Interest Group of Mocha Moms, Inc.

Springfield

About Mocha Moms, Inc. Mocha Moms, Inc. began in 1997 as a support group for African American at-home moms. We have since expanded our scope to include all mothers of color regardless of employment status. The primary mission of Mocha Moms, Inc. is to support and encourage women who are making parenting a priority in this season of their lives. Programs • Support Groups • Playdates • Community Service • Moms Night Only Outings • Family Activities and More Interested in becoming a Mocha Mom? Contact us at centralillinoismochamoms@gmail.com or via telephone at (309) 431-1410.
SHARE (St. Louis Homeschooling Activities, Resources, and Encouragement)

St. Louis City and County

S.H.A.R.E. (St. Louis Homeschooling Activities, Resources and Encouragement) is a large independent support group founded and operated by volunteer parents who home educate their children in the Greater St. Louis Area. Families from all over the St. Louis region and nearby Illinois counties are members of SHARE, although it is based in the South City, South County and Mid County areas. The majority of members are Christians but people of all faiths are welcome in S.H.A.R.E. The main goal is to inform, equip and encourage families in their homeschooling journey.

SHARE (St. Louis Homeschooling Activities, Resources, and Encouragement) details
Catholic Schoolhouse

St. Louis/ MetroEast

More than an academic co-op, Catholic Schoolhouse is a structured program meeting weekly for homeschoolers that includes chorus, two hours of classroom instruction, hands-on science, art projects, and opportunities for socializing after class. Catholic Schoolhouse utilizes a classical education curriculum which educates from preschool to the senior year of highschool.
Illinois Homeschooling Facebook Group

Statewide in Illinois

A place for homeschoolers to find support and resources geared towards homeschooling in Illinois. We have posts geared towards finding homeschoolers local to you, co-ops, field trips, etc. We keep the homeschooling community informed about bills that may harm homeschoolers. We have over 11,000 homeschoolers on our page and we are there to assist those looking to homeschool, those homeschooling and those looking for options should homeschooling not be the right fit for a child. We work to help homeschoolers find resources in their area.
Trinity Homeschool Group

West and Southwest Suburbs of Chicago

Trinity Homeschool Group is a Catholic homeschool group, with most of our families and activities in the west and south west suburbs of Chicago. We are happy to help and support your family during your homeschooling journey.
Teaching Homes for Christ

West Chicago

Teaching Homes is a low cost support group and collection of Christian families that are home schooling all or some of their children and want to share our love of Jesus Christ. Encouragement and support for parents who need to press on with the sometimes daunting task of being disciple, parent, and teacher to their children. Monthly meetings (during the "school year") where parents can gather to hear speakers on various topics relevance to home schooling, and Christian principles. An opportunity for home school parents to talk and interact with other home school parents to share ideas, to encourage, and support one another. A library of homeschool materials and books that can be checked out by members for a month at a time. Activities and field trips for member families and students.