Jump to: Homeschool Arts | Homeschool Sports
In addition to the opportunity to get out of the house and socialize, homeschool sports and arts programs can offer long-term benefits by developing characteristics like leadership, self-confidence, perserverance, and self-esteem. Many organizations and businesses have opportunities specifically for homeschoolers, while others invite homeschoolers to participate in their regular programs.
Not sure how to choose activity/activities for your children? Read how Rebecca narrows down the choice of extra-curricular activities.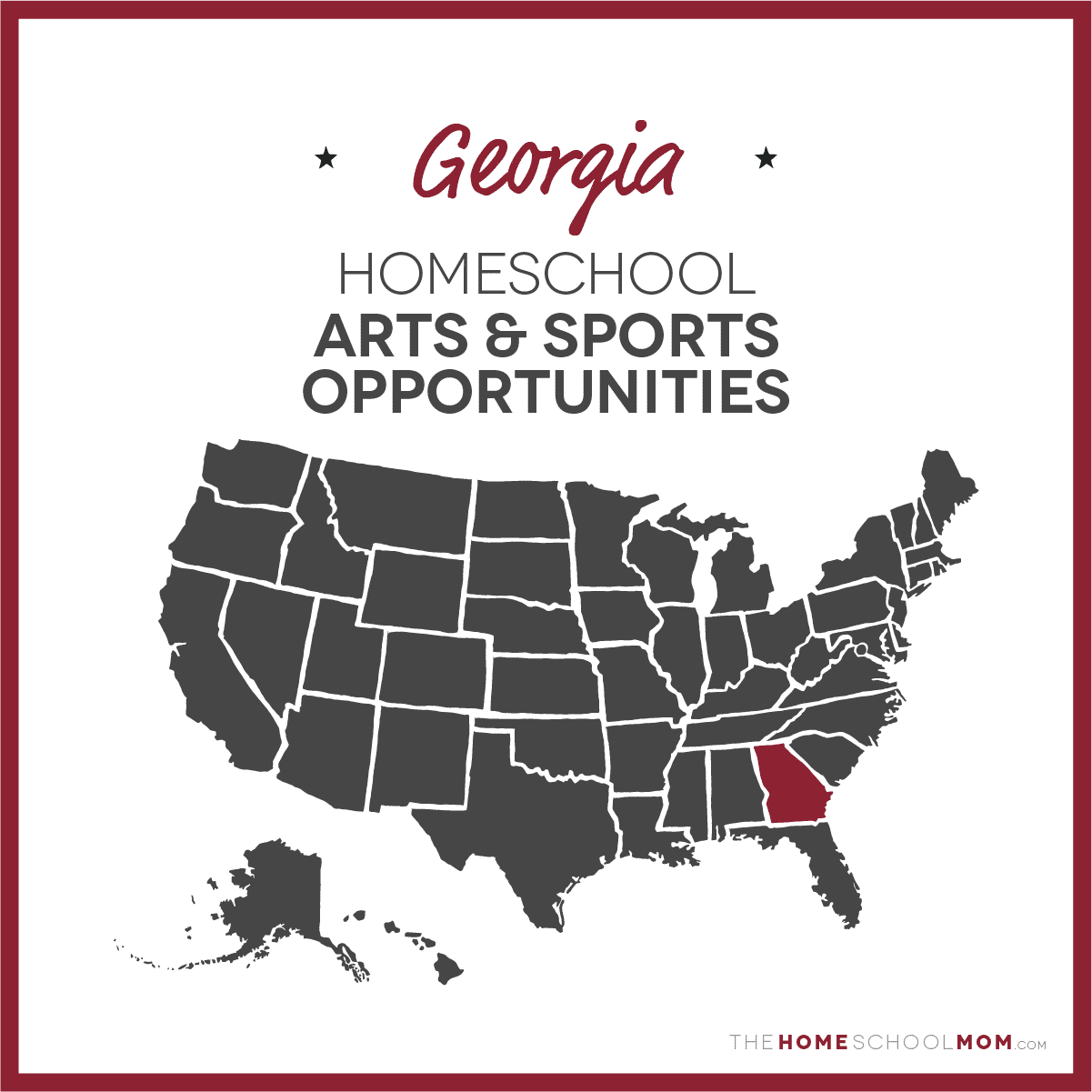 Submit a Local Resource
Our listing of Georgia list of homeschool arts and sports programs is ordered alphabetically by city, with arts in the first section and sports in the second section. If you would like to submit an Georgia arts or sports program, you may do so using the red button above.
Georgia Homeschool Arts Programs
Rebecca West Piano Studio

Acworth

Private piano lessons for homeschool students.
Cynthia Gannon Piano

Acworth

Cynthia Gannon is a classically trained pianist and has been teaching piano for nearly seven years. She works with all ages and experience levels from beginner to advanced, and always ensure a fun and relaxed learning environment! Her approach to teaching is simple: learning how to play an instrument shouldn't have to be stressful at all. Playing piano should be all about enjoying yourself and having a good time!
Christian Fellowship Theater

Acworth, GA

The mission of Christian Fellowship Theater is to empower a generation of students by providing a safe place for them to grow in their gifts while enjoying the experience of theater. This is for ages 8 - 18. Goals 1. For leaders and students to grow in their gifts and their relationship with Christ 2. For unity and teamwork in each troupe and CFT as a whole 3. For high-quality, family-friendly productions to be presented to family, friends, and community Priorities At the heart of CFT are three priorities: 1. The first priority is to be a Christian organization. Teaching students theatrical skills in a Christian atmosphere with the goal of glorifying the Lord through excellence. This means seeking leaders who are following Christ, leaders who seek to honor God in their daily walk, and leaders who seek to mentor young people and point them to Christ. 2. The second priority is to give students a place to belong, a place to be safe, vulnerable, and compassionate. Students fellowship together through worship, prayer, devotion time, drama games, and through productions. The desire is to create an atmosphere where relationships can be fostered and grow together in Christ. 3. The final priority is theater, the means by which we accomplish our first two priorities. Stepping onto the stage to become a character stretches the faith of many students, and witnessing this transformation blesses both the parents and the leaders of CFT. CFT strives for excellence, not perfection. To strive for personal growth for each student and an establishment of team unity.
Homestyle Music: Piano, Guitar, and wind instrument Lessons

Acworth, Kennesaw, Dallas, Marietta, Woodstock

Fun, friendly, and professional individual music lessons for homeschoolers with Katie Hester in her Acworth studio or in your home. Discounts to homeschoolers and a flexible teaching style to meet the needs and desires of each individual. Instruction in classical, pop, rock, jazz, Christian worship, and the basics of nearly any style as long as a solid foundation is alongside it. Call 404-488-1569 for pricing, scheduling, and any questions or concerns.

Homestyle Music: Piano, Guitar, and wind instrument Lessons details
Young Rembrandts Drawing Classes

Alpharetta

Young Rembrandts is an award-winning art enrichment program that has given the power of drawing to thousands of children across the US and Canada. Drawing Classes for Home Schoolers offered at Alpharetta Arts Center, City of Alpharetta.
Atlanta Workshop Players

Alpharetta

Atlanta Workshop Players (AWP), is a not for profit theater and film acting school in Alpharetta, GA that has served the community for more than 34 years. Now offering two Theater Acting classes for Home school Groups at AWP Thursday afternoons. Classes begin August 20th, 2015. Please call the studio with questions or to register 770-998-8111. www.atlantaworkshopplayers.com
Off Broadway Children's Theatre

Alpharetta

With an array of classes in Musical Theatre, Acting and dance classes that support a theatre curriculum, Off Broadway Children's Theatre helps kids ages 4-18 discover their passion for the performing arts.
Atlanta Piano Fortissimo In-home Piano, Voice and Violin Lessons

Alpharetta, John's Creek, Suwanee, Duluth, Cumming, Marietta, Roswell, Atlanta

Atlanta Piano Fortissimo offers piano/keyboard, voice and violin lessons in the comfort of YOUR home. The lessons are available in: Atlanta, Alpharetta, Milton, John's Creek, Duluth, Suwanee, Cumming, Roswell, Marietta, Woodstock, Dunwoody and Sandy Springs. Special discount on lessons scheduled before 2p.m Please, call for more information: 678 404 9484 or visit our website: http://www.atlantapianofortissimo.com

Atlanta Piano Fortissimo In-home Piano, Voice and Violin Lessons details
Young Singers of Northeast Georgia

Alpharetta/Buford/Oakwood/Gainesville/Northeast GA

More than a performing group, this class also teaches music theory, sight reading, and good vocal production. Building community through the strong bond of making music together! A wide variety of musical styles are selected to delight audiences and engage students. Ages 9-14(ish), treble voices only. Meets on Mondays at 4:30. Based in Oakwood but open to entire Northeast Georgia area. Please visit the Facebook page Young Singers of Northeast Georgia for more information.
Music & Arts

Alpharetta/Johns Creek/Suwanne

Music & Arts is the nation's largest music lesson provider teaching over one million lessons each year. The instructors are highly experienced, flexible, and make learning music fun. Areas of instruction include guitar, drums, piano, voice, brass, woodwind, and orchestral string instruments. Regular recitals and open mic nights are held in the store and in the community. Lessons are taught 7 days a week located at 3630 Peachtree Pkwy, Suwanee, GA 30024 (in the Kohls shopping center). (770) 418-2424
Masterpiece Art Instruction

Athens

Karine Bauch teaches live classes in offer classes in her Athens home.
Michelle Quinn Art

Athens

Fine art lessons, Private, semi-private or group classes. Painting , color theory, drawing , multi-media (collage, soft sculpture, Etc) I (Instructor) will travel to you and your homeschooler/s. Classes forming now call or email for more information 6785915029
Creative Currents

Atlanta

An in studio art class offered to homeschoolers ages 4-17 in mixed media, writing, meditation and creative dialogue.
KR Music Studio Vocal Lessons

Atlanta

Broadway Singing, Music Performance, Music Recording, Music Theory, Piano, Singing, and Songwriting. For more information, contact Kenneth at 757 343-3972. Website coming soon at www.krmusicstudio.com. Or check facebook page at https://www.facebook.com/pages/KR-Music-Studio-State-of-Art-Digital-Recording-PianoVocal-Lessons/144597972359?sk=timeline for more information.
The Emory Youth Chamber Program

Atlanta

The Emory Youth Chamber Program (EYCP) provides intensive small ensemble training to young Atlanta-area pianists and string players. Students are generally 10-18 years old** and are placed in groups of two to five musicians. Over the course of the semester, groups receive eight coachings from members of the Vega Quartet, participate in masterclasses with the Quartet as well as guest artists, and are also provided space at Emory University for independent rehearsals. At the end of the semester each group gives a public performance to share their work with family and friends.
School of Rock Atlanta

Atlanta

School of Rock offers students of all skill levels age 7-18 a performance-based music curriculum in a fun environment. Weekly private lessons are combined with structured group rehearsals. Students prepare to perform live on stage. Areas of instruction range from guitar lessons to bass, vocals, keys and drums lessons. Also offers summer camps, monthly events, workshops, clinics, guest professors and additional performance opportunities through the local House Band and national All Stars programs. Location: 321 Pharr Rd. Suite H. Atlanta, Georgia 30305
Mastering the Piano

Atlanta

Classically trained piano teacher in the Atlanta area offering classical piano instruction to students of all ages and levels. Serves a large number of homeschoolers who take piano lessons in the morning and early afternoon.
Fabricate Studios

Atlanta

Fabricate offers small group sewing classes for kids ages 6+. Sewing machines and all supplies are provided for class.
Dance 4 U! Performing Arts Studio

Atlanta

Dance classes and teen programs at Dance 4 U! Where "OUR youth and OUR community come first." Offering Krafty Kidz Thursdays allowing 2-3year old to explore their artistic side from creative moment to arts/crafts. Also offering Mon-Thursday morning dance sessions for ages 4-12 with preregistration; each class will very in style of technique. New teem programs are coming for students ages 13-17, to spend two hours every Saturday dancing and then mentoring others.
Zone of Light Studio

Atlanta

Zone of Light Studio has brought the joy of creativity and artistic expression to hundreds of children in the Atlanta area for five years. Zone of Light Studio helps kids learn the fundamentals of art, but with lots of fun, friendship and laughter. Art projects are geared for age groups of 5-6, 7-8 and 8+ and can be created in a one-hour, two-hour or even full day program for your group!
The Neighborhood Ballet

Atlanta

The Neighborhood Ballet teaches dance classes to children and adults. The faculty has a lifelong passion for the art form and are dedicated to educating and nurturing each student. The Neighborhood Ballet offers a variety of class options and times to provide classes to meet the homeschool community needs.
Forte Twirl & Dance Studio

Atlanta

Forte Twirl & Dance Studio is a place where young athletes can stay fit, have fun and learn the disciplines of dance, acrobatics and baton twirling. Forte's mission is to provide world-class instruction while fostering teamwork, self-confidence and grit for ages 4-18. This studio meets students and families where they are – whether you want to compete at the highest level, participate in community performances, or just have fun, Forte offers classes and opportunities for everyone.
The Music Studio Atlanta

Atlanta

The Music Studio Atlanta has been empowering creativity for over 10 years. TMSA teaches all popular instruments to everyone ages 4 and up. With private music lessons in voice, guitar, piano, drums, ukelele here's something for everyone and it's never too late to start. Families will enjoy: - Friendly and patient teachers in Piano, Voice, Guitar, Strings, Drums and more. - Available lesson times 7 days/week with professional front desk staff - Engaging music lessons, where students play the songs they want to play - Exclusive, proprietary reward system to encourage student growth - Low-pressure performance opportunities that build confidence and performance experience - A positive, supportive environment that builds confidence and a feeling of community
The International City School of Ballet

Atlanta / Smyrna-Vinings

The International City School of Ballet is located in the Smyrna/Vinings area of Atlanta. The primary goal of the International City School of Ballet is to provide exceptional ballet instruction to students. Through the training offered at ICSB, students will cultivate the grit and work-ethic necessary to be successful in anything they choose. The dedication and attention to detail learned in ballet training cultivates a work ethic that can be translated to all aspects of life and lead to success in various activities and careers.
Atlanta Ballet Centre for Dance Education

Atlanta, Cobb, North Fulton

Offering Creative Movement and Beginning Ballet Homeschool Classes at the Powers Ferry/Cobb location for ages 3 through 10 (as of September 1, 2014). Classes combine movement and music to help students develop body awareness, rhythm, flexibility, coordination, and confidence while learning ballet vocabulary. Registration is ongoing. Please call Heather Conley at 678-213-5000 x710 or email her at hconley@atlantaballet.com.
Forefront Arts Children's Theatre

Atlanta, Johns Creek, Decatur, Lilburn, Alpharetta

Forefront Arts offers performing arts classes, camps, workshops, and full productions for ages 3-18. Over 20 locations throughout metro-Atlanta, as well as customizable programs for private groups (including homeschool groups, churches, Scouts, or friends). Acting, Improv, Musical Theatre, Dance, Voice, Creative Dramatics, Shakespeare, Playwriting, and more! Full-scale productions such as The Lion King, Frozen, Mary Poppins, and Willy Wonka!
Christian Youth Theater - Atlanta

Atlanta/Alpharetta

Christian Youth Theater (CYT) is an after-school theater arts training program for students ages 4 - 18. CYT is a non-profit 501(c)(3) educational organization funded primarily through its tuition, ticket sales and outside contributions. Every session (fall, winter and spring) CYT offers theater arts classes for children as an after-school activity. Each local program conducts three ten-week sessions throughout the school year, teaching drama, voice, dance and a broad spectrum of specialty theatrical workshops at weekly two-hour classes. Enrolled students have the opportunity to work behind the scenes, or audition and perform on stage in a Broadway-style musical performed for the community.
Bravo Homeschool Strings

Atlanta/Dekalb/Gwinnett

Bravo Homeschool Strings offers several levels of string orchestra for young musicians, in a homeschool-friendly environment. If you play the violin, viola, cello, or string bass and have been wishing for a place to play besides your living room, Bravo is the place for you! Lachlan McBane, Atlanta Symphony Orchestra musician and homeschool dad, directs Bravo's string orchestras. A veteran music educator as well as a performer, Mr. McBane brings a wealth of experience from both onstage and the classroom to each Bravo rehearsal and performance.
Guitar Instruction with George Westafer

Augusta / Aiken

George Westafer, an experienced guitarist and teacher, offers individual or group guitar instruction to home-school students in the CSRA. Mr. Westafer is a certified Suzuki Guitar instructor and is available mornings and weekends to teach home school students.
Moss School of Music: Piano, Violin, and Voice Lessons

Austell, Canton, Douglasville, Kennesaw, Marietta, Smyrna, Vinings

Offering piano, viola/violin, voice, guitar and drum lessons to students ages 5-adult in the Metro Atlanta area.

Moss School of Music: Piano, Violin, and Voice Lessons details
Johnna Jeong In Home Music Lessons for Guitar, Voice, Uke

Buckhead, Vinings, Cobb, Midtown, and...

Private music instruction in your home or in instructor's studio. B.A. and M.M. 15 years experience in education and active performer.

Johnna Jeong In Home Music Lessons for Guitar, Voice, Uke details
Dana Rice Music's FAME Studio

Buford

Piano,Voice, and music theory classes for ages 4 and up. Songwriting classes for ages 10 and up. Learn RELEVANT music in styles you love like Pop, Jazz, Soul, and Musical Theater.
Education PlayStation

Cartersville

We offer a wide variety of classes for homeschool families. We have weekly homeschool groups including science, history, geography, music, dance, art, P.E., acrosports, and more. We also offer core classes for 1st-5th grade. We also take monthly fieldtrips open to any homeschool families.
Music & Arts

Chatham County/Savannah area

Music & Arts is the nation's largest music lesson provider teaching over one million lessons each year. The instructors are highly experienced, background checked, flexible, and make learning music fun! Areas of instruction include guitar, bass guitar, ukulele, drums, piano, voice, accordion, brass, woodwind, and orchestral string instruments. Regular recitals and open mic nights are held in the store and in the community. Lessons are taught 7 days a week located at 7805 Abercorn St Suite 20A, Savannah, GA 31406 (in Chatham Plaza). (912) 692-8044
Riffchord Music Lessons

Chickamauga

This resource is a great way to get your Childs foot in the door to the Art of Music. Including weekly Music lessons, Curriculum based learning, and extra events they can choose to participate in such as recitals, bands, etc.
Springer Opera House Theatre Academy

Columbus

Since the founding of the Springer Theatre Academy in 1996, the training program of the State Theatre of Georgia has grown from 200 students to over 700. The Springer Theatre Academy's success has been the catalyst for the performing arts boom in the Columbus area, providing well-trained, highly-motivated young artists and valuable educational resources to boost theatre and music programs in schools, colleges and theatre companies throughout the region.
RiverCenter for the Performing Arts

Columbus

The RiverCenter for the Performing Arts is a great place to catch live, high-quality theatrical productions, music, and more! The RiverCenter on the Road series and Discovery Matinee series is specifically designed for children of all ages and showcases innovative presentations of literature and STEAM content. They also offer talkbacks and backstage tours, as well as standards-based study guides for each performance.
Conyers Rockdale Creative Kids

Conyers/Rockdale County

Conyers Rockdale Creative Kids offers musical theatre classes for Kindergarten-12th grade students. Classes meet on Tuesdays from 1:00-2:30 pm. Student learn singing, acting, dancing and technical theatre. Specializing in helping students who may be shy or suffer from anxiety, gain confidence and boost their creativity. Visit CRCK's website to see how your child can grow!
Elite Music Studio Piano & Voice Lessons for Beginners

Covington

Elite Music Studio offers one-on-one piano and voice for children ages 5 to 15. Beginner and intermediate classes are held Monday through Saturday by appointment. Music is a wonderful way to complement academic learning! Classes held in Covington, GA and reasonably priced. B.A. Music from Brenau University 2018. Contact us today to get started on your musical journey!

Elite Music Studio Piano & Voice Lessons for Beginners details
North Georgia Dance & Music Factory

Dacula

Offering in-studio dance classes morning, afternoon, and evening. Ballet, Tap, Jazz, Contemporary, & Hip Hop for students age 2 years and up. Individual music lessons are offered in the afternoon and evening. Piano, drums, guitar, violin, voice, band camp, and more for ages 6 and up.
Dawal piano and guitar studio

Dacula, Buford, Hoschton, Lawrenceville

This home-based studio offers private classical guitar and piano lessons, with daytime and evening options. Ensemble, Recital, and Festival participation is encouraged. A special emphasis is placed on forming practice habits and building motivation that have a much broader life application. Students are encouraged to strive for excellence while at the same time recognizing and enjoying their achievements along the way.
North Georgia Children's Chorus

Dahlonega

NGCC is a community chorus for students 9-16, whose mission is to train young singers musically and artistically, and to sing to the glory of God. Founded in 2007, the chorus prepares two concerts a year, and performs for shut-ins as well as for the general public. Rehearsals are on Mondays at Dahlonega Baptist Church from 4:00-5:45 p.m. Vocal and music theory instruction are included in the weekly rehearsals for the two graded choirs. There is also a training choir for ages 6-8. For information or to schedule an audition, contact Ruth Purcell at 706-482-9968, or email ruth@ngachildrenschorus.org
Georgia Pick & Bow Traditional Music School

Dahlonega

Georgia Pick & Bow offers classes in traditional music in Dahlonega, GA. Students in 3rd-12 grades learn to play and sing old time and bluegrass music; instruments taught include fiddle, mandolin, ukulele, guitar and banjo. Classes are held one day a week after school in local schools on Tuesdays, Wednesdays and Thursdays for once-a-week lessons for 10-week semesters. The program also holds a summer camp.
Seven Arts Center

East Point

SAC Homeschool Art Program: Daytime Classes designed for homeschoolers. Art Curriculum, teachers, and art materials included. Design and Coding for kids interested in designing and coding fun video games, animated stories and bringing their imaginations to life.
Heart Encounters Performing Arts Classes

Fayette County, Fulton County

In these acting classes, students build confidence and learn stage performance techniques through a series of fun and imaginative activities. With teamwork and development of communication skills, students enjoy heightened creativity by storytelling in an art focused environment. All students participate in a theatre performance each season. This opportunity trains youth in the complete process of developing a live show as an actor. Musical theatre, playwriting and private courses are also available.
Piano and Voice Lessons with Marketa Zeman

Fulton County

Piano Lessons from experienced European Teacher with 16 years of teaching piano and voice, working with both children and adults. Lesson are offered both in home and in instructors home. Offering students Annual Recitals, Classical and Popular Music, Children's Favorite Songs, Rhythm and Theory, and duets played every lesson. References available upon request.
Let There Be Rock School

Gainesville

Let There Be Rock School is a music lesson facility and rock and roll community center. Students from age 5 to adult learn to play guitar, bass, drums, keys, ukulele and vocals while interacting with their peers. All students interested have the opportunity to join a band learning classic, current and writing original songs to perform in live music settings.
Gainesville Ballet Company

Gainesville

The Gainesville Ballet Company is dedicated to promoting the appreciation, study, and performance of dance as an art form to as wide and diverse an audience as possible in the Gainesville and larger Northeast Georgia community. Our teachers, choreographers, and board of directors are committed to providing dance training and performance opportunities to dancers ranging in age from three years old through Brenau University dance majors. We take great pride in not only offering our dancers a world-class dance education but also in offering them a positive, nurturing environment where they can grow as dancers and as young people. In addition to regular dance classes and a May recital to showcase what the dancers have been learning all season, the Gainesville Ballet Company also produces The Nutcracker in November and a Spring Storybook Ballet in March.
Michelle Ostrove Vocal and Piano Studio

Gainesville, Buford, Oakwood, Flowery Branch, Cumming, Dahlonwga, Suwanee, Braselton & Atlanta area

Voice and piano lessons for students of any age. Music theory along with sight reading instruction. Call Michelle Ostrove at 818-400-4160, Skype lessons are available upon request.
Grace Music Academy

Gwinnett and Bartow County

Grace Music Academy provides music lessons for both children and adults in a Christian environment. GMA offers Music Box and Keyboard Kapers classes for pre-school age children. Private and group lessons for teens and adults are also available. GMA is located at Grace Baptist Church in Dacula, GA.
Positive Impact School of Arts

Gwinnett/Suwanee/Duluth/Buford/Sugar Hill/ Cumming/Lawrenceville/Dacula

At Positive Impact School of Arts, we have wonderful programs that center around Performing Arts, Visual Arts, Fine Arts, Arts and Crafts, Culinary Arts, Martial Arts and so much more. Contact us at Tami@thepositiveimpact.com for our schedule for Homeschool students. Our prices are super affordable and our teachers are highly credentialed and most of all our students have so much FUN!!
His Master's Voice School of Music and Art

Henry County, Spalding, Clayton, Rockdale, Fayette county

HMV is a non profit Christian Homeschool Co-op teaching music and art. HMV meets on Mondays and currently offers classes in: Band, Choral, Strings, Photography, Art, Drama, American Sign Language, and Keyboard. Private lessons are available for All State Choir Prep, guitar and mandolin. Our teachers are experienced in their field.
MuZicToMyEars

Henry County/McDonough

Private Music lessons in flute by Nationally Certified Teacher of Music and college-level instructor. Piano lessons also available. Premium instruction by a music professional who is also a home-school mom. Please see website for valuable resources and information.
Troutner Piano Studio

Henry, Newton, & Rockdale counties

A unique piano lesson program that makes learning fun and ensures a solid musical foundation. Private lessons are combined with weekly theory computer lab sessions, fun monthly classes, and more! Melody Troutner has a master's degree in piano performance and nearly 15 years of experience teaching piano.
Tandem Media

Jacksonville

Tandem Media offers student photo and video services for home schoolers at its Jacksonville Beach, FL studio, with on-location packages available. The studio also offers acting classes for students age 16 and older at the studio, as well as on-location workshops that can be planned anywhere nationwide. Visit www.tandemmediausa.com for more information.
Piano Lessons with Julie

Johns Creek, Alpharetta and Duluth

Piano lessons for kids of all ages. Beginning to Intermediate instruction. Special discounts available for homeschoolers. Visit the website at www.JohnsCreekPianoLessons.com and click on "Rates." Call us at (770) 797-9800
Legacy School of Music, INC.

Jonesboro

This resource is a monthly after school program for middle school and high school students in the arts. This program provides music therapy by teaching students how to produce their own songs and mentor them on life skills. Registration is monthly. Visit www.legacyschoolofmusic.org and/or call (678) 632-5522 for questions about the program and registration.
School of Fine Arts

Kennesaw

An outreach of Living Hope Church that offers a variety of private classes in music and the arts by experienced instructors.
More Than a Lesson, Performing Arts School & Play Center

Kennesaw

Program houses "Homeschool Adventures" for ages K3 through High school. More Than a Lesson is a performing arts based enrichment school that believes in mentoring through the arts. Classes available include but are not limited to theatre (stage productions), group and private lessons, voice, piano, guitar, violin, nature & science, blocks & engineering, art, Spanish and more. Classes are designed to take the students in the direction of their interest and help them to think outside of the box. Each class ranges from 30 minutes to 1 hour to aid in the enrichment and continued success of homeschoolers.

More Than a Lesson, Performing Arts School & Play Center details
Powerhouse Dance Center

Kennesaw

Powerhouse Dance Center is now offering daytime homeschool dance classes on Wednesday mornings. It is also possible to add additional days with enough interest. Please call 770.795.9095 for more information or visit the website www.powerhousedanceatl.com to enroll.
Ann's Studio

Kennesaw

Ready to learn something new? Instructors break projects down into simple steps that are easy to follow, allowing artists of all skill & experience levels to create something beautiful. Check out class schedules to see what's coming up and reserve your spot.
Pike Street Percussion

Lawrenceville

Pike Street Percussion is a percussion lesson studio offering a variety of lesson packages for middle and high school aged students. The studio introduces new students to the art of percussion, prepares students for performances in church or community bands, and prepares competitive students for college, drum corps, indoor percussion, and music festival auditions. A player with confidence and solid fundamental control is free to dedicate his or her thoughts and mental energy to the truly enjoyable and most important aspects of music performance – passion, creativity, emotion, and fun!
Mable House Arts Center

Mableton

Mable House Arts Center complex has something for everyone: from toddler music party classes to visual arts and theater for teens. There are art enrichment home school classes on Wednesdays, offering classes in chess, cartooning, pottery, and more for ages 5-12. Opportunities are also available for field trips and private tours of the historic Mable House property.
Suzuki Violin Lessons

Macon

Suzuki Violin Lessons - Every child is capable of playing music at a high level, given the proper nurturing environment. Talent is developed, not innate. As a Suzuki trained teacher and professional violinist, it is my job to help families and children grow in music. Suzuki violin lessons build confidence, discipline, and artistry in children as young as four years old. I have a Master of Music in Violin Performance and Suzuki Pedagogy from the Cleveland Institute of Music, and I play regularly in the Atlanta Symphony, Atlanta Ballet, and Greenville Symphony Orchestras.
Joyful Noise Homeschool Band, Inc.

Marietta

Now in its 11th year, JNHSB is a ministry to home educated students and their families, who in turn minister to others through the gift of music. Even with four levels of band, plus orchestra, guitar, chorus, worship team, recorder and various other classes for nearly 200 students, the band is still committed to being affordable for homeschooling families. We meet in Cobb County, but draw students from the greater Atlanta Region.
All Fired Up

Marietta

With pottery painting and creative art classes, finding something to make at All Fired Up is easy. To help create this relaxed and stress free zone we charge only for the pieces created. There are no additional studio time or sitting fees. We carry over 700 items of pottery, including cups, plates, bowls, useful household/kitchen items and a great range of fun kids pieces. Our creative classes are designed to help everyone, no matter their perceived artistic ability, to make something memorable.
Earth Art Classes

Marietta

Earth Art classes include elements of earth science, art history, artistic skill and technique building, while getting to use quality art materials and natural items hand selected straight from the outdoors. The focus is on learning where materials are coming from and how to use them to create, classical art concepts and techniques, and the process of creating art from the heart. This is a drop-off style class for children ages 4-8 years old on the 1st and 3rd Wednesdays of the month at 10:00am.
Dance Classes for Kids 8-17

Marietta

Shara D. Productions offers high quality performing arts training and education to students 7 to 18. SDP offers ballet, jazz, hip-hop and theater classes. SDP not only provides a comprehensive dance and theater curriculum but strives to empower children, by instilling confidence through the performing arts. Its the perfect place to make friends, perform, and have fun!
Studio 77 - Art Classes

Marietta

Studio 77 offers a variety of homeschool group art lessons on Mon., Wed., and Thurs. at 10-11am or 11am-12pm. Curriculum includes watercolor, drawing (charcoal, graphite, pen and ink), acrylics and calligraphy/lettering for ages 12 and up. Typically, these are scheduled in 6 week sessions. All materials included.
Drum Lessons with Brandon Faulkner

Marietta

Study drums with Brandon Faulkner! Learn how to play drums from the ground up! Brandon focuses on proper hand technique, form, and all the basics in reading and the rudiments. Teaching how the body works and how it relates to drumming will give the student the best foundation for his/her future in drums. he can help with school assignments as well. Specializing in the George Lawerence Stone method and the Moeller method(for more advanced students) Brandon lessons are fun and informative.
doodle Art Studio

Marietta

At doodle Art Studio, the goal is to cultivate a safe environment for guests to explore their creativity in a variety of art mediums. Come and create your masterpiece at doodle Art Studio! I specialize in art classes for homeschoolers of all ages!
The Music Studio Atlanta in Marietta

Marietta

The Music Studio Atlanta has been teaching music through in-home lessons for over 30 years and has also providing lessons at a Vinings location for the past 11 years for both children and adults. The studio has opened a 5,000-square-foot facility in the Pavilions at Eastlake.
Refuge Dance Academy

Marietta, Cobb

Refuge Dance Academy was founded, by (dancers/teachers/homeschool parents of 5) Katherine and David Gant, out of a desire for the dance studio to be a safe place for dancers to move and grow. Imagination, curiosity and learning are the foundations of the lower levels. Through fun and exciting movement, each dancer will experience a joyful atmosphere. Beginning and elementary levels focus on beginning to build a solid technical level of training on top of that joy of dance. In the intermediate and advanced levels, the performer and artist within each dancer is cultivated while providing professional level training. Classes are available in Ballet, Pointe, Jazz, Modern, and Contemporary and special offerings for Homeschool groups are available.
The Georgia Ballet

Marietta/Kennesaw

Founded in 1960 by Marietta native Iris Hensley, The Georgia Ballet is a non-profit organization committed to inspiring the public through professional ballet performance, unparalleled dance training and meaningful community outreach. Opportunities in setting up a program focused at helping home schooled students who have time in the mornings
His Master's Voice School of Music and Fine Arts

McDonough

This Homeschool Co-op offers Beginning and Advanced classes in Strings, Choir, Band, Art, Keyboard, ASL, Musical Drama as well as All State Choir Prep and private voice and guitar. This fine arts group serves Henry and the surrounding counties.
ANCHOR Friday Enrichment Program

McDonough, Henry County

ANCHOR partners with home school and alternative education parents in Henry county, GA to provide enrichment classes on Friday mornings for students in K5 - 8th grade. Group classes include Art, Theater, Crafting, FLL Robotics, PE, Strings, etc. Private lessons include guitar, keyboard, and strings. ANCHOR has two fine arts programs per year (Dec and May) so musicians, artists, and performers have a chance to exhibit. Robotics teams participate in local competitions.
HOME of Fine Arts Connection

McDonough/Henry and Surrounding Counties

HOME of Fine Arts Connection, Inc. is a Fine Arts program for the home educated student located in Henry County, Georgia. Originally started to provide a band experience for homeschooled children, HOME has grown in the past twenty years into a full service fine arts program! Today's HOME program includes band, choir, violin and guitar instruction, keyboard, percussion, dance, acting and theatre production, sign language, art class, photography just to name a few. HOME classes are held at First Baptist Church in Morrow each Thursday.
Agape Music Studio Music and Art Lessons

Metro Atlanta

Discover the song in your heart at Agape Music Studio. Lessons in piano, voice, recorder, and brass instruments are offered at reasonable rates and all students are instructed in music theory. Agape also offers fine art instruction. Lessons can be taught either at the studio or in the student's home.
Cool Moms Dance Too

Metro Atlanta

Mobile family fitness classes for children and parents. This class uses family appropriate music and dance in a 5000-6000 step class to help participants meet their daily fitness, social and engagement needs.
Atlanta Pipe Band

Metro Atlanta

The Atlanta Pipe Band is a 501 (c)(3) organization dedicated to perpetuating the Scottish arts of bagpiping and drumming. We offer instruction in these area free of charge. Our target ages are youth 8 years of age and older. If you are looking for your student to be involved in music we would very much like to offer them the opportunity.
Atlanta Young Singers

Metro Atlanta and surrounding

Atlanta Young Singers is a comprehensive choral education program for youth, promoting self-confidence, musical excellence, and the development of life skills through music fluency, artistic development, excellence in choral performance, and community education. Our mission is reflected in all of our policies, practices, commitments, and expectations.
Cello Lessons with Avery McCoy

Metro Atlanta/Cobb County

Cello lessons for students of any age. Students will have personalized curriculums and receive a 30, 45, or 60 minutes lesson once per week. Students will also learn music theory, aural skills, and other essential skills as a classical musician. Students will also be given resources of external music opportunities such as summer camps and youth orchestras and be prepared for those as needed. Lessons will be provided in your home to make accessibility as easy as possible. Lessons are provided in the Cobb County area. If you are not in the Cobb County area, ask about your location and the teacher will let you know if lessons are possible. Offers discounted rates for home school students!
Joyful Praise Homeschool Choir

Newnan

The Joyful Praise Homeschool Choir is made up of K-12th grade homeschool students from Coweta and surrounding counties. Our goal is to educate students in the art of singing and performance. The choir presents two musical productions each school year. The productions include not only singing, but drama, dance, and instruments. Students with interest in other areas of performance besides singing are encouraged to develop those talents also. This is a delightful and talented group of students. The choir performs for various community events and provides entertainment for retirement homes. The choir also participates in music enrichment events, such as choral festivals and music camps. Rehearsal Schedule: Wednesday afternoons 1:00pm-2:00pm
Art Class & Nature Explore

Newnan, GA

Inexpensive Art classes offered in studio or your location of choice.
Planted Art Studio

Oxford

Planted Art Studio offers classical art lessons for K through 12 graders focusing on the technical skills of art and studying and copying Masterworks. Teacher Kimberly Downs teaches students to recognize and imitate what is true, good, and beautiful and incorporate it into their own work, fosters community, and wants students to find their value not in what they create but in the One who created them.
Radical Scholars

Powder Springs, West Cobb, Paulding

Radical Scholars offers a Friday Home School Program for students Kindergarten through 12 Grade classes in S.T.E.A.M., Lego, Art, Drama, MIME, SAT Prep and Dance
Say It Is Sew sewing classes

Rex

This resource is to teach the art of sewing to home school children. The basic use of a sewing machine and the basics of sewing are taught. This is ongoing through the school year and there is also a summer camp.
Piano/Theory Lessons with Tracey Phillips

Roswell

Dove-Award recipient, Tracey, gives lessons on Skype for students who live out of state, or out of the country and cannot drive to one of her locations. Please talk with her about this option and see what she has to offer. Many of her students who don't live near her, drive in for their lessons, with some who even plan to stay for several days for multiple sessions of instruction. She also teaches in Henagar, AL the first Friday of each month, and gives lessons in metro Nashville/Tullahoma periodically during each month, so that students in military families near these areas can drive to lessons. Ideally, Tracey gives weekly lessons, but is able to personalize a program that will fit both your schedule and what area you would like to study. Her focus is on church playing, hymn-playing and improvising, accompanying, gospel, classical, jazz, pop, and theory.
Violin Lessons With Ashley Whittle

Roswell

Help your child learn discipline, confidence, and musical skill by providing them with Suzuki violin lessons! Ashley Whittle is a graduate of the Cleveland Institute of Music with a Master's degree in Violin Performance and Suzuki Pedagogy. She plays regularly in the Atlanta Symphony and teaches at North Atlanta Talent Education in Roswell, GA. Ashley was a homeschool student herself, which gave her plenty of time to practice violin and piano from an early age. The Suzuki philosophy states that every child can learn music to a high level given the proper learning environment! Now accepting students as young as age 4. For more information, visit https://ashleydean.wixsite.com/violin
PIano/Theory Lessons by Tracey Phillips

Roswell/Woodstock/Metro Nashville, and SKYPE

Dove award recipient, Tracey, gives private lessons out of her studios located just outside of Atlanta, in Roswell GA, and Woodstock, GA. Ideally, Tracey gives weekly lessons, but is able to personalize a program that will fit both your schedule and what area you would like to study. Lessons in church music, hymn playing, accompanying, gospel improv, classical, jazz, pop, and theory are what her focus is on. Tracey started giving lessons on SKYPE for students who cannot drive to their lessons because of traffic or schedule-related issues. Please talk with her about this option and see what she has to offer.
Painting With a Twist- Sandy Springs

Sandy Springs, Roswell, Atlanta

A paint studio offering all ages art classes, kids camps, and private parties. Learn about parts of a flower by painting one! Learn about the atmosphere by painting the sky!
Brass/Woodwind Lessons with Muse For Life

Sandy Springs/Dunwoody/Roswell

Certified instrumental music teacher in the Sandy Springs area offers trumpet lessons at all levels as well as beginner and intermediate trombone, saxophone, clarinet, and flute.
Scribble Art Studio

Savannah

Creative Art lessons lasses designed for all levels and ages, pre-k through adult. Students will learn basic concepts such as color, composition, perspective, volume, and proportion. New and familiar artists will be used as examples for the students to consider while creating drawings, paintings, sculptures, and mixed media projects. Students will work with a variety of materials, including colored pencils, oil pastels, acrylic, watercolor, and collage. For more information and pricing, please contact Carrie Christian. T: 912-323-0123 Email: carrieachristian@hotmail.com
Savannah Flute with Erika Skye Andres

Savannah

Private flute lessons are offered by flute teacher and performer, Erika Andres, for students of any age and level in the Savannah area, either in the student's home or in Ms. Andres private studio.
Shara D Productions Dance Company

Smyrna

Shara D. Productions offers high quality dance and acting training to students 3 and up. SDP provides a comprehensive dance and theater curriculum and strives to give students the proper tools required to thrive in recreational and pre-professional performing arts careers. Our mission is to empower young performers, by instilling confidence through focused training through the performing arts. We celebrate each student's individuality, elevate talents, and provide a supportive and positive environment for self-expression. We create magic with timeless productions that move audiences and stir up creativity. Join us, as we inspire lives one performer at a time.
Adriana's Piano Studio

Smyrna, Vinings, Mableton, Austell

Piano lessons from Georgia Certified Teacher (K-12, music) with 25 years experience in piano teaching.
Infinite Dance Theater

Stone Mountain/Gwinnett Decatur/Dekalb

This resource offers technical dance training for ages 7 - 18. The genres offered are Ballet/Pointe, Jazz, Modern, Tap, Hip Hop. Classes are held during the day, specifically designed to the homeschool community. Class sizes are limited. Registration required in advance.
Brush and Brew

Suwanee

Hi all Homeschool moms and kids! I have an awesome opportunity for you all! Its called "Brush and Brew", which is a painting class at Peace, love, and pottery. The artist Maureen McIntosh walks you through any painting you pick and makes it possible for everyone to create a beautiful masterpiece to take home! Coffee, hot chocolate, or your fav beverage is also available. This is such a perfect mother-daughter or mother-son project and so much fun as a field trip of as a group, we offer any special times that you might need! Thanks email me at mcintjw@hotmail.com or call 678 482 4978
Bach to Rock Johns Creek

Suwanee

Bach to Rock Johns Creek is a music school that teaches all kinds of instruments as well as vocals. B2R encourages students to join a band as soon as they reach a certain point in their lessons. The facility has band rooms, performance rooms and a recording studio. It is a fun venue and a learning one as well. Instructors believe in a balanced music education of theory, technique and repertoire. Please call or email. The phone is 678-771-8228. johnscreek@bachtorock.com
Hummingbirds Academy

Troup County/Hogansville

Students will learn the fundamentals and history of music and visual arts as well as an in depth study of various STEM (Science, Technology, Engineering, and Math) subjects. You can be sure that your child is getting a quality education while enjoying the incredible gift of the arts and science.
Main Street School of Art

Tucker

Main Street School of Art is a children's art school located in Tucker GA providing art classes year-round with home-school, after-school, and Saturday classes during the school year and Summer Camps during the Summer. Location: Main Street School of Art, 2323 Main Street. Tucker GA 30084. 770-938-7880
Tayo Reed's Performing Arts Center

Union City

Tayo Reed Performing Arts Center provides Fine Arts Classes during the daytime and evening hours for home school students. The Fine Arts classes are Music, Dance, Drama, and Voice Classes for ages 2 to 18 years old.
Greater Valdosta Homeschool Association

Valdosta

The Greater Valdosta Home School Association is a Christ-centered homeschool cooperative in Valdosta, GA. Members have the opportunity to participate in academic and social activities that will strengthen homeschool families in the Southeast region of Georgia.
Mrs Kim's Piano Studio Music Appreciation Classes

Warner Robins

Music Appreciation Classes, designed especially for homeschoolers, are being offered at Mrs. Kim's Piano Studio in Byron, GA. Classes are offered for one hour per week. Curriculum, throughout the year, will focus on the following: general musical concepts, exploring different instruments, discovering different composers along with analyzing and appreciating the music that has inspired us. All supplies and books are provided. For more information, please contact Mrs. Kim's Piano studio on Facebook or email at mrskimspianostudio@gmail.com.
Voice, Piano, and Guitar Lessons with Angela Topper

Woodstock

Private Voice, Piano, and Guitar lessons available in Woodstock, GA.
Woodstock Piano Lessons

Woodstock

Mr. Ralph Iossa is a Classically trained pianist with 25 years of experience teaching private piano lessons. Lessons are once a week for 30 minutes in your home. Ages from 6 years and up, beginners through advanced
Cobalt Melodies Music Studio

Woodstock

Violin, Viola, and Piano lessons serving Cherokee, Cobb, and surrounding areas off hwy 92 in Woodstock. Offering a more flexible schedule. Taking students of all ages and experience levels! More info can be found on Cobalt Melodies Music Studio studio's facebook page, www.facebook.com/CobaltMelodiesMusicStudio, or by calling 770-500-5813.
Elm Street Cultural Arts Village

Woodstock

Elm Street Cultural Arts Village has exciting and engaging opportunities for students of all ages year-round! A 501 (c) 3 non-profit theatre located in the heart of Downtown Woodstock, Elm Street's mission is to educate and create through the performing arts. Offering music lessons, productions, summer camps, workshops, and daytime homeschool theatre classes during the school year, there are plenty of ways to be involved, socialize, learn, and grow!
Classical Harp Lessons with Tyler Hartley

Woodstock

Playing a musical instrument has been shown to accelerate brain development in children, improve memory and attention, engage cognitive and psychomotor function, kindle creativity and artistic thinking, and provide emotional and personal fulfillment and enjoyment. Music instruction also encourages self-discipline and time management skills that are useful beyond the practice room. Tyler Hartley is a professional harpist and music instructor with a bachelor's degree in music and over ten years of teaching experience. Curriculum includes technical training on the harp, music theory (note-reading, ear-training, rhythm, and harmony), music history, and performance and ensemble skills.
Georgia Homeschool Sports Programs
Adrenaline FX Homeschool PE

Alpharetta, Ballground, Canton, Jasper, Milton, Woodstock

Offering physical education classes for grades K-8 and a personal fitness/weight training for high school students. See website for schedule and pricing.
Teams of Tomorrow (TOT) Basketball Music & Movement

Alpharetta, Cumming, Duluth, Johns Creek, Roswell, Suwanee

TOT is a 30 minute, once a week music & movement program that introduces 25 basketball handling skills, reviews mixing colors, shapes, numbers (in English, Spanish, & French,) senses, and vowel sounds. This well-rounded program works on athletics, agility, and academics! TOT is mobile, so equipment and balls are brought to your location. Ages 3-7.
Hi-Five Sport Zone - North Point Mall

Alpharetta/Roswell/Cumming

Hi-Five Sports Zone, located in North Point Mall offers PE Classes, Pre-k enricment sports, Leagues, Clinics, Open Gym and Birthday Parties programs for HomeSchoolers Pre-k to High School. Morning and afternoon programs are available.
Tucker Taekwondo Center Homeschool Program

Atlanta

Tucker Taekwondo Center (Atlanta, GA) is offering a special program to homeschoolers. Morning and early afternoon classes. Satisfies K-12 PE requirements. Homeschoolers ages 4 and up and their parents are welcome. Email homeschool@tuckertaekwondo for more information.
D-BAT Baseball and Softball Academy

Atlanta

D-BAT Baseball and Softball Academy has three locations around the Atlanta area (Buckhead, Marietta, Johns Creek). Offering private baseball instruction, baseball camps, and batting cages that are open to the public. Please check out the website for more details!
Power Ops

Atlanta

Youth and recreational paintball, airsoft, and laser tag safe fun for all ages. Great for birthday parties and recreation play. Georgia's largest airsoft field.
Atlanta Track Club Cross Country Youth Team

Atlanta

Atlanta Track Club Cross Country Youth Team is open to all Atlanta area middle school-age kids who have an interest in being part of a competitive cross country team, regardless of ability or experience level.
Airborne Gymnastics Club USA

Atlanta

Airborne Gymnastics Club USA is a private minority owned gym. They offer mobile, virtual and on site lessons. They offer competitive gymnastics training as well. Their goal is to inspire more confident and life ready children through gymnastics.
SA Rowing

Atlanta

SA Rowing is an elite Junior Rowing Club focused on providing our athletes with individualized coaching and training to ensure peak performance in competition. SA Rowing welcomes all athletes regardless of their ability or experience. SA Rowing operates year-round programs for students in grades 6 through 12. SA Rowing offers Varsity and Novice programs for Men and Women, as well as beginner and recreational programs through its Foundations program and its Summer Camp options. Founded in 1988, by the Georgia Tech Rowing Club, SA Rowing is a not-for-profit, community-based youth rowing program. SA Rowing and Georgia Tech Rowing still share a rowing campus on the Chattahoochee River in Roswell, however, over the last 33 years, SA Rowing has grown into a fully independent youth rowing club.
Atlanta Sports Training

Atlanta

Atlanta Sports Training programs foster community, stand for connection, and are fueled by the belief that sport teaches lessons beyond the court. These programs are committed to creating a sense of inclusivity and belonging so that everyone feels like a part of our team that looks after one another whether on or off the court. In collaboration with community foundations and corporate sponsorships, Atlanta Sports Training's award-winning Outreach program introduces hundreds of children in inner city and rural Georgia to basketball and volleyball and annually. Get ready to tear down obstacles of the mind and body. Atlanta Sports Training's unique holistic approach covers the following supplemental topics for all-around athlete development: -nutrition -time management -stress management -leadership development -mentoring -strength training -goal setting Atlanta Sports Training offers basketball and volleyball individual and small group lessons in addition to co-ed juniors beach volleyball teams.
Wall Crawler Rock Club

Atlanta/Decatur

This resource is an opportunity for homeschool students ages 4 and up to socialize and get physical exercise all at the same time. Wall Crawler Rock Club is offering a program for homeschool moms and their children to learn rock climbing basics including climbing skills, techniques, and belay certifications. Our Homeschool Climbing Program will run Mondays - Thursdays from 10:00am - 11:00am. Wall Crawlers is offering a discounted rate of 15$/hour per climber or 25$/hour per 2 climbers. This price includes your day pass, harness rental and staff to help belay the climbers. Wall Crawlers is also offering simultaneous "Intro to Climbing" courses for parents and their children( 12 years and older) to learn proper belaying technique in order to climb safely with each other. 10-punch cards will also be available for purchase for $130.
Adventure Air Sports

Atlanta/Kennesaw

Enjoy a state of the art, world class indoor trampoline park. Offering a huge main trampoline area with built in parkour elements; Mad Maxx, the only supertramp in the Atlanta area; One of the largest Ninja Warrior courses in Atlanta; A flying circus trapeze; Extreme dodgeball; 3 long tumble tracks for gymnasts; Trampoline basketball; Olympic size foam pits; Large climbing wall; & Indoor Zipline! Adventure into a great educational experience that will prepare today's students for the future. Not only do our parks offer a different learning experience but we mix fun & fitness. Educators can explore the learning values of Adventure Air Sports, offering a balance of learning and fun. Lessons will NOT take away from your free jump time thus giving your group additional floor time for instructional group fun!
Jump Start Gymnasium

Atlanta/Sandy Springs

Jump Start Gymnasium offers a variety of sports and athletics for ages 3 months and older. Activities include gymnastics, tumbling, field trips, basic sports introduction, etc. Contact Jump Start today to open a class for you and your students with a group of at least 3.
Central Georgia Arts and Athletics

Bibb, Houston, Jones, Monroe, Peach, and Twiggs Counties

CGA offers opportunities for homeschooled Middle and High School students to participate in competitive athletic programs in a number of sports. They are partnered with the Georgia Independent Christian Athletic Association to organize competitive seasons against other Christian schools and homeschooling organizations around the state. Current opportunities include archery, baseball, basketball, bass fishing, cross country, tennis, golf, soccer, and volleyball.
Carter Farms Performance Horses, LLC- Horse Back Riding

Bowdon

Offering riding instruction from beginner to advanced in our riding academy. We have wonderful lesson horses to help you pursue your riding goals from western pleasure, hunter/jumper, pleasure riding to speed events. We focus on safety and hands on learning. All riding academy students will have the opportunity to join our show teams as well. We have a local/open show team ,breed and IEA show teams.. We enjoy pout students growing and learning. Classes typically range from an hour to 2 hours. We tack treat round and have fun camps too. Discounts for siblings and cousins available.

Carter Farms Performance Horses, LLC- Horse Back Riding details
British Swim School of Gwinnett-Hall

Buford

British Swim School of Gwinnett-Hall is the perfect place for swimmers of all ages and experience levels, with a variety of programs for children ages 3-months to adults. We have been teaching water survival skills for more than 40 years, offering a three-part curriculum that teaches the skills needed for water acclimation, water survival, and stroke development. Swimmers progress from learning how to be safe in the water to mastering swimming strokes. The professional swim instructors receive extensive training to deliver an outstanding experience for every swimmer. Every swimming lesson incorporates signature fun and gentle teaching methods to help inexperienced swimmers feel comfortable and confident is the water, establishing the foundation for a lifetime of safety and fun. Enrollment is open year-round and new students can join at any time!
Hoop Heaven Georgia

Canton

Providing basketball clinics for boys and girls of all skills levels who are in grades K-8th. Classes are taught by former professional players, college athletes, or experienced coaches. These classes will focus on the fundamentals of the game such as ball handling, passing, shooting, and defense. Prepare players for travel and school teams and offer private or group training.
North Georgia Falcons

Cherokee, Forsyth, Fulton, Bartow, Pickens counties

The North Georgia Falcons is an independent sports program offering tackle football to high school boys 13-18. the Falcons are currently seeking new players including a kicker. The Falcons are looking for a cheer coach and girls desiring to be cheerleaders. Practices and home games are held in the Highway 20 area between Canton and Cumming. North Georgia Falcons provide a full, family-friendly, Friday night football experience for players, their families and friends and this all includes a marching band! The Falcons program has been in existence for 16 years.
Valley Coast Running & Fitness

Colquitt/Miller County

Whether you're an athlete looking to improve strength and conditioning, a novice runner who wants to race, or a student looking to join a xc/track club; Valley Coast Running & Fitness has a workout group, running team, or personalized training program that will help you reach your fitness goals.
Fideles Christian School Sports Team Opportunities

Cumming

Fideles Christian School is a university model school that fields competitive sports teams open to home schooled and alternatively educated students in Forsyth and surrounding counties. Fideles is located in Cumming, GA and fields the following teams: girls volleyball, boys and girls cross country, boys and girls basketball, and baseball. Participation is open to 6-12th grade students. For more information visit www.fideles.net or fidelesbasketball.blogspot.com.
Choe's HapKiDo Martial Arts

Cumming

At Choe's HapKiDo, Kids Martial Arts will give your child something to look forward to each day. They learn to work hard and have fun with our martial arts inspired games and exercises. While in a structured and supervised class, your child will get to scream and run around our class to their heart's content. Parents love that their child makes friends here and that it's a great after-school activity.
Gwinnett Homeschool Golf Team

Dacula

Gwinnett County, GA Homeschool High School Golf Team invites all homeschool golfers (and beginners) to participate on the team. Season is in the Spring of the year and will begin in February. Middle Schoolers are encouraged to join the team as well. Practices will be held at Trophy Club of Apalachee in Dacula, GA. Call Stan Jones at 678.467.7554 or email stanjones@kw.com for more information. Affiliated with Greater Gwinnett Christian Barons.
Stars and Strikes Bowling

Dallas

Learn to Bowl
Notre Dame Academy

Duluth

Notre Dame Academy is a Marist Catholic and International Baccalaureate World School located in Duluth, Georgia. The academy is currently offering interscholastic athletic opportunities for students in 6th to 10th grade and are expanding options to 11th grade in the 2017-18 school year. Sports offered are football, volleyball, boys and girls cross country, softball, boys and girls basketball, swimming, baseball, boys and girls lacrosse, boys and girls track, boys and girls soccer, boys and girls tennis, and boys and girls golf. Notre Dame Academy participates in the Georgia Independent Christian Athletic Association (GICAA). The academy is allowed to add a limited number of home school students to athletic teams. Interested families may contact the Athletic Director, Preston Bazemore at pbazemore@ndacademy.org for more information.
EHB Flowery Branch Basketball Club

Flowery Branch

EHB Flowery Branch is a 12,000 square foot basketball training facility that opened this past Fall. This facility is equipped with two full-length courts with 12 NBA adjustable goals. Part of the space includes a Shooting Center that has Six NBA adjustable goals, each with a Shoot-a-Way Gun 12k that will allow players to get up to 450 shots up in 30 minutes. In addition, EHB Flowery Branch offers Nike Summer Camps, Private 1-on-1's & Training Classes running Sunday - Thursday. EHB Flowery Branch is convenient for anyone in Hall County and Gwinnett County including Buford, Gainesville and Suwanee.
Arlington Christian School - Athletics

Fulton, Douglas, Coweta, Fayette, Carroll, and Clayton Counties

Arlington Christian school School has openings for Homeschooled students in grades 6th to 12th who are interested in participating in Football, Volleyball, Cross Country, Basketball, Cheerleading, Soccer, Golf, Baseball, Track & Field, and Softball at the Middle School, Junior Varsity and Varsity level. Interested families may contact the school office at 770-964-9872 or Greg Cannon at greg.cannon@arlingtonchristian.org. ACS encourages Christian Homeschool families who wish for their children to participate in a competitive Christian athletic program to apply. Space is limited and students must try out to make some teams. ACS participates in the GICAA league for Region and State Championships
Greater Gwinnett Christian Barons

Gwinnett

The Greater Gwinnett Christian Barons develop Godly men and women of character who are given the tools they need to pursue sports beyond high school within the homeschool community. Offering competitive baseball and basketball at the middle school and high school levels.
The A Team @ Adrenalne Climbing

Gwinnett County

Fulfill your PE requirements with indoor rock climbing.
Lanier Volleyball Club

Hall County, Dawson County, Gwinnett County, Forsyth County, White County, Habersham County, Lumpkin County, Jackson County, Barrow County, Banks County

Lanier Volleyball Club offers travel volleyball with competitive play at local and regional tournaments as well as individual clinics and private lessons throughout the year. Also offer 3 sessions of recreational league volleyball with two in Hall County and one in Dawson County. Focus is be on instruction and development of the fundamentals of volleyball: passing, setting, blocking, hitting, serving, and defense, as well as team concepts through instruction and game play. Programs are for girls from ages 6-18 years old.
Choe's HapKiDo Martial Arts

Jefferson

At Choe's HapKiDo, Kids Martial Arts will give your child something to look forward to each day. They learn to work hard and have fun with our martial arts inspired games and exercises. While in a structured and supervised class, your child will get to scream and run around our class to their heart's content. Parents love that their child makes friends here and that it's a great after-school activity.
Aqua-Tots Swim Schools, Inc

Kennesaw

Learn water safety and have fun swimming! Aqua-Tots Swim Schools offers group, semi- private and private lessons. Aqua-Tots Swim Schools also supports birthday parties, open swim and various other activities!
Public Lands Homeschool Climb

Kennesaw

Public Lands in Kennesaw has now started Homeschool Day at the rock wall! Every Thursday from 11 AM to 2 PM climbing for homeschool students is only $9.95 for one hour. This is an opportunity for the students to learn from our passionate climb guides about the amazing sport of rock climbing. Climbers are required to be 6 years old or older and at least 30 pounds. We also offer special rates for group climbs for as low as $50! For groups, please book ahead by calling the store or booking on the wensite. If Thursdays don't work, we can accommodate different times!
Smith's Martial Arts Academy

Marietta

Martial Arts classes designated for local Homeschoolers during daytime hours. Classes are 50 mins long for age 8 to 18. Martial Arts classes provide students withe opportunities to learn self control, discipline and respect while they learn the art of Tae Kwon Do. Please contact the academy for a free trial class.
Westside Martial Arts

Marietta

Westside Martial Arts is a family owned and operated school, in business as Burbank Taekwondo School since 2012. We offer Taekwondo (Kukkiwon), high level wrestling and grappling, and an environment that is tailored to building athletes.
Champion Kids

Marietta

Champion Kids is offering a fitness/PE class designed for school age children on Wednesdays from 1 to 2 PM starting in August. Classes are $70 a month or you can drop them for $15. Registration is required. Champion Kids also offers sport specific classes that include gymnastics, cheerleading and tumbling and urban gymnastics.Call or email for details. 770-874-5200 Championkids1@gmail.com
Ultimate Karate and Fitness, Inc.; Karate Lessons

Marietta

At Ultimate Karate and Fitness of Marietta, Georgia, we teach kids the fundamentals of karate as well as the values that are integral to martial arts training. Through karate, kids can: Learn effective self-defense techniques Improve their physical fitness Boost their self-confidence Gain self-control Increase focus Learn the value of treating others with respect Develop perseverance The importance of goal setting The same high standards are required for home schoolers as they are for our evening class students. Every time a student passes to the next rank, they will receive a certificate to serve as their fitness requirement, in addition to their new belt. Each program is 2 times a week for 3 months and includes a graduation ceremony. Sparring equipment will not be required until the rank Orange/White. Space is Limited! Sign up Today.
Home School PE Club

Marietta/Woodstock

The Homeschool PE Club is designed for homeschool students ages 6-17 to help achieve physical fitness and by the end of the year and earn the Presidential Fitness Award! Students work on sit-ups, shuttle run, mile run, pull ups and the v-sit.
Cool Moms Dance Too

Metro Atlanta

Mobile family fitness classes for children and parents. This class uses family appropriate music and dance in a 5000-6000 step class to help participants meet their daily fitness, social and engagement needs.
Burns Horse Farm

Newnan

Offering English and Western horse riding lessons. Hourly sessions private or semi-private. Call to set up a time. (706) 302-6847.
ReClif - functional fitness classes

Peachtree Corners

ReClif is a fitness based therapy center offering specialty Physical Education opportunities for homeschoolers. Most sessions are one-on-one, but can be worked to structure fitness classes for small groups for cross fit, yoga and fit light sessions. ReClif caters to young adults on the autism spectrum, but has set aside Thursdays to work with others in the gym. Coaches are friendly, enthusiastic and treat everyone with respect in order to encourage growth and self confidence.
Amplitude Gymnastics Academy

Roswell

Amplitude Gymnastics Academy offers a diverse gymnastics program; morning program for all ages group classes, private instruction, tumbling and trampoline classes. Age of participants from 1 yr. old to adult.
Redline Athletics Performance Center - Roswell

Roswell

Redline Athletics specializes in comprehensive athletic development focused on injury prevention, movement efficiency, speed and agility, strength, and power. Our center works with homeschoolers to meet and exceed physical education requirements. Redline Athletics - Roswell would like to invite your athletes to our cutting-edge facility for a FREE Fusionetics Movement Assessment and Semi-Private training session with our qualified and experienced trainers who are dedicated to giving your athletes the necessary tools they need to be the very best athlete they can be. Contact Sean Kammerer via email skammerer@redlineathletics.com or office phone, 770-552-2766, for more information.
Central Christian Crusaders

Sharpsburg

Currently looking for competitive baseball players to fill out our 2016 roster. Please contact us immediately if you have any interest.
Yoga Class for Homeschool Co-op

Snellville

To Each is Om yoga and wellness is offering yoga classes to HomeSchool co-ops around metro Atlanta area. To Each is Om's mission is to develop and support a collective of wellness in the under served Snellville community through services, events and experiences that center wellness through yoga and meditation. This class is for Homeschool Co-Op children ranging in age 7-15. Parents are to stay onsite during the entire class
Community Christian Sports

Stockbridge

High School and Middle School sports teams for Homeschooled student-athletes serving Henry, Clayton, Fayette, Rockdale, Newton, Butts, and Spalding areas.
Nerf and Airsoft

Sugar Hill

Looking for something new for your kids to do? The SS Airsoft battlefield is a 24,000 ft² purpose-built arena to provide a well-laid out field with various elements that provide cover for airsoft players. The field configuration changes on a regular basis to provide a unique experience even for our regulars. Nerf will be offered every Thursday from 12-6 Please Note: You Must Be 8 Years Old or Older to Play at SS Airsoft. Waivers are required.
JUMP TNT

Suwanee

JUMP TNT Homeschool P.E. program offers 1.5-hour classes. Homeschool students will get to experience trampoline, tumbling, and sample Ninja Zone! Students can enroll in just one day a week or multiple days per week ($20 discount off the second class), plus sibling discount is 15% off! Offering a special discount on the annual family registration fee for families who are enrolled in Preschool and/or Homeschool classes only. Get $20 off the regular annual registration fee! Homeschool P.E. program runs August - May, pausing during the summer for Summer Camps.
LEAP PARKOUR GYM

Suwanee

LEAP PARKOUR is an academy that teaches the sport of parkour. We teach students to move efficiently through any environment using vaults, gymnastics, and climbing. Our program is great for any skill level and kids and adults of all ages. Many of our students just want to get in shape in a different and fun way. Now LEAP PARKOUR offers a Junior program ages 2 & Up. New on the scene this program incorporates many of the training sequences from the older class. Kids Ages 2-6  Mon. Thurs. (11am) Kids Ages 7-12 Mon. Thurs. (5:30pm)
Professional Homeschool PE

Suwanee

Adventures in sport education (https://www.adventuresinsport.com/) is a professional homeschool physical education program located at the Suwanee Sports Academy in Suwanee, Georgia. ASE offers classes on M, W or T, R for elementary, middle, and high school students. We are open from 9am-2pm. The hours of operation can be arranged to fit your homeschool program grouping elementary school, middle, and high school when available. The cost of the program is $25 a student to cover our cost of gym rental and professional's paid. ASE is located at the Suwannee Sports Academy and George Pierce Park from 9am-2:00pm.
Patriot Karate and Martial Arts

Walton/Gwinnett Area

Offering Day classes for homeschoolers. FREE uniform. FREE ladies' self-defense classes. Parents' night out and fun activities through out the month.
Chattahoochee Gold Swimming

Woodstock

Chattahoochee Gold, one of the top swim teams in the nation, offers a Homeschool Team and Lessons. These programs are designed to meet the schedule of homeschool students. Team swimmers can choose Competitive or Non-Competitive track, depending on if they want to compete in meets. Chattahoochee Gold has over 20 years of experience serving the Woodstock community with our expert and enthusiastic instructors.