Jump to: Homeschool Arts | Homeschool Sports
In addition to the opportunity to get out of the house and socialize, homeschool sports and arts programs can offer long-term benefits by developing characteristics like leadership, self-confidence, perserverance, and self-esteem. Many organizations and businesses have opportunities specifically for homeschoolers, while others invite homeschoolers to participate in their regular programs.
Not sure how to choose activity/activities for your children? Read how Rebecca narrows down the choice of extra-curricular activities.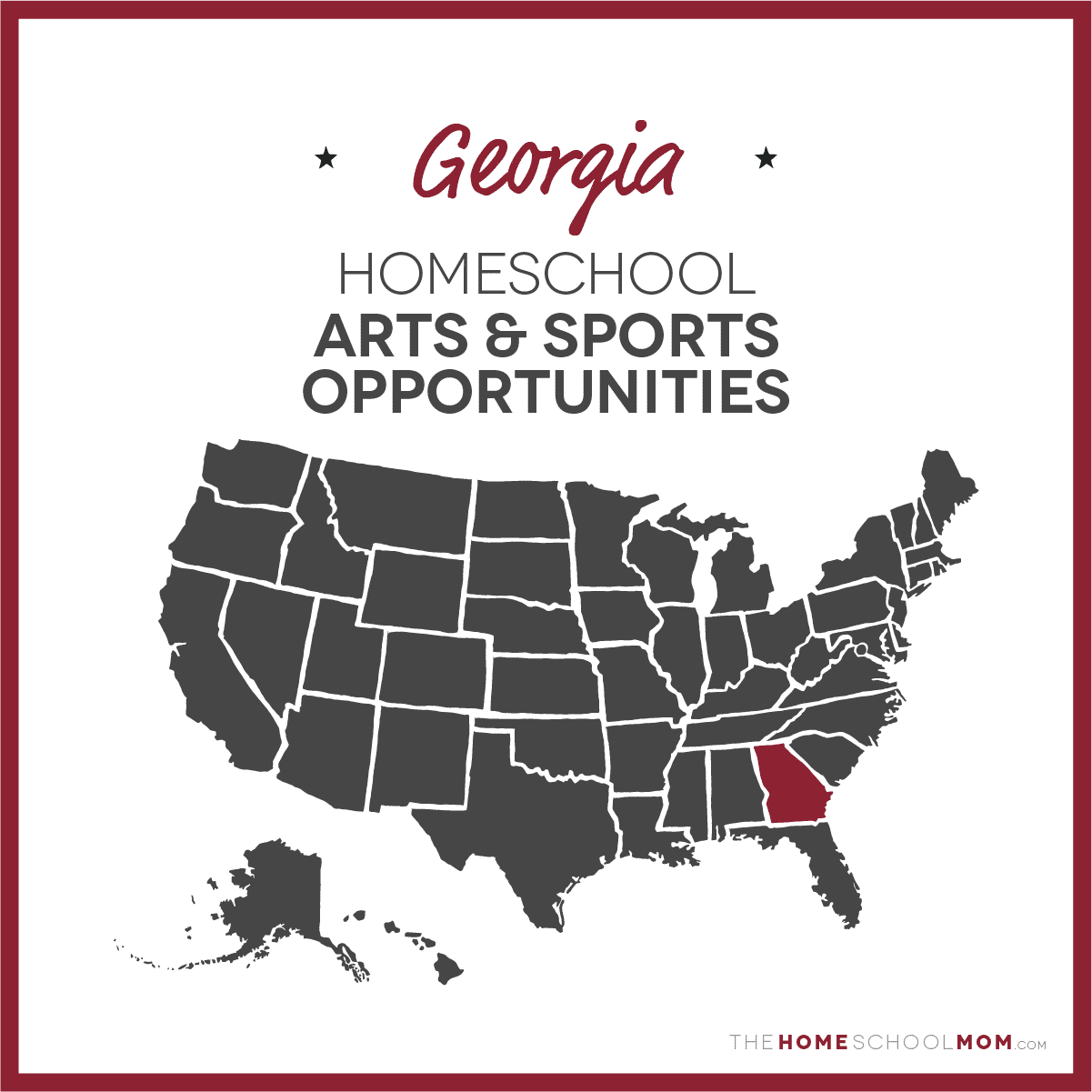 Submit a Local Resource
Our listing of Georgia list of homeschool arts and sports programs is ordered alphabetically by city, with arts in the first section and sports in the second section. If you would like to submit an Georgia arts or sports program, you may do so using the red button above.
Georgia Homeschool Arts Programs
Rebecca West Piano StudioAcworth
Private piano lessons for homeschool students.
Cynthia Gannon PianoAcworth
Cynthia Gannon is a classically trained pianist and has been teaching piano for nearly seven years. She works with all ages and experience levels from beginner to advanced, and always ensure a fun and relaxed learning...
Christian Fellowship TheaterAcworth, GA
The mission of Christian Fellowship Theater is to empower a generation of students by providing a safe place for them to grow in their gifts while enjoying the experience of theater. This is for ages 8 - 18. Goals 1. ...
Homestyle Music: Piano, Guitar, and wind instrument LessonsAcworth, Kennesaw, Dallas, Marietta, Woodstock
Fun, friendly, and professional individual music lessons for homeschoolers with Katie Hester in her Acworth studio or in your home. Discounts to homeschoolers and a flexible teaching style to meet the needs and desire...
Young Rembrandts Drawing ClassesAlpharetta
Young Rembrandts is an award-winning art enrichment program that has given the power of drawing to thousands of children across the US and Canada. Drawing Classes for Home Schoolers offered at Alpharetta Arts Center, ...
Atlanta Workshop PlayersAlpharetta
Atlanta Workshop Players (AWP), is a not for profit theater and film acting school in Alpharetta, GA that has served the community for more than 34 years. Now offering two Theater Acting classes for Home school Groups...
Off Broadway Children's TheatreAlpharetta
With an array of classes in Musical Theatre, Acting and dance classes that support a theatre curriculum, Off Broadway Children's Theatre helps kids ages 4-18 discover their passion for the performing arts.
Atlanta Piano Fortissimo In-home Piano, Voice and Violin LessonsAlpharetta, John's Creek, Suwanee, Duluth, Cumming, Marietta, Roswell, Atlanta
Atlanta Piano Fortissimo offers piano/keyboard, voice and violin lessons in the comfort of YOUR home. The lessons are available in: Atlanta, Alpharetta, Milton, John's Creek, Duluth, Suwanee, Cumming, Roswell, Mariett...
Young Singers of Northeast GeorgiaAlpharetta/Buford/Oakwood/Gainesville/Northeast GA
More than a performing group, this class also teaches music theory, sight reading, and good vocal production. Building community through the strong bond of making music together! A wide variety of musical styles are s...
Music & ArtsAlpharetta/Johns Creek/Suwanne
Music & Arts is the nation's largest music lesson provider teaching over one million lessons each year. The instructors are highly experienced, flexible, and make learning music fun. Areas of instruction include g...
Masterpiece Art InstructionAthens
Karine Bauch teaches live classes in offer classes in her Athens home.
Michelle Quinn ArtAthens
Fine art lessons, Private, semi-private or group classes. Painting , color theory, drawing , multi-media (collage, soft sculpture, Etc) I (Instructor) will travel to you and your homeschooler/s. Classes forming now ca...
Creative CurrentsAtlanta
An in studio art class offered to homeschoolers ages 4-17 in mixed media, writing, meditation and creative dialogue.
KR Music Studio Vocal LessonsAtlanta
Broadway Singing, Music Performance, Music Recording, Music Theory, Piano, Singing, and Songwriting. For more information, contact Kenneth at 757 343-3972. Website coming soon at www.krmusicstudio.com. Or check facebo...
The Emory Youth Chamber ProgramAtlanta
The Emory Youth Chamber Program (EYCP) provides intensive small ensemble training to young Atlanta-area pianists and string players. Students are generally 10-18 years old** and are placed in groups of two to five mus...
School of Rock AtlantaAtlanta
School of Rock offers students of all skill levels age 7-18 a performance-based music curriculum in a fun environment. Weekly private lessons are combined with structured group rehearsals. Students prepare to perform ...
Mastering the PianoAtlanta
Classically trained piano teacher in the Atlanta area offering classical piano instruction to students of all ages and levels. Serves a large number of homeschoolers who take piano lessons in the morning and early aft...
Fabricate StudiosAtlanta
Fabricate offers small group sewing classes for kids ages 6+. Sewing machines and all supplies are provided for class.
Dance 4 U! Performing Arts StudioAtlanta
Dance classes and teen programs at Dance 4 U! Where "OUR youth and OUR community come first." Offering Krafty Kidz Thursdays allowing 2-3year old to explore their artistic side from creative moment to arts/crafts. Als...
Zone of Light StudioAtlanta
Zone of Light Studio has brought the joy of creativity and artistic expression to hundreds of children in the Atlanta area for five years. Zone of Light Studio helps kids learn the fundamentals of art, but with lots o...
The Neighborhood BalletAtlanta
The Neighborhood Ballet teaches dance classes to children and adults. The faculty has a lifelong passion for the art form and are dedicated to educating and nurturing each student. The Neighborhood Ballet offers a var...
Forte Twirl & Dance StudioAtlanta
Forte Twirl & Dance Studio is a place where young athletes can stay fit, have fun and learn the disciplines of dance, acrobatics and baton twirling. Forte's mission is to provide world-class instruction while fost...
The Music Studio AtlantaAtlanta
The Music Studio Atlanta has been empowering creativity for over 10 years. TMSA teaches all popular instruments to everyone ages 4 and up. With private music lessons in voice, guitar, piano, drums, ukelele here's some...
Homeschool Shakesploration DaysAtlanta
Begin the day with theatre games and immerse yourself in a workshop before transitioning to becoming an audience member for one of our 60 minute touring performances. Follow up the performance with a Q&A with the ...
Homeschool Shakespeare Superheroes CampAtlanta
Send your young Shakespeare enthusiast to spend a week with our professional teaching artists as they bring to life their very own adaptation of one of Shakespeare's plays. Camp activities include theatre games, arts ...
The International City School of BalletAtlanta / Smyrna-Vinings
The International City School of Ballet is located in the Smyrna/Vinings area of Atlanta. The primary goal of the International City School of Ballet is to provide exceptional ballet instruction to students. Through t...
Atlanta Ballet Centre for Dance EducationAtlanta, Cobb, North Fulton
Offering Creative Movement and Beginning Ballet Homeschool Classes at the Powers Ferry/Cobb location for ages 3 through 10 (as of September 1, 2014). Classes combine movement and music to help students develop body aw...
Forefront Arts Children's TheatreAtlanta, Johns Creek, Decatur, Lilburn, Alpharetta
Forefront Arts offers performing arts classes, camps, workshops, and full productions for ages 3-18. Over 20 locations throughout metro-Atlanta, as well as customizable programs for private groups (including homeschoo...
Christian Youth Theater - AtlantaAtlanta/Alpharetta
Christian Youth Theater (CYT) is an after-school theater arts training program for students ages 4 - 18. CYT is a non-profit 501(c)(3) educational organization funded primarily through its tuition, ticket sales and ou...
Bravo Homeschool StringsAtlanta/Dekalb/Gwinnett
Bravo Homeschool Strings offers several levels of string orchestra for young musicians, in a homeschool-friendly environment. If you play the violin, viola, cello, or string bass and have been wishing for a place to p...
Guitar Instruction with George WestaferAugusta / Aiken
George Westafer, an experienced guitarist and teacher, offers individual or group guitar instruction to home-school students in the CSRA. Mr. Westafer is a certified Suzuki Guitar instructor and is available mornings ...
Moss School of Music: Piano, Violin, and Voice LessonsAustell, Canton, Douglasville, Kennesaw, Marietta, Smyrna, Vinings
Offering piano, viola/violin, voice, guitar and drum lessons to students ages 5-adult in the Metro Atlanta area.
Johnna Jeong In Home Music Lessons for Guitar, Voice, UkeBuckhead, Vinings, Cobb, Midtown, and...
Private music instruction in your home or in instructor's studio. B.A. and M.M. 15 years experience in education and active performer.
Dana Rice Music's FAME StudioBuford
Piano,Voice, and music theory classes for ages 4 and up. Songwriting classes for ages 10 and up. Learn RELEVANT music in styles you love like Pop, Jazz, Soul, and Musical Theater.
Education PlayStationCartersville
We offer a wide variety of classes for homeschool families. We have weekly homeschool groups including science, history, geography, music, dance, art, P.E., acrosports, and more. We also offer core classes for 1st-5th...
Music & ArtsChatham County/Savannah area
Music & Arts is the nation's largest music lesson provider teaching over one million lessons each year. The instructors are highly experienced, background checked, flexible, and make learning music fun! Areas of i...
Springer Opera House Theatre AcademyColumbus
Since the founding of the Springer Theatre Academy in 1996, the training program of the State Theatre of Georgia has grown from 200 students to over 700. The Springer Theatre Academy's success has been the catalyst fo...
RiverCenter for the Performing ArtsColumbus
The RiverCenter for the Performing Arts is a great place to catch live, high-quality theatrical productions, music, and more! The RiverCenter on the Road series and Discovery Matinee series is specifically designed fo...
Elite Music Studio Piano & Voice Lessons for BeginnersCovington
Elite Music Studio offers one-on-one piano and voice for children ages 5 to 15. Beginner and intermediate classes are held Monday through Saturday by appointment. Music is a wonderful way to complement academic learni...
Dawal piano and guitar studioDacula, Buford, Hoschton, Lawrenceville
This home-based studio offers private classical guitar and piano lessons, with daytime and evening options. Ensemble, Recital, and Festival participation is encouraged. A special emphasis is placed on forming practice...
North Georgia Children's ChorusDahlonega
NGCC is a community chorus for students 9-16, whose mission is to train young singers musically and artistically, and to sing to the glory of God. Founded in 2007, the chorus prepares two concerts a year, and performs...
Georgia Pick & Bow Traditional Music SchoolDahlonega
Georgia Pick & Bow offers classes in traditional music in Dahlonega, GA. Students in 3rd-12 grades learn to play and sing old time and bluegrass music; instruments taught include fiddle, mandolin, ukulele, guitar ...
Seven Arts CenterEast Point
SAC Homeschool Art Program: Daytime Classes designed for homeschoolers. Art Curriculum, teachers, and art materials included. Design and Coding for kids interested in designing and coding fun video games, animated sto...
Piano and Voice Lessons with Marketa ZemanFulton County
Piano Lessons from experienced European Teacher with 16 years of teaching piano and voice, working with both children and adults. Lesson are offered both in home and in instructors home. Offering students Annual Recit...
Let There Be Rock SchoolGainesville
Let There Be Rock School is a music lesson facility and rock and roll community center. Students from age 5 to adult learn to play guitar, bass, drums, keys, ukulele and vocals while interacting with their peers. All ...
Michelle Ostrove Vocal and Piano StudioGainesville, Buford, Oakwood, Flowery Branch, Cumming, Dahlonwga, Suwanee, Braselton & Atlanta area
Voice and piano lessons for students of any age. Music theory along with sight reading instruction. Call Michelle Ostrove at 818-400-4160, Skype lessons are available upon request.
Grace Music AcademyGwinnett and Bartow County
Grace Music Academy provides music lessons for both children and adults in a Christian environment. GMA offers Music Box and Keyboard Kapers classes for pre-school age children. Private and group lessons for teens and...
Positive Impact School of ArtsGwinnett/Suwanee/Duluth/Buford/Sugar Hill/ Cumming/Lawrenceville/Dacula
At Positive Impact School of Arts, we have wonderful programs that center around Performing Arts, Visual Arts, Fine Arts, Arts and Crafts, Culinary Arts, Martial Arts and so much more. Contact us at Tami@thepositiveim...
His Master's Voice School of Music and ArtHenry County, Spalding, Clayton, Rockdale, Fayette county
HMV is a non profit Christian Homeschool Co-op teaching music and art. HMV meets on Mondays and currently offers classes in: Band, Choral, Strings, Photography, Art, Drama, American Sign Language, and Keyboard. Privat...
MuZicToMyEarsHenry County/McDonough
Private Music lessons in flute by Nationally Certified Teacher of Music and college-level instructor. Piano lessons also available. Premium instruction by a music professional who is also a home-school mom. Please see...
Troutner Piano StudioHenry, Newton, & Rockdale counties
A unique piano lesson program that makes learning fun and ensures a solid musical foundation. Private lessons are combined with weekly theory computer lab sessions, fun monthly classes, and more! Melody Troutner has a...
Tandem MediaJacksonville
Tandem Media offers student photo and video services for home schoolers at its Jacksonville Beach, FL studio, with on-location packages available. The studio also offers acting classes for students age 16 and older at...
Piano Lessons with JulieJohns Creek, Alpharetta and Duluth
Piano lessons for kids of all ages. Beginning to Intermediate instruction. Special discounts available for homeschoolers. Visit the website at www.JohnsCreekPianoLessons.com and click on "Rates." Call us at (770) 797-...
Legacy School of Music, INC.Jonesboro
This resource is a monthly after school program for middle school and high school students in the arts. This program provides music therapy by teaching students how to produce their own songs and mentor them on life s...
School of Fine ArtsKennesaw
An outreach of Living Hope Church that offers a variety of private classes in music and the arts by experienced instructors.
More Than a Lesson, Performing Arts School & Play CenterKennesaw
Program houses "Homeschool Adventures" for ages K3 through High school. More Than a Lesson is a performing arts based enrichment school that believes in mentoring through the arts. Classes available include but are no...
Powerhouse Dance CenterKennesaw
Powerhouse Dance Center is now offering daytime homeschool dance classes on Wednesday mornings. It is also possible to add additional days with enough interest. Please call 770.795.9095 for more information or visit t...
Ann's StudioKennesaw
Ready to learn something new? Instructors break projects down into simple steps that are easy to follow, allowing artists of all skill & experience levels to create something beautiful. Check out class schedules to se...
Pike Street PercussionLawrenceville
Pike Street Percussion is a percussion lesson studio offering a variety of lesson packages for middle and high school aged students. The studio introduces new students to the art of percussion, prepares students for p...
Mable House Arts CenterMableton
Mable House Arts Center complex has something for everyone: from toddler music party classes to visual arts and theater for teens. There are art enrichment home school classes on Wednesdays, offering classes in chess,...
Suzuki Violin Lessons - Every child is capable of playing music at a high level, given the proper nurturing environment. Talent is developed, not innate. As a Suzuki trained teacher and professional violinist, it is m...
Joyful Noise Homeschool Band, Inc.Marietta
Now in its 11th year, JNHSB is a ministry to home educated students and their families, who in turn minister to others through the gift of music. Even with four levels of band, plus orchestra, guitar, chorus, worship ...
All Fired UpMarietta
With pottery painting and creative art classes, finding something to make at All Fired Up is easy. To help create this relaxed and stress free zone we charge only for the pieces created. There are no additional studio...
Earth Art ClassesMarietta
Earth Art classes include elements of earth science, art history, artistic skill and technique building, while getting to use quality art materials and natural items hand selected straight from the outdoors. The focus...
Dance Classes for Kids 8-17Marietta
Shara D. Productions offers high quality performing arts training and education to students 7 to 18. SDP offers ballet, jazz, hip-hop and theater classes. SDP not only provides a comprehensive dance and theater curric...
Studio 77 - Art ClassesMarietta
Studio 77 offers a variety of homeschool group art lessons on Mon., Wed., and Thurs. at 10-11am or 11am-12pm. Curriculum includes watercolor, drawing (charcoal, graphite, pen and ink), acrylics and calligraphy/letteri...
doodle Art StudioMarietta
At doodle Art Studio, the goal is to cultivate a safe environment for guests to explore their creativity in a variety of art mediums. Come and create your masterpiece at doodle Art Studio! I specialize in art classes ...
Drum Lessons with Brandon FaulknerMarietta
Study drums with Brandon Faulkner! Learn how to play drums from the ground up! Brandon focuses on proper hand technique, form, and all the basics in reading and the rudiments. Teaching how the body works and how it re...
The Music Studio Atlanta in MariettaMarietta
The Music Studio Atlanta has been teaching music through in-home lessons for over 30 years and has also providing lessons at a Vinings location for the past 11 years for both children and adults. The studio has opened...
Refuge Dance AcademyMarietta, Cobb
Refuge Dance Academy was founded, by (dancers/teachers/homeschool parents of 5) Katherine and David Gant, out of a desire for the dance studio to be a safe place for dancers to move and grow. Imagination, curiosity an...
The Georgia BalletMarietta/Kennesaw
Founded in 1960 by Marietta native Iris Hensley, The Georgia Ballet is a non-profit organization committed to inspiring the public through professional ballet performance, unparalleled dance training and meaningful co...
His Master's Voice School of Music and Fine ArtsMcDonough
This Homeschool Co-op offers Beginning and Advanced classes in Strings, Choir, Band, Art, Keyboard, ASL, Musical Drama as well as All State Choir Prep and private voice and guitar. This fine arts group serves Henry an...
ANCHOR Friday Enrichment ProgramMcDonough, Henry County
ANCHOR partners with home school and alternative education parents in Henry county, GA to provide enrichment classes on Friday mornings for students in K5 - 8th grade. Group classes include Art, Theater, Crafting, FLL...
HOME of Fine Arts ConnectionMcDonough/Henry and Surrounding Counties
HOME of Fine Arts Connection, Inc. is a Fine Arts program for the home educated student located in Henry County, Georgia. Originally started to provide a band experience for homeschooled children, HOME has grown in th...
Agape Music Studio Music and Art LessonsMetro Atlanta
Discover the song in your heart at Agape Music Studio. Lessons in piano, voice, recorder, and brass instruments are offered at reasonable rates and all students are instructed in music theory. Agape also offers fine a...
Cool Moms Dance TooMetro Atlanta
Mobile family fitness classes for children and parents. This class uses family appropriate music and dance in a 5000-6000 step class to help participants meet their daily fitness, social and engagement needs.
Atlanta Pipe BandMetro Atlanta
The Atlanta Pipe Band is a 501 (c)(3) organization dedicated to perpetuating the Scottish arts of bagpiping and drumming. We offer instruction in these area free of charge. Our target ages are youth 8 years of age and...
Atlanta Young SingersMetro Atlanta and surrounding
Atlanta Young Singers is a comprehensive choral education program for youth, promoting self-confidence, musical excellence, and the development of life skills through music fluency, artistic development, excellence in...
Cello Lessons with Avery McCoyMetro Atlanta/Cobb County
Cello lessons for students of any age. Students will have personalized curriculums and receive a 30, 45, or 60 minutes lesson once per week. Students will also learn music theory, aural skills, and other essential ski...
Joyful Praise Homeschool ChoirNewnan
The Joyful Praise Homeschool Choir is made up of K-12th grade homeschool students from Coweta and surrounding counties. Our goal is to educate students in the art of singing and performance. The choir presents two mus...
Art Class & Nature ExploreNewnan, GA
Inexpensive Art classes offered in studio or your location of choice.
Planted Art StudioOxford
Planted Art Studio offers classical art lessons for K through 12 graders focusing on the technical skills of art and studying and copying Masterworks. Teacher Kimberly Downs teaches students to recognize and imitate w...
Radical ScholarsPowder Springs, West Cobb, Paulding
Radical Scholars offers a Friday Home School Program for students Kindergarten through 12 Grade classes in S.T.E.A.M., Lego, Art, Drama, MIME, SAT Prep and Dance
Say It Is Sew sewing classesRex
This resource is to teach the art of sewing to home school children. The basic use of a sewing machine and the basics of sewing are taught. This is ongoing through the school year and there is also a summer camp.
Piano/Theory Lessons with Tracey PhillipsRoswell
Dove-Award recipient, Tracey, gives lessons on Skype for students who live out of state, or out of the country and cannot drive to one of her locations. Please talk with her about this option and see what she has to o...
Violin Lessons With Ashley WhittleRoswell
Help your child learn discipline, confidence, and musical skill by providing them with Suzuki violin lessons! Ashley Whittle is a graduate of the Cleveland Institute of Music with a Master's degree in Violin Performan...
PIano/Theory Lessons by Tracey PhillipsRoswell/Woodstock/Metro Nashville, and SKYPE
Dove award recipient, Tracey, gives private lessons out of her studios located just outside of Atlanta, in Roswell GA, and Woodstock, GA. Ideally, Tracey gives weekly lessons, but is able to personalize a program that...
Painting With a Twist- Sandy SpringsSandy Springs, Roswell, Atlanta
A paint studio offering all ages art classes, kids camps, and private parties. Learn about parts of a flower by painting one! Learn about the atmosphere by painting the sky!
Brass/Woodwind Lessons with Muse For LifeSandy Springs/Dunwoody/Roswell
Certified instrumental music teacher in the Sandy Springs area offers trumpet lessons at all levels as well as beginner and intermediate trombone, saxophone, clarinet, and flute.
Scribble Art StudioSavannah
Creative Art lessons lasses designed for all levels and ages, pre-k through adult. Students will learn basic concepts such as color, composition, perspective, volume, and proportion. New and familiar artists will be u...
Private Flute LessonsSavannah
Private flute lessons are offered by flute teacher and performer, Erika Andres, for students of any age and level in the Savannah area, either in the student's home, in Ms. Andres private studio, or online. Please vis...
Shara D Productions Dance CompanySmyrna
Shara D. Productions offers high quality dance and acting training to students 3 and up. SDP provides a comprehensive dance and theater curriculum and strives to give students the proper tools required to thrive in re...
Adriana's Piano StudioSmyrna, Vinings, Mableton, Austell
Piano lessons from Georgia Certified Teacher (K-12, music) with 25 years experience in piano teaching.
Infinite Dance TheaterStone Mountain/Gwinnett Decatur/Dekalb
This resource offers technical dance training for ages 7 - 18. The genres offered are Ballet/Pointe, Jazz, Modern, Tap, Hip Hop. Classes are held during the day, specifically designed to the homeschool community. Clas...
Brush and BrewSuwanee
Hi all Homeschool moms and kids! I have an awesome opportunity for you all! Its called "Brush and Brew", which is a painting class at Peace, love, and pottery. The artist Maureen McIntosh walks you through any paintin...
Bach to Rock Johns CreekSuwanee
Bach to Rock Johns Creek is a music school that teaches all kinds of instruments as well as vocals. B2R encourages students to join a band as soon as they reach a certain point in their lessons. The facility has band ...
Hummingbirds AcademyTroup County/Hogansville
Students will learn the fundamentals and history of music and visual arts as well as an in depth study of various STEM (Science, Technology, Engineering, and Math) subjects. You can be sure that your child is getting ...
Main Street School of ArtTucker
Main Street School of Art is a children's art school located in Tucker GA providing art classes year-round with home-school, after-school, and Saturday classes during the school year and Summer Camps during the Summer...
Tayo Reed's Performing Arts CenterUnion City
Tayo Reed Performing Arts Center provides Fine Arts Classes during the daytime and evening hours for home school students. The Fine Arts classes are Music, Dance, Drama, and Voice Classes for ages 2 to 18 years old.
Greater Valdosta Homeschool AssociationValdosta
The Greater Valdosta Home School Association is a Christ-centered homeschool cooperative in Valdosta, GA. Members have the opportunity to participate in academic and social activities that will strengthen homeschool f...
Mrs Kim's Piano Studio Music Appreciation ClassesWarner Robins
Music Appreciation Classes, designed especially for homeschoolers, are being offered at Mrs. Kim's Piano Studio in Byron, GA. Classes are offered for one hour per week. Curriculum, throughout the year, will focus on t...
Voice, Piano, and Guitar Lessons with Angela TopperWoodstock
Private Voice, Piano, and Guitar lessons available in Woodstock, GA.
Woodstock Piano LessonsWoodstock
Mr. Ralph Iossa is a Classically trained pianist with 25 years of experience teaching private piano lessons. Lessons are once a week for 30 minutes in your home. Ages from 6 years and up, beginners through advanced
Cobalt Melodies Music StudioWoodstock
Violin, Viola, and Piano lessons serving Cherokee, Cobb, and surrounding areas off hwy 92 in Woodstock. Offering a more flexible schedule. Taking students of all ages and experience levels! More info can be found on C...
Elm Street Cultural Arts VillageWoodstock
Elm Street Cultural Arts Village has exciting and engaging opportunities for students of all ages year-round! A 501 (c) 3 non-profit theatre located in the heart of Downtown Woodstock, Elm Street's mission is to educa...
Classical Harp Lessons with Tyler HartleyWoodstock
Playing a musical instrument has been shown to accelerate brain development in children, improve memory and attention, engage cognitive and psychomotor function, kindle creativity and artistic thinking, and provide em...
Georgia Homeschool Sports Programs
Adrenaline FX Homeschool PEAlpharetta, Ballground, Canton, Jasper, Milton, Woodstock
Offering physical education classes for grades K-8 and a personal fitness/weight training for high school students. See website for schedule and pricing. [Read more...]
Teams of Tomorrow (TOT) Basketball Music & MovementAlpharetta, Cumming, Duluth, Johns Creek, Roswell, Suwanee
TOT is a 30 minute, once a week music & movement program that introduces 25 basketball handling skills, reviews mixing colors, shapes, numbers (in English, Spanish, & French,) senses, and v... [Read more...]
Hi-Five Sport Zone - North Point MallAlpharetta/Roswell/Cumming
Hi-Five Sports Zone, located in North Point Mall offers PE Classes, Pre-k enricment sports, Leagues, Clinics, Open Gym and Birthday Parties programs for HomeSchoolers Pre-k to High School. Morning ... [Read more...]
Tucker Taekwondo Center Homeschool ProgramAtlanta
Tucker Taekwondo Center (Atlanta, GA) is offering a special program to homeschoolers. Morning and early afternoon classes. Satisfies K-12 PE requirements. Homeschoolers ages 4 and up and their pare... [Read more...]
D-BAT Baseball and Softball AcademyAtlanta
D-BAT Baseball and Softball Academy has three locations around the Atlanta area (Buckhead, Marietta, Johns Creek). Offering private baseball instruction, baseball camps, and batting cages that are ... [Read more...]
Power OpsAtlanta
Youth and recreational paintball, airsoft, and laser tag safe fun for all ages. Great for birthday parties and recreation play. Georgia's largest airsoft field. [Read more...]
Atlanta Track Club Cross Country Youth TeamAtlanta
Atlanta Track Club Cross Country Youth Team is open to all Atlanta area middle school-age kids who have an interest in being part of a competitive cross country team, regardless of ability or exper... [Read more...]
Airborne Gymnastics Club USAAtlanta
Airborne Gymnastics Club USA is a private minority owned gym. They offer mobile, virtual and on site lessons. They offer competitive gymnastics training as well. Their goal is to inspire more confi... [Read more...]
SA RowingAtlanta
SA Rowing is an elite Junior Rowing Club focused on providing our athletes with individualized coaching and training to ensure peak performance in competition. SA Rowing welcomes all athletes regar... [Read more...]
Atlanta Sports TrainingAtlanta
Atlanta Sports Training programs foster community, stand for connection, and are fueled by the belief that sport teaches lessons beyond the court. These programs are committed to creating a sense o... [Read more...]
Wall Crawler Rock ClubAtlanta/Decatur
This resource is an opportunity for homeschool students ages 4 and up to socialize and get physical exercise all at the same time. Wall Crawler Rock Club is offering a program for homeschool moms a... [Read more...]
Adventure Air SportsAtlanta/Kennesaw
Enjoy a state of the art, world class indoor trampoline park. Offering a huge main trampoline area with built in parkour elements; Mad Maxx, the only supertramp in the Atlanta area; One of the larg... [Read more...]
Jump Start GymnasiumAtlanta/Sandy Springs
Jump Start Gymnasium offers a variety of sports and athletics for ages 3 months and older. Activities include gymnastics, tumbling, field trips, basic sports introduction, etc. Contact Jump Start t... [Read more...]
Blue Ridge Natural Horsemanship TeamBallground
Blue Ridge Natural Horsemanship Homeschool Team is for ages 10+ and is a non-competitive horse team for all skill ages. This group meets from Oct-May on alternating Thursdays from 9am-2pm learning ... [Read more...]
Central Georgia Arts and AthleticsBibb, Houston, Jones, Monroe, Peach, and Twiggs Counties
CGA offers opportunities for homeschooled Middle and High School students to participate in competitive athletic programs in a number of sports. They are partnered with the Georgia Independent Chri... [Read more...]
Carter Farms Performance Horses, LLC- Horse Back RidingBowdon
Offering riding instruction from beginner to advanced in our riding academy. We have wonderful lesson horses to help you pursue your riding goals from western pleasure, hunter/jumper, pleasure ridi... [Read more...]
British Swim School of Gwinnett-HallBuford
British Swim School of Gwinnett-Hall is the perfect place for swimmers of all ages and experience levels, with a variety of programs for children ages 3-months to adults. We have been teaching wate... [Read more...]
Hoop Heaven GeorgiaCanton
Providing basketball clinics for boys and girls of all skills levels who are in grades K-8th. Classes are taught by former professional players, college athletes, or experienced coaches. These clas... [Read more...]
North Georgia FalconsCherokee, Forsyth, Fulton, Bartow, Pickens counties
The North Georgia Falcons is an independent sports program offering tackle football to high school boys 13-18. the Falcons are currently seeking new players including a kicker. The Falcons are look... [Read more...]
Valley Coast Running & FitnessColquitt/Miller County
Whether you're an athlete looking to improve strength and conditioning, a novice runner who wants to race, or a student looking to join a xc/track club; Valley Coast Running & Fitness has a wor... [Read more...]
Fideles Christian School Sports Team OpportunitiesCumming
Fideles Christian School is a university model school that fields competitive sports teams open to home schooled and alternatively educated students in Forsyth and surrounding counties. Fideles is ... [Read more...]
Choe's HapKiDo Martial ArtsCumming
At Choe's HapKiDo, Kids Martial Arts will give your child something to look forward to each day. They learn to work hard and have fun with our martial arts inspired games and exercises. While in a ... [Read more...]
Gwinnett Homeschool Golf TeamDacula
Gwinnett County, GA Homeschool High School Golf Team invites all homeschool golfers (and beginners) to participate on the team. Season is in the Spring of the year and will begin in February. Middl... [Read more...]
Stars and Strikes BowlingDallas
Learn to Bowl [Read more...]
Notre Dame AcademyDuluth
Notre Dame Academy is a Marist Catholic and International Baccalaureate World School located in Duluth, Georgia. The academy is currently offering interscholastic athletic opportunities for student... [Read more...]
Arlington Christian School - AthleticsFulton, Douglas, Coweta, Fayette, Carroll, and Clayton Counties
Arlington Christian school School has openings for Homeschooled students in grades 6th to 12th who are interested in participating in Football, Volleyball, Cross Country, Basketball, Cheerleading, ... [Read more...]
Lanier Christian Academy Girls SoftballGainesville
Lanier Christian Academy is looking for homeschool softball players in North Georgia area, (specifically Gainesville, GA). Opportunities for 14U+ homeschool travel ball players, especially those gi... [Read more...]
Greater Gwinnett Christian BaronsGwinnett
The Greater Gwinnett Christian Barons develop Godly men and women of character who are given the tools they need to pursue sports beyond high school within the homeschool community. Offering compet... [Read more...]
The A Team @ Adrenalne ClimbingGwinnett County
Fulfill your PE requirements with indoor rock climbing. [Read more...]
Lanier Volleyball ClubHall County, Dawson County, Gwinnett County, Forsyth County, White County, Habersham County, Lumpkin County, Jackson County, Barrow County, Banks County
Lanier Volleyball Club offers travel volleyball with competitive play at local and regional tournaments as well as individual clinics and private lessons throughout the year. Also offer 3 sessions ... [Read more...]
Aqua-Tots Swim Schools, IncKennesaw
Learn water safety and have fun swimming! Aqua-Tots Swim Schools offers group, semi- private and private lessons. Aqua-Tots Swim Schools also supports birthday parties, open swim and various other ... [Read more...]
Public Lands Homeschool ClimbKennesaw
Public Lands in Kennesaw has now started Homeschool Day at the rock wall! Every Thursday from 11 AM to 2 PM climbing for homeschool students is only $9.95 for one hour. This is an opportunity for t... [Read more...]
Smith's Martial Arts AcademyMarietta
Martial Arts classes designated for local Homeschoolers during daytime hours. Classes are 50 mins long for age 8 to 18. Martial Arts classes provide students withe opportunities to learn self contr... [Read more...]
Westside Martial ArtsMarietta
Westside Martial Arts is a family owned and operated school, in business as Burbank Taekwondo School since 2012. We offer Taekwondo (Kukkiwon), high level wrestling and grappling, and an environmen... [Read more...]
Champion KidsMarietta
Champion Kids is offering a fitness/PE class designed for school age children on Wednesdays from 1 to 2 PM starting in August. Classes are $70 a month or you can drop them for $15. Registration is ... [Read more...]
Ultimate Karate and Fitness, Inc.; Karate LessonsMarietta
At Ultimate Karate and Fitness of Marietta, Georgia, we teach kids the fundamentals of karate as well as the values that are integral to martial arts training. Through karate, kids can: Learn effec... [Read more...]
Home School PE ClubMarietta/Woodstock
The Homeschool PE Club is designed for homeschool students ages 6-17 to help achieve physical fitness and by the end of the year and earn the Presidential Fitness Award! Students work on sit-ups, s... [Read more...]
Cool Moms Dance TooMetro Atlanta
Mobile family fitness classes for children and parents. This class uses family appropriate music and dance in a 5000-6000 step class to help participants meet their daily fitness, social and engage... [Read more...]
Burns Horse FarmNewnan
Offering English and Western horse riding lessons. Hourly sessions private or semi-private. Call to set up a time. (706) 302-6847. [Read more...]
ReClif - functional fitness classesPeachtree Corners
ReClif is a fitness based therapy center offering specialty Physical Education opportunities for homeschoolers. Most sessions are one-on-one, but can be worked to structure fitness classes for smal... [Read more...]
Amplitude Gymnastics AcademyRoswell
Amplitude Gymnastics Academy offers a diverse gymnastics program; morning program for all ages group classes, private instruction, tumbling and trampoline classes. Age of participants from 1 yr. ol... [Read more...]
Redline Athletics Performance Center - RoswellRoswell
Redline Athletics specializes in comprehensive athletic development focused on injury prevention, movement efficiency, speed and agility, strength, and power. Our center works with homeschoolers to... [Read more...]
Central Christian CrusadersSharpsburg
Currently looking for competitive baseball players to fill out our 2016 roster. Please contact us immediately if you have any interest. [Read more...]
Yoga Class for Homeschool Co-opSnellville
To Each is Om yoga and wellness is offering yoga classes to HomeSchool co-ops around metro Atlanta area. To Each is Om's mission is to develop and support a collective of wellness in the under serv... [Read more...]
Nerf and AirsoftSugar Hill
Looking for something new for your kids to do? The SS Airsoft battlefield is a 24,000 ft² purpose-built arena to provide a well-laid out field with various elements that provide cover for airsoft p... [Read more...]
JUMP TNTSuwanee
JUMP TNT Homeschool P.E. program offers 1.5-hour classes. Homeschool students will get to experience trampoline, tumbling, and sample Ninja Zone! Students can enroll in just one day a week or multi... [Read more...]
LEAP PARKOUR GYMSuwanee
LEAP PARKOUR is an academy that teaches the sport of parkour. We teach students to move efficiently through any environment using vaults, gymnastics, and climbing. Our program is great for any skil... [Read more...]
Professional Homeschool PESuwanee
Adventures in sport education (https://www.adventuresinsport.com/) is a professional homeschool physical education program located at the Suwanee Sports Academy in Suwanee, Georgia. ASE offers clas... [Read more...]
Patriot Karate and Martial ArtsWalton/Gwinnett Area
Offering Day classes for homeschoolers. FREE uniform. FREE ladies' self-defense classes. Parents' night out and fun activities through out the month. [Read more...]
Chattahoochee Gold SwimmingWoodstock
Chattahoochee Gold, one of the top swim teams in the nation, offers a Homeschool Team and Lessons. These programs are designed to meet the schedule of homeschool students. Team swimmers can choose ... [Read more...]
Go to...