Our listing of Georgia jobs and volunteer opportunities for homeschoolers is ordered alphabetically by city. If you would like to submit a Georgia co-op or academic resource, you may do so using the red button above.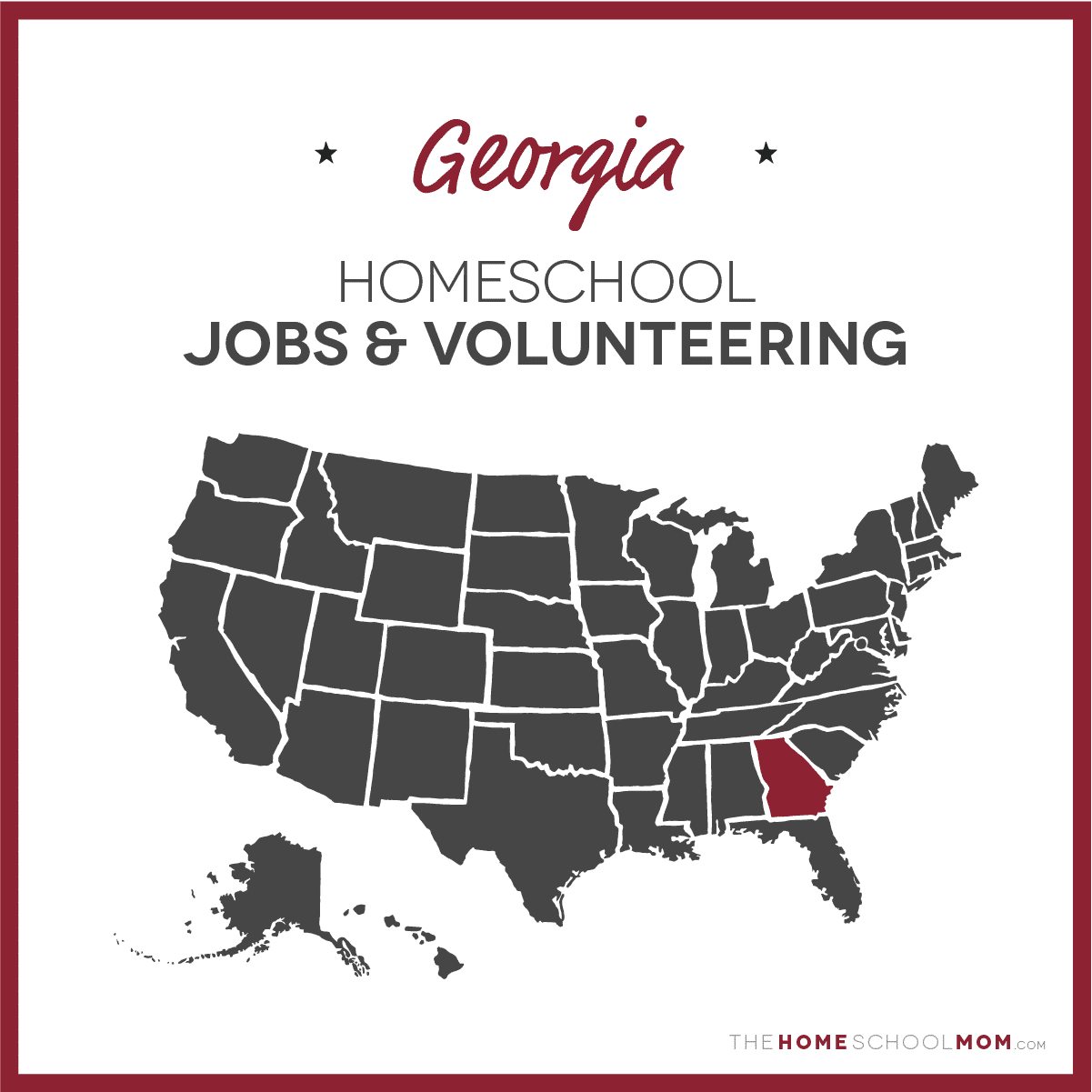 Submit a Local Resource
Pebble Tossers, Inc.

Atlanta

Pebble Tossers is a nonprofit youth development organization dedicated to enriching and empowering the lives of young people through community service and leadership roles. Pebble Tossers offers volunteer resources designed to match kids, teens and families with age-appropriate service opportunities. Volunteers can learn about and register for ongoing service projects on the Pebble Tossers website.
180 Degree Farm

Coweta, Fayette

We are a farm located in Sharpsburg, GA called 180 Degree Farm. Not only do we teach cancer patients about eating clean and nutritionally dense food but we are 100% organic and focus on the health of our plants and soil. We also donate a lot of our produce to families fighting cancer. 
Hiring Chick-fil-A Pike St and Suwanee Road.

Lawrenceville

The Chick-fil-A's at Pike St (Lawrenceville. Ga ) and Suwanee Rd (Suwanee Ga) are now hiring Full-time and Part-time homeschoolers. Please apply on line at www.cfapikestreetjobs.com or www.cfasuwaneeroadjobs.com. Scholarship opportunities.
J.M. Tull-Gwinnett Family YMCA

Lawrenceville

Reflecting its Judeo-Christian heritage, the YMCA of Metro Atlanta is an association of volunteers, members and staff, open to and serving all, with programs and services which build spirit, mind, and body. Financial assistance is available based on need. The YMCA actively seeks to identify and involve those in need.
Truett's Chick-fil-A, Newnan GA

Newnan

The Self-Serve Team Member is a front-line team member committed to serving guests. RESPONSIBILITIES Welcomes guests as they enter the restaurant or drive thru Answers guest questions, offers recommendations, and provides general assistance to guests Takes guest orders, processes payments accurately, and maintains an accurate cash drawer Ensures orders are complete and delivers food to guests Maintains adequate stock of supplies Ensures that work areas are clean and that equipment, tools, and supplies are properly stored Cleans various areas of the restaurant, including tables, counters, floors, trash bins and restrooms Other duties and responsibilities as directed by restaurant management QUALIFICATIONS Customer-friendly demeanor and willingness to serve Able to stand for prolonged periods (entire shift), walk, bend, kneel, squat, stand, and lift heavy objects, as needed Excellent communication skills, verbal and written (English fluency required) Able to maintain positive energy throughout shift with an outgoing, friendly, and patient attitude Able to excel in a fast-paced, team environment with a sense of urgency in getting things done Able to think ahead and anticipate problems before they happen Willing to work a flexible schedule and arrive to work at the scheduled time Demonstrates integrity Apply today at - https://truettschickfila.wyckwyre.com
Hawthorn Senior Living Dining Room Servers

Riswell

Sanford Estates, Roswell's premier retirement community for active seniors, is now hiring for part-time Servers (evening and weekend shifts available). The position serves meals to residents' tables following Hawthorn procedures in a courteous and friendly manner. This individual must have a friendly, professional, and energetic personality and have a passion for improving the lives of others. The successful candidate for this position will have the ability to present meal alternatives to residents and guests. This individual will have a general knowledge of sanitation and safe food handling practices will meet state health-related and age-related requirements. The successful candidate for this position will communicate in a clear and concise manner with our residents. This individual will possess organizational skills as well as excellent customer service skills. In addition, the successful candidate will work well under time constraints and be able to meet deadlines. We offer competitive compensation and a great work environment. Our residents deserve the best so we are seeking someone who understands hospitality, integrity and compassion. Must be at least 15 years old.
Leopold's Ice Cream in Savannah

Savannah

Leopold's Ice Cream in Savannah, GA is hiring for all positions and hours. Leopold's is a 100 year old family business specializing is Super-Premium ice cream, making tasty memories and helping our staff achieve their goals. Applicants should be flexible in scheduling and offering 3 or more days availability. If interested, Please apply, in person at 212 East Broughton Street. Savannah, GA
Code Ninjas - Smyrna, Atlanta and Douglasville

Smyrna, Douglasville, Atlanta

Position: Code Sensei Flexible Part-Time to 25 hours/week | Weekdays or Weekend shifts available Holiday/School Breaks Only shifts available Example of weekday shifts 4 - 7 pm. Example of Saturday shift 11 am - 3 pm Who are we? Code Ninjas is the nation's fastest-growing kids coding franchise. In our center, kids ages 4-14 learn to code in a fun, non-intimidating way – by playing and building video games they love. Kids have a blast and can't wait to come back. Parents are thrilled as their children gain confidence and new skills including coding, math, logic, and problem-solving, as they progress from white to black belt. Our core promise is, Kids have fun, parents see results. We believe in these words so much that it's written on the walls in our center. What are we looking for? We are looking for a Code Sensei to join our team of dynamic, energetic, forward-thinking minds, working toward our common goal: providing a fun and safe learning environment for children. Our senseis are the lifeblood of our Code Ninjas center. This individual oversees the day-to-day coaching and student engagement. Are you experienced in working with children? Do you enjoy teaching and building problem-solving skills in young engineering minds? Have you mentored youth? This could be the role for you. Please email: SmyrnaGA@codeninjas.com if you have any additional questions or to confirm your interview.