Homeschooling is regulated at the state level, so connecting with local homeschoolers is an important step to start homeschooling in Georgia. Find the Georgia homeschool groups closest to you and get connected with your local homeschooling community, learn about the homeschool requirements in Georgia, and discover the co-ops, classes, sports and arts opportunities, and social get-togethers in your area.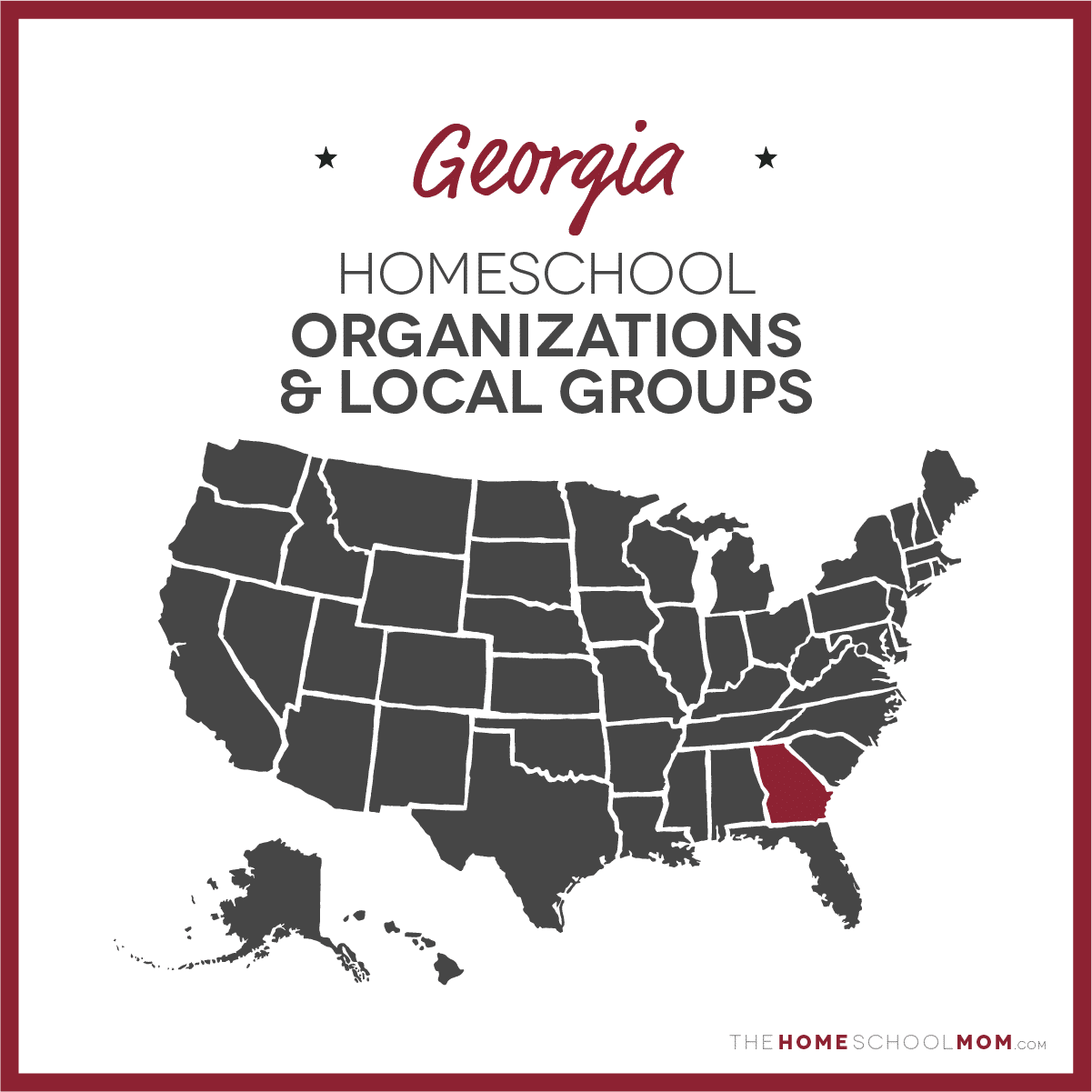 Submit a Local Resource
Jump to: State Organizations | Local Groups
Our listing of Georgia state organizations and local homeschool groups is ordered alphabetically by city, with statewide organizations listed first. If you would like to submit a group, you may do so using the red button above.
Georgia Homeschool Organizations (Statewide)
GHEA

Georgia Statewide

Georgia Home Education Association (GHEA) is the statewide, member supported, 501(c)3 non-profit organization that  has been serving the needs and protecting the rights of homeschoolers since 1992. GHEA is governed by a Christian Board of Directors who serve voluntarily. GHEA is committed to the advancement of home education and to protecting every family's right to home educate their children and considers it part of its mission to help families across Georgia involved in this educational choice. Therefore, GHEA serves all homeschoolers, regardless of religious or philosophical beliefs and membership is open to all.
Georgia Local Homeschool Groups
The Southwest Georgia Homeschool Association

Albany

SWGHA works at providing support and encouragement to the homeschooling families of Southwest Georgia. · Offering  Friday classes –supplemental  classes taught by our homeschooling community for our students · Providing information regarding the legal climate of home education in Georgia and in our nation. · Reviewing and disseminating home education materials and information considered vital to home educators. · Publishing the SWGHA Handbook & Directory. · Conducting educational activities to provide information and training to home educators and their children. · Providing information and administration of standardized tests in grades 1-12. · Offering opportunities for much needed fellowship, counsel, and laughter with other homeschool parents.
The Southwest Georgia Homeschool Association

Albany

SWGHA is an organization of Christian homeschoolers. SWGHA's goal is to provide support and assist families of Southwest Georgia with the challenges of educating their children at home. We accomplish this goal by: · Providing support & encouragement to the homeschooling families of Southwest Georgia. · Offering Friday classes–supplemental classes taught by our homeschooling community. · Providing information regarding the legal climate of home education in Georgia and in our nation. · Reviewing and disseminating home education materials and information considered vital to home educators. · Publishing the SWGHA Handbook & Directory. · Conducting educational activities to provide information and training to home educators and their children. · Providing information and administration of standardized tests in grades 1-12. · Offering opportunities for much needed fellowship, counsel, and laughter with other homeschool parents.
Creative Career Academy

Alpharetta, Johns Creek, Marietta, & Roswell

Creative Career Academy is a Christian organization that offers classes in Animation, Video Game Design, Fashion Design, Film Making, Programming, and Graphic Design. CCA has been opened since 2010 and serves the Metro Atlanta Area. Online private lessons with live teacher to help in the USA/International.
Georgia Homeschooler

Atlanta

Georgia Homeschooler provides tips, trips, and tools to complement your homeschooling journey. Best known for its events and adventures, Georgia Homeschooler organizes unique experiences that you won't find anywhere else. Past excursions including jumping with the Army Rangers, touring a Mock Disaster City, seafaring to secluded Sapelo Island, lapping it up with professional Wake Boarders on Lake Lanier, and sampling the country's most prized ice cream. Best of all, there isn't a fee to join.
Homeschool Fieldtrip Club

Atlanta

Homeschool Fieldtrip Club was created to help homeschool families and friends attend organized events together. We typically have events scheduled at least weekly including private organized events, homeschool days and educational matinees. We are also working to provide resources for our families and most of all support and encouragement for families whether new or seasoned homeschoolers in our area. We have families in all areas primarily covering most of the extended Atlanta suburbs.
Heritage Homeschoolers

Atlanta

We are an inclusive support group for black homeschool families in Cobb County, Georgia. We strive to create a sense of community, belonging, and relationship for black homeschooled children, their parents/caretakers, and other homeschool families who share this vision. Normally, our group meets regularly for enrichment activities, service projects, field trips, park days, indoor activities, play dates, family events, educational "road trips," and Mom's Nights Out. The group is member-led, so activities are determined based on the needs and desires of the group with each family having opportunities to plan events. We serve homeschool families with children in K through 12th grade, with most of our families having students in elementary and middle school. Some events do have a minimum age requirement to ensure that our families with older students are well-supported. Member families MUST have at least one school-age homeschooled child.
Christian Homeschool Adventurers

Atlanta: Mableton, Powder Springs and Austell neighborhoods

The goal of the Christian Homeschool Adventurers is to: Encourage mutual support and fellowship for home educators. Expand educational opportunities for families. Promote curriculum review and exchange of resources and ideas. Encourage social and educational group activities to develop the interpersonal skills and promote positive friendships. Provide new homeschoolers with information and encouragement. Promote the concept of home education and encourage a good reputation in the community.
CSRA HEA

Augusta

The mission of the Central Savannah River Area Home Education Association (CSRA HEA) is to provide resources to homeschooling parents. The organization hopes that this website will promote study of all aspects of God, His creation, His laws, and His grace.
Covenant Christian Homeschoolers

Bartow County

A Christ-centered homeschool support group offering prayerful support, encouragement, and activities with like-minded people.
Blue Ridge Home-school Connections

Blue Ridge/Fannin County

Shareing details on materials, meetings, groups and other homeschool related resources in Fannin County, GA and surrounding areas.
Catoosa Home Education Association

Catoosa County

Catoosa Home Education Association, located in Northwest Georgia, is an organization of over 75 homeschool families. Our membership includes families from Catoosa, Walker, Dade and Whitfield counties in Georgia as well as quite a number of families from Tennessee in the Chattanooga metro area.
EPIC Homeschool Network

Cobb County, Metro Atlanta

EPIC Homeschool Network, Inc is a multicultural homeschool community on a mission to enrich, enhance and empower home education. They offer field trips, yearbooks, scholarships, homeschool hangouts, parent webinars, and classes. They are a 501(c)(3) nonprofit organization and to date have served over 400 families with their events.
BEECH homeschool

Cumming/Forsyth County

A Christian Homeschool Community providing Educational, Social and Extracurricular Activities, Field Trips, Support and Enrichment for our Member Families. Large group functions for the entire B.E.E.C.H. Community and smaller ones within each age group to promote camaraderie and friendships. Believe in being engaged in the community especially through events and field trips within age groups aids in cultivating lifelong friendships and support systems.
Dahlonega Homeschool Enrichment

Dahlonega

Dahlonega Homeschool Enrichment Program is a Christ-centered, enrichment program in Dahlonega, Georgia serving ages 2-14. Our goal is to offer a program where kids can learn, play, and grow together. Enrichment is held Fridays from 10 am-2 pm at Bethlehem Baptist Church. All students will meet in the morning for prayer, pledges, announcements, a hymn, and a Bible bit (such as fruits of the spirit). Students then dismiss to class. The 2-3 year-old class is play-based with lots of toys, games, singing, and play-doh. The preschool class is also largely play-based but introduces the 3 R's with a letter of the week. Kindergarten on up is split into three classes, based on age, and rotate through art, PE, and science each day. The science course this year is a nature study, and students will explore topics like weather, plants, rocks & minerals, and birds. Students will even get to try their hand at making their own bird nests. Dahlonega Homeschool Enrichment meets for 12 Fridays per semester. There is a one-time registration fee of $80, and a tuition fee of $90 per semester. Register at www.dahlonegahomeschool.com
Circle of Friends

Douglas County

Support for Home Educators. This group offers activities for all ages and families. Established in 1998, the group seeks to provide quality social and educational opportunities for families based on the commonality of home education.
Christian Home Educators Encouragement and Resources

Duluth

C.H.E.E.R. (Christian Home Educators Encouragement and Resources) is a homeschool group of around 200 families in the Duluth, Georgia area.  Many of our members live in Norcross, Johns Creek, Alpharetta, Suwanee, and Lawrenceville areas with most of our functions occurring at the centrally located and beautiful facilities of Perimeter Church in Johns Creek.  We strive to support homeschool families spiritually, academically, and socially.

Christian Home Educators Encouragement and Resources details
DASCH - Dunwoody Area Support for Christian Homeschoolers

Dunwoody

DASCH (Dunwoody Area Support for Christian Homeschoolers) is a family-integrated fellowship and support group organized to strengthen and encourage Christian home educators in the Dunwoody, Georgia, area. We are a Christian group whose members agree with a common statement of faith upon applying and annually through our renewal process. Christian home educators of all denominations who have children in 1st through 12th grade and have signed a Declaration of Intent to homeschool in Georgia are welcome to apply.

DASCH - Dunwoody Area Support for Christian Homeschoolers details
New Generation Academy

Fayette, Coweta, Clayton, and Fulton counties

New Generation Academy (NGA) is a community of Christian teaching homes working together to educate children - PreK to high school classes. Serving families in various Metro Atlanta counties, including Fayette, Clayton, Coweta, Fulton, DeKalb, and Henry counties. NGA offers ... * Two-days per week Homeschool Co-op * Highest Level of Accreditation - Georgia Accrediting Commission * Hybrid Model - Tuesdays (face to face) and Thursdays (virtual) * College Preparatory Academic Program * Affordable Course Offerings * Courses taken on a part-time or full-time basis * Core classes, such as math and science, as well as electives such as American Sign Language and computer classes Our small by design concept provides an opportunity for your children to interact and learn with other students in a caring environment. Small classes and close association with supportive teachers help contribute to an academic environment in which a student can gain subject knowledge as well as academic confidence and self-esteem in a positive environment.
Local Support by county

Georgia Statewide

From GHEA
GHEA Support Groups

Georgia Statewide

A list of support groups that meet regularly.
Gwinnett County 4-H

Gwinnett ounty

Gwinnett County 4-H offers resources for Gwinnett County youth in grades K-12. We also offer Homeschool enrichment and club activities, independent study activities (grades 5-12), science, math and language arts enrichment, steam activities, healthy living activities and fun civic engagement activities. Most activiti4es are free or low cost. Please contact us at Jinnifer.caldwell@uga.edu or Jinnifer.caldwell@gwinnettcounty.com. Gwinnett County 4-H is launching a Homeschool club program and educational activities program targeting homeschool families. Our program has noticed growth among homeschool students in our programs and we would like to serve these families. For more information: https://extension.uga.edu/county-offices/gwinnett/4-h-youth-development.html
North Georgia Homeschool Programs

Hall, White, Habersham, Gwinnett, Lumpkin, Rabun and surrounding counties

North Georgia Homeschool Programs is a group serving Hall, White, Habersham, Gwinnett, Lumpkin, Rabun and surrounding counties with homeschool events, tutoring, and class information.
Tri-County Christian Home Educator's

Hartwell

TCCHE seeks to provide fellowship, encouragement, and support to Christian home schooling parents to help them successfully teach and minister to their children. We seek to provide the opportunity for our children to form godly relationships in an atmosphere where Christian standards and values are shared by all.  Our families sign the statement of faith, agree to adhere to our policies and guidelines, and agree to comply with the home study law of the state of Georgia. We offer several activities throughout the year such as the Back to School Party, Craft Day, Biography Fair, Art Fair, Spelling Bee, Valentine Party, Christmas Parties,  field trips, workshops, a yearbook, school pictures, youth events, a year-end party, and Kindergarten/Senior Graduation.
Barrow-Jackson Homeschoolers

Hoschton

Barrow-Jackson Homeschoolers (BJH) exists to connect homeschooling families and to build meaningful and lasting friendships for both kids and moms. BJH believes to succeed in homeschooling, strong and healthy relationships with other homeschooling families is essential. To achieve this goal, a weekly park day is the foundation of this group. Through building strong relationships during park time together, families will naturally volunteer to lead and assist in the planning of events (field trips, parties, community service, etc) that are tailored to meet the needs of the active members. All events will be posted on the facebook page. While BJH welcomes members of all faiths and methods of homeschooling, most members are Christian, so advice, prayers and support are often offered with a Christian worldview.
FCFE-Fellowship of Christian Family Educators

Lilburn

FCFE is a Christ-centered homeschool group whose purpose is to support one another as we strive to homeschool with excellence.  Activities include; Field Trips, Family Camping, Father/Daughter & Father/Son events, Mom's Christmas Dinner, Mom's Night of Encouragement, an End of Year Celebration, Couples Conversation, and Teen events. We also have had a Family Game night, Spelling Bee and a Chili cook-off.
St. Catherine's Homeschool Community

Marietta

Welcome to the community of homeschoolers at St. Catherine's parish! This site is intended to be a central point of communication for the homeschooling families of our parish. If you are a homeschool family at St. Catherine's, please consider joining our site and stay abreast the activities and events within our community.
LEAD

Metro Atlanta area

An inclusive, secular home school organization providing social and educational opportunities to home educated children of all ages and their families.
Heart of Georgia Home Educators

Milledgeville

Heart of Georgia Home Educators is a private, Christian group established to encourage and equip families in and around Milledgeville, Ga as they educate their children at home. We do that by offering support, encouragement, and information for parents, educational enrichment for children such as field trips and science fairs, and social opportunities for children and parents.
Monroe Christian Home Educators

Monroe/Covington

MCHE is a conservative Christian group about to begin our 26th year of ministry and support of the Christian homeschooling family. MCHE offers a wonderful variety of activities for Christian homeschool families in the Walton/Barrow/Newton/Rockdale area. Homeschool students in all grades will find plenty of opportunities for fun, fellowship, and extra-curricular learning in our group! If you're looking to enhance your homeschool experience as well as an opportunity for support and socialization through fellowship with other conservative Christian homeschooling families, contact us today!
Classical Conversations of West Cobb

Powder Springs

Classical Conversations of West Cobb is a homeschool support community offering classes for students ages k4-12th grade. Classes are held once a week with curriculum available for use at home. We strive to equip and support families in their efforts to homeschool their children with classical methods from a Biblical perspective within a supportive environment. In addition to classes, there are also opportunities to participate in local field trips, moms night out, cultural outings and social events.
Creative Homeschoolers of Georgia

Rockdale, Newton, Henry, Gwinnett and surrounding counties. Bartow, Gordon, Floyd, Walker and surrounding counties.

A homeschooling family support group that does not discriminate on the basis of race, faith, gender, lifestyle, or educational philosophy. Join in an open door policy of acceptance and support.
Catholic Home Alliance of North Georgia Educators

Roswell

The mission of C.H.A.N.G.E. is to support Roman Catholic families who embrace home education. This support is also extended to families whose primary educational mode may be either public or private school and who want support in supplementing the teaching of our Faith
FEFC - Family Education for Christ

Savannah

Family Education For Christ is a Christian home school support group serving Savannah, GA and the surrounding area comprised of families committed to God's admonition that we raise our children "In the discipline and instruction of the Lord" (Ephesians 6:4), and that we are to diligently and purposefully train our children as exemplified in Deuteronomy 6:6-7.
Family Education For Christ

Savannah

Family Education For Christ is a Christian home school support group serving Savannah, GA and the surrounding areas. The purpose of FEFC is to encourage member families to grow and thrive in their respective homeschool environments, and to facilitate their success by providing information and support services while upholding the biblical principles on which the association is founded. According to the needs & interests of our families, activities include a wide range of categories (some constantly changing!) such as: Science Fair, Yearbook, Park Play, Speech & Debate Club, Sr. High Graduation, Skate Day, Trail Life, American Heritage Girls, Support Group Meetings, TeenPact, Curriculum Connection Book Fair, Theater Ensemble, High School: Group Activities / Student Council / Spring Dance, Middle School Group Activities, Field Trips, Ice Skating, Workshops, Kindergarten Graduation & more!
Eagle's Nest Christian Home Educators Association

Sharpsburg

Eagle's Nest (EN) is a Christian homeschool support organization that seeks first to honor the Lord Jesus Christ in all we do as we come alongside families in their homeschooling journey. Eagle's Nest is like one big umbrella with lots of smaller groups beneath it. Under the EN umbrella, we offer the following opportunities: Voyagers is an elementary and middle school enrichment co-op that meets once a week for two 10-week semesters. A wide variety of classes are offered each semester for different age groups, so there's always something new and fun to learn! Classes are taught by participating parents, so it functions as a true cooperative program. Eluminatus is an academic program that offers ala carte classes for students in 4th grade through high school. Classes meet once a week in August through May. Subjects are taught by qualified tutors who are hired by the parents through EN. Our high school program is registered as an accredited college-preparatory non-traditional education center. (EN offers an official accredited transcription service through our center's manager for an additional fee). Our Performing Arts Department offers exciting opportunities for our students to grow and develop their performing arts skills. We have a choir, an Improv Team, drama classes, and a spring musical. Extra-curricular activities through Eagle's Nest include a robotics team, chess club, and Beta club. We are excited to offer these extra opportunities and look forward to others as they become available. Explore the website for details and contact info for these programs. Eagle's Nest offers field trips that are planned by our field trip coordinator. Once you join EN, you'll start receiving information about upcoming field trips. You can sign up and pay (if there is a cost) through the coordinator. She plans fun and interesting field trips throughout the year. Other opportunities in EN include a yearbook, middle-school and high-school activities throughout the school year, a high school prom, standardized testing in the spring, a used book sale, and a high school graduation program.
Greater Valdosta Homeschool Association

Valdosta

The Greater Valdosta Home School Association is a Christ-centered homeschool cooperative in Valdosta, GA. Members have the opportunity to participate in academic and social activities that will strengthen homeschool families in the Southeast region of Georgia.
Walton Co Homeschoolers

Walton County: Monroe

An inclusive support group for Walton Co homeschoolers. We do park days, field trips, co-op classes, Moms night out and various fairs.
Central Georgia Christian Home Educators

Warner Robins/Middle GA

Central Georgia Christian Home Educators (CGCHE) is a homeschool group that strives to provide community and support to Christian families who educate their children at home in Middle Georgia (Warner Robins, Macon, Perry, Byron, Fort Valley, Hawkinsville and surrounding areas). We offer weekly park days, 2 field trips monthly, 2 community service projects annually, school pictures & yearbook, holiday parties, field day, monthly lunch & learn public speaking opportunities, moms' nights out, age group meet-ups, volunteer opportunities, and other faith-centered events. For more information, visit our website at cgche.org or our Facebook page at https://www.facebook.com/groups/536296819851568.
Classical Conversations of Winder

Winder

Classical Conversations is a community of families drawn together by their desire to educate their children classically at home with a Biblical worldview. Classes are available for children ages 4-12th grade. Following the classical model, children will participate in weekly presentations, memorization, science projects and fine arts. As they grow, added classes in grammar and writing are built in to this wonderful core curriculum. A full curriculum is available for children ready for grades 7-12.