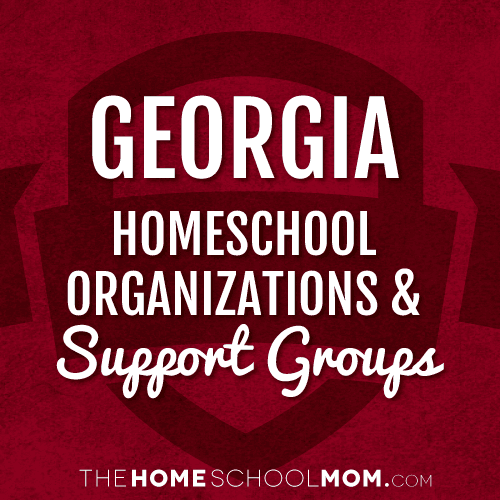 Since homeschooling is regulated at the state level, connecting with local homeschoolers is an important step to start homeschooling in Georgia. State homeschool organizations and local homeschool groups are not just a good place to learn the specifics of legally homeschooling in Georgia—they can also help you to get connected with the local homeschooling community. Many homeschool groups offer co-ops, classes, sports and arts opportunities, and social get-togethers.
Our listing of Georgia state organizations and local homeschool groups is ordered alphabetically by city, with statewide organizations listed first. If you would like to submit a group, you may do so using the red button above.
Use the secondary navigation menu above to quickly make your way to pages for Georgia state organizations, local homeschool groups, classes, co-ops, field trips, and more.
Georgia Homeschool Organizations
GHEAGeorgia Statewide
Georgia Home Education Association (GHEA) is the statewide, member supported, 501(c)3 non-profit organization that  has been serving the needs and protecting the rights of homeschoolers since 1992....
Georgia Local Homeschool Groups
Homeschooler's in Adel, Ga is a support group for local homeschooler's. This group is not a co-op. This is a fairly new group, but we are looking forward to field trips, workshops, holiday parties ...
Alpharetta Inclusive HomeschoolersAlpharetta and Cumming
Homeschool support group for families in the Alpharetta, Georgia area. All are welcome regardless of race, religion, or homeschooling method.
Georgia HomeschoolerAtlanta
Georgia Homeschooler provides tips, trips, and tools to complement your homeschooling journey. Best known for its events and adventures, Georgia Homeschooler organizes unique experiences that you w...
Homeschoolers Excelling in Greater AtlantaAtlanta
Homeschoolers Excelling in Greater Atlanta (HEGA) is a secular Homeschooling support group dedicated to the individual potential of each student, providing them with academically challenging course...
The Little School ProjectAtlanta
The Little school Project is modern city unschooling and homeschooling parent and Tiger Mom's secret weapon; making 21st-century teaching as easy as 1-2-3. The on and off-line community and program...
Central Georgia Christian Home EducationAtlanta and surrounding areas
CGCHE is a support group for home educators within the central Georgia vicinity. We are comprised of volunteers striving to provide wholesome,Christian fellowship and activities for our children. ...
R.A.Y.S. for ChristAtlanta Metro, Covington, Conyers, Rutledge, Madision, and surrounding areas
RAYS for Christ is a Christian Homeschool Support Group that offers field trips, play dates, social events, and a weekly classical education cooperative.
Christian Homeschool AdventurersAtlanta: Mableton, Powder Springs and Austell neighborhoods
The goal of the Christian Homeschool Adventurers is to: Encourage mutual support and fellowship for home educators. Expand educational opportunities for families. Promote curriculum review and exch...
CSRA HEAAugusta
The mission of the Central Savannah River Area Home Education Association (CSRA HEA) is to provide resources to homeschooling parents. The organization hopes that this website will promote study of...
Covenant Christian HomeschoolersBartow County
A Christ-centered homeschool support group offering prayerful support, encouragement, and activities with like-minded people.
Blue Ridge Home-school ConnectionsBlue Ridge/Fannin County
Shareing details on materials, meetings, groups and other homeschool related resources in Fannin County, GA and surrounding areas.
Catoosa Home Education AssociationCatoosa County
Catoosa Home Education Association, located in Northwest Georgia, is an organization of over 75 homeschool families. Our membership includes families from Catoosa, Walker, Dade and Whitfield count...
Commuties of Home Educators for ChristCobb and Paulding Counties
CHEC is a support group for families who CHEC offers a variety of activities, fieldtrips, counseling, ideas, information, fellowship and support in your efforts to educate your child. We also act ...
BEECH homeschoolCumming/Forsyth County
A Christian Homeschool Community providing Educational, Social and Extracurricular Activities, Field Trips, Support and Enrichment for our Member Families. Large group functions for the entire B.E....
Dahlonega Homeschool EnrichmentDahlonega
Dahlonega Homeschool Enrichment Program is a Christ-centered, enrichment program in Dahlonega, Georgia serving ages 2-14. Our goal is to offer a program where kids can learn, play, and grow togethe...
Homeward Spirit Home Educators (HSHE)-Dalton, Whitfield, Murray,Gordon and Catoosa counties
Christian oriented group that offers support and information to anyone who is interested. Monthly parent meetings and field trips and activities are all included in the monthly newsletter.
Circle of FriendsDouglas County
Support for Home Educators. This group offers activities for all ages and families. Established in 1998, the group seeks to provide quality social and educational opportunities for families based o...
Wisdom's Way Christian Home EducatorsDouglas, Carroll, Paulding, Cobb
Wisdom's Way Christian Home Educators is a volunteer support group for families in Douglas County and the immediately surrounding counties. Families regularly hosts field trips, park days, Mom's Ni...
ForsythPEACEForsyth County
ForsythPEACE (Parents Educating for Academic and Christian Excellence) is a non-directed support group for Christian home educators. The purpose of PEACE is as a point of contact and support during...
Local Support by countyGeorgia Statewide
From GHEA
GHEA Support GroupsGeorgia Statewide
A list of support groups that meet regularly.
LEAP Homeschoolers of GeorgiaGwinnett County, Walton County, Barrow County, Monroe, Loganville, Dacula, Winder
LEAP Homeschoolers of Georgia is a group of homeschoolers halfway between Atlanta and Athens who get together to Learn, Explore, and Play together.LEAP endeavors to provide group learning oppor...
Barrow-Jackson HomeschoolersHoschton
Barrow-Jackson Homeschoolers (BJH) exists to connect homeschooling families and to build meaningful and lasting friendships for both kids and moms. BJH believes to succeed in homeschooling, strong...
TrueNorth HomeschoolKennesaw
A Christian homeschool program offering core and enrichment classes to support families in their homeschooling journey.
The Groups Mission is designed to bring homeschooling families together, as well and those thinking about homeschooling, by providing events, group activity, and/or field trips, for homeschoolers u...
LEADMetro Atlanta area
An inclusive, secular home school organization providing social and educational opportunities to home educated children of all ages and their families.
Macon WorldschoolersMiddle Georgia
Macon Worldschoolers is an inclusive group designed to bring homeschooling families together for events, activities, and field trips for children up to 12th grade. All homeschooling families are w...
Monroe Christian Home EducatorsMonroe/Covington
MCHE is a conservative Christian group about to begin our 26th year of ministry and support of the Christian homeschooling family. MCHE offers a wonderful variety of activities for Christian homesc...
Classical Conversations of West CobbPowder Springs
Classical Conversations of West Cobb is a homeschool support community offering classes for students ages k4-12th grade. Classes are held once a week with curriculum available for use at home. We s...
Creative Homeschoolers of GeorgiaRockdale, Newton, Henry, Gwinnett and surrounding counties. Bartow, Gordon, Floyd, Walker and surrounding counties.
A homeschooling family support group that does not discriminate on the basis of race, faith, gender, lifestyle, or educational philosophy. Join in an open door policy of acceptance and support.
Catholic Home Alliance of North Georgia EducatorsRoswell
The mission of C.H.A.N.G.E. is to support Roman Catholic families who embrace home education. This support is also extended to families whose primary educational mode may be either public or privat...
FEFC – Family Education for ChristSavannah
Family Education For Christ is a Christian home school support group serving Savannah, GA and the surrounding area comprised of families committed to God's admonition that we raise our children "In...
Greater Valdosta Homeschool AssociationValdosta
The Greater Valdosta Home School Association is a Christ-centered homeschool cooperative in Valdosta, GA. Members have the opportunity to participate in academic and social activities that will str...
Villa Rica Homeschool Assoc.Villa Rica
We are a small group of families that enjoy getting together with our children for Mom's Nite Out, Activity Days, educational and fun Field Trips. We are primarily a Christian group but we welcome ...
Walton Co HomeschoolersWalton County: Monroe
An inclusive support group for Walton Co homeschoolers. We do park days, field trips, co-op classes, Moms night out and various fairs.
Classical Conversations of WinderWinder
Classical Conversations is a community of families drawn together by their desire to educate their children classically at home with a Biblical worldview. Classes are available for children ages 4-...