Field trips are a great way to reboot a bad homeschooling week, get out of the house when everyone has cabin fever, and learn about your local area. Before heading out, check out Jeanne's tips for improving homeschool field trips.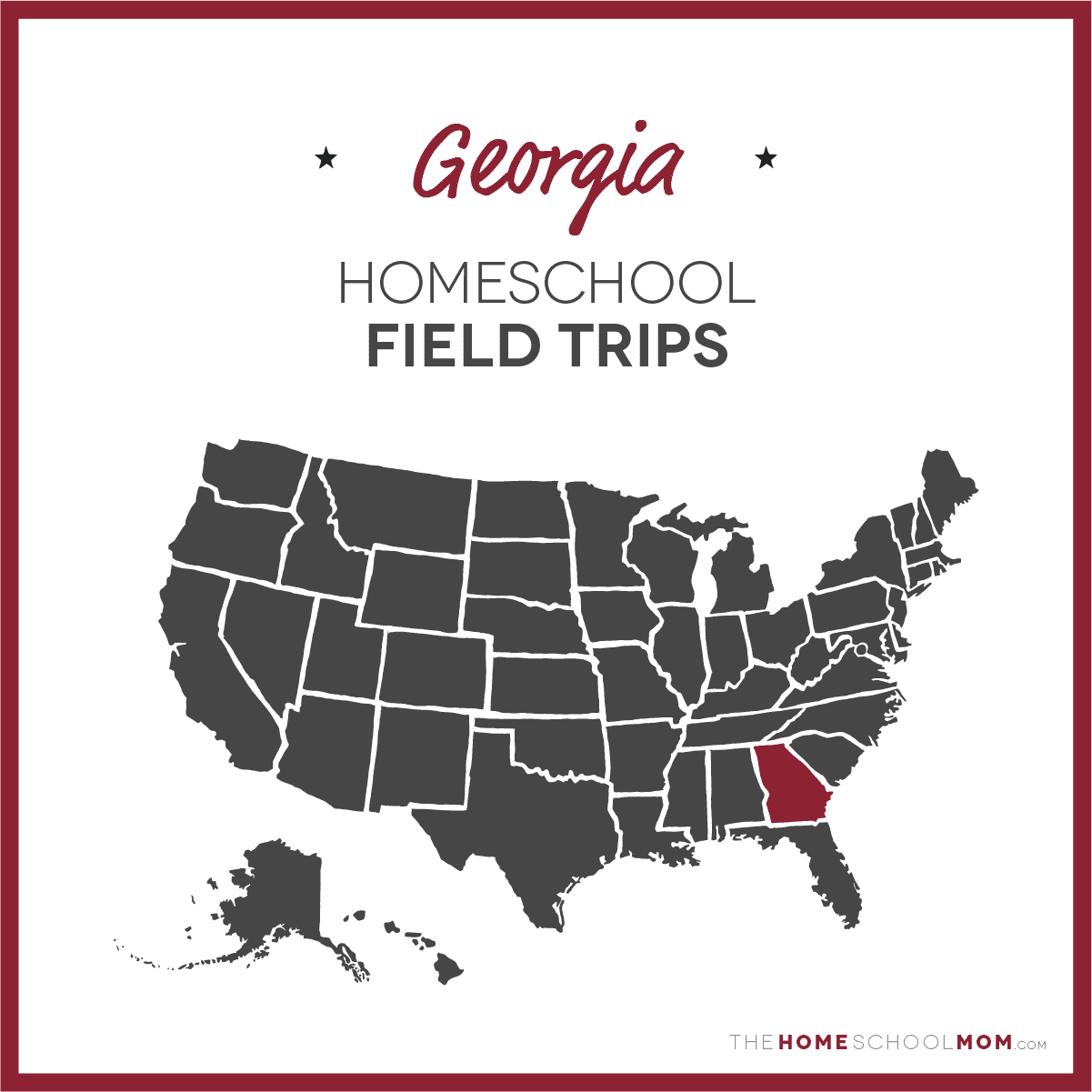 Submit a Field Trip Destination
Our listing of Georgia field trips for homeschoolers is ordered alphabetically by city. If you would like to submit a Georgia field trip destination, you may do so using the red button above.
An asterisk * after the title indicates that a virtual field trip is also available.
Red Top Mountain State Park and Lodge

Acworth

This popular park on 12,000-acre Lake Allatoona is ideal for swimming, boating and fishing. Visitors can bring their own boats or rent from Park Marine. Twelve miles of hiking trails wind through the park, providing opportunities for exercise and to explore a reconstructed 1860s log cabin (open and staffed on Saturdays). The park's lodge, restaurant and meeting facilities make Red Top a great getaway for family reunions and business groups. A 3/4-mile paved trail behind the restaurant is suitable for wheelchairs and strollers. Named for the soil's rich red color caused by high iron-ore content, Red Top Mountain was once an important mining area for iron.
Adairsville Rail Depot Age of Steam Museum

Adairsville

Browse the Adairsville Rail Depot Age of Steam Museum to learn local history detailing Adairsville's pivotal role in the Civil War's Great Locomotive Chase.
Reed Bingham State Park

Adel

Visitors to this scenic park will see an abundance of wildlife, particularly gopher tortoises and "buzzards." During winter, thousands of these large birds, which are actually black vultures and turkey vultures, roost in the trees and soar overhead. Throughout the year, gopher tortoises may be seen digging their dens in the sandy soil. Alligators, bald eagles, the rare limpkin, herons, indigo snakes and many other species also live in this protected park. Two nature trails wind through a cypress swamp and sandhill area, habitats which are representative of southern Georgia. A 375-acre lake is popular with boaters and skiers, and fishing for bass, crappie, catfish and bream is excellent. Reed Bingham is less than six miles from I-75, making it a relaxing stop for travelers. It was named for Amos Reed Bingham, a local citizen who was instrumental in having the park established.
Albany Museum of Art

Albany

The Albany Museum of Art offers a variety of programs and resources for students and educators.
Parks at Chehaw

Albany

Chehaw offers visitors 700 acres of pristine, conservation land and a wild animal park dedicated to conservation, preservation and education.
Flint RiverQuarium

Albany

Flint RiverQuarium is a one-of-a-kind adventure in Albany, Georgia, featuring a unique blue hole spring with more than 120 mysterious creatures! Explore the world around you like never before with interactive exhibits and face-to-face encounters with the creatures and fish native to south Georgia. Visitors can experience the unique ecosystems of the Flint River watershed through a variety of interactive exhibits. Ongoing programming, such as dive shows, alligator feedings and animal presentations, ensure that every visit has something new to offer.
Thronateeska Heritage Center

Albany

Thronateeska Heritage Center inspires wonder and stimulates exploration of science and South Georgia's history by providing a dynamic learning experience through an interactive science center and museum.
Albany Bridge House and Welcome Center

Albany

The restored circa 1858 Historic Bridge House, now home to the Albany Convention and Visitors Bureau, was built by African-American bridge builder Horace King. The city's founder, Nelson Tift, hired King to construct the structure to control the bridge's traffic by requiring those crossing the river to pass through the building and past the toll collector's office. A history tour of Albany begins within these four walls. Come by the Bridge House and immerse yourself in the beauty and story of this structure. Tours are available at request.
Andersonville National Historic

Andersonville

Andersonville was one of the Civil War's largest Confederate military prisons confining more than 45,000 Union soldiers. The website offers historical information about the prison for those who cannot visit in person.
Appalachian National Scenic Trail

Appalachian Mountains

The People's Path and America's First National Scenic Trail. The Appalachian Trail (A.T.) is more than 2,175-mile long footpath stretching through 14 eastern states from Maine to Georgia. Conceived in 1921 and first completed in 1937, it traverses the wild, scenic, wooded, pastoral, and culturally significant lands of the Appalachian Mountains.
Mistletoe State Park

Appling

Located on 72,000-acre Clarks Hill Lake near Augusta, this park is known as one of the finest bass fishing spots in the nation. During the summer, guests can cool down at the beach or on miles of shaded nature trails. A wildlife observation area is available. The park has 10 fully equipped cottages on the lake, five of which are log cabins. The campground is situated on a peninsula, offering spectacular views of both sunset and sunrise over the open water. A one-room camper cabin faces the lake, offering a porch with rocking chairs, electricity, four bed platforms, a grill, picnic table and water spigot.
Georgia Museum of Natural History

Athens

The Georgia Museum of Natural History links collections, research, public service, and education through programs designed for a diverse audience. Natural history museums are repositories for collections of archaeological, biological, geological, and paleontological materials. For the most part, such collections consist of specimens or artifacts gathered so that they may be studied by students and professionals or displayed for public edification.
Mercedes Benz Stadium

Atlanta

Offering STEAM tours that are a fun and exciting way for kids and teachers to check out the stadium while learning about all the ways STEAM effects the overall operations of the building, our teams and our associates. The tours will include highlighted stops such as the Atlanta United and Atlanta Falcons locker rooms and the field itself. Our curriculum-based STEAM tours are GSE certified for grades 3-12. We offer 4 different package options that you could choose from that works best for your grade level and your planned curriculum.
ZuCot Gallery - Creative Core Field Trips

Atlanta

ZuCot is the perfect arts organization to partner with your homeschool needs by providing a place for outside-the-home learning activities. ZuCot wants to help educate the future generations on the importance of fine art. Creative Core Field Trip Program create exciting ways for students to learn their core curriculums, math, science, literature, and history all through art; fee per child/adult is only $10.00! For more information and to book your Field Trip please email: mariah@theartbrothers.com
Chick-fil-A Home Office Backstage Tour

Atlanta

The Chick-fil-A Home Office Backstage Tour is a walking, guided cultural tour. The central focus is S. Truett Cathy, Founder of Chick-fil-A. Throughout the tour, you will get to experience the most valued company assets: hospitable people, delicious food, the infectious "Eat Mor Chikin" Cows, and the unique story the is Chik-fil-A.
LEGOLAND® Discovery Center

Atlanta

The ideal place to let your students experience a world of fun, creativity and imagination. Local Home Schools can reserve field trip visits to LEGOLAND Discovery Center on Mondays and receive a FREE educational workshop. Special arrangements for homeschool groups can be made; visit the School Groups page for more information.
African Burial Ground

Atlanta

African Burial Ground is the oldest and largest known excavated burial ground in North America for both free and enslaved Africans. It protects the historic role slavery played in building New York.
Atlanta Contemporary Art Center

Atlanta

Atlanta Contemporary Art Center (the Contemporary) has been a defining force in Atlanta's cultural life since 1973; having been formed initially as Nexus Contemporary Art Center. What began as an artists'-run cooperative has evolved into an organizational model for contemporary art centers throughout the nation. The Contemporary is a multidisciplinary arts center that contributes to Atlanta's arts scene by exposing the work of local, regional, national, and international artists to the Greater Atlanta community. Through our programming areas and educational outreach, the Contemporary strives to provide a service that is unique in Atlanta and the Southeast.
Atlanta History Center

Atlanta

The History Center includes one of the Southeast's largest history museums; two historic houses including Swan House and Tullie Smith farm; Centennial Olympic Games Museum; historic gardens; and the Kenan Research Center. The History Center also includes the Margaret Mitchell House & Museum, located at our midtown campus.
William Breman Jewish Heritage Museum

Atlanta

Admission to The Breman is free for members. Please consider joining. Your membership provides the foundation of support that The Breman relies upon for continuing to teach the lessons of tolerance, for continuing to preserve and document the lives of Jewish Georgians and of Holocaust survivors, and for continuing to build our future together as a society that appreciates art and culture and is inquisitive about history.
Center for Puppetry Arts

Atlanta

The Center for Puppetry Arts is a unique cultural treasure - a magical place where children and adults are educated, enlightened and entertained. Since 1978, the Center has introduced millions of visitors to the wonder and art of puppetry and has touched the lives of many through enchanting performances, curriculum-based workshops and the hands-on Museum, as well as Distance Learning and Outreach Programs.
Historic Oakland Cemetery

Atlanta

Located in the heart of Atlanta, Historic Oakland Cemetery offers a window into the city's rich and fascinating history. Oakland Cemetery is the final resting place for more than 70,000 souls, including city founders, Civil War soldiers, leaders of industry, and Civil Rights pioneers. Guided walking tours create an opportunity for students of all ages to learn about the historic past and explore one of Atlanta's oldest green spaces. Private group tours are available by reservation only and can be arranged year round. Tours tickets are $6 for students, $12 for adults.
Stone Mountain Park

Atlanta

Located on 3,200 acres of natural beauty, Stone Mountain Park features a wide variety of fun family activities and things to do in the Atlanta, Georgia area. Amazing adventures await as you discover interactive children's attractions. Plus you'll not want to miss dozens of fun annual events such as the Yellow Daisy Festival, Stone Mountain Christmas, or the Indian Festival & Pow Wow. Stone Mountain activities are suitable for all ages.
iFLY Atlanta

Atlanta

Our vertical wind tunnel is a marvel of engineering and provides a one-of-a-kind laboratory for your students to get immersed in real world applications of STEM. Each iFLY STEM field trip provides an interactive presentation, live lab experiment, lab activity and flights for your participants! We offer programs with focus and objectives for Pre-K-College level physics and align with all state education standards. Minimum of 15 participants required. Please reach out for more details! Email: mmazzuca@iflyworld.com or Direct: 512.674.9208
Children's Museum of Atlanta

Atlanta

Children's Museum of Atlanta is a nonprofit organization creating opportunities for children to learn through the power of play. The generous support of our volunteers and donors allows us to enrich the lives of hundreds of thousands of children each year through Museum programs and community outreach.
Fernbank Museum of Natural History

Atlanta

History comes alive at Fernbank Museum of Natural History. Explore cultural treasures and ancient fossils, experience the thrill of a film in the IMAX® Theatre, enjoy science interactives and marvel at the largest dinosaurs ever discovered. Fernbank Museum isn't just another museum--it's a journey to another time and place. With distinctive special exhibitions, there's always something NEW to discover. Take a look behind-the-scenes, at the work being conducted in the areas of research and collections.
Fernbank Science Center

Atlanta

Where science becomes an Adventure!
Blue Heron Nature Preserve

Atlanta

The Blue Heron Nature Preserve in Atlanta is a 30-acre nature preserve with trails that the whole family can enjoy. From wetlands where beavers live, to meadows full of fluttering butterflies, the Preserve offers something for everyone. As a City of Atlanta Park, Blue Heron's trails are open from 6 am to 11 pm 365 days a year. Park in the main lot and explore the Woodland Loop Trail, stopping to splash in the creek in the summer, or cross the bridge into Emma Wetlands and explore for signs of beaver dams or deer tracks. The Preserve also hosts a variety of classes and camps for all ages.
High Museum of Art - Atlanta

Atlanta

Come be inspired by our amazing collection of art from around the globe and across different disciplines--all showcased in our award-winning architecture designed by Richard Meier and Renzo Piano. The High Museum of Art is the perfect destination in Atlanta to bring family and friends and one that will generate lots of lively discussion and delightful memories.
Jimmy Carter Library and Museum

Atlanta

The Museum of the Jimmy Carter Library includes photographs and historical memorabilia from the Carter presidency (1976 - 1981). An exact replica of the Oval Office and gifts received by the Carters are also featured. A permanent exhibit of significant events occurring during Jimmy Carter's life and political career includes photographs with interpretative text.
Margaret Mitchell House

Atlanta

The birthplace of Gone With the Wind
Michael C Carlos Museum

Atlanta

The Carlos Museum has grown to become one of the Southeast's premier art museums with major collections of Classical, Ancient Egyptian, Near Eastern, Ancient American, African, and Asian art, as well as a collection of works on paper from the Renaissance to the present.
The Millennium Gate and Museum

Atlanta

Millennium Gate's mission is to preserve and interpret Georgia history, architecture, culture and philanthropic heritage as well as highlight Georgia's historical and aesthetic relevance to the United States and to the world.
Museum of Design Atlanta - MODA

Atlanta

MODA is the only museum in the Southeast devoted exclusively to the study and celebration of all things design. MODA examines how design affects our daily lives through engaging exhibitions, K-12 educational outreach and exciting adult programming. MODA regularly features exhibitions on architecture, industrial and product design, interiors and furniture, graphics, fashion and more.
Oglethorpe University Museum of Art

Atlanta

Oglethorpe University Museum of Art features exhibitions of artworks which are international, representational, often figurative and spiritual in nature. It is our goal that the artworks shown provide a meaningful experience for viewers, lifting their spirits and satisfying their souls.
Pasarya Museum of Art

Atlanta

Educational programming, art exhibitions, research and development, programs of poetry and publishing. A forum for discussion on artistic, social and ethical issues. Offers a wide range of ongoing and special programs for children and the public: programs of films, music, performing arts and related events.
Robert C. Williams Paper Museum

Atlanta

The Robert C. Williams Paper Museum is an internationally renowned resource on the history of paper and paper technology. In addition to more than 2,000 books, the Museum features a remarkable collection of over 10,000 watermarks, papers, tools, machines, and manuscripts. The Museum features the Dard Hunter Collection of artifacts and books on paper and hand papermaking.
Atlanta Fulton County Zoo

Atlanta

Atlanta's oldest cultural attraction began the day a circus came to town -- and never left. In March 1889, a traveling show bound for Marietta, Ga. Cash flow problems forced its owner into bankruptcy. Land was purchased to house the attractions and the Zoo was formed. Today, the zoo houses over 1,500 animals representing more than 220 species.
Georgia Aquarium

Atlanta

Georgia Aquarium's school programs provide opportunities for students to discover the aquatic realm in an immersive, standards-based learning environment. Students discover conservation efforts and connect with nature through one of our onsite programs: Education General Admission (self exploration), Instructor-led programming and Tuesdays in the Field OR bring Georgia Aquarium to your school through in person programs: Outreach or our virtual programs: Field Trips (pre-recorded lessons) or Outreach (instructor led lesson).
Chattahoochee River National Recreation Area

Atlanta

An Ancient River in a Modern City - Today the river valley attracts us for so many reasons. Take a solitary walk to enjoy nature's display, raft leisurely through the rocky shoals with friends, fish the misty waters as the sun comes up, or have a picnic on a Sunday afternoon
Martin Luther King, Jr. National Historic Park

Atlanta

The Birth Home of Dr. Martin Luther King, Jr. Visitors are allowed only with a park ranger led tour. The tours are filled on a first-come, first-served basis. The website offers historical information about Martin Luther King, Jr. for those who cannot visit in person.
Museum of Illusions

Atlanta

Located in Midtown's Atlantic Station, the Museum of Illusions offers visitors an interactive and immersive journey through the world of optical illusions and mystifying puzzles. With over 80 exhibits to explore, guests can expect to be mesmerized by fascinating illusions, holograms and gravity-defying spaces with educational opportunities.
Jimmy Carter Presidential Library and Museum

Atlanta

Located in Atlanta, Georgia, the Jimmy Carter Presidential Library and Museum is part of the Presidential Library system administered by the National Archives and Records Administration, a Federal government agency.
Chick-fil-A Home Office Backstage Tour

Atlanta

The Home Office Backstage guided walking tour will feature the story of Chick-fil-A Founder, Truett Cathy. You will also get a behind-the-scenes look at Chick-fil-A's food, engage in fun interactions with the Chick-fil-A Cows.
Piedmont Park Conservancy

Atlanta

Students will discover the wonders of nature right in the heart of Atlanta. Piedmont Park programs' hands-on learning includes an educationally themed hike through Atlanta's favorite park as well as unforgettable science experiments and activities that are sure to captivate students of all ages.
Ebenezer Baptist Church

Atlanta

Matrin Luther King, Jr. National Historic Site from the National Park Service.
Truly Living Well Center for Urban Agriculture

Atlanta

Taking a field trip out to a farm can be a wonderful way to engage students in learning about urban agriculture, healthy eating, and the benefit of growing their own food. They get to meet the farmers, see how food grows, understand what food grows in their community, and maybe engage in hands-on activities. Children come away from farm field trips forever connected to local food and farms.
Boyhood Home of President Woodrow Wilson

Augusta

The Boyhood Home of President Woodrow Wilson is listed in the National Register of Historic Places and has been designated an official "Save America's Treasures" site.
Gertrude Herbert Institute of Art

Augusta

Founded in 1937 and housed in Ware's Folly (ca. 1818) and the Walker-Mackenzie Studio (ca. 1907), the Gertrude Herbert Institute of Art serves as the Central Savannah River Area's only independent non-profit visual art school and gallery. The Institute is proud to offer visual art education opportunities for students of all ages and interests. Quarterly studio classes and workshops are available in a wide range of media, from drawing and painting to photography, weaving, clay, and sculpture.
The Lucy Craft Laney Museum of Black History

Augusta

Ms. Lucy Craft Laney has gone down in history as one of the state of Georgia's most influential educational leaders. As a child of Georgia she is in league with other outstanding black hero's from Georgia such as Dr. Martin Luther King, Jr. Civil Rights Leader and Dr. Henry McNeil Turner, the first black chaplain in the U.S. Army and the first black in the Georgia Legislature. Ms. Laney's contributions in the area of education are a tribute to perseverance, dedication and unwavering faith.
Morris Museum of Art

Augusta

The first museum dedicated to the art and artists of the American South.
Augusta Canal National Heritage Area

Augusta

Augusta Canal National Heritage Area in east central Georgia interprets the August Canal story and its role in the development of the nation. Visitors can float past 200 years of Georgia history on a replica canal cargo boat, visit the award-winning Canal Interpretive Center in a restored textile mill, view the Confederate Powderworks chimney, or hike, bike or paddle along the historic waterway.
Augusta Arsenal at Augusta State University

Augusta

The arsenal to both Federal and Confederate governments, and the commandant's house was a home to poet Stephen Vincent Benet.
Old Jail Museum

Barnesville

The Old Jail Museum & Archives is housed in the old Lamar County Jail building. This building, completed in 1938, was a WPA structure. The sheriff and his family lived downstairs and the inmates were housed upstairs in cells. This facility has a dual purpose; one of museum and another of genealogical research.
1894 Hanging Jail

Blackshear

The old "Hanging Jail" has never recorded to have hanged a criminal from its gallows like tower. This unique Gothic structure of justice was constructed in 1894 after the previous jailhouses burned or were determined insufficient for holding hardened criminals.
Blackshear Prison camp

Blackshear

Blackshear Prison camp is a historic site of a Civil War prison. The prison was an open camp in an out-of-the-way place, surrounded by a guardline, including some heavy artillery pieces. It was considered as a 'corral for human beings.' The prison guards were mainly from the 2nd Georgia Reserve Regiment and 3 companies of the 4th Georgia Reserves.
Vogel State Park

Blairsville

One of Georgia's oldest and most popular state parks, Vogel is located at the base of Blood Mountain in the Chattahoochee National Forest. Driving from the south, visitors pass through Neel Gap, a beautiful mountain pass near Brasstown Bald, the highest point in Georgia. Vogel is particularly popular during the fall when the Blue Ridge Mountains transform into a rolling blanket of red, yellow and gold leaves. Hikers can choose from a variety of trails, including the popular four-mile Bear Hair Gap loop, an easy one-mile lake loop, and the challenging 13-mile Coosa Backcountry Trail. Cottages, campsites and primitive backpacking sites provide a range of overnight accommodations. The park's 22-acre lake is now open to non-motorized boats. During summer, visitors can cool off at the scenic lakeside beach.
Union County Historical Society

Blairsville

The Union County Historical Society was created in 1976 to preserve and promote the history and culture of Union County. This non-profit organization is funded primarily through memberships and donations. The Historical Society uses these proceeds to preserve the historic heritage of Union County. We Maintain three historic structures within Union County - the 1899 Courthouse, the 1906 Grapelle Butt Mock House, and the 1861 John Payne Cabin. We also present cultural and educational programs and events such as our musical concert series and the Mountain Heritage Festival.
Hofwyl-Broadfield Plantation Historic Site

Brunswick

This beautiful plantation represents the history and culture of Georgia's rice coast. In the early 1800s, William Brailsford of Charleston carved a rice plantation from marshes along the Altamaha River. The plantation and its inhabitants were part of the genteel low country society that developed during the antebellum period. While many factors made rice cultivation increasingly difficult in the years after the Civil War, the family continued to grow rice until 1913.
Environmental & Heritage Center

Buford

The EHC's mission is to transform the concepts of science and history into interactive, learn-by-doing experiences that encourage a student's natural curiosity and sense of wonder about themselves and the world around them. Students of all ages come to the EHC and its historic sites to experience learning outside of the classroom. By exposing children to nature, history and alternative learning surroundings, the EHC enables them to see and embrace critical academic concepts in different ways.
Byron Train Depot Museum

Byron

The museum is a historic railroad depot and caboose, beautifully restored to reflect times in Byron over a century ago. At this site is a museum showing the history of Byron through pictures, artifacts, and other memorabilia. Reputedly, more area-grown peaches were shipped through this site on a daily basis in the 1920s and 1930s than anywhere in the world.
New Echota Historic Site

Calhoun

In 1825, the Cherokee national legislature established a capital called New Echota at the headwaters of the Oostanaula River. During its short history, New Echota was the site of the first Indian language newspaper office, a court case which carried to the U.S. Supreme Court, one of the earliest experiments in national self government by an Indian tribe, the signing of a treaty which relinquished Cherokee claims to lands east of the Mississippi River, and the assembly of Indians for removal west on the infamous Trail of Tears. Today, visitors can see several original and reconstructed buildings, including the Council House, Court House, Print Shop, Missionary Samuel Worcester's home, and an 1805 store, as well as outbuildings such as smoke houses, corn cribs and barns. In the visitor center, guest can purchase original Native American arts, crafts and music, and view interpretive exhibits and a 17-minute film.
John Tanner State Park

Carrollton

This west Georgia park is best known for having the largest sand swimming beach of any Georgia state park. It is a recreational haven for water lovers looking for boating and fishing opportunities as well. Visitors can enjoy camping, picnicking, miniature golf, volleyball and horseshoes. Six motel type units are located near the beach; each with a fully equipped kitchen, dining area, living area and bedroom. The park is named after a local businessman who operated the property as a private park from 1954 until 1971.
Bartow History Museum

Cartersville

We offer many resources for the historian and casual visitor alike. The Museum is open Monday through Saturday. We offer special Exhibits throughout the year. Researching your family's history? Check out our Archives or give us a call. Do you know anything about the Etowah Mounds, the Cherokee or General Sherman? Why are Sam P. Jones, Rebecca Felton, and Joe Frank Harris still talked about in a neighborly fashion? If none of these names ring a bell -- you should visit us to find out why they are an integral part of Bartow County!
Tellus Northwest Georgia Science Museum

Cartersville

Our world-class museum is located just north of Atlanta in Cartersville, Georgia and is a fun learning experience for children and adults. Come explore the Earth and search the stars at Tellus!
Booth Western Art Museum

Cartersville

The Booth is the largest museum of its kind in the Southeast and an affiliate to the Smithsonian Institution. At 120,000 square feet, the Booth is an architectural wonder - designed to resemble a modern pueblo and constructed from Bulgarian limestone. The Booth's permanent collection of Western art, Presidential portraits and letters, and Civil War art allows visitors to "See America's Story" - the land, people, struggles, dreams, and legends - in paintings, sculpture, photography and artifacts. Sagebrush Ranch is an award-winning, hands-on experience and interactive children's gallery.
Etowah Indian Mounds Historic Site

Cartersville

Home to several thousand Native Americans between 1000 A.D. to 1550 A.D., this 54-acre site contains six earthen mounds, a plaza, village area, borrow pits and defensive ditch. This is the most intact Mississippian Culture site in the Southeastern United States. Many artifacts show how the natives of this political and religious center decorated themselves with shell beads, tattoos, paint, complicated hairdos, feathers and copper ear ornaments. Well-preserved stone effigies and objects made of wood, sea shells and stone are also displayed.
Polk County Historical Society

Cedartown

The first floor of the building with its spacious display area houses the museum. Of special interest is the Palladian window, a Neel Reid hallmark. The lower floor includes storage and exhibit space, a kitchen and a meeting room with seating for 100 people. The museum was opened formally in September of 1978 with an interesting display of artifacts from this area. Each year the collection of photographs, newspapers, documents, and artifacts has grown, and gifts to the museum are still being accepted. The museum is opened to the public every Wednesday from 1:30 pm to 4 pm and Saturday from noon to 4 pm.
Fort Mountain State Park

Chatsworth

Fort Mountain derives its name from an ancient 855-foot-long rock wall which stands on the highest point of the mountain. The mysterious wall is thought to have been built by Indians as fortification against other more hostile Indians or for ancient ceremonies. Situated in the Chattahoochee National Forest close to the Cohutta Wilderness area, this park offers a variety of outdoor activities. Hikers, mountain bikers and horseback riders will find some of the most beautiful trails in northern Georgia. Most wind through hardwood forest and blueberry thickets, occasionally crossing streams and providing spectacular vistas. During the summer, children will enjoy the sand beach located on a clear mountain lake, as well as miniature golf and pedal boat rental.
Chief Vann House Historic Site

Chatsworth

During the 1790s, James Vann became a Cherokee Indian leader and wealthy businessman. He established the largest and most prosperous plantation in the Cherokee Nation, covering 1,000 acres of what is now Murray County. In 1804 he completed construction of a beautiful 2 and 1/2 story brick home that was the most elegant in the Cherokee Nation. After Vann was murdered in 1809, his son Joseph inherited the mansion and plantation. Joseph was also a Cherokee leader and became even more wealthy than his father. In the 1830s almost the entire Cherokee Nation was forced west by state and federal troops on the infamous Trail of Tears. The Vann family lost their elegant home, rebuilding in the Cherokee Territory of Oklahoma. Today the Vann House survives as Georgia's best-preserved historic Cherokee Indian home. A guided tour allows visitors to see the house which features beautiful hand carvings, a remarkable "floating" staircase, a 12-foot mantle and fine antiques.
Moccasin Creek State Park

Clarkesville

Known as the park "where spring spends the summer," Moccasin Creek is nestled in the Blue Ridge Mountains on the shores of lovely 2,800-acre Lake Burton. Despite its mountain location, the park is relatively flat, offering easy navigation for large RVs, children's bicycles and wheelchairs. A fully accessible fishing pier sits above a trout-filled creek open only to physically challenged visitors, senior citizens and children. Tour the adjacent trout rearing station, hike on several nearby mountain trails or simply relax in this peaceful setting. The park's central location makes it a perfect jumping off spot for mountain exploration.
Apple Mountain Alpacas

Clarkesville

Experience the alpaca lifestyle! Learn about alpaca farming in the Northeast Georgia Mountains, while having the experience of a lifetime. Tours, classes, farm & online store all demonstrate farm to fiber products. Natural alpaca fiber products are eco friendly, bio-degradable, and renewable products made right here in Georgia.
BabyLand General Hospital

Cleveland

Hospital to Cabbage patch kids. Babyland General Hospital is the only place in the world where you can witness the birth of a hand-sculpted Cabbage Patch Kid.
Coca-Cola Space Science Center

Columbus

Our state of the art facility houses a Challenger Learning Center, the Omnisphere Theater and the Mead Observatory. Visit our Plaza area for many interactive exhibits and displays. There's something for everyone so keep an eye on what's happening at the Space Center.
Columbus Museum

Columbus

The Columbus Museum - "always changing, always free." - The mission of the Columbus Museum is to collect, preserve, research and interpret American art and regional culture for the education,enrichment and enjoyment of a broad and diverse public.
Historic Columbus Foundation

Columbus

Founded in June 1966, the Historic Columbus Foundation (HCF) is a nonprofit, tax-exempt organization. Its mission is to promote historic preservation, heritage education, and heritage tourism in Columbus, the seat of Muscogee County.
Springer Opera House

Columbus

The Springer Opera House is one of America's most vibrant professional theatre companies with a popular Mainstage Series, an innovative second-space series called Studio II, a Theatre for Young Audience Series featuring some of this region's most talented student actors, and a national touring program called Springer Theatricals. It is also the home of one of the nation's finest training schools for young actors, the Springer Theatre Academy, and is only one of seven theatres in the United States that is listed as a National Historic Landmark. Theater tours are available as well.
Watson Mill Bridge State Park

Comer

Known as one of the most picturesque state parks in Georgia, Watson Mill Bridge contains the longest covered bridge in the state, spanning 229 feet across the South Fork River. Built in 1885 by Washington (W.W.) King, son of freed slave and famous covered bridge builder, Horace King, the bridge is supported by a town lattice truss system held firmly together with wooden pins. At one time, Georgia had more than 200 covered bridges; today, less than 20 remain.
GenerateTech

Conyers

At GenerateTech, we provide hands-on, real-world STEM-based field trips that show students new possibilities and allow them to discover their own capabilities. We have a great track record of working with homeschooled students, including special needs and gifted students. As a non-profit organization, our fees are reasonable. Students do field trips at GenerateTech - not take one. The cost of a field trip ranges from $15 to $25 per student depending on number of students and chosen activities. Visit our website (generatetech.com) for more STEM field trip experiences info. We do not babysit!
Georgia Veterans State Park

Cordele

Established as a memorial to U.S. veterans, this park features a museum with aircraft, armored vehicles, uniforms, weapons, medals and other items from the Revolutionary War through the Gulf War. The Lake Blackshear Resort and Golf Club is a privately operated conference center with 78 lodge rooms, 10 cottages and a restaurant. The SAM Shortline Excursion Train runs through the park on its way from Cordele to Plains, allowing riders to see an antique telephone museum, Habitat for Humanity's Global Village, President Jimmy Carter's boyhood farm and other attractions. An 18-hole golf course and pro shop, along with 8,600-acre Lake Blackshear, make this one of Georgia's most popular state parks.
A.H. Stephens Historic Park

Crawfordville

This site combines the recreational fun of a state park with the educational resources of a historic site. Named after the vice president of the Confederacy and governor of Georgia, A.H. Stephens State Historic Park features a Confederate museum with one of the finest collections of Civil War artifacts in Georgia, including uniforms and documents. Stephens' home, Liberty Hall, is renovated to its 1875 style, fully furnished and open for tours. Beautiful outdoor facilities make this park a treat for both nature lovers and history buffs. The lakeside group camp is a popular location for large overnight gatherings.
Crisson Gold Mine

Dahlonega

Crisson Gold Mine first opened to the public in 1969, while it's main operation was still open pit mining. Mining stopped in the early 1980's, but now Crisson serves as education and supplier to gold enthusiasts. Come explore our grounds and learn about gold mining techniques and try your hand at panning for gold.
Dahlonega Gold Museum Historic Site

Dahlonega

Twenty years before the famed 1849 gold rush in California, thousands of prospectors flocked into the Cherokee Nation in north Georgia, marking the true beginning of our country's first gold rush. Their dramatic story is told inside the historic 1836 Lumpkin County Courthouse, the oldest courthouse in Georgia. Dahlonega prospered with this mining activity, and a U.S. Branch Mint opened in 1838, coining more than $6 million in gold before closing in 1861. The museum's exhibits include a set of these coins, a nugget weighing more than five ounces, a large hydraulic cannon and nozzle used to blast soil from mountainsides, a film and gift shop. Visitors can also explore the courthouse features, including beautiful wooden chapel seats from 1889 and the judge's chambers. The town of Dahlonega is a popular destination for gold panning, shopping and sightseeing.
Pickett's Mill Battlefield Historic Site

Dallas

Pickett's Mill is one of the best preserved Civil War battlefields in the nation. Visitors can travel roads used by Federal and Confederate troops, see earthworks constructed by these men, and walk through the same ravine where hundreds died.
Fort King George Historic Site

Darien

From 1721 until 1736, Fort King George was the southern outpost of the British Empire in North America. A cypress blockhouse, barracks and palisaded earthen fort were constructed in 1721 by scoutmen led by Colonel John "Tuscarora Jack" Barnwell. Using old records and drawings, this 18th century frontier fortification on the Altamaha River has been reconstructed for public tours. Structures include a blockhouse, officers' quarters, barracks, a guardhouse, moat and palisades. A museum and film cover the Guale Indians, the Santo Domingo de Talaje mission, Fort King George, the Scots of Darien and 19th century sawmilling when Darien became a major seaport. In addition to the many fort buildings, remains of three sawmills and tabby ruins are still visible. This site is on the Colonial Coast Birding Trail.
Sapelo Island Reserve and Reynolds Mansion

Darien

Visitors to Sapelo Island can see virtually every facet of a barrier island's natural community, from the forested uplands, to the vast salt marsh, and the complex beach and dunes systems. The mainland Visitor Center brings to life both the natural and cultural history of Sapelo, while guided island tours highlight the African-American community of Hog Hammock, University of Georgia Marine Institute, the Reynolds Mansion and a working lighthouse. Built in 1820, the lighthouse was in service until 1905 when it was deactivated. Following its 1998 restoration, it once again became a working aid in navigation. The historic Reynolds Mansion may be used for group conferences and retreats, with all meals included. A campground is available for groups of 15-25.
Hike Inn at Amicalola Falls

Dawsonville

The Hike Inn is Georgia's only true eco-lodge and boasts "Gold Level" certification from the Green Building Council. Buildings cascade down the mountainside and sit on stilts, eliminating much effect on the landscape. Guest rooms are cooled by breezes or warmed by blankets and a small radiant heater. Rainwater is collected in cisterns and used to irrigate the inn's vegetable and herb garden. Be sure to ask about the resident worms that compost nearly everything, from table scraps to discarded hiking socks.
The Dahlonega Butterfly Farm

Dawsonville

We are a butterfly farm in North GA open to the public and school groups. We offer an educational experience of the life cycle of a butterfly. We have an enclosed greenhouse with 100's of butterflies and a chrysalis room. Our outdoor garden is perfect for caterpillar hunting, bird watching, identifying plants and learning about host plants and native plants. We offer discounted group rates for 15+ and we are open to all ages for a hands on learning experience.
Amicalola Falls State Park and Lodge

Dawsonville

It's easy to see why this is one of Georgia's most popular state parks. Amicalola, a Cherokee Indian word meaning "tumbling waters," is an appropriate name for these 729-foot falls ~~ the tallest cascading waterfall east of the Mississippi River. An 8.5 mile approach trail leads from the park to Springer Mountain, the southern end of the 2,135-mile Appalachian Trail. However, numerous other trails are available for shorter journeys. A beautiful lodge at the top of the mountain is popular with guests who prefer hotel-type comforts, while a 5-mile hike leads to more remote accommodations at the Len Foote Hike Inn. Be sure to stop by the visitor center to see nature displays, live exhibits and a gift shop.
Wylde Center

Decatur

Since 1997, Wylde Center has provided outstanding hands-on environmental education experiences for students. Our outdoor field trips bring Pre-K through 8th grade students to our five greenspaces to explore the science of the natural world. Our interactive classes are led by highly trained and enthusiastic environmental educators. Featured topics: five senses, living and nonliving things, garden life cycles, habitats, the characteristics and basic needs of plants and animals, Georgia soils, the water cycle, and constructive and destructive forces.
Seminole State Park

Donalsonville

This southwest Georgia park is on beautiful Lake Seminole, a 37,500-acre reservoir with excellent boating, fishing and birding. Cottages, many campsites and even picnic shelters sit near the water's edge, offering excellent views and quick access to the lake. Because the park surrounds a small cove, visitors usually enjoy smooth water for skiing and tubing. A sand swimming beach is also provided for lake lovers. Wildlife is abundant throughout Seminole, and a nature trail leads past gopher tortoise burrows, a wetland boardwalk and one of the largest Longleaf Pine forests in a Georgia state park. Observant visitors may also see alligators, osprey, bald eagles and other wildlife. Nearby wildlife management areas provide great duck and deer hunting.
Ashely-Slater House

Douglas

The Ashley-Slater house features an original mural, a host of antique furnishings, and a tragic history. A collection of family items is on view in the home including WWI memorabilia, love letters, and photos. Visitors also enjoy the attractive gardens and grounds.
The Dublin-Laurens Museum

Dublin

Visit the Dublin-Laurens Museum in Dublin Georgia. Built in 1094, this former library was converted in to a museum. The Dublin-Laurens County Museum right in the center of downtown Dublin and is operated by the Laurens County Historical Society.
Jacqueline Casey Hudgens Center for the Arts

Duluth

The Arts Council was founded in 1981 with the stated mission "to foster an understanding of and participation in the Arts." The council serves the community as a valuable arts resource through programming such as exhibits, performances, literary competitions, and a full schedule of art classes. The addition of the CHILDREN'S ARTS MUSEUM enables the Arts Council to fulfill its mission to provide an arts facility where children and their families can experience the arts together.
Southeastern Railway Museum

Duluth

Ride in restored cabooses behind steam or diesel locomotives, stand next to the massive driving wheels of the locomotive that once pulled passenger trains to Key West on the "railroad that went to sea," tour the business car that helped bring the Olympics to Atlanta, pose on the platform of the private car once used by President Warren G. Harding, and see just how green Southern Railway green can be as you walk the length of the diesel-electric locomotive that ran the point on the last Crescent before AMTRAK assumed control of the famous train.
Georgia Swarm Pro Lacrosse

Duluth

Georgia Swarm is a professional lacrosse team that plays out of the Infinite Energy Arena! These 2017 National Lacrosse Champions are exciting about this upcoming season.Georgia Swarm has special opportunities for kids during each game, and offers fun group opportunities! Get your group in great seats right on top of the action and enjoy all of the arena's amenities.
Spruill Center for the Arts

Dunwoody

Spruill Center for the Arts Gallery offers visitors exhibits and more at the historic Gallery and Gift Shop. Visual Art classes and workshops are available for all ages and skill levels. Kid's Camps for ages 5-10 available year-round!
Uncle Remus Museum

Eatonton

The Uncle Remus Museum first opened April 2, 1963. The building is composed of two Putnam County slave cabins located in Turner Park, the home of the young boy depicted in the Uncle Remus tales, Joseph Sidney Turner. The museum houses wonderful examples of authentic antebellum furniture and artifacts as well as large paintings depicting antebellum scenes and shadow boxes with wooden carvings of the Uncle Remus characters. Also included in the museum's collection are many Joel Chandler Harris pieces including some first editions.
Elberton Granite Museum

Elberton

Attracting more than 4,000 visitors annually, the Elberton Granite Museum and Exhibit features exciting historical exhibits, artifacts and educational displays. Three tiers of self-guided exhibits allow visitors to see unique granite products as well as antique granite working tools used in the quarrying, sawing, polishing, cutting and sandblasting of granite cemetery memorials.
Bobby Brown State Park

Elberton

This pretty park offers watersports enthusiasts a quiet oasis on 70,000-acre Clarks Hill Lake. Located where the old town of Petersburg once thrived during the 1790s, the park is named in memory of Lt. Robert T. Brown, U.S. Navy, who gave his life in World War II. Petersburg was situated where the Broad and Savannah rivers flow into the Clarks Hill Reservoir, now an outstanding state recreational area. When water levels are low, visitors can see some foundations of the old town and imagine large plantations once flourishing. The park's location on the largest man-made lake east of the Mississippi River provides excellent boating, skiing and fishing. Yurts, which are like tents made of canvas and wood, offer a unique camping experience. The park's self-guided Land Navigation Courses teach beginners how to use a compass.
Hillcrest Orchards

Ellijay

Field trips appropriate for Pre-K through 3rd grade. State standards sheets will be given to teachers. Field trip activities include milking a cow, shelling corn, petting animals in the petting farm, a wagon ride through the apple orchard, a visit through the apple museum and farmhouse museum, a sampling of fresh apple cider, swimming pig races, and watching an educational video about the process of growing and harvesting apples. This is a very hands on field trip with several different stations so we can handle large groups. Each child receives an apple to take home.
Southern Grace Farms

Enigma

All ages are welcome at Southern Grace Farms U-Pick farm in Enigma, GA. We schedule strawberry picking field trips in with spring with designated days for Homeschool. Children take an educational hay ride through our peanut mill (no peanuts touched or seen during hayride due to allergy risks), viewing the equipment used and learning about the peanut industry, then on to some of our other crops to learn about strawberries, blackberries, blueberries, peaches, and plums. They each pick a quart of strawberries, get time on our unique playground, and get a strawberry ice cream and activity book.
Sunrise Planetarium and C&S Railroad

Fairmount

Each of the planetarium programs discusses space from a scientific Biblical perspective. Your group of 15 or more can schedule any program by appointment. While there is no charge for attending the planetarium, we ask for donations to help maintain the facilities. Along with the planetarium, many groups choose to make a day of it, with lunch and a ride on the scenic C&S Railroad! This trip takes guests through Quartz Canyon, into a snow tunnel, past the roundhouse, and more.
Stephen C. Foster State Park

Fargo

Named after songwriter Stephen Foster, this remote park is a primary entrance to the famed Okefenokee Swamp and is one of the most intriguing areas in Georgia. Moss-laced cypress trees reflect off the black swamp waters, providing breathtaking scenery. Visitors can look for alligators, turtles, raccoon, black bear, deer, birds and numerous other creatures while on the park's elevated boardwalk trail or on a guided boat trip. More adventurous visitors may wish to rent motorized boats or canoes for further exploration of the swamp, including a trip to historic Billy's Island. The park office sells drinks, snacks, ice, books and t-shirts. Because the park is located within a National Wildlife Refuge, gates are locked at closing time and an entrance fee is charged.
Jefferson Davis Memorial Historic Site

Fitzgerald

When Confederate President Jefferson Davis and a few remaining staff members crossed the Savannah River into Georgia on May 3, 1865, they were headed for the Western theater of war where Davis planned to unite rebel forces and continue fighting for the "lost cause." On May 9, 1865, they camped in this pine forest, not knowing that pursuit was so close behind. At dawn, they were surrounded by two independent groups of Union cavalry who were unaware of each other's presence. Gunfire ensued until the federal forces realized they had been shooting at one another. Two Union cavalrymen died during the skirmish. Davis was taken prisoner and held in Virginia for two years until released. Today, a monument marks the spot where he was arrested. Visitors can tour the 13-acre historic site that includes a museum, short trail, a gift shop, picnic tables and a group shelter.
Blue and Gray Museum

Fitzgerald

Located in a historical railroad depot, the entire space of the Blue & Gray Museum has been renovated and redesigned to reveal the remarkable founding story of Fitzgerald and its roots in the Civil War. More than 1200 objects, photographs, household items, memorabilia and rare artifacts are now displayed in new and refinished cases and in specially fabricated sections. Each item has been carefully coded to help the visitor understand its historical significance. Many important artifacts are on display for the first time.
Indian Springs State Park

Flovilla

Located off I-75 in middle Georgia, Indian Springs is thought to be the oldest state park in the nation. It was acquired by the state in 1825 and became an official "State Forest Park" in 1927. The Creek Indians used the springs for centuries to heal the sick and impart extra vigor to the well. During the 1800s, the area was a bustling resort town. Today, visitors can still sample the spring water while enjoying the park's cottages, camping, swimming, fishing and boating. Many structures within the park, such as the spring house, were built during the Great Depression by members of FDR's Civilian Conservation Corps (CCC). A museum (hours limited) highlights Creek Indians, the resort era and CCC history.
National Infantry Museum and Soldier Center

Fort Benning

A new, world-class museum has now been built to honor the Infantry. It will tell the story of our ground soldiers from the colonial period to Operation Iraqi Freedom. Lessons of the past will be retold to help lead us in the future.
George T. Bagby State Park and Lodge

Fort Gaines

Located on the shores of Lake Walter F. George in southwest Georgia, this resort park features a 60-room lodge, conference center, restaurant, cottages and award-winning 18-hole Meadow Links Golf Course. The park's marina and boat ramp offer easy access to the 48,000-acre lake for fishing and boating. The large picnic shelter and numerous picnic sites are perfect places for families to enjoy their catch. Facilities are available for meetings, reunions, weddings and other group gatherings. Visitors may also look for wildlife along the three-mile nature trail, which winds through hardwoods and pines.
6th Cavalry Museum

Fort Oglethorpe

The 6th Cavalry Museum preserves the rich military history of the "Fighting Sixth" Cavalry, stationed at The Post at Fort Oglethorpe 1919 -- 1942. The story of the 6th Cavalry is an illustrious one, beginning in 1861 as a U.S. Cavalry Regiment to present day with Germany and Korea home to 6th Cavalry regiments. Located on the Post's original parade ground -- polo field, the area is listed on the National Register of Historic Sites, surrounded by officer's homes and other Post buildings. Visited by presidents, military heroes and Hollywood celebrities, the museum houses 6,500 square feet of artifacts, uniforms, weapons, accoutrements, photos, Patton Tank and Cobra Gunship Helicopter. Take a step back in time to the era of the horse soldier by visiting the 6th Cavalry Museum.
Chickamauga & Chattanooga National Military Park

Fort Oglethorpe

In 1863, Union and Confederate forces fought for control of Chattanooga, known as the "Gateway to the Deep South."
Beulah Rucker Museum

Gainesville

Beulah Rucker Oliver is one of Gainesville's most fondly remembered citizens. Coming to Gainesville in the early 1900s, she established a school for African-American children that continued in various forms until the late 1950s. The school provided educational opportunities to the region's African-American youth at a time when such opportunities were rare. She established this school primarily through her own hard work and money. Her unselfish actions and her inspiring vision prompted others to act.
Elachee Nature Science Center

Gainesville

Elachee Nature Science Center, one of the premier nature centers in Georgia, provides environmental education and science programs in the form of school field trips for students and also as workshops, camps, and events for the general public. Your visit may include a stop at our live animal exhibits and the native plant garden at the entrance to the Center. Surrounding the Center is the 1,500 acre Chicopee Woods Nature Preserve laced with over 13 miles of nature trails. This large protected area with diverse habitats provides an ideal outdoor classroom, plant and animal sanctuary, and variety of scenic hiking trails.
Northeast Georgia History Center

Gainesville

The Mission of the Northeast Georgia History Center at Brenau University is to promote greater understanding of the cultural, social, economic, and political history of the Northeast Georgia Mountains. Region.
Linwood Nature Preserve

Gainesville

Linwood Nature Preserve covers 32 acres of urban forest on the shores of Lake Lanier. Over 2 miles of hiking trails wind through wetlands, prairie, and pine-oak-hickory ecosystems. The trails have interpretive signs, kiosks, benches, and viewing decks. The Preserve is a partnership between Gainesville Parks and Recreation and The Redbud Project. It has two entrances: 415 Linwood Drive and 118 Springview Drive, both accessed from Thompson Bridge Rd. The Preserve is free and open to the public from dawn till dusk 7 days a week.
Hapeville Depot Museum

Hapeville

The Hapeville Historical Society is an outgrowth of the Depot Restoration Projects.
Hart State Park

Hartwell

Boating, water skiing and fishing at Lake Hartwell are prime reasons to visit Hart State Park in northeast Georgia. Large mouth bass, hybrid bass, striper, black crappie, bream, rainbow trout and wall-eyed pike can be found in the sparkling waters of this 55,590-acre reservoir. The park's boat ramps and docks offer easy access to all water sports. Cottages and most campsites are located on the scenic lake shore.
Smithgall Woods Conservation Area and Lodge

Helen

North Georgia's premier trout stream, Dukes Creek, runs through this spectacular mountain property and is a favorite for catch-and-release fishing. Five miles of trails and 18 miles of roads allow hikers and bicyclists to explore hardwoods, streams and wildlife. Trout fishing and van tours are offered only on certain days of the week, so visitors should call for a current schedule. The Lodge at Smithgall Woods is an elegant mountain retreat perfect for romantic getaways or corporate retreats. Five beautifully decorated cottages provide 14 bedrooms with private baths. Rates include accommodations, meals and activities. Smithgall Woods-Dukes Creek Conservation Area was acquired by the state in 1994 as a gift-purchase from Charles A. Smithgall, Jr., a noted conservationist and businessman.
Unicoi State Park and Lodge

Helen

Nestled in the north Georgia mountains just two miles from the Alpine village of Helen, Unicoi is one of Georgia's most beloved state parks. Throughout the year, the park offers outstanding programs which focus on natural, cultural, historical and recreational resources. Groups can make advanced reservations for specialized programs. Outdoor enthusiasts will enjoy hiking and biking on scenic mountain trails, especially those leading to Helen and Anna Ruby Falls. Craft lovers should not miss the lodge gift shop specializing in hand-made quilts and local pottery. Numerous picnic tables are located throughout the park.
Little Ocmulgee State Park and Lodge

Helena

Conveniently located off Highway 441 in south Georgia, this park features a wide variety of amenities. Golfers can test their skills on the 18-hole Wallace Adams Course with clubhouse, golf pro and junior/senior discounts. Boaters and anglers will enjoy the park's 265-acre lake with swimming beach, while children can rent pedal boats or play miniature golf during summer. The 2.6-mile Oak Ridge Trail winds through scrub oaks and pines towards a buzzard roost and boardwalk. The 60-room lodge offers hotel-style guest rooms, meeting facilities and a restaurant with golf course view. Facilities are available for meetings, reunions, weddings and other group gatherings.
Banks County Historic Courthouse & Museum

Homer

Banks County Historic Courthouse is one of the 4 oldest courthouses in Georgia, it houses a local historical society museum, which features art, WWII memorabilia and historic records. It is a two-story antebellum structure with columns and handmade bricks.
High Falls State Park

Jackson

Reservations (800) 864-7275 Park (478) 993-3053 July 4, 2008 - Boat Regatta/Picnicking Slideshow In the early 1800s, the site was a prosperous industrial town with several stores, a grist mill, cotton gin, blacksmith shop, shoe factory and hotel. High Falls became a ghost town in the 1880s when a major railroad bypassed it. Today, park visitors can enjoy the scenic waterfall on the Towaliga River and hike to the remaining grist mill foundation. A campground, picnic areas and canoe rental are also available. This pretty park in middle Georgia is conveniently located near I-75 and makes a restful side trip for travelers.
Escspe and Evade Adventure Zone

Jasper

Escape and Evade is s family fun center with Laser Tag, Escape Rooms, Virtual Reality and Arcades. It has fun for all ages with most major activities geared towards 8+, Escape room 12+. Located 1 mile east of downtown Jasper, Ga at 934 East Church St. Jasper, Ga. 30143. Group and school discount packages along with party packages. Contact us at 1-833-LAZER-TAG.
Crawford W. Long Museum

Jefferson

Birthplace of Anesthesia. The Crawford W. Long Museum provides educational exhibits about the life and career of Dr. Crawford W. Long, and celebrates his discovery of the use of sulfuric ether to provide "painless surgery" on March 30, 1842, in Jefferson, Georgia.
Jekyll Island Mosaic Museum

Jekyll Island

The completely renovated and re-imagined Jekyll Island Museum guides you through the rich cultural and natural history of Georgia's most intriguing barrier island. In-depth and interactive exhibits draw you in, while stunning visuals and audio tell the tale of this magical island. The new museum, Mosaic, features more exhibit space, more artifacts, and a new multi-purpose room. Groups can also book one of our various tours to further their learning, or host a class in our Tack Classroom.
Jarrell Plantation Historic Site

Juliette

Nestled in the red clay hills of Georgia, this cotton plantation was owned by a single family for more than 140 years. It survived Gen. Sherman's "March to the Sea," typhoid fever, Emancipation, Reconstruction, the cotton boll weevil, the advent of steam power and a transition from farming to forestry.
Build-A-Bear Workshop

Kennesaw

Build-A-Bear Parties Are Back! Make Us Your CeleBEARation Destination! Parties are back at Build-A-Bear! Looking for a fun indoor field trip or have a different reason to celebrate? We let you build the perfect party for any occasion. Build-A-Bear offers plenty of fun party options for kids and kids at heart.
Code Ninjas of Acworth

Kennesaw

Code Ninjas Acworth strives to be a fun, safe, and inspiring place for kids to learn coding and other STEAM skills. Within the core coding education, kids ages 6 to 15 learn programing languages by modifying games and building their own games. We interweave social and interactive skills development by learning how to get help and give help through presenting their concepts to the group and teaching others who need help what they have learned. Other field trip opportunities include 3-D printing, Developing a YouTube Channel and more.
Kennesaw Mountain National Battlefield Park

Kennesaw

The name Kennesaw means cemetery or burial ground in Cherokee. The Kennesaw Mountain Battlefield preserves a Civil War battleground of the Atlanta Campaign. The battle was fought here from June 19, 1864 until July 2, 1864. The website offers historical information about the park for those who cannot visit in person.
Southern Museum of Civil War & Locomotive History

Kennesaw

The Southern Museum, in association with the Smithsonian Institution, is a premier metro Atlanta museum. Home to the locomotive the General, the Civil War-era steam locomotive captured by Union spies during the Great Locomotive Chase. Also home to the Glover Machine Works exhibit, featuring the only fully restored belt-driven locomotive assembly line in the country. We provide regular educational programming including pre-k programs weekly, a monthly Homeschool Workshop series, and on-going tour access for larger groups.
Adventure Air Sports

Kennesaw

Adventure Air Sports is a World Class indoor trampoline park in Kennesaw, GA serving the Atlanta area. Taking trampoline parks to a whole new level with massive main court trampolines and built in parkour elements, a World Class Ninja Warrior obstacle course, extreme dodgeball, Mad MAXX (Atlanta's only SUPER TRAMP), tumbling lanes, foam pits and state-of-the-art arcade. Your experience will be one to remember!
Chattahoochee Valley Art Museum

LaGrange

Founded in 1963 as the Chattahoochee Valley Art Association, the Museum serves as a small, vibrant visual arts resource for West Georgia and East Alabama. The Museum is housed in the former Troup County Jail, built in 1892. The Victorian building was completely renovated in 1978 with contemporary galleries, offices, an arts library and classrooms.
Tugaloo State Park

Lavonia

Situated on a wooded peninsula, Tugaloo's cottages and most campsites offer spectacular views of 55,590-acre Lake Hartwell in every direction. Some cottages even have private boat docks for overnight guests. Tent campers can choose between the developed campground or primitive campsites located a short walk from the parking area. Fishing is excellent year-round, and large-mouth bass are plentiful. During summer, the lake is a popular destination for swimming, water skiing, sailing and boating. Both the Crow Tree and Muscadine nature trails wind through oak, walnut, mulberry and cherry trees. The name "Tugaloo" comes from an Indian name for the river which once flowed freely prior to the construction of Hartwell Dam.
Gwinnett Historic Courthouse

Lawrenceville

Built in 1885 and listed on the National Register of Historic Places, the Gwinnett Historic Courthouse sits majestically on the square in historic downtown Lawrenceville. Unique architectural features include original turret (balcony) and clock tower, chandelier lighting, 24-foot ceilings, wood-carved moldings, wainscoting, Palladian windows, faux fireplaces and an outdoor gazebo on a meticulously manicured lawn. The courthouse is also home to the Gwinnett Historical Society on the second floor the Gwinnett Veterans Council Memorial Museum on the first floor; the George Williams Collection of antique furniture, books and paintings in Room 122; and revolving art exhibits that line the main hallway.
Silver Crown Farms

Lawrenceville

A family friendly educational horse farm with a dwarf homesteading garden.
Georgia Rural Telephone Museum

Leslie

The Georgia Rural Telephone Museum in Leslie, Georgia, is home to the largest collection of antique telephones and telephone memorabilia in the world. The museum is open Monday through Friday, 9:00AM through 3:30PM
Elijah Clark State Park

Lincolnton

Located on the western shore of 70,000-acre Clarks Hill Lake, this park is named for a frontiersman and Georgia war hero who led pioneers during the Revolutionary War. A recreated log cabin museum displays furniture, utensils and tools circa 1780 and is open on weekends April through November. Visitors can also view the graves of Clark and his wife, Hannah. Anglers and boaters will especially enjoy the park's location on the largest man-made lake east of the Mississippi River. Cottages are located on the lake's edge, and the spacious campground is nestled into the forest.
Sweetwater Creek State Park

Lithia Springs

Sweetwater Creek is a peaceful tract of wilderness only minutes from bustling downtown Atlanta. The most popular trail (red) follows the free-flowing stream to the ruins of the New Manchester Manufacturing Company, a textile mill burned during the Civil War. Beyond the mill, the trail climbs rocky bluffs to provide views of the beautiful mile-long stretch of white-water rapids below. The 215-acre George Sparks Reservoir is popular with anglers and provides a pretty setting for feeding ducks and canoeing. Fishing supplies are available in the park's bait shop, while wildlife and history displays, trail maps, snacks and gift items may be found in the Visitor Center -- the most environmentally responsible building in Georgia.
Providence Canyon State Park

Lumpkin

Visitors are amazed at the breathtaking colors of Georgia's "Little Grand Canyon." The rare Plumleaf Azalea and other wildflowers, as well as the pink, orange, red and purple hues of the soft canyon soil, make a beautiful natural painting at this unique park. Visitors can enjoy views of the canyons from the rim trail, and backpackers who set off before 4 p.m. can stay overnight along the backcountry trail. Camping and cottages are available nearby at Florence Marina State Park on beautiful Lake Walter F. George. A visitor center explains how the massive gullies (the deepest being 150 feet) were caused by erosion due to poor farming practices in the 1800s.
Westville Village

Lumpkin

Westville is an outdoor history museum which depicts an 1850 west Georgia village. You may have seen pictures of little towns like Westville. They dotted the 1850s countryside in the southern United States.
Cannonball House

Macon

This southern home, c. 1853, is named for damage sustained during the Civil War. Listed on the National Register of Historic Places, it is an example of authentic Greek Revival architecture containing fine period furnishings. The house is also the repository for the Founders' parlors of ?lpha Deli Pi and Phi Mu societies, recreated from Wesleyan College, where they began in 1851 and 1852.
Georgia Music Hall of Fame

Macon

What you'll find inside: Tune Town Main exhibit hall features winding streets and themed venues housing instruments, career and personal items, performance costumes, videos and music. Venues include: Gospel Chapel, Rhythm & Blues Revue, Skillet Licker Cafe, Gretsch Theater, Vintage Vinyl Record Store, Coca Cola Soda Fountain, Backstage Alley, and Memory Lane. The Music Factory: Interactive learning space for kids includes hands-on exhibits that explore music composition, styles, instrument families and more. Fun for adults too!
Georgia Sports Hall of Fame Museum

Macon

Ten Years in the Macon celebrates the inductees of the past ten years and the history of the museum with objects and artifacts from many of the inductees from the last decade including Kevin Butler, Jeff Van Note, Nancy Lopez, Kevin Brown, Sugar Ray Robinson, Larry Mize, and Jaime Kaplan. The exhibit also includes a timeline that chronicles the history of the museum from the groundbreaking through the present day.
Hay House *

Macon

Virtual field trip onlineHay House (Johnston-Felton-Hay) is designed in the Italian Renaissance Revival style, unusual for residential architecture, most particularly in the South in the 1850s. It is chiefly characterized by arches and curves, as opposed to the Greek Revival style which is composed mainly with straight lines. Notice that all the windows are round arches. Symmetry is also fundamental to this style. The central block of the house is flanked by two wings which are identical, at least from the exterior. The two-story octagonal cupola crowns the house and gives it a sense of vertical lift. The cupola serves as part of the ventilation system, acting as a chimney which helps to draw the hot air up and out of the house. Hay House offers a range of curriculum- based education programs designed to cater to different age groups and learning styles.
Museum of Arts and Sciences

Macon

A visit to the Museum of Arts and Sciences is like a trip around the world! Where else can you see works of fine art, observe animals that live in tropical forests, study the culture of different civilizations, and even explore the wonders of outer space, all at one location?
Tubman African American Museum

Macon

The critical focus and mission of the Tubman is to continue to explore, present, and interpret African American art, history, and culture through a widening array of exhibitions, programs, special events, publications, and community and school outreach initiatives.
Ocmulgee National Monument

Macon

Native Americans were the first inhabitants. During the Civil War two battles took place in Macon; both took place on the park grounds. The park focuses on both the Native American influence and Civil War battles. The website offers historical information about both for those who cannot visit in person.
Fort Hawkins

Macon

Come visit the birthplace of Macon, Georgia! Fort Hawkins is now open Saturdays and Sundays from 12pm-4pm. Fort Hawkins was established in 1806 by President Thomas Jefferson and Indian Agent Col. Benjamin Hawkins as an official U.S. Army Fort and Indian Factory for trading and meeting with the Native Americans in Middle Georgia.
Madison Museum of Fine Art

Madison

Madison Museum of Fine Art is located on the town square of Madison, Georgia, USA. The museum is a member of the American Alliance of Museums. Founded in 2005 by Michele L. Bechtell, the MMoFA is an art history museum with interior galleries, an outdoor sculpture garden, a continuous film corner, and a museum shop.
Madison-Morgan Cultural Center

Madison

The Madison-Morgan Cultural Center combines a rare treasure of the past with an active commitment to the future. The Center is housed in a fine old Romanesque Revival red brick building which was constructed in 1895 as one of the first graded public schools in the South. The original school bell still rings for the many visitors who enjoy the full schedule of exhibitions, performances and other programs throughout the year.
Morgan County African-American Museum

Madison

The Morgan County African-American Museum is an institution dedicated to preserving African-American heritage and promoting awareness of the contributions the African-American has made to the culture of the South.
Cobb County Youth Museum

Marietta

Two guided tours of the museum are conducted each school day for elementary, middle school, and junior high classes. During the two guided tours, docents dressed in period costumes lead the tours, involving the children in self-expression through role-playing and lively discussion. Children move through numerous settings and exhibit areas in the museum, participating in an unfolding narrative of selected historic and cultural interest. Several children are chosen to dress in authentic costumes and act out a brief skit at each setting along the tour, bringing history alive in story fashion, much to the delight of their classmates.
Marietta Museum of History

Marietta

The Marietta Museum of History is housed inside the historic Kennesaw House which was built in 1845. The Museum strives to educate the public on Marietta and Cobb County's rich history through museum galleries. The permanent galleries include the Homelife Gallery which replicates a 1940s kitchen, an extensive military gallery featuring the Civil War to present day, and the General History Gallery which starts with the Native Americans. Temporary galleries always appeal to all ages!
Fort Morris Historic Site

Midway

When the Continental Congress convened in 1776, the delegates recognized the importance of a fort to protect their growing seaport from the British. Soon afterwards, a low bluff on the Medway River at Sunbury was fortified and garrisoned by 200 patriots. When the British demanded the fort's surrender on November 25, 1778, the defiant Col. John McIntosh replied, "Come and take it!" The British refused and withdrew back to Florida. Forty-five days later, they returned with a superior force, and on January 9, 1779, Fort Morris fell after a short but heavy bombardment. Under the name of Fort Defiance, this bulwark was once again used against the British during the War of 1812. Today, visitors can stand within the earthwork remains and view scenic Saint Catherines Sound. A museum and film describe the colonial port of Sunbury and the site's history.
Georgia's Old Capital Museum at the Depot

Milledgeville

Georgia's Old Capital Museum offers "chipmunk tours" for children ages 3-8. These tours teach children about the history of Georgia. The Museum offers two different tours, each about 1 hour 15 minutes long. One tour is about American Indians living in Georgia, the other is about life during Georgia's frontier days. The cost of the tour is $6 per person (both tours included). Minimum group size is 12 people, maximum group size is 50. Please call the museum at (478)-453-1803 or e-mail at info@thedepotga.org to schedule a tour.
Magnolia Springs State Park

Millen

Magnolia Springs State Park is known for its crystal clear springs flowing 7 million gallons of water per day and the beautiful boardwalk which spans the cool water. During warmer months, visitors may watch for alligators, turtles and other wildlife near the springs. A free, freshwater aquarium features native species, and a 28-acre lake with accessible dock are available for fishing and boating. Numerous picnic shelters and tables are perfect locations for family reunions and birthday parties. During the Civil War, the site was called Camp Lawton and served as "the world's largest prison." Today, little remains of the prison stockade; however, the earthen breastworks which guarded it may still be seen.
Hamburg State Park

Mitchell

With modern-day facilities amidst reminders of days gone by, Hamburg State Park offers a wonderful mix of history and outdoor recreation. Anglers can enjoy great lake fishing for largemouth bass, crappie and bream, as well as boat ramps and a fishing pier. Campers find shaded campsites along the edge of quiet Hamburg Lake fed by the Little Ogeechee River. The restored 1921 water-powered grist mill is still operational and beckons visitors to buy a bag of corn meal at the country store. Visitors who are particularly interested in the mill should call ahead to ask when it will be operating. A museum displays old agricultural tools and appliances used in rural Georgia.
McDaniel Tichenor House

Monroe

A historic governor's mansion with sophisticated architecture and all the charm of a southern home. An atmosphere that offers rich Georgia history reflected in the Italianate to Neoclassical style throughout the house.
Oak Hill and the Martha Berry Museum

Mount Berry

Welcome to Oak Hill and the Martha Berry Museum, one of the finest attractions in Georgia. Oak Hill and the Martha Berry Museum opened in 1972 as a historic house and history museum. Our mission is to tell the story of Martha Berry and Berry College through exhibits, events, and educational programming.
Black Rock Mountain State Park

Mountain City

Black Rock Mountain State Park, named for its sheer cliffs of dark-colored biotite gneiss, encompasses some of the most outstanding country in Georgia's Blue Ridge Mountains. Located astride the Eastern Continental Divide at an altitude of 3,640 feet, Black Rock Mountain is the highest state park in Georgia. Numerous scenic overlooks provide spectacular 80-mile vistas of the Southern Appalachians, and several hiking trails lead visitors past wildflowers, cascading streams, small waterfalls and lush forests. The summit visitor center and picnic tables are popular with travelers in northeast Georgia.
Medieval Times

Multiple locations

Exciting, family friendly dinner theater featuring an authentic medieval tournament and feast with jousting knights, and live horses.
Dickey Farms

Musella

Dickey Farms Spring Strawberry Patch Field Trips include: Lesson on Strawberry Growing, Pick Your Own Strawberries, Honey Bee Education, a Playground, Plant Your Own Seeds, Lunch at Pavilion and Kiddie, and a cup of Strawberry Ice Cream.
General Coffee State Park

Nicholls

One of southern Georgia's "best kept secrets," this park is known for interpretation of agricultural history at its Heritage Farm, with log cabins, a corn crib, tobacco barn, cane mill and other exhibits. Seventeen-Mile River winds through a cypress swamp where the park hosts rare and endangered plants. The threatened indigo snake and gopher tortoise make their homes in this wiregrass community. Overnight accommodations include camping, cottages, and the Burnham House, an elegantly decorated 19th century cabin perfect for romantic getaways. The park was donated to the state by a group of Coffee County citizens in 1970 and is named after General John Coffee, a planter, U.S. Congressman and military leader.
Foxfire Woods and Farm, LLC

Nicholson

This 53 acre nature academy and teaching farm provides a safe, relaxing, and educational experience for students of all ages. The various learning stations meet STEAM curricula requirements and teach both adults and children about the importance of the outdoors, healthy foods, and physical activity to brain functioning. We also host birthday parties and Foxfire Family Farm Days.
Florence Marina State Park

Omaha

Situated at the northern end of 45,000-acre Lake Walter F. George, this quiet park offers the perfect setting for those who love water sports. It is adjacent to a natural deep-water marina with an accessible deep-water fishing pier, boat slips and boat ramp. Birders are sure to see herons and egrets, and possibly bald eagles. The park's Kirbo Interpretive Center teaches visitors about Native Americans, nature and local history, and it displays snakes, turtles, fish and artifacts from the prehistoric Paleo-Indian period through the early 20th century. Ten miles southeast is Providence Canyon State Park, known as Georgia's Little Grand Canyon, with hiking trails and a visitor center.
F.D. Roosevelt State Park

Pine Mountain

Located near Callaway Gardens and the town of Warm Springs, this park is deeply rooted in the historical era of four-time President Franklin D. Roosevelt. Seeking a place for treatment after he was stricken with polio in 1921, Roosevelt traveled to nearby Warm Springs and built his Little White House. Several structures within the park, including the stone swimming pool and some cottages, were built by Roosevelt's Civilian Conservation Corps during the Great Depression. Above Kings Gap is Dowdell's Knob, Roosevelt's favorite picnic spot overlooking a magnificent view of the valley below. A life-size sculpture of the beloved president welcomes visitors to the overlook. Hikers will enjoy the scenic trails in Georgia's largest state park, especially the 23-mile Pine Mountain Trail, which winds through a mix of hardwoods and pines.
Jimmy Carter National Historic Site

Plains

A Lifetime Commitment to Public Service - Jimmy and Rosalynn Carter learned the importance of hard work, honesty, virtue, love and mercy in the quaint, rural town of Plains, Georgia. Working as full partners, the Carters have dedicated their lives to peace, human rights and public service throughout the world. Come explore the community that influenced and shaped the life and values of the 39th President of the United States. Includes the Rosalynn Carter Gallery, The Carter Center, and The Carter Presidential Library & Museum. The Jimmy Carter National Historic Site offers ranger led programs for students of all age levels Pre K-12th . Students will participate in activities that focus on the life and legacy of President Carter.The site has 3 locations: Plains High School, The Boyhood Farm, and The Depot.
Billy Carter's Service Station

Plains

The famous south Georgia service station once owned by Billy Carter has come back to life as a museum, reflecting the former First Brother's life and the station's history.
Mighty Eighth Air Force Museum

Pooler

The Mighty Eighth Air Force Museum preserves for all Americans the stories of courage, character and patriotism displayed by the men and women of the Eighth Air Force from World War II to the present.
Gordonia-Alatamaha State Park

Reidsville

This southeast Georgia park is a favorite for picnicking, family reunions and golf. Picnic tables and shelters surround a small lake where visitors can rent pedal boats and fishing boats during warmer months. Docks are available for land-loving anglers, and children will enjoy looking for beaver dams from the observation deck.
Fort McAllister Historic Park

Richmond Hil

Located on the bank of the Great Ogeechee River south of Savannah, this park is the home of the best preserved earthwork fortification of the Confederacy. The sand and mud earthworks were attacked seven times by Union ironclads, but did not fall until captured in 1864 by Gen. William T. Sherman during his "March to the Sea." Nestled among giant live oaks and beautiful salt marsh, this park is a quiet location for camping, hiking, fishing and picnicking. The park's Civil War museum features an interior designed to resemble a bombproof, containing exhibits and artifacts, a video and gift shop. Three cottages sit on stilts at the marsh edge, surrounded by palm trees and palmettos. The campground is bordered by tidal Redbird Creek, a boat ramp and nature trail.
Cloudland Canyon State Park

Rising Fawn

Located on the western edge of Lookout Mountain, this is one of the most scenic parks in the state, offering rugged geology and beautiful vistas. The park straddles a deep gorge cut into the mountain by Sitton Gulch Creek, and elevation differs from 800 to 1,980 feet. The most spectacular view into the canyon is found near the picnic area parking lot; however, additional views can be found along the rim trail. Hardy visitors who hike to the bottom of the gorge (including a 600-step staircase) find two waterfalls cascading over layers of sandstone and shale into pools below. (For visitor safety, wading in pools and climbing on waterfalls is not allowed.) Cottages are located near the canyon edge, while the park's walk-in campsites provide exceptional privacy for tents. Outdoor lovers should not miss this park's spectacular scenery.
Chieftains Museum - Rome

Rome

The Major Ridge Home was transformed into a museum in 1971. It is listed on the National Register of Historic Places. The Chieftains Museum is a site on the Trail of Tears National Historic Trail. Commitment to presenting and preserving Cherokee history and culture.
Rome-Floyd E.C.O. Center

Rome

The Rome-Floyd ECO Center is a natural resource education facility located on the banks of the Oostanaula River in Ridge Ferry Park in Rome, Georgia. The mission: Strivomg to educate the community about local resources and the ecology of the surrounding area. Provides school programs, community speaker series, and a variety of events while utilizing the native garden, wetland demonstration area, and over 25 live animal exhibits that change nearly monthly. Open to the public Monday through Thursday from 1 to 4 PM, and host school programs.
Bulloch Hall - Roswell

Roswell

The childhood home of Mittie Bulloch, President Theodore Roosevelt's Mother.
Chattahoochee Nature Center

Roswell

The Chattahoochee Nature Center offers Homeschool Monday programs September through May. Science and nature programs planned just for homeschooling students enhancing ecology, biology and geology curriculum. Homeschool Mondays are a great way to get hands-on science and nature lessons, receive help on projects and research and network with other homeschooling families.
Johns Creek Environmental Campus

Roswell

The Johns Creek Environmental Campus is a $138M Fulton County state-of-the-art wastewater treatment facility with a key educational component. We use a Membrane-BioReactor Technology to treat the water and we teach all about it in our attached education center. Whether you have students in STEM, STEAM, environmental/science clubs or whole classes that you would like to educate on the 'water treatment cycle' and what happens to our water before and after we use it, we invite you to bring them to us. Over 40,000 have visited our award-winning program. By appointment only.
Victoria Bryant State Park

Royston

Nestled in the rolling hills of Georgia's upper piedmont, this is one of northern Georgia's best kept secrets. A beautiful stream flows through the park, providing the perfect setting for an after-picnic stroll. Hikers can follow either the short nature trail or the longer perimeter trail that winds through hardwoods and crosses creeks. Animal lovers should keep an eye out for wildlife while passing food plots along the perimeter trail. Golfers will enjoy Highland Walk Golf Course with clubhouse, golf pro and junior/senior discounts.
Hard Labor Creek State Park

Rutledge

While this park may be best known for its golf course, The Creek, it also offers a wide range of recreational opportunities in a beautiful wooded setting. Horseback riders can explore 22 miles of trails, while hikers have their own 2.5-mile trail. A lakeside beach is open for swimming during summer. The park provides one of Georgia's best golf values, along with a pro shop, driving range, rental carts and junior/senior citizen discounts. Hard Labor Creek cuts through the course, creating water hazards on five holes. The creek is thought to have been named by slaves who tilled summer fields or by Native Americans who found it difficult to ford.
Washington County Historical Society

Sandersville
Anne Frank Museum

Sandy Springs

The 600 photograph and more than 8,000 word exhibit tells the story of young Anne Frank, from her days of freedom in the 1930s to her hiding with her family in Amsterdam, to her 1945 death in the Bergen-Belson concentration camp. Visitors may watch a 28-minute video, "The Short Life of Anne Frank", which includes the only know footage of Anne Frank. This powerful, moving exhibit provides visitors a chance to learn, explore, share and remember the history and lessons of the Holocaust and its continued relevance today.
American Prohibition Museum

Savannah

The American Prohibition Museum located in Savannah's City Market is the first and only museum in the United States dedicated to the history of Prohibition. While here, guests will travel back in time to the early 1900s, as anti-alcohol rallies swept the nation and the "booze problem" was pushed to the fore-front of American politics. The true story of America's struggle with the liquor question, the passing of the 18th Amendment, its impact on the nation, and the far-reaching consequences of the thirteen years of Prohibition all come to life within the walls of the American Prohibition Museum
Skidaway Island State Park

Savannah

Located near historic Savannah, this barrier island has both salt and fresh water due to estuaries and marshes that flow through the area. The park borders Skidaway Narrows, a part of the intracoastal waterway, and provides scenic camping and picnicking areas. Two nature trails wind through marshes, live oaks, cabbage-palmettos and longleaf pines, allowing visitors to watch for deer, raccoon, shore birds and rare migrating birds such as the Painted Bunting. Observation towers provide another chance for visitors to search for wildlife on this beautiful island. A giant ground sloth replica, birding station, nature exhibits and reptile room are featured in the park's nature center.
Andrew Low House

Savannah

Home of Juliette Gordon Low(1886 - 1927) Founder of the Girl Scouts. Owned and operated by: The National Society of The Colonial Dames of America in the State of Georgia.
Wormsloe Historic Site

Savannah

A breathtaking avenue lined with live oaks leads to the tabby ruins of Wormsloe, the colonial estate constructed by Noble Jones, one of Georgia's first settlers. Jones was an English physician and carpenter who carved out an even wider career in the colonial wilderness. He came to Savannah with James Oglethorpe in 1733 and commanded a company of Marines charged with Georgia's coastal defense. Jones served as constable, Indian agent, surveyor (laying out New Ebenezer and Augusta) and member of the Royal Council. He was also one of few original settlers to survive hunger, plague, Indians, Spaniards and a new environment.
Davenport House Museum

Savannah

This fine Federal-style home was completed by master-builder Isaiah Davenport as his family residence in 1820. Authentically restored, the house museum features original plasterwork, a cantilever staircase and furnishings true to the 1820s. The site also features a courtyard garden that was originally a Bicentennial project of the Trustees' Garden Club and was later re-designed by noted horticulturist Penelope Hobhouse. Threatened with demolition in 1955, the saving of the Davenport House was the first effort of the Historic Savannah Foundation and the beginning of the historic preservation renaissance in this port city.
First Girl Scout Headquarters

Savannah

The First Girl Scout Headquarters building, formerly the carriage house for Juliette Low's adult home, was willed to the Girl Scouts of Savannah, GA - building was in continuous use for Girl Scout Troop activities, adult training, and administrative offices from 1912 until 1985
Georgia Historical Society

Savannah

The oldest cultural institution in the state and one of the oldest historical organizations in the nation. It is the first and only statewide historical society in Georgia. For nearly 175 years, GHS has collected, preserved, and shared Georgia history and American history through a variety of educational outreach programs, publications, and research services.
King Tisdell Cottage Foundation

Savannah

The King-Tisdell Cottage Foundation manages the Beach Institute African American Culture Center, the King-Tisdell Cottage and the Negro Heritage Trail Tour: An African American Journey. Mission Statement: To research, collect, interpret and present African American history and culture through exhibits, art, films, lectures, oral history, tours and publications. The Foundation endeavors to promote and disseminate information concerning this history and to celebrate the contributions of African Americans, especially in Georgia and the Sea Islands of South Carolina. The Foundation seeks to foster continued interracial understanding and appreciation of different cultures.
Massie Heritage Center

Savannah

Savannah's teaching museum for history and architecture.
Owens-Thomas House

Savannah

The Owens-Thomas House is considered the finest example of English Regency architecture in America by architectural historians. Inspired by classical antiquity, this style of architecture takes its name from England's King George IV, who ruled as Prince Regent from 1811 to 1820.
Ralph Mark Gilbert Civil Rights Museum

Savannah

The Ralph Mark Gilbert Civil Rights Museum chronicles the civil rights struggle of the Georgia's oldest African American community from slavery to present. Three floors of handsome photographic and interactive exhibits, includes an NAACP Organization exhibit, a fiber optic map of 87 significant civil rights sites and events, a lunch counter where sit ins occurred, segregation exhibits, and video presentation are all part of the continuous education of the public on the history of the civil rights struggle in Savannah and Georgia.
Savannah History Museum

Savannah

The Savannah History Museum is housed in the old Central of Georgia Railway passenger shed, a National Historic Landmark built in the 1850s and 1860s. The railway used the building until 1972. In 1984, a historical attraction called The Great Savannah Exposition opened in the building. The Coastal Heritage Society took over operation of the successor to the Exposition, the Savannah History Museum, in 1990. The museum is now home to more than 10,000 artifacts-- the largest collection of artifacts in the entire coastal community.
Ships of the Sea Maritime Museum

Savannah

Ships of the Sea Maritime Museum, founded in 1966, exhibits ship models, paintings and maritime antiques, principally from the great era of Atlantic trade and travel between England and America during the 18th and 19th centuries.
Telfair Museum of Art

Savannah

The Telfair Museum of Art traces its history from 1886 when the Telfair family home opened to the public as an art museum and school. It now boasts three diverse sites -- the original building, the Telfair Academy of Arts and Sciences, a National Historic Landmark building; the Owens-Thomas House, also a National Historic Landmark; and the Jepson Center for the Arts, a contemporary building which houses 20th- and 21st-century art.
Fort Pulaski National Monument

Savannah

In the 19th century, Masonry fortifications were the United States' main defense against overseas enemies. Standing guard over the Savannah River for over 150 years, Fort Pulaski was designed to protect the city of Savannah, GA by sea. During the Civil War, new technology helped the Union army cannon its way through the garrison. This site also offers a historical look a the people who inhabited Fort Pulaski and offers links to the Battle of Fort Pulaski.
UGA Marine Education Center and Aquarium

Savannah

The UGA Aquarium is located on Skidaway Island near Savannah. Home to Georgia's first saltwater aquarium, it features 16 exhibit tanks that showcase a variety of Georgia's marine life. A public touch tank allows visitors hands-on interaction with some of Georgia's marine invertebrates such as snails and crabs. The aquarium also has an ADA compliant nature trail that winds through the maritime forest and a boardwalk overlooking the salt marsh and Skidaway River.
Ghost City Tours

Savannah

At Ghost City Tours we offer haunted ghost tours throughout Savannah and are thrilled to be the highest rated Ghost Tour Company in our 8 markets! The Grave Tales Ghost Tour is our all ages - family friendly tour. You'll hear about the famous haunted locations that Savannah has to offer, such as former Revolutionary War battle grounds, burial grounds, historic homes and the hauntings associated with each. We would love to offer homeschool groups a special 20% discount off of our private tours.
Liberty Encounters Revolutionary War Savannah Walking Tour

Savannah

You're invited to join the legendary and most highly rated Living Historian in the Lowcountry! The squares and statues of Savannah come alive during this unique, immersive, and hands-on history walking tour in the Colonial Capital of Georgia. Participants march with a Patriot Soldier and retrace the convictions, faith, and deeds by Georgians. This tour is available for groups and is based on the Georgia Standards of Learning and includes additional learning resources.

Liberty Encounters Revolutionary War Savannah Walking Tour website
Trail of Tears National Historic Trail

Southeastern US

The park commemorates the survival of the Cherokee people and their forced removal from their homelands in the Southeastern United States in the 1840s.
St. Simons Lighthouse Museum

St Simons Island

Gone are the days of dusty, dull exhibits and rote learning in museums. Hands-on history, cross-curricula learning, adult field trips, concerts on the lawn, and programs for families are just some of the programs provided by the Coastal Georgia Historical Society. All combine to make history fun - and meaningful.
St. Catherines Island Sea Turtle Conservation Program

St. Catherines Island

The St. Catherines Island Sea Turtle Conservation Program located in Georgia invites you explore our sea turtle conservation program.

St. Catherines Island Sea Turtle Conservation Program website
St. Marys Submarine Museum

St. Marys

Located in historic downtown St Marys, GA, the museum is a great place to learn about the "Silent Service". A wide variety of Submarine artifacts, memorabilia and information are available for viewing, and you can checkout the beautiful St Marys waterfront thru a real periscope.
Cumberland Island National Seashore

St. Marys

Sun, Sand, Beautiful Vistas and a Relaxing Atmosphere await you! Cumberland Island is Georgia's largest and southernmost barrier island. Pristine maritime forests, undeveloped beaches and wide marshes whisper the stories of both man and nature. Come walk in the footsteps of early natives, explorers, and wealthy industrialists. Enjoy ranger guided tours or explore in quiet solitude.
Crooked River State Park

St. Marys

Located on Georgia's Colonial Coast, this park offers cozy facilities in a beautiful setting. Campsites are surrounded by Spanish moss-draped oaks, while cottages are set near the river. A nature trail winds through maritime forest and salt marsh, and hikers may see gopher tortoises, fiddler crabs, herons and other coastal birds. The park's nature center features fish, snakes, turtles and other animals native to this part of Georgia. A boat ramp is popular with anglers who often take to the water before sunrise. Birding enthusiasts will enjoy the large bird blind that provides close views of painted buntings, redwing black birds and other species. Visitors may venture to the nearby ruins of the tabby "McIntosh Sugar Works" mill, built around 1825 and later used as a starch factory during the Civil War. Nearby is the ferry and visitor center for famous Cumberland Island National Seashore known for wild horses and mansion ruins.
The Museum of Coastal History

St. Simons Island

This wonderful museum is located on St. Simons Island, one of the four barrier islands that make up the Golden Isles of Goergia. The historic site consists of four structures including an 1872 brick lighthouse and keeper's dwelling designed by architect Charles Cluskey, an 1890 oil house, and a Victorian gazebo. The Museum contains exhibits on the history of the St. Simons lighthouse and the way of life of a turn-of-the-century lighthouse keeper and his family. The Museum Store features coastal Georgia publications and unique lighthouse related items. The operational lighthouse is under the jurisdiction of the United States Coast Guard.
Fort Frederica National Monument

St. Simons Island

Centuries old conflict decided on St. Simons Island. Georgia's fate was decided in 1742 when Spanish and British forces clashed on St. Simons Island. Fort Frederica's troops defeated the Spanish, ensuring Georgia's future as a British colony. Today, the archeological remnants of Frederica are protected by the National Park Service.
Panola Mountain State Park

Stockbridge

This unusual park near Atlanta was created to protect a 100-acre granite monadnock (mountain) often compared to Stone Mountain and Arabia Mountain. Minimally developed, Panola Mountain shelters rare plants of the Piedmont region. Hikers may explore the park's watershed and granite outcrop on their own, or they may join park staff for guided hikes onto the restricted-access mountain. Children especially enjoy the interpretive center with animal exhibits. Due to its delicate ecological features, Panola Mountain was designated a National Natural Landmark, and pets are not allowed on most trails. Bicycles are allowed only on the paved PATH trail.
Yule Forest

Stockbridge

Beginning the holidays at Yule Forest is more than just a visit, it is part of a family tradition for our guests. The unforgettable experiences and cherished memories created here are the reasons why people come from all across the Southeast to see us year after year. Seasonal events include a spring tulip festival, pumpkin patch, Fear the Woods, and Christmas Tree festivals.
Tumbling N Farm

Stockbridge

Where Science, Math, History, Geography, Reading and Writing comes together in Agricultural Education classes in Animal Science learn about farm animals (horses, goats, sheep, alpacas, llamas, cows, pigs, chickens, ducks, and rabbits) in their natural habitat. Horticulture Science garden planning, planting, harvesting, and tasting. Food Science includes food safety and nutritional value. Textile Science will include natural and man-made fibers, clothing construction and care. Programs groups pre-k 3-4 year old's, k-2nd, 3rd-5th, 6th-8th, 9th-12th, and a mommy and me for children under 3
Collectible Antique Chair Gallery

Stone Mountain

Miniature chair museum exhibiting a Guinness World Record Collection within three display rooms and gift shop. Permanent exhibits have exciting background themes, including all major holidays.
James H. (Sloppy) Floyd State Park

Summerville

Surrounded by rural countryside and the Chattahoochee National Forest, this quiet park in northwest Georgia offers outstanding fishing on two stocked lakes. Visitors can hike along three miles of lake loop trails and relax in swings while watching for the many bluebirds that live in the park. Access to the scenic 60-mile Pinhoti Trail is only a 1.6-mile hike from the park. Children especially enjoy the playground, feeding fish from the boardwalk and renting pedal boats. A small campground and four cottages are nestled on tree-covered hillsides. This park was named for Rep. James H. "Sloppy" Floyd who served in the Georgia House of Representatives from 1953 until 1974.
Rev. Howard Finster's Paradise Garden

Summerville

Paradise Garden is the internationally acclaimed 4-acre art environment and home of one of the most celebrated folk artists in the United States, Rev. Howard Finster (1916-2001). Over 40 years, Finster painted nearly 47,000 works of contemporary American folk art including album covers for R. E. M., The Talking Heads, Adam Again, and Blackhawk. Listed on the National Register of Historic Places, Paradise Garden is considered Finster's most important legacy and serves as a nonprofit historic site, regional art center, and nexus for artists, heart education, and serving the community.
Bud Jones Taxidermy

Tallapoosa

Bud Jones Taxidermy is one of the few facilities that has mounted a life-size African elephant (for the Anniston Alabama Museum of Natural History). They have also mounted life-size giraffes and rhinos.
Tallulah Gorge State Park

Tallulah Falls

One of the most spectacular canyons in the eastern U.S., Tallulah Gorge is two miles long and nearly 1,000 feet deep. Visitors can hike rim trails to several overlooks, or they can obtain a free permit (limit 100 per day) to hike down to the gorge floor. A suspension bridge sways 80 feet above the rocky bottom, providing spectacular views of the river and waterfalls. Exhibits in the park's Jane Hurt Yarn Interpretive Center highlight the rich history of this Victorian resort town, as well as the rugged terrain and fragile ecosystem of the area. Additionally, an award-winning film takes viewers on a dramatic journey through the gorge.
Sprewell Bluff State Park

Thomaston

This little-known gem on the Flint River is the perfect location for a daytime getaway. Visitors can cool off in the gently flowing river, skip rocks across the water, picnic on the river's edge or toss horseshoes in a grassy field. A three-mile trail winds along the bank and up rocky bluffs, offering excellent views from high above the river. A boat ramp is available for canoeists, kayakers, rafters and anglers. Canoes may be rented from nearby outfitters, and camping and cottages are available 25 miles west at F.D. Roosevelt State Park in Pine Mountain.
Lapham-Patterson House Historic Site

Thomasville

The Lapham-Patterson House is a monument to the imagination, creative engineering and craftsmanship of the Victorian Era. Fishscale shingles, oriental-style porch decorations, long-leaf pine inlaid floors, and a remarkable double-flue chimney with a walk-through stairway and cantilevered balcony exemplify the quality and skill of its Victorian creators. Due to its outstanding architectural significance, the Lapham-Patterson House was named a National Historic Landmark in 1975.
Pebble Hill Plantation

Thomasville

A visit to Pebble Hill in Thomasville, Georgia is sure to result in an awe-inspiring and memorable experience for all who enter the plantation's gates. Pebble Hill Plantation has been called a Georgia Belle. This stately architectural beauty stands proudly amid the magnolias and long leaf pines of southwest Georgia, and like an alluring belle, it has magnetic appeal and breathtaking beauty. With its relaxed order and sense of timelessness, Pebble Hill puts everyone immediately at ease and invites closer inspection of the plantation and its former occupants. Gracious and vital with the South's rich traditions, Pebble Hill is a home rich in both art and history. The overall impression one receives from this remarkable plantation is more felt than defined.
Thomas County Museum of History

Thomasville

The Thomasville History Center's historic buildings and grounds are open to self-guided tours, Monday-Saturday 10am-4pm. The Lapham-Patterson is open on Fridays and Saturdays. Preserving and Sharing the History of Thomas County, Georgia, since 1952
Tifton Museum of Arts & Heritage

Tifton

1900 Romanesque brick church featuring exquisite stained glass windows, heart of pine floors, vaulted ceilings and buttresses, a bell tower, fanlight doorways, and other architectural splendors. Professional exhibitions of painting, wood, porcelain, and other art are displayed throughout the year.
Travelers Rest Historic Site

Toccoa

Traveler's Rest, a stagecoach inn and plantation home, was built around 1815 by James R. Wylie, a stakeholder in the Unicoi Turnpike, a busy thoroughfare that passed nearby. Wylie operated the inn until the 1830s when he sold the place to Devereaux Jarrett, the "richest man in the Tugaloo Valley." Among other things, Jarrett doubled the size of Traveler's Rest, which also served as the headquarters of his 14,400-acre plantation. The Jarrett family inhabited the site until the 1950s, when the state of Georgia purchased the remaining few acres of the once-vast plantation and opened it to the public as an historic site. Thanks to its unique and well-preserved architecture, Traveler's Rest was listed on the National Register of Historic Places in 1966. Today visitors can enjoy a tour of the house and see many original artifacts and furnishings, some of which were crafted by Caleb Shaw, a splendid cabinetmaker from Massachusetts.
Currahee Military Museum

Toccoa

Welcome to the Stephens County Historical Society website. With two new museums we encourage people of all ages to visit our facilities. Showcasing the county's first one hundred years of history. At the same location is our new 6000 sq. feet military museum. Called Currahee Military Museum after the WWII training camp located at Currahee Mountain five miles from town.
Travelers Rest Historic Site

Toccoa

Georgia's Traveler's Rest Historic Site was built to accommodate adventurers on America's western frontier. East of present-day Toccoa, Georgia, the site includes the original Traveler's Rest and other original buildings as well as faithful reproductions of a wellhouse and a meathouse.
George L. Smith State Park

Twin City

With natural beauty, lakeside camping and cozy cottages, this secluded park is the perfect south Georgia retreat. It is best known for the refurbished Parrish Mill, a combination grist mill, saw mill, covered bridge and dam built in 1880 and now open for tours. Anglers and canoeists can explore the mill pond dotted with Spanish moss-draped trees and home to blue heron and white ibis. Hikers can stretch their legs on 7 miles of trails while searching for lumbering gopher tortoises, Georgia's state reptile. The park is named after one of Georgia's great legislators.
Tybee Island Light Station

Tybee Island

The Tybee Island Light Station has been guiding mariners safe entrance into the Savannah River for over 270 years. The Tybee Island Light Station is one of America's most intact having all of its historic support buildings on its five-acre site. Rebuilt several times the current lightstation displays its 1916 day mark with 178 stairs and a First Order Fresnel lens (nine feet tall).
Valdosta Museum

Valdosta

The Valodsta / Lowndes County Museum was founded in 1967 as a non-profit organization dedicated to protecting the preserving the rich history of Valdosta and Lowndes County. The displays, which center on the rich culture and diverse population of Southern Georgia contain many rare and fascinating items. Including:Uniforms and weapons from the Civil War, World War I and World War II. Bibles, and historical records dating back to the 1840's, Original land markers used to form the county lines. One of the largest and most complete research files in existence on Wild West legend "Doc" Holliday. Whether you are interested in touring our restored railroad caboose or in ringing the bell from the first school in Valdosta, we have something to interest all ages.
Roosevelt's Little White House Historic Site

Warm Springs

Franklin Delano Roosevelt built the Little White House in 1932 while governor of New York, prior to being inaugurated as president in 1933. He first came to Warm Springs in 1924 hoping to find a cure for the infantile paralysis (polio) that had struck him in 1921. Swimming in the warm, buoyant spring waters brought him no miracle cure, but it did bring improvement. During FDR's presidency and the Great Depression, he developed many New Deal Programs (such as the Rural Electrification Administration) based upon his experiences in this small town. While posing for a portrait on April 12, 1945, FDR suffered a stroke and died a short while later. Today, the "Unfinished Portrait" is featured in a museum that showcases many exhibits, including FDR's 1938 Ford convertible with hand controls, his Fireside Chats playing over a 1930s radio, his stagecoach and a theater.
Museum of Aviation

Warner Robins

It is the mission of the Georgia Aviation Hall of Fame to promote and encourage the growth and public support of aviation within the state of Georgia by honoring aviation leaders, living and dead, whose extraordinary achievements or services have made outstanding and lasting contributions to aviation, perpetuating the memory of such persons and recording their contributions to aviation, perpetuating the memory of such persons and recording their contributions and achievements through suitable memorials.
Robert Toombs House Historic Site

Washington

A legend in his own time, Robert Toombs was a successful planter and lawyer who led a turbulent career as state legislator, U.S. Congressman and Senator. "Defend yourselves; the enemy is at your door . . . !" thundered Toombs from the Senate floor on January 24, 1860. The following year, Georgia seceded from the Union and Toombs personified the South by evolving from conservative Unionist to fire-breathing secessionist. After serving just five months as Confederate Secretary of State, he resigned to serve as brigadier general in the Army of Northern Virginia.
Callaway Plantation

Washington

Follow the life of a family from a humble cabin to a great manor house. Callaway Plantation is a historic restoration project of the City of Washington. History is brought back to life for those who visit the three restored homes, structures, farm and fields. The great manor house, built of red brick made at the site and designed in the Greek Revival style, was constructed in 1869. The mansion was the focal point of a 3,000 acre cotton plantation that stretched as far as the eye could see in all directions. The home remains virtually unaltered. The doors, mantels and most of the plaster are original and have survived in remarkably good condition. Each room is furnished with excellent examples of period furniture. Connected to the rear of the mansion by a breezeway is a self-contained brick kitchen. It is equipped much as it was when the plantation was at its zenith.
Washington Historical Museum

Washington

An 1857 house is home to the Washington Historical Museum. The musem boasts a large collection featuring Civil War relics, Indian artifacts, and a recreation of 19th century home life.
Eagle Tavern Museum

Watkinsville

The Eagle Tavern is one of the earliest surviving structures in Oconee County. The Eagle Tavern was built before 1801 and possibly as early as 1794 when Watkinsville was a frontier town on the edge of Creek and Cherokee Indian Territories. It is believed by some that this site was once called Fort Edwards and served as a gathering place for early settlers who needed protection from attacks by the many Creek and Cherokee Indians who flourished in this area.
Laura S. Walker State Park

Waycross

Located near the northern edge of the mysterious Okefenokee Swamp, this park is home to many fascinating creatures and plants. Walking along the lake shore and nature trail, visitors may see alligators, carnivorous pitcher plants, the shy gopher tortoise, numerous oak varieties, saw palmettos, yellow shafted flickers, warblers, owls and great blue herons. The park's lake offers opportunities for boating, skiing and fishing, while a swimming pool is available during summer. For boating, a 10-horsepower restriction is in effect EXCEPT between 11 a.m.- 6 p.m. EST and 11 a.m. -- 7 p.m. Daylight Savings Time. A championship 18-hole golf course, The Lakes, features a clubhouse, golf pro and junior/senior citizen discounts. This is one of the few state parks named after a woman, and its name is richly deserved. Laura Walker was a Georgia writer, teacher, civic leader and naturalist who was a great lover of trees and worked for their preservation.
Okefenokee Swamp Park

Waycross

Located just outside of the Waycross, the Okefenokee Swamp Park serves as the northern entrance into the Okefenokee Swamp or "Land of the Trembling Earth." As a non-profit 501(c)3 organization, the mission is to be the world's window into the swamp. Daily train rides around the wetlands, boat tours into the swamp, exhibits on wildlife and pioneer/Indian settlers and wildlife shows come with park admission. For groups making a reservation, employees can set up a schedule to include special lectures from the Cultural History coordinator, or other educational activities beyond regular park admission.
Fort Yargo State Park

Winder

Located between Atlanta and Athens, Fort Yargo offers a fun camping, hiking and fishing experience. The park surrounds Marbury Creek Reservoir, a 260-acre lake with a swimming beach, fishing areas and boat ramps. Many campsites are near the water's edge, and hiking trails follow the lake shore. Mountain bikers can test their endurance on 12 miles of trails with beautiful views. Within the park is Will-A-Way Recreation Area, an accessible facility specifically designed for challenged populations, with a group camp, picnic and fishing areas, and paved trail. This historical park features a log fort built in 1792 by settlers for protection against Creek and Cherokee Indians.
Barrow County Museum

Winder

The museum is housed in the old historic jail (circa 1916) which is on the National Register of Historic Places. The fully restored jail features the original hanging tower and holding cells and a wide display of exhibits many of which were donated by area residents.
Carter-Coile Doctors Museum

Winterville

Housed in an authentic medical office from the late 1800s, this unique museum recreates a country doctor's practice with tools for surgery, dentistry and eye exams.
Old South Farm Museum

Woodland

Museum and Agriculture Learning Center