Jump to: Homeschool Arts | Homeschool Sports
In addition to the opportunity to get out of the house and socialize, homeschool sports and arts programs can offer long-term benefits by developing characteristics like leadership, self-confidence, perserverance, and self-esteem. Many organizations and businesses have opportunities specifically for homeschoolers, while others invite homeschoolers to participate in their regular programs.
Not sure how to choose activity/activities for your children? Read how Rebecca narrows down the choice of extra-curricular activities.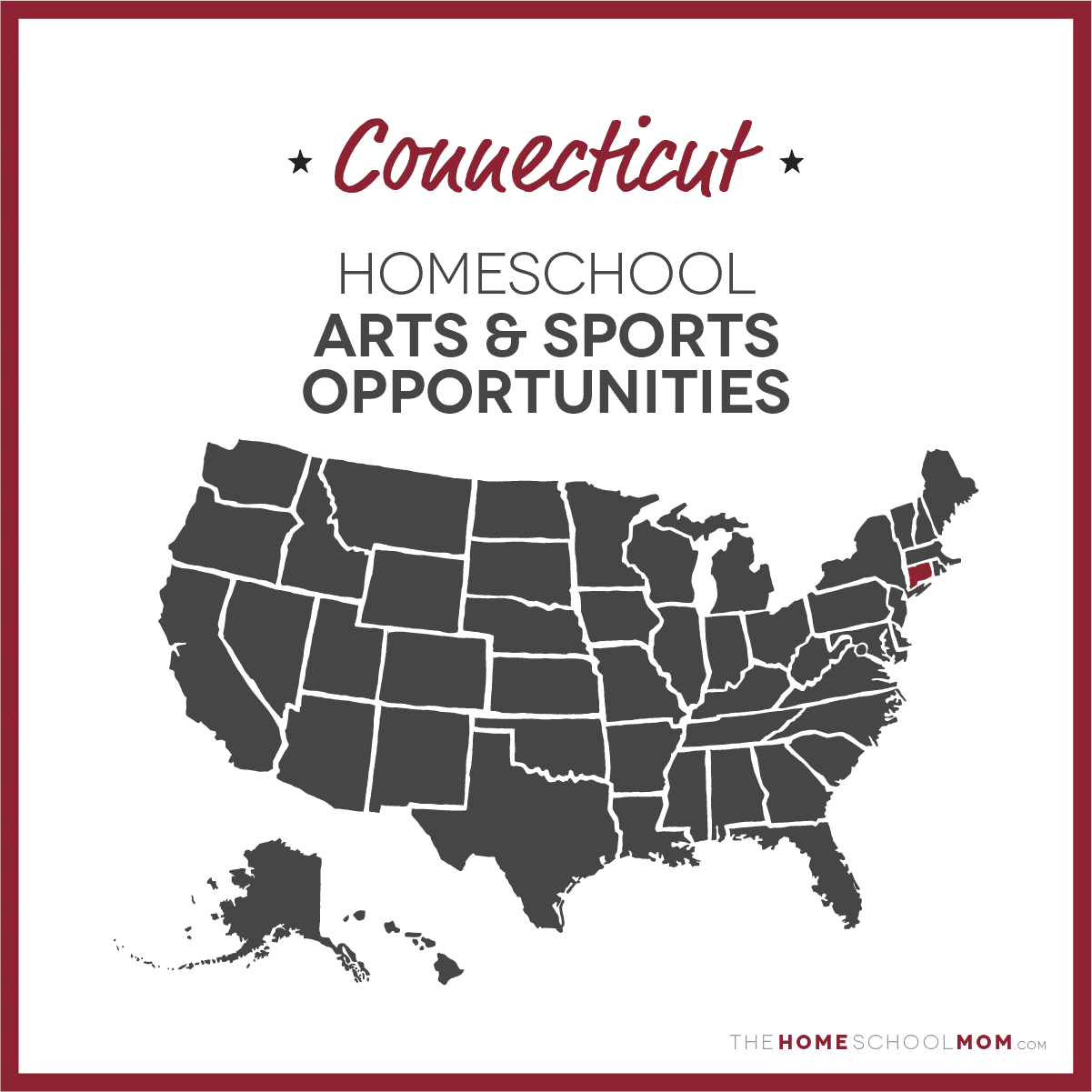 Submit a Local Resource
Our listing of Connecticut list of homeschool arts and sports programs is ordered alphabetically by city, with arts in the first section and sports in the second section. If you would like to submit an Connecticut arts or sports program, you may do so using the red button above.
Connecticut Homeschool Arts Programs
Brookside MusicAndover
Brookside Music is committed to providing students with patient instruction in a creative and positive environment. Our individualized piano lessons are fun and inspiring for all students, from beginners to advanced! ...
Community Music SchoolCenterbrook
Homeschool families can choose from convenient group piano and voice class offerings at CMS on Monday mornings, with strings offered early Wednesday afternoon. The cost per student is $95 per 8-week class. Each family...
Hand Drumming WorkshopsConnecticut
Drumming programs using interactive performances, drum, dance and drum building workshops which meet curriculum standards for music & dance, social studies, African, Caribbean and Trinidadian history, health and p...
Ct Music Teachers AssociationConnecticut
The CT Music Teachers Association provides access to qualified piano teachers across Connecticut.
Deep River Junior Ancients Fife and Drum CorpDeep River (Middlesex County)
The Deep River Junior Ancients are a youth only Fife and Drum Corp specializing in music mainly from the Revolutionary War period. This dedicated group of musicians participate in parades, musters and special performa...
Earthly Goddess Art CenterDurham, CT Middlesex County
Earthly Goddess Art to Nurture Your Soul is a small community based art center in Durham, CT. We provide quality education for children and adults and have programs for Homeschool children in art and clay by experienc...
HarmoniCreations! Group & Private Music ClassesEast Haddam
HarmoniCreations offers private and group music classes on many instruments, including piano, voice, guitar, ukulele, flute and hand drums. The studio also offers homeschool group classes where students learn basic mu...
School of Rock FairfieldFairfield
School of Rock offers students of all skill levels age 7-18 a performance-based music curriculum in a fun environment. Weekly private lessons are combined with structured group rehearsals. Students prepare to perform ...
Music Together of Fairfield CountyFairfield
Music Together of Fairfield County provides music and movement classes for children newborn through 8 years old. The class offerings include 45 minute music and movement classes, Rhythm Kids drum, sing and dance class...
Fairfield University Art MuseumFairfield
The Fairfield University Art Museum offers a wonderful educational opportunity for homeschool students of all ages, with a collection ranging from a Bronze age armband to contemporary Japanese ceramic sculptures. Visi...
Maria Fiora's Dance StudioFairfield County
Dance is a Universal language spoken all over the world What has been keeping you back from having a great time? Dance is great for social events and your own personal confidence goals. There are classes for fitness, ...
Art & Music Enrichment @ JAMFairfield County / Norwalk
Junior Art & Music (JAM) is a 501c3 nonprofit organization that offers a creative haven for artists and musicians, young and old, to hone their skills and share their talents with the community. The Studio offers ...
Westport Arts Center Homeschool Art ClassesFairfield County CT
Westport Arts Center's specialized homeschool projects are designed with family input to offer students in-depth art discovery in a group setting. Students will get their hands on an array of materials, exploring the ...
Greenwich Suzuki AcademyGreenwich
The Greenwich Suzuki Academy strives to bring music to all children by using Dr. Suzuki's loving and nurturing approach to music education. Our goal is to help create more complete and developed children through the m...
Elisabeth Korfhage Piano LessonsHamden
Piano lessons offered the Hamden, Connecticut area. * 30, 45, or 60 minute lessons available * $1/minute * Contact via email or phone (812)344-5332 * Instructor has eleven years experience. * Instructor has taught ove...
Creative Homeschooling Classes at Spectrum Art Gallery and Artisan StoreKillingworth
Creative Homeschooling Classes at Spectrum Art Gallery and Artisan Store.  The Gallery is an expansion of the non-profit Arts Center Killingworth, Offering Drawing and painting classes weekday mornings. Contact studio...
School of Rock MadisonMadison
School of Rock offers students of all skill levels age 7-18 a performance-based music curriculum in a fun environment. Weekly private lessons are combined with structured group rehearsals. Students prepare to perform ...
Summit Music StudiosMeriden
Summit Music Studio offers instruction in guitar, music theory, songwriting, and instrumental composition. Students learn in a fun stress free environment from a conservatory trained composer/musician. All levels of s...
Abrakadoodle of Central ConnecticutMiddletown
Abrakadoodle is the Academic Art Program of choice at hundreds of charter schools, public and private schools as well as home schoolers around the country. This resource is designed to incorporate art into your educat...
Michelle Lambert Vocal Studio Group and private voice classesMonroe
Voice and performance coaching classes in Monroe or at your location. Weekly Group voice class: This class series will cover the fundamentals of singing. Posture, breathing, warm-ups, singing exercises and songs. Week...
School of Rock New CanaanNew Canaan
School of Rock offers students of all skill levels age 7-18 a performance-based music curriculum in a fun environment. Weekly private lessons are combined with structured group rehearsals. Students prepare to perform ...
Indoor Rock ClimbingNew Haven
City Climb offers optionsd to alternative gym class
Dan Radzikowski Vocal StudioNew York, Westchester County, Fairfield County
Dan Radzikowski provides in-person and online voice lessons for families with homeschoolers. He will meet at his studio in Manhattan or via your iPad, iPhone or desktop computer from the comfort of your own home. Dan ...
Market Square Music AcademyNewington
Market Square Music Academy in Newington, CT offers piano, voice, guitar and ukulele lessons for students K-12 with daytime and afternoon availability for parents who are looking for arts education opportunities for t...
Brava Dance Center in Rye, NY is offering dance classes for home schooled students, beginning in September 2020. This program offers training in Ballet, Jazz, Lyrical and Tap between the hours of 9:00 AM and 2:30 PM, ...
The Music Bureau Music LessonsSalem
Music education has been proven over and over to be a vital part of overall education-success. Learning an instrument improves memory, coordination, it helps with language and reasoning as well as builds an overall se...
The Giggling PigSeymour
Offering Home School Art Pods for your group. Classes start at $99 for 4 sessions. There is a minimum of 6 kids to hold each class. Your group selects their own time for classes. Please dress for a mess! We use paint!...
Connecticut Entertainment Interactive Music PerformancesSoutheastern Connecticut
This resource provides Live Interactive Music Performances at your location on instruments from around the World. Featured instruments include Steel Drum from Trinidad, Alphorn from Switzerland, Cajun Rubboard, Africa...
Music Together of Trumbull, Monroe & NewtownTrumbull, Monroe, Newtown
International, research based early childhood music and movement program held in 10 week sessions. *Babies Classes under 7months. *Mixed Age Classes newborn thru 5. *Rhythm Kids ages 4/5 and K thru 2nd Grade.
Music Together of Trumbull, Monroe & NewtownTrumbull, Newtown, Monroe
Music Together is a researched based, early childhood music & movement program for children ages birth - 8 yrs old. Classes include Babies only, Mixed Ages 0-5yrs and Rhythm Kids ages 4-8yrs. Music learning suppor...
Cody's Keyboard Club Online Piano ClassesWest Hartford
Online Piano Classes for 7th through 12th graders. Cody's Keyboard Club is now teaching online piano classes for students in 7th through 12th grade. The teacher, Cody Myers, always endeavors to make a difference in hi...
Day Rock Enrichment PorgrramWestchester/Rockland/Dutchess
Experience – Education – Excitement The Dayrock experience is unlike any other musical activity! Since 2000, we've provided this interactive musical enrichment experience throughout the tri-state area. Our program imm...
Westport Arts CenterWestport
The Westport Arts Center offers specialized homeschool projects that are designed with family input to offer students in-depth art discovery in a group setting. Students will get their hands on an array of materials, ...
Waldron's Studio 88 Home School Co-OpWindham
Waldron's Studio 88 has partnered with local home school families to create a fun and exciting Homeschool Co-op based in Music and Arts! A variety of classes are led by professional teachers as well as parents and inc...
Piano Studio of Dr. Julie KnerrWindsor
Dr. Julie Knerr is a piano teacher in Windsor, CT offering private lessons and Homeschool Group Piano Classes.
Windsor Fife & Drum CorpsWindsor
The Windsor Fife & Drum Corps is a fun, family-friendly activity designed primarily for young people to preserve the music and history of the 18th century. We strive to establish an environment that encourages loy...
Homeschool Fridays @ American Mural ProjectWinsted, northwest Connecticut
Students will use the work of the subjects depicted in the American Mural Project's mural (the largest indoor collaborative artwork in the world—120 feet long and 5 stories high—honoring work) as inspiration to explor...
Connecticut Homeschool Sports Programs
Bolton Ice Palace; Ice Skating Classes for HomeschoolersBolton
Daytime ice skating lessons designed to enhance the curriculum of homeschoolers. Instruction follows the United States Figure Skating Associations Basic Skills Curriculum. Classes are 30 minutes of... [Read more...]
CATS GymnasticsCheshire
CATS is a fully equipped training facility offering Parent/Tot classes, preschool, girls and boys classes for all skill levels. CATS is also a great place for field trips. [Read more...]
Romeo Athletics: Homeschool PEEnfield
Homeschool PE Youth fitness classes for homeschooled students in a fun environment with experienced coaches! - Students will feel safe and confident in a gym environment - Accessible for all abilit... [Read more...]
Urban Air Adventure Park Homeschool Jump and Go Kart RidesGreater New Haven Area
Homeschool Jump and Go Kart Rides: Every Wednesday from 1PM to 4PM. Jump for $12.99 on Trampolines: jump for an hour or all three at the same price. $12.99 for one Go Kart Ride as an add-on. Go Kar... [Read more...]
Tennis and Golf ProgramGreenwich
TGA, which stands for Teach Grow Achieve, believes sports change lives. TGA makes the individualistic sports of golf and tennis available to everyone by bringing enrichment programs to schools and ... [Read more...]
Bashta's Martial ArtsHamden
At Bashta's Martial Arts the core program consists of training in Traditional style Kata's (Forms) Self Defense and Fundamental Techniques with progression in Belt Ranks. Next they also offer a sep... [Read more...]
Gym and Swim at Wheeler YMCAPlainville
Swim lessons along with a fun wellness gym program for children ages 6-12 years old. Call (860) 793-9631 ext 144 or email Alycia.williams@ghymca.org for more info [Read more...]
Plainville Martial Arts (Ages 4-7, 8-12, 13+)Plainville, CT
Empower your child with martial arts, which provides good habits, while offering achievable rewards at regular intervals to keep them excited and motivated to do better! No semesters, start anytime... [Read more...]
Shelton Athletic Kids Strength and Conditioning ClassesShelton CT
Kids Strength and Conditioning Classes offering group and semi-private classes for children ages 5-14. The classes are one hour long and help children to build positive associations with exercise a... [Read more...]
Marine Science Experiential LearningStonington
New England Science & Sailing (NESS) is based in Stonington, CT, and runs on-the-water programs with homeschool families across New England. NESS's marine science and adventure sports programs ... [Read more...]
Stratford Recreation Home School Open GymStratford
Open Gym Home School - An open gym environment for home schooled children and their families. Families can participate in a variety of sports and exercise time. The class offers both physical fitne... [Read more...]
Go to...