Field trips are a great way to reboot a bad homeschooling week, get out of the house when everyone has cabin fever, and learn about your local area. Before heading out, check out Jeanne's tips for improving homeschool field trips.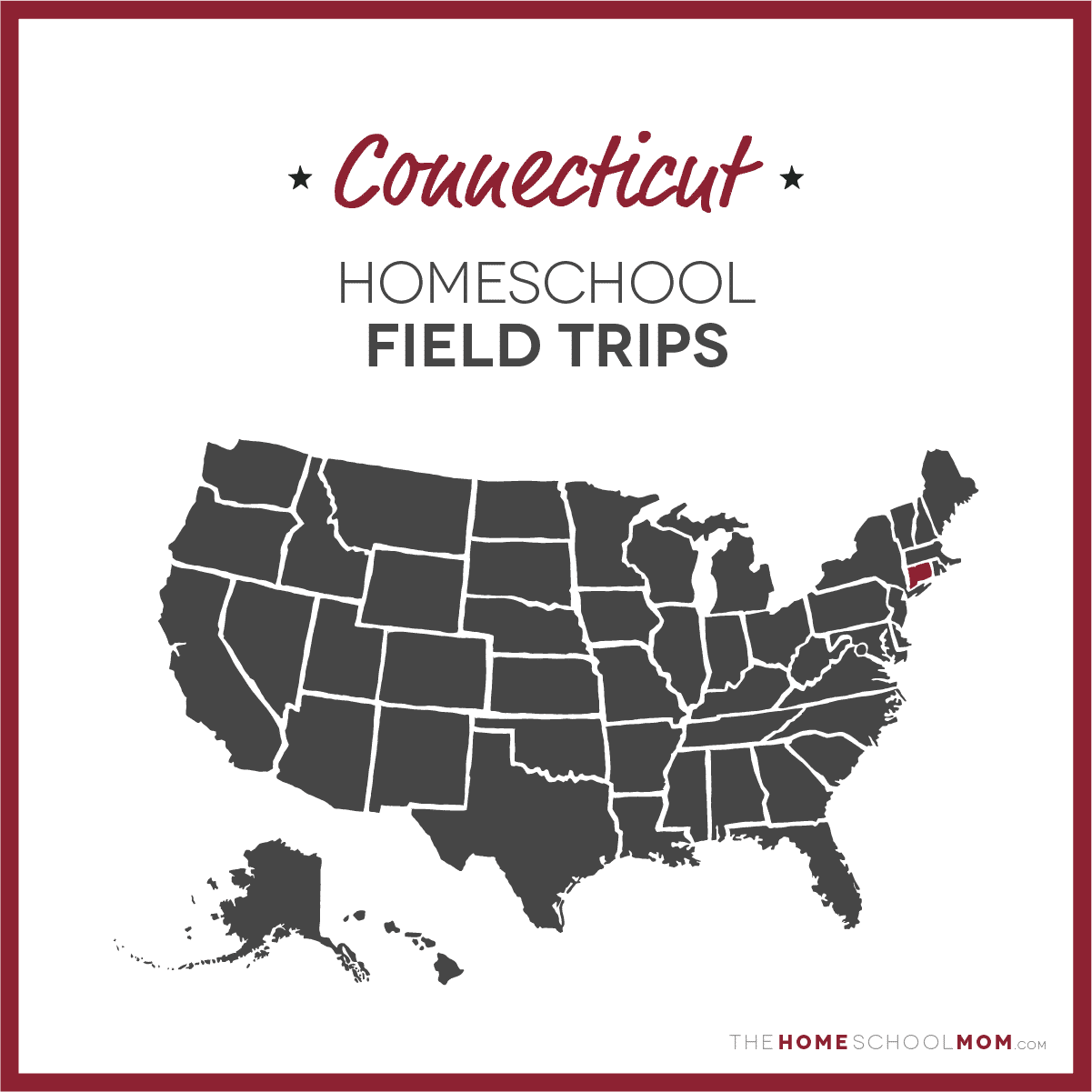 Submit a Field Trip Destination
Our listing of Connecticut field trips for homeschoolers is ordered alphabetically by city. If you would like to submit a Connecticut field trip destination, you may do so using the red button above.
An asterisk * after the title indicates that a virtual field trip is also available.
Appalachian National Scenic Trail

Appalachian Mountains

The People's Path and America's First National Scenic Trail. The Appalachian Trail (A.T.) is more than 2,175-mile long footpath stretching through 14 eastern states from Maine to Georgia. Conceived in 1921 and first completed in 1937, it traverses the wild, scenic, wooded, pastoral, and culturally significant lands of the Appalachian Mountains.
Avon Historical Society Museums

Avon

Includes the "Living Museum", "Pine Grove Schoolhouse", "Marian M. Hunter History Room"(great place for genealogists!)and the "Derrin House".
American Legion and Peoples State Forests

Barkhamsted

Four season fun can be found at American Legion/Peoples State Forests which offer the region's finest fishing, hunting and winter sporting activities nestled amid the wooded splendor.
Healing Hoofbeats of CT

Bethlehem

Some may find it overloading to visit a busy farm or zoo but want to experience the joy and companionship of the farm animals. At Healing Hoofbeats we understand that need and want to offer these unique individuals or groups the opportunity to engage with our animals in a sensory-friendly way to avoid the overwhelm and foster natural learning opportunities. Facilitated by a mental health professional, this therapeutic experience allows participants to experience a true connection with our four-legged healers who come in all shapes and sizes!
Talcott Mountain State Park

Bloomfield

The beautifully appointed Heublein family dining room awaits hikers at the top of the mountain in the Heublein tower.
Penwood State Park

Bloomfield

Penwood State Park offers almost 800 acres of four-season fun just a short drive from the Capitol City.
Barnum Museum

Bridgeport

The Barnum Museum fulfills P.T. Barnum's own mission: to inspire curiosity, creativity and confidence through instructive entertainment.
Beardsley Zoo

Bridgeport

More than 300 animals representing primarily North and South American species. Come learn about our many endangered and threatened species, which include the Amur (Siberian) tiger, Andean condor, Ocelot, Red wolf, Andean (spectacled) bear, Maned wolf, and Golden lion tamarin.
Discovery Museum

Bridgeport

From three floors of hands-on fun with science to daily Planetarium shows, all include with admission to the museum! Add to that our first class educational programs and Connecticut's only Challenger Learning Center and the Discovery Museum is a stop that can't be missed. A variety of programs are available to schools, camps, scout troops or any other group interested in an unmatchable experience!
Housatonic Museum of Art

Bridgeport

The Museum consists of The Burt Chernow Galleries and a vast collection of works of varied mediums and styles that are displayed throughout the College. This provides a colorful and stimulating landscape and learning environment for our HCC students as well as visiting students from area schools.
American Clock and Watch Museum

Bristol

Step back in time with a visit to the American Clock & Watch Museum, Inc. An authentic early American sundial garden complete with period herbs and flowers adds seasonal beauty to the museum's grounds. he ticking, striking and chiming of the timepieces will be a treat to your eyes and ears. Of particular interest is our gateway exhibit, "Connecticut Clockmaking and the Industrial Revolution," which tells the story of a young man's dream and its impact on the clock industry and the American system of manufacture. One of our visitors' favorite displays is our two-story tower clock that provides a close-up look at what makes a clock "tick". Recognized as the first museum in America to be devoted to horology, the American Clock & Watch Museum, Inc. houses the finest collection of American manufactured clocks on display.
Harry C. Barnes Memorial Nature Center

Bristol

The Barnes Nature Center located in a picturesque setting on Shrub Road in Bristol offers nature displays and hiking trails. Of special interest is the diorama depicting New England habitat including live reptiles, amphibians, and fish. There are loop hiking trails and a trailhead of the Tunxis "Blue" Trail. Field Trips & In-School Programs, Scout Badge Workshops and Birthday Parties .
The New England Carousel Museum

Bristol

Visiting the Carousel Museum is a window into an important time in our country's history. It provides a slice of Americana, and tells the story of hardworking Americans, many of them immigrants, whose entrepreneurial spirit founded shops and left a legacy that we at the Carousel Museum remember and celebrate today. These treasures from the past teach us about the history of these people and their world as they moved, worked, and played.
New England Carousel Museum

Bristol

The Museum is proud to house one of the largest collections of antique carousel pieces in the country. You can experience the "Golden Age of the Carousel" on your own, or with our tour guides who will share with you the colorful history and development of the hand-carved animals that have found their place in America's rich folk art history.
Lake Compounce

Bristol

New England's Family Theme Park
Imagine Nation Museum

Bristol

The Imagine Nation Museum is a hands-on, interactive children's museum best suited for ages 2 to 10.
Imagine Nation: A Museum Early Learning Center

Bristol

Imagine Nation, A Museum Early Learning Center is a hands-on, interactive Reggio Emilia inspired learning environment designed for ages 2-8. Twelve museum studios across three levels invite investigation into science and energy, art, wildlife, water, design and engineering, theater, and more. Imagine Nation's museum educators facilitate three, free with admission STEAM Powered Workshops each day. Workshops are included with museum studio admission. We offer special Home School Days several times per year. Follow us on Facebook or visit our website calendar to stay up to date!
Brookfield Museum and Historical Society

Brookfield

The Brookfield Museum and Historical Society, founded in 1968, is the only organization in town whose purpose is to preserve Brookfield history. We believe that significant facts, documents, and artifacts must be preserved, documented and made a part of Brookfield's permanent heritage. Thus the purpose of the Brookfield Museum and Historical Society is to collect the history of Brookfield and make it available, educational and interesting to all.
Canton Historical Museum

Canton

The Canton Historical Museum is a non-profit, volunteer-run organization displaying a record of life in the town of Canton. Our artifacts and information span from the time of the Native Americans through Canton's growth as a farming community, to its rich history at the forefront of the Industrial Revolution and as a thriving town during the Victorian era.
The Barker Character, Comic and Cartoon Museum

Cheshire

Memories from childhood are some of the most precious we will ever possess, and even though we can't relive the past, at the Barker Cartoon Museum we can still see some of the things that made it so special. Do you remember your Roy Rogers Lunch Box? How about that Ronald McDonald Phone, Charlie McCarthy Puppet, Flintstones Band Toy, Lone Ranger Gun or Mickey & Minnie Hand-Car? They are all here to see along with thousands of other items of comic strip, cartoon, western, T.V. and advertising memorabilia personally amassed by Herb and Gloria Barker.
Day Pond State Park

Colchester

Visitors to Day Pond State Park will find the stone foundation reminders of the colonial era when water from the pond powered the nearby sawmill. Now stocked with trout, Day Pond is an attractive area for fishermen.
Bush-Holley House

Cos Cob Harbor

Located on the historic Cos Cob Harbor, home of Connecticut's first art colony, the Historical Society's facilities include the National Historic Landmark Bush-Holley House (circa 1730).
Xtreme Play Adrenaline Park

Danbury

Indoor park with activities for all ages with recreational challenges like a high ropes course, warrior obstacle course, lazer tag, ballocity, rock climbing, mini-bowling, spin zone, dark ride theater, Omni Virtual Reality, arcade and cafe with chef-inspired menu. Fun for the whole family. Call for special private group homeschool student hours.
Danbury Railway Museum

Danbury

The Danbury Railway Museum is a non-profit organization staffed solely by volunteers. The Museum offers railroad history, tours, train rides, a collection of original and restored rolling stock, and opportunities for hands-on railroad work at "12 inches to the foot" scale.
Osbornedale State Park

Derby

Visit Osbornedale State Park for a hike or fishing expedition, then relax with a picnic or visit the nearby Osborne Homestead Museum.
Osborne Homestead Museum

Derby

The Osborne Homestead Museum celebrates the life of Frances Osborne Kellogg, an accomplished businesswoman and conservationist who was dedicated to preserving land for future generations.
Millers Pond State Park Reserve

Durham

Visit a Connecticut State Park or Forest and explore the wealth of diverse natural areas and unique features that will make your experience memorable.
The Friends of Beckley Furnace

East Canaan

Connecticut's designated Industrial monument
Old Newgate Prison

East Granby

Originally begun as a copper mine in the early 1700's. In 1773 Newgate was first used to house serious criminals. The first prisoner John Hinson was committed for burglary in 1773. Later Tories and Loyalists were held here during the Revolutionary War. It was the first State Prison in America. Newgate ceased operating as a prison in 1827 and re-opened as mine at that time.
Devil's Hopyard State Park

East Haddam

Could the round holes in the falls really be the work of the devil? Or, just nature and water making their mark for future generations? Visit Devil's Hopyard and find your own answer to this age-old mystery.
Gillette Castle State Park

East Haddam

It looks like a medieval fortress, but a step inside the stone castle reveals the built-in couches, table trackway, and woodcarvings that all point to the creative genius that was William Gillette.
Hurd State Park

East Hampton

Visit Hurd State Park and enjoy scenic views of the Connecticut River while surrounded by nature.
Historical Society of East Hartford

East Hartford

The Society maintains a three building complex in Martin Park in East Hartford for showcasing facets of the city's history: The 1761 Makens Bemont House (commonly called the Huguenot House) depicts the home of a fairly prosperous late 18th/early 19th century East Hartford workingman. The 1820s Goodwin Schoolhouse displays items as they might have been used in an early/mid 19th century school. The 1850s Burnham Blacksmith Shop displays late 19th and early 20th century tools and equipment used in the East Hartford area.
Shore Line Trolley Museum

East Haven

Founded to preserve the unique heritage of an endangered species -- the trolley car -- it now boasts a collection of nearly 100 vintage vehicles as well as artifacts and documents from the trolley era.
Rocky Neck State Park

East Lyme

The large stone pavilion, diverse trail systems, and gently sloping beach make this park ideal for families. Try crabbing or fishing. Look for hawks, cranes, and herons. Rocky Neck provides something for all members of the family.
Connecticut Trolley Museum

East Windsor

It is the nation's oldest incorporated organization dedicated to the preservation of the trolley era. As a non-profit institution, its educational and historical aim is the establishment of a full scale operating street and interurban railroad system with the appropriate accessory equipment and buildings, to recreate an important phase of New England's business and social life from 1890 to 1945.
Enfield Historical Society

Enfield

The Enfield Historical Society, Inc. operates three museums, all open to the public free of charge. The Old Town Hall Museum, built as a church in 1774, which continues to serve the community after over two centuries, as both a museum and headquarters for the society. The Martha A. Parsons House Museum, built in 1782, houses two centuries of Parsons family possessions. The Wallop School Museum, built in 1800, and remained in service until 1949. Each location holds thousands of artifacts on display.
Martha A. Parsons House Museum

Enfield

The Parsons House, as it is now known, was built in 1782 by John Meacham on land assigned for use by future "parsons" (ministers). At one time, the house was called "Sycamore Hall," for the row of sycamore trees that lined the street. The present name, however, is the result not of the house's intended use, but of a charming coincidence: the last family to occupy the house was named Parsons. The collection displayed within the walls of the house reveals one family's lifestyle of unpretentious simplicity and graciousness for over 180 years.
CT River Museum

Essex

Programs are available for grades PreK-12 for public, private and homeschool groups. In each program students will participate in a variety of learning experiences that allow them to discover the River and its people through observation, experimentation and exploration.
Connecticut River Museum

Essex

Located on the waterfront in historic Essex, the Connecticut River Museum is the perfect place to explore the heritage and experience the wonders of New England's Great River.
Essex Historical Society

Essex

Museums: The Pratt House and Hills Academy.
Essex Steam Train & Riverboat

Essex

Share your favorite pictures and memories from the only steam train and riverboat connection in the United States. The Essex Steam Train and Riverboat transports people on exciting excursions through the unspoiled Connecticut River Valley, a placed designated as "one of the last great places on earth" by the Nature Conservancy. The steam locomotive pulls vintage coaches through the quintessential New England towns of Deep River and Chester, and the Becky Thatcher riverboat takes visitors past historic landmarks.
The Museum of Fife & Drum

Essex

The Museum of Fife & Drum is home to one the most unique collections of artifacts in the world; it is a visual and musical history of America on parade, from the Revolutionary War to the present. Theme displays feature drums, fifes, military swords, music, uniforms, medals, awards and photographs.
Hill-Stead Museum

Farmington

Hill-Stead Museum, a National Historic Landmark, serves diverse audiences in Connecticut and beyond as a welcoming place for learning, reflection and enjoyment. The museum develops, preserves, documents, displays and interprets its exceptional Impressionist paintings, 1901 historic house, collections and 152-acre landscape for the benefit of present and future generations.
Stanley-Whitman House

Farmington

Stanley-Whitman House is a living history center and museum that teaches through the collection, preservation, research and dynamic interpretation of the history and culture of early Farmington. Programs, events, classes and exhibits encourage visitors of all ages to immerse themselves in history by doing, acting, questioning, and engaging in Colonial life and the ideas that formed the foundation of that culture.
Merwinsville Hotel Restoration

Gaylordsville

Located along the Housatonic Railroad in Gaylordsville CT was a meal and rest stop in the late 1800's. As you enter the Hotel today, you get a sense of what it was like over 163 years ago as passengers stepped off the railroad on their way from Bridgeport CT to Pittsfield MA.
Hopeville Pond State Park

Griswold

Visitors can fish, swim or camp on the serene shores of Hopeville Pond. The site, which once boasted several successful mill operations, offers a fine mix of quality recreation and local history.
Bluff Point State Park

Groton

Bluff Point Coastal Reserve offers the visitor a delightful mixture of wooded hiking and biking trails coupled with spectacular wildlife viewing on Long Island Sound.
Fort Griswold Battlefield State Park

Groton

Add a touch of reality to your Revolutionary War history lesson with a visit to Fort Griswold Battlefield State Park, site of the 1781 massacre led by the traitorous Benedict Arnold.
Haley Farm State Park

Groton

The park has been preserved as open space and is used for passive recreational purposes. A 0.8 mile bike trail winds its way through the scenic old shoreline farm. The Haley Farm Bike Trail, which is wheelchair accessible, is part of a 7 1/2 mile town-owned bikeway routed from Mystic to Groton on local roadways.
Dudley Farm

Guilford

Dudley Farm was in the same family for about 350 years. In 1991 David Dudley willed the farm to the North Guilford Volunteer Fire Department who has worked to help create a private, nonprofit foundation to oversee the 10-acre farm, farmhouse and barn buildings as a working farm. Various events are held throughout the year including blacksmithing demonstrations, sheep shearing, wool spinning, crafters, quilters, archeological digs, and music jams.
The Guilford Keeping Society

Guilford

The Society maintains and operates: The Thomas Griswold House Museum, (which includes a circa 1774 New England saltbox house, an early blacksmith shop, a large barn filled with farm implements, two corn cribs and a Victorian three seat privy or outhouse)and The Medad Stone Tavern.
Henry Whitfield State Museum

Guilford

Visitors may tour two buildings on the site. At the Visitor Center, you can pick up travel information in the lobby, browse through the gift shop, view changing exhibits in two galleries, or use the research library. In the Whitfield House, you can take a self-guided tour through three floors filled with 17th-19th century furnishings and artifacts. The introductory exhibit, The Old Stone House, details the house's history, and museum staff is available to answer questions. Educational game sheets are offered to children (but they're so interesting that many adults take them through the museum as well!). A stroll around the landscaped grounds, featuring extensive stonewalls, a bronze statue representing Henry Whitfield, and a ship's cannon from the War of 1812, completes the tour. Please allow approximately one hour for your visit. The Visitor Center is wheelchair-accessible.
Hyland House

Guilford

A living museum of colonial life and architecture, operated by the Dorothy Whitfield Historic Society.
Haddam Historical Society

Haddam

The Society operates the Thankful Arnold House Museum and the Wilhelmina Ann Arnold Barnhart Memorial Garden in the scenic lower Connecticut River Valley village of Haddam, Connecticut. Visitors hear the story of the Widow Arnold and that of her daughter and granddaughter. Representative of their time, these three generations of women were head of the household in the home that was built between 1794 and 1810. The house is open year round. The museum is a proud member of the Connecticut Women's Heritage Trail.
Haddam Meadows State Park

Haddam

Haddam Meadows State Park overlooks the scenic Connecticut River and offers opportunities for boating, fishing, and picnicking
Eli Whitney Museum

Hamden

The Eli Whitney Museum is an experimental learning workshop for students, teachers, and families. We collect interpret and teach experiments that are the roots of design and invention.
Sleeping Giant State Park

Hamden

Two miles of mountaintop resembling a sleeping giant give this park its name, and make it a distinguishing feature on Connecticut's skyline
West Rock Ridge State Park

Hamden/New Haven

Take in the views of New Haven Harbor and Long Island Sound from the top of West Rock.
Amos Bull House

Hartford

The 18th-century Amos Bull House was built as a dry goods store and a residence and used as a hardware store, an auto dealership, insurance offices and a restaurant. Threatened with demolition in the 1960s and saved through a community campaign, it has been moved twice, enabling it to survive into the 21st century.
The Bushnell Park Carousel

Hartford

It's a sweet surprise to find a vintage 1914 carousel standing in Bushnell Park. There, by the shadow of skyscrapers and a giant Turkey Oak, a 24-sided pavilion houses 48 hand-carved wooden horses and two lovers' chariots that swirl around a booming Wurlitzer band organ. Turning 100 years old in 2014, this Carousel maintains the past, while the future buds all around it.
Charter Oak Cultural Center

Hartford

Built in 1876, the state's first synagogue has always been a symbol of the sacred struggle for the freedom of religious and cultural expression.
Connecticut Historical Society Museum

Hartford

A non-profit museum, library, and education center. Our mission is to inspire and foster a life-long interest in history through exhibitions, programs and Connecticut-related collections because examining and understanding the past, and connecting the past with the present, provides a guide for the future. Public programs and events for adults and families offer a fun way for individuals to think about history and learn from our collections. CHS also offers a wide range of educational programs for students in grades K through 12 and we are the State's host of National History Day.
Harriet Beecher Stowe Center

Hartford

The Harriet Beecher Stowe Center preserves and interprets Stowe's Hartford home and the Center's historic collections, promotes vibrant discussion of her life and work, and inspires commitment to social justice and positive change.
Mark Twain House & Museum

Hartford

A museum dedicated to the work, life and times of author Mark Twain.
Museum of Connecticut History

Hartford

At the Museum of Connecticut History, you'll find exhibits that trace the growth of the State and its role in the development of the nation. The Museum focuses on Connecticut's government, industrial and military history.
Wadsworth Atheneum Museum of Art

Hartford

America's oldest public art museum, continues to thrive and grow. We continuously acquire new works to bring to the public. We invite you to be a part of the flourishing of art in Hartford. True to founder Daniel Wadsworth's vision, we continue to collect and share the world's greatest art. The best show in town, and the region for that matter, is our permanent collection of more than 45,000 works of art. Many fine paintings collected by Wadsworth from the Hudson River School are now considered masterpieces of American art, and are one of the highlights of any Wadsworth visit.
Gay City State Park

Hebron

Gay City State Park offers a glimpse into Connecticut's industrial roots with over 1500 acres of endless opportunities for outdoor fun including the exploration of extinct mill-town ruins and stone foundations.
Connecticut Antique Machinery Association (CAMA)

Kent

A non-profit museum dedicated to the preservation, restoration and demonstration of antique machinery from our rich industrial and agricultural past.
Lake Waramaug State Park

Kent

Scenically, few bodies of water in Connecticut can rival the picturesque setting of Lake Waramaug. When vivid fall foliage is mirrored in the unrippled lake surface, the park becomes a mecca for sightseers and photographers.
Macedonia Brook State Park

Kent

Hike the Blue Trail across Cobble Mountain and other peaks for outstanding views of the Catskill and Taconic mountains which offer splendid foliage viewing.
Chatfield Hollow State Park

Killingworth

Hike the trails in search of Indian caves, explore the jagged rocky ledges and recesses or relax by the cooling waters, or picnic in the soft pine woods at Chatfield Hollow State Park.
Litchfield History Museum

Litchfield
Mount Tom State Park

Litchfield

Go swimming and have a picnic at Mount Tom, then hike the trail to the stone lookout tower for some memorable views.
Hammonasset Beach State Park

Madison

A visit to Hammonasset Beach State Park, is more than just another day at the beach. Connecticut's largest shoreline park offers over 2 miles of beach to enjoy swimming, strolling along the boardwalk, or just relaxing in the sun and surf.
Cheney Homestead

Manchester

Timothy Cheney, farmer, miller and one of America's famous clock makers, built the Cheney Homestead about 1785. A brook to the south of the home afforded water for the grist mill which he operated with his son George.
The Fire Museum

Manchester

Located in the heart of the Cheney National Historic District, The Fire Museum is housed in a retired 1901 fire station with a unique atmosphere that saw the transition from hand drawn to horse drawn, then to motorized apparatus. In addition to a working Gamewell Fire Alarm System, our collection includes hundreds of fine examples of early American craftsmanship related to firefighting such as glassware, lighting, leather making, photography, textiles and paintings.
The Lutz Museum

Manchester

The mission of the Lutz Children's Museum shall be to provide a multi-faceted museum for children to explore culture, history, and the natural sciences through internal and external exhibits, programs, and experiences.
Manchester Historical Society

Manchester

The Society manages The History Center, 175 Pine Street, site of our administrative offices, special events, and Sunday lectures; the Cheney Homestead at 106 Hartford Road, given to our society through a gracious bequest of the Cheney family in 1969; the Keeney Schoolhouse next to the Homestead; and the Old Manchester Museum at 126 Cedar Street, the former Cheney School building, restored by volunteers and business donors.
Mansfield Hollow State Park

Mansfield

Enjoy an afternoon of fishing in Mansfield Hollow Lake or take in the water views from one of several trails in the park
Mashantucket Pequot Museum and Research Center

Mashantucket

A new tribally owned-and-operated, state-of-the-art complex located in Mashantucket, Conn. Opened on August 11, 1998, it presents the rich history of the Mashantucket Pequot Tribal Nation, the histories and cultures of other tribes, and the region's natural history through a series of innovative presentations.
Quassy

Middlebury

Quassy, which was once called Lake Quassapaug Amusement Park, sits on a beautiful lake in Middlebury, Connecticut. Quassy was not always the amusement park it is today. Native Americans once populated this large area. The Native Americans translated Lake Quassapaug to mean "Big Pond" or "Big Rock". Today, Quassy Amusement Park remains a unique family-oriented facility. We offer swimming, picnicking, a catering service, a huge family Redemption Arcade, "Saturation Station," and of course, more than 20 rides. Every year families can count on new attractions, new rides, and most importantly, quality service.
Wadsworth Falls State Park

Middlefield

Spend a summer day cooling off in the mist of the waterfall or an autumn day hiking or biking the varied trails of the park.
Davison Art Center

Middletown

The Davison Art Center is the home of Wesleyan's art collection, which is focused primarily on graphic art and photography. The breadth of the collection is equaled by its outstanding quality; exceptionally fine impressions by Rembrandt van Rijn and Francisco de Goya, rare early engravings, and important contemporary artwork by artists including Kara Walker and Jasper Johns are only a few highlights. The Davison Art Center supports teaching, learning, and research in its study room, and presents public exhibitions in its gallery.
Silver Sands State Park

Milford

Could Captain Kidd really have buried his treasure on Charles Island in 1699? Visit Silver Sands for a fun-filled day in the sun and make up your own mind about this legend.
Mystic Aquarium & Institute for Exploration

Mystic

Mystic Aquarium, one of America's leading aquariums, showcases the living collections, science and conservation work of Sea Research through exhibits, demonstrations and educational programs, emphasizing hands-on, interactive, live animal contact experiences for all ages. Hosting more than 750,000 visitors annually, the Aquarium is open year-round and is Connecticut's largest non-casino attraction. Mystic Aquarium is one of the few in North America housing Beluga whales and other rare and remarkable sea creatures.
Mystic Arts Center

Mystic

The mission of the Mystic Arts Center is to foster the creation, understanding, appreciation and enjoyment of the visual arts through exhibitions and education programs designed to facilitate these objectives.
Mystic Seaport

Mystic

Mystic Seaport -- The Museum of America and the Sea -- is the nation's leading maritime museum. Explore American maritime history first-hand as you climb aboard historic tall ships, stroll through a re-created 19th-century coastal village or watch a working preservation shipyard in action.
New Britain Industrial Museum

New Britain

Collections of manufactured products from New Britain, CT factories. Exhibits show development from invention to production. Known as the "Hardware City" from the mid-19th century until after WWII, New Britain at one time held the record for most patents issued.
New Britain Museum of American Art'

New Britain

The first museum of strictly American art in the country.
New Britain Youth Museum

New Britain

Educational institutions dedicated to enhancing the learning experience for children, young adults, and adults in Connecticut.
Squantz Pond State Park

New Fairfield

Squantz Pond offers four season enjoyment with steep, wooded slopes, a cool, blue pond and colorful foliage to delight visitors throughout the year.
Connecticut Children's Museum

New Haven

In the Connecticut Children's Museum there are eight thematic and community-inspired rooms. There are also books to enrich each exhibit and a template of textures and languages to support absolute accessibility. The rich and playful color palette of the museum is complemented by a unique set of murals emerging from the arts community and children's art.
Yale University Art Gallery

New Haven

Oldest college art museum in the western hemisphere. The Art Gallery was founded in 1832, when Yale College received over one hundred history paintings and portraits by and from the patriot-artist John Trumbull, and the Trumbull Gallery was built to house them. Since then the collections have grown to number more than eighty-five thousand objects from around the world, dating from ancient Egyptian times to the present.
Yale Center For British Art

New Haven

Presented to the university by Paul Mellon, Class of 1929, the Yale Center for British Art houses the largest and most comprehensive collection of British art outside the United Kingdom. The collection of paintings, sculpture, drawings, prints, rare books, and manuscripts reflects the development of British art, life, and thought from the Elizabethan period onward.
Yale Peabody Museum

New Haven

The Yale Peabody Museum was founded in 1866 with a gift from philanthropist George Peabody, at the urging of his nephew, Yale's O.C. Marsh, the first professor of paleontology in North America and the Museum's first director. Marsh built many of the Peabody's great collections, and today you can see some of his most famous finds -- the dinosaurs he named Triceratops, Stegosaurus and "Brontosaurus" -- in the Museum's Great Hall.
U.S. Coast Guard Museum

New London

Tucked away on the grounds of the picturesque U. S. Coast Guard Academy, the Coast Guard Museum contains artifacts that span the two hundred year history of America's premier maritime service. Featuring everything from models of a series of early steamships to the 270-foot cutter that plies the waters of today, the exquisite craftsmanship captures the changes in ship design over the last two hundred years. Other fascinating things include one of the only first-order Fresnel lenses on display in the United States. This 10-foot tall set of prisms was initially installed in the lighthouse at Cape Ann, Massachusetts.
Fort Trumbull State Park

New London

Get an interactive history lesson at the visitor's center, or just walk the Fort and ramparts for a view of the Thames River, a visit to Fort Trumbull has something for everyone including a boardwalk and fishing pier.
Lyman Allyn Art Museum

New London

Housed in a handsome Neo-Classical building designed by Charles A. Platt, the permanent collection includes over 10,000 paintings, drawings, prints, sculptures, furniture and decorative arts, with an emphasis on American art from the 18th through 20th centuries. Lyman Allyn Art Museum offers a wide range of family-friendly programs and classes as well as lectures and other events.
Custom House Maritime Museum

New London

The mission of the New London Maritime Society's (NLMS) Custom House Maritime Museum is to preserve New London's U.S. Custom House and to promote and interpret the maritime history of the port of New London and the surrounding region through museum exhibitions and educational programs.
New Milford Historical Society

New Milford

The galleries, special exhibits and museum shop capture a slice of life that was our ancestors' and celebrate their contributions to New Milford today. Visit the 18th century cooking hearth to appreciate how our maternal ancestors prepared dinner without modern conveniences. The antique toy collection can help your children imagine what their ancestors played with when they, too, were young. Peruse portraits of New Milford's first families. Take a walk through historical gardens. Memorabilia of events, places and people, as well as industries of the region, will show you how New Milford has progressed through the centuries.
Homeschool Adventures

New Milford

The Pratt Nature Center is a 205-acre wildlife preserve and environmental education center in Litchfield County, CT. The land is diverse - with a mountain, meadows, woods, wildlife, gardens, farm animals, a stream, a pond, and wetlands, providing wonderful opportunities for outdoor fun, discovery and adventure! Pratt Nature Center offers hiking, bird-watching, community garden plots and nature education for all ages including programs tailor-made for the classroom or scout troop as well as for family or community enjoyment and learning.
Newington Historical Society

Newington

Operates two Museums: The Kellogg-Eddy House and The Kelsey House.
Children's Museum of Southeastern Connecticut

Niantic

An interactive, hands-on, educational place for children to try on new roles, let their imaginations soar and feel safe while exploring the world around them. 5,000 square feet and all on one floor, the Museum is accessible to everyone. We engage, encourage, and challenge children from 9 months to 9 years in the arts, sciences, health, and world cultures.
Dennis Hill State Park

Norfolk

Hike to the summit of this 240-acre estate for panoramic views reaching as far away as New Hampshire. Fall foliage season makes Dennis Hill an autumn wonderland.
Campbell Falls State Park Reserve

Norfolk

Visit a Connecticut State Park or Forest and explore the wealth of diverse natural areas and unique features that will make your experience memorable.
Haystack Mountain State Park

Norfolk

Travel the twisting mountain road or hike the rugged trail to the top, either way you will be astounded at the beauty of mountain laurel in June and the spectacular colors of foliage in the fall.
Beckley Furnace Industrial Monument

North Canaan

The Beckley Iron Furnace once produced iron for the manufacture of railroad car wheels. It is Connecticut's best preserved example of a technology that has long since vanished. The structure is part of the National Register of Historic Places.
Natureworks Organic Garden Center

Northford

Natureworks Organic Garden center is one of the premiere organic gardening resources in the state of Connecticut. One of the most popular topics they cover for fields trips is "All About the Monarch Butterfly". During Summer months, the center raises hundreds of monarchs from egg to butterfly by finding eggs on their property. Natureworks educates the public about growing milkweed, pollinator gardens and safe butterfly raising practices. Guides are flexible with topics and accommodate many different-sized groups.
Lockwood-Mathews Mansion Museum

Norwalk

The Lockwood-Mathews Mansion Museum is one of the earliest and finest surviving Second Empire Style country houses ever built in the United States. It is our ongoing mission to conserve and faithfully restore this splendid 62-room mansion while expanding educational programs on the material, artistic and social culture of the Victorian era.
Maritime Aquarium

Norwalk

The Maritime Aquarium inspires people of all ages to appreciate Long Island Sound and protect it for future generations. A vibrant and entertaining learning environment, the Maritime Aquarium achieves this goal through living exhibits, marine science, and environmental education.
Stepping Stones Museum for Children

Norwalk

Features interactive exhibits, educational programs and fun for the whole family. With four main galleries, a toddlers-only gallery and more than 100 hands-on activities, Stepping Stones offers children ages ten and under plenty to explore and discover.
The Slater Memorial Museum

Norwich

For more than one hundred years, the Museum has displayed and interpreted the best examples of fine and decorative art, representing a broad range of world cultures of the Americas, Asia, Europe, and Africa.
Nature's Art Village

Oakdale

With several destinations on site, Nature's Art Village has something for everyone. The Dinosaur Place is a 60-acre adventure park with over 40 life-sized dinosaurs. Hands-on activities can be found in Discovery Depot where you can pan for gold, dig and identify gems, and become a junior paleontologist. Educational classes available! Our Genius Museum is a village of progress with an original printing press, manufacturing steam engines, and much more!
Florence Griswold Museum

Old Lyme

Home of American Impressionism, the Museum features the restored Florence Griswold House, a gallery for changing art exhibitions, education and landscape centers, a restored artist's studio, gardens, and a half-mile nature trail.
Southford Falls State Park

Oxford

Have a day of family fun at Southford Falls State Park. Spend your day enjoying field sports, or try your luck at catching trout.
Mashamoquet Brook State Park

Pomfret

Rich with history, legend and lore, Mashamoquet Brook with its Wolf's Den, offers hiking, camping, fishing, and swimming for the whole family.
Quinebaug and Shetucket Rivers Valley National Heritage Corridor

Quinebaug and Shetucket Rivers Valley

This is a special kind of park. It embraces numerous towns, villages and a total population of about 300,000. Quinebaug & Shetucket is not a traditional park. Instead, citizens, businesses, nonprofit cultural and environmental organizations, local and state governments, and the National Park Service work together to preserve and celebrate the region's cultural, historical and natural heritage.

Quinebaug and Shetucket Rivers Valley National Heritage Corridor website
Collis P. HuntingtonState Park

Redding

Life-like sculptures of bears and wolves welcome your arrival to this peaceful and tranquil setting featuring open fields and dense woodlands. The park was donated to the citizens of Connecticut by the internationally renowned Huntington family.
Putnam Memorial State Park

Redding

Create a hands-on history lesson with a visit to Putnam Memorial State Park, site of the Continental Army's 1779 winter encampment in Bethel, Connecticut.
Seth Low Pierrepont State Park Reserve

Ridgefield

Come see the many different habitats and excellent overlooks on the trails at Seth Low Pierrepont State Park Reserve.
Keeler Tavern Museum

Ridgefield

The Keeler Tavern Museum has been a farmhouse, tavern, stagecoach stop, post office, hotel for travelers, home of noted architect Cass Gilbert and, since 1966, a museum. Now decorated with period furnishings, and changing exhibits from the Museum's collections, its past comes alive as costumed guides lead tours through room settings that portray life in rural Connecticut from the early 18th century to the mid 20th century.
Dinosaur State Park

Rocky Hill

We are one of the largest dinosaur track sites in North America. Beneath our geodesic dome, you will find an exceptional display of early Jurassic fossil tracks that were made 200 million years ago. Surrounding our Exhibit Center are more than two miles of nature trails and the Dinosaur State Park Arboretum, containing more than 250 species and cultivars of conifers, as well as katsuras, ginkgoes, magnolias and other living representatives of plant families which appeared in the Age of Dinosaurs.
Huntington Homestead

Scotland

The birthplace of Samuel Huntington, a signer of the Declaration of Independence and a distinguished statesman during the Revolutionary War and early Republic. The remarkably well-preserved site includes an eighteenth century house on its original foundation surrounded by acres of farmland, bordered by Merrick Brook. It includes old-growth trees, stone walls, an abandoned road, and other interesting features. The Huntington Homestead is a surprising discovery so late in the twentieth century, when most historic sites have already been enshrined or ravaged. It is a National Historic Landmark.
Housatonic Meadows State Park

Sharon

Camping under the tall pines on the riverbank at Housatonic Meadows evokes a genuine back-to-nature feeling. The clear, cold river water also provides a fine opportunity for fly fishermen to test their skills on trout and bass.
Sharon Historical Society

Sharon

The mission of the Sharon Historical Society is to preserve and to create an awareness of the history and cultural legacy of Sharon and its broader cultural and natural environment. It will do this by engaging visitors and the community in active learning experiences, working together with other preservation, cultural and educational organizations to continue to improve the quality of life.
cARTie

Shelton

Scaffolded as per best museum education practices, we provide a series of two highly interactive and participatory, developmentally-appropriate art museum field trips for your PreK-2 students during the academic school year that address a variety of learning goals. Students become familiar learning to look, think, and talk about art, while practicing their listening and collaboration skills in facilitated discussions and art-making activities. Unlike other museums, ours is housed inside a bus that drives directly to you.
Indian Well State Park

Shelton

The park's scenic waterfalls and splash pool give this park its name, Indian Well. The lovely falls, and shaded picnic grove at the water's edge make this park a great place to spend a lazy summer day.
Stratton Brook State Park

Simsbury

Stratton Brook is a completely wheelchair accessible park offering swimming, picnicking and interpretive programs in a beautifully wooded setting.
Kettletown State Park

Southbury

The cool waters of the Housatonic River make Kettletown State Park and Lake Zoar popular recreation destinations.
Barnes Museum

Southington

The beautiful Barnes Museum serves as a reminder of Southington's rich historic past. Step through its doors and you are transported to an era when ladies wore high-button shoes and elegant lace dresses and men donned top hats for social occasions.
Stamford Museum & Nature Center

Stamford

The Stamford Museum & Nature Center is dedicated to the preservation and interpretation of art, the natural and agricultural sciences, and history. The Museum is a vital cultural and educational resource for the community, and a focal point for family activity and interaction. We seek to inspire creativity, foster self-discovery, and nurture an appreciation for lifelong learning through exhibits, educational programs, and special events that enhance the visitor's experience of our unique site.
Old Lighthouse Museum

Stonington

Stonington's lighthouse became the museum of the Historical Society in 1927. Now six rooms of exhibits testify to the rich and varied history of this coastal region through exhibits depicting the lives of Stonington's fishermen and farmers, merchants and shipbuilders, pottery makers, blacksmiths and many other trades. Each year a special aspect of Stonington history is featured. One room with a large dollhouse is reserved for items of interest to children and adults. Visitors of all ages enjoy climbing the old iron steps of the tower for an exhilarating view in all directions. Shoppers may browse in the gift area for unusual books, toys and mementos.
The Ballard Institute and Museum of Puppetry (BIMP)

Storrs

The Museum preserves and exhibits puppets from around the world as well as those created at the University of Connecticut. BIMP also provides research and educational opportunities to all who share the love of puppetry.
The Benton

Storrs

University of Connecticut Fine Art Museum
Boothe Memorial Park and Museum

Stratford

Listed on the National Register of Historic Places by the United States Department of Interior May 1, 1985. This Estate, owned by the Boothe family for many generations,was willed to the town of Stratford by David Beach Boothe and Stephen Nichols Boothe.
The Lock Museum of America

Terryville

The Museum boasts eight display rooms. The newest of these is an extensive lock collection that includes a Cannon Ball Safe, 30 early era time locks, Safe Escutcheon Plates and a large number of British Safe Locks, Door Locks, Padlocks, Handcuffs and Keys. Another display room, known as The Eagle Lock Company Room, contains over 1,000 locks and keys manufactured from 1854 to 1954.
Railroad Museum of New England

Thomaston

The mission of the Railroad Museum of New England (RMNE) is to establish an interpretive facility where the story of the region's rich railroad heritage can be effectively told. We have an extensive collection of New England rolling stock, including locomotives of all types, passenger cars, freight cars, and cabooses. We have New England railroad artifacts dating from the 1840's to the present.
Quaddick State Park

Thompson

The area which is now Quaddick State Park was once the site of Thompson's town farm where elderly residents of the village spent their reflective years. Prior to that, it had been a fishing area of the Nipmuck Indians. The cool reservoir water and the sandy beach draw frequent crowds during the warm summer months.
Burr Pond State Park

Torrington

Go swimming and have a picnic at Burr Pond, then hike the trails in search of the bronze tablet marking Connecticut's role in the Civil War and the Industrial Revolution.
John A. Minetto State Park

Torrington

Summertime fishing or wintertime cross-country skiing make John A. Minetto State Park a four season fun spot.
SeaQuest Trumbull

Trumbull

SeaQuest provides enhanced, age-specific Field Trip adventures for learners of all ages. Field trips are led by a team of educators. Elementary and middle school visitors will enjoy hands-on activities designed to test their observation and scientific reasoning skills. Teenage explorers will enjoy live bird demonstrations and learn about animal psychology, positive reinforcement as a training tool, symbiotic relationships and the dangers of invasive species which are taking over certain habitats in the wild.
Xperiment Virtual Reality

Trumbull

Field trips can be designed to meet your needs. Offering a variety of educational virtual reality field trips. You can explore the human body, travel to different regions of the world, visit outer space, and much more! We can individualize the experience to meet your curriculum requirements. Best for ages 7+.
Tantaquidgeon Indian Museum

Uncasville

Oldest Native-Owned Museum in the United States Opens In a New, Renovated Structure
Bigelow Hollow State Park & Nipmuck State Forest

Union

Bigelow Hollow State Park and the adjoining Nipmuck State Forest offer over 9,000 acres of recreation opportunities including miles of hiking trails and an 18-acre pond in Eastern Connecticut
Unionville Museum

Unionville

The Unionville Museum is dedicated to acquiring, preserving, displaying, interpreting and promoting the unique history of the village of Unionville in the Town of Farmington, Connecticut.
The New England Civil War Museum

Vernon

Honoring and Preserving the Memory of Connecticut's Civil War Soldiers. The New England Civil War Museum is located inside the longest continuously used Civil War veterans hall in the country.
Vernon Historical Society

Vernon

We invite you to visit the Vernon Historical Society Museum. Admission is FREE (Donations accepted).
Wharton Brook State Park

Wallingford

Located on wooded, sandy knolls, Wharton Brook offers solitude for a quiet, peaceful picnic.
Gunn Memorial Library & Museum

Washington

The Gunn Memorial Library, Inc. is a non-profit corporation providing free public library services to Washington, CT and the surrounding communities. The mission of the Gunn Historical Museum is to collect, preserve, and share the objects and stories which illuminate the history of Washington. The Gunn Museum is open on Thursdays, Fridays, and Saturdays from 10am to 4pm. Free guided exhibit tours are available every Saturday in October and November from 1 to 2pm.
Institute for American Indian Studies Museum and Research Center

Washington

The Institute for American Indian Studies seeks to teach through educational programs based on unbiased historical research and interpretation. Programs are designed to be accurate and interactive, and to stimulate further interest in the wonder and diversity of the earth's many cultures, beginning with the indigenous peoples of the Americas.

Institute for American Indian Studies Museum and Research Center website
Mattatuck Museum Arts & History Center

Waterbury

Mission: The Mattatuck Museum Arts & History Center provides our community with professional scholarship, preservation, and historical programming about our heritage, stimulates the interest in the fine and decorative arts of Connecticut by showcasing their highest quality and expression, and encourages an appreciation of the humanities and the fine arts through its collections, exhibits and programs.
Harkness Memorial State Park

Waterford

Enjoy the panoramic views of Long Island Sound from Eolia, the elegant summer mansion of the Harkness family set on over 230 seaside acres of sweeping lawns, with stately trees and spectacular gardens.
Black Rock State Park

Watertown

Black Rock offers excellent swimming, hiking, scenic views, and Indian legend all tucked into the scenic rolling hills of the Western Highlands.
The Children's Museum

West Hartford

The Children's Museum provides rich learning experiences in science and nature to young children. The Children's Museum includes the Travelers Science Dome at the Gengras Planetarium, Roaring Brook Nature Center, the UTC Wildlife Sanctuary, and the only science-based preschool in Connecticut. We look forward to welcoming you to The Children's Museum, where we are igniting curiosity through science and nature.
The Noah Webster House & West Hartford Historical Society

West Hartford

Webster's birthplace helps to tell the story of one man's vision and his impact on American culture. Through the promotion of education, laws, human rights, and language, Noah Webster helped to create a national identity for a fledgling nation.

The Noah Webster House & West Hartford Historical Society website
Earthplace, The Nature Discovery Center

Westport

The mission of Earthplace is to educate the community about nature and the environment. Founded in 1958 and accredited by The American Association of Museums, Earthplace maintains a 62 acre wildlife sanctuary with trails, contains an interactive natural history museum, houses live wildlife for public viewing and hosts many public nature programs and events. Other activities include a state-licensed preschool and summer camp, a wildlife rehabilitation program, and the Harbor Watch/River Watch water quality testing program.
Sherwood Island State Park

Westport

Connecticut's first state park is still one of its finest. Have a leisurely lunch in the shade of the picnic grove, swim in Long Island sound, or view marsh life from the observation platform at Sherwood Island.
Westport Arts Center

Westport

A visual and performing arts organization dedicated to creating arts experiences that enrich the lives of area residents and the entire community.
Buttolph Williams House

Wethersfield

The interiors of the house are a showcase for outstanding collections of late seventeenth century American decorative arts. In every room, there are fine examples of Pilgrim-style furniture made in New England, some with important Connecticut associations.
Wethersfield Historical Society

Wethersfield

Museums and Historic Sites to see!
Webb-Deane-Stevens Museum

Wethersfield

Operates four remarkable 18th century houses, three of which are National Historic Landmarks. The 1752 Joseph Webb House served as George Washington's headquarters in May 1781, and was later owned by Wallace Nutting. The Silas Deane House, circa 1770, was built for America's Revolutionary War diplomat to France as both his residence and as a power base for his political aspirations. The Isaac Stevens House, 1789, depicts the life of a middle class family in the 1820s and 30s using many original family possessions. The newly opened second floor features the Colonial Dames' toy collection, a children's bed chamber and interactive exhibits on child life and play in the early 19th century. The three houses stand on their original foundations next door to one another on Main Street in Wethersfield.
Connecticut Eastern Railway Museum

Willimantic

The collection includes locomotives and rolling stock, as well as vintage railroad buildings and a six-stall roundhouse reconstructed on the original foundation. Visitors can receive a guided tour of the museum and kids of all ages can operate a replica 1850's-style pump car along a section of rail that once was part of the New Haven Railroad's "Air Line".
Weir Farm National Historic Site

Wilton

In June of 1882, painter J. Alden Weir boarded a train from New York bound for his modest farm among the hills of Branchville, CT. Once here, Weir and his family transformed their summer retreat into a creative refuge for friends and fellow artists. After Weir, artists Mahonri Young and Sperry Andrews lived and worked here, continuing the legacy of artistic expression that still inspires today.
Wilton Historical Society: The Heritage Museum

Wilton

The Betts-Sturgis-Blackmar house (red house) was built on this site in 1739. The Sloan-Raymond-Fitch house (gray house), built in 1772, was moved to this site in 2001/2002 from its original home 1/4 mile north because of the road widening project. Together, they have 14 period rooms furnished to show the changes in home life, the economy, furniture and decorations from 1740 -- 1910. Most house museums are locked into one time period. But here, visitors get a glimpse of changes in rural New England homes from the early colonial to Victorian eras.
New England Air Museum

Windsor Locks

The New England Air Museum is dedicated to the teaching and preservation of aviation history and technology especially in regard to Connecticut's contributions.
American Museum of Tort Law

Winsted

The American Museum of Tort Law is the perfect place for students who show an interest in civil justice and trial by jury! Founded by Ralph Nader, famed consumer advocate, this museum educates and inspires people about the benefits of trial by jury and tort law (the law of wrongful injuries). Visitors learn about the many ways that tort law and trial by jury protects freedom, health, products, and the environment. The museum is fun, creative, visually stunning and provocative. Explore interactive exhibits, see dangerous toys and the famous Corvair! Personalized tours can be arranged for groups with advanced notice.
Civil War Reenactment & Living History Event

Woodbury

Battles both days, Living History programs, Demonstrations,Civilian town of Unity Check website for event held in July.
Glebe House Museum and Jekyll Garden

Woodbury

Birthplace of the Episcopal Church in the New World and graced by the only extant American garden planned by England's most venerated designer.
1770 Grounded Goodwife Farmhouse

Woodbury

Step back in time for an historic and herbal adventure. You can't change history, but it can change you! Visit the 1770 Grounded Goodwife Farmhouse in Woodbury, CT. Join your hosts, an herbalist daughter/historian mother duo, for a tour of their unique colonial home, and your group's choice of hands-on workshop.