Jump to: Homeschool Co-ops | Homeschooling Classes & Academic Enrichment
Looking for someone to teach physics to your teen? Need a way to avoid teaching algebra? Want to enroll your Kindergartener in a co-op for social time? Homeschool classes and co-ops are a great way to spend time with other homeschoolers and skill-share with other homeschool parents.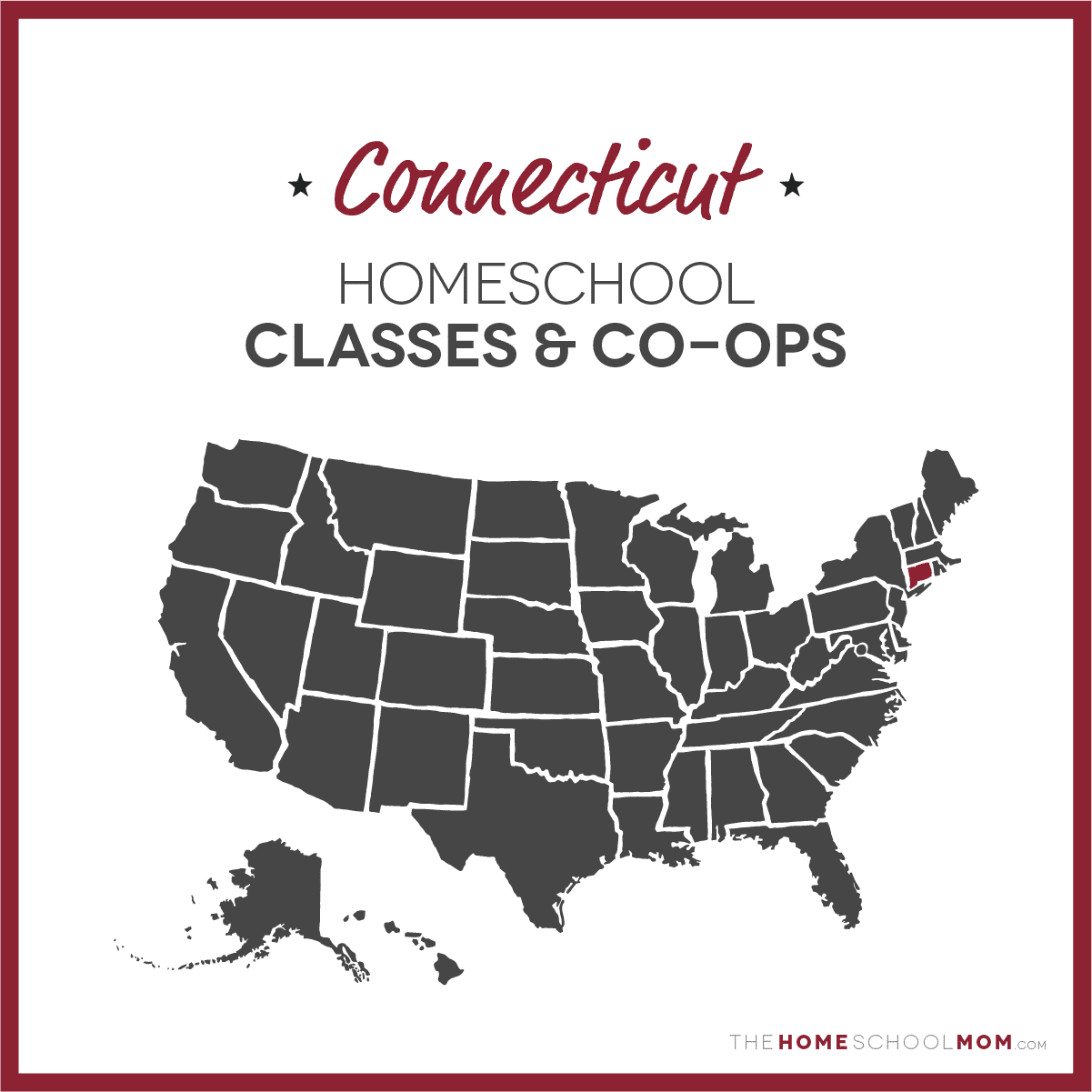 Submit a Local Resource
Our listing of Connecticut co-ops and academic classes for homeschoolers is ordered alphabetically by city, with co-ops in the first section and all other academic resources below. If you would like to submit a Connecticut co-op or academic resource, you may do so using the red button above.
Connecticut Homeschooling Co-ops
REACH Co-op - ConnecticutColchester
REACH Co-op  (Real-life Educational Adventures in Christian Homeschooling) Our mission is to create a community where Christian homeschooling families can come together for worship, fellowship, educational activities,...
Thames Valley 4-HNorwich
Thames Valley 4-H started out in 2015 as a homeschool co-op intending to provide supplemental classes and a supportive community for homeschooling families in New London County, CT. In 2017, it became an official 4-H ...
Connecticut Homeschooling Classes & Academic Enrichment
Find Us Outside Forest Nature Immersion ProgramBethel
Find Us Outside Nature Immersion Program is a 501(c)(3) non-profit organization created in 2016. The mission of Find Us Outside (FUO) is to instill a love of learning through our holistic nature immersion program. The...
Homeschool Connections at AuerfarmBloomfield
Homeschool Connections will be a two tiered program open to homeschool families. On Wednesdays from 3-5PM, preteen and teens (10-13 year olds and 13-17 year olds) will delve into project-based studies while building s...
Mayflower TutoringBoston
Mayflower Tutoring is a reputable Plymouth, MA-based tutoring service. It proudly offers online and in-person tutoring sessions for elementary through high school students. Its founder, Matthew Rowe (Ed.M. Philosophy ...
Sylvan Learning of Brookfield, ConnecticutBrookfield
Tutoring and Individualized Prep: Offering tutoring programs for math, algebra, reading, writing, study skills and more! At Sylvan, you get the best in certified teachers and interactive technology, so your child feel...
Study Hall IncClinton, CT
Study Hall, Inc. is a nonprofit educational resource center for students ages eight and above residing in Clinton, CT, and surrounding towns. Study Hall is unique in that it is an affordable, comprehensive educational...
Connecticut Classical ConversationsConnecticut Statewide
CC is a national homeschooling program that uses a Bible based curriculum taught in a christian, classical tradition. Classes are geared for age 4 through high school.
Holy Apostles CollegeCromwell
Holy Apostles College offers programs and degrees which can be taken on campus and/or 100% Online! Holy Apostles College offers students a Quality Education at an Affordable Price. Learn more about the Take Credit! Pr...
C2 Education of DarienDarien
C2 Education offers customized programs, tailored to each students individual needs in: K-12 Personalized Tutoring in Math, Science, History, Languages, and more. Study Skills Accelerated Learning SAT/ACT/PSAT/SSAT/IS...
The Connecticut River Museum offers a Homeschool Program Series of educational programming each year, beginning in fall and concluding in late spring. The history and ecology of the river, and those who came to live i...
Classical Conversations in FairfiledFairfield
Classical Conversations is a community to equip parents and encourage students. Weekly meetings with a trained parent director and trained parent tutors, learning from the classical model. For ages 4-11, tutors may us...
MK Educational TherapyFairfield
Ongoing Educational Therapy and Reading Therapy by certified/M.S. degree, Orton-Gillingham/Wilson trained, 20+ years teacher and Educational Therapist for students with special and needs k-12. .Reading .Math .Writing ...
International College CounselorsFairfield County
International College Counselors is an organization that helps with every step of the college admissions process. Counselors know what a stressful process applying to college is and want to help teens and their parent...
Bartlett Arboretum & Gardens Educational ProgramsFairfield County
The Bartlett Arboretum & Gardens offers developmentally appropriate, nature-based programs aligned to both Connecticut State Science Standards and the Next Generation Science Standards. The forested trails, wetlan...
Brain Balance Achievement CenterFairfield County and surrounding area
Help your child get ahead by improving focus, behavior, social skills, and learning. The program is available onsite or online, at home. Join the 45,000 other Brain Balance families and help your child thrive in the n...
Electronics at Home (online)Fairhope
This resource is designed for those who pose "The Edison Trait" so all kids will love the Hands-On learning of Electronic Engineering Technology. Only $65 a quarter and lab equipment that will be used for over two yea...
Microsoft Farmington Mall Free STEM WorkshopsFarmington
Sign up for free workshops designed to help kids use creativity to learn the latest technology, STEM skills, and coding basics. Integrating technology and digital literacy into the lives of your students has never bee...
Microsoft - Free field tripsFarmington
Free field trips at Microsoft Bring your class or group for a fun, free, and immersive educational experience. Students get the latest skills in 3D design, robotics, accessibility tools for those with custom needs and...
Parliament Tutors in HartfordHartford
Parliament Tutors is a private tutoring and test preparation service covering all academic subjects, homeschool subjects, and standardized tests.
STARBASE CTHartford
STARBASE is a five day STEM-based academy in which students collaborate to explore various fields of science and mathematics. The students use the Scientific Method to conduct experiments in chemistry and physics, mak...
Compassionate MathHartford area
Compassionate Math is the idea that learning mathematics is both an intellectual and emotional challenge – you can't move forward intellectually if you don't address negative emotions. Compassionate Math provides ongo...
The New Children's Museum Homeschool AssociationHartford County
The New Children's Museum of West Hartford offers hands-on science instruction to supplement the education of Homeschool students in grades Kindergarten through High School. Each session features three tracks: Natural...
4-H Education Center at AuerfarmHartford, Tolland counties
The 4-H Education Center at Auerfarm is located on a 120 acre farm in Bloomfield, CT. They offer science based programs that meet CT Science Standards. Seasonal programs along with year round programs are offered at t...
Westover SchoolMiddlebury
Westover is an independent boarding and day high school that challenges smart, motivated girls to become confident and connected women. Here, a wide range of opportunities are offered that will provoke thought, spur d...
Abrakadoodle of Central ConnecticutMiddletown
Abrakadoodle is the Academic Art Program of choice at hundreds of charter schools, public and private schools as well as home schoolers around the country. This resource is designed to incorporate art into your educat...
Connecticut BESTNew Britain
BEST (Boosting Engineering Science and Technology) is a non-profit volunteer based program organization whose mission is to inspire students to pursue careers in engineering, science and technology through participati...
Southeastern CT RoboticsNew London
Southeastern CT Robotics Club is a 501c3 educational, non-profit organization looking for Lego League team members in the 9-12 year age range in the New London County area. Our teams meet at The Lab in New London year...
North Branford 4-H GroupNorth Branford
Northford/North Branford Homesteading 4-H Group This group focuses on several key areas of 4-H. Environment & Outdoor Science Agriculture & Animal Science Healthy Living & Food Practical Skills Activities ...
MagneticVisions 3D Modeling and Printing trainingRhode Island / Bristol
This resource provides two and three day courses, with hands-on instruction and training to design and build 3D models, using Rhino NURBS modeling (CAD-Computer Aided Design) software. No previous experience is requir...
The Vault AcademicsSeymour
The Vault Academics is a licensed childcare center for ages 5-13, providing care for homeschooled children, distance learners as well as a S.T.E.A.M based after school program and S.T.E.A.M summer camp. Our center has...
TalkOrangeStamford
TalkOrange is a top-rated private 1-on-1 Mandarin tutoring program. TalkOrange blends both tech and tutoring to help students unique needs. The primary goal of TalkOrange tutoring is to provide students the tools, att...
Experienced math/science/test prep tutorStamford
Experienced Tutor available in Stamford, CT and surrounding areas, for students in grades 6-12 • Test prep (SAT, ACT, SSAT) • Math (Algebra I/II, Geometry, Trigonometry, Pre-calculus, Calculus) • Science (Biology, Che...
BareburgerStamford
Bring your group to take a "behind the scenes" tour of your local Bareburger restaurant, learning about different staff positions and duties, food safety, following a recipe, why organic, all natural and more! Student...
Code Ninjas StamfordStamford/Fairfield County
Code Ninjas Stamford is a coding school teaching children aged 5-15 coding and robotics by building video games! Offering curriculum for homeschoolers (8, 10, 12 week sessions) focused on coding using coding languages...
Marine Science Experiential LearningStonington
New England Science & Sailing (NESS) is based in Stonington, CT, and runs on-the-water programs with homeschool families across New England. NESS's marine science and adventure sports programs use the water as a c...
Code Ninjas Coding ProgramsTrumbull
Code Ninjas is a coding school teaching children aged 7-14 coding and robotics by building video games! Offering curriculum for homeschoolers (8 week sessions) focused on coding using Robots, Scratch, Javascript, Mine...
Xperiment Virtual RealityTrumbull
Xperiment VR is the newest place to experience the power of virtual reality. We host birthday parties & events as well as free play whenever you're in the mood to step into another reality. We are a fully immersive Vi...
Wigwam Escape at the Institute for American Indian StudiesWashington
Wigwam Escape Room is operated within the Education Department of the Institute of American Indian Studies. The museum's mission is to "preserve and educate through discovery and creativity the diverse traditions, vit...
Karen's Inspired AcademicsWest Hartford
Tutoring all things ages 5-15, special experience in supporting homeschool design and instruction.
Westfield Academy of Debate, Model UN and LeadershipWest Hartford
Debate and Model UN Weekly classes including a Thursday daytime homeschool program for ages 10 - 18, and Summer Day Camps. FOR: Ages: 8 to 18 Experience: All levels, from beginner to advanced/highly competitive Introv...
STARBASE ConnecticutWindsor Locks
This resource offers a 25 hour, five day full STEM immersion program based on imaginative education practices. The students, aged 9-12, learn about physics, chemistry, robotics, engineering design, and even have the o...
Go to...