Jump to: Homeschool Co-ops | Homeschooling Classes & Academic Enrichment
Looking for someone to teach physics to your teen? Need a way to avoid teaching algebra? Want to enroll your Kindergartener in a co-op for social time? Homeschool classes and co-ops are a great way to spend time with other homeschoolers and skill-share with other homeschool parents.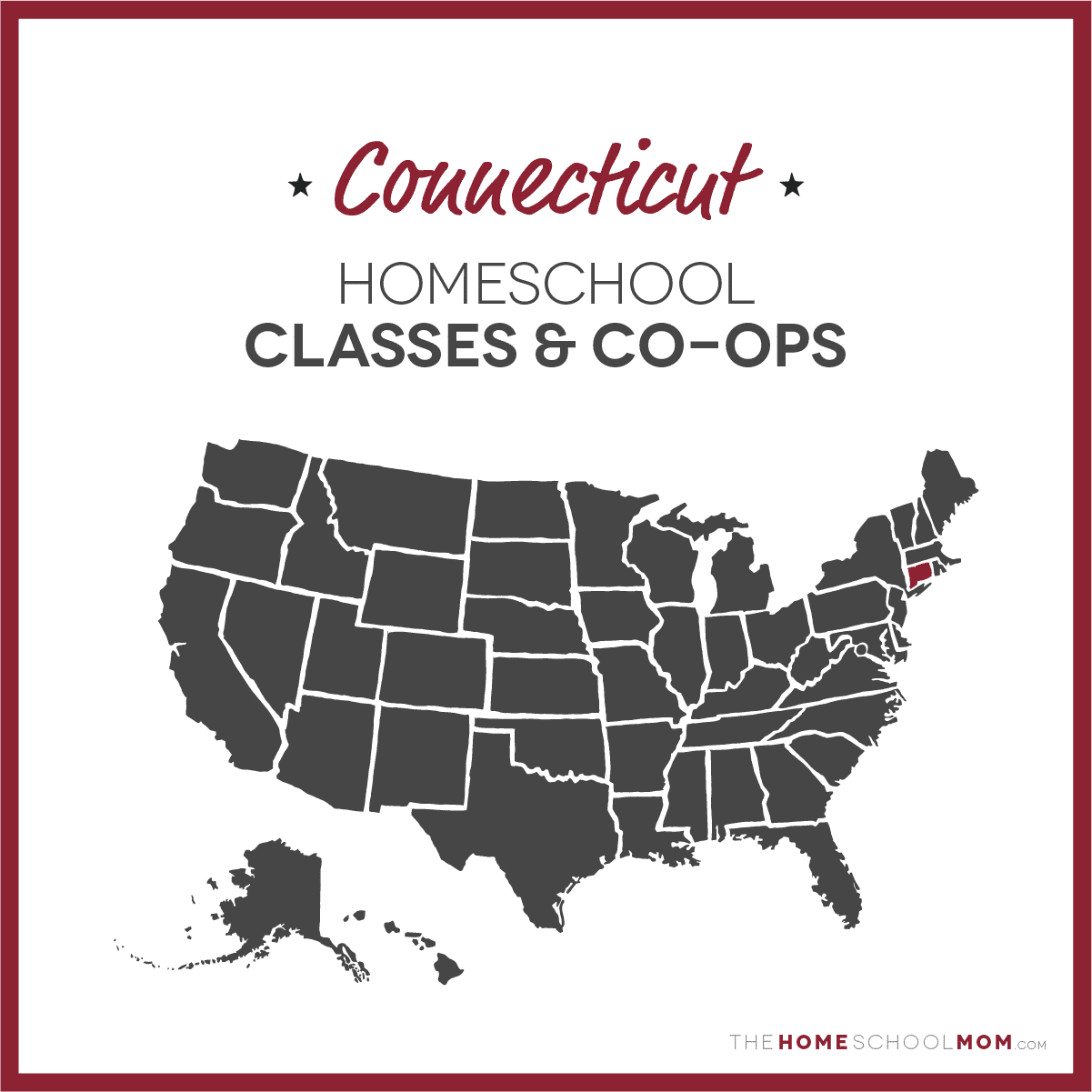 Submit a Local Resource
Our listing of Connecticut co-ops and academic classes for homeschoolers is ordered alphabetically by city, with co-ops in the first section and all other academic resources below. If you would like to submit a Connecticut co-op or academic resource, you may do so using the red button above.
Connecticut Homeschooling Co-ops
REACH Co-op - Connecticut

Colchester

REACH Co-op  (Real-life Educational Adventures in Christian Homeschooling) Our mission is to create a community where Christian homeschooling families can come together for worship, fellowship, educational activities, service projects and field trip adventures. We meet most Tuesdays throughout the year.  In the summer months and in January, we meet for field trips or fellowship activities. During our fall and spring semesters, we meet twice a month for classes and the other weeks we meet for field trips, service projects or other activities.  Meeting days include Chapel Time (worship, Bible Time, prayer), Mom's Time and classes for preschoolers through highschoolers.  Classes change each semester but may include art, science, Spanish, soccer, math, acting, knitting, impromptu speaking, worship dance, Chess club and music theory. Serves: Central Connecticut, including the towns of Colchester, East Hampton, East Haddam, Middletown, Cromwell, Hebron, Glastonbury, Marlborough, Portland and surrounding areas.
Thames Valley 4-H

Norwich

Thames Valley 4-H started out in 2015 as a homeschool co-op intending to provide supplemental classes and a supportive community for homeschooling families in New London County, CT. In 2017, it became an official 4-H club. This opened up the group to more opportunities, resources, and community connections. As part of 4-H, kids participate in classes and workshops and complete hands-on projects in areas such as health, science, agriculture, citizenship, the arts, and literacy. All classes are held in or near Norwich, CT.
Connecticut Homeschooling Classes & Academic Enrichment
Find Us Outside Forest Nature Immersion Program

Bethel

Find Us Outside Nature Immersion Program is a 501(c)(3) non-profit organization created in 2016. The mission of Find Us Outside (FUO) is to instill a love of learning through our holistic nature immersion program. The program encourages each child to develop socially, emotionally, and physically through interest-led play and exploration. The natural landscapes, fresh air, loose parts in the forest, and the changing seasons will comprise our unique classroom. The program runs from 9am - 11:45am and takes place entirely outside in all safe weather. It is designed for ages 3 - 7 and can be either a full or part time program. It also works well as a supplement to any homeschool program. Children will acquire the skills necessary to succeed in formal education and beyond. Children will be free to explore the nature preserve or state park to acquire skills with which they can build upon each time they return to our forest classroom. To ensure a safe and fulfilling experience, each child will be closely observed using a 4:1, student: educator ratio. Through hands-on exploration and repeated exposure to the diverse ecosystem concepts of Science, Technology (critical thinking as precursor to achieving technology), Environmental Education, Art, Mathematics (STEAM) as well as creativity, imaginative play, collaboration and numerous psychological and physical benefits of spending time in nature will blossom within each child over time.
Homeschool Connections at Auerfarm

Bloomfield

Homeschool Connections will be a two tiered program open to homeschool families. On Wednesdays from 3-5PM, preteen and teens (10-13 year olds and 13-17 year olds) will delve into project-based studies while building social connections. On Fridays from 11AM- 1PM, young learners (3-5 year olds and 6-9 year olds) and their families will explore seasonal science topics on the farm. Both groups will meet weekly to investigate what is happening in the gardens and greenhouses, barns, forests, wetlands, and fields. Visit https://auerfarm.networkforgood.com/events/18843-homeschool-connections.
Sylvan Learning of Brookfield, Connecticut

Brookfield

Tutoring and Individualized Prep: Offering tutoring programs for math, algebra, reading, writing, study skills and more! At Sylvan, you get the best in certified teachers and interactive technology, so your child feels fully engaged and gets the exact learning he or she needs. We also have a team of college-readiness experts ready to help teens with individual SAT and ACT test prep. Academic Coaching; Affordable monthly packages allow your child to get the help they need to make an impact. You get a set number of sessions per month, so your child can practice skills, stay challenged or get a little boost. We tailor our sessions to your child — from homework support, to skill practice, to preparing for tests — so your student gets the exact support that's needed to feel more confident and less stressed!
Study Hall Inc

Clinton, CT

Study Hall, Inc. is a nonprofit educational resource center for students ages eight and above residing in Clinton, CT, and surrounding towns. Study Hall is unique in that it is an affordable, comprehensive educational resource designed so that all students, regardless of means, have equal access to the help they need for academic success. Study Hall's private tutoring prices, currently starting at $35 per hour, are well below the market rate. Need-based financial assistance may be available. In addition to subject tutoring, Study Hall offers individualized learning assessments, executive skill coaching, and low-cost and free teacher-led educational programs (i.e. free practice SAT testing, and math boot camps for middle and high school students). Study Hall is available to accommodate small groups (3-15 students)for enrichment activities and customized learning events. Call or email for more info: 860-552-2800 or Studyhallclinton@gmail.com
Connecticut Classical Conversations

Connecticut Statewide

CC is a national homeschooling program that uses a Bible based curriculum taught in a christian, classical tradition. Classes are geared for age 4 through high school.
Holy Apostles College

Cromwell

Holy Apostles College offers programs and degrees which can be taken on campus and/or 100% Online! Holy Apostles College offers students a Quality Education at an Affordable Price. Learn more about the Take Credit! Program allowing Home Schooled Juniors and Seniors the opportunity to enroll in 100 - 200 leveled courses and earn college credit before graduating.
C2 Education of Darien

Darien

C2 Education offers customized programs, tailored to each students individual needs in: K-12 Personalized Tutoring in Math, Science, History, Languages, and more. Study Skills Accelerated Learning SAT/ACT/PSAT/SSAT/ISEE test prep AP Exam prep Free College Admissions Counseling Summer Programs
Connecticut River Museum

Essex

The Connecticut River Museum offers a Homeschool Program Series of educational programming each year, beginning in fall and concluding in late spring. The history and ecology of the river, and those who came to live in the river valley, are highlighted. Please contact ctrivermuseum.org for more information.
Classical Conversations in Fairfiled

Fairfield

Classical Conversations is a community to equip parents and encourage students. Weekly meetings with a trained parent director and trained parent tutors, learning from the classical model. For ages 4-11, tutors may use drawing to teach geography, singing to teach Latin and History, mnemonics for science, etc. Includes presentations, fine arts, and a science project/experiments each week. College prep classes available for students ages 12 and up.
MK Educational Therapy

Fairfield

Ongoing Educational Therapy and Reading Therapy by certified/M.S. degree, Orton-Gillingham/Wilson trained, 20+ years teacher and Educational Therapist for students with special and needs k-12. .Reading .Math .Writing .Test Prep .Other
International College Counselors

Fairfield County

International College Counselors is an organization that helps with every step of the college admissions process. Counselors know what a stressful process applying to college is and want to help teens and their parents with what they need to know to navigate through it successfully. We understand the unique challenges facing home school families and would love to provide our experience and insight to help them gain some knowledge and learn some tips.
Bartlett Arboretum & Gardens Educational Programs

Fairfield County

The Bartlett Arboretum & Gardens offers developmentally appropriate, nature-based programs aligned to both Connecticut State Science Standards and the Next Generation Science Standards. The forested trails, wetlands, gardens, and greenhouse are extraordinary settings for learning. These programs are hands-on, inquiry-based, and designed to complement and extend students' learning. The arboretum can adapt programs for younger or older students upon request, as well as for students with special needs. Please specify desired program length and age/needs of your students at time of scheduling. Come join the fun, feel inspired, and get connected with the natural world.
Brain Balance Achievement Center

Fairfield County and surrounding area

Help your child get ahead by improving focus, behavior, social skills, and learning. The program is available onsite or online, at home. Join the 45,000 other Brain Balance families and help your child thrive in the new school year.
Electronics at Home (online)

Fairhope

This resource is designed for those who pose "The Edison Trait" so all kids will love the Hands-On learning of Electronic Engineering Technology. Only $65 a quarter and lab equipment that will be used for over two years of instruction, if you chose. Age 8 to 108.
Microsoft Farmington Mall Free STEM Workshops

Farmington

Sign up for free workshops designed to help kids use creativity to learn the latest technology, STEM skills, and coding basics. Integrating technology and digital literacy into the lives of your students has never been easier and more relevant. Take your group on a free field trip hosted by Microsoft. In addition on learning how to solve problems via organization and analysis of data using technology, students get to see some of the latest technologies in action – all for free.
Microsoft - Free field trips

Farmington

Free field trips at Microsoft Bring your class or group for a fun, free, and immersive educational experience. Students get the latest skills in 3D design, robotics, accessibility tools for those with custom needs and so much more.
Collaborative Education Center, LLC

Farmington

Collaborative Education Center, LLC will offer personalized small group and individual tutoring and enrichment classes. Sign up for an information sessions using our Facebook or Instagram Pages. Small groups forming now for families homeschooling. Now registering for our first module of enrichment classes at our new Farmington location. Tuesday morning classes for K-grade 2 and Thursday morning classes for grades 3-5. Wednesday playdate sessions also available with a STEM theme for September. Introductory rates available. Call (860-919-7110) or email today.
Parliament Tutors in Hartford

Hartford

Parliament Tutors is a private tutoring and test preparation service covering all academic subjects, homeschool subjects, and standardized tests.
STARBASE CT

Hartford

STARBASE is a five day STEM-based academy in which students collaborate to explore various fields of science and mathematics. The students use the Scientific Method to conduct experiments in chemistry and physics, make observations, and analyze data through graphing and comparison to draw conclusions about the world in which they live. They also make use of technology in the form of a high profile CAD program and 3-D printing. Students are challenged to utilize the knowledge they gain to engineer unique solutions to real world issues. STARBASE CT offers week long programs (25 hours) available for groups up to 25. The curriculum is designed to help students explore the STEM fields in a hands-on way. Activities include engineering challenges, chemistry experiments, learning about Newton's Laws of Motion, programming robots, using CAD (computer aided drafting program) to design vehicles, an International Space Station (ISS) and a model of the science lab from the ISS. Students print their models on 3D printers to take home. The program is geared to 6th grade science standards and is free. Must have a group of at least 20, but no more than 25 to participate.
Compassionate Math

Hartford area

Compassionate Math is the idea that learning mathematics is both an intellectual and emotional challenge – you can't move forward intellectually if you don't address negative emotions. Compassionate Math provides ongoing math learning support to homeschoolers and parents that does not ignore the emotional baggage that goes with learning math. Regular in-person workshops/classes held in and around CT.
The New Children's Museum Homeschool Association

Hartford County

The New Children's Museum of West Hartford offers hands-on science instruction to supplement the education of Homeschool students in grades Kindergarten through High School. Each session features three tracks: Natural Wonders, Space and Earth Explorers, and Team Science. Classes are taught by trained educators and aligned with CT State Standards. Using resources unique to the Museum environment, children receive 7 weeks of informal classes with other homeschool students, while families benefit from parent seminars and guest speakers. Families also receive a free membership to The New Children's Museum and Roaring Brook Nature Center for the length of the program. For more information please contact the Registration Department at (860) 231-2830 ext. 44 or events@thechildrensmuseumct.org
4-H Education Center at Auerfarm

Hartford, Tolland counties

The 4-H Education Center at Auerfarm is located on a 120 acre farm in Bloomfield, CT. They offer science based programs that meet CT Science Standards. Seasonal programs along with year round programs are offered at the facility. Programs are run Monday through Friday but can be offered on weekends if necessary. They also offer facility rentals for meetings, gatherings, etc.
Westover School

Middlebury

Westover is an independent boarding and day high school that challenges smart, motivated girls to become confident and connected women. Here, a wide range of opportunities are offered that will provoke thought, spur discussion, and help build skills and expertise. Innovative programs such as WISE (Women in Science and Engineering), IIG (Invest in Girls) and our Independent Senior Projects will allow students to pursue specific interests while preparing for college (and beyond). The visual and performing arts programs offer students the opportunity to study and share their work. There is an enduring commitment to social justice and community engagement comes to life through the many activities sponsored by the Rasin Center for Global Justice.
Abrakadoodle of Central Connecticut

Middletown

Abrakadoodle is the Academic Art Program of choice at hundreds of charter schools, public and private schools as well as home schoolers around the country. This resource is designed to incorporate art into your educational program. Abrakadoodle will provide the following: A trained art teacher who meets your specifications Our Standards-based Art in Our World Curriculum Incorporation of STEM Programming with art if needed Staff supervision and coordination and more This location is mobile-based, meaning Abrakadoodle can come to you. Towns served throughout central Connecticut, including: Middletown, Hartford, Glastonbury, Cromwell, Newington, West Hartford, Portland, Wallingford, Meriden, and East Hampton
Connecticut BEST

New Britain

BEST (Boosting Engineering Science and Technology) is a non-profit volunteer based program organization whose mission is to inspire students to pursue careers in engineering, science and technology through participation in sports like, science and engineering-based robotics competition. Central Connecticut State University
Southeastern CT Robotics

New London

Southeastern CT Robotics Club is a 501c3 educational, non-profit organization looking for Lego League team members in the 9-12 year age range in the New London County area. Our teams meet at The Lab in New London year-round. The FIRST Lego League program is three-parts: a science project, a teamwork challenge, and a robotics challenge. We practice all three elements at every meeting. We meet once a week for 2 hours from 4-6 PM during the off-season and more often as we get closer to competition in the Fall. Teams this year are 4-5 members. We also offer weekend classes for small groups. For more information on our group and to set up a tour of The Lab email: info@southeasternctrobotics.com.
North Branford 4-H Group

North Branford

Northford/North Branford Homesteading 4-H Group This group focuses on several key areas of 4-H. Environment & Outdoor Science Agriculture & Animal Science Healthy Living & Food Practical Skills Activities Planned Revolve Around: Gardening - Farming - Outdoor Activities - Cooking - Preserving Food - Food Safety Raising Poultry - Pets - Wildlife - Survival Skills - Home Skills - Arts & Crafts - Re-purposing - Camping Ages 8-17 All activities and projects adjusted to age and experience level.
Livity

Norwalk

Livity is a unique academic and enrichment program. We offer high-quality tutoring/academic support services, a variety of enrichment workshops and extracurricular activities for school age children. We also support Homeschoolers with a variety of in-person classes and workshops.
MagneticVisions 3D Modeling and Printing training

Rhode Island / Bristol

This resource provides two and three day courses, with hands-on instruction and training to design and build 3D models, using Rhino NURBS modeling (CAD-Computer Aided Design) software. No previous experience is required. Instruction provides in-depth tools and techniques used in 3D modeling and the 3D printing process. Emphasis is on promoting individuals' logical thinking, and enhancing problem solving skills. Courses are also available to build an affordable 3D printer. This course covers the step by step construction of the printer from a kit, materials and operation processes used, as well as how to maintain and troubleshoot the printer. Weekday, weekend and evening schedules are available.
The Vault Academics

Seymour

The Vault Academics is a licensed childcare center for ages 5-13, providing care for homeschooled children, distance learners as well as a S.T.E.A.M based after school program and S.T.E.A.M summer camp. Our center has access to 40+ titles of STEAM activities in Virtual Reality, our science titles are aligned with Next Generation Science Standards.
TalkOrange

Stamford

TalkOrange is a top-rated private 1-on-1 Mandarin tutoring program. TalkOrange blends both tech and tutoring to help students unique needs. The primary goal of TalkOrange tutoring is to provide students the tools, attention, and most importantly the support one needs to learn a new language.
Experienced math/science/test prep tutor

Stamford

Experienced Tutor available in Stamford, CT and surrounding areas, for students in grades 6-12 • Test prep (SAT, ACT, SSAT) • Math (Algebra I/II, Geometry, Trigonometry, Pre-calculus, Calculus) • Science (Biology, Chemistry, Physics) Flexible timing, competitive rates. Please contact Judy with any questions. Thanks! judy.wilkins.tutoring@gmail.com
Bareburger

Stamford

Bring your group to take a "behind the scenes" tour of your local Bareburger restaurant, learning about different staff positions and duties, food safety, following a recipe, why organic, all natural and more! Students, teachers and chaperones alike will then enjoy a delicious lunch and build your own burger covering your vegetarian, GF, Vegan, Beef & Chicken lovers. Designed for Grades 2nd to 12th, students pay just $10 each and chaperones pay $12 each and the teacher receives the adult lunch on us!
Code Ninjas Stamford

Stamford/Fairfield County

Code Ninjas Stamford is a coding school teaching children aged 5-15 coding and robotics by building video games! Offering curriculum for homeschoolers (8, 10, 12 week sessions) focused on coding using coding languages: Scratch, Javascript, Python; plus coding your own custom games within Minecraft, Roblox, and STEM activities: Drone programming, Science to Code and more! Go to the website to learn more or call (203) 633 - 8000 to visit this State-Of-The-Art Center!
Marine Science Experiential Learning

Stonington

Our mission at New England Science & Sailing Foundation (NESS) is to empower students with a love of learning through ocean-based experiential programs that serve schools, teachers, and families. NESS is the first and only program of its kind to be accredited by the New England Association of Schools and Colleges (NEASC). Our goal is to advance academic opportunities for K-12 students of all backgrounds in both urban and suburban markets. We offer a unique education model that empowers students with leadership, teamwork, confidence, and problem-solving skills to ensure academic success. Our STEM-based curriculum uses marine science, sailing, powerboating, and adventure sports as learning platforms. We hope you will play a role in helping us continue this important educational mission! The NESS instructor-led, hands-on programs include topics such as: marine debris, navigation, erosion, camouflage, deep sea exploration, and even sailing at home! Classes range from 1-2 hours based on the needs of the students. These courses are correlated to standards related to science, ocean literacy, and socio-emotional learning. If you are interested in learning more about NESS programs, please feel free to email Nina Quaratella, Education Specialist, at nquaratella@nessf.org or call at 860-535-9362.
Code Ninjas Coding Programs

Trumbull

Code Ninjas is a coding school teaching children aged 7-14 coding and robotics by building video games! Offering curriculum for homeschoolers (8 week sessions) focused on coding using Robots, Scratch, Javascript, Minecraft, Roblox, Drone programming, Science to Code and more! Go to the website to learn more or call 203 816 5239 to visit this State-of-the-art center!
Xperiment Virtual Reality

Trumbull

Xperiment VR is the newest place to experience the power of virtual reality. We host birthday parties & events as well as free play whenever you're in the mood to step into another reality. We are a fully immersive Virtual Reality social play space that delivers the best VR experiences to you without any hassle and expensive home set ups. ​ Prepare to jump into realistic worlds with explosive visuals as you step beyond reality and explore just about anything you can imagine. Whether you're playing games, exploring the world, or unleashing your artistic talents, It's fun for EVERYONE and a great way to stay active!
Wigwam Escape at the Institute for American Indian Studies

Washington

Wigwam Escape Room is operated within the Education Department of the Institute of American Indian Studies. The museum's mission is to "preserve and educate through discovery and creativity the diverse traditions, vitality and knowledge of Native American cultures". Wigwam Escape is an extension of this mission. Inside the escape room, the game explores how people interacted with their environment 500 years ago. All the puzzles are based on tasks or responsibilities Indigenous peoples living in the Eastern Woodlands would have had in their day-to-day lives. The goal is to educate the public about pre-contact Native peoples through an interactive, stimulating, and immersive experience. Designed for larger groups and alternative learning styles, Wigwam Escape's Hybrid program encompasses the escape room, a lesson in traditional skills, and a museum tour – all in one program! This hands-on, 3-4.5 hour program is set for 3-21 players & explores concepts such as… Environmental Resource Management How did people use resources around them in their day-to-day lives? Home & Village Life In this area of the Northeastern Woodlands, what style homes did people live in? What skills were important to daily life? Food & Medicine How did people hunt? What did people garden? How did people utilize medicinal plants?

Wigwam Escape at the Institute for American Indian Studies details
Karen's Inspired Academics

West Hartford

Tutoring all things ages 5-15, special experience in supporting homeschool design and instruction.
Westfield Academy of Debate, Model UN and Leadership

West Hartford

Debate and Model UN Weekly classes including a Thursday daytime homeschool program for ages 10 - 18, and Summer Day Camps. FOR: Ages: 8 to 18 Experience: All levels, from beginner to advanced/highly competitive Introverts and Extroverts… FIND YOUR VOICE! WHEN: Academic classes - rolling admissions (Sept - May) Summer Camps (June-July) WHERE: In-person and virtual classes in West Hartford, CT WHY: Learn to become an effective public speaker. Westfield believes that the ultimate purpose of learning oral advocacy is so each of our students can Find Their Voice to speak up and advocate for issues in which they believe and feel strongly about. QUESTIONS?? Check out our website or, Email: Admin@WestfieldAcademy.net Call: 860-940-0613

Westfield Academy of Debate, Model UN and Leadership details
STARBASE Connecticut

Windsor Locks

This resource offers a 25 hour, five day full STEM immersion program based on imaginative education practices. The students, aged 9-12, learn about physics, chemistry, robotics, engineering design, and even have the opportunity to learn computer-aided design (CAD). Students use CAD to design vehicles and an international space station. Careers in science, technology, engineering and math are also a topic during the week.