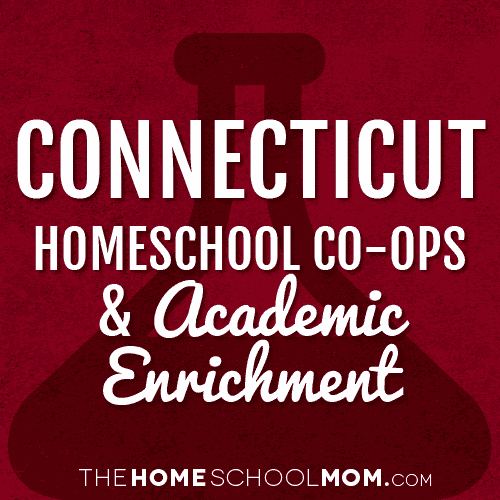 Looking for someone to teach physics to your teen? Need a way to avoid teaching algebra? Want to enroll your Kindergartener in a co-op for social time? Homeschool classes and co-ops are a great way to spend time with other homeschoolers and skill-share with other homeschool parents.
Our listing of Connecticut co-ops and academic classes for homeschoolers is ordered alphabetically by city, with co-ops in the first section and all other academic resources below. If you would like to submit a Connecticut co-op or academic resource, you may do so using the red button above.
Use the secondary navigation menu above to quickly make your way to pages for Connecticut state organizations, local homeschool groups, classes, co-ops, field trips, and more.
Connecticut Homeschooling Co-ops
Thames Valley 4-HNorwich
Thames Valley 4-H started out in 2015 as a homeschool co-op intending to provide supplemental classes and a supportive community for homeschooling families in New London County, CT.In 2017, it ...
Expressive Arts co-opShelton
The Expressive Arts Co-op was created by a pediatric occupational therapist as a result of a growing demand for a community program that is play-based and hands-on for engaged learning and developm...
Connecticut Homeschooling Classes & Academic Enrichment
Camp Ventures Homeschool ProgramAndover, Coventry
Channel 3 Kids Camp presents Camp Ventures Homeschool Program! A program that supports homeschool teachers and students explore academic subjects through hands on experiences. This program takes pl...
Find Us Outside Forest KindergartenBethel
Find Us Outside Nature Immersion Program is a 501(c)(3) non-profit organization created in 2016. The mission of Find Us Outside (FUO) is to instill a love of learning through our holistic nature im...
Mayflower TutoringBoston
Mayflower Tutoring is a reputable Plymouth, MA-based tutoring service. It proudly offers online and in-person tutoring sessions for elementary through high school students. Its founder, Matthew Row...
Sylvan Learning of Brookfield, ConnecticutBrookfield
Tutoring and Individualized Prep: Offering tutoring programs for math, algebra, reading, writing, study skills and more! At Sylvan, you get the best in certified teachers and interactive technology...
Connecticut Classical ConversationsConnecticut Statewide
CC is a national homeschooling program that uses a Bible based curriculum taught in a christian, classical tradition. Classes are geared for age 4 through high school.
Holy Apostles CollegeCromwell
Holy Apostles College offers programs and degrees which can be taken on campus and/or 100% Online! Holy Apostles College offers students a Quality Education at an Affordable Price. Learn more abo...
Glopaul MediaDanbury
Classes for adults and children to learn acting, directing, and screenwriting.
C2 Education of DarienDarien
C2 Education offers customized programs, tailored to each students individual needs in: K-12 Personalized Tutoring in Math, Science, History, Languages, and more.Study Skills Accelerated Lea...
Classical Conversations in FairfiledFairfield
Classical Conversations is a community to equip parents and encourage students. Weekly meetings with a trained parent director and trained parent tutors, learning from the classical model. For age...
HomeschoolteacherFairfield
Ongoing Educational Therapy and Reading Therapy by certified/M.S. degree, Orton-Gillingham/Wilson trained, 20+ years teacher and Educational Therapist for students with special and needs k-12....
International College CounselorsFairfield County
International College Counselors is an organization that helps with every step of the college admissions process. Counselors know what a stressful process applying to college is and want to help te...
Electronics at Home (online)Fairhope
This resource is designed for those who pose "The Edison Trait" so all kids will love the Hands-On learning of Electronic Engineering Technology. Only $65 a quarter and lab equipment that will be u...
Beacon Self-Directed LearningGreater New Haven
Beacon Self-Directed Learning is an alternative to mainstream school for teens located in New Haven. Beacon offers support, classes and tutorials in an inclusive, non-coercive environment. Beacon M...
Parliament Tutors in HartfordHartford
Parliament Tutors is a private tutoring and test preparation service covering all academic subjects, homeschool subjects, and standardized tests.
STARBASE CTHartford
STARBASE is a five day STEM-based academy in which students collaborate to explore various fields of science and mathematics. The students use the Scientific Method to conduct experiments in chemis...
The New Children's Museum Homeschool AssociationHartford County
The New Children's Museum of West Hartford offers hands-on science instruction to supplement the education of Homeschool students in grades Kindergarten through High School. Each session features t...
Food ExplorersHartford, Tolland Counties
Food Explorers is run by Registered Dietitian, Katie Shepherd. The program combines nutrition education with hands on-cooking activities, teaching children how to make healthy choices for themselve...
Westover SchoolMiddlebury
Westover is an independent boarding and day high school that challenges smart, motivated girls to become confident and connected women. Here, a wide range of opportunities are offered that will pro...
Connecticut BESTNew Britain
BEST (Boosting Engineering Science and Technology) is a non-profit volunteer based program organization whose mission is to inspire students to pursue careers in engineering, science and technology...
North Branford 4-H GroupNorth Branford
Northford/North Branford Homesteading 4-H GroupThis group focuses on several key areas of 4-H. Environment & Outdoor Science Agriculture & Animal Science Healthy Living &...
TalkOrangeStamford
TalkOrange is a top-rated private 1-on-1 Mandarin tutoring program. TalkOrange blends both tech and tutoring to help students unique needs. The primary goal of TalkOrange tutoring is to provide st...
Experienced math/science/test prep tutorStamford
Experienced Tutor available in Stamford, CT and surrounding areas, for students in grades 6-12• Test prep (SAT, ACT, SSAT) • Math (Algebra I/II, Geometry, Trigonometry, Pre-calculus, Calculus)...
BareburgerStamford
Bring your group to take a "behind the scenes" tour of your local Bareburger restaurant, learning about different staff positions and duties, food safety, following a recipe, why organic, all natur...
Code Ninjas Coding ProgramsTrumbull
Code Ninjas is a coding school teaching children aged 7-14 coding and robotics by building video games! Offering curriculum for homeschoolers (8 week sessions) focused on coding using Robots, Scrat...
Plus Plus Tutoringvarious locations Statewide
Plus Plus Tutoring offers private personal K-12 one-on-one in-home tutoring services. Plus Plus Tutoring offers subject tutoring, exam and test preparation, homework help, organization skills, stud...
Karen French, Educational Consulting ServicesWest Hartford
Karen is an Educational Consultant providing teaching and tutoring services to Homeschool Families in the greater Hartford area. As a CT certified teacher, she specializes in grades K-8, offers su...
STARBASE ConnecticutWindsor Locks
This resource offers a 25 hour, five day full STEM immersion program based on imaginative education practices. The students, aged 9-12, learn about physics, chemistry, robotics, engineering design...