Homeschooling is regulated at the state level, so connecting with local homeschoolers is an important step to start homeschooling in Connecticut. Find the Connecticut homeschool groups closest to you and get connected with your local homeschooling community, learn about the homeschool requirements in Connecticut, and discover the co-ops, classes, sports and arts opportunities, and social get-togethers in your area.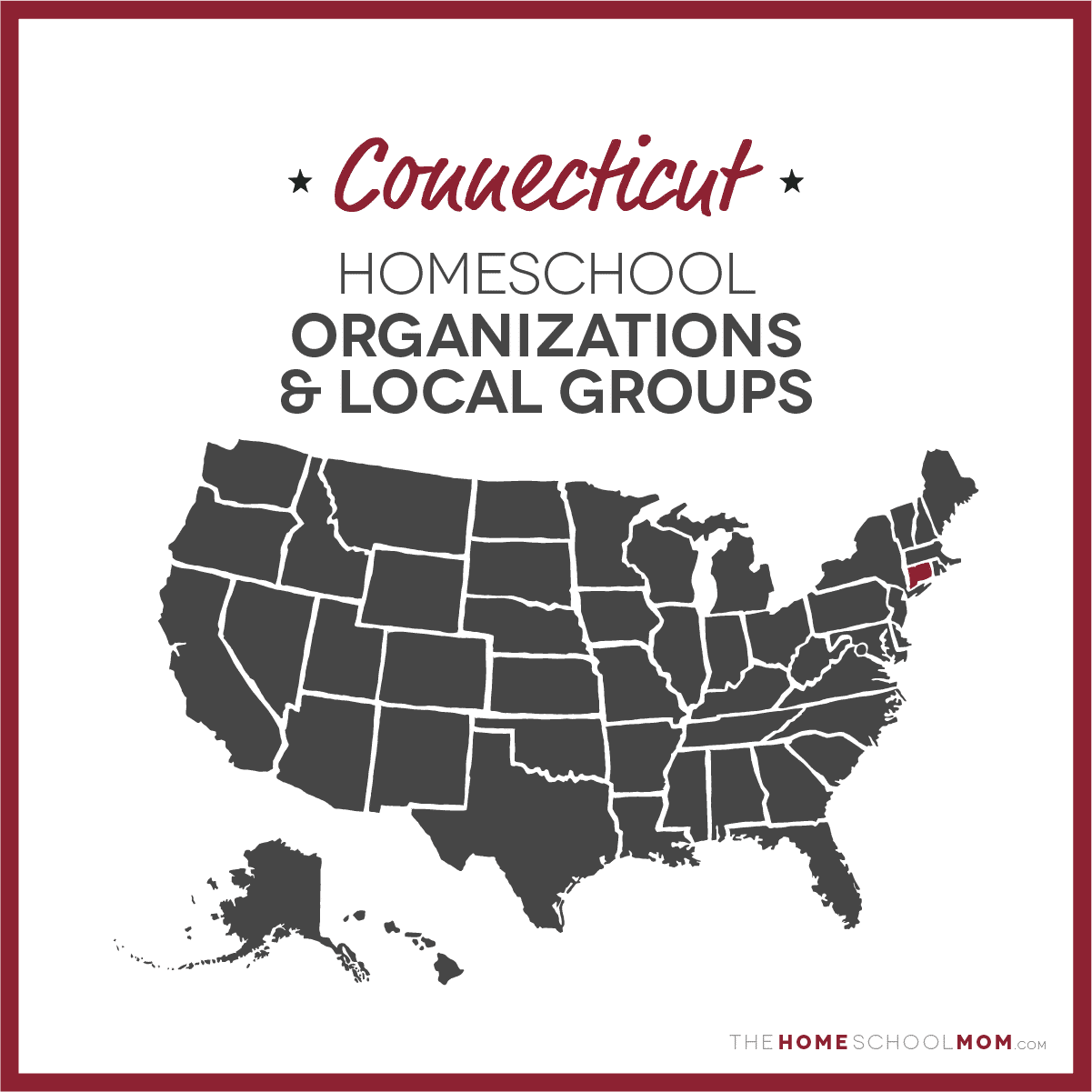 Submit a Local Resource
Jump to: State Organizations | Local Groups
Our listing of Connecticut state organizations and local homeschool groups is ordered alphabetically by city, with statewide organizations listed first. If you would like to submit a group, you may do so using the red button above.
Connecticut Homeschool Organizations (Statewide)
TEACH CT

Connecticut Statewide

The purpose of TEACH is to further the interests of home education of children by their parents. To accomplish this, TEACH shall provide service and information to homeschooling families and support groups in Connecticut. All sponsored activities and publications will be consistently Christian and dedicated to the honor and glory of God in keeping with the Biblical commands of Deuteronomy 6:4-10, Proverbs 22:6, and Ephesians 6:4.
CT Homeschool Network

Connecticut Statewide

CT Homeschool Network (CHN) is Connecticut's statewide information and support network. We are an independent, online-based homeschooling organization, which serves to inform, empower, and foster community among home educators in the state of Connecticut. CHN is completely inclusive, welcoming everyone of all races, religions, lifestyles, abilities and disabilities, and learning methodologies.
Connecticut Local Homeschool Groups
H.O.P.E. - Homeschoolers Of Principles and Encouragement

Bethany

H.O.P.E., Homeschoolers Of Principles and Encouragement, is a non-denominational Christian homeschool group serving the greater New Haven area. We meet regularly for cooperative activities, hikes, field trips, and moms' nights.  Our focus, as a group, is to support and encourage each other through our homeschooling journey and to have a community where our children can build friendships and grow in faith with their friends.

H.O.P.E. - Homeschoolers Of Principles and Encouragement details
Redwoods Homeschool Community

Bristol

A Christian homeschool group dedicated to creating community building opportunities for homeschool families to gather, learn, and serve others. We aspire for homeschoolers to be encouraged, equipped, and engaged in their home education journey. This is a member based community primarily located in and near Bristol and Meriden, CT (meeting at various locations). We are not a co-op. Redwoods Homeschool Community members have access to RHC Programs (which may be cooperative), field trips, recesses, teen events, mom's nights, holiday parties, etc. Families are asked to either volunteer teach or serve on an action committee. Families can choose to participate in as much or little that fits their needs.
REACH Co-op - Connecticut

Colchester

REACH Co-op  (Real-life Educational Adventures in Christian Homeschooling) Our mission is to create a community where Christian homeschooling families can come together for worship, fellowship, educational activities, service projects and field trip adventures. We meet most Tuesdays throughout the year.  In the summer months and in January, we meet for field trips or fellowship activities. During our fall and spring semesters, we meet twice a month for classes and the other weeks we meet for field trips, service projects or other activities.  Meeting days include Chapel Time (worship, Bible Time, prayer), Mom's Time and classes for preschoolers through highschoolers.  Classes change each semester but may include art, science, Spanish, soccer, math, acting, knitting, impromptu speaking, worship dance, Chess club and music theory. Serves: Central Connecticut, including the towns of Colchester, East Hampton, East Haddam, Middletown, Cromwell, Hebron, Glastonbury, Marlborough, Portland and surrounding areas.
Shoreline Homeschoolers of Connecticut

Connecticut shoreline

An inclusive organization that supports member families living along the Connecticut shoreline. The organization respects diversity and individual choice in educational philosophy and welcomes all families as members, regardless of their reasons for homeschooling. We are a supportive community where members come together to form friendships, organize activities and events for the children, share interests and concerns, and have fun! Membership includes -- support group meetings and social gatherings; subscription to a great email list used by members for sharing information; annual events for the children; membership cards for educator discounts; group tickets for area events; and much, much more...
CT Homeschoolers Inclusive

Connecticut Statewide

Connect and support CT homeschoolers regardless of geographic location, method of instruction or religious affiliation. The Yahoo Message Group is the hub of our activity, allowing homeschoolers across the state to connect to share ideas, methods, events and support. Our goal is to work cooperatively with all CT homeschool groups and associations both large and small including CHN, Teach, NHELD, Unschoolers and more for the benefit of all CT homeschool families. While the majority of our connections will be made on-line, group members are welcome to schedule gatherings at different locations around the state to accommodate our membership; have car will travel.
The Education Association of Christian Homeschoolers of CT Support Groups

Connecticut Statewide

Support group list benefits and encourages homeschooling families and is not to be used for soliciting business.

The Education Association of Christian Homeschoolers of CT Support Groups details
MyBookCart.com

Deep River

MyBookCart.com provides homeschoolers the ability to sell back their homeschool education books back for cash. One of the difficulties that homeschoolers face is the cost of buying their own educational books. MyBookCart.com helps alleviate that problem by buying back the books that homeschoolers are finished using. MyBookCart.com provides free quotes, free shipping for all buybacks, and fast payment by check or PayPal.
G.R.A.C.E. Homeschoolers Alliance

East Haddam

G.R.A.C.E. Homeschoolers Alliance is a cooperative community of Christian homeschooling families. We seek to mutually provide one another with fellowship, encouragement, and support as we share the homeschooling journey together.
Electronics at Home (online)

Fairhope

This resource is designed for those who pose "The Edison Trait" so all kids will love the Hands-On learning of Electronic Engineering Technology. Only $65 a quarter and lab equipment that will be used for over two years of instruction, if you chose. Age 8 to 108.
RI Homeschool Teen Scene

RI, CT, MA

This group is for all things home-school teen related but, most importantly, it's a place for us to share info on in-person hangouts, events, classes, etc... for homeschooled teens in RI, MA and CT. Every month there will be a schedule posted of weekly hangout opportunities so keep your eyes peeled for those posts. If you would like to see events or hangouts that aren't on the schedule feel free to let us know. We're always looking for new ideas! Also, we'd love for you to share any opportunities for teen events you happen to come across.
Family Strong - Homeschool Social Club

Trumbull, Fairfield County

Family Strong aims to provide a hyper-local social community and environment for like-minded families who share similar values and interests. The mission of this group is simple, our goal is to be a valuable resource to families and their children by facilitating deeper connections with others they can relate to, learn from, and feel comfortable to be their authentic selves. We respect varying ethnicities, religions, abilities, and homeschool education styles. We do ask that members be located in Shelton, Stratford, Monroe, Trumbull, Newtown, Easton, Bridgeport, or Fairfield so our families can participate in educational, active, and social gatherings regularly, and without having to drive long distances. Activities Include: -Creative, Educational, Active and Social Meetups -Family Socials -Parents Night Out (PNO) -Play Dates (Members Can Schedule)
Barefoot University - Connecticut

Westport

BU connects families to nature and each other. Our forest schools nourish the holistic health & education of children. Through child led learning, engaging STEM & science based activities, community service projects, creating communities, & equipping families to observe & explore our natural world, Barefooters thrive. Location:Lower Fairfield Co: Sherwood Island State Park, Wed. 10am