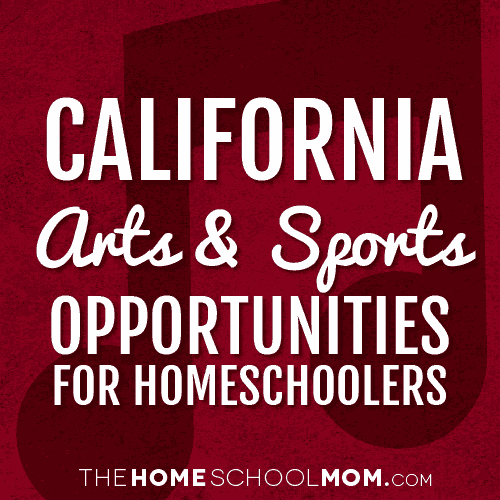 In addition to the opportunity to get out of the house and socialize, homeschool sports and arts programs can offer long-term benefits by developing characteristics like leadership, self-confidence, perserverance, and self-esteem. Many organizations and businesses have opportunities specifically for homeschoolers, while others invite homeschoolers to participate in their regular programs.
Not sure how to choose activity/activities for your children? Read how Rebecca narrows down the choice of extra-curricular activities.
Below is a list of homeschool sports and arts programs in California listed alphabetically by city, with arts resources in the first section and sports resources below. If you would like to submit a California arts or sports resource, you may do so using the red button above.
Use the secondary navigation menu above to quickly make your way to pages for California state organizations, local homeschool groups, classes, co-ops, field trips, and more.
Homeschool Arts Opportunities in California
ArtHaus 5 Art Classes4S Ranch, Rancho Bernardo, Black Mtn Ranch, Rancho Penasquitos
ArtHaus 5 is an art academy for learners of all ages. We explore art and teach it to all those with a desire to learn. Learn not only the technical and fundamental elements but about the apprec...
Donna Evans Music Piano & Voice LessonsAliso Viejo
Donna Evans Music provides private and group piano and vocal lessons. Donna Evans is California state certificate of merit accredited. Music Theory is stressed while students explore a wide variety...
KW Music Studios Piano LessonsAliso Viejo
KW Music Studios, LLC provides in home and in studio keyboard and piano lessons to students of all ages! It's primarily location is in Aliso Viejo, CA however it services many other cities within O...
88 Keys Music AcademyArcadia
88 Keys Music Academy is located in the heart of Arcadia, California. The experienced and accomplished instructors love music with a passion and are ready to share their talents with you. Offering ...
SoundCheck Music SchoolCanoga Park
SoundCheck Music School works with anyone who wants to learn music in a positive and rewarding environment. Instructors provide high quality private music lessons in singing, guitar, piano, bass, d...
Mind on Music EducationConejo Valley, San Fernando Valley
Mind on Music Education offers private, one-on-one lessons in Instrumental Music, Music History and Music Theory. Instrumental music is offered for guitar, piano, voice, ukulele and bass. Instructi...
Bay Music LessonsContra Costa County
Bay Music Lessons offers superior quality in home music lessons to students of all ages and abilities. Students have the opportunity to learn how to play and advance their skills with the Violin, V...
His Song PianoCorona
Give your child the gift of music. Affordable Private Piano Lessons by experienced teacher. His Song Piano hours are Tuesday, Wed. Thurs. 1pm - 9pm to accommodate any home school families that ar...
Young Interventions, IncCorona
Young Interventions, Inc. provides Individualized play-based Early Intervention Services for children ages 0-3 and their family. Currently offering Musical and Education Movement Exploration Classes.
Wanna Learn Piano – John Maellaro, instructorCovina
Individualized Private Piano Lessons with John Maellaro. All Ages and all styles. Lessons taught in person. Remote video lessons via Skype/FaceTime
Sun GalleryEast Bay - Hayward
Hands-on art activity classes
Leading Note StudiosEncinitas
A music school and recording studio located in Encinitas California. Students age range 18 months on, with Mommy and Me courses up through semi-private group lessons to full one-on-one. Offer 2 a...
Bach To Rock – EncinitasEncinitas
Bach to Rock is a music school in Encinitas, CA specializing in music education for everyone from toddlers to adults. Bach to Rock crafts the most well-rounded musicians through teaching techniqu...
Viridian Art AcademyEncino and Tarzana
Viridian Art Academy believes in a traditional art education that is both challenging and exciting. The Academy's goal is to give students the skills to become independent artists. Instructors act ...
Lieras Piano LessonsEscondido (North County)
Beth Lieras provides highly-skilled piano instruction in North County area of San Diego, with a special passion for beginners of all ages. Currently offering special rates for Home School students...
School of Rock FairfaxFairfax
School of Rock offers students of all skill levels age 7-18 a performance-based music curriculum in a fun environment. Weekly private lessons are combined with structured group rehearsals. Student...
Kidz Create MusicHermosa Beach
Kidz Create Music specializes in private in-home piano, guitar and voice lessons. Their instructors are talented, fun, and sure to inspire a passion for music in your child. They host annual recita...
Go To Heaven Dance CompanyHollywood
Go To Heaven Dance Company offers a comprehensive dance curriculum and dance classes in ballet, hip hop, jazz, contemporary, African dance and praise dance to students of all ages. We are dedicated...
Superstar Media Arts AcademyInland Empire
This program offers youth the opportunity to gain hands on experience in the field of Media and the Arts. Whether it is working the camera, writing a script, monitoring the video controls, or sitti...
YMM Art Space IrvineIrvine, California
YMM Art Space,Irvine, founded in 2018, is an art education center for children ages 2 to 18 located in Irvine, CA. We are a part of the YMM Art Education Group, an international organization with t...
The Studio ViolinLafayette
The Studio Violin is a Suzuki Violin School providing expert violin instruction to children ages 3-18 in Lafayette, CA. The warm and welcoming private studio hosts private Suzuki violins lessons we...
Rhodes School of MusicLarchmont, Los Angeles
Rhodes School of Music offers private music lessons on almost every instrument. Private instruction can begin at age 5 and enforces the fundamentals of musicianship and the technical requirements f...
SoundLife Music LessonsLos Angeles
SoundLife Music Lessons is an in-home music lessons provider specializing in sending A+ professional musician instructors with real world performance experience into the students home to teach one-...
Homeschool Enrichment classesLos Angeles
Creative Learning place is a vendor for: Sky Mountain Charter School, Golden Valley Charter School, and Gorman Learning Center. Variety of classes offered throughout the year.
French classes for homeschoolersLos Angeles
High quality French classes are offered online (on Electa) for homeschoolers or one-on-one French lessons in Los Angeles. Visit www.monprofesseur.org to learn more.
Red Pelican MusicLos Angeles
Red Pelican Music offers private music lessons. Teachers are elite musicians, hand-picked for their enthusiasm and patience. Lessons on piano, guitar, voice, drums, ukulele, bass, saxophone, flute,...
MUSYCA Children's ChoirLos Angeles
MUSYCA Children's Choir is a multi-level, sequential choral music education program for children and youth, guided by an exceptional faculty. Located in the San Fernando Valley of Los Angeles, MUSY...
Renee Day DesignsLos Angeles
Learn to sew basic and advanced sewing skills while creating fun and beautiful projects. Sewing lessons for home school children are available 9am - 3pm on weekdays, and Saturdays. Lessons can be s...
Music Teacher LALos Angeles
Music Teacher LA provides quality in-home/in-studio private music lessons for children (Ages 4-up) and adults in Piano, Voice, Violin, Guitar, Drums in Los Angeles and South Bay. Voted Best Music T...
Susuki Academy Los AngelesLos Angeles
Violin lessons from age 2 to adult. Taught with the Susuki Method through repetition and LOVE. Change your child's life!
Art SpecialistLos Angeles
Kathy Leader at The Art Process Studio in west Los Angeles, specializes in developing art experiences and curriculum for home schooled children in Los Angeles. This can include museum visits, studi...
Craft Music In-Home Music LessonsLos Angeles
This resource teaches in-home music lessons to students in Los Angeles, Santa Monica, and Pasadena. They are intuitive and tailored private lessons; and the instruments are piano, violin, guitar, d...
Music Teacher LALos Angeles
MUSIC TEACHER LA is Los Angeles' leading provider of Quality In-home and In-studio Piano, Violin, Guitar, Voice, Drums and More Music Lessons for Children (ages 4-up) and Adults.Voted the Best...
Art for Two with Heather Sky HilaryLos Angeles, Palms/Rancho Park/Westside
Art for Two offers private and small group art lessons to highly creative students ages 3-15 in Palms area of West Los Angeles with artist and teacher Heather Sky Hilary. Flexible scheduling to fit...
Creative KeyboardsModesto
Master Piano Teacher is taking auditions for studio in west Modesto. With over 30 years of experience, Crystal Oddo knows how to engage kids in music with fun and encouragement, AND IT WORKS! Her f...
Violin & Viola Lessons with Laurel ThomsenMonterrey
Private Violin & Viola Lessons: Classical/Suzuki Method, Fiddle, Improvisation. All ages, beginner through advanced. Skype online lessons also available.
Art TrekNewbury Park
Art Trek, Inc. is a local nonprofit arts organization in Ventura County that brings quality art into the classrooms and the community. Offering field trips, art camps, private events, birthday part...
Friends of Willow TreeNorth County San Diego/Southern Riverside
Friends of Willow Tree offers classes using Waldorf methods for grades TK - 7th grade (TK-8th in 2019-2020).The TK/Kindergarten is a warm place where students enjoy baking bread, making soup, ...
Theatrical Fencing ClassesNorth Hollywood
Like dance, theatrical swordplay is both complex in structure and beautiful in execution. The timing must be precise and the form flawless all while being executed with effortless flair.Trainin...
Rebecca's Violin StudioOakland
Rebecca's Violin Studio offers private lessons to classical violin students of all ages. Lessons are available in both the morning and afternoon. As they grow as musicians, students learn to creati...
Orange Coast Musical ArtsOrange County
Orange Coast Musical Arts (OCMA) is an independent, non-profit band and orchestra program founded in 1998 dedicated to providing quality music education and performance experience for youth (ages 6...
Lessons with Grace – Oboe, Piano, Music TheoryOrange County
Grace provides private music lessons in Oboe, Piano, and Music Theory throughout the Orange County area. Lessons are available in-home, in-studio, and online. Grace holds a Master's Degree in Music...
School of Rock Palo AltoPalo Alto
School of Rock offers students of all skill levels age 7-18 a performance-based music curriculum in a fun environment. Weekly private lessons are combined with structured group rehearsals. Student...
Piano Play Music SystemsPasadena, Sherman Oaks, and Woodland Hills
Piano Play has group classes for students K through 2nd grade. Group classes work on note reading, keyboard playing, ear training, singing, and theory. Private lessons are available in piano, voice...
School of Rock South Bay LARedondo Beach
School of Rock offers students of all skill levels age 7-18 a performance-based music curriculum in a fun environment. Weekly private lessons are combined with structured group rehearsals. Student...
Dance 1Redondo Beach
Dance 1 offers dance classes for homeschoolers. Daytime classes at convenient times for homeschooling families, typically with small class sizes. A homework room on site for studying or teaching wh...
Art & Music Center, IncRio Vista
Art & Music Center in Rio Vista is a Nonprofit 501c3 Organization. Established in 2013 and formerly known as Fine Arts School In The Pines located in Placerville CA, has revised it's name to in...
Stuff And Things Art StudioRiverbank
Stuff And Things Art Studio is an environmentally conscious, mixed media art studio. Private homeschool specific workshops are offered on Tuesdays. New workshop sessions start the first Tuesday of ...
Dr. Batista Music StudioRiverside
Start or continue music lessons in a fun and supportive environment with professional musicians. Offering lessons in piano, guitar, voice, violin, composition, music theory and chamber music. Each...
Buzzy Mae Music AcadmeyRiverside , Murrieta , Anaheim , Costa Mesa, Rancho Santa Margarita, La Mesa , Murrieta
Guitar Lessons By Frank J Velasquez. Registration is always open. Fall Music Classes , Theatre , Private lessons and Summer workshops. 8 Locations. Please see website for all updated Information.
The Art BistroRocklin
The Art Bistro is a place to create for all ages! Come to our open studio any day of the week to paint, create a mosaic, paint ceramics, do a glass etching, make a wood sign with our custom vinyl s...
Simply Music Piano lessonsRoseville
Simply Music is a revolutionary, Australian-developed piano and keyboard method that presents a breakthrough in music education. Students of all ages are playing great-sounding blues, contemporary,...
Thrive Arts AcademyRoseville
Lessons with a purpose.We believe that excellence in the arts is a primary way to ensure culture change. Melding together the power of art, and the strength of the Church is our mission. We emp...
Group Piano ClassesSacramento
The Sacramento Piano Conservatory is thrilled to be offering group piano lessons in Sacramento. New classes are forming regularly. Please call or email to find out the current schedule of classes o...
Just For Fun Art ClassesSacramento Area
A different theme, style, and medium will be chosen monthly based on famous Artists. Your child will learn about the Artist while creating their own inspired masterpiece.There is a Punch Card ...
School of Rock San DiegoSan Diego
School of Rock offers students of all skill levels age 7-18 a performance-based music curriculum in a fun environment. Weekly private lessons are combined with structured group rehearsals. Student...
Villa Musica – San Diego's Community Music CenterSan Diego
Villa Musica inspires people of all ages and backgrounds to explore the joy and lifelong value of music through education, performance and community engagement. Founded as a 501(c)3 non-profit corp...
Cody's Keyboard ClubSan Diego
Cody's Keyboard Club is a dynamic introduction to playing and appreciating music. Everyone works on their own electric keyboard with headphones — this allows students to work on music of their own ...
Improv Classes for Kids and Teens!San Diego
Jump into some seriously hilarious improv theater! Learn how to build exciting stories, create fascinating characters, and present them through fun improv scenes and games. These workshops are all ...
World Passion ProjectSan Diego
This Home School Enrichment Resource Outpost is located in the heart of East Village in Downtown San Diego. Music, Art, Drumming, Notation, Math, Philosophy, Storytelling, Crafts, Guitar, Piano, Yo...
Christian Youth Theater – San DiegoSan Diego and surrounding areas
Christian Youth Theater (CYT) is an after-school theater arts training program for students ages 4 - 18. CYT is a non-profit 501(c)(3) educational organization funded primarily through its tuition...
Bravo School of ArtSan Diego, Pt. Loma
Bravo School of Art offers 1- day and multiple week art classes for adults and children to explore their creativity. Choose from a variety of hands-on art, craft and home decorating workshops for t...
Cap Scalzo Art ClassesSan Fernando Valley
Art Classes with a licensed vendor for working with Home Schooled Families. The classes are usually two hours long once a week but schedule can be adjusted to fit each family's needs. The classes ...
The Salvation Army Kroc CenterSan Francisco
At the Salvation Army Kroc Center in San Francisco is offering a community Children's Strings Program. Anyone, no matter the background, deserves the best musical and performing arts experience th...
ARTifactSan Francisco, Marin
ARTifact offers original art enrichment programming that integrates math, literacy, science, and social skill building for Preschool, TK, PreK, and grade school children age 2.5 to 12. "Our vehicle...
Harmony Music Studio Violin LessonsSan Jose
Private Violin Lessons: Traditional and Suzuki Methods, Fiddle, World Music, Improvisation, Music Theory, Music History and Ear Training. All ages, beginner through advanced.
School of Rock San JoseSan Jose
School of Rock offers students of all skill levels age 6-18 a performance-based music curriculum in a fun environment. Weekly private lessons are combined with structured group rehearsals. Students...
Camp FashionistaSan Jose
Camp Fashionista is a sewing and design school for kids and adults. From hand-sewing projects to machine sewing and garment construction to summer and vacation camps, plus private lesson options an...
David K's Music SchoolSan Jose
Those who wish to learn the language of music and want to be more expressive, David K's Music School in San Jose is the best place for them. David K, the owner of this school is very passionate abo...
Anam Cre' pottery studioSan Luis Obispo
A pottery studio located in downtown San Luis Obispo. Offering students the fundamentals of working with clay. Students learn to throw on the potters wheel,make slab pieces,sculpt and various glaze...
FluentgGuitar LessonsSan Luis Obispo
FluentGuitar offers private, one-on-one lessons and group lessons in Guitar, Mandolin and Ukulele. Instruction is given in the comfort of your own home. In-home lessons are offered throughout San L...
Shakespeare for KidsSan Luis Obispo
Shakespeare for Kids classes uses the popular Playing With Plays series of Shakespeare and other classic stories as performance pieces for the kids to learn about drama and classic authors. Everyth...
School of Rock San MateoSan Mateo
School of Rock offers students of all skill levels age 7-18 a performance-based music curriculum in a fun environment. Weekly private lessons are combined with structured group rehearsals. Student...
L.Y.T.E DANCE STUDIOSanta Clarita
L.Y.T.E (Live Your truth Everyday) Dance Studio has a unique dance/performance team program that trains and educates dancers from the beginner level to professional level. L.Y.T.E offers am classes...
Kids Sculpting ClassesSanta Clarita
Teaching kids how to sculpt their favorite animation characters out of colorful polymer clay. Classes taught by profesional sculptor, Cody Pence with 25 years of experience Sculpting toys and prod...
Kids On StageSanta Monica
Kids On Stage is a Santa Monica based award winning, premiere performing arts and video program for ages 4-17 years. Celebrating 30 years of theater education, performance and collaboration in 2017...
Santa Monica Violin LessonsSanta Monica
Miss Morgan of J&M Strings is a Suzuki trained violin teacher and viola teacher based in Santa Monica, California. Her method is derived from her background in Neuroscience, the Suzuki method, ...
The Ford Academy of DanceSignal Hill/Long Beach
The Ford Academy of Dance is a Christian-based dance studio located inside AGA Gymnastics in Signal Hill/Long Beach, CA. Providing afternoon classes for ages 3-18 specifically with the homeschool ...
Huckleberry LearningSimi Valley
Helping families succeed in their homeschooling journey. Providing classes, tutoring, clubs, events & a nurturing community for adults and students alike since 2007.
Ruwach En Jasmine, Inc.South Bay Area/Signal Hill
Ruwach En Jasmine, Inc. provides professional dance and gymnastics classes in Signal Hill for kids and adults. Styles include; classical ballet, jazz, modern, contemporary, tap, hip hop, and praise...
Knauer Music SchoolTarzana
The Knauer Music School is a family-owned music school based out of Agoura Hills and Tarzana, California providing high-quality music instruction to students of all ages and disciplines! Knauer ins...
Murrieta Art CenterTemecula/Murrieta
Offering Visual Art Classes for grades K-8. Instructor will teach in student's home supplying all materials and covering California State Standards for the Visual Arts. Discounts are offered for ...
Mindful WarriorsTemecula/Murrieta
The mission of Mindful Warriors is to inspire positivity and growth, and promote yoga in an interactive and fun way for the youth of today. Providing yoga in a safe, nurturing, noncompetitive space...
Connect the Dots MusicThousand Oaks
Connect the Dots Music offers students a chance to play, read, and write music with fun, professional piano or guitar lessons. Highly referred teacher for 20 years. Learn any style: Classical, Pop...
Drama Kids International of TucsonTucson
Providing drama classes that develop in children and teens leadership, creative thinking, public speaking, language/speech and a host of other skills. Classes are weekly for 1 hour and link to lite...
School of Rock TustinTustin
School of Rock offers students of all skill levels age 7-18 a performance-based music curriculum in a fun environment. Weekly private lessons are combined with structured group rehearsals. Student...
Orange County Music SchoolTustin
Orange County Music School offers homeschool students discounted Piano, Violin, Guitar, and Voice lessons. Programs include small group and private lessons.Orange County Music School offers c...
Harmony Music CenterVentura
Harmony Music Center provides guitar and music instruction to children and teens ages 7-17. Instruction is in small classes. Students learn to play popular music together and fun and music are prio...
Michelle Ostrove Vocal and Piano StudioVentura, Oxnard, Camarillo, Malibu, Thousand Oaks, Newbury Park
Voice and piano lessons for students of any age. Music theory along with sight reading instruction. Call Michelle Ostrove at 805-246-5926, Skype lessons are available upon request.
School Of Rock, West LAWest LA
School of Rock offers students of all skill levels age 7-18 a performance-based music curriculum in a fun environment. Weekly private lessons are combined with structured group rehearsals. Student...
The Art Process art classes and museum visitsWest Los Angeles
The Art Process provides engaging art classes, workshops, retreats and summer camps for children and adults in the West Los Angeles area. The Art Process specialist resource engages homeschooled ch...
Art educationWest Los Angeles
This resource provides integrative art classes and museum visits for the homeschooled child. Individual or small groups. Art classes involve painting, drawing, construction, clay with an emphasis o...
Homeschool Sports Opportunities in California
Antioch Brazilian Jiu JitsuAntioch
Youth Brazilian Jiu Jitsu classes. Ages 5-13. Students can expect to learn the values of Self Defense, Fitness, Discipline, Respect, Awareness and Focus in a safe and challenging environment. Each ...
Arcadia Golf Learning CenterArcadia/ San Gabriel Valley
Providing curriculum which combines character development with learning golf in the true spirit of the game. Lessons are designed to teach juniors the game of golf in a fun safe environment. Utiliz...
Burbank Taekwondo SchoolBurbank
Burbank Taekwondo School offers martial arts classes for ages 2.5 to adult. Special discounts for home school students. Call 818-406-1148 or email info@burbanktaekowndo.com for details.
Synergy Elite All Star Gym (FUNdamentals)Ceres/Central Valley
A Recreational Cheer Program using the FUNdamentals curriculum. This program is focused on learning and mastering the basics of cheerleading. Motions, Jumps, and Stunts are learned during each prac...
CenCal Cosmos Soccer ClubClovis & Fresno
CenCal Cosmos provides an exceptional and accessible youth soccer experience in Central California, with an innovative, long-term, player-centered focus on holistic and age-appropriate development,...
Heart & Soul Fitness- Kid and Family ClassesContra Costa County
Ballet, Yoga, and REFIT® classes offered for kids. Family-friendly REFIT® classes offered as well. All fitness levels and ages are welcome. Go to www.fitheartandsoul.com for more information, class...
UCLA Health Sports PerformanceEl Segundo
Youth and High School Training. The youth and high school performance training programs bring the same methodology and intensity used by EXOS with professional athletes. EXOS prepares athletes by u...
Archery Only Archery LessonsFremont
Archery Only offers lessons to kids (and family!) 8 and up in recurve archery. Students learn range safety and how to execute a shot in 1 hour lessons. Lessons can be one time only, or in six week ...
Golden Ridge StableGilroy
All ages welcome for horseback riding lessons, $45.00 for one hour. Located 25 minutes from San Jose and Monterey.
Riding Academy HomeschoolGilroy
A perfect way to let your child ride and learn about horses from the ground up. Johnny 6 Stables Riding Academy students learn everything from brushing their horse, tacking up, stall cleaning, barn...
Play to Your Health PE programGreater Los Angeles & Orange County area
Play to Your Health's PE program provides all-encompassing Physical Education Classes for Home-School Students. We combine practices from popular sports, track and field, gymnastics, and other exe...
EMH Sports USA PE Classes for HomeschoolersHawaii
EMH Sports offers homeschooled students a chance to become fit, have fun, and to develop new friendships all while earning PE credits. All activities are pre-planned and are taught by scope and seq...
Santa Fe Trail ArchersLong Beach
Santa Fe Trail Archers provides archery lessons from beginners to advanced tournament archers at El Dorado Regional Park in Long Beach. Recommended age is 8yo and up. SFTA provides group lessons,...
Young Ninjas USALos Angeles
Young Ninjas is a high-energy program introducing children to fundamental martial arts elements, like blocks, kicks, strikes, situational awareness, basic self-defense, and the all important KI-YAH...
Diving Los Angeles VALLEYDIVELos Angeles
Providing Diving Club/Instruction for HS, College Scholarships, and Elite Diving to all Home School Students in Southern California. Qualifies as Physical Education Requirement in California. Divi...
Tempest Freerunning Academy – ValleyLos Angeles - Chatsworth
Teaching parkour and freerunning classes to students ages 4 and up. These classes follow a curriculum that focuses on improving balance, coordination, strength, agility, full body awareness, confid...
Tempest Freerunning Academy – South BayLos Angeles - South Bay
Teaching parkour and freerunning classes to students ages 4 and up. These classes follow a curriculum that focuses on improving balance, coordination, strength, agility, full body awareness, confid...
Mobility AcrobaticsLos Angeles, Hollywood, Orange County, Ventura County, San Bernardino
A NEW mobile coaching service that teaches the art of movement through various forms of acrobatics such as gymnastics, cheerleading, and ninja warrior training. Mobility Acrobatics provides the eq...
SoCal Weightlifting Kids ClubNewport Beach
A weightlifting club in Newport Beach, California with over 100 athletes. SoCal Weightlifting runs a kids club three times a week and teach the fundamentals of athletics and training and weightlift...
California Home School SportsNorco/Inland Empire
California Home School Sports has been hosting home school sports events since 1997. Annual events include the March Gladness Basketball Tournament, a track and field invitational in the spring, an...
Batson Freestyle Mixed Martial ArtsOrange County
Batson freestyle mixed martial arts and self-defense offers five styles of martial arts including Mui Thai kickboxing, jujitsu, judo, Sambo, and catch wrestling. All students are instructed in thes...
Crossfit Crown City Youth FitnessPasadena/California
"Crossfit Crown City is the first, biggest, and most family friendly crossfit gym in the Pasadena area." This gym has been working with youth in Pasadena since 2012. The youth fitness coaches imple...
Snow Valley Mountain Resort Discount Lift TicketsRunning Springs
Offering all home schools discounted lift tickets to learn to ski and snowboard. The brochure is on the web page listed under groups. A fantastic learn to ski program for ages 12 and up. It include...
Sacramento Elite – Youth Running ClubSacramento, Carmichael, Fair Oaks, East Sacramento, Arden
Sacramento Elite is a youth running club with athletes of all abilities from National Champions to first-time runners. Athletes ages 7 and up enjoy a fun, motivating and team-oriented environment....
Tempest Freerunning Academy – North CountySan Diego (North County)
Teaching parkour and freerunning classes to students ages 4 and up. These classes follow a curriculum that focuses on improving balance, coordination, strength, agility, full body awareness, confid...
Stars Gymnastics LLCSan Gabriel Valley
Participating in Gymnastics and/or Tumbling classes are great ways to stay physically fit, make friends and learn new skills. Stars Gymnastics offers classes for boys and girls, 18 months-17 years...
AVAC Swim SchoolSan Jose
AVAC Swim School offers a homeschool program. Customize your needs from small group lessons or swim workouts.
Tossom Dive ClubSanta Clarita
Tossom Dive club practices weekly at the Santa Clarita Aquatics Complex. All levels of Springboard diving are offered!
Urban Jungle Fun ParkSantee
Offering home school families a P.E. program that gives families a chance to be active together in a fun environment.
Champion Gymnastics & CheerSantee
Champion Gymnastics & Cheer has team of dynamic coaches and offers fitness classes for Home School students (ages Pre-School to 18) in the areas of gymnastics, cheer, tumbling, and INFERNO sports d...
iSquash; Squash LessonsSouth Pasadena
Come and learn how to play the world's healthiest sport, according to Forbes Magazine. Squash is a fun indoor court sport similar to racquetball/tennis. At the Arroyo Seco Racquet Club in South P...
Temecula Tennis 4 kidsTemecula
QuickStart Tennis is new play format for learning tennis, designed to bring kids into the game by utilizing specialized equipment, shorter court dimensions and modified scoring, all tailored to age...
Roller Skating at Epic RollertainmentTemecula Valley
At Epic Rollertainment, fitness and fun is rolled into one. Epic Rollertainment offers a variety of programs to promote fitness through roller skating: A variety of morning and evening skate sessio...
Mindful WarriorsTemecula/Murrieta
The mission of Mindful Warriors is to inspire positivity and growth, and promote yoga in an interactive and fun way for the youth of today. Providing yoga in a safe, nurturing, noncompetitive space...
The RinksWestminster
The Rinks offers special event packages for birthdays, field trips and group outings at all seven of their inline and ice rinks. Skating is a fun activity for all ages and abilities. Event packages...