Field trips are a great way to reboot a bad homeschooling week, get out of the house when everyone has cabin fever, and learn about your local area. Before heading out, check out Jeanne's tips for improving homeschool field trips.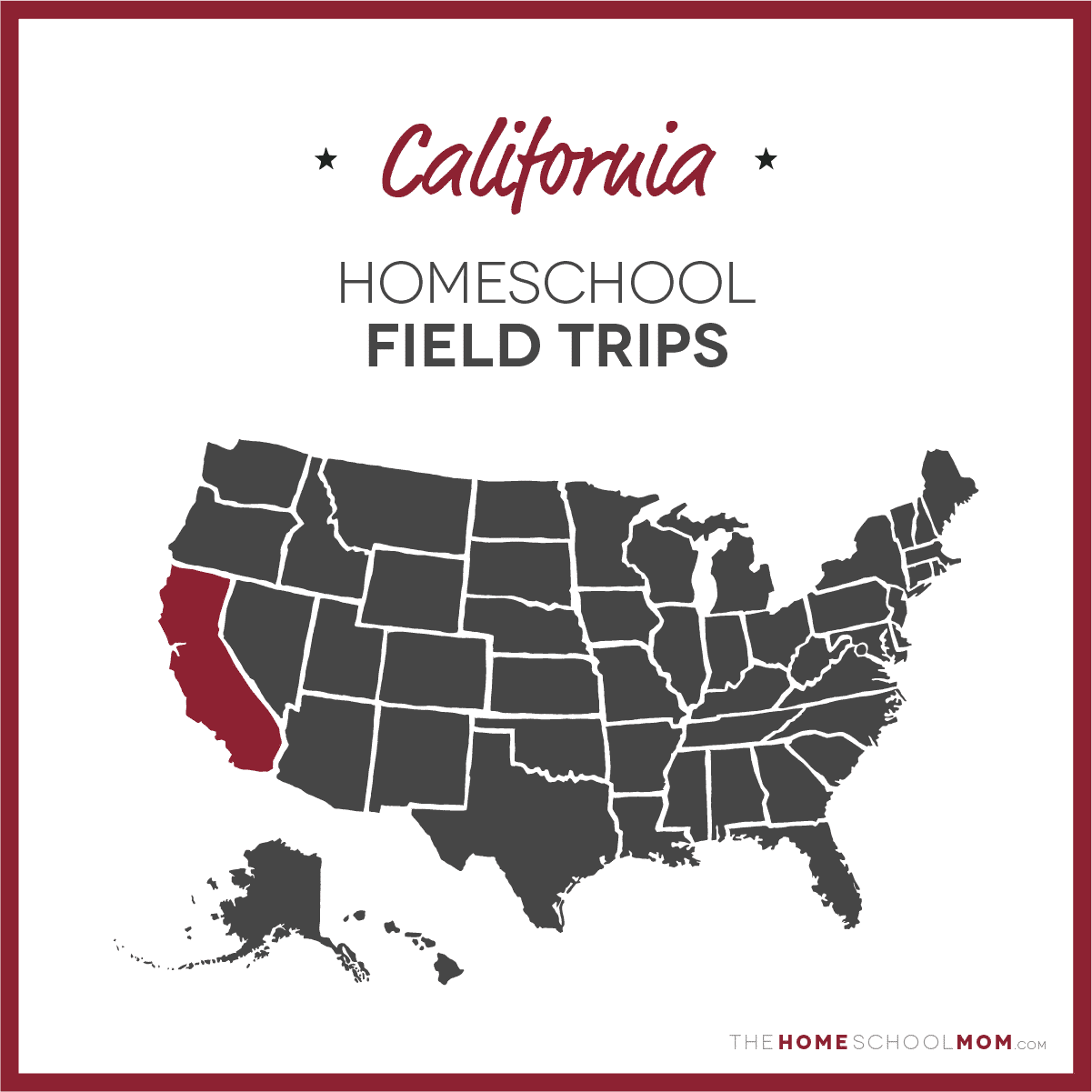 Submit a Field Trip Destination
Our listing of California field trips for homeschoolers is ordered alphabetically by city. If you would like to submit a California field trip destination, you may do so using the red button above.
An asterisk * after the title indicates that a virtual field trip is also available.
California National Historic Trail

More than 250,000 gold-seekers & farmers crossed into to the gold fields & rich farmlands of California during the 1840's and 1850's. 1,000 miles of trail ruts and traces can still be seen to remind us of early American travelers and settlers.
Pony Express National Historic Trail
Benicia Historical Museum at the Camel Barns

2060 Camel Rd Benicia, CA 94510

The Benicia Historical Museum offers education programs that bring history to life. Our wide variety of educational programs are offered for K-12 groups and include guided tours of our exhibits and grounds, as well as a selection of hands-on history activities. Become an archeologist and dig up artifacts or learn about early California and stake a claim on ranch land. The museum also offers Traveling Trunks where students can explore different time periods- Early California, California Gold Rush, and California in the Civil War.
Malibu Creek State Park

Agoura Hills

Once used to film numerous movies and TV shows, such as Planet of the Apes and M*A*S*H, the park was the center of Chumash Native American life for centuries. Malibu Creek features hiking, fishing, bird watching and horseback riding opportunities.
Wassama Round House State Historic Park

Ahwahnee

This site is used by local Native Americans as a ceremonial meeting place. The park features special events and tours. Gathering Day, held the third Saturday of October, includes demonstrations of dancing, crafts and basket weaving.
Robert W. Crown Memorial State Beach

Alameda

This state beach was named in memory of State Assemblyman Robert W. Crown, who campaigned for the site's preservation as public parkland. Known as Alameda Beach from the 1880s until the outbreak of World War II, it was an amusement center and day-trip destination for San Francisco and Bay Area residents. The beach is a great achievement of landscaping and engineering. After wind and water action had eroded the beach dangerously, it was restored in early 1982 with sand from San Francisco Bay, pumped ashore by pipeline from a barge. More sand has been added since then, and groins have been constructed to keep it in place.
Soka University Founders Hall Art Gallery

Aliso Viejo

SUA's beautiful two-story, 8,000 square foot Founder's Hall Art Gallery is open M-F from 9AM - 5PM. Entrance is free.
Underground Gold Miners of California Museum

Alleghany

Open Seasonally - By appointment only and on days when mine tours are scheduled. Located in a livery stable (ca. 1900) that later served as the town's General Store for over 50 years.
Oak Canyon Nature Center

Anaheim

Oak Canyon Nature Center is a 58-acre natural park nestled in the Anaheim Hills. A year-round stream meanders through the park. Consisting of three adjoining canyons, four miles of hiking trails traverse one of the few remaining areas of oak woodland and coastal sage scrub in our region. Native wildlife makes the canyon their home and is just waiting to be discovered. Also located on site is the John J. Collier Interpretive Center, a small museum with live animal and regional natural history exhibits.
Adventure City

Anaheim

A theme park aimed at kids.
Seacliff State Beach

Aptos

This beach is known for its fishing pier and concrete freighter, The Palo Alto. Unfortunately, the ship is unsafe and closed to the public. Only the pier is open for fishing. The beach is also a popular swimming spot. There is a long stretch of sand backed by bluffs. There is a covered picnic facility. The park also has an interpretive center.
The Forest of Nisene Marks State Park

Aptos

The park offers rugged semi-wilderness, rising from sea level to steep coastal mountains of more than 2,600 feet. Once the site of logging operations until the 1920s, visitors can still find evidence of logging operations, mill sites and trestles in the park.
Humboldt State University Natural History Museum

Arcata

The mission of the Humboldt State University Natural History Museum, through its collections, exhibits, and programs, is to inspire in North Coast residents and visitors of all ages an understanding and appreciation of the dynamic natural world and to provide a learning laboratory for Humboldt State University students.
Sierra Nevada Logging Museum

Arnold

The Sierra Nevada Logging Museum is a non-profit regional museum in Arnold, California that tells the history of loggers and logging-related industries in the Sierra Nevada mountains of California -- from the discovery of gold in 1848 to the present day. The geographic scope of the Museum encompasses the 18 counties of the Sierra Nevada range, from Lassen County in the North to Kern County in the South.
Calaveras Big Trees State Park

Arnold

Calaveras became a State Park in 1931 to preserve the North Grove of giant sequoias. This grove includes the "Discovery Tree", the first Sierra redwood noted by Augustus T. Dowd in 1852. This area has been a major tourist attraction ever since, and is considered the longest continuously operated tourist facility in California.
Oceano Dunes State Vehicular Recreation Area

Arroyo Grande

Oceano Dunes is the only California State Park where vehicles may be driven on the beach. Passenger cars can easily drive on the northern portion of the beach.
Charles Paddock Zoo

Atascadero

The Charles Paddock Zoo is home to hundreds of species from all over the world. A number of the animals are part of globally managed programs to preserve animals and their habitats.
Castle Air Museum

Atwater

A museum in which faithfully restored historic aircraft is exhibited for public enjoyment. The collection encompasses nearly sixty restored vintage military aircraft ranging from pre-WWII to the present on approximately twenty acres of beautifully-maintained grounds. In addition to the outdoor displays the museum is complemented by an indoor museum which houses a fascinating collection of wartime memorabilia including aircraft engines, military uniforms, historic photos, and personal military artifacts from the past century.
Auburn Joss House

Auburn

Any celebration of Auburn's history would be incomplete without information on early Chinese residents, and their role in town development and growth. The Auburn Joss House, built in 1909 and located on the corner of Sacramento Street and Brewery Lane, is one of the best-known buildings in Old Town Auburn and symbolizes the role of the Chinese in local history.
Auburn State Recreation Area

Auburn

Once teeming with thousands of gold miners, the area is now a natural area offering a wide variety of recreation opportunities to over 500,000 visitors a year.
Catalina Island Museum

Avalon

The Catalina Island Museum celebrates the Island's rich cultural heritage. Current exhibits include an award-winning exhibit featuring the romantic era of Catalina's steamships, Native Americans, a large relief map of the Island, Avalon's evolution into a resort community, Catalina pottery and tile, early communication, sportfishing, the Chicago Cubs spring training, and much more!
Kern County Museum

Bakersfield

The museum features 56 historic exhibits, many in relocated structures, an award winning hands-on oil exhibition Black Gold: The Oil Experience and the Lori Brock Children's Discovery Center for youth eight and under. The museum is consistently recognized for providing some of the most outstanding educational programs in the state of California, such as Native American Life, and Frontier Life. In addition, the museum hosts temporary exhibitions and special events in an effort to achieve its mission.
Buena Vista Museum

Bakersfield

The Buena Vista Museum promotes the scientific and educational aspects of earth history, particularly paleontology, biology, geology and anthropology. This is done through public education, research, and by serving as a repository for fossils, and other natural history items. High priority is given to documenting and displaying the rich, unique aspects of the natural history of Kern County. The museum is the repository of the Bob and Mary Ernst Collection, the largest private collection of Sharktooth Hill Miocene fossils in the World.
Bakersfield Museum of Art

Bakersfield

The vision of the Bakersfield Museum of Art is to be recognized as a destination for fine art exhibitions that enrich the quality of life for residents and visitors of the San Joaquin Valley and as a leader in the area of art education for children and adults.
McConnell State Recreation Area

Ballico

The park is on the banks of the Merced River. Fishing is popular for catfish, black bass and perch. There are picnic, camping and play areas.
Mojave National Preserve

Barstow

Located between Los Angeles and Las Vegas, the Mojave National Preserve boasts of singing sand dunes, volcanic cinder cones, and Joshua tree forests.
Benicia Historical Museum

Benicia

The mission of the Benicia Historical Museum is to engage the community in the evolving history of Benicia and the Arsenal and their influence in the development of our country. The Museum complex is the center where history is seen, enjoyed and preserved. Through exhibits, events and educational programs we enlighten the public about the history of this unique city.
Benicia State Recreation Area

Benicia

Benicia State Recreation Area covers marsh, grassy hillsides and rocky beaches along the narrowest portion of the Carquinez Strait.
Benicia Capitol State Historic Park

Benicia

Benicia Capitol State Historic Park is the site of California's third seat of government (1853-54.) It is the only pre-Sacramento capitol that survives. The original building has been restored with reconstructed period furnishings and exhibits. The interior includes a board-for-board reconstruction of the building's original floor with ponderosa pine. The desks, three of which are originals from the Benicia period or earlier, are furnished with a candlestick, a 19th century newspaper, a quill pen and a top hat.
Habitot Children's Museum

Berkeley

Founded by parents and educators in 1992 to meet the unique needs and interests of infants, toddlers and preschoolers in a safe and appropriate community setting. Habitot founders have created a hands-on play and learning center where young children are the 'big kids' -- exploring the arts and culture in a safe setting designed especially for small hands and bodies and growing minds.
Eastshore State Park

Berkeley

The park includes tidelands and upland property along 8.5 miles of shoreline of the San Francisco Bay. The park extends from the City of Richmond in the north to Emeryville and Oakland in the south, ending near the east anchorage of the San Francisco Bay Bridge. The tidelands comprise rich tidal marshes, sub tidal areas, and mudflats that extend bay ward from the shoreline including the Emeryville Crescent, Albany Mudflat, and Hoffman Marsh. Much of the existing upland area is the result of fill placement in the Bay west of the historic shoreline. The shoreline reflects the unique influences of both natural systems and human intervention.
Lawrence Hall of Science

Berkeley

Play online games, download activities to do at home, and more cool stuff. Lawrence Hall of Science (LHS) is a renowned resource center for preschool through high school science and mathematics education, and a public science center with exciting hands-on experiences for learners of all ages.
Big Bear Valley Historical (Eleanor Abbott) Museum

Big Bear

An extensive collection of artifacts, featuring exhibits from the indigenous Serrano Indians, the gold mining era, cowboys and cattle ranching, logging, fox farming and early winter sports.
Alpine Slide at Magic Mountain

Big Bear Lake

The Alpine Slide at Magic Mountain is open all year and is Southern California's only authentic bobsled experience.
Limekiln State Park

Big Sur

The park features breathtaking views of the Big Sur Coast, the beauty of the redwoods, the rugged coast and the cultural history of limekilns.
Pfeiffer Big Sur State Park

Big Sur

This beautiful park features redwoods, conifers, oaks, sycamores, cottonwoods, maples, alders and willows - plus open meadows. Wildlife includes black-tail deer, gray squirrels, raccoons, skunks, and birds, such as water ouzels and belted kingfishers. Hikers can enjoy the many scenic trails, including a self-guided nature trail. Some campsites are along the Big Sur River.
Andrew Molera State Park

Big Sur

In the spectacular Big Sur area, this park is still relatively undeveloped and offers visitors great hiking, fishing and beachcombing. Miles of trails wind through meadows, beaches and hilltops. A primitive walk-in trail camp, popular with hikers and bikers, is located approximately one third mile from the parking area.
John Little State Natural Reserve

Big Sur

The purpose of John Little State Reserve, in Monterey County, is to preserve and protect an area of steep, rugged cliffs on the Big Sur coast where Lime Creek enters the Pacific Ocean. The unit contains the original 1917 cabin of early conservationist Elizabeth K. Livermore.
Bolinas Museum

Bolinas

The Bolinas Museum is the premier fine art museum in Marin County. The beauty of the land and proximity to the metropolitan Bay Area has always attracted highly creative people to this region. The Bolinas Museum focuses on the diverse interests and rich pool of artistic talent of Coastal Marin, while stimulating the appreciation of visitors from all over the world.
Anza-Borrego Desert State Park

Borrego Springs

The largest state park in California. Five-hundred miles of dirt roads, 12 wilderness areas and miles of hiking trails provide visitors with an unparalleled opportunity to experience the wonders of the California Desert. The park features washes, wildflowers, palm groves, cacti and sweeping vistas. Visitors may also have the chance to see roadrunner, golden eagles, kit foxes, mule deer and bighorn sheep as well as iguanas, chuckwallas and the red diamond rattlesnake.
San Lorenzo Valley Museum

Boulder Creek

Our mission is to preserve the history of the San Lorenzo Valley through collecting and exhibiting artifacts, gathering historical information, and providing education through the San Lorenzo Valley Museum and our educational outreach programs.
Big Basin Redwoods State Park

Boulder Creek

Big Basin has a full schedule of interpretive programs during the Summer and on weekends during the Fall and Spring as staff allows. Visitors to the park should look for flyers for additional information, programs and updates.
City of Brea Art Gallery

Brea

The City of Brea Art Gallery presents quality exhibitions throughout the year and the facility's 6,000 square foot exhibition space is home to artwork from around the world. In addition to all the inspiring artwork, the Gallery also offers a gift shop featuring work by regional artists and special one-of-a kind items.
Bodie State Historic Park

Bridgeport

Bodie State Historic Park is a genuine California gold-mining ghost town. Visitors can walk down the deserted streets of a town that once had a population of 10,000 people. The town was founded by Waterman S. Body (William Bodey), who had discovered small amounts of gold in hills north of Mono Lake. In 1877, the Standard Company struck pay dirt and a gold rush transformed Bodie from a town of 20 people to a boomtown.
Whitaker-Jaynes Estate and the Bacon House Museums *

Buena Park

Virtual field trip onlineCome see new museum displays including the Lynx Women's Softball Team from the 1940s, a pictorial history of Buena Park's entertainment venues and photos of the Dreger Clock in various stages of its "life".
Knott's Berry Farm

Buena Park

Knott's Berry Farm is a human adventure, created for people of all ages. We salute the lure and lore of California and the West. We celebrate the cultures, traditions and unique spirit of the extraordinary American Experience. For over 50 years Knott's has been different - and the difference is Real. Adventures In Education can open your mind, expand your spirit and, perhaps, even touch your heart. When you participate in our educational field trips, Knott's Berry Farm becomes your own interactive, state-of-the-art classroom (and ultimate playground for after class). We've worked with leading educators and subject-matter experts to offer the best in content and impact for learning at all grades and levels.
Medieval Times

Buena Park

Chivalry in action, educational matinee at Medieval Times. In the beginning there is an approximate 30 minute presentation about medieval history with educational vignettes focusing on good citizenship and the code of chivalry. This is all being played out while the students are enjoying a boxed lunch. The, they will witness knights on horsebacks compete in tournament games, authentic jousting matches and swordfights as we bring history to life.
Gordon R. Howard Museum

Burbank

Burbank was born during the Southern California land boom of the 1880's when thousands of Americans came West during the railroad rate war between Santa Fe and Southern Pacific. Movies were big news in Burbank as early as 1920's with production companies shooting many scenes on City streets. Museum which includes an 1887 Victorian house, a memorabilia building including a Lockheed Aviation display and other historical artifacts, a vintage vehicle building, a salon and the Ray Sence addition in which 19th century era rooms are shown.
Warner Bros VIP Studio Tour

Burbank

Film and television fans can find information about TV and movie sets.
McArthur-Burney Falls Memorial State Park

Burney

The park's centerpiece is the 129-foot Burney Falls, which is not the highest or largest waterfall in the state, but possibly the most beautiful. Additional water comes from springs, joining to create a mist-filled basin. Burney Creek originates from the park's underground springs and flows to Lake Britton, getting larger along the way to the majestic falls.
Bidwell Mansion State Historic Park

Butte County

Bidwell Mansion State Historic Park is a beautiful, three story, 26 room Victorian House Museum that stands as a memorial to John and Annie Bidwell. John Bidwell was known throughout California and across the nation as an important pioneer, farmer, soldier, statesman, politician and philanthropist. Annie Ellicott Kennedy Bidwell, the daughter of a socially prominent, high ranking Washington official, was deeply religious, and committed to a number of moral and social causes. Annie was very active in the suffrage and prohibition movements.
Clay Pit State Vehiclular Recreation Area

Butte County

This off road area provides good beginner terrain for off-road enthusiasts. The clay used to build Lake Oroville was taken from the Feather River Valley, three miles west of Oroville. The resulting depression -- a large shallow pit ringed with low hills -- is the site of this recreation area. It is a motorcycle, all-terrain vehicle, and dune buggy use area. There is also a rifle range.
Tule Elk State Natural Reserve

Buttonwillow

Tule Elk State Reserve protects a herd of tule elk, once in danger of extinction. In the 1880s, vast herds of tule elk were greatly reduced in number by hunting and loss of habitat. The elk are most active from late summer through early autumn. Visitors are encouraged to bring binoculars for better viewing. The park has picnic areas and interpretive exhibits.
Bethany Reservoir State Recreation Area

Byron

Located in the northernmost part of the San Joaquin Valley, Bethany Reservoir State Recreation Area is a popular place for water-oriented recreation, especially fishing and windsurfing. It also features a bike trail (along the California Aqueduct Bikeway) - and many windmills. It is also the northern terminus of the California Aqueduct.
Leonis Adobe Museum

Calabasas

The Leonis Adobe was the home of Miguel Leonis, known as the King of Calabasas. The museum features his authentically furnished two-story Monterey-Style adobe with original buildings, period livestock, gardens and a vineyard--all part of Leonis' recreated ranch where he once ruled the territory. Although the Leonis Adobe is over 150 years old, the everyday life on the ranch is much the same. Upon entering the wrought-iron gates, the huge White Oak tree still shades the property and one immediately travels back to the 1880 period.
Desert Tortoise Natural Area

California City

The Desert Tortoise Natural Area (DTNA) is a 39.5-square-mile (102 km2) area in the western Mojave Desert, located in eastern Kern County, Southern California. It was created to protect the native Desert Tortoise (Gopherus agassizii), which is also the California State Reptile. It has an interpretive center for visitors. Good for all ages.
Salvation Mountain

Calipatria

Salvation Mountain is Leonard's tribute to God and his gift to the world with its simple yet powerful message: "God Is Love." Leonard's passion has lovingly created this brilliant "outsider art " masterpiece resplendent with not only biblical and religious scripture such as the Lord's Prayer, John 3:16, and the Sinner's Prayer, but also including flowers, trees, waterfalls, suns, bluebirds, and many other fascinating and colorful objects. Salvation Mountain must be seen to be fully appreciated as those who have made the journey will attest. Its 50 foot height and 150 foot breadth is made totally of local adobe clay and donated paint and is truly unique in the United States and probably the world. From its Sea of Galilee at the bottom, to the big red heart in the middle, to the cross at the very top, the reoccurring theme of "Love" is everywhere at Salvation Mountain.
Robert Louis Stevenson State Park

Calistoga

Robert Louis Stevenson State Park is the place where the famous author of Treasure Island and Kidnapped spent his honeymoon in 1880. Although nothing remains of Stevenson's cabin, the site is identified on the trail to the summit.
Sharpsteen Museum's

Calistoga

The Sharpsteen Museum's permanent exhibits are designed to present the history of the upper Napa Valley from its pre-history to post World War I with an emphasis on people and changes brought by the period of U.S. emigration and development. In addition to its many historical exhibits, the Museum uses unique and extraordinarily extensive dioramas to depict Calistoga during its period as the elegant 1860s Hot Springs resort developed by pioneer, promoter, publisher, entrepreneur, and California's first millionaire, Sam Brannan.
San Simeon State Park

Cambria

San Simeon State Park is one of the oldest units of the California State Park System. The coastal bluffs and promontories of the scenic park offer unobstructed views of the ocean and rocky shore. The park includes the Santa Rosa Creek Natural Preserve, the San Simeon Natural Preserve and the Pa-nu Cultural Preserve which were established in 1990.
Campbell Historical Museum & Ainsley House

Campbell

Ainsley House is a restored English Tudor style building in Campbell, California. It is now a museum open to the public. The 15 rooms are furnished with much of the original furniture from the era when the house was one of the grand homes in the Santa Clara Valley.
Canoga/Owensmouth Historical Museum

Canoga

The town of Owensmouth was referred to as the "Baby Town" of the San Fernando Valley in 1912. Developers used the image of a baby-delivering stork in their promotional material. The Stork Plaque, symbolic of the birth of Owensmouth on March 30, 1912, was a gift to prospective buyers on the opening day of land sales in the new town.
Red Rock Canyon State Park

Cantil

Red Rock Canyon State Park features scenic desert cliffs, buttes and spectacular rock formations. The park is located where the southernmost tip of the Sierra Nevada converge with the El Paso Range. Each tributary canyon is unique, with dramatic shapes and vivid colors.
New Brighton State Beach

Capitola

The beach features picnic areas, swimming, fishing and a nearby forest of Monterey pine and Coastal Live Oak. The camping area is on a bluff overlooking northern Monterey Bay.
Capitola Historical Museum

Capitola

The Capitola Historical Museum maintains extensive collections of photographs and artifacts related to Capitola's history, and offers changing exhibits on the history and art of the area, as well as on special seasonal and topical themes. Museum grounds now include a reconstructed cottage from the era of the early 20th century beach resort. Restoration of a wash house is a new, ongoing Museum project.
San Elijo State Beach

Cardiff

Located on the San Diego Coast, San Elijo State Beach offers swimming, surfing, showers and picnicking. The narrow, bluff-backed stretch of sand has a nearby reef popular with snorklers and divers.
Grizzly Creek Redwoods State Park

Carlotta

The Cheatham Grove is an exceptional stand of coast redwoods. The park is a quiet place to camp, hike, fish, swim and picnic. The Van Duzen River flows beside the campground.
Carlsbad State Beach

Carlsbad

Carlsbad State Beach is located on the San Diego Coast. It offers swimming, surfing, scuba diving, fishing and beachcombing. This small beach is located at the foot of coastal bluffs, south of the town on Carlsbad.
Carmel River State Beach

Carmel-By-The-Sea

On Carmel Bay, the mile-long beach features a bird sanctuary in a lagoon (just before the Carmel River empties into the sea) featuring a wide variety of waterfowl and song birds. Monastery Beach, also known as San Jose Creek Beach, is part of the park and is popular with scuba divers. Ocean and swimming and wading are extremely dangerous.
Garrapata State Park

Carmel-By-The-Sea

The park has two miles of beach front, with coastal hiking and a 50-foot climb to a beautiful view of the Pacific. The park offers diverse coastal vegetation with trails running from ocean beaches into dense redwood groves. The park also features outstanding coastal headlands at Soberanes Point. Sea lions, harbor seals and sea otters frequent the coastal waters and California gray whales pass close by during their yearly migration.
Effie Yeaw Nature Center

Carmichael

Offers a dynamic variety of fun activities including children, adult and school programs, nationally renowned interactive exhibits, educational workshops and many opportunities for volunteering. Visitors can see live wild animals, browse our Discovery Shop for books, toys and unique gifts, or tour the replica of a Maidu Indian summer village. Enjoy our 77-acre nature preserve featuring interpretive trails that meander through the riparian woodlands along the American River. See deer, coyotes, migratory songbirds and wild turkeys as you explore the preserve's lush oak woodlands.
Carpinteria Valley Museum of History

Carpinteria

The Carpinteria Valley Museum of History provides a fascinating glimpse into the Valley's past. A variety of unique exhibits examine the three major cultures that made this valley their home. The Carpinteria Valley Historical Society, a nonprofit educational organization, created, maintains, and operates the Museum and research library. The Society is dedicated to collect, preserve, interpret, and exhibit objects of historical significance related to the Valley.
Carpinteria SB

Carpinteria

Twelve miles south of Santa Barbara, Carpinteria State Beach offers a mile of beach for swimming, surf fishing, tidepool exploring and camping. The Spanish named the area Carpinteria because the Chumash tribe, which lived in the area, had a large seagoing canoe-building enterprise, or "carpentry shop" there, because of naturally-occurring surface tar which was used to seal the boats. Seals and sea lions can be seen in the area December through May, as well as an occasional gray whale. Tidepools contain starfish, sea anemones, crabs, snails, octopi and sea urchins.
The International Printing Museum

Carson

We bring our world-class collection of antique, printing machinery to life for people of all ages through our award-winning school programs, interactive museum tours, live entertainment with Benjamin Franklin in our Heritage Theater and our hands-on Book Arts tour. Our general museum tour is available Saturdays from 10 am to 4 pm and Tues-Fri by appointment. Group tours options include a presentation by Benjamin Franklin, an interactive Constitutional Convention, or hands-on printing on a variety of presses as well as book binding! A totally unique and awe inspiring museum.
University Art Gallery -Dominguez Hills

Carson

The University Art Gallery opened in 1978, and is considered to be one of the major exhibition spaces of the South Bay area. The gallery supports and enhances the Art Department instructional program while giving students from all disciplines and interested community members a valuable opportunity to explore and experience contemporary and historical works of art from many cultures.
Jug Handle State Natural Reserve

Caspar

The park features a 2.5-mile self-guided nature trail called The Ecological Staircase which explores five wave-cut terraces formed by glacier, sea and tectonic activity that built the coast range.
Castaic Lake State Recreation Area

Castaic

Castaic Lake State Recreation Area is a reservoir of the State Water Project. It is one of the Project's largest recreational lakes and the terminal of its west branch. The site includes 29 miles of shoreline. A major attraction is the 425-foot tall Castaic Dam.
Castle Crags State Park

Castella

The park offers swimming and fishing in the Sacramento River, hiking in the back country, and a view of Mount Shasta. There are 76 developed campsites and six environmental campsites. The park features 28 miles of hiking trails, including a 2.7 mile access trail to Castle Crags Wilderness, part of the Shasta-Trinity National Forest. The Pacific Crest Trail also passes through the park. The park is named for 6,000-feet tall glacier-polished crags.
Cayucos State Beach

Cayucos

Cayucos is a charming little beach town rich in history and popular for its great beaches. It is known for its fishing pier, beautiful beach and historical buildings. Many of the buildings left over Suferfrom the prospering old town still stand as a variety of shops such as restaurants, antique stores, and speciality items.
Santa Susana Pass State Historic Park

Chatsworth

This historic park, located in Los Angeles County where the Simi Hills meet the Santa Susana Mountains, is rich in natural, historical and cultural significance. Here in the western part of the Transverse Ranges, the land is dominated by high, narrow ridges and deep canyons covered with an abundant variety of plant life. The park offers panoramic views of the rugged natural landscape as a striking contrast to the developed communities nearby.
Bidwell-Sacramento River State Park

Chico

This park preserves a fine example of a disappearing natural resource - the riverine habitat. The river's various landscapes display great scenic beauty and constant change. The riparian plant and animal communities here depend strongly on each other. Massive oaks and cottonwoods give the dense shade needed for the survival of cool-water creatures. Thick understories of elderberry, wild grape, blackberry, wild rose and numerous perennials provide shelter to a diversified wildlife population. The park offers a great setting for observing and learning about the riparian community.
The Chico Museum

Chico

Housed in a former Carnegie Library building in downtown Chico, the Chico Museum has hosted more than 90 exhibits celebrating the distinct heritage of Chico since it opened in February 1986. Exhibits change several times a year and include prestigious traveling exhibits as well as those created by the Museum focusing on local Chico and Butte County history.
National Yo-Yo Museum

Chico

The worlds largest public display of yo-yo's and contest history is open year round. Admission is free and tours are always being given.
Party Kingdom

Chino

Party Kingdom is an indoor amusement fun park for the entire family. There is a trampoline park, toddler fun zone, as well as a complete obstacle course of slides and various fun surprises.
Frosty's Pumpkin Patch

Chino Hills

Frosty's Pumpkin Patch has 2 locations (Yorba Linda and Chino Hills) and will open the first week of October annually. The Yorba Linda location offers 8-10 inflatable rides, petting zoo, pony rides, carnival style games, target paintball and pumpkins of course. The Chino Hills location offers a 4 acre themed corn maze, target paintball, separate haunted maze on weekends, 13-15 inflatable rides, carnival style games, pony rides, petting zoo, large concession area, u-pick pumpkins off the vine and picked for you pumpkins. Both locations offer discounted fieldtrip/group packages.
Chino Hills State Park

Chino Hills

Chino Hills State Park, a premier natural open-space area in the hills of Santa Ana Canyon near Riverside, is a critical link in the Puente-Chino Hills biological corridor. It encompasses stands of oaks, sycamores and rolling, grassy hills that stretch nearly 31 miles, from the Santa Ana Mountains to the Whittier Hills. Chino Hills is vitally important as a refuge to many species of plants, and as a link between natural areas essential to the survival of many animal species.
Living Coast Discovery Center

Chula Vista

The Living Coast Discovery Center is an interactive learning environment displaying San Diego Bay's native wildlife. Over 20,000 school children enjoy field trips to our facilities each year.
Workman and Temple Family Homestead Museum

City Of Industry

A century of southern California history awaits you at the Homestead Museum! This six-acre site dates from the era when California was still part of Mexico through the decade of the 1920s when Los Angeles had become a major American city. Its historical significance, park-like landscaping, meticulous restoration, and educational programs have received numerous awards at the regional, state, and national level, making it one of California's true historic treasures.
Ruth Chandler Williamson Gallery

Claremont

Founded in 1993, the Ruth Chandler Williamson Gallery presents four annual exhibitions spanning a wide range of art. Whether historical or contemporary, Western or Asian, exhibitions enrich the teaching of art and humanities at Scripps as well as the cultural community of Claremont and environs.
Raymond M. Alf Museum of Paleontology

Claremont

Our unique institution is located on the beautiful campus of The Webb Schools. In fact, we are the only paleontology museum located on a high school campus in the nation. Our museum mission is to serve Southern California as an educational resource, to act as a center of paleontological research for the international scientific community, and to provide a unique curricular ingredient for The Webb Schools.
California kids vacations

Coastal Region

California kids vacations are like ocean waves filled with opportunity. They are exciting, unpredictable and beautiful to feel, watch and enjoy. They offer learning experiences and bonding opportunities for Kids traveling with mom, dad, grandma, grandpa, relatives and family friends. I liked this site as it addresses ideas for dealing with kids who see their parents on weekends, traveling with disabled children and traveling during holidays.
Colma Historical Museum

Colma

Colma is believed to be an Ohlone Indian word, meaning "many springs". The City of Souls. In 1849 the gold rush brought hundreds of thousands to San Francisco and with them they also brought disease leading to a high death rate. Twenty six cemeteries had been established and most were almost filled by the 1880s.
Marshall Gold Discovery State Historic Park

Coloma

The purpose of Marshall Gold Discovery State Historic Park is to secure for the people and to make available for their observation, inspiration, and enjoyment, the gold discovery site and its environs as an accurate portrayal of the story that unfolded at the time of the discovery and Gold Rush. The park's interpretive program primarily embraces the period from 1847 through 1852, but also shows the town of Coloma as it developed. Visitors have the opportunity to try panning for gold in the American River and enjoy hikes and picnics under the riparian oak woodlands. Overlooking the beautiful river canyon, where the gold discoverer rests today, see California's first historic monument, the statue of James Marshall pointing at his gold discovery site .
Columbia State Historic Park

Columbia

The town's old Gold Rush-era business district has been preserved, with shops, restaurants and two hotels. Visitors have the chance to time-travel to the 1850s, imagining life when gold miners rubbed shoulders with businessmen and the other residents in Columbia. Visitors can experience a bygone era watching proprietors in period clothing conduct business in the style of yesterday. There are opportunities to ride a 100 year-old stagecoach, hire a "fine steed" for a horseback ride through the "diggins," pan for gold, or tour an active gold mine.
Colusa-Sacramento River State Recreation Area

Colusa

Riverbank cottonwoods and willows shelter one of the finest fishing stretches in California, with king salmon, steelhead, rainbow trout and striped bass some of the catches. The river is on a major migratory route for birds of the Pacific flyway and provides home to an amazing number of species. The River Patwin Indian tribe once lived nearby the area and in 1872 John Muir camped near what is now the park.
Franks Tract State Recreation Area

Contra Costa County

Franks Tract State Recreation Area is only accessible by water and is located southeast of Brannan Island between False River and Bethel Island. Franks Tract Flooded in 1936 and again in 1938. Very few land forms remain exposed, with the exception of remnant levees. During the fall and winter, a large variety of waterfowl can be found in Franks Tract. The Delta holds a key position in the Pacific flyway. Year round residents include gulls, great blue herons, terns, swallows, crows, blackbirds, cormorants and kingfishers.
Corona Del Mar State Beach

Corona del Mar

Corona del Mar State Beach is a popular place for swimmers. The half-mile long sandy beach framed by cliffs and a rock jetty that forms the east entrance to Newport Harbor. The beach is also popular with surfers and divers.
Silver Strand State Beach

Coronado

Silver Strand State Beach features extensive beaches on both the Pacific Ocean and San Diego Bay. Combined with the area's mild climate, the beaches make Silver Strand one of the area's finest recreation destinations. Camping, swimming, surfing, boating, water-skiing, volleyball, and picnicking are popular activities. Anglers can fish for perch, corbina, grunion and yellow-fin croaker.
Coronado Historical Museum

Coronado

To encourage and promote the appreciation, knowledge and understanding of Coronado's unique art, architecture, history and other historical resources.
Tolowa Dunes State Park

Crescent City

This park takes in some of the finest wetlands habitat on California's northern coast. An ancient sand dune complex that has evolved into several distinct ecological communities, Tolowa Dunes encompasses ocean beach, river, open and vegetated sand dunes, wooded ridges, and wetlands. A diverse assortment of birds, animals and plant life thrive here, and the area serves as an important stopover on the Pacific flyway for thousands of migrating ducks, geese and swans. The Smith River is a good place for salmon and steelhead fishing, and cutthroat trout can be taken at Lake Earl. The basic amenities are provided for campers at two primitive campgrounds, including a ride-in horse camp and six walk-in sites.
Redwood National and State Parks

Crescent City

An amazing diversity of life exists at Redwood National and State Parks (RNSP). The ancient coast redwood ecosystem preserved in the parks contains some of the planet's most majestic forests. Here, banana slugs, gray whales, Douglas-fir, black bears, and sea anemones are equally at home with redwoods.
Del Norte County Historical Society Museum

Crescent City

The Main Museum has a wealth of interesting displays. One room is devoted to artifacts of the local Tolowa and Yurok Native Americans. It includes one of the finest Native American basket collections in Northern California. Musical instruments, old radio, phonographic and photographic equipment, excellent needlework, early logging and mining tools and equipment, and many fashions and furniture from yesteryear are just some of the objects and subjects represented and on display in the Main Museum.
Del Norte Coast Redwood State Park

Crescent City

The park, established in 1927, has approximately 50% old growth coast redwood and eight miles of wild coastline. The mixed understory includes tanoak, madrone, red alder, big leaf maple, and California bay. Ground cover is dense with a wide range of species. Vegetation is predominately red alder which will eventually give way to fir and second growth redwood.
Cupertino Historical Museum

Cupertino

The mission of the Cupertino Historical Society and Museum is to create a passion for lifelong learning, preserve a vanishing past and serve as a bridge to a shared future. Located in the Quinlan Community Center, the museum is open to the public Wednesday through Saturday from 10 a.m. to 4 p.m.
San Bruno Mountain State Park

Daly City

The area is at the northern reaches of the Santa Cruz range. The park provides Bay Area visitors with day-use facilities, hiking trails, and beautiful views of the city and the bay. The park is home to a wide variety of birds and animals as well as several endangered plant and butterfly species.
Doheny State Beach

Dana Point

Doheny State Beach is two parks in one - with camping in the southern area (with some campsites only steps away from the beach) and day use in the northern area, where there is a five-acre lawn with picnic facilities and volleyball courts. Surfing is popular, but is restricted to the north end of the beach. Surf fishing is also popular.
Eugene O'Neill National Historic Site

Danville

America's only Nobel Prize winning playwright, Eugene O'Neill, chose to live in Northern California at the climax of his writing career. Isolated from the world and within the walls of his home, O'Neill wrote his final and most memorable plays; The Iceman Cometh, Long Day's Journey Into Night, and A Moon for the Misbegotten. Reservations are required to visit this site.
Blackhawk Museum

Danville

The facility encompasses nearly 70,000 square feet with four exhibition galleries, an Automotive Reference Library & Museum Store, Special Events Area, Board Room and state-of-the-art catering kitchen.
Museum of San Ramon Valley

Danville

The Museum of the San Ramon Valley is dedicated to preserving and celebrating our rich history and heritage. The collections and exhibits reflect our human experiences, institutions and cultures that were shaped by the valley's landscape, environment and early settlers.
Rancho Del Oso State Park

Davenport

The Center occupies a ranch-style house and grounds which were once the home of Hulda Hoover McLean. It now consists of an intimate, protected courtyard surrounded by a main meeting room, exhibit rooms, gift shop, and a large deck overlooking Waddell Valley and the Pacific Ocean. Waddell Beach, located across Highway 1 from the park entrance, is known worldwide as one of the best spots for windsurfing. The steady strong northwest winds and good surf provide ideal conditions for this demanding sport. For those interested in birding, botany, intertidal marine life and riparian habitat, the Waddell Beach and the many Rancho del Oso trails offer superb recreation for the amateur or professional naturalist. Regular surfers, boogie boarders, and surf fishermen also find it an ideal spot to pursue their activities.
Explorit

Davis

A regional hands-on science center with the mission: "To involve people in science experiences that touch all our lives."
UC Davis Arboretum

Davis

The UC Davis Arboretum is a living museum and a refuge of great beauty where visitors can step away from their busy lives and reconnect with nature. Visitors may wander through the Arboretum on their own or join public tours. The Arboretum gardens are open 24 hours a day, every day of the year, and there is no charge for admission.
U.C. Davis Design Museum

Davis

The museum presents TRANS-4-MATIONS, a four-part research project delving into the personal stories and institutional history that has contributed to the growth of the Design Program from its beginnings in the Department of Home Economics, to emerging as the most diverse free-standing Design Program in the University of California.
Death Valley National Park

Death Valley

A Land of Extremes: Hottest, Driest, Lowest: A superlative desert of streaming sand dunes, snow-capped mountains, multicolored rock layers, water-fluted canyons and three million acres of stone wilderness. Home to the Timbisha Shoshone and to plants and animals unique to the harshest deserts. A place of legend and a place of trial.
Jedediah Smith Redwood State Park

Del Norte County

Old growth coast redwoods park is bisected by the last major free flowing river in California, the Smith River. Almost all of the park land is water shed for the Smith River and Mill Creek, a major tributary. The park has about 20 miles of hiking and nature trails, river access, a visitor center with exhibits and a nature store. Drive Howland Hill Road (gravel-not recommended for trailers) and stroll in the Stout Grove.
Cuyamaca Rancho State Park

Descanso

Since the fires that came through the park in the fall of 2003, the park has recovered beautifully. Through the diligent efforts of Park volunteers and staff, the park is open for camping, hiking, horseback riding, and biking. The rebuilding, recovery, and restoration of park facilities continue daily. We invite you to come and enjoy the park. The meadows are beautiful and still abundant with wildflowers and native grasses. The mighty oaks are thriving and pine seedlings are flourishing. The post-fire recovery is an opportunity to see, first-hand, the wonders of the natural cycle of fire and re-growth in our California wild lands. You will be surprised at the resilience of the environment and how well the park is recovering.
Cabot's Old Indian Pueblo Museum

Desert Hot Springs

A unique Hopi inspired Pueblo hand-made by Cabot Yerxa over 24 years. This multi-level building includes 35 rooms, 150 windows and 65 doors, all crafted from found materials. The museum houses Cabot's collection of Native American pottery, early 20th century photographs and artifacts from his Alaskan adventures. The museum grounds, including a picnic area, are beautifully landscaped with native plants and home to many rustic period items -- early 1900's tools, machinery and housegoods.
Patrick Ranch

Durham

Patrick Ranch is currently host to a number of popular events throughout the year. The Country Supper, Threshing Bee, California Nut Festival, Agribee, and more all call Patrick Ranch home.
Colonel Allensworth State Historic Park

Earlimart

n 2008 California State Parks will celebrate the 100th anniversary of the founding of a unique town dedicated to the dignity of the human spirit. Come learn about Colonel Allen Allensworth and the courageous group of families and individuals who believed they could create their own version of the "American Dream." Come experience the inspiring story of the people who came to an isolated spot in the southern San Joaquin Valley to build a place of their own--a place where hard work, dedication, and faith would allow them and their children the opportunity to control their own discrimination-free destiny. Come home to Allensworth during its centennial year.
Greenwood State Beach

Elk

Greenwood State Beach offers beach access and a picturesque view of the pacific ocean. The visitor center is in the middle of town and provides a glimpse of what life was like in this lumber town during the late 1800s.
Leucadia State Beach

Encinitas

Swimming, surfing, fishing and picnicking are popular at this small, rocky beach. The beach access is via an improved trail at the foot of Leucadia Boulevard.
Moonlight State Beach

Encinitas

This wide, sandy beach offers swimming, surfing and fishing. Facilities include volleyball and tennis courts, recreational equipment rentals and a snack bar. The "moonlight" in the name of this beach comes from the fact that local residents used to come to the area for midnight picnics early in the early 1900s.
San Diego Botanic Garden

Encinitas

Features over 35 acres of exhibits, including rare bamboo groves, desert gardens, a tropical rainforest, California native plants, Mediterranean climate landscapes, the Undersea Succulent Garden, Landscaping for Fire Safety and a subtropical fruit garden. In April of 2003, Quail introduced the West Coast's first interactive children's garden, the Seeds of Wonder.
San Dieguito Heritage Museum

Encinitas

Collects, preserves and interprets the local history of the San Dieguito river area--which includes the communities of Leucadia, Encinitas, Olivenhain, Cardiff, Solana Beach, Del Mar, and Rancho Santa Fe.
Seeds of Wonder Children's Garden

Encinitas

The Seeds of Wonder garden includes such delights as living topiaries, a grassy "rolling hill," an exotic Baby Dinosaur Forest, and the "Secret Garden," as well as sculpture and interactive nature-play features.
Los Encinos State Historic Park

Encino

This California rancho includes the original nine-room de la Ossa Adobe, the two-story limestone Garnier building, a blacksmith shop, a natural spring, and a pond.
San Pasqual Battlefield State Historic Park

Escondido

San Pasqual Battlefield State Historic Park, east of Escondido, honors the soldiers who fought in the battle between the U.S. and Californio forces on December 6, 1846 in the midst of the Mexican-American War. Generals Stephen Kearny and Andres Pico both claimed victory. The battle was only one of the military encounters in California in the war, but it proved to be the bloodiest and most controversial as to the outcome. The park has been set aside, not as a monument to war, but as a reminder of the human ideals, actions and passions that can drive nations to bloodshed.
Wild Animal Park

Escondido

1800 acre wildlife preserve houses over 3500 animals representing 260 species and is a botanical garden.
California Center for the Arts, Escondido

Escondido

The Education Department at the California Center for the Arts, Escondido welcomes you to participate in our 2008-09 programs. We've got something for everyone! From Center Stage: Performances for Youth, Dance Master Classes, Internships, Museum Artist Talks, to Special Events for Families, our programs complement the Center's Performing Arts Season and Museum Exhibitions. So nurture your creative side whether you're a teacher, student, arts enthusiast, or someone just curious to learn more.
Casa Romantica Cultural Center and Gardens

Escondido

Casa Romantica Cultural Center and Gardens, the historic Spanish Colonial Revival estate of San Clemente founder Ole Hanson, embodies the Romance and Reality of the Southern California experience. Its stunning setting is a place for people of all ages to explore and understand Southern California history, architecture, ecology and culture.
San Diego Children's Discovery Museum

Escondido

The Escondido Children's Museum fills a community need by offering a wholesome, educational, and appealing gathering place for families, schools, and other groups that serve children. ECM programs and exhibits cultivate school readiness and lifelong learning. As only a children's museum can, ECM affirms diverse children as they develop and helps them understand the world they will inherit. The Second Saturdays Program at the Escondido Children's Museum offers added value to visitors with a guided, hands-on activity on a special theme. Museum volunteers work with diverse guest-educators to create truly unique learning experiences.
Escondido History Center

Escondido

Established in 1976 as a bicentennial project, the History Center includes buildings from Escondido's early development that were moved to Grape Day Park. Heritage Walk Museum includes the city's first library, a turn-of-the-century Victorian home, barn, 2 windmills, working blacksmith shop, city's Santa Fe railroad depot, a railroad car, a ten-ton Native American metate (grinding rock), tankhouse, herb garden, and outhouse.
Fort Humboldt State Historic Park

Eureka

This remote military post was established in 1853 to assist in conflict resolution between Native Americans and gold-seekers and settlers who had begun flooding into the area after the discovery of gold in the northern mines. During its first few years that Fort Humboldt saw one of its most famous residents: the young Captain Ulysses S. Grant.
Roaring Camp Railroads

Felton

See California's towering redwood forests from two historic railroads on your next visit to the San Francisco or Monterey Bay Areas. Travel by steam train up a narrow-gauge track through the Big Trees to Bear Mountain or by beach train down the scenic San Lorenzo River to the sunny beaches of Santa Cruz. It all happens on the Roaring Camp Railroads in Felton.
Henry Cowell Redwoods State Park

Felton

Henry Cowell Redwoods is home to a centuries old Redwood Grove that features a self-guided nature path. It also boasts other old-growth woods such as Douglas fir, mandrone, oak and a stunning stand of Ponderosa pines. The park has a picnic area above the San Lorenzo River. Anglers fish for steelhead and salmon during the winter. The park has a nature center and bookstore.
Ferndale Museum

Ferndale

Over 4000 photographs of people, industries such as blacksmith, firemen, dairy, farms, coopers. We have a complete blacksmith shop that is operational. Periodically, we have a demonstration in the blacksmith shop given by a local smithy. We have farm, logging, and dairy equipment on display in our annex along with a nice array of machinist tools and old belt driven machines. Humboldt County is where the machine to cut and wrap sticks of butter was invented. We also invented and perfected the making of powdered milk.
Fillmore Museum

Fillmore

When the Earthquake and Fire of 1906 destroyed most of San Francisco, the Fillmore was untouched and for several months afterwards served as the commercial and political center of the city. One of the groups displaced by the 1906 Fire, San Francisco's large Japanese-American community, made its new home in the Fillmore. Ninety years later, it's still here, in spite of the illegal mass internment of Japanese-American citizens during World War II.
Descanso Gardens

Flintridge

Descanso Gardens is an urban retreat of year-round natural beauty, internationally renowned botanical collections and spectacular seasonal horticultural displays. In 1953, Descanso founder E. Manchester Boddy preserved these 160 acres of gardens, woodlands and chaparral for future generations to experience the natural heritage and beauty of Southern California. Accredited by the American Association of Museums, Descanso Gardens welcomes thousands of visitors annually, from local members to international travelers.
Lanterman House

Flintridge

Completed in 1915, the Lanterman House (or "El Retiro," as it was then known) was built by the second generation of La Canada's founding family, the Lantermans. Dr. Roy Lanterman commissioned architect A. L. Haley to design a fireproof bungalow of reinforced concrete for his family.
Florissant Fossil Beds National Monument

Florissant

Beneath a grassy mountain valley in central Colorado lies one of the richest and most diverse fossil deposits in the world. Petrified redwood stumps up to 14 feet wide and thousands of detailed fossils of insects and plants reveal the story of a very different, prehistoric Colorado.
Folsom Lake State Recreation Area

Folsom

Located at the base of the Sierra foothills, the lake and recreation area offers opportunities for hiking, biking, running, camping, picnicking, horseback riding, water-skiing and boating. Fishing offers trout, catfish, big and small mouth bass or perch. Visitors can also see the Folsom Powerhouse (once called "the greatest operative electrical plant on the American continent"), which from 1885 to 1952 produced 11,000 volts of electricity for Sacramento residents.
Folsom Powerhouse State Historic Park

Folsom

The Folsom Powerhouse is part of a colorful chapter of Sacramento history and is also an example of the tremendous advance in the commercial application of electricity.
Museum of Local History

Fremont

The Museum of Local History is located at 190 Anza Street, Fremont, California. It is a non-profit all volunteer group of people dedicated to researching and preserving the diverse history of Washington Township (Today the cities of Fremont, Union City and Newark). This web site is an introduction to the content and capabilities of the museum and a welcome for you to visit us when you're in the area.
Kearney Mansion Museum

Fresno

The site lends itself to not only telling the story of the colony farm system and the development of the raisin industry but the story of the development of agribusiness in California's Central Valley and the Valley's transformation into the most productive agricultural region in the world.
Fresno Art Museum

Fresno

The Fresno Art Museum collects, preserves, and exhibits to the public tangible objects valuable to art and history. Exhibitions include a wide range of contemporary as well as modern works by local, national and international artists. With additional emphasis on Mexican art from pre-Columbian times to the present, and with the planned bequest of significant collections of pre-Columbian ceramics and French post-impressionist graphics, the Museum is working to serve as both an educational facility and a repository for important collections from the Central Valley.
Fresno Chaffee Zoo

Fresno

The animal staff has been very busy lately updating habitat spaces and bringing in new animals for visitors to enjoy. The reptile/amphibian house has seen lots of growth with new frog species and lots of updates.
Civil War Revisited

Fresno

The Fresno Historical Society and National Civil War Association present the largest living history reenactment of the Civil War in the Western United States. at Kearney Park, Fresno, California. This beautiful park is transformed into encampments for Union and Confederate soldiers and Civilians to the amazement of spectators. Two battles daily with field hospital reenactments following the battles. October
Millerton Lake State Recreation Area

Friant

The lake was created by construction of the Friant Dam across the San Joaquin River in 1944. With over 40 miles of shore land for water sports, this SRA offers visitors swimming, fishing, and boating. The hills surrounding the lake provide good hiking opportunities. Wildlife in the park includes ground squirrels, cottontails, mule deer, badgers and bald and golden eagles. During winter, the park has special boat tours to view the bald eagles.
Fullerton Arboretum

Fullerton

The Fullerton Arboretum is a 26-acre botanical garden with a collection of plants from around the world, located on the northeast corner of the California State University, Fullerton campus in Fullerton, California, in the United States. It is the largest botanical garden in Orange County, with a collection of over 4,000 plants. The Arboretum saves species that are extinct or near extinction and serves as a learning place for agricultural history. The gardens of the Fullerton Arboretum are open daily 8:00 to 4:30.
Fullerton Museum Center

Fullerton

Dedicated to developing and presenting the best in multi-disciplinary exhibitions and educational programs in the areas of history, science, and art.
Muckenthaler Cultural Center

Fullerton

Free! Second Sundays of Each Month. Picnic in our park-like setting, visit our Arts & Crafts Faire, tour the villa and galleries, participate in quarterly art openings, bring your food & beverages into our theater and for about the price of a movie, you can also see our live stage shows such as FCLO!
Rae House

Galt

The Rae House was built in 1868 by John Rae, a pioneer who had tried his luck in the gold fields, settled for a time in Hicksville, worked for a while as an interior plaster finisher, and eventually became one of Galt's biggest ranchers. John Rae's work as an interior plaster finisher, according to his daughter, Alice, included work in the State Capitol. The finishing work around the ceilings in his home was done by him as well. The museum has been open on a regular schedule and has given special tours for school children and adult organizations. It has offered art exhibits, craft demonstrations, annual Christmas festivities, yearly Old-Fashioned Ice-Cream Socials, and a High Tea.
Reynolds Wayside Campground

Garberville

A wayside park that is located in Mendocino County to preserve and protect 38 acres of old growth Coast Redwoods and Douglas firs. The park offers hiking.
Richardson Grove State Park

Garberville

Richardson Grove State Park is where you first encounter significant old growth redwood forest when coming north. The 9th tallest coast redwood, a fallen tree ring study conducted in 1933, and a walk-through tree are immediately available. Camping, hiking, swimming, and just relaxing are popular activities throughout much of the year. Fishing for salmon and steelhead is popular during the winter.
Atlantis Play Center

Garden Grove

Kids will have a blast here playing on the concrete animals or sliding down the sea serpent slide. All of the other expected playground amenities are here as well, from swings to climbers. There are plenty of areas for picnicking under the trees and a picnic area for parties or large groups. Adults are not allowed without kids, and kids are not allowed without adults, so it's the perfect chance for a little together time.
Gilroy Gardens

Gilroy

California's only horticultural theme park designed for families with young children and garden lovers featuring 21 rides, 27 attractions, 6 majestic gardens and the world famous Circus Trees. Attractions are designed to educate guests and foster a greater appreciation of the natural world and man's ability to shape it.
Jack London State Historic Park

Glen Ellen

A memorial to writer and adventurer Jack London, who made his home at the site from 1905 until his death in 1916. The park was once part of the famous writer's Beauty Ranch. The park contains the cottage residence where he wrote books, short stories, articles and letters while he oversaw various agricultural enterprises.
Doctors House Museum

Glendale

The Doctors House, an authentically restored Queen Anne-Eastlake style home built about 1888, is the result of a community-wide endeavor to preserve a reminder of Glendale's earliest days.
Forest Lawn Museum Exhibits and Educational Series

Glendale

Experience the permanent collection of western bronzes, stained glass, historical American pieces, original paintings and cultural artifacts. Walk in the labyrinth or enjoy a presentation of Leonardo DaVinci's the Last Supper recreated in stained glass.
Refugio State Beach

Goleta

Refugio State Beach offers excellent coastal fishing as well as trails and picnic sites. Palm trees planted near Refugio Creek give a distinctive look to the beach and camping area. A bike trail along the beach bluff connects the beach with El Capitan State Beach 2.5 miles east.
El Capitan State Beach

Goleta

El Capitan State Beach offers visitors a sandy beach, rocky tidepools, and stands of sycamore and oaks along El Capitan Creek. It's a perfect setting for swimming, fishing, surfing, picnicking and camping. A stairway provides access from the bluffs to the beach area. A bike trail connects the park with Refugio State Beach, 2.5 miles away.
Empire Mine State Historic Park

Grass Valley

Empire Mine State Historic Park is the site of one of the oldest, largest, deepest, longest and richest gold mines in California. The park is in Grass Valley at 10791 East Empire Street. In existence for more than 100 years, the mine produced 5.6 million ounces of gold before it closed in 1956. (5.6 million ounces of gold is equivalent to a box seven feet long, seven feet high, and seven feet deep filled with gold.) The park contains many of the mine's buildings, the owner's home and restored gardens, as well as the entrance to 367 miles (the distance, as the crow flies, from Grass Valley to Magic Mountain) of abandoned and flooded mine shafts. Guided tours and audio-visual presentations are offered throughout the day at various times.
Groveland Yosemite Gateway Museum

Groveland
Curecanti National Recreation Area

Gunnison

Three reservoirs, named for corresponding dams on the Gunnison River, form the heart of Curecanti. Blue Mesa Reservoir is Colorado's largest body of water, and is the largest Kokanee Salmon fishery in the U.S.
Gustine Museum

Gustine

Housed in the former Merced County Justice Court/Jail. It is located at 397 4th Street, Highway 33, Gustine. This historic building, built in 1911 served the City of Gustine until abandoned in 1980. The building was leased to the Gustine Historical Society in 1985. It reopened in 1990 after extensive renovation as the Gustine Museum. In 1996 the building was designated a California Point of Historic Interest.
San Gregorio State Beach

Half Moon Bay

The area includes a protected, driftwood-strewn estuary at the back of a wide, sandy beach - with grassy bluffs along the coast. The estuary is home to many birds and small animals. California Historical Landmark 26 commerates the passage of Spanish Explorer Captain Gaspar de Portola through this area in October 1769.
Gray Whale Cove State Beach

Half Moon Bay

The beach (a.k.a. Devil's Slide) features a sheltered cove surrounded by cliffs that drop abruptly into the Pacific. A steep trail leads down to the beach. There is a small picnic area on the bluff above Gray whales can often be seen close to the shore the beach.
Half Moon Bay State Beach

Half Moon Bay

Visitor Center is open Saturdays and Sundays. Entrance to the Visitor Center is free. The Visitor Center is completely accessible to those with disabilities. Come on in and learn about the exciting world of the beach and experience the cultural history of the Coastside.
Hayward Area Hist. Soc. Museum

Hayward

Located on the east side of San Francisco Bay in California, the Hayward Area Historical Society preserves the diverse history of the Hayward, Castro Valley, and San Lorenzo area. Through educational programs, interpretive exhibitions, and the preservation of historic sites and artifacts, we show the relevance of events that happened in the past to our community today. We strive to inspire our community to know, understand and be proud of our past and connect it with our future.
Healdsburg Museum and Historical Society

Healdsburg

The mission of the Healdsburg Museum and Historical Society is to record the history of the Healdsburg area through the collection and preservation of historical materials; to actively foster the appreciation of local history of the Healdsburg area through educational programs, activities and historical research; and to provide finances for, and to support, operate and manage the Healdsburg Museum, Edwin Langhart, Founder.
Fingerprints Youth Museum

Hemet

Education Enrichment Programs and Exhibits
So Cal Mini Horse Sanctuary

Hemet

So Cal Mini Horse Sanctuary is a non-profit miniature horse rescue located in West Hemet. Join us for a 1.5 hour educational tour and interact with the rescued mini horses at our ranch. The tour will include a short lesson in basic horse care, including general anatomy, grooming, feeding and safe practices for interacting with horses. Reservations required, please call or email in advance. Cost: $15 per person.
The Hemet Museum

Hemet

Operated entirely by volunteers, presents a panorama of local history in the freight house of Hemet's Historic Santa Fe Depot.
Ramona Bowl Amphitheatre

Hemet

Welcome to the 86th jubilee of the nation's longest running outdoor drama. You and your family will enjoy the experience of this classic story of the many struggles of early California. The natural beauty of the Ramona Bowl Amphitheatre and the love of land and family all combine in this award winning presentation of RAMONA, California's official state outdoor play.
Silverwood Lake State Recreation Area

Hesperia

Silverwood Lake was formed by the 249-foot Cedar Springs Dam. At 3,350 feet, it is the highest reservoir in the State Water Project. The park features hiking trails, swimming beaches and designated areas for boating, water-skiing and fishing. The lake has trout, large-mouth bass, catfish and bluegill. There is a marina with a launching ramp, boat and equipment rentals, and a store. The park has picnic areas, including three that can only be reached by boat. The lakes attracts waterfowl, raptors and songbirds. Canada Geese and an occasional bald eagle can be seen in the area.
Navarro River Redwoods State Park

Highway 128

An eleven-mile-long redwood tunnel to the sea. The redwood forest along the Navarro River is a magnificent sight. Visitors to the Navarro River Redwoods State Park can enjoy picnicking, swimming, and camping at the Paul M. Demmick campground. The park is popular with anglers, canoeists, and kayakers in the late winter and spring. Second growth redwood groves stretch the length of the park. They are home for raccoons, black-tail deer, and river-oriented birds such as the belted kingfisher.
George J. Hatfield State Recreation Area

Hilmar

This park is in the San Joaquin valley and is surrounded by the Merced River. The park has many trees and is home to various wildlife, especially birds. Swimming, fishing and picnicking are popular activities. George J. Hatfield served as U.S. Attorney for the Northern District of California from 1925-33 and was the Lieutenant Governor of California from 1935-39. This state park is named after him.
Pacheco State Park

Hollister

The last remaining portion of the Mexican land grant. This land has been a horse and a cattle ranch since 1843 and has breath taking views of the Central Valley to the east and the Santa Clara Valley to the west. Among the historic features of the park are an old line shack used by Henry Miller's cattle company in the 1800s, part of the old Butterfield Stage line route, and the remains of the original Pacheco adobe. There is also a wind turbine farm which generates enough clean electrical power for 3,500 homes.
Hollister Hills State Vehicular Recreation Area

Hollister

This area is a motorcycle, four-wheel drive, all-terrain vehicle, and dune buggy use area. Four-wheel drive and dune buggy visitors should call ahead as this area can be closed for special events.
Little River State Beach

Humboldt County

Little River State Beach features dunes and a broad open beach. The beach is bordered on the north by Little River and on the south by Clam Beach County Park which provides camping and day use facilities.
Patrick's Point State Park

Humboldt County

Located in the heart of California's coast redwood country, this park's dense forests of spruce, hemlock, pine, fir and red alder stretch over an ocean headland with lovely wildflower-festooned meadows. A dramatic shoreline ranging from broad sandy beaches to sheer cliffs that rise high above the Pacific Ocean offers great opportunities to explore tide pools, search for agates and driftwood, watch whales, sea lions and brilliant sunsets.
Benbow Lake State Recreation Area

Humboldt County

To provide power for the new development in the valley, a concrete dam was constructed across the south fork of the Eel River in 1928. The dam not only provided power but also created Benbow Lake. Today the park consists of campsites and a large day-use picnic area. Hiking, picnicking and camping are popular summer time activities, while salmon and steelhead fishing are popular in the winter.
Harry A. Merlo State Recreation Area

Humboldt County

A popular place for visitors who like to fish.
Bolsa Chica State Beach

Huntington Beach

Bolsa Chica State Beach is a popular place for surf fishing for perch, corbina, croaker, cabezon and sand shark. Also popular is in the summer is bare-handed fishing for California grunion, a species that only spawns on sandy southern California beaches.
Huntington Beach International Surfing Museum

Huntington Beach
Huntington Beach Art Center

Huntington Beach

The Huntington Beach Art Center is a community arts and cultural center serving Huntington Beach and the Southern California region. The Center presents the works of artists producing in all media. Through exhibitions, performances, film/video screenings, lectures and educational programming, the HBAC serves to advance public awareness and understanding of cultural, historic, and contemporary perspectives. The HBAC creates opportunities for local, regional and national artists and the community to share in a climate of experimentation, education and experience.
Huntington State Beach

Huntington Beach

Huntington State Beach contains a nesting sanctuary for the California least tern, a rare and endangered species. The beach is also sanctuary for the threatened snowy plover. The park offers bicycle trail, surfing, skating and surf fishing.
Tijuana Estuary Point of Interest

Imperial Beach

Tijuana Estuary is a small intertidal coastal estuary on the international border between California and Mexico. The estuary is primarily a shallow water habitat, though it is often termed an "intermittent estuary," as it is subjected to extreme changes in streamflow at different times of the year. Extended periods of drought leave parts of the estuary dry during some periods, while flooding inundates the same areas during others. For this reason, Tijuana Estuary is considered to be a very unique part of the National Estuarine Research Reserve System.
Heber Dunes State Vehicular Recreation Area

Imperial County

This area has land that was part of the Imperial County Park System. It is primarily used for off-road recreation, however, camping, picnicking, and baseball are also popular activities in the park.
Manzanar National Historic Site

Independence

In 1942, the United States government ordered more than 110,000 men, women, and children to leave their homes and detained them in remote, military-style camps. Manzanar War Relocation Center was one of ten camps where Japanese American citizens and resident Japanese aliens were interned during World War II. The website offers historical information about the park for those who cannot visit in person.
Eastern California Museum

Independence

The Eastern California Museum in Independence has been the repository for Inyo County and Eastern Sierra history for eight decades. That history, from dinosaur bones to Native American baskets to pioneer saddles to famous Sierra mountaineers to the famous "Water War" between Los Angeles and the Owens Valley, is on display in the museum building and on the museum grounds.
Coachella Valley Museum and Cultural Center

Indio

The Coachella Valley Museum opened in 1984 and is located in a Mission style, adobe structure, the former home of Indio's first doctor, built in 1925. Extensive landscaped grounds. Three special gardens: Rose Garden, Japanese Garden, and Desert Garden. Displays consist of local Indian artifacts and Story of formation of Salton Sea. History of development of water resources in the Desert. History of Agriculture in the Desert, specifically the Date industry which is vital to Coachella Valley. Pioneer souvenirs and family keepsakes. Sun-colored Glass. Railroad information. Complete 1926 Kitchen. Large collection of horse-drawn farm machinery, Old-fashioned Blacksmith Shop, an authentic Submarine and an 1909 Schoolhouse in process of restoration.
Tomales Bay State Park

Inverness

The day-use park features four gently sloping, surf-free beaches, protected from winds by Inverness Ridge, the backbone of the Point Reyes Peninsula.
Tanaka Farms

Irvine

Tanaka Farms provides educational and entertainment for families, schools, and groups of all ages every season of the year.
Gaviota State Park

Isla Vista

Its name comes from the Spanish word for seagull. Marked by a tall Southern Pacific railroad trestle that crosses Gaviota Creek high above the day-use parking lot, the park is a popular spot for swimming, picnicking, surf fishing and camping. A pier on the west end of the beach is used by anglers, and scuba divers and surfers use a boat hoist on the pier to access the waters of the Santa Barbara Channel. Visitors can explore the rugged upland portions of the park from a trailhead in the parking area. Ambitious hikers can climb to Gaviota Peak that offers a spectacular view of the coast and the Channel Islands.
Farmer Bob's World

Ivanhoe

Farmer Bob's World is a unique, educational facility in Ivanhoe, CA that offers covered wagon tours to local schools, businesses, individuals, and visitors from around the world. The mission is to foster the relationship between farmers, food, and families by offering a real farm experience. The wagon tour navigates through more than 4 varieties of oranges, offering education on planting, watering, protecting, and harvesting oranges at McKellar Family Farms. The visitors have the opportunity to enjoy the U-Pick garden, the sights, smells and tastes of oranges from a real citrus farm.
Railtown 1897 State Historic Park

Jamestown

Located in Jamestown, in the heart of California's Gold Country about 100 miles southeast of Sacramento, Railtown 1897 State Historic Park is home to the Historic Jamestown Shops and Roundhouse--an intact and still-functioning steam locomotive repair and maintenance facility, portions of which date back to 1897. This one-of-a-kind attraction combines industrial heritage and railroad history with the lore of Hollywood's film industry. The Railtown 1897 Interpretive Center, the authentic roundhouse and shops, and the Depot Store (a railroad specialty gift shop) are among the Park's unique year-round offerings. Railtown 1897 State Historic Park is open daily (April-October, from 9:30 to 4:30 p.m.; November-March, from 10 a.m. to 3 p.m.), except Thanksgiving, Christmas, and New Year's Day.
Kruse Rhododendron State Natural Reserve

Jenner

This pristine reserve contains second-growth redwood, Douglas fir, grand firs, tanoaks, and a plethora of rhododendrons. Each May these spectacular flowers burst into bloom and color the deep green of the forest with brilliant pink blossoms.
Clear Lake State Park

Kelseyville

Clear Lake State Park is on the shores of California's largest freshwater lake. The area is popular for all kinds of water recreation, including swimming, fishing, boating and water-skiing. Anglers can catch large mouth bass, crappie, bluegill and channel catfish. The park is the nesting place for waterfowl. Hikers enjoy the Indian Nature Trail, a self-guided trail that shows how the Pomo people, who lived in the area for centuries, utilized the area's resources. The trail passes through the site of what was once a Pomo village. The park visitor center features displays about the area's natural and cultural history.
Kings Beach State Recreation Area

Kings Beach

Ponderosa Pine and small brush covering the park's 700 feet of lake frontage area. This day-use only area is popular for water sports during the summer.
Turlock Lake State Recreation Area

La Grange

Open all year and featuring camping, picnicking, fishing, swimming, boating, water skiing, and clean country air, the area offers visitors an opportunity to see the wonderful variety of native plant life that once flourished alongside the rivers of the San Joaquin Valley.
The Children's Museum at La Habra

La Habra

Celebrating 30 years of learning and discovery! Serving Children and Families in Southern California
Torrey Pines State Natural Reserve

La Jolla

State reserves have outstanding or unusual natural or scenic values. Torrey Pines State Reserve is a wilderness island in an urban sea. This fragile environment is the home of our nation's rarest pine tree - Pinus torreyana.
Torrey Pines State Beach

La Jolla

This wide, sandy beach stretches 4 1/2 miles from Del Mar past Los Penasquitos Lagoon to the base of sandstone cliffs at Torrey Pines Mesa. Swimming, surfing and fishing are popular. Red-hued bluffs and wet sand make strolling on the beach popular at low tide. A picnic area and parking lot are near the entrance on North Torrey Pines Road.
Museum Of Contemporary Art, San Diego

La Jolla

MCASD offers a range of diverse opportunities for tours and group visits at the Museum's La Jolla and Downtown locations including, guided tours, school tours, public tours, self-guided visits, and more.
Birch Aquarium

La Jolla

Birch Aquarium at Scripps brings to life the exciting discoveries of world-renowned Scripps Institution of Oceanography. For more than a century, the aquarium has inspired visitors with the wonders of the ocean. Enter the world of sharks, seahorses, living coral reefs and more, and discover a stunning variety of Pacific marine life in more than 60 habitats. Interact with exhibits that showcase the cutting-edge discoveries of Scripps Oceanography explorers through hands-on displays and multimedia.
Mingei International Museum

La Jolla

Revealing the beauty of use in folk art, craft and design from all eras and cultures of the world. Explore Southern California's largest and richest collection of mingei -- art of the people.
Museum Of Contemporary Art, San Diego

La Jolla

MCASD offers a range of diverse opportunities for tours and group visits at the Museum's La Jolla and Downtown locations including, guided tours, school tours, public tours, self-guided visits, and more.
Stuart Collection - University of California, San Diego

La Jolla

The Stuart Collection at the University of California, San Diego seeks to enrich the cultural, intellectual, and scholarly life of the UCSD campus and of the San Diego community by building and maintaining a unique collection of site-specific works by leading artists of our time.

Stuart Collection - University of California, San Diego website
La Quinta Museum

La Quinta

The museum includes archives, a research area, a catering kitchen, three galleries, a museum store, and a multipurpose room featuring a history-themed mural by Andre Blanche. The two-story Spanish Colonial Revival style building will host local and traveling exhibits, programs, lectures, and cultural activities.
Manresa State Beach

La Selva Beach

Manresa State Beach features a beautiful expanse of sea and sand, with surf fishing, surfing, and recreation
Crystal Cove State Park

Laguna Beach

The Crystal Cove Historic District is a 12.3-acre coastal portion of the 2,791-acre Crystal Cove State Park. The federally listed Historic District is an enclave of 46 vintage rustic coastal cottages originally built in the 1920's and 1930's nestled around the mouth of Los Trancos Creek. It is one of the last remaining examples of early 20th century Southern California coastal development.
Laguna Art Museum

Laguna Beach

The Museum focuses on the cultural heritage of our huge, diverse and powerful state, and on the unique history and accomplishments of Laguna Beach, a community of the American West located on the shore of southern California, about fifty miles below the city of Los Angeles.
Samuel P. Taylor State Park

Lagunitas

Samuel P. Taylor State Park has wooded countryside in the steep rolling hills of Marin County north of San Francisco. The park features a unique contrast of coast redwoods groves and open grassland. The park features a variety of flowers and trees, including oak, tanoak, madrone, live oak, laurel and Douglas fir. California native wildflowers include buttercups, milkmaids, and Indian paintbrush. The most common animal in the park is the black-tailed deer. There are also raccoons, striped skunks and gray foxes. Silver salmon and steelhead trout migrate up Papermill Creek to spawn.
Anderson Marsh State Historic Park

Lake County

Anderson Marsh State Historic Park contains oak woodlands, grass-covered hills, and tule marsh. One of the largest groups of people in prehistoric California, the Southeastern Pomo, knew this land as home. Today, descendants of those people still live nearby. Anderson Marsh's archaeological sites hold clues to the lives of the Pomo. Some sites are over 10,000 years old, making them among the oldest in California. The park protects several habitats including freshwater marsh, oak woodland, grasslands, and riparian woodland.
Lake Oroville State Recreation Area

Lake Oroville

This man-made lake was formed by the tallest earth-filled dam (770 feet above the stream bed of the Feather River) in the country. The lake offers a wide variety of outdoor activities including camping, picnicking, horseback riding, hiking, sail and power boating, water-skiing, fishing, swimming, boat-in camping, floating campsites and horse camping. Lake Oroville Visitor Center has a museum, exhibits, videos and a store. The view from the 47-foot tower, with two high-powered telescopes, is a spectacular panoramic view of the lake, Sierra Nevadas, valley, foothills, and the Sutter Buttes mountain range (smallest in the world). The area includes the Feather River Fish Hatchery, built by the Department of Water Resources to replace lost spawning areas for salmon and steelhead. Displays on the State Water Project and the area's natural and cultural history are featured at the visitor's center.
Lake County Historical Courthouse Museum

Lakeport

The Pomo Indians' excellence in basket making has never been equaled by any other Indian tribe or by any other people throughout the world. Thousands of stone tools and more than 300 baskets from Lake County have been acquired by the Museum since the 1930s.
Saddleback Butte State Park

Lancaster

The Desert Experience- Like Nothing Else! Saddleback Butte, elevation 3,651 feet, is a granite mountaintop that towers some thousand feet above the broad alluvial bottom land of the Antelope Valley about fifteen miles east of Lancaster, on the western edge of the Mojave Desert. The state park surrounding Saddleback Butte was created in 1960 to protect the butte (one of many similar land features in the Antelope Valley) and examples of native Joshua Tree woodlands and other plants and animals that were once common throughout this high desert area.
Antelope Valley California Poppy Reserve

Lancaster

California's most consistent poppy-bearing land. Other wildflowers: owl's clover, lupine, goldfield, cream cups, and coreopsis, to name a few, share the desert grassland to produce a mosaic of color and fragrance each spring. As unpredictable as nature - the intensity and duration of the wildflower bloom varies yearly.
Antelope Valley Indian Museum State Historic Park

Lancaster

California's State Regional Indian Musuem representing Great Basin Indian Cultures.The exhibits and interpretive emphasis are on American Indian groups (both aboriginal and contemporary) of the Southwest, Great Basin, and California culture regions. The Antelope Valley Indian Museum is closed indefinitely for stabilization. For comprehensive interpretive and research information and a complete catalogue of the AVIM artifacts, visit www.avim.parks.ca.gov.
Arthur B. Ripley Desert Woodland State Park

Lancaster

The park protects and preserves an impressive stand of native Joshuas and junipers which once grew in great abundance throughout the valley. Today, only remnant parcels of this majestic woodland community remain in the valley, the rest having been cleared for farming and housing.
Fort Tejon State Historic Park

Lebec

Fort Tejon is located in the Grapevine Canyon, the main route between California's great central valley and Southern California. The fort was established to protect and control the Indians who were living on the Sebastian Indian Reservation, and to protect both the Indians and white settlers from raids by the Paiutes, Chemeheui, Mojave, and other Indian groups of the desert regions to the south east. Fort Tejon was first garrisoned by the United States Army on August 10, 1854 and was abandoned ten years later on September 11, 1864. There are restored adobes from the original fort and the park's museum features exhibits on army life and local history. The park also has a number of beautiful 400 year-old valley oak trees.
Mono Lake Tufa State Reserve

Lee Vining

The reserve was established to preserve the spectacular "tufa towers," calcium-carbonate spires and knobs formed by interaction of freshwater springs and alkaline lake water.
Lake Del Valle State Recreation Area

Livermore

This park is ideal for picnicking, horseback riding, boating, fishing and swimming.
Micke Grove Zoo

Lodi

Micke Grove Zoo is home to native animals and exotic species from all over the world, including several endangered species like the Cotton Top Tamarin and Black and White Ruffed lemur. Exhibits include the Tropical Forest Canopy with Green Iguanas and Prevost's Squirrels and the Island Lost In Time featuring lemurs and radiated tortoises from Madagascar.
San Joaquin County Historical Museum

Lodi

The San Joaquin County Historical Museum reveals the fascinating history of the region, from the Yokuts and Miwok through Captain Charles Weber (founder of Stockton and first farmer in the area) and the development of modern agriculture. The Museum has eight exhibition buildings, four historic buildings -- including the Charles Weber cottage (1847) and Calaveras School (1866) -- and features room dioramas of Weber family furnishings, a children's gallery, and large displays of hand tools and agricultural equipment.
Lomita Railroad Museum

Lomita

Dedicated to the proud era of the steam engine, complete authenticity is the hallmark of the Museum. On display is a Southern Pacific Railroad Steam Locomotive (1902-1960) and Tender. Nearby stand a 1910 Union Pacific Caboose and a modern all-steel Santa Fe caboose. On display at the annex are a 1923 Union Oil tank car and a 1913 Southern Pacific outside-braced wood box car. Also check out our Water Tower.
La Purisima Mission

Lompoc

La Purisima Mission was the eleventh mission of the twenty-one Spanish Missions established in what became California. Mision La Purisima Concepcion de Maria Santisima was founded on December 8, 1787 by Franciscan Padre Presidente Fermin Francisco Lasuen.
Lompoc Museum

Lompoc

Established in 1969, the Lompoc Museum exhibits document the archeology and history of the Lompoc Valley and Santa Barbara County. The Museum was established in Lompoc's former Carnegie Library to display the Clarence Ruth Collection of Chumash and other Native American artifacts.
La Purisima Mission State Historic Park

Lompoc

La Purisima Mission State Historic Park is considered the most completely restored mission in California, with ten of the original buildings fully restored and furnished, including the church, shops, quarters, and blacksmith shop. The mission gardens and livestock represent what would have been found at the mission during the 1820's. Special living history events are scheduled throughout the year. A visitor center features information, displays and artifacts, and a self-guided tour gives visitors the opportunity to step back in time for a glimpse of a brief, turbulent period in California's history.
Queen Mary

Long Beach

Come aboard the legendary Queen Mary. Book the Behind the Scenes Guided Tour of the historic ocean liner and World War II troopship, and see restored areas that have been under wraps since the final voyage in 1967, including the Isolation Wards and the aft Machine Rooms.
Aquarium of the Pacific

Long Beach

Mission: to instill a sense of wonder, respect, and stewardship for the Pacific Ocean, its inhabitants, and ecosystems.
Earl Burns Miller Japanese Garden

Long Beach

Japanese gardens outside of Japan.
Long Beach Museum of Art

Long Beach

The community is invited to participate in the programs, services, and activities presented by the Education Department. Programs are designed to engage a variety of audiences with our collections and exhibitions through inquiry and an appreciation of the creative process.
Museum of Latin American Art

Long Beach

MOLAA's mission is to educate the public about contemporary Latin American art and culture through the presentation of a significant permanent collection, dynamic exhibitions and related cultural and educational programs.
Rancho Los Alamitos

Long Beach

Come to the Rancho for a celebration of California's cultural landscape heritage. Attend seminars focused on the implementation of garden design using California natives along with Mediterranean plants and water wise gardening practices. Enjoy on-going tours of the ranch house and gardens. Visit with representatives from Southern California public parks, gardens, historic sites, and conservancy organizations. Visit the plant sale and holiday shop for unique home and garden items.
University Art Museum, Long Beach

Long Beach

University Art Museum docents provide tours for CSULB students, K-12 school classes, college classes, and community groups interested in visiting the UAM. Tours are conducted by the UAM Docents, who provide a variety of meaningful experiences to accommodate the diverse needs of our visitors.
Los Altos Historical Museum.

Los Altos

Each year, all Los Altos third-graders and fourth-graders attending Los Altos School District public schools are invited to participate in three-hour morning theme days held at the Los Altos History Museum. The curriculum for both field trips is especially designed to be age-appropriate for elementary school children and carefully aligned to the California History Social Studies Standards. Lessons are taught by credentialed teachers and history museum-trained docents.
Los Angeles State Historic Park

Los Angeles

32 acres of open space directly adjacent to Chinatown, park visitors can wander pathways and enjoy a view of downtown, as well as discover and celebrate the natural and cultural heritage of Los Angeles. Design plans for the park are in the conceptual stage and aim to provide the public with a world class park. Partnerships with educational institutions and community organizations allow for creative and innovative public events such as Junction (a multimedia project in cooperation with UCLA), the Red Nation Pow Wow celebrating American Indian culture, and Safe Moves "Walk, Ride and Roll" which teaches kids how to ride bicycles safely and provides them with free helmets. State Parks invites you to engage in the past, present and future of Los Angeles at Los Angeles State Historic Park.
Heritage Square Museum

Los Angeles

A living history museum reflecting the settlement and development of Southern California from the Civil War to the early 20th Century, Heritage Square Museum offers visitors a look into the everyday lives of Southern Californians at the close of the 19th Century.
Museum of Latin American Art

Los Angeles

The Museum of Latin American Art features modern and contemporary work from Latin American and Latino artists. In addition to artwork, it\'s a great source for cultural programs and information. If you can\'t visit MOLAA in person, you can find a large collection of artwork, articles, online events, and other educator resources online.
Rio de Los Angeles State Park

Los Angeles

Rio de Los Angeles (LA River) State Park is surrounded by industrial and residential areas, yet restoration of the park's natural river wetlands allows a serene opportunity to all visitors who enjoy hiking trails, being surrounded by native plants and viewing returning wildlife. The park also encompasses sports fields, a children's playground and a recreation building.
Watts Towers of Simon Rodia State Historic Park

Los Angeles

The Watts Towers are a complex set of 17 separate sculptural pieces built on a residential lot in the community of Watts. Two of the towers rise to a height of nearly 100 feet. The sculptures are constructed from steel pipes and rods, wrapped with wire mesh, coated with mortar, and embedded with pieces of porcelain, tile and glass. Using simple hand tools and cast off materials (broken glass, sea shells, generic pottery and ceramic tile) Italian immigrant, Simon Rodia spent 30 years (1921 to 1955) building a tribute to his adopted country and a monument to the spirit of individuals who make their dreams tangible. The Watts Towers are one of only nine works of folk art listed on the National Register of Historic Places.
California Science Center

Los Angeles

Museum and exhibits profile, IMAX schedule, and calendar of upcoming events for the interactive learning facility.
Institute of Contemporary Art, Los Angeles

Los Angeles

The Institute of Contemporary Art, Los Angeles, formerly known as the Santa Monica Museum of Art, was based at the Bergamot Station Arts Center in Santa Monica, California until May 2015. As an independent and non-collecting art museum, it exhibits the work of local, national, and international contemporary artists.
Griffith Observatory

Los Angeles

A beloved icon of Los Angeles and world leader in public astronomy. Since 1935, the Observatory has given tens of millions of visitors the opportunity to become observers. Griffith Observatory offers exciting shows in the Samuel Oschin Planetarium, public telescopes, and observing and astronomy exhibits.
The Los Angeles Zoo & Botanical Gardens

Los Angeles

Nurturing Wildlife and Enriching the Human Experience
Audubon Center at Debs Park

Los Angeles

The park sits between Dodger Stadium and South Pasadena and boasts a cutting-edge environmental education center and ecological monitoring program within a city park.
Amateur Athletic Foundation of Los Angeles

Los Angeles

Our mission is to serve youth through sport and to increase knowledge of sport and its impact on people's lives. The LA84 Foundation supports a wide array of youth sports programming. We award grants to youth sports organizations within the eight southernmost counties of California. We also conduct our own. youth sports and coaching education programs, a number of which have become models for similar programs nationwide
Autry National Center

Los Angeles

The Autry National Center explores the experiences and perceptions of the diverse peoples of the American West, connecting the past with the present to inform our shared future.
California African American Museum

Los Angeles

CAAM's Education Department strives to enhance the cultural interests of individuals and groups. As educators, our focus is to provide a variety of learning experiences to a variety of audiences, to serve as a resource for diverse communities, to broaden public awareness of the artistic, historical and cultural contributions of African Americans and to assist other organizations promoting the growth of human potential.
Corita Art Center

Los Angeles

The Corita Art Center plays an active roll in bringing arts programming to the community
Craft and Folk Art Museum

Los Angeles

Explore the world of craft and folk art with hands-on programs for all ages
F.I.D.M. Museum

Los Angeles

Since 1991, exhibitions have been viewed in the FIDM Museum and Galleries on the ground floor of the college. The FIDM Museum and Galleries presents two major exhibitions: "The Art of Motion Picture Costume Design" and "The Outstanding Art of Television Costume Design". These exhibitions feature costumes from the previous year's best films and television programs including samplings of Academy Award nominated and Emmy Award-nominated costumes.
Fellows of Contemporary Art

Los Angeles

Played a unique and significant role in the development of art in California. We are a nonprofit corporation that was formed in 1975 in Los Angeles with a commitment to and passion for contemporary art. Supported by an active and enthusiastic membership drawn primarily, but not exclusively, from Southern California, it includes collectors and individuals knowledgeable about art, as well as those who feel the passion and want to learn more about the art of today.
Hancock Memorial Museum

Los Angeles

Located in the south-east wing of the Allan Hancock Foundation Building, the Hancock Memorial Museum is comprised of the four public rooms from the original Hancock mansion. Built in 1909 at the northeast corner of Vermont Avenue and Wilshire boulevard, where it stood for 30 years, the mansion was designed by John C. W. Austin, in part in classical Palladian style after the famed Villa de Medici in Florence, Italy.
J. Paul Getty Museum

Los Angeles

The Getty Center presents the Getty's collection of Western art from the Middle Ages to the present against a backdrop of dramatic architecture, tranquil gardens, and breathtaking views.
Japanese American National Museum

Los Angeles

The National Museum strives to create a unique learning environment that enhances classroom activities and provides rich experiences that spark a passion for lifelong learning in the minds of young people.
Korean American Museum

Los Angeles

Encouraging cultural diversity by bringing art to the students through the employment of visual arts projects related to depictions of cultural identity and through the exploration of multicultural concepts by way of tours of local museums, tours of private art studios, and artist-led workshops.
Los Angeles Municipal Art Gallery

Los Angeles

Founded in 1952, its mission is to promote, interpret, and present to the art of emerging, mid career, and established artists from culturally diverse Southern California. The Gallery showcases art from other parts of the world that is of relevance to the people of the City of Los Angeles.
L.A. Museum of the Holocaust

Los Angeles

LAMH dedicates itself as a primary source institution, one that commemorates those who perished and those who survived by housing the precious artifacts that miraculously weathered the war, the ghettos, and ultimately, the death camps. LAMH is committed to providing free education to the public. We are the only Jewish/Holocaust organization in Los Angeles which guarantees dialogue with an actual survivor, a living embodiment of history.
Los Angeles Contemporary Exhibitions

Los Angeles
Los Angeles County Museum of Art

Los Angeles
Museum of Contemporary Art, Los Angeles

Los Angeles

Founded in 1979, MOCA is the only museum in Los Angeles devoted exclusively to contemporary art. It is committed to the collection, presentation, and interpretation of work produced since 1940 in all media, and to preserving that work for future generations.
The Paley Center for Media

Los Angeles

The Paley Center for Media, with locations in New York and Los Angeles, leads the discussion about the cultural, creative, and social significance of television, radio, and emerging platforms for the professional community and media-interested public.
Museum of Tolerance

Los Angeles

he Museum of Tolerance provides a unique and provocative experience that challenges visitors to become witnesses to history, confront the dynamic of intolerance that is still embedded in society today. Through powerful interactive exhibits, arts and lectures, special events and customized educational programs for youths and adults, the Museum engages visitors' hearts and minds in a journey of discovery to inspire change.
Natural History Museum of Los Angeles County

Los Angeles

Visit one of the world's most extensive and valuable collections of natural and cultural history. As the largest natural and historical museum in the Western United States and an active research center, NHM safeguards more than 35 million spectacular, diverse specimens and artifacts covering 4.5 billion years of history.
Petersen Automotive Museum *

Los Angeles

Virtual field trip onlineExplore the evolution of the Automobile and its impact on our culture. Experience the last 100 years of automotive history at our museum and here on our web site. There is always something new to discover for the whole family.
Skirball Cultural Center

Los Angeles

Hailed by The New York Times as "a lesson on how to connect the eye to heart and mind," the Skirball Cultural Center has established itself as one of the world's most dynamic Jewish cultural institutions, and among the most prominent cultural venues in the United States. Its mission is to explore the connections between four thousand years of Jewish heritage and the vitality of American democratic ideals.
Southwest Museum of the American Indian

Los Angeles

The Southwest Museum currently holds one of the nation's most important collections related to the American Indian.
Travel Town Museum

Los Angeles

The Travel Town Transportation Museum is an outdoor museum which preserves and celebrates the railroad heritage of the western United States, its history and its artifacts. Particular thematic emphasis is placed on the history of Southern California and how the railroads aided its development.
U.C.L.A. Fowler Museum Of Cultural History

Los Angeles

The Fowler Museum explores art and material culture primarily from Africa, Asia and the Pacific, and the Americas, past and present.
U.C.L.A. Hammer Museum

Los Angeles

The Hammer contains a small collection of Impressionist and Post-Impressionist art. The museum holds over 7500 works by French satirist Honore Daumier, the largest collection outside of Paris. In recent years, the Hammer has become well known for its collection of contemporary art works on paper. It also has fine paintings by Rembrandt, Titian and Chardin.
USC Fisher Museum of Art *

Los Angeles

Virtual field trip onlineDiscover art spanning five centuries at USC Fisher Museum of Art, the museum of the University of Southern California and the first museum established in Los Angeles devoted exclusively to the exhibition and collection of fine art.
Kenneth Hahn State Recreation Area

Los Angeles

Managed by the Los Angeles County Department of Parks and Recreation, includes large areas of native coastal sage scrub habitat, lawns and landscaped areas, picnic sites, tot lots, fishing lake, lotus pond, community center and five miles of trails. There are six restrooms; the community center has four administrative offices and a small meeting room.
Will Rogers State Beach

Los Angeles County

Will Rogers State Beach extends one and three-quarters mile along the shore. The beach features swimming and skin diving. Facilities include volleyball courts, playground and gymnastic equipment, as well as a bike path and walkway. A number of movies and TV shows have been filmed at this beach.
San Luis Reservoir State Recreation Area

Los Banos

Nestled in the grassy hills of the western San Joaquin Valley near historic Pacheco Pass, San Luis Reservoir State Recreation Area is noted for boating, board sailing, camping, and picnicking. But it's anglers who find the unit's three lakes most inviting.
Youth Science Institute

Los Gatos

YSI focuses on hands-on learning of life sciences, physical sciences and social sciences, including biology, chemistry, physics, geology and astronomy. Programs are conducted at its three Science and Nature Centers in Vasona, Sanborn and Alum Rock parks, in schools and at community events. Centers feature live mammals, birds, insects, amphibians and reptiles in some combination.
Wildling Art Museum

Los Olivos

An educational institution dedicated to presenting art of America's wilderness so participants of all ages gain a greater appreciation of the art and a better understanding of the importance of preserving our natural heritage.
Los Osos Oaks State Natural Reserve

Los Osos

This Reserve features ancient sand dunes covered with centuries-old coast live oak trees. According to botanists, five major plant communities thrive within the reserve. They are coastal sage scrub, central coastal scrub, dune oak scrub, coast live oak forest, and riparian (streamside). The oak communities exist close to each other, but each has its own character. The oak scrub has dwarf oak trees growing on the ancient (relict) sand dune. Though they are coast live oak trees, they rarely grow more than six to eight feet tall. The larger coast live oaks are located where the soil is moister. These giants can grow to 25 feet in height. Their massive trunks and gnarled branches twist into all sorts of fantastic shapes
Montana de Oro State Park

Los Osos

This park features rugged cliffs, secluded sandy beaches, coastal plains, streams, canyons, and hills, including 1,347-foot Valencia Peak. Naturalists and backpackers enjoy the solitude and freedom found along the park's trails. There are also mountain biking and equestrian trails. The best-known beach is Spooner's Cove, across from the campground. The park's name, "Mountain of Gold," comes from the golden wildflowers that bloom in spring. Wildlife in the park includes black tailed deer and the black oystercatcher. The park includes primitive and equestrian campsites.
Madera County Historical Museum

Madera

"Madera" is the Spanish word for "lumber", the first industry in the County. Part of the historic Sugar Pine Railroad remains as a tourist attraction. A huge flume once ran from the high Sierra Forest area down to Madera. One of the engineering marvels of early California, its history is preserved in articles and photos in the County Museum located in the beautiful old granite Courthouse in Madera. A replica of a section of the flume is on display.
Leo Carrillo State Park

Malibu

The park has 1.5 miles of beach for swimming, surfing, windsurfing, surf fishing and beachcombing. The beach also has tide pools, coastal caves and reefs for exploring. Giant sycamores shade the main campgrounds. The park also features back-country hiking. Nature walks and campfire programs are offered and a small visitor center has interpretive displays.
Malibu Lagoon State Beach

Malibu

On the east side of Malibu Creek Bridge, the famous Malibu Pier allows for excellent saltwater fishing. On the west side of Malibu Creek Bridge, visitors will find picnic tables and a nature area, excellent for bird watching and a the study of a greatly diminished eco-system a Southern California saltwater marsh. The Adamson House, a National Historic Site located in Malibu Lagoon State Park, is a showplace of Malibu historical artifacts. Completed in 1929 by the Rindge's daughter, Rhoda Adamson, the Spanish-Moor revival residence features tile from the renowned Malibu Potteries and sits on a spectacular overlook of the Malibu Pier and Surfrider Beach.
Robert H. Meyer Memorial State Beach

Malibu

Robert H. Meyer Memorial State Beach is made up of a number of cove or cliff-foot strands known as "pocket beaches" along the west end of the city of Malibu.
Topanga State Park

Malibu

Located in the cliffs and canyons of the Santa Monica Mountains, Topanga State Park features 36 miles of trails through open grassland, live oaks and spectacular views of the Pacific Ocean.
Charmlee Wilderness Park Nature Center

Malibu

Charmlee Wilderness Park coversᅠ532 acres of the best of the Santa Monica Mountains Coastal Slope environment. The park includes picnic areas as well as 8 miles of hiking trails, native plant displays and a nature center. Programs include a volunteer Docent program, school and group nature programs and a variety of public hikes and interpretive programs.
Frederick R. Weisman Museum of Art

Malibu

Hosts musicals, performances and theatrical shows.
Devils Postpile National Monument

Mammoth Lakes

A Geologic Wonder: Established in 1911 by presidential proclamation, Devils Postpile National Monument protects and preserves the Devils Postpile formation, the 101-foot high Rainbow Falls, and pristine mountain scenery. The formation is a rare sight in the geologic world and ranks as one of the world's finest examples of columnar basalt. Its columns tower 60 feet high and display an unusual symmetry.
Mammoth Ski Museum

Mammoth Lakes

The Mammoth Ski Museum is home to the Beekley International Collection of Skiing Art and Literature. Five hundred years of the sport and culture of skiing exhibitions and research library. Revisit early Sierra and Mammoth ski history. Dave McCoy, founder of Mammoth Mountain ski area and the ski pioneers of the Sierra share their legendary stories through evolving exhibits and films in the Pioneer Theater and Gallery.
Manchester State Park

Manchester

One of the main attractions is the excellent steelhead and salmon fishing in the park's two streams, Brush Creek and Alder Creek. The park features a variety of coastal wildflowers, including sea pinks, poppies, lupines, baby blue eyes and blue irises. The park provides habitat for tundra swans. The San Andreas Fault runs into the sea at the park.
Great Wolf Lodge Northern California

Manteca

A family friendly resort good for all ages with 500 guest rooms and conference center. Located in Manteca, CA with a 94,000 sq. ft. indoor heated water park open year around, 5 on-site restaurants, and several indoor attractions for families to enjoy such as mini golf, mini bowling, a ropes course and more! Homeschool rates available for groups or individuals, please visit my FB page for the latest homeschool dates! Or if you would like to set up your own group date please contact us directly at edean@greatwolf.com or 209 707 2227. Facebook:https://www.facebook.com/profile.php?id+100069893
Manteca Historical Museum

Manteca

Manteca was first settled by a few pioneer farmers in the early 1850's. Before the first settlers came, there were few Indians living permanently here because of the extreme summer heat and the scarcity of useful vegetation on what was then known as the "sand plains". As the California Gold Rush subsided, permanent settlers came to the area. The principal products were grain and cattle on the first large land holdings. A local historical museum of which the entire community can be proud. Support for this endeavor has poured forth in the form of generous contributions of photographs, documents, artifacts, other memorabilia, volunteer work time, and money.
March Field Air Museum

March A.F.B

March Field Air Museum serves as home to over 70 historic aircraft and displays over 2,000 artifacts.
Marina State Beach

Marina

The beach area includes a boardwalk that winds through the Marina Dunes Natural Preserves. The beach is known for hang-gliding. Radio-controlled gliders and kites are also popular. The beach is a favorite site for picnics.
Mariposa Museum & History Center

Mariposa

Considered to be one the best museums in America by the Smithsonian Institute. Our mission is to portray the people and lifestyle of Mariposa County from the Native Indian and Spanish periods to the California Gold rush as well as the late 1800's and early 1900's time frame with great authenticity. Original documents, artwork and artifacts, Gold displays and Native American baskets are just a few items to enjoy while you visit.
Las Mariposas Civil War Days

Mariposa

The most Authentic Civil War Reenactment West of the Rockies! Friday is a no cost Education Day dedicated solely to registered schools, with educational stations for Civil War Presentations for all attending students. There will also be a battle reenactment on Friday complete with tactical foot and horse skirmishes and cannon fire. Saturday and Sunday both include two battles each day, with a host of other events coinciding with battle reenactments. On Saturday, the public is also invited to attend a May Day Celebration, Parade, and Civilian Tea at the Mayors Tent Camp. Check website for details of event held in April.
Mariposa Museum and History Center

Mariposa

With Yosemite National Park only an hour away, the Mariosa Museum is a prime field trip destination for school children of all ages and backgrounds. We are the #1 destination for all activities in Mariposa, and thousands of students travel from all over California each year to learn about the California Gold Rush. When they leave, they have learned about Yosemite National Park, and that Mariposa County was not only a gold rush town, but home to the Southern Sierra Miwuk for thousands of years.
California State Mining and Mineral Museum

Mariposa

This is where explorers John C. Fremont and Kit Carson found the rich Mariposa Vein and opened the first mill to crush ore and extract gold in California. You are invited to discover for yourself California's mineral wealth, colorful history and geologic diversity as you view the official mineral collection of the state of California. The collection, which began in 1880, contains over 13,000 objects including mining artifacts, rare specimens of crystalline gold in its many forms, as well as beautiful gem and mineral specimens from California and around the world. The collection was moved to Mariposa in 1983 after residing in San Francisco, for over 100 years. The museum became a state park in 1999.
Grover Hot Springs State Park

Markleeville

Grover Hot Springs State Park is located on the east side of the Sierra at the edge of the Great Basin Province, characterized by open pine forest, and sagebrush and meadows. The park has a pool complex with a hot pool and a swimming pool hot springs, a campground, picnic area and hiking trails.
Alpine County Museum

Markleeville

On a hill overlooking Markleeville, the Alpine County Museum Complex provides the visitor with a glimpse into the rich past of Alpine County. The focal point of the Complex is the Old Webster Schoolhouse built on this site in 1882 and which is on the National Register of Historic Places. Other buildings on the site are the original Markleeville Log Jail, the main museum building, a Carriage Shed, and historic four Stamp Mill used in early Alpine County.
Marconi Conference Center State Historic Park

Marshall

The Marconi Conference Center is situated on wooded hills overlooking scenic Tomales Bay in Marin County.
Martinez Museum *

Martinez

Virtual field trip onlineOur present displays are part of the on-going effort to keep interest alive in our community's history and encourage repeat visitors. All displays, cataloguing, housekeeping, gardening, and other duties are performed by volunteers.
Port Chicago Naval Magazine

Martinez

Largest Homeland Disaster during World War II. Reservations are required to visit this location. The website offers historical information about the park for those who cannot visit in person.
Salton Sea State Recreation Area

Mecca

One of the world's largest inland seas, Salton Sea was created by accident in 1905 when increased flooding on the Colorado River allowed water to crash through canal barriers and for the next 18 months the entire flow of the Colorado River rushed downhill into the Salton Trough. By the time engineers were finally able to stop the breaching water in 1907, the Salton Sea had been born - 45 miles long and 20 miles wide - equalling 110 miles of shoreline. This 360 square-mile basin is a popular site for boaters, water-skiers and anglers.
Kelley House Museum

Mendocino

A historic home built in 1861, which offers exhibits on the cultural heritage of the Mendocino Coast. It interprets Mendocino's logging and shipping industries and the unique Victorian architecture for which the town is recognized as a National Historic Preservation District. The setting is enhanced by a pond and gardens.
Mailliard Redwoods State Natural Reserve

Mendocino

The purpose of Mailliard Redwoods State Reserve, in Mendocino County, is to preserve and protect, in an essentially natural condition, the coast redwood forest and associated wildlife habitat which occurs along the Garcia River and adjacent watersheds.
Mendocino Headlands State Park

Mendocino

Near picturesque downtown Mendocino, this park features grass-covered headlands and a beach, with access from the mouth of the Big River south of town. Trails are popular with hikers and joggers. In winter, the park provides a site for whale watching. The Ford Museum features weekend lectures on area wildlife.
Russian Gulch State Park

Mendocino

This park is known for the heavily forested Russian Gulch Creek Canyon, a headland that features the Devil's Punch Bowl (a large, collapsed sea cave with churning water), and a beach that offers swimming, tide pool exploring, skin diving and rock fishing. Inland, there is a 36-foot high waterfall. Hikers enjoy miles of hiking trails. The park also has a paved three-mile bicycle trail.
Van Damme State Park

Mendocino

Van Damme State Park consists of beach and upland on the Mendocino Coast. Of all park system units along the Mendocino coast, Van Damme is perhaps the richest in terms of historical resources connected with the redwood lumber industry. Its story is a prime example of the struggles and eventual failures of a small, independent lumber operation.
MacKerricher State Park

Mendocino County

MacKerricher State Park offers a variety of habitats; beach, bluff, headland, dune, forest and wetland. Tidepools are along the shore. Seals live on the rocks off the park's Mendocino coast. More than 90 species of birds visit or live near Cleone Lake, a formal tidal lagoon. During winter and spring, the nearby headland provides a good lookout for whale watching. The park is popular with hikers, joggers, equestrians and bicyclists. Fishing is also popular, with trout in two fresh-water lakes. The park has a wheelchair accessible nature trail.
Montgomery Woods State Natural Reserve

Mendocino County

Montgomery Woods State Reserve, in the heart of the Coast Range, has redwoods, where visitors can walk along one of the park's many trails. It is an excellent example of both a magnificent coastal redwood grove and a beautiful fern forest.
Westport-Union Landing State Beach

Mendocino County

Westport Union-Landing State Beach covers over 3 miles of rugged and scenic coastline, with 46 campsites on the bluff overlooking the Pacific Ocean. The magnificent vistas, sunsets and tree covered mountains in the background provide inspiring challenges to both amateur and professional photographers.
Caspar Headlands State Beach

Mendocino County

State beaches are areas with frontage on the ocean, or bays designed to provide swimming, boating, fishing, and other beach-oriented recreational activities. This area has miles of undeveloped beach adjacent to the headlands and a panoramic ocean view. The beach is a good place to watch for migrating gray whales. Fishing is also popular off the beach.
Caspar Headlands State Natural Reserve

Mendocino County

Caspar Headland State Reserve is located on the Pacific Coast in Mendocino County approximately 4 miles north of the town of Mendocino. The reserve is shared by a residential community in Caspar South, which lies on a bluff overlooking the ocean. Bordering the reserve to the north is Caspar Beach and RV Campground, and further north the town of Caspar. State reserves have outstanding or unusual natural or scenic values. This Reserve contains a small strip of rugged coastline featured sculpted rocks, wildflowers and surf.
Merced County Courthouse Museum

Merced

Our museum houses 8500 square feet of exhibits, both permanent and rotating, which depict the history of Merced County as well as the settlers of the Great Central Valley. We are located in the county's three-story courthouse built in 1875, one of the oldest historical buildings in California. On the National Register of Historic Places, the architectural style of the building is Italianate, designed by State Capital Architect, Albert A. Bennett. Our museum is staffed by volunteers who devote their time into preserving and passing on the history of this great land to generations to come.
Muir Woods National Monument

Mill Valley

"This is the best tree-lovers monument that could possibly be found in all the forests of the world," declared conservationist John Muir when describing the majestic coast redwoods of Muir Woods.
Lassen Volcanic National Park

Mineral

Witness a brief moment in the ancient battle between the earth shaping forces of creation and destruction in Northern California. Nestled within Lassen's peaceful forests and untouched wilderness, hissing fumaroles and boiling mud pots still shape and change the land, evidence of Lassen's long fiery and active past.
Great Valley Museum of Natural History

Modesto

Bringing you the wonders of science and nature. See, Touch, and Experience the past and present.
McHenry Museum

Modesto

Within the museum there are a complete dentist's office, a general store and a recreated blacksmith shop using wood and square nails from a century old house. Other exhibits include gold mining paraphernalia, original fire fighting equipment, along with a collection of cattle brands from Stanislaus County.
Montara State Beach

Montara

This beach is a popular location for visitors who can explore the beach tide pools or go surf fishing. The beach is bounded by low hills both to the north and south. Restaurants and grocery stores are nearby. Point Montara has a lighthouse that offers overnight accommodations. It is operated by Hostelling International, a non-profit group.
Colton Hall

Monterey

Built to serve as a public school and town meeting hall, Colton Hall now offers visitors a re-creation of the meeting room where California's first Constitution was drafted in October 1849 and exhibits on early Monterey. Colton Hall is a landmark in the City of Monterey, once the capital of Alta California.
Presidio of Monterey Museum

Monterey

The Presidio of Monterey Museum exhibits lead visitors through Monterey's various stages of military development -- from the indigenous period which highlights the area's native populations; through the Spanish and Mexican periods; and up to present day. Because of the important role of the military in Monterey between 1902 and today, the majority of the museum is dedicated to the development of the Presidio as a training base. The Museum and Lower Presidio Historic Park were created by a partnership between the City of Monterey and the Presidio of Monterey.
Monterey Museum Of Art

Monterey

The Museum collects, preserves and interprets American art, in particular the work of artists active on the Monterey Peninsula and the West Coast. The Museum also collects Asian Art. The collection includes works by artists such as Armin Hansen, William F. Ritschel, Gottardo Piazzoni, and world-renowned photographers including Edward Weston and Ansel Adams.
Monterey State Historic Park

Monterey

Monterey State Historic Park preserves and interprets places and objects of statewide historic significance. Monterey served as California's capital under Spanish, Mexican and U.S. rule. The U.S. flag was first officially raised in California here on July 7, 1846, bringing 600,000 square miles, including California, into the Union. Ten buildings, including the Custom House, built in 1827, and California's First Theatre (1846-47), and several residences (now museums) built in the 1830s, preserve the area's rich history of early California.
Chris' Whale Watching Tours

Monterey

We offer full service guided Family Friendly whale watching tours year around in the third largest deep submarine canyon in the world. On our whale watching tours you'll get a once in a lifetime educational experience. There is something for all ages and everyone in the family.
Monterey Bay Aquarium

Monterey
Santa Cruz Beach Boardwalk

Monterey

Ride the world-famous Giant Dipper roller coaster and enjoy our spectacular beachfront setting on beautiful Monterey Bay. The ADMISSION FREE Santa Cruz Beach Boardwalk amusement park has something for everyone!
Salinas River State Beach

Monterey County

The beach protects one of Monterey Bay's most interesting sand dune areas and is home to many species of wild birds, including Western meadowlarks, hawks, jays, valley quail, finches, towhees and sparrows as well as shorebirds that winter along the bay. The beach is a popular fishing site.
Hearst Art Gallery, St. Mary's College

Moraga

The Hearst's tours are lively and informative tours designed to enhance visitors' appreciation for each exhibition. A brief tour of the William Keith Room may included. A study table full of reference books and catalogues is included with most exhibitions; a DVD created by an award-winning San Francisco documentary film company is always available in the Keith Room.
Henry W. Coe State Park

Morgan Hill

Coe Park is the largest state park in northern California of wild open spaces. The terrain of the park is rugged, varied, and beautiful, with lofty ridges and steep canyons. Once the home of Ohlone Indians, the park is now home to a fascinating variety of plants and animals, including the elusive mountain lion. Within Coe Park are the headwaters of Coyote Creek, long stretches of the Pacheco and Orestimba creeks, and a wilderness area.
Morro Bay State Park Museum of Natural History

Morro Bay

The Museum of Natural History - the only one in the California State Park system -- opened in 1962. It served over 10,000 visitors in its first two years alone, and now some 65,000 thousand people visit the Museum annually, including 14,000 children who participate free-of-charge in the docent-led school group programs that support California's required science and social studies standards.
Whale Watching Monterey Bay with Sea Goddess Whale Watching

Moss Landing

Family Friendly whale watching tours will excite and delight all ages (3+). Learn why whale watching Monterey Bay is one of the best places in the world as our marine biologists narrate for a true educational experience. You will learn about humpback whales, gray whales, killer whales aka Orca's, dolphins and many other species including their migratory patterns. Monterey has both resident and transitory whales making it a year-round destination!

Whale Watching Monterey Bay with Sea Goddess Whale Watching website
Zmudowski State Beach

Moss Landing

The beach is a popular fishing area, featuring perch, kingfish, sole, flounder, halibut, bocaccio (tomcod), jacksmelt, lingcod, cabezon, salmon, steelhead and occasional rockfish. The beach features the Pajaro River estuary, where a natural preserve has been set aside. The sandy beach is also popular with bird watchers and equestrians. Horses are only allowed near the waterline. Swimming and water sports are hazardous because of strong rip-currents.
Sisson Museum

Mount Shasta

Mount Shasta City was known as the town of Sisson until it was renamed in 1924. The museum building was erected in 1906 and served as the main hatchery building of the California Department of Fish and Game Mount Shasta Fish Hatchery until it was declared no longer usable 72 years later. A group of civic minded citizens obtained a lease on the building and start-up funding from the state under the umbrellas of the local Chamber of Commerce, and the building was renovated depending heavily on donated material and labor. The Museum has welcomed over 300,000 visitors since it opened in 1983, and we hope you will visit soon.
Ripley's Believe It Or Not Museum

Multiple Locations

Offers museums and attractions in multiple countries focusing on odd and amazing things. Provides videos, details about exhibits, and their history.
Medieval Times

Multiple locations

Exciting, family friendly dinner theater featuring an authentic medieval tournament and feast with jousting knights, and live horses.
di Rosa

Napa

Considered the most significant collection of Bay Area art in the world, the di Rosa Preserve: Art & Nature provides opportunities for creative enrichment and enjoyment of art and the environment year-round. The Preserve houses approximately 2,200 works of art by more than 900 artists.
Bothe-Napa Valley State Park

Napa County

Daytime visitors can enjoy a leisurely stroll in Ritchey Canyon on the Redwood Trail to view the delicate ferns and listen to the water splashing down the rocky creekbed. Bring your wine and cheese and picnic under the towering Douglas Firs. On hot summer days, grab a swimsuit and towel and come enjoy a dip in the park's swimming pool open on weekends, beginning on Memorial Day weekend through mid-June, then daily through Labor Day, from 12- 6 p.m. There is an additional fee for the use of the swimming pool, to be paid at the park entrance.
Malakoff Diggins State Historic Park

Nevada County

The site of California's largest "hydraulic" mine. Visitors can see huge cliffs carved by mighty streams of water, results of the gold mining technique of washing away entire mountains to find the precious metal. Legal battles between mine owners and downstream farmers ended this method. The park also contains a 7,847 foot bedrock tunnel that served as a drain. The visitor center has exhibits on life in the old mining town of North Bloomfield.
Stagecoach Inn Museum

Newbury Park

Learning history is easier and more fun with participation in one of the school days programs at the Stagecoach Inn Museum Complex.
William S. Hart Ranch and Museum

Newhall

A Member of the Natural History Museum of Los Angeles County, William S. Hart Park is less than an hour's drive from most areas of Los Angeles. It is the former home and ranch of William S. Hart, silent film cowboy star and director. The Museum sits atop a hill within a large park area. The Spanish colonial Revival style mansion contains original furnishings, an impressive collection of western art, mementos of early Hollywood and Native American artifacts. In addition, there is a furnished 1910 ranch house which is open for unguided tours.
Orange County Museum of Art

Newport Beach

The Orange County Museum of Art provides free guided exhibition tours for school age children, grades 2-12. These interactive tours provide a meaningful art experience in an exciting learning environment.
Newport Landing Whale Watching

Newport Beach

Whale Watching is an enriching and educational experience! And we have discounted rates for home school groups! Nov-May is Gray Whale Season May-Oct. is Blue Whale Season April-Oct. Humpback Whales are in our area Late Dec.-Jan. Orca Pods have been sighted in the area And throughout the year we see Common, and Bottlenose Dolphin, Fin Whales, Minke Whales, Sea Lions, and Sea Birds. The thrill of seeing large marine mammals swim alongside our boat is an experience that students will never forget, and a great way to integrate marine science into your curriculum.
Indio Hills Palms Park Property

Niland

Native California fan palms thrive in many locations but rarely in such numbers as in the canyons of the Indio Hills. Here, along a line where the San Andreas fault captures groundwater that nurtures the palms, is a wild parkland which is part of the adjacent Coachella Valley Preserve. The park contains some fine palm groves that include Hidden, Pushawalla, Briska, Macomber and Horseshoe palms. The nearest groves are relatively easy to reach from the trailhead and parking area 4-miles north of Indio.
Juan Bautista de Anza National Historic Trail

Nogales

"Everyone mount up!" This became a familiar call from Spanish Captain Juan Bautista de Anza. In 1776, as Americans fought for their independence in the East, Anza led almost 300 people over 1200 miles to settle Alta California. It was the first overland route established to connect New Spain with San Francisco. Walk in their footsteps from Nogales, Arizona to San Francisco, California.
C.S.U. Northridge Art Galleries

Northridge

The Art Galleries at California State University, Northridge, are the major art exhibition space in the San Fernando Valley. Serving the University campus, the San Fernando Valley, and the greater Southern California communities, the Art Galleries offer an exhibition program that reflects the extraordinary diversity of the art world today and of our many audiences. Through a program of innovative and often provocative exhibitions, the galleries utilize regional resources to give fresh perspectives on international art and the broad interrelationships of today's visual world. This approach is clearly evident in the over 500 exhibitions we have sponsored since 1980, including several off-campus sites. Lectures, films, concerts, and other events are often given in conjunction with exhibitions.
Novato History Museum

Novato

The Novato History Museum, founded by Mrs. Margaret "Peg" Coady in 1976, is located in the home of Novato's first Postmaster, Henry F. Jones. The building, possibly the oldest dwelling in Novato, may have been one of several houses constructed by Ramon Pacheco circa 1850. It stood in the original "Old Town" on South Novato Blvd. near Yukon Way. Every spring the Novato Historical Guild leads Novato's 3rd graders through a historic tour of Novato. The cost is free. The museum has an on-going community oral history project. We will provide training for anyone interested in volunteering for this project.
Olompali State Historic Park

Novato

The name "olompali" comes from the Miwok language and may be translated as "southern village" or "southern people." The Coast Miwok inhabited at least one site within the area of the present-day park continuously from as early as 6,000 BC, until the early 1850s. Olompali contains "kitchen rock," a large boulder used as a mortar in which early people ground acorns and seeds into a fine flour for food preparation. Many women would gather near such grinding rocks to prepare food and socialize.
Oakdale Cowboy Museum

Oakdale

The Oakdale Cowboy Museum contains the sights, sounds and smells of our western heritage. Upon entering the Cowboy Museum, one quickly notices the memorabilia that illustrates the lifestyle of the American Cowboy. The unique skills of the leather crafter are seen on the finely tooled leather saddles that surround the two galleries of the Museum. The action photographs that fill the spacious walls along with several personal collections tell the story of our early western beginnings. The many tools of the rancher such as branding irons, boots, spurs and chaps are displayed for a "hands on" experience
Chabot Space and Science Center

Oakland

chool groups can choose classes in astronomy, life sciences, physical sciences, computer technology, or environmental education. All school group visits include a show in our state-of-the-art Ask Jeeves Planetarium and time to explore CSSC's permanent exhibits.
Junior Center of Art and Science

Oakland

Dedicated to all the children of the East Bay, the Junior Center of Art and Science encourages children's active wonder and creative responses through artistic and scientific exploration of their natural urban environment. The Junior Center's classes, workshops, exhibits, and events integrate art and science to promote children's fresh, hands-on and personalized interaction with their world. The Junior Center contributes to the development of citizens who value nature and appreciate the importance of art and science in our community.
Oakland Museum

Oakland

The Oakland Museum of California provides unique collections, exhibitions and educational opportunities designed to generate a broader and deeper understanding of and interest in California's environment, history, art and people. Museum programs are responsive, accessible and meaningful to the public, including school children, teachers, scholars, the immediate Oakland community, and an increasingly diverse California population.
Potomac Association

Oakland

More than 80,000 people have visited and sailed aboard former President Franklin Delano Roosevelt's beloved "Floating White House," the USS Potomac, since it opened to the public in the summer of 1995. $5 million has been spent over a 12-year period to restore the 165-foot-long vessel as a memorial to the president who authored the New Deal and led the United States during the Great Depression and the World War II years.
Oakland Aviation Museum

Oakland

The Oakland Aviation Museum provides a vital resource to the San Francisco Bay area inspiring interest in the rich aviation history of Oakland and the Bay Area, fostering growth in aviation education and awareness, and promoting community for local groups.
Qakland Zoo

Oakland

Offering top quality educational, family and volunteer programs.
California Surf Museum

Oceanside

This educational, informative exhibit celebrates a small fraternity of surfers who, by their exceptional conceptual abilities and considerable crafting talent, radically altered surfboard design and, in some cases, manufacturing techniques. It's a dynamic array of talent, each personality accompanied by photos and the respective signature board. It traces surfboard design from its early roots in the Pacific to the tri-fin Thruster that helped solidify Simon Andersen's place in surfing history.
Imperial Valley College Desert Museum

Ocotillo

The museum's mission is to provide the schools and general public with a much needed educational resource on the archaeology and prehistory of the southern California desert and mountains. There is evidence of human habitation here for thousands of years. The museum is currently the repository for more than 9,000 artifacts gathered from over 8,800 recorded archaeological sites throughout the Imperial Valley.
Ojai Valley Museum

Ojai

The Ojai Valley Museum has an extensive collection of Art, Native American Baskets, Pioneer Tools, and photographs of early days in Ojai.
Museum of History & Art Ontario

Ontario

The Ontario Museum of History & Art (OMHA) preserves, interprets and celebrates the history and cultural heritage of Ontario and the surrounding area.
iFLY Indoor Skydiving Ontario

Ontario

Students will get fired up about math, physics, and engineering when they see it come to life in a state-of-the-art vertical wind tunnel. Our highly trained STEM educators guide students through an immersive and thrilling hands-on experience. Interactive presentations relating to indoor and outdoor skydiving. Lab activity and immersive experiments based on grade levels. A physics demonstrations in the wind tunnel. Students get to experience the dream of flying one-on-one with a certified world-class iFLY flight instructor.
Mandalay State Beach

Oxnard

The purpose of Mandalay State Beach is to make available the sandy ocean beach and adjacent coastal dunes for public recreational day use and enjoyment. In general, all public beach-related recreational activities may be provided that can be accommodated without impairing the scenic or natural integrity of the site. Also, the dune and wetlands (marshland) ecosystem is recognized for its important natural values and shall be managed for its protection and perpetuation.
McGrath State Beach

Oxnard

McGrath State Beach is one of the best bird-watching areas in California, with the lush riverbanks of the Santa Clara River and sand dunes along the shore. A nature trail leads to the Santa Clara Estuary Natural Preserve. Two miles of beach provide surfing and fishing opportunities, however, swimmers are urged to use caution because of strong currents and riptides.
Carnegie Art Museum

Oxnard

Promoting creativity, learning and growth in the careers of artists, and to inspire passion and appreciation for arts and culture in Oxnard and Southern California.
Channel Islands Maritime Museum

Oxnard

The mission of the Museum is to provide a rewarding museum experience based on the age of sail and to enhance the understanding of our rich maritime heritage through world-class maritime art, unique ship models, dynamic exhibits, and educational programs.
Pacific Grove Art Center

Pacific Grove

The purpose of the Pacific Grove Art Center is to educate the public in art appreciation and stimulate interest in art; to display all types of art to the general public on a non-discriminatory basis; to hold art classes, lectures, forums, exhibits, music concerts, and other educational functions for the general public; to provide art shows and exhibits which the public and school children can visit to continue their education in art and culture; and to promote the exhibition of art, with special emphasis on the encouragement of local artists.
Asilomar State Beach

Pacific Grove

Asilomar State Beach is part of the Pacific Grove Fish Garden Refuge and the Monterey Bay National Marine Sanctuary.
Will Rogers State Historic Park

Pacific Palisades

In the early 1930s, Will Rogers was the most popular and highest paid actor in Hollywood. From his start in vaudeville theater with a trick During the 1920s, he bought land in Santa Monica, where he developed a ranch. Eventually, the Rogers' owned 186 acres overlooking the Pacific Ocean, in what is now known as Pacific Palisades. At his untimely death in a plane crash in 1935, Will Rogers' ranch consisted of a 31-room ranch house, a stable, corrals, riding ring, roping arena, polo field, golf course, and hiking trails. When his widow, Betty, died in 1944, the ranch became a state park. The Park is undergoing a major historic renovation project that will restore the landscape to its appearance during Will Rogers' time. Details of the restoration program may be found in the Historic Landscape Management Plan. The Park Interpretive Staff offers tours of the ranch house and grounds. However, you and your family can enjoy many features of our Park on your own using the Self-Guided Ranch Tour Card.
Pacifica State Beach

Pacifica

This is a wide crescent-shaped beach that marks the northern gateway to the coastline stretching south of San Francisco.
Pinnacles

Paicines

An Ancient Volcano: Rising out of the chaparral-covered Gabilan Mountains, east of central California's Salinas Valley, are the spectacular remains of an ancient volcano. Massive monoliths, spires, sheer-walled canyons and talus passages define millions of years of erosion, faulting and tectonic plate movement.
Living Desert

Palm Desert

Desert conservation through preservation, education and appreciation. To preserve a portion of the Colorado Desert in its natural state. The Living Desert has set aside 1,000 acres of natural desert habitat. To foster, through interpretive exhibits, programs and publication, an awareness of and an appreciation for, the variety of plants and animals in worldwide desert ecosystems.
Palm Springs Art Museum

Palm Springs

The Palm Springs Art Museum strives to serve diverse communities as one of the outstanding mid-size art museums in the country. Its mission is to promote enjoyment, education and involvement with visual art of the highest quality, and enhance appreciation of the performing arts. By collecting, preserving, exhibiting, and interpreting art from a broad chronological and geographic range according to the highest professional standards, and presenting a varied program of performing art, the museum seeks to maximize its public service to audiences of all ages and social backgrounds and to make art a dynamic part of their lives.
Palm Springs Aerial Tramway

Palm Springs

The Palm Springs Aerial Tramway offers free membership programs. The Tramsters Club, for children ages 3 to 12, and the Alpine Club for companies with more than 100 employees.
Museum of American Heritage

Palo Alto

The Museum of American Heritage (MOAH) offers many educational programs for adults and children.
Palomar Mountain State Park

Palomar Mountain

Palomar Mountain State Park features spectacular views of the Pacific, camping, picnicking, hiking, and fishing (trout) in Doane Pond. Coniferous forests cover much of the 1,862 acres, in contrast to the dry lowlands surrounding the mountain. This is one of the few Southern California areas with a Sierra Nevada-like atmosphere.
Gold Nugget Museum

Paradise

The Gold Nugget Museum was incorporated in 1973. Our mission is to preserve and protect The Ridge heritage through our collection and artifacts and with community education programs. More...
Pasadena Museum of History

Pasadena

The Pasadena Museum of History offers a variety of educational, entertaining, and stimulating programs and events that further enhance our knowledge and enjoyment of the west San Gabriel Valley's rich heritage.
Kidspace Children's Museum

Pasadena

Kidspace features many fun, educational, and interactive programs and activities throughout the year that combine exhibit themes with learning initiatives. Kidspace's indoor exhibits and outdoor learning environments offer many opportunities for visitors to explore and investigate the natural world and express themselves in creative ways.
Paso Robles Pioneer Museum *

Paso Robles

Virtual field trip onlineA walk on the grounds of the Pioneer Museum takes one back in time. An El Camino Real bell marks a walkway past a jail and farm equipment to a one-room schoolhouse.
Lake Perris State Recreation Area

Perris

Lake Perris was built in the early 1970's as the last reservoir in the California Water Project to provide drinking water to Southern California residents. Nestled between Moreno Valley and Perris, Lake Perris SRA provides a place to escape the heat in the summer and to escape the bustle of city life all year round. There are many recreational activities to enjoy at Lake Perris SRA such as: Hiking, biking, water skiing, boating, jet skiing, fishing, swimming, horse back riding, camping and picknicking.
Pigeon Point Light Station State Historic Park

Pescadero

Perched on a cliff on the central California coast, 50 miles south of San Francisco, the 115-foot Pigeon Point Lighthouse, one of the tallest lighthouses in America, has been guiding mariners since 1872. Its five-wick lard oil lamp, and first-order Fresnel lens, comprised of 1,008 prisms, was first lit at sunset, November 15, 1872. The lens stands 16 feet tall, 6 feet in diameter, and weighs 8,000 pounds. It sits in a lantern room that had been constructed at the Lighthouse Service's general depot in New York before being shipped around the Horn. Although the original Fresnel lens is no longer in use, the lighthouse is still an active U.S. Coast Guard aid to navigation using a 24 inch Aero Beacon.
Ano Nuevo State Natural Reserve

Pescadero

Lonely, undeveloped, wild. Elephant seals, sea lions, and other marine mammals come ashore to rest, mate, and give birth in the sand dunes or on the beaches and offshore islands. It is a unique and unforgettable natural spectacle that hundreds of thousands of people come to witness each year.
Bean Hollow State Beach

Pescadero

The beach features fishing, picnicking and beachcombing. Visitors can explore tide pools with anemones, crab, sea urchins and other marine inhabitants. The beach also has a self-guided nature trail.
Butano State Park

Pescadero9

Butano State Park is located in a secluded redwood-filled canyon. Guided nature walk and weekend campfire programs are offered during the summer.
Petaluma Historical Library & Museum

Petaluma

Weekend tours of historic Petaluma led by costumed docents. Public lecture series, guided museum tours, Outreach Program to schools, Annual Victorian Tea, Assisted research, Museum Association Membership, Internships, and Special events through the year.
Petaluma Adobe State Historic Park

Petaluma

Petaluma Adobe State Historic Park was the main residence of Rancho Petaluma, the agricultural empire that General Mariano Guadalupe Vallejo one of the most powerful men in the Mexican Province of California from 1834 to 1846. Vallejo ran his cattle, hide and tallow business, raised sheep, bred horses, and grew numerous crops. The adobe contains authentic furniture and exhibits depicting early rancho life. The huge adobe building, the largest private rancho in California between 1834 and 1846, was the center of activity on one of the most prosperous private estates established during the Mexican period.
Wendy Woods State Park

Philo

The park features two virgin redwood groves; Big Hendy with a self-guided discovery trail and Little Hendy. The Navarro River runs the length of the park. Located in the middle of the Anderson Valley wine district, this park is warmer and less foggy than redwood parks along the coast. The park is well known for a fallen redwood stump that was home for a man known locally as the Hendy Woods Hermit.
Indian Grinding Rock State Historic Park

Pine Grove

The park includes the Chaw'se Regional Indian Museum. The museum gives visitors a view of exhibits and artifact collections from Sierra Nevada Indians. A Miwok village with a ceremonial roundhouse has been reconstructed in the middle of the small valley. Teachers's Guide available in PDF format.
George Key Ranch

Placentia

Historic George Key Ranch is an historic house, museum, garden and orange grove, located in the City of Placentia. This beautifully landscaped site totals 2.2 acres. Located within the park is the George Key home, built in 1898 and listed on the National Register of Historic Landmarks, a collection of farm equipment and hand tools, a one-acre orange grove and 3/4-acre verse garden.
El Dorado County History Museum

Placerville

Take an informative tour, wander among the historical artifacts, or research a family ancestor. The El Dorado County Historical Museum is the place to learn about the fascinating history of El Dorado County, one of California's original and most historic counties.
Dockweiler State Beach

Playa del Rey.

Dockweiler State Beach features a three mile long shoreline with a picnic area and concession stand. The wide beach is beneath the takeoff path from Los Angeles International Airport.
Museum on Main

Pleasanton

The Museum on Main tells the fascinating stories of those who came before -- illustrating characters, places and events that have shaped our community. These tales capture the hearts of people in our community today, enabling them to connect with our rich heritage.
Point Arena Lighthouse Keepers, Inc.

Point Arena

Climb to the top of one of the tallest Pacific Coast Lighthouses as Keepers have done for over 100 years! Guided tours of the light station as well as self guided tours of the grounds are available daily. Afterward, spend some time browsing through our Lighthouse Gift shop featuring unique souvenirs, interesting gifts, custom made Abalone Jewelry, beautiful collectibles, and lighthouse clothing.
Schooner Gulch State Beach

Point Arena

The beach and headlands preserve a scenic spot along the Mendocino Coast and offers a stunning perch for watching sunsets, or merely sitting in the grass as the afternoon sun glistens on the waters below. Fishing, picnicking, and surfing are popular activities here.
Point Reyes National Seashore

Point Reyes Station

Welcome to Point Reyes National Seashore From its thunderous ocean breakers crashing against rocky headlands and expansive sand beaches through its open grasslands to its brushy hillsides and forested ridges, visitors can discover over 1000 species of plants and animals. Home to several cultures over thousands of years, Point Reyes preserves a tapestry of stories and interactions of people. Point Reyes awaits your exploration.
The Sensory Spot

Pomona

The Sensory Spot is an Applied Behavior Analysis center-based clinic designed to integrate much needed sensory input through play and has a mixture of equipment (sensory gym) programs and classes outlined to increase skills and improve skill deficits in all areas. All children are welcome. We do offer Open Play !
Porterville Historical Museum

Porterville

The Porterville Historical Museum was founded in 1965 and is housed in the old Southern Pacific depot, constructed in 1913. Prior to the arrival of early explorers, the San Joaquin Valley was occupied by the Yokuts Indians. The museum contains examples of their handiwork. Representing the first pioneers are saddles, chaps, and other western paraphernalia. Items used by the settlers include household items, furniture, toys, and other accouterments of early Porterville life. In the yard are examples of vehicles which serve to remind the visitor of the agricultural roots upon which Porterville's economy has been based.
Plumas County Museum

Quincy

The concept of an active "living museum" is evidenced by the dozens of different exhibits, events, meetings and functions held at the Plumas County Museum. Permanent exhibits include an outstanding collection of baskets woven by the area's original Mountain Maidu Indians. The Industrial History Wing features Railroads of Plumas County, Gold Mining on the Feather River, and TIMBER!, an exhibit about the lumber industry of the county. Other developing collections include natural history specimens, audio-visual resources, the Chinese influence, and the historically accurate Andrew Lynch Memorial Garden.
Guy B. Woodward Museum

Ramona

Ramona California is the gateway to the mountains and deserts. The Santa Maria Valley is located in the hills to the East of the city of San Diego. The Iipay Indians, who inhabited the area for centuries, called it the Valle de Pamo. Spaniards, who entered the valley in 1778, named it after Saint Mary, and its first settlement, now called Ramona, was originally named Nuevo. The colorful history of the area has traveled through the Santa Maria Valley. Miners heading for the gold mines in Julian; cowboys and vaqueros driving herds of cattle to the ranchos of Alto California; the stagecoach arriving from Julian on its way to San Diego; The Jackass Mail on its route from San Diego to Yuma, Arizona; General Kearney, Kit Carson and 151 dragoons on their way to San Pasqual where they encountered a small Mexican army in the only major battle of the Mexican War fought in California; Jose Joaquin Ortega and Edward Stokes, joint owners of Rancho Santa Maria, a 35,000 acre land grant, hauling provisions from San Diego for their holiday fiesta; a raiding party of Diegueno Indians on its way to attack the Spaniards at the Presido in San Diego; and Major Edward Rigg, Commanding Officer of nearby Camp Wright, moving his soldiers into position to intercept a group of Confederate sympathizers who were attempting to leave California to join the South in the Civil War.
Sacramento Children's Museum

Rancho Cordova

A family-focused educational institution dedicated to enriching the lives of local residents and visitors to the Sacramento region by encouraging the exploration of history, science, and space.
Wignall Museum / Gallery, Chaffey College

Rancho Cucamonga

The Wignall Museum/Gallery is dedicated to presenting innovative exhibitions and programs that reflect the scope and diversity of the art of our time. A vital component of the academic and cultural life of the Chaffey Community College District, the Wignall aspires to engage broad and diverse audiences, create a sense of community, and provide a place for contemplation, stimulation, and discussion of contemporary art and the questions that shape and inspire us as individuals, cultures, and communities.
Children's Museum Of The Desert

Rancho Mirage

The Children's Discovery Museum of the Desert is the best destination to enhance and build new skill sets in a hands-on environment.
William B. Ide Adobe State Historic Park

Red Bluff

William B. Ide was named president of the short-lived California Bear Republic - which lasted for 22 days. The adobe memorial to him is located in a picnic area overlooking the Sacramento River. The park features the old adobe home, carriage shed, blacksmith shop and a small visitor center.
Kelly-Griggs House Museum

Red Bluff

A rich gathering of period pieces and artifacts to adorn the aesthetic 1880s Victorian Home atmosphere as when it was built. On display is 19th century art, architecture, and artifacts of Northern California and the local community.
Roughout Ranch

Redding

Visit the ranch and learn about boundaries, awareness, predictability, teamwork, social skills and horses in a safe and relaxed environment. Our specially trained staff ensure activities are tailored to the ability level and ages of your participants. Activities may include feeding, grooming and tacking, leading a horse through an obstacle course, and a quick mounting and dismounting experience. Come learn in a safe and relaxed environment.
Turtle Bay Exploration Park

Redding

This educational and entertainment complex includes the McConnell Arboretum and Gardens and a butterfly conservatory.
Kimberly Crest House & Gardens

Redlands

Kimberly Crest, a picturesque French chateau style home built in 1897, is a well preserved example of the Victorian Era in California. The 7,000 square foot, three-story chateau sits on a six and one quarter acre estate two miles south of downtown Redlands, at 1325 Prospect Drive, and is enjoyed by more than 11,000 visitors annually.
San Bernardino County Museum

Redlands

The San Bernardino County Museum, in Redlands, California, is a regional museum with exhibits and collections in cultural and natural history. Special exhibits, the Exploration Station live animal discovery center, extensive research collections, and public programs for adults, families, students, and children are all part of the museum experience.
San Mateo County Historical Association Museum

Redwood City

Housed in the old San Mateo County Courthouse, the History Museum is where we preserve the rich history of the county, and make it accessible to the public. We offer educational activities for school children. We host exhibits detailing the history and development of the county. We host a wide range of events concerning the history of the county -- from tours of the old courthouse and other historic sites, to lectures, discussions and family programs.
Burleigh H. Murray Ranch Park Property

Redwood City

Purchased by the State of California in 1983 this historic ranch property is hidden in a pristine valley south of Half Moon Bay. The area offers solitude, groves of mature eucalyptus, and a rich assortment of wildlife.
Rosie the Riveter/World War II Home Front National Historical Park

Richmond

Preserves and interprets the stories and places of our nation's home front response to World War II.

Rosie the Riveter/World War II Home Front National Historical Park website
Maturango Museum

Ridgecrest

We are a Museum of the cultural history, natural history and geology of the Northern Mojave Desert emphasizing our Indian Wells Valley.
U.S. Naval Museum of Armament & Technology

Ridgecrest

The China Lake Museum Foundation Invites you to participate in the support and operation of a new Navy museum--a museum that preserves and displays unique achievements in naval air armament and technology.
Maturango Museum

Ridgecrest

We are a Museum of the cultural history, natural history and geology of the Northern Mojave Desert emphasizing our Indian Wells Valley.
Brannan Island State Recreation Area

Rio Vista

Brannan Island State Recreation Area is a maze of waterways through the Sacramento-San Joaquin Delta. This park northeast of San Francisco Bay, has countless islands and marshes with many wildlife habitats and many opportunities for recreation, including boating, windsurfing and swimming.
Caswell Memorial SPState Park

Ripon

The park is located along the Stanislaus River near the town of Ripon, California. The park protects a fine example of the threatened and still declining riparian oak woodland, which once flourished throughout California's Central Valley. Caswell is home to several endangered animal species, including the riparian brush rabbit which is not known to occur anywhere else.
Mission Inn Museum

Riverside

The Mission Inn Foundation preserves, interprets, and promotes the cultural heritage of the Mission Inn, Riverside, and the surrounding southern California communities through its museum services, educational programs, and outreach activities.
Riverside Municipal Museum

Riverside

The Museum offers fun and educational programs for all ages: workshops, demonstrations, lectures, children and family programs, youth projects, tours, school presentations, festivals, special events and more.
Sweeney Art Gallery, U.C. Riverside

Riverside

The Sweeney Art Gallery is an artistic laboratory that engages diverse audiences with exhibitions and programs that are committed to experimentation, innovation, and the exploration of art in our time. The Sweeney places a special emphasis on inspiring projects that explore new ideas and materials and re-envision the relationship between art and life.
Castle Park

Riverside

Castle Park charges NO fee for Admission. Tickets for ride wristbands can be purchased online, or inside the park. Game tokens, and Golf may be purchased at Castle Park. And please visit our incredible championship miniature golf courses. Nestled in palm trees with 18 waterfalls, rapids, and fountains, each course is a work of art.
California Citrus State Historic Park

Riverside

This park preserves some of the rapidly vanishing cultural landscape of the citrus industry and to tell the story of this industry's role in the history and development of California. The park recaptures the time when "Citrus was King" in California, recognizing the importance of the citrus industry in southern California.
Maidu Interpretive Center

Roseville

The Maidu Interpretive Center and Historic Site offer a safe, fenced natural haven for families and individuals who want a brief respite from the hustle and bustle of city life. Graced by oak trees and bordered on the south by a branch of Linda Creek/Strap Ravine, the nature area offers a loop trail that takes you past ancient petroglyphs and hundreds of bedrock mortars for grinding acorns,evidence of Nisenan / southern Maidu occupation of the site for thousands of years. Inside the museum you'll find exhibits portraying the Maidu way of life.
iFLY Sacramento

Roseville

iFLY Sacramento offers incredible STEM supported educational programs that focus on science, technology, engineering and math geared specifically to Elementary, Middle and High School students. The programs are a unique combination of formal learning and FUN! STEM instructors provide a standard learning space with experiments, live data, and they can even incorporate any element that you would like to focus on during the learning.
Leland Stanford Mansion State Historic Park

Sacramento

The Mansion is now open to the public as a museum. It also serves the citizens of California as the state's official reception center for leaders from around the world. The Leland Stanford Mansion is a stunning example of the splendor and elegance of the Victorian era in California.
Old Sacramento State Historic Park

Sacramento

A cluster of noteworthy, early Gold Rush commercial structures. Historic buildings include the 1849 Eagle Theater; the 1853 B. F. Hastings Building, once home to the California Supreme Court; and the 1855 Big Four Building. Old Sacramento's historical significance comes from it being the western terminus of the Pony Express postal system, the first transcontinental railroad, and the transcontinental telegraph.
California State Military Museum

Sacramento

A United States Army Museum Activity.
California State Railroad Museum

Sacramento

A complex of historic facilities and unique attractions. Widely regarded as North America's most popular railroad museum, there is something here for everyone! Throughout the year, experience lavishly restored trains, engaging exhibits, and unique special events.
California Museum

Sacramento

The California Museum is the ONLY museum that provides insight into California's legacy by uniquely showcasing the stories of inspirational people and events. These people include Sally Ride, Ronald Reagan, Rita Moreno and Jackie Robinson. These events include the birth of Hollywood, the discovery of gold, the earthquake of 1906 and the table grape boycott.
Sierra Sacramento Valley Museum of Medical History

Sacramento

In addition to the books and journals, there are 16 display cases showcasing medical artifacts collected and donated to the Society over the years. There are cases featuring collections in the fields of Surgery, Clinical Diagnosis, Infectious Disease, Pharmacy, Radiology, Chinese Medicine, Obstetrics and Gynecology and Medical Quackery. The museum has room to grow and we are giving thought to adding displays or exhibits of interest to elementary school children.
California State Railroad Museum

Sacramento

The California State Railroad Museum (CSRM) in Old Sacramento is the world-class tribute to the role of the "iron horse" in connecting California to the rest of the nation. Our museum features 21 lavishly restored locomotives and cars, some dating back to 1862. There is a full-scale diorama of an 1860s construction site high in the Sierra Nevada as well as a bridge elevated 24 feet above the museum floor.
Sacramento Zoo

Sacramento

The mission of the Sacramento Zoological Society is to inspire appreciation, understanding and respect for all living things through stimulating education, wholesome recreation and innovative species management.
Governor's Mansion State Historic Park

Sacramento

California's executive mansion, popularly known at the Governor's Mansion. Guests see marble fireplaces from Italy, gold framed mirrors from France, and exquisitely handcrafted hinges and doorknobs, all of which are reminders of the Gallatins and the Victorian era. Outside some of the Mansion's abundant vegetation includes flowers, shrubs, and trees dating back to 1877. But when visitors look behind the grape stake fence and see Governor Brown's swimming pool built in 1959, they are reminded that the Governor's Mansion State Historic Park is really a walk through time.
California State Capitol Museum

Sacremento

Home of the California Legislature since 1869, the State Capitol underwent a major renovation that restored much of the building's original look. Visitors can tour the restored historic offices of the Secretary of State, Treasurer, and Governor of the State of California. The building features exhibits and tours - and possibly an opportunity to watch the legislators debate a bill or cast a vote.
Monterey County Agricultural & Rural Life Museum

Salinas

MCARLM's interpretive period is the last quarter of the 19th century through World War II. The collections are principally agricultural related implements, house museum furnishings, and historical objects related to specific local history. The museum complex has 6 buildings: the Exhibit Barn, Olson Blacksmith Shop, and the History of Irrigation Museum; plus the historic Spreckels House (1898), La Gloria Schoolhouse (1887), and the King City Train Depot (1903). All are completely furnished with turn-of-the-century artifacts. There are outside exhibits of antique farm equipment dating from the late 1800s into the 1940s. The main Exhibit Barn features displays following the development of Salinas Valley agriculture and rural life from the late 1700s to 1940. We also have meeting rooms, picnic facilities and camping through the auspices of the Parks Department.
The National Steinbeck Center

Salinas

Visit the National Steinbeck Center to experience a journey through John Steinbeck's world, where literature jumps off the printed page and into your imagination. Discover Steinbeck's works and philosophy through interactive, multisensory exhibits for all ages and backgrounds, priceless artifacts, entertaining displays, educational programs and research archives.
Monterey County Agricultural & Rural Life Museum

Salinas

MCARLM's interpretive period is the last quarter of the 19th century through World War II. The collections are principally agricultural related implements, house museum furnishings, and historical objects related to specific local history. The museum complex has 6 buildings: the Exhibit Barn, Olson Blacksmith Shop, and the History of Irrigation Museum; plus the historic Spreckels House (1898), La Gloria Schoolhouse (1887), and the King City Train Depot (1903). All are completely furnished with turn-of-the-century artifacts. There are outside exhibits of antique farm equipment dating from the late 1800s into the 1940s. The main Exhibit Barn features displays following the development of Salinas Valley agriculture and rural life from the late 1700s to 1940. We also have meeting rooms, picnic facilities and camping through the auspices of the Parks Department.
San Clemente State Beach

San Clemente

Welcome to San Clemente State Beach. Since 1937 San Clemente has been one of the most popular beaches in California. A dramatic setting and invigorating air satisfy its many visitors, whatever their interest, energy level or state of mind. The mile long beach stretches between the curling ocean surf and the foot of a steep bluff. Midway between Los Angeles and San Diego, the park attracts water sports enthusiasts and those seeking respite from the inland heat or an escape from nearby metropolitan areas.
San Onofre State Beach

San Clemente

San Onofre State Beach is a rare 3,000-acre scenic coastal-canyon park with high environmental values and recreation use. The park includes three distinct areas: San Onofre Bluffs, San Onofre Surf Beach, and San Mateo Campground.
Old Town San Diego State Historic Park

San Diego

Experience the history of early San Diego by providing a connection to the past. Experience life in the Mexican and early American periods of 1821 to 1872. Five original adobe buildings are part of the historic park, which includes museums, unique retail shops, and several restaurants.
MCRD Command Museum *

San Diego

Virtual field trip onlineThe MCRD Command Museum boasts one of the most extensive and comprehensive displays of Marine Corps historical items in the Nation.The Museum has over 150,000 annual visitors and occupies 22,233 square feet of indoor space.
Museum of Photographic Arts

San Diego

The mission of the Museum of Photographic Arts is to inspire, educate and engage the broadest possible audience through the presentation, collection, and preservation of photography, film and video.
San Diego Automotive Museum

San Diego

Welcome to the San Diego Automotive Museum. Come and see the beauty and history of the automobile. Feast your eyes on some of the rarest and most beautiful cars ever created.
Museum of San Diego History

San Diego

Here you will not only find a collection of intriguing exhibitions that chronicle San Diego's diverse history, but also our Research Library. This is home to over 45 million pieces of paper and 2.5 million images that document the people, places and events of San Diego's past. In addition to the exhibitions at the Museum of San Diego History, the museum also presents a number of public programs including lectures, workshops and educational programs.
Junipero Serra Museum

San Diego

The Junipero Serra Museum, in Presidio Park, is one of the most familiar landmarks in San Diego. As a major symbol of the city, it stands atop the hill recognized as the site where California began. It was here in 1769 that a Spanish Franciscan missionary, Father Junipero Serra, with a group of soldiers led by Gaspar de Portola, established Alta California's first mission and presidio (fort).
Marston House Museum

San Diego

One of San Diego's finest examples of the Arts and Crafts architectural movement. Completed in 1905 for prominent merchant and civic leader, George W. Marston and his family, this 8,500 square-foot home is surrounded by four acres of rolling lawns, manicured formal gardens, and canyon pathways. The interior features spacious hallways juxtaposed with close, intimate living areas that evoke the "hearth and home" aesthetic of the Arts and Crafts Movement. It is furnished with Mission style pieces like those designed by brothers, Gustav, Leopold and John George Stickley, and a variety of decorative pottery, paintings, and textiles created by world-renown Craftsman artisans.
San Diego Museum of Art

San Diego

The region's primary resource for exhibitions and collections of fine art for more than 80 years. Located in the heart of Balboa Park, our galleries offer opportunities for learning, introspection, and connection with cultures from around the world. Please browse our site and discover our many exhibitions, classes, and performances. Join us and visit the Museum soon.
Flagship Cruises

San Diego

Narrated one and two hour Harbour Cruises. Dinner, brunch, lunch and Whale Watching Cruises.
San Diego Museum of Man

San Diego

A cultural and physical anthropology museum. We collect, preserve, interpret and communicate evidence of human development, creativity and artistic expression. We teach people about people!
San Diego Natural History Museum

San Diego

The San Diego Natural History Museum traces its roots to an enthusiastic group of amateur naturalists, who formed the San Diego Society of Natural History in 1874.
Pacific Southwest Railway Museum

San Diego

Demonstration and Display of Pacific Southwest Railroad History
University Art Gallery, S.D.S.U. San Diego State University

San Diego

Organizes and presents exhibitions of contemporary art by regional, national and international artists, providing a forum for artwork of a culturally-diverse and issue-charged nature. The Gallery also offers educational programs, such as lectures and gallery talks. The Gallery is committed to presenting viewers with avenues of experience that expand awareness, promote understanding and foster appreciation of today's visual arts.

University Art Gallery, S.D.S.U. San Diego State University website
Cabrillo National Monument

San Diego

Climbing out of his boat and onto shore in 1542, Juan Rodriguez Cabrillo stepped into history as the first European to set foot on what is now the West Coast of the United States. In addition to telling the story of 16th century exploration, the park is home to a wealth of cultural and natural resources. Join us and embark on your own Voyage of Discovery.
The New Children's Museum

San Diego

The Museum, an environmentally sustainable building designed by architect Rob Wellington Quigley, provides a dynamic, playful public space and community center for children and families -- a place to experience exciting art exhibitions, hands-on studio projects, performances, birthday parties, in-depth classes, camps and educational programs.
Hornblower Cruises

San Diego

Narrated one and two hour Harbour Cruises. Dinner and Whale Watching Cruises
Legoland

San Diego

Lego Building Blocks Themed Amusement Park with over 40 rides and attractions, including Roller Coasters.
Sea World - San Diego

San Diego
San Diego Zoo

San Diego
Border Field State Park

San Diego

Border Field State Park is on the very southwestern corner of the United States and 15 miles south of San Diego. Border Field is located within the Tijuana River National Estuarine Research Reserve, an important wildlife habitat. The sand dunes and salt marshes give refuge to critically threatened and endangered birds such as the Western Snowy Plover, the California Least Tern, and the Light-footed Clapper Rail.
The Reuben H. Fleet Science Center

San Diego

"The Reuben H. Fleet Science Center seeks to inspire lifelong learning by furthering the public understanding and enjoyment of science and technology."
San Diego Model Railroad Museum

San Diego

The mission of the San Diego Model Railroad Museum is to preserve the heritage of railroading through a series of miniature representations of California railroads; research and preserve the history of model railroading; and educate the public in the many different aspects of railroading.
Maritime Museum of San Diego

San Diego

Enjoys a worldwide reputation for excellence in restoring, maintaining and operating historic vessels. The museum has one of the world's finest collections of historic ships, including the world's oldest active ship Star of India.
USS Midway Museum

San Diego

Located downtown in San Diego at Navy Pier, Midway provides a dynamic and enriching experience "from boiler to bridge." A visit to Midway instills a greater appreciation for courage, freedom, and service to country.
The San Diego Air & Space Museum

San Diego

Celebrate aviation and space flight history through preservation of significant artifacts, presentation of dynamic exhibits, and commemoration of the men and women who forged aerospace history.
Ocotillo Wells State Vehicular Recreation Area

San Diego and Imperial Counties

Adjacent to Anza-Borrego Desert State Park, this area has desert terrain, from below sea level to 400 foot elevations. It is a motorcycle, four-wheel drive, all-terrain vehicle, and dune buggy use area.
Children's Creativity Museum

San Francisco

The mission at Children's Creativity Museum is to nurture creativity and collaboration in all children and families. Believing that creative expression, innovation, and critical thinking are core to fostering the next generation.
California Historical Society

San Francisco

Our mission is to inspire and empower Californians to make the past a meaningful part of their contemporary lives. The current CHS headquarters accommodate the administrative offices, North Baker Research Library, exhibition galleries, and museum store.
Cartoon Art Museum

San Francisco

The Cartoon Art Museum is committed to fostering and promoting a greater appreciation of cartoon art. This it achieves through collecting, cataloging, preserving and displaying the finest representations of original cartoon art as well as providing innovative educational programs designed to enrich the cultural life of our community.
Fine Arts Museums of San Francisco

San Francisco

Comprising the de Young in Golden Gate Park and the Legion of Honor in Lincoln Park, we are the largest public arts institution in the City of San Francisco and one of the largest art museums in the United States.
Haas - Lilienthal House

San Francisco

As featured on A&E's America's Castles' "Castles by the Bay," this exuberant Queen Anne-style Victorian was built in 1886. It is the only intact private home of the period that is open regularly as a museum, complete with authentic furniture and artifacts. The House has elaborate wooden gables, a circular corner tower and luxuriant ornamentation. Volunteer docents lead tours through the House and explain the Victorian architecture of the exterior. A display of photographs in the downstairs supper-room describes the history of the home and the family that lived here until 1972.
Mexican Museum

San Francisco

This facility houses and presents the Museum's collection of over 12,000 culturally and artistically significant objects, providing a magnificent home in which the cultural life of Latino communities can be voiced and shared for generations to come.
Mission San Francisco de Asis

San Francisco

Time seems to stand still at old Mission Dolores. The oldest building in fabulous San Francisco, the mission church came through the great earthquake and fire of 1906 unscathed. Its interior differs little from its original appearance. Decorated redwood ceiling beams remain as created by Indian workmen. Wooden columns remain painted to resemble Italian marble which they are not. Outside the church, only the old cemetery is as in yesteryear. Modern Mission Dolores Basilica and the teeming city by the Golden Gate crowd around the venerable church, which is the only remaining mission building.
Randall Museum

San Francisco

Offers a unique haven where children and adults can explore the creative aspects of art and science and make discoveries about nature and the environment by direct participation in classes, workshops, special events, and clubs.
San Francisco Museum of Modern Art

San Francisco

Our landmark building features a soaring atrium topped by our signature turret and oculus skylight. The MuseumStore offers the West Coast's finest selection of modern and contemporary art books, as well as exceptional design objects, furniture, jewelry, and children's products. Meanwhile, our cafe serves gourmet fare in a light-filled space with indoor and outdoor seating.
Wells Fargo History Museum San Francisco

San Francisco

On the site where Wells Fargo first opened for business in 1852, this museum features a Concord Coach used by Wells Fargo in the 1860s and an impressive display of gold dust and ore from California's Gold Country.
Seymour Pioneer Museum

San Francisco

Established in 1850, The Society of California Pioneers is a not-for-profit museum, library, and cultural organization dedicated to advancing the knowledge and appreciation of early California history for the benefit of present and future audiences of all ages.
San Francisco Botanical Garden

San Francisco

The San Francisco Botanical Garden Society builds communities of support for the Garden and cultivates the bond between people and plants
Fine Arts Museums of San Francisco- de Young

San Francisco

Founded in 1895 in San Francisco's Golden Gate Park, the de Young Museum has been an integral part of the cultural fabric of the city and a cherished destination for millions of residents and visitors to the region for over 100 years. Designed by the renowned Swiss architecture firm Herzog & de Meuron and Fong & Chan Architects in San Francisco, the new de Young provided San Francisco with a landmark art museum to showcase the museum's priceless collections of American art from the 17th through the 20th centuries, and art of the native Americas, Africa, and the Pacific.
San Francisco Maritime NHP

San Francisco

Stand on the stern of Balclutha, face west to feel the fresh wind blowing in from the Pacific Ocean. Located in the Fisherman's Wharf neighborhood, San Francisco Maritime National Historical Park offers the sights, sounds, smells and stories of Pacific Coast maritime history.
Presidio

San Francisco

For 218 years, the Presidio served as an army post for three nations. World and local events, from military campaigns to the rise of aviation, from World Fairs to earthquakes, left their mark. Come enjoy the history and beauty of the Presidio. Explore centuries of architecture. Reflect in a national cemetery. Walk through an historic airfield, forests, or to beaches, and admire spectacular vistas.
Exploratorium

San Francisco

The museum of science, art and human perception. Online since 1993, the Exploratorium was one of the first science museums to build a site on the World Wide Web. The site contains over 18 thousand award-winning Web pages exploring hundreds of different topics.
Golden Gate National Parks

San Francisco

Golden Gate National Parks chronicle two hundred years of history, from the Native American culture, the Spanish Empire frontier and the Mexican Republic, to maritime history, the California Gold Rush, the evolution of American coastal fortifications, and the growth of urban San Francisco.
Fort Point National Historic Site

San Francisco

Fort Point protected San Francisco harbor from Confederate & foreign attack during & after the U.S. Civil War. Its beautifully arched casemates display the art of the master brick mason from the Civil War period.
Alcatraz Island

San Francisco

A close-up look at the site of the first lighthouse and US fort on the West Coast, the infamous federal penitentiary long off-limits to the public, and the 18 month occupation by Indians of All Tribes which saved the tribes. Rich in history, there is also a natural side to the Rock - gardens, tide pools, bird colonies, and bay views beyond compare.
Pier 39

San Francisco

Festival marketplace near Fisherman's Wharf offers shopping and dining guides, departures for Alcatraz tours, and the sea lions.
Wax Museum at Fisherman's Wharf

San Francisco
San Francisco Zoo

San Francisco

The Education Department supports the conservation mission of the Zoo by offering experiences that inspire an appreciation of wildlife and an understanding of our relationship to the natural world. There are children's programs for toddlers through 12-year-olds, featuring a rich array of activities such as wildlife crafts and games, keeper talks, Zoo tours, close-up animal encounters, and a Junior Keeper Club for youths interested in animal careers.
Zeum

San Francisco

A multimedia arts and technology museum with a mission to foster creativity and innovation in young people of all backgrounds, communities and learning styles. By providing hands-on experiences in four core creative processes (animation, sound and video production, live performance and visual arts), we encourage youth to share their stories, build their voices, and use multimedia tools for creative self-expression.
USS Pampanito

San Francisco

USS Pampanito (SS-383) is a World War II Balao class Fleet submarine museum and memorial that is open for visitors daily at San Francisco's Fisherman's Wharf.
San Francisco Railway Museum

San Francisco

Celebrates the history of rail transit in San Francisco and explores its significant impact on the quality of urban life in this great city throughout its storied history.
Cable Car Museum

San Francisco

Houses a collection of historic cable cars, photographs, mechanical displays and gift shop run by the Friends of the Cable Car Museum - a nonprofit organization dedicated to the preservation of cable car history.
California Academy of Science Center *

San Francisco

Virtual field trip onlineThe new Academy's building will feature many exciting exhibits including the Rainforest, Pendulum, Planetarium, California Coast, Swamp, and more.
Candlestick Point State Recreation Area

San Francisco

From Candlestick Point State Recreation, visitors can enjoy panoramic views of the San Francisco Bay, the East Bay Hills,San Bruno Mountain as well as relax in the peaceful scenery of the park itself. Its location on the western shoreline of the San Francisco Bay provides a variety of recreational opportunities from windsurfing, fishing, bird watching and walking. The trails, group picnic sites and fishing piers at this urban park offer a get-away of open space and outdoor activities. Candlestick Point SRA was the first California State Park unit developed to bring state park values into the urban setting. From historic wetlands to landfill to landscaped park, Candlestick Point demonstrates major land use changes of the San Francisco Bay. Its name is derived from 19th century locals who thought the burning of nearby abandoned sailing ships and their flaming masts in the bay resembled lighted candlesticks.
San Gabriel Mission Museum

San Gabriel

The museum building was constructed in 1812 of adobe brick with a tiled roof. Originally, it was used as sleeping quarters for the mission fathers, and for storing books, some dating back to the early 1500s.
Carnegie State Vehicular Recreation Area

San Joaquin County

This off road area has challenging hill-type trail riding, hill-climbs and a professionally designed motocross track available. Elevations are up to 1,800 feet. It is a motorcycle, all-terrain vehicle, and (limited) four-wheel drive area. The park also has a four wheel drive obstacle course and a Observed Trials area.
History San Jose

San Jose

History San Jose aspires to provide innovative national leadership in preserving and sharing regional history by engaging diverse audiences in exploring the varieties of human experience that contribute to the continuing history of San Jose and the Santa Clara Valley.
San Jose Museum of Quilts & Textiles

San Jose

Textile art transcends cultural, ethnic, age and gender boundaries and encompasses traditional as well as contemporary forms. The museum provides a serious venue for all artists working with textiles, filling a void left by larger institutions with a narrower view of what defines artistic expression. Its exhibits and programs promote the appreciation of quilts and textiles as art and provide an understanding of their role in the lives of their makers, in cultural traditions, and as historical documents.
Winchester Mystery House

San Jose

Sarah Winchester built a home that is an architectural marvel. Unlike most homes of its era, this 160-room Victorian mansion had modern heating and sewer systems, gas lights that operated by pressing a button, three working elevators, and 47 fireplaces. From rambling roofs and exquisite hand inlaid parquet floors to the gold and silver chandeliers and Tiffany art glass windows, you will be impressed by the staggering amount of creativity, energy, and expense poured into each and every detail.
The Tech - Museum of Innovation

San Jose

The Tech Museum of Innovation is a hands-on technology and science museum for people of all ages and backgrounds.
Rosicrucian Egyptian Museum & Planetarium

San Jose

Architecturally inspired by the Temple of Amon at Karnak, the museum houses the largest collection of Egyptian artifacts on exhibit in the western United States -- including objects from pre dynastic times through Egypt's early Islamic era.
San Jose Museum of Quilts and Textiles

San Jose

Tours of the San Jose Museum of Quilts and Textiles are comprised of a 45-minute docent-led gallery tour and a 45-minute textile-based hands-on art activity. Each participant will have the chance to take their own personal artwork home after the tour. Tours are for K-12 students. The tour fee is $100 for a minimum of 10 students and a maximum of 30 students. Chaperones and teachers are free
Children's Discovery Museum of San Jose

San Jose

One of the largest museums of its kind in the nation, CDM's 150 interactive exhibits lead visitors to explore, understand and enjoy the world in which they live.
Happy Hollow Park and Zoo

San Jose

Exists to provide an affordable, sustainable, conservation-centered outdoor adventure for families with children.
San Jose Museum of Quilts and Textiles

San Jose

Inviting children and their families to visit the museum. The San Jose Museum of Quilts and Textiles offers tours and participatory activities that focus on textiles, quilts, and sewing.
San Juan Bautista State Historic Park

San Juan Bautista

This park is part of a nationally recognized historic landmark and can be found adjacent to the extant portion of one of California's 21 Spanish era mission church sites. The park and its Plaza represent what was once the "town square" of the largest town in central California and was a vital crossroad for travel between northern and southern California. In the park visitors can gain an appreciation of California peoples, from Native Americans, through the Spanish and Mexican cultural influences, right up to the American period in the late 19th century.
Fremont Peak State Park

San Juan Bautista

This park features expansive views of Monterey Bay, from its hiking trails in the grasslands of the higher peaks of the Gavilan Range. Other views include the San Benito Valley, Salinas Valley, and the Santa Lucia Mountains east of Big Sur. Pine and oak woodlands in the park are home to many birds and mammals. There are camping and picnic facilities in the park. The park also features an astronomical observatory with a 30-inch telescope, which is open for public programs on selected evenings.
Mission San Juan Capistrano

San Juan Capistrano

San Juan Capistrano is Orange County's oldest community. It's the birthplace of Orange County and home to its oldest traditions. It has its swallows, history, legends, storybook heroes, and beautiful archeological monuments. Most of that history is wrapped up and epitomized by our living historic landmarks, the most beautiful and best known of the California missions, old Mission San Juan Capistran
Zoomars Petting Zoo

San Juan Capistrano

Hundreds of animals to pet, feed, love and learn from.
Estero Bay

San Luis Obispo County

The purpose of the Estero Bay property, in San Luis Obispo County, is to preserve and protect a rich, diverse and particularly scenic area of the Pacific Ocean coast, with sea stacks and intertidal areas, a substantial area of wetlands, low bluffs and coastal terraces punctuated by a number of perennial and intermittent streams, and containing a pocket cove and beach at Villa Creek. The property's rich diversity of habitat types includes marine, intertidal, estuarine, riverine, coastal salt marsh, freshwater marsh, coastal foredune, coastal and riparian scrub and grassland, collectively providing habitat for a number of endangered species, including the snowy plover. The property includes Native American occupancy sites.
The Huntington Library, Art Collections, and Botanical Gardens

San Marino

The Library's rare books and manuscripts constitute one of the world's largest and most extensively used collections in America outside of the Library of Congress. The Art Collections are distinguished by their specialized character and elegant settings in three separate galleries. A fourth space, the MaryLou and George Boone Gallery, hosts changing exhibitions. The Botanical Gardens are divided into more than a dozen thematic areas on 120 acres and include more than 15,000 different species of plants. Research and Education The Huntington serves nearly 2,000 scholars each year from all over the world conducting advanced research in the humanities.

The Huntington Library, Art Collections, and Botanical Gardens website
CuriOdyssey

San Mateo

CuriOdyssey houses a collection of fascinating hands-on exhibits that let children and adults alike experience the wonder of science and nature.
Pescadero State Beach

San Mateo County

The beach has a mile-long shoreline with sandy coves, rocky cliffs, tide pools, fishing spots and picnic facilities. Across the highway is Pescadero Marsh Natural Preserve, a popular spot for bird watchers and other naturalists. The Reserve is a refuge for blue heron, kites, deer, raccoons, foxes and skunks.
Ano Nuevo State Park

San Mateo County

To preserve and protect a substantial area on the western slope of the central Coast Range inland from Ano Nuevo Point. The property contains a diversity of plant communities, including old growth forest freshwater marsh, red alder riparian forest and knobcone pine forest. Its four perennial streams support steelhead trout and coho salmon, and its wetlands are habitat to the rare San Francisco garter snake and red-legged frog. Cultural resources include the remnants of a prehistoric Native American village site and a number of structures from the nineteenth century Cascade Ranch.
Cabrillo Marine Aquarium

San Pedro

Discover the underwater world of Southern California...Cabrillo Marine Aquarium is a non-profit public aquarium which engages all visitors in education, recreation and research to promote knowledge, appreciation and conservation of the marine life of Southern California.
Fort MacArthur Museum

San Pedro

Dedicated to the preservation and interpretation of the history of Fort MacArthur, a U.S. Army post which guarded the Los Angeles harbor from 1914 to 1974. The Museum was established in 1985, and it is housed in the corridors and galleries of historic Battery Osgood-Farley. The Fort MacArthur Reservations hold an important collection of historical structures which were part of the U.S. Army's role in the defense of the American continental coastline from invasion. These structures clearly trace the development of American coastal defenses, from the all big gun era of the turn of the century to the missile era of today.
Los Angeles Maritime Museum

San Pedro

The Los Angeles Maritime Museum creates an awareness and appreciation of the maritime history of coastal California, with an emphasis on the people and institutions of the port city of Los Angeles. The Museum is located in the 1941 Municipal Ferry Terminal, now on the National Register of Historic Places. From 1941-1963, a ferry system transported thousands of passengers to the canneries and military bases on Terminal Island, where they could also make connections to neighboring cities and towns.
Muller House

San Pedro

The Muller House Museum offers visitor guided tours, monthly exhibits, discussions of historical interest and special events. The house, purchased by shipbuilder William Muller, sits on a bluff overlooking San Pedro Bay.
Marin History Museum

San Rafael

Founded in 1935, the Marin History Museum celebrates the traditions of innovation and creativity of the people of Marin County. Through exhibitions and educational programs, the Museum inspires honor for the past, an understanding of the present, and an imagination of the future. Explore the links on the left side of this page to learn more about the Marin History Museum.
China Camp State Park

San Rafael

The park has a natural watershed along the shores of San Francisco Bay. Features include an extensive intertidal salt marsh, meadow and oak habitats, that are home to a variety of wildlife, including deer, squirrels and numerous birds. A Chinese shrimp-fishing village thrived on this site in the 1880s. Nearly 500 people, originally from Canton, China, lived in the village. In its heyday, there were three general stores, a marine supply store and a barber shop. Fisherman by trade in their native country, they gravitated to the work they knew best. Over 90% of the shrimp they netted were dried and shipped to China or Chinese communities throughout the US.
Marin History Museum

San Rafael

Founded in 1935, the Marin History Museum celebrates the traditions of innovation and creativity of the people of Marin County. Through exhibitions and educational programs, the Museum inspires honor for the past, an understanding of the present, and an imagination of the future. Explore the links on the left side of this page to learn more about the Marin History Museum.
William Randolph Hearst Memorial State Beach

San Simeon

The beach is located near the historic town of San Simeon along Highway One and gives visitors the opportunity to hike, swim, fish and beachcomb. A popular beach spot, this protected cove also offers visitors pier fishing and deep-sea fishing from chartered boats. Ocean kayaking is also popular.
Hearst San Simeon State Historic Monument

San Simeon

La Cuesta Encantada, "The Enchanted Hill" high above the ocean at San Simeon, was the creation of two extraordinary individuals, William Randolph Hearst and architect Julia Morgan. Their collaboration, which began in 1919 and continued for nearly 30 years, transformed an informal hilltop campsite into the world-famous Hearst Castle -- a magnificent 115-room main house plus guesthouses, pools, and 8 acres of cultivated gardens.
Bowers Museum Of Cultural Art

Santa Ana

Bowers Museum and Kiseum offer a wide variety of tour options and art classes for pre K-12 students visiting the museum
Old Orange County Courthouse

Santa Ana

The landmark Old Orange County Courthouse is Southern California's oldest court building, and as such has been witness to many of the events which shaped present day Orange County. From its dedication in 1901, this granite and sandstone building has been the traditional home of county government. Today the 30,000-square foot building has been restored to look much as it had at the turn of the last century. The building contains the Orange County History Center (which includes the Old Courthouse Museum, the Orange County Archives, and the library of the Pacific Coast Archaeological Society) as well as government offices. The building is on the National Register of Historic places and is a State of California Historic Landmark.
Santa Ana College Art Galleries

Santa Ana

The galleries' programming works in to provide students with art shows of prominent Southern California artists, to encourage participation and discussion in the art viewing community at large and to further enrich the cultural landscape of Santa Ana.
Discovery Science Center

Santa Ana

Discovery Science Center is Orange County's leading Science Center specializing in hands-on science fun
Centennial Heritage Museum

Santa Ana

Victorian gem tucked away in west Santa Ana. The historic plaza features several buildings from the 1890s set among extensive gardens and citrus groves. Among these is the Kellogg House, familiar to teachers and students throughout Orange County as a favorite field trip destination for nearly 25 years.
The Bowers Kidseum

Santa Ana

The Bowers Kidseumv is both an interactive children's museum and learning center, serving as an extension of the main Bowers Museum. It offers multi-faceted art and cultural experiences for young children, their families and the community. Primarily dedicated to the pre-school and early elementary age, Kidseum's central focus is providing a 'hands-on' experience in keeping with the museum's mission to 'promote education and understanding by bringing the world's great cultural art to people of all ages'.
Cachuma Lake Recreation Area

Santa Barbara

Visitors find in each of our parks a distinctive spirit that may stimulate or soothe, but is sure to satisfy. Cool redwood groves, wide open lawns for recreation, the picturesque Pacific, and two of California's most sought-after campgrounds. The assortment of landscapes and things to do is rather astounding. And then, of course, there is the option of kicking back and doing nothing at all.
Lotusland

Santa Barbara

Lotusland is a unique 37-acre estate and botanic garden situated in the foothills of Montecito to the east of the city of Santa Barbara. Explore our site and learn more about the many facets of Lotusland, including its intriguing history, exceptional gardens, outstanding educational programs and innovative horticultural practices. Learn also how you can help to preserve this oasis of beauty and tranquility for generations to come.
Santa Barbara Historical Museum

Santa Barbara

The Story of Santa Barbara is the Museum's signature exhibition that tells our region's story from the age of the Chumash to the Space Age. Showcasing treasures from the collections, The Story of Santa Barbara fills three of the Museum's four galleries and offers visitors the opportunity to learn about the people who have called our region home for more than 14,000 years. Native American, Mexican, African-American, Italian, Chinese, Japanese and Vietnamese people have contributed to Santa Barbara's rich cultural heritage and ethnic diversity. They brought with them unique skills, foods and religious beliefs as well as their distinctive architecture, tools, clothing and objects of everyday life that are highlighted in our exhibition.
Santa Barbara Museum of Art

Santa Barbara

As fellow educators, we invite you to use the Santa Barbara Museum of Art as a teaching resource. Learning through art is a powerful way to enhance the curriculum at every grade level. SBMA school programs emphasize verbal and visual literacy and link with the curriculum in language arts, social studies, and visual arts at each grade level.
Santa Barbara Museum of Natural History

Santa Barbara

Main Campus: Set on eleven oak-shaded acres in historic Mission Canyon and crossed year-round by Mission Creek, the Museum campus features a cluster of Spanish-style buildings and easy nature walks. Sea Center: Located on Stearns Wharf, the Sea Center offers a window on the Santa Barbara Channel, numerous marine exhibits and aquaria.
University Art Museum

Santa Barbara

The University Art Museum is dedicated to creating a dynamic environment for the exploration of art and design.
Santa Barbara Zoo

Santa Barbara

Education is at the heart of our mission at the Santa Barbara Zoo. Through exhibits, graphics, interpretation, and programs, we hope to inspire guests about the wonders of the natural world.
El Presidio de Santa Barbara State Historic Park

Santa Barbara

This is the site of the oldest building in Santa Barbara and the second oldest in California. Visitors can step back and view this historic site surrounded by modern buildings. El Cuartel, the oldest existing building in Santa Barbara, is all that remains of the last of four Royal Presidios (Spanish military outposts) built in Alta California.
de Saisset Museum

Santa Clara

The de Saisset Museum at Santa Clara University
Triton Museum of Art

Santa Clara

The Triton Museum of Art exists both to embrace and expand the lives of the people of Santa Clara County and the Greater Bay Area through a program of art, education and community involvement.
California's Great America Theme Park

Santa Clara
Fillmore & Western Railway

Santa Clara

"Home of the Hollywood Movie Trains". Exceptional dinner train service, Murder Mystery Theatre, and weekend excursion trains.
California's Great America

Santa Clara

Whether it's for a reward, end-of-year celebration or educational experience, California's Great America provides the perfect adventure for your students. Take your lesson plan on the road and show how your lessons apply to the world around us. Tickets may be purchased online or by mail, phone or fax.
Lighthouse Field State Beach

Santa Cruz

Also known as Point Santa Cruz, this area forms the northern boundary of Monterey Bay. It is one of the last open headlands in any California urban area. Surfers, tourists, birds - including the rare Black Swift and wintering Monarch butterflies are drawn to this area. Sea lions populate the offshore rocks. This is one of the places where Monarch butterflies winter along the California coast. Monarchs are unique because they migrate each winter to avoid freezing weather. The Monarchs wintering here, come from the west of the Rocky Mountains. Monarchs east of the Rockies go to central Mexico for the winter. The lighthouse is home to California's first surfing museum and is the location each Christmas for "Caroling Under the Stars," a Santa Cruz tradition which attracts hundreds of locals and visitors.
Natural Bridges State Beach

Santa Cruz

This beach, with its famous natural bridge, is an excellent vantage point for viewing shore birds, migrating whales, and seals and otters playing offshore. Further along the beach, tidepools offer a glimpse of life beneath the sea. Low tides reveal sea stars, crabs, sea anemones, and other colorful ocean life. The park also includes a large area of coastal scrub meadows, with bright native wildflowers in the spring. Moore Creek flows down to the ocean through these meadows, forming a wetlands in the sand.
Santa Cruz Mission State Historic Park

Santa Cruz

Santa Cruz Mission State Historic Park is the site of a complex of buildings erected around the original Santa Cruz Mission. Part of the cluster, the Neary-Rodriguez Adobe was built in 1791 and is the last of the mission's many buildings to survive. The lovely, single-story adobe has been restored to its original appearance. Mision la Exaltacion de la Santa Cruz was the 12th mission built in California. It was completed during the 1790s. Damaged by several earthquakes, it collapsed in 1857.
Twin Lakes State Beach

Santa Cruz

The beach has a mile of sandy shoreline, popular for swimming and picnicking. The park's adjacent Schwan's lake is a good location for bird watching.
Wilder Ranch State Park

Santa Cruz

The park has 34 miles of hiking, biking and equestrian rails winding through coastal terraces and valleys. Several restored buildings once belonging to the Wilder family are preserved. The park has tours and living history demonstrations to help visitors explore the history of early ranchers and farmers along the Central Coast. The site was originally the main rancho supplying Santa Cruz Mission. It later became a successful and innovative dairy ranch. Surrounding grounds include Victorian homes, gardens, and historic adobe.
UCSC Arboretum

Santa Cruz
The Museum of Art & History @ the McPherson Center

Santa Cruz

The Museum of Art & History is a non-profit educational institution that promotes a greater understanding of contemporary art and the history of Santa Cruz County, through its exhibitions, collections, and programs, for the benefit of residents and visitors to Santa Cruz County.
The Santa Cruz Museum of Natural History

Santa Cruz

The Santa Cruz Museum of Natural History exists to foster relationships between people and nature, and to inspire stewardship of the natural world. Enjoy FREE Admission at the Museum every First Thursday of the Month!
Santa Maria Valley Historical Society & Museum

Santa Maria

The museum has an extensive library of historical reference material including books, maps, materials from the Santa Maria Geneological Society, and a collection of more than 5,000 photographs in a database. The museum volunteers will be happy to help you research local history, events, and family.
Santa Maria Valley Discovery Museum

Santa Maria

The Santa Maria Valley Discovery Museum is a non-profit organization dedicated to serving schools, families and youth groups from all over the central coast of California.
Santa Monica State Beach

Santa Monica

This beach is two miles long, has a picnic area, shops and pier. Visitor activities include volleyball, basketball and a running strip along the beach.
California Heritage Museum

Santa Monica

Built in 1894 by nationally renowned architect Sumner P. Hunt. The museum is housed in the two-story house once belonging to Santa Monica founder, John Percival Jones. Open to the public since 1980, this Historic Landmark building offers exciting exhibitions and programs year round. The Museum features a series of rooms exemplifying periods from the late 1890s to the 1930s, specializing in the decorative arts. In addition, there are changing exhibits and displays that depict California's culture and history, as well as contemporary art by southern California artists. Guided tours are given. The Museum hosts lectures, workshops, concert series, and a major photo archives.
Santa Monica Historical Society Museum

Santa Monica

Welcome to the Santa Monica Historical Society Museum. Since 1975, we have been collecting, preserving, and promoting the history of Santa Monica. Visit us today and discover the colorful history of Santa Monica.
Cayton Children's Museum

Santa Monica

The first museum of its kind in Los Angeles, the Cayton Children's Museum offers 21,000 square feet of discovery-based exhibits, immersive play and discovery-based learning for children ages 0-10. With robust public programs, workshops, classes, camps, and arts and cultural activities offered seven days a week, the museum is designed around core universal values, giving children, youth and families a unique space to practice being their best selves.
Aviation Museum of Santa Paula

Santa Paula

"To educate the public of all ages in aviation and its history, both in general, and as it relates to Santa Paula, and to inspire, motivate and challenge the younger generation to carry on the dreams of our aviation pioneers."
California Oil Museum

Santa Paula

From fossils to fill 'er up, the California Oil Museum tells the story of the black bonanza that created wealth, work, and prosperity for generations of Californians. Operated by the City of Santa Paula Community Services Department, the Museum highlights the inner workings of the state's black gold industry through interactive displays, videos, working models, games, photographs, restored gas station memorabilia, and an authentic turn-of-the-century cable-tool drilling rig. Visitors can exercise their wits and luck as California wildcatters, see how the Indians used natural oil seeps, watch a miniature drilling rig bore into the earth, and explore the memorable brands of gas bought by early California car drivers. The Lundgren and Bennett Collections of gas station memorabilia are one of the largest displays of vintage gas pumps in California. In addition to the permanent petroleum exhibits, the Museum presents new exhibits of science, transportation, history, and art throughout the year. Lundgren Park is located on the Museum grounds and is available for picnics.
Annadel State Park

Santa Rosa

For wildflower lovers, Annadel Park offers a great variety of flowers from early Spring until early Summer, especially on a hike around Lake Ilsanjo. The best months to see the park's wildflowers are April and May, but there are some plants in bloom as early as January and as late as September.
Charles M. Schulz Museum

Santa Rosa

The mission of the Charles M. Schulz Museum and Research Center is to preserve, display, and interpret the art of Charles M. Schulz.
SRJC Museum

Santa Rosa

Located in Bussman Hall on Santa Rosa Junior College's Santa Rosa Campus. The SRJC Museum houses collections of ethnographic art from throughout the Americas and parts of Africa, Asia, and the Pacific. Permanent exhibits include the following: Pomo Roundhouse Model and Basketry,Plains and Plateau, Southwest Jewelry, Hopi Pueblo Model with Kachina Dolls, and Pueblo Pottery. There are a number of rotating, temporary exhibits that change on a regular basis to serve the needs of Santa Rosa Junior College classes. These temporary exhibits include additional Native North American art, Mesoamerican and South American art, Hispanic art, African and African-American art, and Asian art.
Luther Burbank Home & Gardens

Santa Rosa

Discover the Home, Greenhouse, and Gardens where the famed horticulturist, Luther Burbank, experimented with plants for most of his 50-year career. This unique city park is located at the corner of Santa Rosa and Sonoma Avenues in Santa Rosa, California - across the street from City Hall and Juilliard Park. The Carriage House Gift Shop and Museum is open April through October. The grounds are open daily from 8:00 a.m. to dusk year-round for self guided tours and reserved Group tours. For information about walk-in Docent tours, Audio tours, and the Gift Shop and Museum during April through October
Pacific Coast Air Museum

Santa Rosa

Founded in 1989, the Pacific Coast Air Museum (PCAM) is a non-profit organization dedicated to promoting the acquisition, restoration, safe operation and display of historical aircraft and provides an educational venue for students and the community. We also intend to honor those heroic aviators who have contributed so much to the growth and defense of our way of life.
Sonoma County Museum

Santa Rosa

The Sonoma County Museum celebrates and interprets the region's rich history, art, and culture by exhibiting and collecting relevant objects and artworks, by serving as a vital community gathering place, and by inspiring visitors with dynamic experiences that engage, educate, and enlighten.
Santa Ynez Valley Historical Museum and Parks

Santa Ynez

The Santa Ynez Valley Historical Museum and Parks- Janeway Carriage House celebrate the rich history of the Santa Ynez Valley, its pioneering settlers and the five early townships that formed the foundation of this unique region. Through its collection, exhibits and educational programs, the Museum honors the Valley's past for the enjoyment of generations to come.
Fort Cross Old Timey Adventures

Santa Ysabel

Hands-on education with a focus on history, music, art, agritourism, and adventure! Hayrides, hoedowns, cider pressing, petting zoo, archery, tomahawks, candle dipping, jug band instruments, gardening, and more! Open to all ages. Pricing varies depending on event and size of group, but can be as low as $10.
Saratoga Historical Foundation

Saratoga

The Saratoga Historical Foundation offers educational programs at the Museum and McWilliams House. These programs are targeted for 3rd and 4th grade California History/Social Studies Standards, but can be adapted for adults, scouts, and other groups upon request. Contact Linda Hagelin using the form below to schedule a program.
Castle Rock State Park

Saratoga

Along the crest of the Santa Cruz Mountains, Castle Rock State Park embraces coast redwood, Douglas-fir, and madrone forest, most of which has been left in its wild, natural state. Steep canyons are sprinkled with unusual rock formations that are popular with rock climbers. The forest here is lush and mossy, crisscrossed by 32 miles of hiking and horseback riding trails. These trails are part of an even more extensive trail system that links the Santa Clara and San Lorenzo valleys with Castle Rock State Park, Big Basin Redwoods State Park, and the Pacific Coast.
Bay Area Discovery Museum

Sausalito

The Mission of the Bay Area Discovery Museum is to engage, delight and educate children through exploration of and connection with the local environment and the diverse communities that live here.
Monterey State Beach

Seaside

State beaches are areas with frontage on the ocean, or bays designed to provide swimming, boating, fishing, and other beach-oriented recreational activities. This beach is a favorite place for surfers and tidepool watchers. Fishing is popular, too. The cities of Monterey and Seaside share the park, which has three separate beaches approximately a mile apart. The underwater area of the park attracts scuba divers. Visitors also enjoy kayaking, kite-flying and volleyball. The flat beach is an excellent place for beachcombing.
Fort Ord Dunes State Park

Seaside

This recently opened State Park has a 1,500 foot trail to 4 miles of ocean beach with beautiful views of Monterey Bay. From the parking area visitors may also take a stroll on the new boardwalk to a bluff top viewing platform. Eight educational panels have been installed that will inform the public about the natural and cultural history of the park. Existing park roads are open to bicyclists, hikers and dogs on leash.
Shafter Depot Museum

Shafter
Shasta State Historic Park

Shasta

Six miles west of Redding a row of old, half-ruined, brick buildings remind passing motorists that Shasta City, the lusty "Queen City" of California's northern mining district, once stood on this site. These ruins and some of the nearby roads, cottages, and cemeteries are all silent but eloquent vestiges of the intense activity that was centered here during the California gold rush.
Ahjumawi Lava Springs State Park

Shasta County

Ahjumawi is a place of exceptional, even primeval, beauty. Brilliant aqua bays and tree studded islets only a few yards long dot the shoreline of Ja-She Creek, Crystal Springs, and Horr Pond. Over two thirds of the area is covered by recent (three to five thousand years) lava flows including vast areas of jagged black basalt. The Park can only be reached by boat. There are no public roads to it and private motor vehicles are prohibited within.
Central Sierra Historical Society

Shaver Lake

The Central Sierra Historical Society's purpose is to create and operate a historical society and museum for the purpose of preservation and display of the history, antiques, artifacts and historical memorbilia of the Central Sierra mountain area.
Kentucky Mine Historic Park and Museum

Sierra City

The stamp mills are silent excepting two times each day when the Kentucky Mine stamp mill is once again brought to life to give folks on the twice daily tours of the mine and stamp mill a close up encounter with an operating stamp mill.
Ronald Reagan Presidential Library

Simi Valley

As a Presidential library administered by the National Archives and Records Administration (NARA), the Reagan Library, under the authority of the Presidential Records Act, is the repository of presidential records for President Reagan's administration. Our holdings include 50 million pages of presidential documents, over 1.6 million photographs, a half million feet of motion picture film and tens of thousands of audio and video tapes. Additionally, the Library houses personal papers collections including documents from Reagan's eight years as governor of California.
Strathearn Historical Park & Museum

Simi Valley

The purpose of the Simi Valley Historical Society is to acquire, preserve, maintain, identify and mark historical buildings, sites and landmarks; to collect artifacts of historical significance; to provide and maintain a sanctuary for such artifacts; to provide for the public a reservoir of historical information; to encourage and continue research in the history of the area.
Pelican State Beach

Smith River

Pelican State Beach offers beautiful ocean views. This undeveloped site is on the Oregon border. The small, secluded beach is perfect for walking and beachcombing. The beach has the distinction of being the northern-most state beach.
Cardiff State Beach

Solana Beach

Located on the San Diego Coast, which has been called the Riviera of the West, Cardiff State Beach has a gently sloping sandy beach with warm water. The site offers swimming, surfing and beachcombing.
Elverhoj Museum

Solvang

To collect, preserve and exhibit the history and Danish culture of Solvang and to promote the arts.
The Depot Park Museum

Sonoma

Society volunteers have developed and operated this fine museum and its historically significant collections. In addition to displays and exhibits, the Museum has a book/gift shop and an archival library of historical documents and maps, books on local history, and thousands of photographs.
Salt Point State Park

Sonoma County

Rocky promontories, panoramic views, kelp-dotted coves, and the dramatic sounds of pounding surf; open grasslands, forested hills, pristine prairies, and pygmy forests- you can experience all of these coastal wonders within the Salt Point State Park. With 20 miles of hiking trails, over six miles of rugged coastline, and an underwater park, you can enjoy a variety of picnicking, hiking, horseback riding, fishing, skin and SCUBA diving, and camping.
Armstrong Redwoods State Natural Reserve

Sonoma County

The Ancient Coast Redwood is the tallest living thing on our planet! Armstrong Redwoods preserves stately and magnificent Sequoia sempervirens, commonly known as the coast redwood. These trees stand together as a testament to the wonders of the natural world. The Grove offers solace from the hustle and bustle of daily life, offering the onlooker great inspiration and a place for quiet reflection. The reserve includes a visitor center, large outdoor amphitheater, self-guided nature trails, and a variety of picnic facilities.
Austin Creek State Recreation Area

Sonoma County

Here you will discover deep tree-lined ravines cooled by year round streams; grassy hillsides burnished golden by the heat of summer sun and turned emerald by plentiful winter rains; oak capped knolls that seem to float like islands on lakes of lowland fog; and rocky mountaintops that offer glimpses of the Pacific ocean. A paradise for the hiker and equestrian, Austin Creek rewards the explorer with twenty miles of trails and panoramic wilderness views, back-country camping, and Bullfrog Pond Campground- accessible by vehicle. The park's rugged topography, with elevations ranging from 150-1500 feet in elevation, offers a sense of isolation from the accustomed sights and sounds of civilization.
Fort Ross State Historic Park

Sonoma County

Fort Ross was a thriving Russian-American Company settlement from 1812 to 1841. This commercial company chartered by Russia's tsarist government controlled all Russian exploration, trade and settlement in the North Pacific, and established permanent settlements in Alaska and California. Fort Ross was the southernmost settlement in the Russian colonization of the North American continent, and was established as an agricultural base to supply Alaska. It was the site of California's first windmills and shipbuilding, and Russian scientists were among the first to record California's cultural and natural history. Fort Ross was a successfully functioning multi-cultural settlement for some thirty years. Settlers included Russians, Native Alaskans and Californians, and Creoles (individuals of mixed Russian and native ancestry.)
Washoe Meadows State Park

South Lake Tahoe

Washoe Meadows State Park consists of meadows and woodlands in the valley at the base of the escarpment leading to Echo Summit. The park was named for the Native Americans who inhabited the area for thousands of years. The park lands have not been developed
D. L. Bliss State Park

South Lake Tahoe

The grandeur of the parks and their setting is a product of successive upheavals of the mountain-building processes that raised the Sierra Nevada. From promontories such as Rubicon Point in D.L. Bliss State Park you can see over one hundred feet into the depths of Lake Tahoe.
Emerald Bay State Park

South Lake Tahoe

n 1969, Emerald Bay was designated a National Natural Landmark for its brilliant panorama of mountain-building processes and glacier carved granite. The natural beauty, geology and history of this unique island make it one of the highlights of any visit to the Lake Tahoe area. The park features Vikingsholm, one of the finest examples of Scandinavian architecture in the western hemisphere. The "Tea House" on Fannette Island, the only island to be found in all of Lake Tahoe.
Lake Valley State Recreation Area

South Lake Tahoe

Ringed by mountains, Lake Valley State Recreation Area features a championship 18-hole golf course. Since the elevation is over 6,000 feet, shots carry farther in the thin mountain air. In the winter, the recreation area has snowmobiling and cross country skiing.
Amy's Playground

South Pasadena

A haven for kids and parents alike. We feature a large air-conditioned facility filled with toys to challenge kids' bodies and minds, regardless of the weather outside. In addition, our carpeted playground is shoe-free. Socks are required for both kids and adults so that everyone leaves as clean as they arrive!
Old Spanish National Historic Trail

Southwestern US
Silverado Museum

St. Helena

The Silverado Museum, which houses one of the world's most distinguished collections of Stevensoniana, opened its doors to the public on December 14, 1969, thus commemorating the 75th anniversary of the death of the author of such beloved classics as Treasure Island, Kidnapped, Dr. Jekyll and Mr. Hyde, and A Child's Garden of Verses.
Bale Grist Mill State Historic Park

St. Helena

The park is the site of a water-powered grist mill that was built in 1846. It was once the center of social activity as Napa Valley settlers gathered to have their corn and wheat ground into meal or flour. The mill remained in use until the early 1900s. The mill and its 36-foot water wheel are protected as a state historic landmark and have been partially restored. A trail connects the historic park to Bothe-Napa Valley State Park. Additionally, the park includes the site of the first church in the Napa Valley as well as the Pioneer Cemetery.
Iris & B. Gerald Cantor Center for Visual Arts

Stanford

Admission is free. Galleries, gardens, Cool Cafe, and bookshop are all accessible by wheelchair. Stanford University
Tributary Whitewater Tours

Statewide

California rafting trips suitable for kids that make great family vacations, to extreme California white water rafting adventures for the expert, and everything in between. With so many rivers to choose from, we know we have the right California whitewater rafting or American River Rafting trip for you. We pride ourselves on the excellence of our well qualified and personable employees that will make any rafting trip something to remember.
Great Valley Grasslands State Park

Stevinson

This park preserves one of few intact examples of native grasslands on the floor of the Central Valley and is part of the larger Grasslands Ecological Area (GEA) of federal, state and private lands all managed for wildlife values. Several rare and endangered plant and animal species inhabit the park, including alkali sacaton, a native bunch grass, and the Delta button celery (Erynium racemosum) a state listed endangered species found in the flood plain of the San Joaquin River.
Stirling City Museum

Stirling City

Located at 16993 Skyway, this two-story building will also house the offices of the Historical Society. Next door is the Library. Behind the main buildings is a storage and Workshop building.
Western Railway Museum

Suisun City

.to experience California as it was 100 years ago. Take an electric train trip through the peaceful, picturesque Montezuma Hills over the original historic main line of the Sacramento Northern Railway. As a living history museum, the Western Railway Museum gives visitors the opportunity to ride authentic historic streetcars and interurban electric trains from all over California and the western United States.
Verdugo Mountains Park Property

Sun Valley

The purpose of the Verdugo Mountains property, in Los Angeles County, is to preserve and protect as urban open space a remnant of natural lands located near the city of Glendale in the north portion of the heavily urbanized Los Angeles basin. The property, a geologically detached piece of the San Gabriel Mountains, offers vistas towards the main range and contains only a moderate level of its original biological diversity.
Poverty Encounter at Children's Hunger Fund

Sylmar

Poverty Encounter is an award-winning 16,000 sq ft exhibit that takes you into four immersive environments in the developing world. After taking a simulated flight on an airplane, you will visit a dump in Guatemala City, walk the earthquake-damaged streets in Haiti, go inside a brickyard in Nepal, and enter an underground sewer in Romania. Each environment highlights the story of a real child living in these circumstances. Onsite tours include a service activity, allowing you to respond biblically by providing both help and hope to those in need. All ages welcome! Advance tickets are required.
Tahoe State Recreation Area

Tahoe City

In Tahoe City, near shopping malls and restaurants. Views of Ponderosa and Jefferey pine groves from park. Metal bear-resistant food lockers are provided in each campsite and are required by law.
Burton Creek State Park

Tahoe City

Burton Creek State Park is located on the outskirts of Tahoe City. Six miles of unpaved roadway are available for hiking and cross-country skiing.
Gatekeeper's Museum

Tahoe City

The Gatekeeper's Museum is a reconstruction of the original Gatekeeper's Cabin -- home of the water master who controlled the flow of water out of Lake Tahoe. It now showcases Tahoe history, from its Native inhabitants through the logging era and the establishment of the tourism industry at Lake Tahoe. Exhibits include Native American baskets, resort memorabilia, historical photographs, clothing, oral histories, maps, archival documents, newspapers and artifacts.
Marion Steinbach Indian Basket Museum

Tahoe City

A world-class collection of over 800 utilitarian and fine baskets from 85 tribes throughout California and western North America.
Watson Cabin Curios

Tahoe City

Watson Cabin Curios still stands on the original site where the cabin was finished in 1909, and remains an outstanding example of turn-of-the-century construction. Built by Robert M. Watson and his son, Robert, it is the oldest building constructed onsite in Tahoe City and is listed on the National Register of Historic Places. The first residents of the Cabin were Robert, his wife Stella and their daughter, Mildred -- one of the first year-round Tahoe families. While the cabin is a testament to the simplicity of pioneer life, it was one of the first in Tahoe City to have indoor plumbing! Originally, the cabin contained a living room, kitchen and an outdoor porch. Upstairs there were 2 bedrooms, a sewing room, and amazingly, indoor plumbing in the bathroom! Eventually, the outdoor porch was extended and enclosed to make room for the family of three who lived here year-round.
Tahoe Maritime Museum

Tahoe City

To stimulate an interest in and an understanding of Lake Tahoe's rich maritime history through the highest standards of historic preservation, innovative interpretation and public education.
Ed Z'berg - Sugar Pine Point State Park

Tahoe City

Ed Z'berg - Sugar Pine Point State Park contains one of the finest remaining natural areas on Lake Tahoe. With nearly two miles of lake frontage, the park has dense forests of pine, fir, aspen and juniper. Another attraction is the Hellman-Ehrman Mansion (also known as Pine Lodge), a summer home built in 1903 in a grove of pine and cedar. From the turn of the century until 1965, the lands of what is now Ed Z'berg - Sugar Pine Point State Park were owned by financier Isaias W. Hellman, and later by his daughter Florence Hellman. The mansion provides an interesting view into the lifestyles of the wealthy on Lake Tahoe.
Ward Creek Park Property

Tahoma

The purpose of the Ward Creek property, in Placer County, is to preserve and protect an area of undeveloped upland forest and meadowland south of Ward Creek, located on the west side of the Lake Tahoe Basin. The property includes frontage on Ward Creek and provides regional open space which offers connections to other public forest and recreation ands.
Indian Valley Museum

Taylorsville

The museum houses many artifacts representing the period from the 1860's through the 1940's. Over 600 pictures are on display showing life as it was in the valley. Mannequins model clothing worn in the past.
Tomo-Kahni State Historic Park

Tehachapi

Tomo-Kahni State Historic Park: Kawaiisu Native American Village was created as a unit of California State Parks in 1993 to protect and preserve the integrity of the location. Nestled atop a ridge in the Tehachapi Mountains, overlooking Sand Canyon to the east and the Tehachapi valley to the west, Tomo-Kahni, or "Winter Village," was the site of a Kawaiisu (Nuooah) Village. Tour Information (Advance reservations are required). Due to the extremely sensitive nature of the site, Tomo-Kahni is available to the public by tour only. These tours are led by trained State Park Volunteers on weekends during the spring and fall months.
Tehama County Museum

Tehama

Located on the corner of 3rd and C Streets in Tehama, the Tehama County Museum showcases much of Tehama Country's colorful and varied past. View mastodon tusks, a video of "Ishi, The Last Wild Indian in America," original railroad spikes, artifacts from the cattle and farming industries, and period clothing, furnishings and photographs. I
Woodson Bridge State Recreation Area

Tehama County

Woodson Bridge State Recreation Area is a beautiful oak woodland park nestled along the Sacramento River. A boat launch ramp located across the road in the county park makes for easy access to the river for those who enjoy water sports. A broad sand and gravel beach provides the opportunity to enjoy the sun and enjoy the Sacramento River. Another special feature of Woodson Bridge is the preserve. This dense native riparian forest is a winter home to the Bald Eagle and a summer nest site for the Yellow Billed Cuckoo. This jungle like grove displays some of the last remaining riparian habitat to be found in California.
Temecula Valley Museum

Temecula

Take a step back in time and experience the rich history of the Temecula Valley from its discovery to today. A visit to the Temecula Valley Museum promises a fun and informational day for the entire family. Picnic facilities and a children's playground just outside the museum's front door in a picturesque park completes a pleasurable day.
Pennypickle's Workshop Children's Museum

Temecula

Children of all ages are welcome in the home of Professor Phineas T. Pennypickle, Ph.D.- scientist, time traveler and inventor of wacky and wonderful contraptions that amaze, delight, and educate. Your whole family can explore together his secret passageways, puzzles, machines, and whimsical gadgets and gizmos.
Santa Monica Mountains National Recreation Area

Thousand Oaks

The Satwiwa Native American Indian Culture Center hosts cultural programs and workshops throughout the year. Offering a Junior Ranger program for children.
Sequoia & Kings Canyon National Park

Three Rivers

These two parks testify to nature's size, beauty, and diversity: Immense mountains, rugged foothills, deep canyons, vast caverns, and the world's largest trees! The parks lie in the southern Sierra Nevada, east of the San Joaquin Valley. Activities vary greatly by season and elevation.
Angel Island State Park

Tiburon

n the middle of San Francisco Bay sits Angel Island State Park, offering spectacular views of the San Francisco skyline, the Marin Headlands and Mount Tamalpais. The island is also alive with history. Three thousand years ago the island was a fishing and hunting site for Coastal Miwok Indians. It was later a haven for Spanish explorer Juan Manuel de Ayala, a cattle ranch, and a U.S. Army post. Access to the Island is by private boat or public ferry from San Francisco, Tiburon and seasonal service from Oakland and Alameda.
Torrance Historical Society & Museum

Torrance

The Torrance Historical Society and Museum was founded in 1973, and the Museum opened its doors in 1979. The purpose of the Torrance Historical Society is to promote interest in and education in the history of Torrance and the San Pedro Rancho; to promote historical research in Torrance; to collect, acquire, preserve, conserve and make available records, data, photographs, oral history, and related documents and information bearing on the history of Torrance through the operation of a museum and archives. The Historical Society's mission includes the promotion of history through a Plaque Program, by placing bronze plaques on significant historic landmarks throughout our community. This program is widely recognized, and has been ongoing for the past 20 years.
Travis Air Museum

Travis AFB

The Jimmy Doolittle Air and Space Museum Foundation, with its Education Museum Foundation, is registered as a non-profit 501(c)(3) organization. It brings together historical, educational and technological resources to create programs which preserve our aviation heritage in building an air and space museum for all ages that embraces California aviation, Travis Air Force Base, the U. S. Air Force and the history of the Doolittle Tokyo Raiders.
Trinidad State Beach

Trinidad

It is a short hike through the woods, across open bluffs, and past seasonal wildflowers down to the beach. Low tide is the best time to visit.
Azalea State Natural Reserve

Trinidad

A reserve for western azalea (Rhododendron occidentale). Each spring, a profusion of pink and white blossoms scents the air. There is a picnic area available. Plan to visit in April and May when azaleas are in bloom.
Humboldt Lagoons State Park

Trinidad

A marshland habitat has returned and supports a rich variety of marsh plants, birds and other animals. There are day use only picnic areas at the visitor center and at the north end of Stone Lagoon on the beach. The park offers boating, fishing, beach combing, hiking
Jail Museum

Truckee

Truckee's historic jail museum is one of only a few surviving 19th century jailhouses of its kind in the West and one of the few remaining original buildings in Truckee. The old Bastille was used continuously from 1875 until May 1964, and ably withstood the many fires that swept the town in its early days. Although jails are usually sturdy, Truckee's is a virtual strongbox. The original building consisted of just the lower level, constructed of native stone. The walls are 32 inches thick at the lower level, with no windows unless one counts the small vents for each cell, which are set with irregular rows of two-inch steel bars. The ceilings are plate steel, insulated with dirt, and lined with narrow gauge railroad tracks. All doors are riveted steel, weighing an estimated 200 pounds each.
Donner Memorial State Park

Truckee

Located in the beautiful Sierra Nevada, Donner Memorial State Park offers the summer vacationer opportunities for camping, picnicking, boating, fishing, water-skiing, and hiking. In winter, visitors can cross-country ski and snowshoe on trails and enjoy the season's beauty. Visitors are welcome year-round at the Emigrant Trail Museum and at the Pioneer Monument, built to commemorate those who emigrated to California from the east in the mid-1800's. Included in the museum are displays and information about one of the earliest pioneer wagon trains, the Donner Party, forced by circumstances to camp at the east end of Donner Lake in the winter of 1846-47, resulting in human suffering and loss of life.
Tulare Historical Museum

Tulare

The Tulare Historical Museum preserves and showcases the history of the City of Tulare serving as a cultural center for the community.
Lava Beds National Monument

Tulelake

A land of turmoil, both geological and historical. Over the last half-million years, volcanic eruptions on the Medicine Lake shield volcano have created a rugged landscape dotted with diverse volcanic features. More than 700 caves, Native American rock art sites, historic battlefields and campsites, and a high desert wilderness experience await you!
Joshua Tree National Park

Twentynine Palms

A fascinating variety of plants and animals that make their home in this land shaped by strong winds, unpredictable torrents of rain, and climatic extremes. Dark night skies, a rich cultural history, and surreal geologic features add to the attraction of this place.
Grace Hudson Museum

Ukiah

An art, history and anthropology museum focusing on the lifeworks of artist Grace Carpenter Hudson (1865-1937) and her ethnologist husband, Dr. John W. Hudson (1857-1936). Changing interdisciplinary exhibitions and public programs feature Western American art, California Indian cultures, histories of California's diverse North Coast region, and the work of contemporary regional artists.
Universal Studios Hollywood

Universal City

Universal Studios Hollywood, The Entertainment Capital of L.A.SM, includes a full-day, movie-based theme park and Studio Tour, the CityWalk entertainment, shopping and dining complex, the Universal CityWalk Cinemas and the Gibson Amphitheatre concert and special event venue.
Vacaville Museum

Vacaville

Located in a quiet, tree-shaded Victorian neighborhood in historic downtown, the purpose of the museum is to collect and preserve artifacts relating directly to the history of Solano County and to promote an awareness and understanding of county history and culture by offering interpretive exhibits and associated programs, events and workshops.
Six Flags - Magic Mountain

Valencia
Moaning Caverns

Vallecito

Moaning Caverns is home to the largest single cave chamber in California. The Spiral Chamber Tour leads visitors on a tour into the marble deposit of the Calaveras Formation over 165 feet before funneling into smaller passageways. Visitors may view the cavern's main chamber by walking and climbing the narrow wooden staircase to a flat platform 65 feet underground. For the truly athletic and adventurous, from there, a ten story spiral staircase leads down to a second platform at the base of the chamber.
The Vallejo Naval and Historical Museum

Vallejo

Preserves and exhibits the diverse and exciting history of the City of Vallejo and the former U.S. Naval Shipyard at Mare Island. The Museum is located in Vallejo's historic Old City Hall and features five galleries devoted to community and U.S. Navy history.
San Buenaventura State Beach

Ventura

This beach features swimming, surfing and picnicking. The beach has two miles of sandy beach, sand dunes, picnic sites, a parking lot, a snack bar and a beach-equipment rental shop. Bike trails connect other nearby beaches. The beach is the site for a number of special events, such as the Pirate Festival, triathlon, and volleyball tournaments. A 1,700-foot pier has a snack bar, restaurant and bait shop.
Channel Islands National Park

Ventura

Encompasses five remarkable islands (Anacapa, Santa Cruz, Santa Rosa, San Miguel, and Santa Barbara) and their ocean environment, preserving and protecting a wealth of natural and cultural resources. Isolation over thousands of years has created unique animals, plants, and archeological resources found nowhere else on Earth and helped preserve a place where visitors can experience coastal southern California as it once was.
Ventura County Museum, History & Art

Ventura

The Library Collections include over 140,000 items relating to Ventura County history.
Emma Wood State Beach

Ventura

Emma Wood State Beach popular for swimming, surfing and fishing. Catches include perch, bass, cabezon and corbina. The Ventura River estuary is at the mouth of the Ventura River at the southeast end of the park. It attracts a variety of wildlife including raccoons, songbirds and great blue herons. Dolphins are occasionally seen just offshore. The park also features the crumbling ruins of a World War II coastal artillery site. The offshore Channel Islands can be seen from the beach.
Hungry Valley State Vehicular Recreation Area

Ventura County

he park is a motorcycle, four-wheel drive, and all-terrain vehicle use area. There are about 130 miles of marked trails for all levels of off-highway vehicle (OHV) operators and hikers, from flat and level trails to steep and narrow. Also, over 150 miles of National Forest off-road routes available.
Tulare County Museum

Visalia

Preserving Our History At Tulare County Museum
Delta Meadows

Walnut Grove

The purpose of the Delta Meadows property, in Sacramento County, is to preserve and protect one of the last remaining areas of the northern Sacramento-San Joaquin River Delta that exhibits remnants of the natural conditions that existed prior to Euro-American settlement. The property's waterways, located on the Pacific flyway and influenced by Pacific Ocean tides through the lower Sacramento River, contain permanent and seasonal water areas, as well as adjacent uplands that support a variety of riparian plant and animal life, including the river otter, the delta smelt and the Sacramento chub. The property contains Native American occupancy sites, as well as remnants of such early farming and ranching activities as slough dredging and levee building.
Agricultural History Project

Watsonville

Come and discover the history of agriculture in this area of the country - including the crops, people, artifacts and farming practices that have made the Pajaro Valley what it is today.
Weaverville Joss House State Historic Park

Weaverville

The Temple of the Forest Beneath the Clouds The temple is the oldest continuously used Chinese temple in California. On display are art objects, pictures, mining tools, and weapons used in the 1854 Tong War. This Taoist temple is still a place of worship and a fascinating look into the role played by Chinese immigrants in early California history. The temple was built in 1874 as a replacement for another that had burned.
Jake Jackson Museum & History Center

Weaverville

The objective of the Trinity County Historical Society is to discover, collect, preserve and disseminate knowledge about the history of Trinity County
Humboldt Redwoods State Park

Weott

Humboldt Redwoods State Park encompasses nearly 53,000 acres, of which over 17,000 are untouched old growth coast redwoods. Created in 1921 with the small Bolling Memorial Grove the park has grown over the years to include a diverse ecosystem including the entire Bull Creek watershed and the Rockefeller Forest, the largest remaining old growth redwood forest in the world. This is the third largest California State Park and protects an environment unique to anywhere else on earth.
The Rinks

Westminster

The Rinks offers special event packages for birthdays, field trips and group outings at all seven of their inline and ice rinks. Skating is a fun activity for all ages and abilities. Event packages include access to a private room, skate rentals and a private skating lesson! The Rinks offers group discounts as well as many public sessions during the week for smaller groups. Private rink rentals are also available.
Admiral William Standley State Recreation Area

Westport

The park features redwoods and is a popular spot for salmon and steelhead fishing. The area is also a favorite place for hikers and picnickers.
Whiskeytown

Whiskeytown

Whiskeytown National Recreation Area is located at the juncture of the Klamath Mountain range and the northern edge of the Sacramento Valley, making it home to a special collection of animal and plant life. Some of the park's features are Whiskeytown Lake, Shasta Bally (6,209 ft.) and numerous waterfalls, providing outdoor enthusiasts opportunities for water recreation, hiking, mountain biking and horseback riding.
Sinkyone Wilderness State Park

Whitethorn

The rugged wilderness that once characterized the entire Mendocino Coast can still be explored and enjoyed in the Sinkyone Wilderness State Park. Since there are no main highways near the coast in this vicinity, the area has come to be called the "Lost Coast."
Whittier Historical Society and Museum

Whittier

Discover, collect, preserve, and display objects, documents, photographs, literary or artistic works, and other articles or materials which may establish or illustrate the history of Whittier, the Whittier area, and the State of California
Sacramento Valley Museum

Williams

The Sacramento Valley Museum Association is dedicated to collecting, preserving, and promoting interest in the historical development of the Sacramento Valley during the late 19th and early 20th centuries. This collection strives to connect a rich multi-cultural history of the area with the community that has been built since and exists today.
Mendocino County Museum

Willits

The sprawling complex includes galleries, archives, research libraries, classrooms, and an Engine House with two railroad tracks for display of historic train engines and equipment, and is adjacent to the Willits Branch Library, Roots of Motive Power, Inc., newly completed Gordon Logan Memorial Athletic Fields, Willits Skate Park, Willits Frontier Days Rodeo Grounds and Recreation Grove with outstanding picnic facilities and children's playground help make your visit a complete experience.
Willow Creek - China Flat Museum

Willow Creek

An interesting collection of historical artifacts from this community and surrounding areas. In late 1998 the museum added a new wing to house the collection of bigfoot/sasquatch research material donated by the estate of the late Bob Titmus.
Drum Barracks Civil War Museum

Wilmington

Drum Barracks served as the Union Army Headquarters for Southern California and the Arizona Territory from 1862-1871. The museum is housed in the last remaining wooden building from the 60 acre camp. Visitors take a guided tour through the restored residence to view Civil War era civilian and military furnishings, uniforms and weapons. There are permanent exhibitions on the Army's Camel Corp, Civil War Technology, Civil War Medicine, and California's Role in the Civil War. Tours are appropriate for all ages. Reservation are required for groups of six or more.
Banning Residence Museum

Wilmington

General Phineas Banning, an early entrepreneur in Los Angeles, is credited with developing the Los Angeles Harbor into a viable economic entity and naming the area Wilmington (he was from Delaware). Part of his estate has been preserved in this 20-acre park. (The picnicking possibilities here are excellent.) A 100-year-old wisteria, near the arbor, blooms in spring. You can see the interior of the house on an hour-long, docent-led tour that take you through each room and fills you in on how Banning conducted business from his home office, peered over his land from the top tower, entertained his guests, and kept his family in the most luxurious creature comforts of the day. The nearby gift shop offers crafts and decorative boutique items.
Picacho State Recreation Area

Winterhaven

100 years ago Picacho was a gold mining town with 100 citizens. Today the site is a State Park, popular with boaters, hikers, anglers and campers. The park offers diverse scenery, including beavertail cactus, wild burros, bighorn sheep and thousands of migratory waterfowl. (The park is on one leg of the Pacific Flyway.)
Woodland Opera House State Historic Park

Woodland

The Woodland Opera House Theatre offers five Mainstage Productions from September to June. The theatre also has a Summer Melodrama Program, a Youth Theatre Camp in August of each year and a Young People's Theatre Program. With our School Outreach Program, the Woodland Opera House and Yolo County schools bring local classes, grades K-12, to the theatre for professional and Young People's Theatre performances. Special events and guest artists' programs are held at the Woodland Opera House throughout the year. The theatre also has numerous rental events by local organizations for the public's entertainment.
Yolo County Historical Museum Gibson House

Woodland

The Museum houses collections of furnishings and artifacts depicting the various eras from the 1850's to the 1930's. In addition to being a house museum there are changing exhibits on various subjects related to the history of Yolo County. The outbuildings contain displays of agriculture and everyday life of the same period. Feel free to visit us anytime during public hours.
Susanna Bixby Bryant Ranch Museum

Yorba Linda

It serves as the site for the Yorba Linda Heritage Museum where visitors can glimpse some of Yorba Linda's unique heritage. Each room depicts a different period or aspect of the area's history,from Indian times to the first settlement by the Yorba family, and into the modern age. The grounds are planted in California native plants, and a small replica of the original botanic garden is located on the east side.
Yosemite National Park

Yosemite National Park

One of the first wilderness parks in the United States, is best known for its waterfalls, but within its nearly 1,200 square miles, you can find deep valleys, grand meadows, ancient giant sequoias, a vast wilderness area, and much more. That 95% of Yosemite is designated Wilderness? In Wilderness, you can experience unparalleled opportunities for solitude while visiting some of the most beautiful places on Earth.
Napa Valley Museum

Yountville

Dedicated to promoting the cultural and environmental heritage of the Napa Valley. Our special, changing exhibits represent a diverse range of subjects from fine arts to history to natural sciences. We are committed to presenting exhibits that will entertain and educate our local community and visitors from around the world.
Siskiyou County Museum

Yreka

The Siskiyou County Museum was built in 1950 by the county to collect, preserve, disseminate and interpret the history of the area for future generations. Located within one hour of Lava Beds National Monument, the Marble Mountain Wilderness Area, majestic 14,162 foot Mount Shasta, and numerous gold-bearing rivers, the Museum features exhibits detailing Siskiyou County's colorful history from Indian cultures to 20th century themes. The Museum is an interpretive center for the history of Siskiyou County and includes exhibits, programs, and a research library.
Community Memorial Museum of Sutter County

Yuba City

Welcome to the Community Memorial Museum's Virtual Exhibit. We invite you to take a look at some of the wonderful images in our collection. This is only a small sample of the archives from the Museum's collection. Our hope is that you will visit us at the Community Memorial Museum in Yuba City to learn more about Sutter County and its history.
Riley's Apple farm

Yucaipa

A U-pick apple farm offers 1800s themed activities. The activities are historical, educational, hands-on, and just plain FUN. Visitors enjoy Corn Husk Dolls, Frontier Cabin adventure, Rope Making, Gold Panning, Hayride, and Archery.
Hi-Desert Nature Museum

Yucca Valley

Dedicated to the process of education by exploring the natural, artistic, and cultural heritage of the Morongo Basin and High Desert. The Museum seeks to inspire wonder, discovery, understanding, and responsibility in its community and visitors through exhibitions, programs, and collections in the arts, history, and natural sciences.