Jump to: Homeschool Co-ops | Homeschooling Classes & Academic Enrichment
Looking for someone to teach physics to your teen? Need a way to avoid teaching algebra? Want to enroll your Kindergartener in a co-op for social time? Homeschool classes and co-ops are a great way to spend time with other homeschoolers and skill-share with other homeschool parents.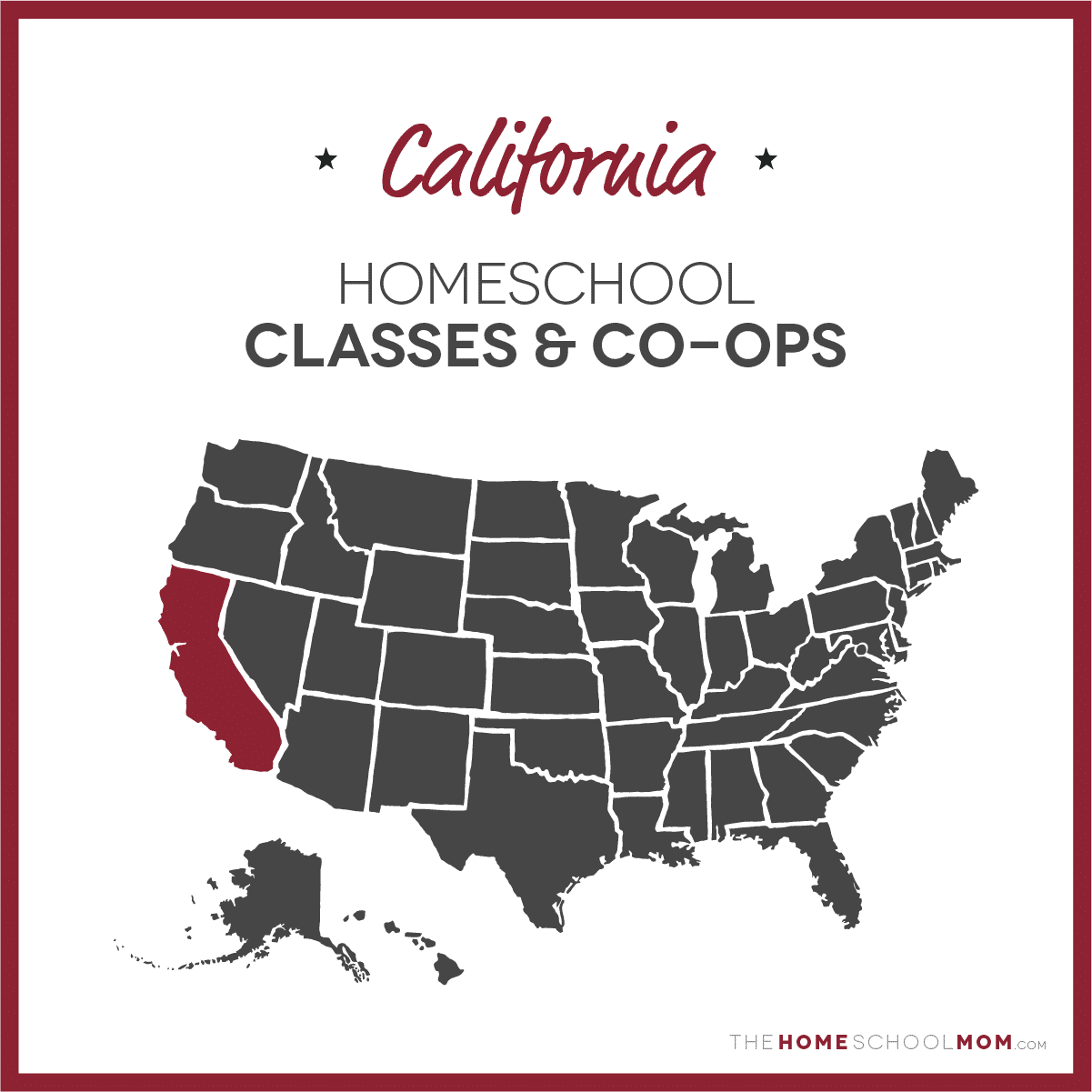 Submit a Local Resource
Our listing of California co-ops and academic classes for homeschoolers is ordered alphabetically by city, with co-ops in the first section and all other academic resources below. If you would like to submit a California co-op or academic resource, you may do so using the red button above.
California Homeschooling Co-ops
Play Based Learning Academy

Chino

Academy is a welcoming community filled with active homeschool families. It is our desire to partner with families in their journey to grow their students academically and socially. The Co-op meets Mondays and Wednesdays from 830am-4pm. Offering math, ELA, science, social studies and electives. Electives 8:30-9:30 AM Core Classes 9:30-2:00 PM Electives 2:00-4:00 PM
Desert Valley Creative Learning Collaborative

Coachella Valley and surrounding areas

Desert Valley Creative Learning Collaborative is an education support group for homeschoolers that was founded in 2011. While many of the members share a love for God and Christian faith, everyone has a place in this learning environment. DVCLC meets on Mondays in Indian Wells, CA from 9:30 a.m – 3:00 p.m. Co-op is a unique, parent-led program that offers students a full day of classes, with a variety of choices to enrich the lives of your students. Offering both academic and elective classes, at 50 minutes per class, along with a 1 hour lunch break. Students can take as many as four classes per session, but are not required to attend the full day. The Pre K/Kindergarten group follows a slightly different schedule to meet their needs. At least one parent from each family is required to actively participate throughout the entire co-op day by volunteering each hour in one of many volunteer positions. Learning groups are broken down as follows: •Nursery (ages 0-2) •Little Explorers (ages 1-2) •Preschool (2-3 year olds) •Pre-k (4 and 5 year olds) •Early Elementary (K-2nd grade) •Late Elementary (3rd-5th grade) •Middle School (6th-8th grade) •High School (9th-12th Grade) The website offers helpful support and information to homeschooling families including a High School parent support group.
CFS Escondido

Escondido

CFS Escondido is a parent-led homeschool support group. Some of the events and activities we offer include: Educational Co-op, Field Trips, Park Days, Used Curriculum Sales and Exchanges, Local Theater Viewing Opportunities, and Family Events
TheHomeschoolCoach

Fontana/ Rancho Cucamonga

TheHomeschoolCoach is not only a co-op group from K-12th with college prep , they also provide a membership program. In the program you can participate in field trips, college nights event, teen clubs, receive student ID, plus parents receive guidance through the homeschool journey.
Synergy Homeschool Cooperative

Fresno

We are a cooperative group of parents and students in the greater Fresno area who hope to enrich and learn from each other, and share in the strengths and diversity of the home school community.
Wings and Rotors Academy

Murrieta/Riverside

Wings and Rotors Academy offers monthly STEM aviation classes for students ages TK-Highschool. Multiple monthly classes allow homeschool families to engage students in a hands on airport environment with real life professionals. Introductory flight lessons and FAA approved flight simulator available for students onsite at French Valley Airport.
South Orange County Christian hOmeschoolers (SOCCO)

Orange County

Support group for Christian families pursuing independent home education. We offer group classes, park days, assemblies, service opportunities, mom's support, teen leadership training, & field trips. Members communicate through a private website.
TELOS Academy Home School Co-Op

Rancho Cucamonga

TELOS Academy Home School Co-Op provides classes and activities for homeschool students and families. Academic classes include English language arts, Mathematics, Social Studies, Science, Art, and Music. Enrichment activities include STEM, Coding & Robotics, Math competitions, Art & Craft, Science Experiments, and fun-filled Field Trips. TELOS Academy classes are centered on Literacy-Based Curriculum, Critical Thinking Skills, and Presentation Excellence, and Character Building to raise exceptional leaders of the next generation. There are various events and opportunities for parents to get involved as well.
South Bay Faith Academy

Redondo Beach

South Bay Faith Academy is a Christian Homeschool Co-op that gathers every other Friday for enrichment classes and fellowship.
Christian Family Schools of Mira Mesa

San Diego

Christian Family Schools Mira Mesa is a nonprofit organization. We serve the private Christian homeschool families of San Diego and surrounding areas. Our members subscribe to our Statement of Faith. CFS Mira Mesa's emphasis is to aid families to meet their educational goals by providing additional opportunities for students to develop academically, socially, physically, and spiritually. Regular activities that include: • Class Days • Dads' Night Out • Drama Programs • Field Trips • Moms' Night Out • Park Day • Teen Activities (middle/high school) Annual Events that include: • Back to School Party • Camping Trips • End-of-the-Year Party • Family Christmas Event
The Homeschool Gathering

San Diego, CA

We are a hybrid Christian homeschooling community seeking to follow Jesus by being Good Neighbors. We seek to bring together like-minded families who are interested in gathering together to support each other's unique homeschool calling and to build community by coming together in the messy middle of life. We believe that God has called us to be a community of families living out a vibrant faith that blesses our world through serving and loving one another and our community.
Fourish Homeschool Community

San Diegvo

A FREE weekly meet-up group where Children of all ages find a sense of belonging and Mothers find sisterhood. Weekly meetups, Wednesdays at Mission Bay. Children bond through unstructured playtime & group activities. We have lunch after some playtime, affirmation circle & games. We curate festivities with intention, monthly educational workshops by amazing educators, and monthly Family yoga. We love participation but we respect & honor no participation. Mothers get to connect, talk about our struggles, find homeschool support, come out of isolation or just enjoy a day out in nature with the littles. Homeschoolers and non homeschoolers are welcome. Mommas with infants and/or homeschoolers are welcome. You belong here.
Valley Freedom Cooperative

Stockton

Valley Freedom Cooperative is parent-led & child-focused. We provide social and academic enrichment opportunities for homeschooling families in the Stockton area. We believe in supporting educational and emotional growth by creating a space that fosters respect, curiosity, and autonomy for our children. We strive to provide the opportunity for social and academic advancement by uniting with other homeschooling families, actively participating in the community, and providing unique learning experiences.
California Homeschooling Classes & Academic Enrichment
Baywood Learning Centers

Alameda County and Bay Area

Baywood Learning Centers (BLC) has been helping parents create high quality home-learning programs for over a decade. This program began as an alternative school for gifted learners, but now includes services for parents who are new to the home learning community as a result of covid displacement. BLC specializes in custom curriculum development and offers options for grades, transcripts, diplomas and other certifications that objectively validate the home-learning program. BLC is based in Alameda County, but provides services in all California counties. BLC offers hybrid homeschool and in-person enrichment as well as online programs. Each student receives a customized curriculum.
TLP Education

Aliso Viejo

TLP Education is an instructional and tutoring company dedicated to preparing students for 21st-century education and today's competitive economy. We offer language classes, private and group tutoring sessions in all subjects for all grade levels to inspire confidence and learning. Our College Counseling program helps parents and students prepare and plan for college. We partner and host international homestays for international students. With over 25 years of teaching experience, our committed teachers, tutors and staff members are able to provide the necessary tools for academic success.
Dr. Deanna Westedt Academic Coach

Alta Loma

Not just tutoring... this resource provides literacy assessments and academic coaching! With 21 years of experience in education and a doctorate in curriculum and instruction, Dr. Deanna Westedt can help you with: Strategies for early literacy in the home, intervention techniques you can do at home in minutes and not hours, assessing your child's academic areas of need through literacy assessments, targeted intervention support and ideas to support students with giftedness and/ or learning disabilities. Whether you need guidance in ways to help your child with learning readiness or you are raising a child with giftedness or learning challenges (or a combination of both!), Dr. Westedt walks beside you to provide at home strategies and know-how to handle the challenges of making sure your child get what they need! Dr. Westedt can be contacted at (909) 838-0988 or go to deannawestedt.com and sign up for your free 20 minute consultation to see how Dr. Westedt can help with your homeschooling needs.
Integrity Christian School PSP

Anaheim and surrounding area

Integrity Christian School-PSP is a hybrid Christian homeschool community that offers classes 2 days a week and 3 days at home for TK-12th grade in English, Maths, History, Science, STEM, Speech, Art, Music, Photography, Dance, Mixed Martial Arts, and more… The courses are taught through a Christ-Centered learning perspective with visual, auditory, and kinesthetic learning styles. Integrity wants learning to be an adventure in all subjects. Included in your child's academic enterprise is a Science Fair, Art Fair, History Exhibit, Writing Fair and Talent Show. Students can enjoy Yearbook, T-shirts, Field-trips, Elementary & Teen Events, Prom, and various other extracurricular activities. Offering a full graduation experience, including Senior Pictures, Grad-Nite, and a full-scale Cap & Gown ceremony for Seniors and Kindergarten, with promotion for all grades. Integrity is one big family, and we would love for you to become a part of it!
Adelphia Classical Christian Academy

Anaheim, Orange, Garden Grove

Adelphia is a hybrid school offering full time Christian school experience combined with homeschooling. Students meet on campus 3 days a week for full time instruction. The other two days the learning takes place at home under the direction of the parents. The school establishes the curriculum, and provides the framework for the parent to be a success while at home.
DV Therapy - Palmdale

Antelope Valley

DV Therapy provides: Speech Therapy, Occupational Therapy, and Behavioral Therapy (ABA). We are vendored with most major insurances, regional centers, and many charter schools throughout Southern California. We offer a unique multi-disciplinary program that incorporates speech, ot, and ABA. Using a collaborative methodology with a child first approach, our clients receive best in class services in a fun, engaging, and loving environment. For our autistic homeschoolers we offer extended ABA daytime hours with pickup and drop-off opportunities.
Language Arts Tutor Sharon Jantzen

Arroyo Grande

Personal and private language arts tutoring for any student. Reading/Writing tutoring is available for K-6 students. Personal tutoring for composition, essay, report and speech writing is provided for Junior High and High School students. Any specific language arts curriculum can be worked with or a specific program for the student can be developed. Grading of writing assignments and evaluation of written work is offered on an as-needed basis.
Placer Nature Center - Homeschool Programs

Auburn

For homeschoolers, science can be one of the hardest subjects to fulfill and keep up in. Placer Nature Center offers fun, outdoor, hands-on classes to fulfill curricula needs. Students, of all ages, enjoy the camaraderie of other homeschoolers while learning through affordable, experiential programs. Placer Nature Center classes engage students in learning through real-world, hands-on experiences with a focus on environmental literacy, science and nature. All programs are designed to meet the California Content Standards. Open to all homeschoolers. Families are invited to bring lunch for a picnic in the courtyard after class! Placer Nature Center will also schedule customized classes for any student group size of 10 or more - groups can be mixed grade levels.
DV Therapy Inc ABA Autism Services

Bakersfield

DV Therapy provides: Speech Therapy, Occupational Therapy, and Behavioral Therapy (ABA). We are vendored with most major insurances, regional centers, and many charter schools throughout Southern California. We offer a unique multi-disciplinary program that incorporates speech, ot, and ABA. Using a collaborative methodology with a child first approach, our clients receive best in class services in a fun, engaging, and loving environment. For our autistic homeschoolers we offer extended ABA daytime hours with pickup and drop-off opportunities.
Engineering For Kids of South Kern

Bakersfield, Rosedale, Lamont

Engineering for Kids is a fun and exciting hands-on learning experience for children ages 4 to 14 years old. Program teaches engineering concepts that focus on Science, Technology, Engineering and Math (STEM). Program is designed to help bridge the gap between what students are learning and how to apply it to real life experiences.
Skyland Ranch

Banning

Skyland Ranch, in the San Jacinto Mountains of Southern California offers K-12 day and overnight science and leadership programs. Managers will work with your group leader to customize an engaging age appropriate outdoor experience for your students. Learn about wildlife ecology, physics, botany, drones, geology, citizen science and more as you explore the mountains and discover the joys of being outdoors. If you want more outdoor adventure, we also provide archery, challenge course, or land canoes.
Summit Adventure

Bass Lake

Summit Adventure is a leader in faith-based adventure experiences, using service, mountaineering, climbing, rappelling, and extended time in nature to help thousands of people build relationships, explore faith, connect with what is most important, and challenge perceived limitations.
Challenge Island - Santa Cruz & San Jose

Bay Area

Challenge Island is a cross-curricular, project-based, STEAM/STEM Enrichment program and that help prepare kids to succeed in the 21st century. This program provide collaborative learning experiences using highly engaging curriculum that addresses the needs of the creative, playful child of today and the successful and employable adult of tomorrow. This curriculum uniquely intertwines STEAM, English Language Arts, Math, Science and Social Studies concepts into one action packed experience for elementary students. Challenge Island offers exciting and memorable experiences to students by providing Afterschool Enrichment Classes, In-school Field Trips, Girl Scouts workshops, Camps and activities for special events. This Engineering program takes kids on a unique island adventure, where they work in collaborative tribes to tackle various STEM/STEAM challenges using only the materials in their treasure chests and their boundless imagination. The Bonus - It DOES NOT use any digital devices but is fully powered by the boundless imagination of the kids.
Brick Tech

Bay Area, San Jose, Peninsula

Join Brick Tech for one of their favorite offerings in Brick Techniques: STEM Basics. All students will be provided with individual LEGO® kits to build one of hundreds of guided projects. STEM concepts will be introduced and reinforced through a hands on experience all while students enjoy a safe and fun learning environment. Flexible hours and locations are available. Individual workshops or recurring programs are offered. Please contact Matt@Bricktech.org for more information.
The Joy of Reading

Berkeley

The Joy of Reading offers personalized reading instruction to help students become confident readers, writers, and spellers. Research has shown that students with Dyslexia and many others who struggle learning to read need a structured and systematic approach to reading instruction that engages all the senses. The Joy of Reading uses a research based approach to teaching reading that goes above and beyond what is available in a typical classroom or tutoring center. With proper instruction, all students can learn to read and write! Offering One on One in - home tutoring with a professional teacher in Berkeley, Oakland, Piedmont, Albany, and El Cerrito,
Phoebe A. Hearst Museum of Anthropology

Berkley

The Hearst Museum offers field-trip programs for 5th and 6th graders with a focus on Ancient Egypt. This day-long, hands-on field trip includes a behind-the-scenes visit to the Hearst's vast collections, an art activity inspired by a 4,500 year-old artifact, and a tour of the UC Berkeley campus. This field trip is designed to create lasting memories, inspire empathy, and help students connect to both the past and presen
California Classical Conversations

California Statewide

CC is a national homeschooling program that uses a Bible based curriculum taught in a christian, classical tradition. Classes are geared for age 4 through high school.
Talega Preparatory Academy

California Statewide

A California Private School offering satellite programs to support homeschooling families. Mission is to offer an alternative to public and charter school ISPs by providing your family the educational freedom to homeschool your way.
Cedar Life Academy

California Statewide

Cedar Life Academy is a nonsectarian Private School Satellite Program (PSP) that provides California families who wish to home-educate their children with paperwork assistance and homeschool mentoring. Cedar Life Academy is limited to California homeschoolers. Cedar Life Academy files a private school affidavit and maintains all of the school records that are required by the State of California.
CADET PROGRAM'S - California Wing, Civil Air Patrol (U.S. Air Force Auxiliary)

California Statewide

The CAP Cadet Program is a program where Cadets fly, learn to lead, hike, camp, get in shape, and push themselves to new limits. The goal is to provide consistent opportunities for Cadets to achieve. Through events that focus on Leadership Aerospace, Emergency Service, Drill and Ceremonies and Character Development, members can explore and learn ways to hone their skills to better themselves and our community. While there are many youth oriented programs in America today, CAP's cadet program is unique in that it uses aviation as a cornerstone. The program allows young people to progress at their own pace through a 16-step program including aerospace education, leadership training, physical fitness and moral leadership. Cadets compete for academic scholarships to further their studies in fields such as engineering, science, aircraft mechanics, aerospace medicine, meteorology, as well as many others. Those cadets who earn cadet officer status may enter the Air Force as an E3 (airman first class) rather than an E1 (airman basic). To become a cadet, you must be at least 12 years old and not yet 19 years old. Cadets meet 2 hours per week and one Saturday per month, on average, and also have opportunities to attend leadership encampments, career academies, and other activities during the summer. Find a local Civil Air Patrol Cadet or Composite Squadron at: http://hosted.where2getit.com/civilairpatrol/ or visit http://cawgcadets.org/wp/ for more information.

CADET PROGRAM'S - California Wing, Civil Air Patrol (U.S. Air Force Auxiliary) details
Math with Mrs. Fish 6

California Statewide

Math with Mrs. Fish is an exciting new online option for middle school math instruction. Laura Fischer is a California credentialed math teacher with 30 years of teaching experience. She uses her own unique curriculum, which is research-based and follows the Saxon model of incremental and distributed instruction. It is full of humor, color-coded steps, and memory tricks that WORK. Mrs. Fish can be your child's math teacher THROUGHOUT MIDDLE SCHOOL. Sixth grade is available for the 2018/2019 school year, with seventh grade being added for the 2019/2020 school year, and eighth grade for the 2020/2021 school year. Advanced and remedial instruction is available. Mrs. Fish is an approved vendor for numerous charters. See her website mathwithmrsfish.com for all the details.
Carlsbad Homeschool

Carlsbad

Carlsbad Homeschool is a microschool and licensed home childcare designed to support students attending in-person school part time (hybrid), or being homeschooled by a parent full time. Operated from a home in the Kelly Ranch neighborhood, students work in a cozy home classroom on their assignments with support from a credentialed teacher.
Mathnasium of Chula Vista

Chula Vista

Mathnasium of Chula Vista, is the neighborhood math-only learning center serving Bonita and Chula Vista communities in Southern California. We help kids in grades K-12 with math tutoring, enrichment, homework help, SAT/ACT Prep. We create a custom learning program for each student to help them understand math by teaching the way that makes sense to them. Mathnasium focus is solely on math and operates on the core belief that virtually any child can excel in the subject. Mathnasium students receive the support they need for homework and tests while building their math foundations. As educators, we strive to offer students a balanced math learning experience: one that fills in the gaps, keeps students on track with math taught in school or at home, and, most importantly, makes learning math a fun and joyful experience.
Sierra View Christian Academy

Clovis

Sierra View Christian Academy offers open enrollment at any time during the school year. We provide a variety of quality services to assist you in planning your child's education from Kindergarten through High School.
Rock-N-Water California Christian Camps

Coloma

Providing high quality Christian Camps in California to church youth groups, families, college groups, and individuals looking to further their relationship with our savior Jesus Christ through fun and challenging adventures in the outdoors. Camps include whitewater rafting and rock climbing retreats, summer adventure camps (whitewater rafting, climbing, backpacking, team building...), and snowshoeing winter camps or retreats. Also provide Christ centered California living history trips for 3rd and 4th grade students in their study of California history and American history.
Allegiant Christian Schools

Corona

Allegiant Christian School (ACS) is a Christ-centered private school satellite program. Our mission is to support and encourage Christian families as they follow the Lord's direction to homeschool. Our desire is to provide not just a school but an extended family to both parents and students through administrative support, fellowship opportunities, field trips, classes, a competitive sports program, and more. Above all, we hope to bring praise, honor, and glory to our Lord Jesus Christ. We offer classes for grades PK-12th grade, on Fridays from September - May. We use the Tapestry of Grace curriculum in our classes.
Joobilo Academic Community

Cypress, La Mirada, Long Beach

Joobilo Academic Community is a homeschool community in Southern California for TK through High School students. Joobilo offers core and elective classes in supportive environment at multiple locations.
West River Academy

Dana Point

West River Academy is an international fully accredited independent private school in California. It is for families who desire the benefits of private school enrollment AND minimal oversight over their educational activities. Families may use the curriculumof their choice, or use no curriculum . Offers assistance in designing or choosing a program and learning style that fits your children's needs.
Seaside Tutoring

Dana Point

Spanish and French instruction for individual or group classes. Tutoring for reading intervention, ESL , phonics, writing and elementary math. We provide tutoring lessons one-on-one specifically created customized solutions formulated for your student's needs. The sessions are at your home or online.
Method Home School

Dehesa, Arcadia and Murrieta

Introducing Home School by Method: Full Service Home School That Works for So Cal Families. Weekly park days, field trips, and on-site STEM Robotics program. Method, a tuition-free public charter school, offers a home school track designed to meet the needs of independent learners in Southern California. http://www.methodschools.org/homeschool
Outside School

East Bay

Outside School is in the East Bay and offers classes that are 100% outdoors. For those who have children kindergarten age or older and are looking for an alternative to current education options. There are five weeks of summer camp and the school year starts in September. For more information visit: www.outside.school
Homeschool Enrichment Centers

El Cajon & Bonita

Homeschool Enrichment Centers (HEC) offers Enrichment & Core classes for homeschoolers TK through High School by professional teachers. Families can register for as little or as many classes as they want. All classes are a-la-carte. Classes run by 16 non-consecutive semesters. HEC offers field trips & community events throughout the year. HEC accepts out of pocket payments & charter payments from a variety of charters. Bonita offers classes Mondays Address: 5305 Sweetwater Rd, Bonita, CA 91902 El Cajon offer classes Tuesdays, Wednesdays & Thursdays Address: 1123 N Mollison Ave El Cajon CA 92021
Write You Are! Creative Writing Classes for Youth ages 10 and up

El Cerrito

Pop-up creative writing sessions and regular classes for homeschoolers, ages 10 and up are held in El Cerrito throughout the year. There are classes for youth ages 10-12 and ages 13-18. Classes are offered in a safe and dynamic space for youth to explore the wild edges of experience and expression. Blending alchemy, invention, craft, and artistry, to fire up imaginations to fuel a creative pilgrimage. Students read exemplary work as a springboard for discussion and exchange of impressions and ideas.

Write You Are! Creative Writing Classes for Youth ages 10 and up details
Mi Casita Spanish Classes

Encinitas

Spanish classes for all ages and levels in group, semiprivate or one on one settings. Year round classes and camps. Programs designed for children including many different educational and fun activities where children are encouraged to communicate in Spanish. Students are provided with guidance to develop their skills to communicate correctly as well as to learn gramatical concepts through child friendly approaches. The instruction is tailored to the group and individual needs.
Thrive Learning Center

Encinitas

Thrive Learning Center (TLC) is a non-profit education support program which exists to equip students with the skills, knowledge, and opportunities to help them discover and encourage their gifts. We come alongside families to provide community and support as well as access to highly qualified educational opportunities. Our program is based off proven and highly successful models and educational research that have served students for nearly 20+ years and continues to expand all across the world. We offer core and elective classes taught by exceptional teachers who are not only well qualified but also have the GIFT of teaching. Our families provide support to one another through encouragement and friendship and together we believe we are raising up the next generation of leaders!
Free Sample Coding Class for Kids - theCoderSchool Encinitas

Encinitas

The Coding Classes are really small, mostly private or semi private, we build individualized projects centered around each student's passions. Students 7 years old and over work on different coding languages from block coding, to python and java. We also work with students on 3D Printing, Robotics (Lego MindStorms, mBots, etc), Roblox Studio and MInecraft Education! Book your free sample class and get your coding questions answered and give you coding feedback. You can reserve a date and time here: https://thecoderschoolnsd.youcanbookme.com/

Free Sample Coding Class for Kids - theCoderSchool Encinitas details
The Learning Boulevard

Encino

The Learning Boulevard provides customized curriculum options for homeschooled students, educational consulting, educational therapy, and life coaching for neurodivergent adult learners. This academic and social support is provided to learners of all ages through differentiated instruction in a nurturing, non-judgmental, and flexible environment.
Fremont Christian School Private Satellite Program

Fremont
River Parkway Trust

Fresno County

At the Young Explorers Enrichment Program (YEEP), they focus on learning through cooperative play, exploration, and hands-on experiences using nature as the classroom; children are outside for the duration of each program day, and the environment is their teacher. The program is inspired by the Reggio Emilia Approach and aligned with California's preschool and Kindergarten curriculum framework. They work with children 3.5 - 5 years old. This fall they will be running sessions on Tuesday and Friday mornings. Participants can sign up for both or one of the program sessions and spend their autumn mornings outdoors with tons of fun and outdoor learning!
Boys & Girls Clubs of Fullerton

Fullerton

A resource for families in Fullerton. We have facility space, access to technology, tutors, and safe places to play for kids. Enrollment is low cost and offers access to many resources including tutors, computers, sports equipment, gym space, and a nutritious meal daily. Contact us to set a time to tour our 4 facilities (1 dedicated teen center) to see how we can make your homeschooling experience helpful, safe and FUN!
Horizon Learning Center

Huntington Beach/Orange County

The four pillars of Foundations Learning Center are Excellence, Academics, Safety, and Community. The purpose is to serve and equip homeschooling families in the community to best educate and prepare their students for strong academics and a firm foundation built on upright character. The desire is to come alongside parents to support, to inspire, and to help guide them as they navigate their homeschool journey by providing a place for students to take academic classes taught by well qualified teachers. .
Homeschool Days at Pretend City Children's Museum

Irvine

Learn through play while you visit Pretend City as a field trip for your homeschoolers! Have unlimited access to our 17 interactive exhibits that foster problem solving, critical thinking, creativity and more on the day of your visit. Discounted rates are available for your homeschool group on the 3rd Friday of each month. Tickets are $9 each for students and adults. Reservations are required the Wednesday prior to your visit date.
Emmaus Classical Academy

La Mirada, Yorba Linda/Brea, Agoura Hills

At Emmaus Classical Academy, we offer a classical, Christian humanities education to high school students in Southern California and online. Our desire is to help students cultivate biblical justice, love, and wonder through intensive reading, writing, and Socratic discussion.
Armenta Learning Academy

Laguna Niguel

The mission at Armenta Learning Academy is to empower and encourage children to reach their full potential no matter what their learning needs are. Some children are gifted and need to be challenged to stretch themselves to be the best they can be. Others have learning disabilities and need extra attention and care to ensure they have every opportunity to succeed. All students, gifted, disabled or anything in between can benefit from our non-traditional approach to learning. We believe tailoring our programs to each student's individual needs, optimizes their chances of having a pleasant, enriching and successful school career. The success of every child is our goal here at Armenta Learning Academy and we will do whatever it takes to achieve that goal to the benefit of the students, their families and ultimately the community. Intructors work with all ages and levels of learners. School Tutoring and Educational Programs for all ages.
CA Taekwondo

Lake Forest

CA Taekwondo Center has been providing physical, mental and character development through martial arts to residents of the Orange County area for more than twenty years. Having recently moved to a new and more accessible location, we hope to provide the utmost service possible to local residents for at least twenty more.
Viva Learning Community

Lakewood

Viva is a learning center that supports families with their scholars' learning. The learning mentors at Viva work very closely with families to help achieve the goals that each family sets for their scholars. From the recommended core knowledge for each grade level, learning mentors introduce selected concepts in dynamic and engaging blocks of instructions. As we are a constructivist educational program, wherever it is helpful, learning mentors seek to use activities, games, manipulatives, labs, and projects to reinforce such concepts. Viva learning mentors also engage in Spanish interactive conversation, so that scholars can build Spanish conversational skills. Viva arranges multiple annual performance assemblies and emphasizes social justice, both of which help deliver a rich and well-rounded experience in which scholars are given an active role to play in their learning and in their community. There are 7 on-campus courses of study, namely Mathematics, English, Spanish, Science, Social studies, Visual Arts, Performing Arts.
The Art of Problem Solving Academies

Locations in Pleasanton, Sunnyvale, and San Diego serving the surrounding areas

Art of Problem Solving textbooks have been used by outstanding students since 1993. The AoPS website launched in 2003, and its online community now has over 400,000 members. Many of the winners of each year's International Math Olympiad use the AoPS site as a primary training resource. The AoPS Online school has over 15,000 enrollments annually in courses specifically designed for high-performing math students. Most of the winners of major American national math competitions are AoPS alumni, and thousands of our alumni enroll in top universities each year. With AoPS Academy, Art of Problem Solving brings its curriculum and pedagogical techniques to the classroom. With 10 academies in 8 states, and more on the way, the academies are a great way to experience the AoPS curriculum in a more structured and guided way.
The Lab Learning Space

Long Beach

The Lab Learning Space (The Lab) is a community of educators and students who have come together in Long Beach for the purpose of radically transforming the learning experience for students. All-day, partial-day, drop-in and multiple-day academic programs are offered for students TK - 8th grade. The Lab offers a Core Academic Program that includes Reader's Workshop, Writer's Workshop, Curiosity Studios with Project Based Learning, and Independent Academic Times with personalized tutoring for homeschooling students. Students are grouped by independence and skill levels to assist their progress. The Lab is designed to offer working families the choice of community homeschooling where there child's education will be enriched with a social aspect, as well as socio-emotional tools to complement their growth. We are also designed to provide enrichment support to students who are already homeschooling and just need teacher support at times.
Empowered Minds CC

Long Beach

Empowered Minds (with) Community Cooperation or EMC2 is where the Village supports the Scholar. Each week EMC2 hosts three days of project-based academic support sessions that are designed to enrich curriculum of homeschooling parents in Math, Language Arts and Science. These engaging projects are designed to promote thought, academic gain, healthy self image, life skills, self sufficiency, mindfulness, social responsibility and the conservation of the environment and more all while having fun. We reinforce the idea that all backgrounds have and can make worthy and viable contributions to the human family. We accept charter school funds and direct payment from families. We support lifetime learning and encourage homeschooling parents to participate in the classroom with their scholars. After Program Care is also available in our partnership with the YMCA. View our website for more information.
Scholars Collective

Long Beach

Scholars Collective offers site-based services in Long Beach. We offer enrichment classes daily, tutoring in all subjects, and homework help. All our staff are teachers or college students on a teaching track. Our services are all designed to support individualized needs and curriculum. We provide updates to parents and teachers after each session.
France Exchange School and Services

Los Angeles

France Exchange School is dedicated to the learning of French language. They offer a variety of French classes, specialized workshops and immersion camps for and children and teenagers of all levels. They also offer private tutoring as well as small group classes with French native fully qualified teachers. Summer camps welcome children from 5 to 13 years old.
The Knowing Garden Homeschool Enrichment

Los Angeles

TKG's mission to re-think education has deep roots in the un-school/homeschool movement. We remain accessible to families who share our values and support their personal and unique learning journey. We offer enrichment that emphasizes the social-emotional well-being of our students.
High School Spanish Courses

Los Angeles

Language Bird offers 1 to 1 high school Spanish courses online with a live, private, bilingual native speaking teacher. Courses are University of California (UC) approved (college prep) high school courses accepted by all four-year universities. Currently, offering Spanish levels 1, 2, 3, and 4. All individual lessons are personalized and flexible. A student only needs internet access and Skype to meet their instructor. In 24 tutoring hours students earn one year of foreign language credit.
Homeschool Enrichment classes

Los Angeles

Creative Learning place is a vendor for: Sky Mountain Charter School, Golden Valley Charter School, and Gorman Learning Center. Variety of classes offered throughout the year.
CA Science Center Classes at Creative Learning Place

Los Angeles

A variety of classes for grades 1-8.

CA Science Center Classes at Creative Learning Place details
Next Level Homeschool

Los Angeles

Next Level Homeschool provides both live classes near downtown Los Angeles AND online flexi-schedule classes for student's who have extra busy schedules. Next Level is a secular school, striving to educate children from ages 7-18 in science, history, geography, and lower math. Some of the very unique classes offered include: Harry Potter Genetics, Virtual Field Trips Around the World, Marine Biology, French History, and more.
TeachPlayLearn

Los Angeles

TeachPlayLearn is a boutique educational service company that is based in Los Angeles, CA. Offering custom educational services and unique consulting projects. TPL's service list includes tutoring in major academic content areas, a multitude of enrichment options, and test preparation. Also offer a variety of homeschooling packages to meet your family's individual needs.
Camera Left / Stage Right

Los Angeles

CAMERA LEFT / STAGE RIGHT is a collective of industry professionals offering acting and audition technique classes for all skill levels and across different media platforms. Classes are held at Southpaw Casting Studios in North Hollywood, CA, and are conceptualized &and administered by the casting directors at ASG casting, inc. Ongoing commercial audition technique and improv classes are available for children ranging from 5 to 17 years old.
Nature Reconnection Primitive Training Classes & Workshops

los angeles

Get wilderness survival training with our primitive skills courses and workshops. We offer outdoor survival classes around the globe and can't wait to adventure with you! With the integration of scenic hikes and our children's scouts programs we can begin to add classes on agriculture, geology, and other earth science's in fun, hands-on ways. This way we can cater to a broader audience base and help more people reconnect with nature.

Nature Reconnection Primitive Training Classes & Workshops details
Alternative Choices in Education

Los Angeles

Alternative Choices in Education (ACE) is a secular learning center that welcomes all races, religions, orientations, and abilities. We are proud to offer a unique educational experience designed to promote emotional intelligence and open-mindedness, as well as intellectual growth. Our goal is to offer a strong sense of community for homeschooling families. We are now offering 2 days of in-person classes on Mondays and Wednesdays at a new location in South Pasadena - contact us for details. In-person classes are limited to 12 students
Professor Egghead Science Academy

Los Angeles

Professor Egghead Science Academy provides accessible, understandable, and cool science lessons for elementary students. They provide options for classes, camps, parties, workshops and more where kids can learn REAL SCIENCE and have BLAST doing it! Taught in a fun and unique way, Professor Egghead Science Academy offers hands-on engineering and science programs for kids. They aim to change the way kids learn science. In every program, you'll get a HIGH ENERGY Professor, REAL SCIENCE, and a whole lot of FUN.
Little Kitchen Academy

Los Angeles

Little Kitchen Academy is the first-of-its-kind Montessori-inspired cooking academy for kids ages three through teen. We are focused on providing a safe, inspiring, and empowering space for children to identify, develop, and refine their senses. Through joy, mindfulness, and learning we are creating a foundation for a healthy lifespan through responsible eating choices—from scratch to consumption. We believe that by empowering children with practical life skills and knowledge in a positive and joyful environment, we will affect positive lifestyle changes that result in a healthier world.
DV Therapy

Los Angeles

DV Therapy provides: Speech Therapy, Occupational Therapy, and Behavioral Therapy (ABA). We are vendored with most major insurances, regional centers, and many charter schools throughout Southern California. We offer a unique multi-disciplinary program that incorporates speech, ot, and ABA. Using a collaborative methodology with a child first approach, our clients receive best in class services in a fun, engaging, and loving environment. For our autistic homeschoolers we offer extended ABA daytime hours with pickup and drop-off opportunities.
SoCal Scholars Public Charter School

Los Angeles

SoCal Scholars in a Public Charter School in Los Angeles County. We are offering homeschooling options with the use of charter funds to homeschooling families in Los Angeles County.
Seed Education - Academic Enrichment Program

Los Angeles

An inquiry-based enrichment program to strengthen and cultivate academics for students K-6. Classes are held from 3:30 to 6:00 pm, Monday through Friday. With quarterly themes and curricula, this program will enable children to explore diverse areas of STEM, the Arts, digital literacy, and more. This is not an after school study hall or childcare but a place where we can enrich the minds of students and cultivate their learning autonomy. We encourage students to proactively learn on their own while simultaneously collaborating and teaching others.
EverWild LA

Los Angeles

EverWild's Nature Immersion Program is developed using Forest School and Place-based learning philosophies. This part-time program provides enriching learning opportunities for children to connect with nature, themselves, and their community. A nature immersion program is a method of outdoor education, in which the students engage in natural spaces to dive into social, interpersonal, and physical skills that are highly applicable in our 21st century world. EverWild's forest school model places emphasis on observation, natural inquiry, environmental stewardship and engagement with place as a source of strength, wisdom, and growth. The rhythm of our day presents a predictable and safe container for children to explore freely within. An emergent curriculum allows for children's curiosity, interests, and engagement with nature to lead the day. EverWild mentors model their own curiosity and engagement with nature while providing materials and tools to take these observations and inquiries to deeper discoveries. With the focus on what is showing up for us on the landscape, projects and activities organically coincide with place-based learning, ecological literacy, and the Next Generation Science Standards. Classes can be found in Venice, Culver-West, Topanga Canyon, Pacific Palisades, Malibu, Thousand Oaks, Santa Clarita Valley and Pasadena/Glendale.
Franklin Educational Services

Los Angeles & Orange County

Franklin Educational Services is a Tutor Referral Company offering Tutoring, Homeschooling help, Test Prep, and Educational Therapy services.
Biocitizen Los Angeles

Los Angeles/ Griffith Park

Biocitizen was incorporated in 2009 to provide educational services within the field of environmental philosophy. Biocitizen teaches students about the place they live in, for when they know what their place is, they take care of it. Places are nested in biomes, and we bring students into the field so they discover the ecological systems and processes that comprise them. Places are not only biomes, however. They are stories we live in. While students are learning ecology, they also learn the cultural history of their biomes. The goal of Field Environmental Philosophy for Homeschoolers is to introduce students to their place in all of Los Angeles' varied landscapes, and to encourage them to cultivate an ethic of care based on a new awareness of being part of a larger community including the land and creatures. Each 11-week program draws upon our teaching staff's expertise and intimate connection to areas both urban and wild throughout Los Angeles. Each week our curriculum focuses on one of our five guiding principles, which include; Biotic Immersion, Permaculture, Foraging/Survival Skills, Art, and Los Angeles History. Our carefully crafted itinerary is designed to promote and encourage students to connect to their environment, foster a sense of self and place, and of course inspire them to care about the world around them. As a walking school, the majority of our program will be spent in parks, reserves, or outdoor settings. Some weeks we will visit collaborators who's shared vision enhances our program's capacity and provides safe, and experiential education opportunities.
Ready Set Resources

Los Angeles/Orange Counties

Beginning/Advanced Public Speaking and Debate Club
Terra Marin Schools - Homeschool Adjunct Programs & Outdoor Micro-School

Mill Valley

Terra Schools is a progressive non-denominational private school in Mill Valley, California. They have three programs under their umbrella, a Mandarin immersion preschool & TK, a virtual and on campus K-8 program, and a completely outdoor Micro-School with locations in San Francisco and Marin County. As a founding pillar of their programming, Earth Education is a vital and integral part of the school week for all students. Their core K-8 program offers students the opportunity to be outdoors one full day each week with an Earth Educator to learn about their environment and their role in it, as well as to develop key skills such as team work and critical thinking. Their Micro-School program offers students a full-time (Mon-Fri) educational experience that takes the children outdoors into some of the most beautiful locations throughout the Bay Area to learn science, history, English, Earth Education and even music, art and drama. Rolling admissions. Applications being accepted for all locations. Tours every week. See full schedule on the website at www.terramarin.org, call 415-906-2220 or email admissions@terramarin.org for more information.

Terra Marin Schools - Homeschool Adjunct Programs & Outdoor Micro-School details
Rite Click Learning Point

Mira Mesa

This learning center can be used for academic classes, STEAM, Robotics FLL, Math competition preparedness, Chess Classes, etc. They have instructors to teach the students based on their interest. This learning center have their regular tutoring hours starting at 2:30 in the afternoons. So the mornings are free and can be used for home schooling students.
C3 Classes

Mission Viejo and surrounding area

C3 Classes offers a combination of academic and enrichment classes designed to help support homeschooling families in the South Orange County area. Classes are for K-12th students in the areas of writing and literature, science, math, public speaking and debate, leadership, art, geography, history, and study skills. C3 was founded by homeschooling moms who believe when learning is engaging, interactive, and purposeful, kids are motivated to learn and become life-long learners. In addition, C3 educators strive to provide a community in which each student is known, respected, and valued as an individual of great potential and promise. Students are encouraged to work hard and to strive to achieve their full potential while having fun.
EIE Academy

Monrovia

EIE offers a wide variety of classes ranging from basic math to AP history as well as lab science for high school level courses. Classes are meant to supplement the homeschool courses. Ages 6 through high school age.
Dinos Alive Immersive Experience - Montebello

Montebello

Your Students will Travel back to the Jurassic in a thematic park full of realistic dinosaurs—see these magnificent creatures in their natural habitat! Come face to face with over 80 specimens of life-sized, moving replicas: T-rex, Stegosaurus, Ankylosaurus, Velociraptors, and many more. Dive into the depths of the seas and interact with Jurassic sea giants in a unique virtual aquarium. Learn more about the Triassic, Jurassic and Cretaceous periods in a fun and interactive way. https://jdcgroupmarketing.com/dinos-alive-immersive
STEM Sparks

Monterey Bay Area

STEM Sparks offers enrichment classes focused on hands-on science, technology, engineering and math activities. Students design, build, explore, experiment, and collaborate with classmates to develop basic concepts in physics, chemistry, biology, and earth science. All classes place an emphasis on experiential, student-focused learning and emphasize group collaboration and problem solving.
AeroGuard Learning Center

Murrieta

AeroGuard Flight Training Center offers a non-stop path to success as a commercial airline pilot that stands out from other flight schools. At AeroGuard, our goal is a simple one — to create the safest, best-trained professional pilots in the industry and provide them with a seamless start to their career. The Learning Center provides resources to help with your ground school studying for flight training with videos and articles on a range of subjects. An individual is eligible to get their Student Pilot Certificate at 16 years of age. However, for those interested in piloting a glider or balloon, you'll need to be at least 14 years old.
Wings and Rotors Academy

Murrieta/Riverside

Wings and Rotors Academy offers monthly STEM aviation classes for students ages TK-Highschool. Multiple monthly classes allow homeschool families to engage students in a hands on airport environment with real life professionals. Introductory flight lessons and FAA approved flight simulator available for students onsite at French Valley Airport.
Kolbe Academy

Napa

Kolbe Academy is an orthodox Catholic, Ignatian, classically-based, day school and home school program for grades K-12, fully accredited by the National Association of Private Catholic and Independent Schools (NAPCIS).
Natomas Homeschool Alliance

Natomas/Sacramento

An inclusive cooperative of homeschooling families partnering with local professionals and organizations to bring homeschooling opportunities to the Natomas area of Sacramento. Natomas Homeschool Alliance facilitates a full day of group classes for all grades one day a week as well as weekly park days, periodic field trips, and enrichment activities to provide a well-rounded, quality educational experience for children.
Harvest Ridge Cooperative Charter School

Newcastle

Harvest Ridge Cooperative is a tuition-free, hybrid, and home school, public charter school, TK-8, serving students in Placer County and the surrounding communities. Located in Newcastle, CA. We provide financial assistance and academic advisement for families starting or continuing their home school journey. Through independent study requirements, students can achieve CA state standards and advanced grade levels. This program fully supports all learning styles and family lifestyles. Our program is ready to support students at their individual levels to advance their academic knowledge. Harvest Ridge provides two unique programs for our students. The Harvest Ridge Cooperative Charter School campus offers mixed grade classes for grades Kindergarten through Eighth Grade in a small, rural setting. Harvest Ridge Home Study Program provides an individualized, personal home study experience for students in grades Transitional Kindergarten through Eighth Grade, with the opportunity for Enrichment activities on our school campus and monthly field trip opportunities. We are a tuition-free public charter school serving students in Placer, Nevada, Yuba, Sutter, Sacramento, and El Dorado counties. ​
Newport Landing Whale Watching

Newport Beach

Whale Watching is an enriching and educational experience! Offering discounted rates for home school groups! Nov through May is Gray Whale Season. May through October is Blue Whale Season. April through October the Humpback Whales are in the area. Late December through January Orca Pods have been sighted in the area! Throughout the year visitors can see Common, and Bottlenose Dolphins, Fin Whales, Minke Whales, Sea Lions, and Sea Birds. The thrill of seeing large marine mammals swim alongside the boat is an experience that students will never forget, and a great way to integrate marine science into your curriculum. If you're looking to make your cruises more educational, Newport Landing works closely with the non-profit organization, The American Cetacean Society of Orange County (ACS-OC). Based upon request and availability, your class has the option for an onboard Marine Mammal Naturalist to accompany your group on the water, and answer any questions they may have. Trips last about 2.5 hours, and are available every day of the week. Whale watching trips usually depart 10am and 1pm. School groups can enjoy an $11.00 per person rate all year long! (No minimum group size) This rate applies to all students, teachers, and chaperons within the school group. If you are interested in booking your class,please feel free to call me at 949-675-0551 x 118 or send an email at jessica@newportwhales.com
e3 Consulting

North County San Diego

e3 has faithfully served North County San Diego in Academic Services, including home school support, for the past 10 years. What sets them apart is the deeply rooted desire to see each child and family succeed. Success at e3 is defined as holistically. Mixed in with the exceptional academic support comes an equally valuable dose of emotional, physical and social enrichment. Their home school services range from academic assessments, advising families in the next steps, topic-specific, one-on-one instruction, and even taking entire responsibility for all instruction of home school curriculum. Truly the desire of e3 Consulting is to take each child and family case-by-case and create a plan and program for them that will allow them to step into their utmost growth and development.
Code Ninjas Encinitas

North County San Diego

This resource is STEM center located in North County San Diego. At this center, kids learn to code while building their own video games. They gain problem solving, critical thinking, and STEM skills in a fun, safe, and inspiring environment. The engaging game-based curriculum aims to boost self-confidence and teaches teamwork, logic, and problem solving.
North County Classical

North County San Diego

North County Classical is a Christian, classical, collaborative academy that combines a private classical Christian education with the best aspects of a homeschool lifestyle. Students attend full class days on campus with trained teachers Mondays and Wednesdays. Tuesdays, Thursdays, and Fridays are home days with parents serving as co-teachers, using provided curriculum and lesson plans. Classical education seeks to stir the heart and the intellect by inviting curiosity and igniting a passion for learning through a comprehensive and integrated curriculum. Beyond training for a specific, temporal vocation, NCC trains students to think and live with an eternal purpose.
Friends of Willow Tree

North County San Diego/Southern Riverside

Friends of Willow Tree offers Waldorf -Inspired enrichment classes that are open to families with children in 1st - 8th Grade. We Welcome Homeschooling Families. We strive to keep the balance between home life/family time and academics. We feel strongly about the family unit and the importance of doing things together as a family. Our goal is to help your child be successful throughout your homeschooling endeavor. Our homeschool enrichment classes provide a variety of holistically-inspired classes to supplement home schooling families. Homeschool Classes offered: 2 PART Days of Morning Enrichment for Main Lesson Á La Carte Specialty Classes or Block Classes All families who participate in our Homeschool Enrichment Classes are included in our seasonal festivals and performances. Our goal is to create a supportive community that allows all families to feel that they have a place in our community regardless of the number of days they attend.
Strategies for Learning

Oakland

Strategies for Learning is not your ordinary tutor. SFL not only covers what a student learns but how a student learns best using evidenced-based teaching techniques. For over 20 years, SFL has helped put students on the path to meeting their goals and discovering the joys of learning! SFL provides one-on-one educational therapy and academic coaching to strengthen student engagement and metacognition in the learning process from kindergarten to college With a focus on the individualized process of learning, we partner with students to facilitate understanding in literacy, written expression, math, advanced courses and test prep for all ages.
Reading Reach

Oceanside

Reading Reach offers reading and spelling lessons (all ages) using the Orton-Gillingham approach, and small-group learning pods (TK-3rd) in Oceanside, CA.
Ventura Wild wilderness discovery programs

Ojai

Ventura Wild brings children and families into local wild places as a way to rekindle a deep sense of belonging and connection to the natural world. We strive to provide space and time for each child's unique gifts and interests to blossom through shared adventure, skill development and play. Through nature connection children and families deepen their relationship to self, each other and the planet. Balance tech, school and sports with time to experience the world on a child's terms: organic and creative play, discovery and exploration, self-reliance, confidence building and a sense of wonder. We are born and built to learn from nature, and to be connected to our natural world. Children are happier, smarter and healthier when they spend time in nature.
OCHomeschooling.com

Orange County

Online resource for homeschoolers in Orange County, CA, Charter schools, classes, field trips, and events listed.
FullPotential Teens

Orange County

FullPotential Teens provides success coaching for teens ages 13-19. Each teen participates in a 10 week customized coaching program that includes, but is not limited to the following: - A complimentary consultation with parents and their teen - A science-based assessment of each teens thinking and behavioral preferences so they will better understand themselves and how they learn, so they can be successful in school and life - An ISP (Individualized Success Plan) - Weekly 60 minute private coaching session - Weekly phone calls with parents - Career exploration field trips
Build-A-Project

Orange County and Surrounding Cities

Build-A-Project creates customized projects for homeschool families on any topic, grade, and subject! Build-A-Project focuses on the individual child and how he/she learns best.
WYLD Education

Orange County, San Diego County

WYLD Education Teen Leadership and Field Learning Program is an excellent opportunity to add outdoor education and leadership skills to your homeschool curriculum. Monthly meetings with mentors who work with students to plan monthly campouts, service events, and social gatherings. Open to students entering grades 6-12. Summertime adventure travel camp offerings are also available for students ages 8-18.
Suncoast Prep Academy

Orange, Los Angeles, Riverside

Suncoast Prep Academy is a homeschool charter school that values parents and protects your rights to educate your children. Students enrolling in Suncoast's non-classroom-based public charter school do not have to be fully vaccinated and parents help direct their student's education funds to create a personalized homeschool learning plan that fits their lifestyle and value system. Serving families who reside in Orange, Los Angeles, Riverside, San Bernardino, and San Diego Counties.
Groza Learning Center

Pacific Palisades

At Groza Learning Center we believe that every student is unique which means every child can learn but not on the same day or in the same way. For over 18 years our award-winning programs have provided educational experiences that have helped students discover a love for learning and inspires them to dream big. Our programs are available for students from Pre-K through college level, online, in-person, or in-center, 7days a week. Services include: tutoring in all subjects and across all levels, tutoring with management, test-prep (SAT, ACT, ISEE, PSAT, AP Test), college essay writing, academic management, executive functioning, reading/writing programs, and study skills. Groza can support CHEA families by assisting students who require additional academic help. We provide live, 1:1, interactive instruction with a credentialed teacher who can help bridge any learning gaps and move the student ahead. We can also support students who may be lacking academic management or executive functioning skills. .
Nova 42 Academy

Pasadena

This academy specializes in Speech and Debate classes. It has also now begun to offer year-round classes and summer camps for homeschoolers, including classes in History, English, Math, PE and Health. Specific classes include US History and World History, Politics and Government, Algebra, Geometry, PreCalc, English Lit and English Lang, and Health and Wellness and more. Nova 42 also offers afterschool classes in speech and debate for grades 1-12.
Exploring New Horizons at Pigeon Point Lighthouse

Pescadero

Exploring New Horizons at the Pigeon Point Lighthouse has been offering quality education in the outdoors for over 30 years for students K-8. Options include two, three and four-day overnight field experiences as well as full- and half-day field trips. Offer small group size and flexibility in curriculum and activities to suit your group's needs. Students are immersed in the natural and cultural history of the Coast; teaching locations include tidepools at Pigeon Point, Redwood forest, visiting the elephant seals of Ano Nuevo, and the wetland estuary of Pescadero Marsh.
Legacy Classical Academy

Placer County

This Christian classical academy has an engaging and beautiful program for Grammar students (K-6th) that builds on learning through depth, real stories, and interactive experiences. It is a unique experience that intentionally gives the students the opportunity ONE day a week to have school with their fellow students, while the homeschooling parent is with them. As one of the gifts of homeschooling is to keep the family together, this program is not a drop-off program for our young students. Instead, parents pitch in together to share their giftings and pour into all the students. For the older Logic and Rhetoric students (7th-12th), there is a whole list of classes that offered with excellent teachers. This program also requires engagement from the parents, but not teaching the actual classes. These students are brought to classes up to TWO days a week, so that the majority of their time learning and working on their academics is at home in the context of the family unit. Legacy wants to partner with parents in the context of community to encourage the students to go beyond what they think they can do not only academically, but also in their character and leadership.
The Good Shepherd Academy Homeschool

Pomona

In-person core classes for Homeschool students. These classes are offered in Pomona, CA on Friday's from 9AM-12. Visit the website for more details.
South Bay Faith Academy

Redondo Beach

South Bay Faith Academy is a welcoming community filled with active church-going Christian homeschool families. It is our desire to partner with families in their journey to grow their students into Godly adults committed to serve Jesus by providing academic and spiritual support. SBFA offers academy days, park days, field trips, parent education meetings, extracurricular activities, school events, record keeping, and other resources intended to encourage and assist our teachers and students.
Agile Bridge Club classes

Redondo Beach

The best game for one's memory. A study by Berkeley University of 3rd graders who learned bridge vs. those who did not, found that academic performance improved by 17% across the board for those who learned bridge. Classes run from 10am - noon every Monday. The first four classes will be free. Subsequent classes are $14. Ages are 9 - 99. Teacher has taught his 7 year old grand twins and two high school classes. Jeff has been teaching in person for 12 yrs.
Creative Brain Learning & Music Star

Riverside

Creative Brain Learning & Music Star have been providing quality after school programs, private music lessons, tutoring, and community education for more than 10 years in the state of CA. In light of the recent global health crisis, we embraced the need for online options to keep our nation's youth actively involved in and excited about learning. Because of "social distancing" many people are now turning to online solutions for educating their children. We have created our online learning center to provide resources for STEM and Music instruction, with live instruction, from the comfort and safety of your home
Heritage Education Progams

Riverside and the Inland Empite

Heritage Education Programs conducts field trips at the Center for Near Eastern Archaeology at La Sierra University, in Riverside. Students learn how archaeologist learn about past and get to excavate in a simulated archaeological site. The field trip is three to four hours long and uses History Science, Math and Language Arts. Fee is $200 to $275 for up 34 students. Another program is living history program at the Historic San Timotao Canyon one room schoolhouse. The Schoolhouse is a unit of Riverside County Parks System. The fee for the three hour program is $200
Wholistic Learning Resources

Sacramento

WLR supports homeschooling families by offering a variety of wholistically-based classes, inspired by significant contributors to the field of education including Rudolf Steiner (Waldorf), Charlotte Mason (Living Books), and others.
Mad Science of Sacramento Valley

Sacramento

Homeschool families are invited to participate in science enrichment programs held at the "lab" in Sacramento and cooperating public schools. Accepting homeschool vouchers, purchase orders and direct payments. Programs are offered at homeschool locations throughout the greater Sacramento area, including Horizons, Visions, Inspire, Sutter Peak and South Sutter. Join through one of the existing programs or call to arrange custom programming for your local homeschool group. Also offering a weekly homeschool class series on Wednesdays at the lab!
Federal Courthouse - Sacramento Home School Days

Sacramento

The Justice Kennedy Library and Learning Center located in the Robert T. Matsui US Courthouse in Sacramento offers home schooling days with a guided court tour, court observation, career speakers; judicial Q and A and law enforcement discussions. Programs are typically 9-1:00 and held several times throughout the year. Always no-cost. Also learn about the civics essay/video contest and art contest for high school students. Please contact Dr. Kari Kelso kkelso@ce9.uscourts.gov for current schedule.
Choices Charter School

Sacramento, Folsom, Citrus Heights, Fair Oaks, Loomis, Granite Bay

Choices Charter School is a Personalized Learning Public Charter School. This is a tuition-free public school option for families who seek a partnership with school in the educational process. Offering three different types of programs: Blended classroom, One on One, and Virtual Learning. Families who choose the Blended classroom programs are provided a campus setting for classes, electives and additional support, and a positive and safe environment.
On The GO Academy

Sacramento/Roseville

On The GO Academy is a homeschool enrichment and sports program located in Roseville and Sacramento California. The program offers active-learning in several subjects important to creativity and teamwork such as Music, P.E., Choir, Drama, STEM, Reading, Writing and Art. The 1st-8th grade classes are available two days per week in Roseville, and the high school program on a one day per week schedule in Sacramento. There is also a TK/K program provided two days a week at both locations. Semesters are 12 weeks.
A Love of Learning

San Carlos

A full service tutoring agency with courteous, supportive, and professional staff who look forward to bringing out excellence in your child. Will work with your child according to his/her unique needs. Takes pride in skill development, improved academic performance, and instilling a love of learning in every student.
Gizmos and Gadgets Kids Lab

San Diego

Gizmos & Gadgets uses a cross-disciplinary and a hands-on approach to complete the STEAM formula, creating an innovative atmosphere and a well-rounded educational experience. Offering classes specifically for homeschool students and work with several San Diego Charter School.
Compass Charter Schools

San Diego

Compass Charter Schools is a tuition-free public charter school that offers a homeschool option for scholars and their learning coaches. CCS's Options program is a virtual home study program for grades TK-12. The Options program is for families who are seeking a home-based educational environment, with the flexibility of selecting from a large variety of curricular options. The Options learning coach (parent) must desire active involvement in their child's education on a daily basis and be fully committed to being the scholar's primary instructor.
Online Scribblers Writing Class

San Diego

Online Scribblers features a secure and private online classroom where lessons are posted weekly with assignments due the following week. This allows students to work around their own busy schedules and to progress at their own rate. No more sitting in front of teacher videos or struggling to keep up with a fast paced class. Each week, the instructor personally comments, critiques, and works with students one on one to develop individual writing goals and processes based on the work submitted. Success will be based on individual improvement rather than competing with the work of other students in the class. For Students grades 3 through 12.
World Passion Project

San Diego

This Home School Enrichment Resource Outpost is located in the heart of East Village in Downtown San Diego. Music, Art, Drumming, Notation, Math, Philosophy, Storytelling, Crafts, Guitar, Piano, Yoga, Self Defense, Solutions Think Tank, Ballet Basics, African Dance, Brazilian Samba, Portuguese Language, Spanish Language, Performance Technique, Journaling, Self Publishing and more all housed under one roof! Craft your own enrichment classes and put together your own group of 5-7 students! Ongoing Workshops, Lectures, Book Clubs, House Concerts, Fundraisers!
Waldorf Extra Lesson San Diego

San Diego

Waldorf Certified Extra Lesson ~ Holistic Remedial Education and Sensory Integration through movement, drawing, and painting exercises. Individual Assessments and Extra Lessons available that serve to integrate the foundational senses and early reflex patterns that support all higher conceptual learning in children.
Mathnasium of Mira Mesa/Scripps Ranch

San Diego

Mathnasium of Mira Mesa/Scripps Ranch, is the neighborhood math-only learning center serving Mira Mesa and Scripps Ranch communities in San Diego. We help kids in grades K-12 with math tutoring, homework help, SAT/ACT Prep. We create a custom learning program for each student to help them understand math by teaching the way that makes sense to them. Mathnasium focus is solely on math and operates on the core belief that virtually any child can excel in the subject. Mathnasium students receive the support they need for school homework and tests while building their math foundations. As educators, we strive to offer students a balanced math learning experience: one that fills in the gaps, keeps students on track with math taught in school, and, most importantly, makes learning math a fun and joyful experience.
I.A. Home Learning Community

San Diego

IA also offers a special 2 day program on Tuesdays and Thursdays for home learners in K – 8th grades who want to participate in project-based learning with a supportive home learning community. Our 2-Day students have their own multi-age classrooms on site with a unique schedule specifically designed to meet their needs. Though placement is flexible, we have a K-1 class, a 2nd-4th grade class and a 5th -8th grade class.
Sylvan Learning of Del Mar

San Diego

Sylvan Learning is starting a program called Home School Support. After being approached by several members of our San Diego homeschooling communities, we are opening our door from 10-2 during the school year to serve our homeschooled kiddos. These hours will have special pricing and the services can be tailored to fit the specific curiculium set forth by the parents, not the school districts! Please reach out via phone or text at (858) 413-9090
Wild Child San Diego Nature School

San Diego

Wild Child is a program designed to foster friendships, social emotional growth, and inspire children to fall in love with nature. Activities offered at this drop off program include music class, Spanish stories & songs, hiking, native wildlife identification, swimming, paddle boarding, art, science experiments, yoga, and individualized academic tutoring. Class runs weekly Monday-Thursday from 8:30-3pm at a different park within central San Diego each day. Bus transportation is available to the different locations. The class size is 10-15 children with 3-4 teachers present. To be considered for the program, students must be at least 3.5 years old, potty trained, and able to stay with the group in an open nature setting. Wild Child is an outdoor nature camp. We are classified as a day camp because we do not have a physical building. We teach preschool and kindergarten for ages 4-6 in our day camp. We offer a homeschool extension for grades 1-6. We are here all year round, rain or shine!
Oasis Camel Dairy

San Diego County

Located 45 minutes from downtown San Diego, the Oasis Camel Dairy is America's first camel milking farm. Featured on Discovery Channel's Dirty Jobs with Mike Rowe, our camels, farm animals and exotic birds make great teachers. Field trips for educational groups offered at a discounted rate.
JCS Learning Center Classes

San Diego, Temecula, Murrieta, Encinitas, Orange County

Julian Charter School Learning Center Classes are offered in San Diego and Temecula/Murrieta areas. On-line (virtual classes) are also available to all JCS students. JCS is a WASC accredited K-12 public school offering site based and homestudy programs to over 2700 students.
Starfire Education

San Francisco Bay area

Starfire students are the innovators, educators, leaders, and learners of the 21st century! Starfire offers a STEAM class for every K-8 homeschool learner including STEAM enrichment classes (Math, Coding, Engineering, Design Thinking, Computational Thinking, and the Arts), Fun with STEAM labs, MathTastic Help sessions and tutoring. With Starfire's STEAM enrichment courses, students unlock new skills, make friends, and spark a lifelong love of problem solving and STEAM learning. Starfire's custom homeschool offerings bring the best STEAM enrichment experience to homeschool groups with passionate teachers, micro class sizes, individualized curriculum and a flexible schedule to fit the needs of each group.
Abacus Education

San Gabriel Valley

Homeschooling reference, classes and resources which provide homeschooling children with access to a more diverse group of highly qualified intellectual role models than is possible in either traditional school or purely homeschool environments. Emphasis is upon high academic standards. All of the major core subjects are covered, including English through college entrance level, math through calculus, music theory, art, and science including chemistry and physics.
Mater Ecclesiae Academy

San Jose

A full academic program offered once per week for homeschool families according to a Classical Catholic Educational approach. Students meet throughout the school day once per week to attend small classes divided per grade level(s) throughout K-6. Teachers service to homeschool families includes provision of daily lesson plans aligned to what is taught at M.E.A., which lesson plans parents may implement in the homeschooling of their children at home on the remaining days of the week. They offer L.A., Math, Social studies, Science, Music, Latin and Art.
Fit Learning Aptos and San Jose

San Jose

Fit Learning is not a one-size, fits all tutoring center in Aptos. We help our learners build fluency in core academic skills by combining learning science, precision teaching, and curriculum-based assessment. The result is learners who are confident, possess the ability to expertly perform in any classroom environment, and who acquire a newfound capacity for learning. An expert conducts a comprehensive skills assessment to identify your learner's fluency in a range of core skills we've identified as drivers of academic success. Then, we develop a curriculum and approach, so every learner builds the true mastery of skills for life-long learning. It doesn't matter if your learner is gifted and talented, struggling, average, or learning disabled; our approach is scientifically proven to meet your child's needs. This isn't just a tutoring center for homework help. A Fit Learning session is a fast-paced, goal-oriented, high energy instructional interaction with a Fit Coach, who is extensively trained and certified in the principles of learning science. The experience fundamentally transforms a child's academic aptitude and overall cognitive abilities. We consistently produce 1-2 grade levels of improvement in 40 hours – something standard tutoring in reading, math, writing, logic, and language simply cannot achieve.
HEART Academy Co-op & Classes

San Jose Bay Area

HEART Academy Co-op & Classes provide 2 types of classes. First, the university-style class where students attend one or twice a week, one teacher. Second, the co-op style where there is a group leader and parents teach the children once or twice a week. We offer 2 services at HEART Academy. Co-op Classes once a week on Friday – We are a cooperative of families offering core and enrichment courses for grades 3-12 including special needs children. These classes cater to all learning styles of students and provide extra challenges for accelerated students through honor courses. We also have Extracurricular Classes – Dances and Drama productions are open to everyone, not just HEART Families. HEART Academy services Christian families and private homeschoolers who are advocated (not just a membership) by Home School Legal Defense Association. To register, go this link: https://heartacademysj.com/front-page-feature/register-classes/.
San Luis Obispo Classical Academy

San Luis Obispo

San Luis Obispo Classical Academy is an exciting and unique school serving students from Kindergarten through 10th grade with combined classroom instruction by credentialed or classically trained teachers and home school instruction by parents! Although there are many excellent public and private schools here on the Central Coast of California, many parents desire to be more involved in their children's education, spawning a renewed interest in educational alternatives. SLO Classical Academy emerged from a desire to offer a classical approach to education that combines the best of classroom instruction and home school parental involvement
Monarch Hills Education

San Luis Obispo

Monarch Hills Education is an enrichment program with two options for homeschoolers. Our four-day-a-week program holds formal academic space, and our one-day-a-week program is spent hiking local trails and exploring beaches along the coast. Both are led by certified Waldorf educators and an educator assistant.
CedarSong Homeschooling Nature Program

San Luis Obispo County

CedarSong Homeschooling Nature Program will concentrate on nature studies and exploration, natural sciences, science experiments, arts & crafts, nature journaling, social studies, and animal care. For ages 5 - 9 years. Classes offered Tues/Wed/Thurs 1:00-4:00. For more information email karen@amesbunch.com
Celebration Education

Santa Ana

Fun thematic classes with all school subjects integrated into hands-on learning experiences. Students may also participate in field trips, enrichment classes, and online Minecraft classes that relate to the theme.
Collaborative Tutoring/Homeschooling

Sherman Oaks

Josh has extensive experience tutoring and teaching at many private schools and homeschooling organizations online and in the Los Angeles area for the past 15 years, including Bridges Academy, Learn Beyond the Book, Campbell Hall, Windward School, New Roads, De Toledo, Urban Homeschoolers and Westmark. He has also tutored students who attended Pierce College, CSUN, Harvard Westlake, Brentwood, Notre Dame, Oakwood and Crespi. He has taught literature, creative writing, life skills, drama, film, and Shakespeare classes to students of all ages. He also specializes in helping students who have learning disabilities and behavior challenges, such as Dyslexia, Autism, ADD, and Aspergers syndrome. Josh incorporates life coaching skills into his process of working with students, in order to assist with organization, scheduling, executive functioning, time management, social skill improvement, and motivation. Additionally, he works with students on college essay writing. He has a B.A. from Sarah Lawrence College in writing and also studied at The London Academy of Music and Dramatic Art and at Oxford University.
Huckleberry Learning

Simi Valley

Helping families succeed in their homeschooling journey. Providing classes, tutoring, clubs, events & a nurturing community for adults and students alike since 2007.
Calvary Chapel Homeschool Enrichment

Sonora/Tuolumne

Our mission is to enrich homeschool families by presenting educational activities while sharing God's Love. One of our motivations is to bridge the gap on activities that homeschool children miss out on such as picture, holiday celebrations, and field trips. In addition, we currently offer classes every other Friday at Calvary Chapel Sonora and off week Fridays we meet for social enrichment. Classes and social events usually start at 12:30pm.
Formulation Chemistry with Natural Ingredients

Southern Orange County

This resource is designed to teach students chemistry through skin care formulation with various natural and sustainable ingredients used in skin care products. The class includes hands-on activities such as making their own natural skin care products like soaps, face masks, scrubs, and lotions. Students will have the opportunity to learn new chemistry skills, and develop a deeper appreciation for sustainability and natural ingredients from an organic chemist.
Natalie the Homeschool Teacher K-5

Tarzana

Natalie graduated from CSUN with a teaching or (liberal studies) degree and has 10 years of experience. Offering academic tutoring, one-on-one instruction and a Co-op group classes in all academic subjects k-5. Specializing in individual tutoring in reading, writing and math. Offering a secondary concentration in science. Available weekends to support your child's educational needs.
Ni Hao Chinese Language

Torrance

Located in Los Angeles, California, Ni Hao Chinese was founded with less than 20 students in the fall of 2012. Ni Hao has flourished to an organization with over 2000 students and more than 70 passionate teaching professionals. We have one mission: Providing the best language education for the next generation. At Ni Hao, we believe that it is the incorporation of all aspects of the SMART model that will provide for optimum language acquisition. Our program combines materials, instructors, teaching methods, and a classroom environment to maximize effectiveness. In addition, we actively engage with parents and guardians to provide Chinese materials for additional reinforcement at home.
Firm Foundation Christian Academy

Upland

Firm Foundation Christian Academy has been serving homeschool families since 1985. Their purpose is to provide families with a strong sense of community in which you and your children will be able to flourish and thrive. Along with record keeping and optional testing, yjey offer opportunities for educational advancement, social interaction, spiritual growth, and creative expression.
Homegrown Adventures

Walnut Creek

If your thinking about homeschooling or your homeschooling and you want to know how you can plan and put together a unit study so that you can teach all of your children at once then this class is for you. I'll explain what a unit study is, why unit studies are amazing, and show you how you can plan your very own unit studies. Please pick a topic your child wants to learn and bring in some library books about that topic. Before you leave the class you will have planned your first unit study. Class cost: $50 Time 10 am
The Home EC Center

Westchester

The Home EC Center is a 501(c)3 non-profit organization providing an artistic and creative space for the community. Our mission is to reconnect the youth with lost art and bring home economics back into our lives to help better our future. Not only does home economics prepares our society in basic skills, but it also builds responsibility. ​ We believe that everyone has a prolific mindset within. Sometimes that creative bone is enlightened by culinary art, painting sunsets, writing poetry, or fixing cars. Our goal is that no matter what sparks your light, we hope our space and instructors can magnify and strengthen your skills. We offer numerous classes: culinary classes, CPR certifications with Red Cross Instructors, Safe-Sitter (BabySitting Courses), Etiquette and Mannerism Lessons, Career Development Programs, Sewing and Textiles, Budgeting and Economics, Art and Creative Writing Classes, and more! Please click our class catalog to see what's happening this month!
Computerwisekids

Woodland Hills

Offering exceptional curriculum and programs combined with skilled instructors allow Computerwisekids to deliver S.T.E.M. education to students. Classes include: coding for beginners thru advance levels in many languages (e.g.Python etc. ), game design, app design (iOS & Android), typing, 3D Printing, robotics and minecraft programming.