Jump to: Homeschool Co-ops | Homeschooling Classes & Academic Enrichment
Looking for someone to teach physics to your teen? Need a way to avoid teaching algebra? Want to enroll your Kindergartener in a co-op for social time? Homeschool classes and co-ops are a great way to spend time with other homeschoolers and skill-share with other homeschool parents.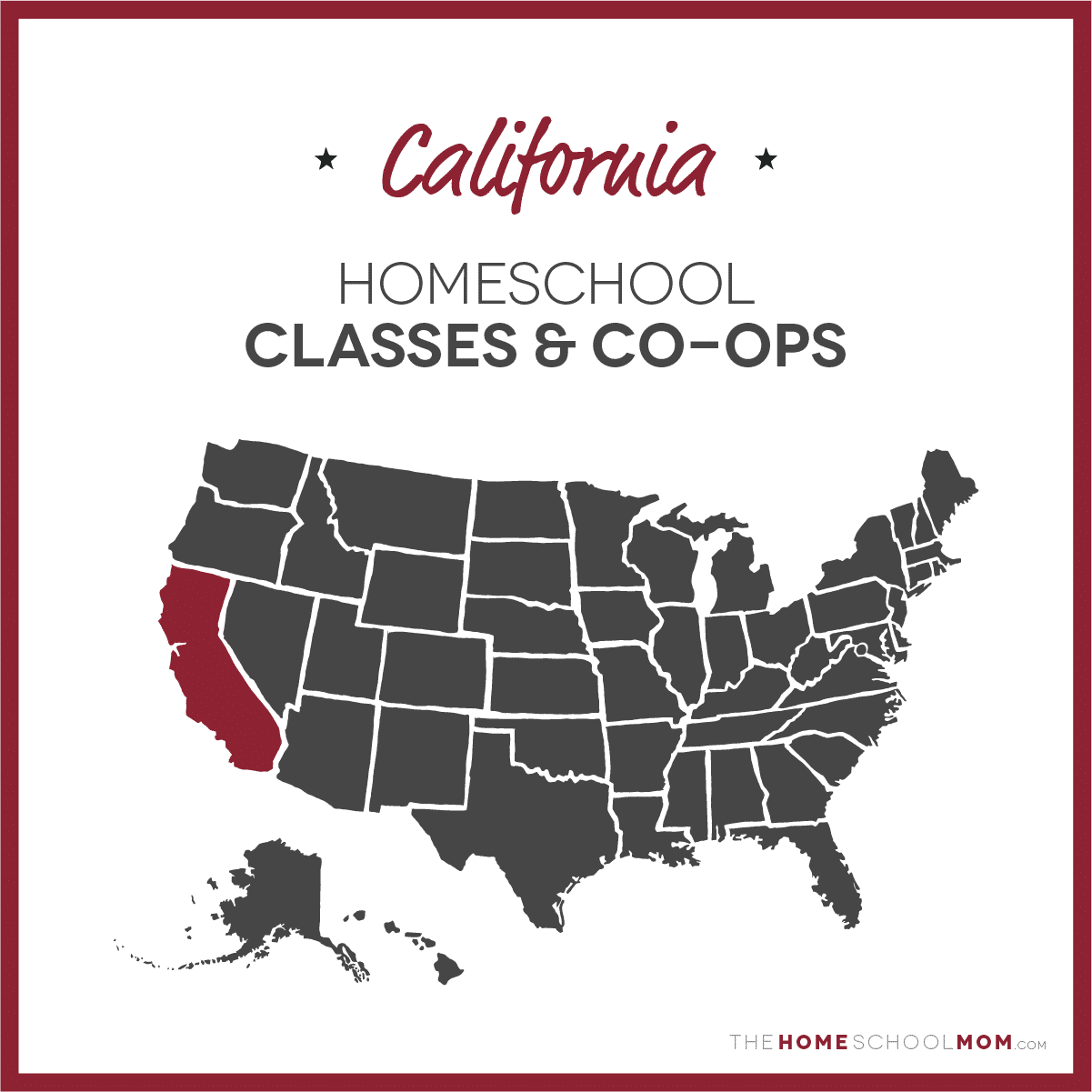 Submit a Local Resource
Our listing of California co-ops and academic classes for homeschoolers is ordered alphabetically by city, with co-ops in the first section and all other academic resources below. If you would like to submit a California co-op or academic resource, you may do so using the red button above.
California Homeschooling Co-ops
Christian Academic Support AssociationCamarillo
CASA stands for Christian Academic Support Association. Supporting Ventura County home school families, Pre-K, Elem., and High School as they create God-honoring and dynamic educational experiences...
CFS EscondidoEscondido
CFS Escondido is a parent-led homeschool support group. Some of the events and activities we offer include: Educational Co-op, Field Trips, Park Days, Used Curriculum Sales and Exchanges, Local The...
South Orange County Christian hOmeschoolers (SOCCO)Fresno
SOCCO is a support group for Christian families located in South Orange County, California who are educating their children at home with a Biblical worldview independent of public programs. Enrichm...
Synergy Homeschool CooperativeFresno
We are a cooperative group of parents and students in the greater Fresno area who hope to enrich and learn from each other, and share in the strengths and diversity of the home school community.
Grace Homeschool Co-op - CaliforniaModesto and Surrounding Areas
Grace Homeschool Co-op is here to encourage homeschool families with Christian fellowship, provide support for moms, and have some fun learning along the way! First and foremost Grace Homeschool Co...
Wings and Rotors AcademyMurrieta/Riverside
Wings and Rotors Academy offers monthly STEM aviation classes for students ages TK-Highschool. Multiple monthly classes allow homeschool families to engage students in a hands on airport environmen...
Jesus LifeRancho Santa Margarita CA
A place to be educated and equipped to imitate Christ through extensive Doctrinal and Theological training coupled with radical Holy Spirit encounters.
Christian Family Schools of Mira MesaSan Diego
Christian Family Schools Mira Mesa is a nonprofit organization. We serve the private Christian homeschool families of San Diego and surrounding areas. Our members subscribe to our Statement of Fait...
The Homeschool GatheringSan Diego, CA
We are a hybrid Christian homeschooling community seeking to follow Jesus by being Good Neighbors. We seek to bring together like-minded families who are interested in gathering together to support...
Heritage Homeschoolers of Solano CountySolano County
​​Heritage Homeschoolers of Solano County is a parent managed Christian homeschool co-op for students grades Pre-k through 12. Heritage offers academic and enrichment classes for homeschool student...
Desert Valley Creative Learning CollaborativeWe serve the Coachella Valley (Indio, La Quinta, Palm Desert, Palm Springs, Cathedral City, Rancho Mirage, Desert Hot Springs), as well as surrounding areas.
Desert Valley Creative Learning Collaborative is an education support group for homeschoolers that was founded in 2011. While many of the members share a love for God and Christian faith, everyone ...
California Homeschooling Classes & Academic Enrichment
Baywood Learning CentersAlameda County and Bay Area
Baywood Learning Centers (BLC) has been helping parents create high quality home-learning programs for over a decade. This program began as an alternative school for gifted learners, but now includ...[Read more...]
TLP EducationAliso Viejo
TLP Education is an instructional and tutoring company dedicated to preparing students for 21st-century education and today's competitive economy. We offer language classes, private and group tutor...[Read more...]
Dr. Deanna Westedt Academic CoachAlta Loma
Not just tutoring... this resource provides literacy assessments and academic coaching! With 21 years of experience in education and a doctorate in curriculum and instruction, Dr. Deanna Westedt ca...[Read more...]
Integrity Christian School PSPAnaheim, Brea, Buena Park, Corona, Fullerton, Garden Grove, Orange, Placentia, Tustin, Villa Park, Yorba Linda, Fullerton
Integrity Christian School-PSP is a hybrid Christian homeschool community that offers classes 2 days a week and 3 days at home for TK-12th grade in English, Maths, History, Science, STEM, Speech, A...[Read more...]
Adelphia Classical Christian AcademyAnaheim, Orange, Garden Grove
Adelphia is a hybrid school offering full time Christian school experience combined with homeschooling. Students meet on campus 3 days a week for full time instruction. The other two days the learn...[Read more...]
Language Arts Tutor Sharon JantzenArroyo Grande
Personal and private language arts tutoring for any student. Reading/Writing tutoring is available for K-6 students. Personal tutoring for composition, essay, report and speech writing is provided ...[Read more...]
Placer Nature Center - Homeschool ProgramsAuburn
For homeschoolers, science can be one of the hardest subjects to fulfill and keep up in. Placer Nature Center offers fun, outdoor, hands-on classes to fulfill curricula needs. Students, of all ages...[Read more...]
Engineering For Kids of South KernBakersfield, Rosedale, Lamont
Engineering for Kids is a fun and exciting hands-on learning experience for children ages 4 to 14 years old. Program teaches engineering concepts that focus on Science, Technology, Engineering and ...[Read more...]
Skyland RanchBanning
Skyland Ranch, in the San Jacinto Mountains of Southern California offers K-12 day and overnight science and leadership programs. Managers will work with your group leader to customize an engaging ...[Read more...]
Summit AdventureBass Lake
Summit Adventure is a leader in faith-based adventure experiences, using service, mountaineering, climbing, rappelling, and extended time in nature to help thousands of people build relationships, ...[Read more...]
Sparkiverse LabsBay Area
Kids learn best when they are intellectually challenged while having fun. Sparkiverse Labs strives to ignite the SPARK -- the inherent excitement and curiosity -- in all kids. By mixing learning wi...[Read more...]
Challenge Island - Santa Cruz & San JoseBay Area
Challenge Island is a cross-curricular, project-based, STEAM/STEM Enrichment program and that help prepare kids to succeed in the 21st century. This program provide collaborative learning experienc...[Read more...]
Brick TechBay Area, San Jose, Peninsula
Join Brick Tech for one of their favorite offerings in Brick Techniques: STEM Basics. All students will be provided with individual LEGO® kits to build one of hundreds of guided projects. STEM conc...[Read more...]
The Joy of ReadingBerkeley
The Joy of Reading offers personalized reading instruction to help students become confident readers, writers, and spellers. Research has shown that students with Dyslexia and many others who strug...[Read more...]
Phoebe A. Hearst Museum of AnthropologyBerkley
The Hearst Museum offers field-trip programs for 5th and 6th graders with a focus on Ancient Egypt. This day-long, hands-on field trip includes a behind-the-scenes visit to the Hearst's vast collec...[Read more...]
California Classical ConversationsCalifornia Statewide
CC is a national homeschooling program that uses a Bible based curriculum taught in a christian, classical tradition. Classes are geared for age 4 through high school.[Read more...]
Talega Preparatory AcademyCalifornia Statewide
A California Private School offering satellite programs to support homeschooling families. Mission is to offer an alternative to public and charter school ISPs by providing your family the educatio...[Read more...]
Cedar Life AcademyCalifornia Statewide
Cedar Life Academy is a nonsectarian Private School Satellite Program (PSP) that provides California families who wish to home-educate their children with paperwork assistance and homeschool mentor...[Read more...]
CADET PROGRAM'S - California Wing, Civil Air Patrol (U.S. Air Force Auxiliary)California Statewide
The CAP Cadet Program is a program where Cadets fly, learn to lead, hike, camp, get in shape, and push themselves to new limits. The goal is to provide consistent opportunities for Cadets to achiev...[Read more...]
Math with Mrs. Fish 6California Statewide
Math with Mrs. Fish is an exciting new online option for middle school math instruction. Laura Fischer is a California credentialed math teacher with 30 years of teaching experience. She uses her o...[Read more...]
Helping Hands for HomeschoolersCastro Valley, Dublin,Hayward, Pleasanton, San Leandro, San Ramon
Helping Hands for Homeschoolers is an English language arts teaching and tutoring service for sixth through twelfth graders. Those who can benefit are: homeschooled students who need a deeper analy...[Read more...]
Mathnasium of Chula VistaChula Vista
Mathnasium of Chula Vista, is the neighborhood math-only learning center serving Bonita and Chula Vista communities in Southern California. We help kids in grades K-12 with math tutoring, enrichmen...[Read more...]
Sierra View Christian AcademyClovis
Sierra View Christian Academy offers open enrollment at any time during the school year. We provide a variety of quality services to assist you in planning your child's education from Kindergarten ...[Read more...]
Rock-N-Water California Christian CampsColoma
Providing high quality Christian Camps in California to church youth groups, families, college groups, and individuals looking to further their relationship with our savior Jesus Christ through fun...[Read more...]
Joobilo Academic CommunityCypress, La Mirada, Long Beach
Joobilo Academic Community is a homeschool community in Southern California for TK through High School students. Joobilo offers core and elective classes in supportive environment at multiple locat...[Read more...]
West River AcademyDana Point
West River Academy is an international fully accredited independent private school in California. It is for families who desire the benefits of private school enrollment AND minimal oversight over ...[Read more...]
Method Home SchoolDehesa, Arcadia and Murrieta
Introducing Home School by Method: Full Service Home School That Works for So Cal Families. Weekly park days, field trips, and on-site STEM Robotics program. Method, a tuition-free public charter s...[Read more...]
Outside SchoolEast Bay
Outside School is in the East Bay and offers classes that are 100% outdoors. For those who have children kindergarten age or older and are looking for an alternative to current education options. T...[Read more...]
EM MathEast SF Bay Area
Math courses custom developed for homeschool groups around big ideas, interesting concepts or applications. These courses can be configured to serve as enrichment for advanced students, take the pl...[Read more...]
Write You Are! Creative Writing Classes for Youth ages 10 and upEl Cerrito
Pop-up creative writing sessions and regular classes for homeschoolers, ages 10 and up are held in El Cerrito throughout the year. There are classes for youth ages 10-12 and ages 13-18. Classes are...[Read more...]
Mi Casita Spanish ClassesEncinitas
Spanish classes for all ages and levels in group, semiprivate or one on one settings. Year round classes and camps. Programs designed for children including many different educational and fun activ...[Read more...]
Thrive Learning CenterEncinitas
Thrive Learning Center (TLC) is a non-profit education support program which exists to equip students with the skills, knowledge, and opportunities to help them discover and encourage their gifts. ...[Read more...]
Free Sample Coding Class for Kids - theCoderSchool EncinitasEncinitas
The Coding Classes are really small, mostly private or semi private, we build individualized projects centered around each student's passions. Students 7 years old and over work on different coding...[Read more...]
The Learning BoulevardEncino
The Learning Boulevard is an inclusive elementary school and learning center that offers classes, educational therapy, and tutoring to students of all abilities in Encino, California. We work with ...[Read more...]
Fremont Christian School Private Satellite ProgramFremont
Boys & Girls Clubs of FullertonFullerton
A resource for families in Fullerton. We have facility space, access to technology, tutors, and safe places to play for kids. Enrollment is low cost and offers access to many resources including tu...[Read more...]
Homeschool Days at Pretend City Children's MuseumIrvine
Learn through play while you visit Pretend City as a field trip for your homeschoolers! Have unlimited access to our 17 interactive exhibits that foster problem solving, critical thinking, creativi...[Read more...]
Armenta Learning AcademyLaguna Niguel
The mission at Armenta Learning Academy is to empower and encourage children to reach their full potential no matter what their learning needs are. Some children are gifted and need to be challenge...[Read more...]
Viva Learning CommunityLakewood
Viva is a learning center that supports families with their scholars' learning. The learning mentors at Viva work very closely with families to help achieve the goals that each family sets for thei...[Read more...]
The Art of Problem Solving AcademiesLocations in Pleasanton, Sunnyvale, and San Diego serving the surrounding areas
Art of Problem Solving textbooks have been used by outstanding students since 1993. The AoPS website launched in 2003, and its online community now has over 400,000 members. Many of the winners of ...[Read more...]
The Lab Learning SpaceLong Beach
The Lab Learning Space (The Lab) is a community of educators and students who have come together in Long Beach for the purpose of radically transforming the learning experience for students. All-da...[Read more...]
Empowered Minds CCLong Beach
Empowered Minds (with) Community Cooperation or EMC2 is where the Village supports the Scholar. Each week EMC2 hosts three days of project-based academic support sessions that are designed to enric...[Read more...]
Scholars CollectiveLong Beach
Scholars Collective offers site-based services in Long Beach. We offer enrichment classes daily, tutoring in all subjects, and homework help. All our staff are teachers or college students on a tea...[Read more...]
France Exchange School and ServicesLos Angeles
France Exchange School is dedicated to the learning of French language. They offer a variety of French classes, specialized workshops and immersion camps for and children and teenagers of all level...[Read more...]
The Knowing Garden Homeschool EnrichmentLos Angeles
TKG's mission to re-think education has deep roots in the un-school/homeschool movement. We remain accessible to families who share our values and support their personal and unique learning journey...[Read more...]
High School Spanish CoursesLos Angeles
Language Bird offers 1 to 1 high school Spanish courses online with a live, private, bilingual native speaking teacher. Courses are University of California (UC) approved (college prep) high school...[Read more...]
Homeschool Enrichment classesLos Angeles
Creative Learning place is a vendor for: Sky Mountain Charter School, Golden Valley Charter School, and Gorman Learning Center. Variety of classes offered throughout the year.[Read more...]
CA Science Center Classes at Creative Learning PlaceLos Angeles
A variety of classes for grades 1-8.[Read more...]
Next Level HomeschoolLos Angeles
Next Level Homeschool provides both live classes near downtown Los Angeles AND online flexi-schedule classes for student's who have extra busy schedules. Next Level is a secular school, striving to...[Read more...]
TeachPlayLearnLos Angeles
TeachPlayLearn is a boutique educational service company that is based in Los Angeles, CA. Offering custom educational services and unique consulting projects. TPL's service list includes tutoring ...[Read more...]
Camera Left / Stage RightLos Angeles
CAMERA LEFT / STAGE RIGHT is a collective of industry professionals offering acting and audition technique classes for all skill levels and across different media platforms. Classes are held at Sou...[Read more...]
Nature Reconnection Primitive Training Classes & Workshopslos angeles
Get wilderness survival training with our primitive skills courses and workshops. We offer outdoor survival classes around the globe and can't wait to adventure with you! With the integration of sc...[Read more...]
Alternative Choices in EducationLos Angeles
Alternative Choices in Education (ACE) is a secular learning center that welcomes all races, religions, orientations, and abilities. We are proud to offer a unique educational experience designed t...[Read more...]
Professor Egghead Science AcademyLos Angeles
Professor Egghead Science Academy provides accessible, understandable, and cool science lessons for elementary students. They provide options for classes, camps, parties, workshops and more where k...[Read more...]
Little Kitchen AcademyLos Angeles
Little Kitchen Academy is the first-of-its-kind Montessori-inspired cooking academy for kids ages three through teen. We are focused on providing a safe, inspiring, and empowering space for childre...[Read more...]
Franklin Educational ServicesLos Angeles & Orange County
Franklin Educational Services is a Tutor Referral Company offering Tutoring, Homeschooling help, Test Prep, and Educational Therapy services.[Read more...]
Biocitizen Los AngelesLos Angeles/ Griffith Park
Biocitizen was incorporated in 2009 to provide educational services within the field of environmental philosophy. Biocitizen teaches students about the place they live in, for when they know what t...[Read more...]
Ready Set ResourcesLos Angeles/Orange Counties
Beginning/Advanced Public Speaking and Debate Club[Read more...]
Terra Marin Schools - Homeschool Adjunct Programs & Outdoor Micro-SchoolMill Valley
Terra Schools is a progressive non-denominational private school in Mill Valley, California. They have three programs under their umbrella, a Mandarin immersion preschool & TK, a virtual and on...[Read more...]
C3 ClassesMission Viejo and surrounding area
C3 Classes offers a combination of academic and enrichment classes designed to help support homeschooling families in the South Orange County area. Classes are for K-12th students in the areas of w...[Read more...]
EIE AcademyMonrovia
EIE offers a wide variety of classes ranging from basic math to AP history as well as lab science for high school level courses. Classes are meant to supplement the homeschool courses. Ages 6 throu...[Read more...]
STEM SparksMonterey Bay Area
STEM Sparks offers enrichment classes focused on hands-on science, technology, engineering and math activities. Students design, build, explore, experiment, and collaborate with classmates to devel...[Read more...]
AeroGuard Learning CenterMurrieta
AeroGuard Flight Training Center offers a non-stop path to success as a commercial airline pilot that stands out from other flight schools. At AeroGuard, our goal is a simple one — to create the sa...[Read more...]
Wings and Rotors AcademyMurrieta/Riverside
Wings and Rotors Academy offers monthly STEM aviation classes for students ages TK-Highschool. Multiple monthly classes allow homeschool families to engage students in a hands on airport environmen...[Read more...]
Brightwood Education CenterMurrieta/San Diego/Corona
Brightwood Education Center, a Private Education Association (PEA) offers education based on "hands-on" learning with a Montessori foundation. Full-day programs held at Brightwood campus. Dedicated...[Read more...]
Kolbe AcademyNapa
Kolbe Academy is an orthodox Catholic, Ignatian, classically-based, day school and home school program for grades K-12, fully accredited by the National Association of Private Catholic and Independ...[Read more...]
Natomas Homeschool AllianceNatomas/Sacramento
An inclusive cooperative of homeschooling families partnering with local professionals and organizations to bring homeschooling opportunities to the Natomas area of Sacramento. Natomas Homeschool A...[Read more...]
Newport Landing Whale WatchingNewport Beach
Whale Watching is an enriching and educational experience! Offering discounted rates for home school groups! Nov through May is Gray Whale Season. May through October is Blue Whale Season. April th...[Read more...]
e3 ConsultingNorth County San Diego
e3 has faithfully served North County San Diego in Academic Services, including home school support, for the past 10 years. What sets them apart is the deeply rooted desire to see each child and fa...[Read more...]
Code Ninjas EncinitasNorth County San Diego
This resource is STEM center located in North County San Diego. At this center, kids learn to code while building their own video games. They gain problem solving, critical thinking, and STEM skill...[Read more...]
North County ClassicalNorth County San Diego
North County Classical is a Christian, classical, collaborative academy that combines a private classical Christian education with the best aspects of a homeschool lifestyle. Students attend full c...[Read more...]
The Swann School of ProtocolNorth County San Diego
During our week-long summer camp, your student will have the opportunity to learn all about the important aspects of etiquette and protocol. We will help them build their self-confidence, so that t...[Read more...]
The Swann School of Protocol Summer Day CampNorth County San Diego
During our week-long summer camp, your student will have the opportunity to learn all about the important aspects of etiquette and protocol. We will help them build their self-confidence, so that t...[Read more...]
Friends of Willow TreeNorth County San Diego/Southern Riverside
Friends of Willow Tree offers Waldorf -Inspired enrichment classes that are open to families with children in 1st - 8th Grade. We Welcome Homeschooling Families. We strive to keep the balance betwe...[Read more...]
Destination ImaginationNorth San Diego County, Encinitas, Carlsbad, Solana Beach, Oceanside, Vista, San Marcos, Escondido, Del Mar
Destination Imagination (DI) is a non-profit project based, kid driven program that teaches kids to be innovative problem solvers. Using STEAM (Science, technology, engineering art and math), teams...[Read more...]
The Pod SchoolNorthridge / Thousand Oaks
Affectionately termed the Pod School, this private homeschooling group offers a classic in-home education with the full-time instruction of an experienced teacher. The instruction is academically r...[Read more...]
Ventura Wild wilderness discovery programsOjai
Ventura Wild brings children and families into local wild places as a way to rekindle a deep sense of belonging and connection to the natural world. We strive to provide space and time for each chi...[Read more...]
OCHomeschooling.comOrange County
Online resource for homeschoolers in Orange County, CA, Charter schools, classes, field trips, and events listed.[Read more...]
Torrey Academy at Biola UniversityOrange County
Torrey Academy is a classical, discussion-oriented education program for homeschool high school students, serving as a division of the Torrey Honors Institute at Biola University. Students read, di...[Read more...]
FullPotential TeensOrange County
FullPotential Teens provides success coaching for teens ages 13-19. Each teen participates in a 10 week customized coaching program that includes, but is not limited to the following: - A complimen...[Read more...]
Build-A-ProjectOrange County and Surrounding Cities
Build-A-Project creates customized projects for homeschool families on any topic, grade, and subject! Build-A-Project focuses on the individual child and how he/she learns best.[Read more...]
WYLD EducationOrange County, San Diego County
WYLD Education Teen Leadership and Field Learning Program is an excellent opportunity to add outdoor education and leadership skills to your homeschool curriculum. Monthly meetings with mentors who...[Read more...]
Epic Charter SchoolOrange, Los Angeles, Riverside, San Bernardino, and San Diego Counties
An accredited, public, tuition-free PK-12th online/independent study program starting in September. Epic Charter School combines the convenience of online learning with the support of one-on-one in...[Read more...]
Groza Learning CenterPacific Palisades
At Groza Learning Center we believe that every student is unique which means every child can learn but not on the same day or in the same way. For over 18 years our award-winning programs have prov...[Read more...]
Starfire EducationPalo Alto, Menlo Park, Portola Valley, Atherton, Woodside, Los Altos, San Carlos, Redwood City, Burlingame, San Mateo, Hillsborough, South Bay, Mountain View, Sunnyvale, Cupertino, Santa Clara, San Jose, East Bay, Oakland, Berkeley, Albany, Kensington, Walnut Creek, Orinda, Lafayette
Starfire students are the innovators, educators, leaders, and learners of the 21st century! Starfire offers a STEAM class for every K-8 homeschool learner including STEAM enrichment classes (Math, ...[Read more...]
STEM WorldPasadena
STEM World is the ONLY all-in-one STEM-education and resource center in the U.S. with onsite, year-round STEM workshops, labs and summer camps. They offer a real laboratory and technology MakerSpac...[Read more...]
Nova 42 AcademyPasadena
This academy specializes in Speech and Debate classes. It has also now begun to offer year-round classes and summer camps for homeschoolers, including classes in History, English, Math, PE and Heal...[Read more...]
Exploring New Horizons at Pigeon Point LighthousePescadero
Exploring New Horizons at the Pigeon Point Lighthouse has been offering quality education in the outdoors for over 30 years for students K-8. Options include two, three and four-day overnight field...[Read more...]
Legacy Classical AcademyPlacer County
This Christian classical academy has an engaging and beautiful program for Grammar students (K-6th) that builds on learning through depth, real stories, and interactive experiences. It is a unique ...[Read more...]
The Good Shepherd Academy HomeschoolPomona
In-person core classes for Homeschool students. These classes are offered in Pomona, CA on Friday's from 9AM-12. Visit the website for more details.[Read more...]
SoCal Learning LinkRancho Palos Verdes
SoCal Learning Link is a supportive and accepting homeschool group for any and all home-educating families in the Greater Los Angeles Area. SCLL offers families an opportunity to educate their chil...[Read more...]
South Bay Faith AcademyRedondo Beach
South Bay Faith Academy is a welcoming community filled with active church-going Christian homeschool families. It is our desire to partner with families in their journey to grow their students int...[Read more...]
Archaeology AdventureRiverside
Archaeology Field Trips and Classroom Learning Adventures await, that use the adventure and mystique of archaeology to engage students. Lessons are cross curricular providing depth and complexity w...[Read more...]
Creative Brain Learning & Music StarRiverside
Creative Brain Learning & Music Star have been providing quality after school programs, private music lessons, tutoring, and community education for more than 10 years in the state of CA. In li...[Read more...]
Heritage Education ProgamsRiverside and the Inland Empite
Heritage Education Programs conducts field trips at the Center for Near Eastern Archaeology at La Sierra University, in Riverside. Students learn how archaeologist learn about past and get to excav...[Read more...]
Wholistic Learning ResourcesSacramento
WLR supports homeschooling families by offering a variety of wholistically-based classes, inspired by significant contributors to the field of education including Rudolf Steiner (Waldorf), Charlott...[Read more...]
Mad Science of Sacramento ValleySacramento
Homeschool families are invited to participate in science enrichment programs held at the "lab" in Sacramento and cooperating public schools. Accepting homeschool vouchers, purchase orders and dire...[Read more...]
Federal Courthouse - Sacramento Home School DaysSacramento
The Justice Kennedy Library and Learning Center located in the Robert T. Matsui US Courthouse in Sacramento offers home schooling days with a guided court tour, court observation, career speakers; ...[Read more...]
Regina Caeli Academy of Granite BaySacramento Area
Regina Caeli Academy (www.rcahybrid.org) provides a classical, hybrid education in the Catholic tradition. Pre K3- 12th grade students attend Socratic, hands-on classes taught by trained tutors two...[Read more...]
Choices Charter SchoolSacramento, Folsom, Citrus Heights, Fair Oaks, Loomis, Granite Bay
Choices Charter School is a Personalized Learning Public Charter School. This is a tuition-free public school option for families who seek a partnership with school in the educational process. Offe...[Read more...]
On The GO AcademySacramento/Roseville
On The GO Academy is a homeschool enrichment and sports program located in Roseville and Sacramento California. The program offers active-learning in several subjects important to creativity and te...[Read more...]
A Love of LearningSan Carlos
A full service tutoring agency with courteous, supportive, and professional staff who look forward to bringing out excellence in your child. Will work with your child according to his/her unique ne...[Read more...]
Reading ClassesSan Carlos
Come learn to read or enhance current reading skills while having fun. Morning classes for Reading, Writing, Math, and Comprehension/Fluency. Individual tutoring available.[Read more...]
Gizmos and Gadgets Kids LabSan Diego
Gizmos & Gadgets uses a cross-disciplinary and a hands-on approach to complete the STEAM formula, creating an innovative atmosphere and a well-rounded educational experience. Offering classes s...[Read more...]
Compass Charter SchoolsSan Diego
Compass Charter Schools is a tuition-free public charter school that offers a homeschool option for scholars and their learning coaches. CCS's Options program is a virtual home study program for gr...[Read more...]
Online Scribblers Writing ClassSan Diego
Online Scribblers features a secure and private online classroom where lessons are posted weekly with assignments due the following week. This allows students to work around their own busy schedule...[Read more...]
World Passion ProjectSan Diego
This Home School Enrichment Resource Outpost is located in the heart of East Village in Downtown San Diego. Music, Art, Drumming, Notation, Math, Philosophy, Storytelling, Crafts, Guitar, Piano, Yo...[Read more...]
Waldorf Extra Lesson San DiegoSan Diego
Waldorf Certified Extra Lesson ~ Holistic Remedial Education and Sensory Integration through movement, drawing, and painting exercises. Individual Assessments and Extra Lessons available that serve...[Read more...]
Mathnasium of Mira Mesa/Scripps RanchSan Diego
Mathnasium of Mira Mesa/Scripps Ranch, is the neighborhood math-only learning center serving Mira Mesa and Scripps Ranch communities in San Diego. We help kids in grades K-12 with math tutoring, ho...[Read more...]
I.A. Home Learning CommunitySan Diego
IA also offers a special 2 day program on Tuesdays and Thursdays for home learners in K – 8th grades who want to participate in project-based learning with a supportive home learning community. Our...[Read more...]
Regina Caeli Academy, ISPSan Diego and Statewide
Private ISP for Catholics and Catholic-friendly Christians. The only Catholic ISP which allows families to choose their own curriculum and teaching method. While based in San Diego, support is avai...[Read more...]
Oasis Camel DairySan Diego County
Located 45 minutes from downtown San Diego, the Oasis Camel Dairy is America's first camel milking farm. Featured on Discovery Channel's Dirty Jobs with Mike Rowe, our camels, farm animals and exot...[Read more...]
Vamos SpanishSan Diego North County
Spanish Home School programs built to inspire a life-long appreciation and curiosity for the Spanish language and the cultures of its speakers. We are native speakers who love teaching our language...[Read more...]
JCS Learning Center ClassesSan Diego, Temecula, Murrieta, Encinitas, Orange County
Julian Charter School Learning Center Classes are offered in San Diego and Temecula/Murrieta areas. On-line (virtual classes) are also available to all JCS students. JCS is a WASC accredited K-12 p...[Read more...]
The Magic Bus ExperienceSan Francisco
Hop aboard the Magic Bus that will transport you to 1960s San Francisco for a fun-filled historical city tour. Located at Union Square on Geary street in San Francisco, CA. Duration is 2 hours.[Read more...]
Marine Science Institute Afternoon Ecology ClassesSan Francisco Bay Area
Afternoon Ecology is an "afterschool" educational program designed to foster the natural curiosity of young minds. Students learn about local habitats around the San Francisco Bay while working in ...[Read more...]
Abacus EducationSan Gabriel Valley
Homeschooling reference, classes and resources which provide homeschooling children with access to a more diverse group of highly qualified intellectual role models than is possible in either tradi...[Read more...]
Mater Ecclesiae AcademySan Jose
A full academic program offered once per week for homeschool families according to a Classical Catholic Educational approach. Students meet throughout the school day once per week to attend small c...[Read more...]
San Luis Obispo Classical AcademySan Luis Obispo
San Luis Obispo Classical Academy is an exciting and unique school serving students from Kindergarten through 10th grade with combined classroom instruction by credentialed or classically trained t...[Read more...]
Ms. Christina's TutoringSan Ramon
Providing struggling readers and spellers with multisensory instruction using the Barton system. The Barton system was originally designed for students with Dyslexia, but a student does not need to...[Read more...]
Archaeology and History Field Trips & Classroom ProgramsSan Timotoe Canyon
Archaeology Field Trips and Classroom Learning Adventures await, that use the adventure and mystique of archaeology to engage students. Lessons are cross curricular providing depth and complexity w...[Read more...]
Celebration EducationSanta Ana
Fun thematic classes with all school subjects integrated into hands-on learning experiences. Students may also participate in field trips, enrichment classes, and online Minecraft classes that rela...[Read more...]
Huckleberry LearningSimi Valley
Helping families succeed in their homeschooling journey. Providing classes, tutoring, clubs, events & a nurturing community for adults and students alike since 2007.[Read more...]
Calvary Chapel Homeschool EnrichmentSonora/Tuolumne
Our mission is to enrich homeschool families by presenting educational activities while sharing God's Love. One of our motivations is to bridge the gap on activities that homeschool children miss o...[Read more...]
South Bay LA Learning CenterTorrance
SBLALC is a campus that rents classroom spaces to teachers who provide home school friendly classes and events.[Read more...]
Ni Hao Chinese LanguageTorrance
Located in Los Angeles, California, Ni Hao Chinese was founded with less than 20 students in the fall of 2012. Ni Hao has flourished to an organization with over 2000 students and more than 70 pass...[Read more...]
Banta School: An Agriculture Science SchoolTracy
Banta District is pleased to be able to offer a homeschooling option for parents who want to home school their children for the whole school year. This program will be operated under the new Banta ...[Read more...]
Firm Foundation Christian AcademyUpland
Firm Foundation Christian Academy has been serving homeschool families since 1985. Their purpose is to provide families with a strong sense of community in which you and your children will be able ...[Read more...]
Boy Scouts of America Tierra Rejada DistrictVentura County
Scouting in Ventura County continues to train up kids into responsible, thoughtful young adults who make a contribution to society. Activities like Pinewood Derby or slime lab experiments are fun a...[Read more...]
Homegrown AdventuresWalnut Creek
If your thinking about homeschooling or your homeschooling and you want to know how you can plan and put together a unit study so that you can teach all of your children at once then this class is ...[Read more...]
ComputerwisekidsWoodland Hills
Offering exceptional curriculum and programs combined with skilled instructors allow Computerwisekids to deliver S.T.E.M. education to students. Classes include: coding for beginners thru advance l...[Read more...]
Go to California...