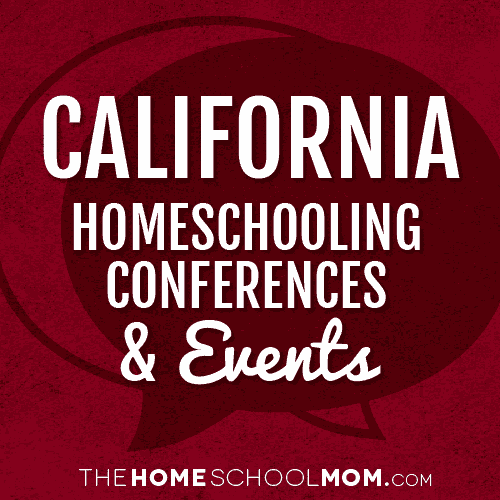 Homeschool conventions are a great place to find encouragement, motivation, and inspiration. Before heading out to the California homeschool conventions listed below, read about how to make the most of conventions.
Our listing of California conventions and other homeschool events is ordered by date with ongoing events listed first. If you would like to submit a California homeschool convention or event, you may do so using the red button above.
Outside SchoolEast Bay
Ongoing
Outside School is in the East Bay and offers classes that are 100% outdoors. For those who have children kindergarten age or older and are looking for an alternative to current education options. T...
Snoopy and Friends: Home School DaySonoma County
October 16, 2019
Wednesday, October 16, 2019 10:00 am–NoonFull STEAM Ahead Use the Schulz Museum's newest exhibitions as a jumping off point to explore art and science. Learn about Snoopy's role in the Apollo...
CHN's Family ExpoGarden Grove
May 7, 2020 - May 10, 2020
"Unleashing Your Family's Super Powers" Bringing together the community of California homeschoolers to learn from one another and provide a fun and educational conference for the entire family, fro...
CHEACon 2020Pasasdena
May 28, 2020 - May 30, 2020
CHEA holds an Annual Convention that provides workshops on a variety of homeschool and family topics, an Exhibit Hall, Used Curriculum Exchange, a Children's Convention, Teen Convention, and more. ...
California Homeschool ConventionOntario
June 18, 2020 - June 20, 2020
There is nothing quite like attending a (GHC) Great Homeschool Convention. So many awesome workshops to choose from; the speakers are simply the best; and shopping in the Exhibit Hall is an adventu...
Valley Home Educators Homeschool ConventionModesto
July 24, 2020 - July 25, 2020
Start making plans now to join hundreds of homeschoolers at the Valley Home Educators Homeschool Convention in Modesto, California – July 24 & 25, 2020 - at the Modesto Centre Plaza/DoubleTree Hote...
HSC Conference – Adventures in HomeschoolingSan Jose
August 6, 2020 - August 8, 2020
Featuring some of the best known speakers in the homeschooling and parenting community, HSC's annual conference is a place to explore, relax, learn and find time to meet with new friends. It's a pl...