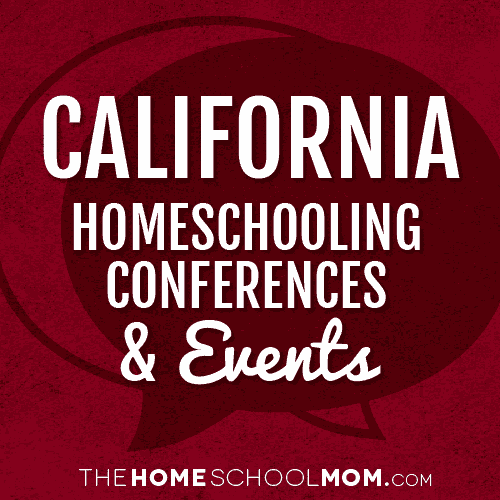 Our listing of California conventions and other homeschool events is ordered by date with ongoing events listed first. If you would like to submit a California homeschool convention or event, you may do so using the red button above.
Outside SchoolEast Bay
Ongoing
Outside School is in the East Bay and offers classes that are 100% outdoors. For those who have children kindergarten age or older and are looking for an alternative to current education options. T...
STEM Classes and CampsInland Empire
June 4, 2019 - August 30, 2019
SoCal STEM believes children learn best when they are having fun and are excited about school and learning. We build on students' natural curiosity using a wide range of S.T.E.A.M. curriculum. We o...
California Homeschool ConventionOntario
June 13, 2019 - June 15, 2019
There is nothing quite like attending a (GHC) Great Homeschool Convention. So many awesome workshops to choose from; the speakers are simply the best; and shopping in the Exhibit Hall is an adventu...
Catholic Homeschool Conference & Curriculum FairCosta Mesa
June 22, 2019
2019 Homeschool Conference & Curriculum Fair 8:00 AM - 4:00 PM on Sat., June 22, 2019 1015 Baker Street, Costa Mesa, CA, United States
Venice ArtsLos Angeles
July 1, 2019 - July 26, 2019
Summer Media Arts CampEach July Venice Arts offers an immersive, experience in photography, filmmaking, animation, and comics. Youths ages 10–13, attend every day from 9am-12pm; teens, 14–18, a...
CHEACon 2019Pasasdena
July 11, 2019 - July 13, 2019
CHEA holds an Annual Convention that provides workshops on a variety of homeschool and family topics, an Exhibit Hall, Used Curriculum Exchange, a Children's Convention, Teen Convention, and more. ...
Central Valley Homeschool ConventionFresno
July 11, 2019 - July 13, 2019
Central Valley Homeschool Conventions is a non-profit organization that brings together, educate and strengthen homeschooling families in the Central Valley. ​​CVHC helps connect Valley families wi...
Valley Home EducatorsModesto
July 26, 2019 - July 27, 2019
Valley Home Educators is a non-profit organization, coordinated by Christian homeschooling parents, that is in its 26th year of providing an annual convention for all homeschoolers in California's ...
HSC Conference – Adventures in HomeschoolingSan Jose
August 8, 2019 - August 11, 2019
Featuring some of the best known speakers in the homeschooling and parenting community, HSC's annual conference is a place to explore, relax, learn and find time to meet with new friends. It's a pl...