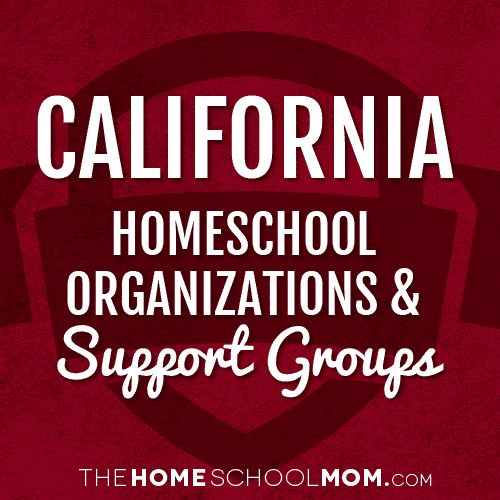 Since homeschooling is regulated at the state level, connecting with local homeschoolers is an important step to start homeschooling in California. State homeschool organizations and local homeschool groups are not just a good place to learn the specifics of legally homeschooling in California—they can also help you to get connected with the local homeschooling community. Many homeschool groups offer co-ops, classes, sports and arts opportunities, and social get-togethers.
Our listing of California state organizations and local homeschool groups is ordered alphabetically by city, with statewide organizations listed first. If you would like to submit a group, you may do so using the red button above.
Use the secondary navigation menu above to quickly make your way to pages for California state organizations, local homeschool groups, classes, co-ops, field trips, and more.
California Homeschool Organizations
California Homeschool NetworkCalifornia Statewide
California Homeschool Network is a statewide grassroots organization dedicated to protecting the fundamental right of parents to educate their children. Information about CHN, current state and fed...
HSCCalifornia Statewide
The HomeSchool Association of California welcomes anyone with an interest in homeschooling.
CHEAofCACalifornia Statewide
The Christian Home Educators Association of California is a non-profit ministry established in 1982 to provide information, support, and training to the home education community throughout the state.
California Local Homeschool Groups
Alameda Oakland Home LearnersAlameda and Oakland
An inclusive group that welcomes homeschoolers of all ages. Meets every Thursday at parks alternating between Alameda and Oakland, and sometimes San Leandro and Berkeley. Hosts large events for the...
Alameda Oakland Homelearners (AOHL)Alameda, Oakland, San Leandro, Berkeley
Alameda Oakland Homelearners is an inclusive group that welcomes homeschoolers of all ages. Group meet every Thursday at parks alternating between Alameda and Oakland, and sometimes San Leandro and...
Crown Homeschool CommunityAliso Viejo, Rancho Santa Margarita, Mission Viejo, Dana Point, San Juan Capistrano, etc.
Activities for homeschool students Pre-school through High school. Offering co-op classes, field trips, park days, High School and Jr. High school events, and both Mom and Dad's night out opportun...
Auburn homeschool support groupAuburn, foothills
A support group specifically meant for the Auburn Community. Meant to connect all of us homeschoolers and unschoolers in close proximity to build lasting relationships and have frequent, easy meetu...
Bakersfield HomeLearnersBakersfield
Homeschooling families! On Bakersfield HomeLearner, you'll find local info, occasional articles on homeschooling, legal news, hand-selected unit studies and topical links. The basic purpose is to p...
Considering HomeschoolingBuena Park
Considering Homeschooling is a national ministry that encourages Christian families to homeschool from a Biblical worldview and equips homeschool evangelists. Ministry focuses on outreaching to an...
California Homeschool Network Support GroupsCalifornia Statewide
Support groups are listed by county. Counties are listed in alphabetical order.
HomeSchool Association of California County and Special ContactsCalifornia Statewide
County and Special Contacts are experienced homeschoolers who volunteer as ambassadors for HSC, providing information to homeschoolers and helping them find resources. County Contacts refer new hom...
The Contra Costa County Meetup GroupCentral and East Contra Costa County
An active group of homeschooling families who meet every Tuesday morning at a variety of parks and locations throughout Central and East Contra Costa County. Serving Martinez, Pleasant Hill, Conco...
Desert Home Educators AssociationEdwards Air Force Base, Antelope Valley
DHEA support group at Edwards Air Force Base is the first of its kind! Families include active duty military service members, their dependents, retired military, reserve, and other Department of D...
Christian Home Educators of Fresno AreaFresno
CHEFA is a non-profit organization created for the purpose of providing information, training, and support to the Christian Home School Community of the greater Fresno area.
The Hemet Christian Homeschool GroupHemet/Riverside County
Hemet Christian Homeschool Moms is a Christ-centered home school support group ministering to encourage families in their journey of homeschooling. Hemet is a non-profit religious organization. Som...
TEACH at the California North CoastHumboldt County
Together Encouraging and Christian Home educating. An encouraging Christian group offering support and information to all families who desire to be passionately involved in the home education of th...
Inland Empire Catholic HomeschoolersInland Empire area
A Catholic Homeschooling Support Group in the Inland Empire area of California. Serves all of the Inland Empire (Riverside and San Bernardino Counties), and parts of Los Angeles and Orange County.
DragonTree Home LearnerLong Beach
A group of parents and children drawn together by our decision to not participate in public schooling. Founded as an unschooling support group, although all types of homeschoolers are welcome. Gro...
Family Centered Education of Los Angeles (FaCE-LA)Los Angeles
List serves as a supplement for the FaCE-LA newsletter. List is used for announcements, alerts and maybe an occasional joke.
South Bay Homeschool NetworkLos Angeles South Bay area
A support group for families who are homeschooling their children. Not a religious organization, and not a school. No membership dues or contracts you must sign to join. Goal is to create an envi...
Bay Shore School & EducationalLos Angeles, Orange, Riverside, San Bernardino, San Diego and Ventura counties
Southern California Homeschooling Support Groups
South Coast Christian Home EducatorsMission Viejo
We have regular park days, mom's nights out, hikes and field trips, to name a few. Further, our group offers mutually beneficial services such as school pictures, a yearbook, promotions ceremony, a...
Valley Home EducatorsModesto and surrounding areas
Serving Home Educators in California's Central Valley is the #1 goal!
Natomas Homeschool AllianceNatomas/Sacramento
An inclusive cooperative of homeschooling families partnering with local professionals and organizations to bring homeschooling opportunities to the Natomas area of Sacramento. Natomas Homeschool ...
Homeschooling in Orange CountyOrange County
Resources and information for families who homeschool in Orange County California.
Desert Christian Home Educators AssociationPalm Springs, Palm Desert, Low desert, eastern Riverside county
A Christ based local support group for private homeschooling families offering members a a weekly Co-Op, yearbook, graduation, field trips, etc. A PSP program is available for those wanting extra h...
Desert Christian Home Eductators AssociationPalm Springs, Palm Desert, Low Desert, eastern Riverside county area
A Christian based local support group for private homeschooling families offering a weekly CoOp, yearbook, graduation, field trips, etc. PSP program for help with recordkeeping.
Mid-Peninsula HomeschoolersPalo Alto
Mid-Peninsula Homeschoolers warmly welcomes families of diverse backgrounds, beliefs, and homeschooling philosophies who love their children and wish to provide them with the best possible educatio...
Sierra Lighthouse Christian Homeschool FellowshipPlacer County
Sierra Lighthouse Christian Homeschool Fellowship is a support group comprised of Christian homeschool families who want to share their lives with other Christian homeschool families that have simi...
Riverside Area Home LearnersRiverside
RAHL offers friendly, homeschooling support to all families, whether they are just beginning their homeschooling journey or have been traveling the road for years. Consider joining the lively park ...
Sacramento Christian Organization of Parent EducatorsSacramento
A nonprofit Christian organization. SCOPE's purpose is to provide information, support, encouragement and training to private, independent home educators. If you are a home educator not under the ...
Sacramento Homeschool Meetup GroupSacramento
A support group for Christian homeschooling mothers and their children. Meets for Field Trips, Crafts, Park Days, Skating, Bowling, and more!
Sacramento Area Homeschool Information & ChatSacramento Area
A place to network, learn and share. Group was created primarily as an online resource for local families.
Christian Family Schools of San DiegoSan Diego
CFS encourages communication among private home education leaders by hosting leadership meetings and training several times a year. CFS also organizes events and activities available to members and...
San Diego Home EducationSan Diego
A supportive group, where you can connect with other homeschooling families, find information on resources available in the area, brainstorm ideas and activities, ask questions, and find encouragem...
San Diego Homeschool Resource CenterSan Diego
Where homschooling voices come together! A non profit group of homeschoolers offering resources on Getting Started, Articles and Reviews, San Diego Activities & Events, Curriculum Guide, Teachers &...
Special Children – Special BlessingsSan Diego
Christian parents of children with developmental, physical and educational disabilities. Members are also part of of Christian Family Schools of San Diego. Nationally, members support NATHHAN. Meet...
San Francisco HomeschoolersSan Francisco
A loosely organized, inclusive group of homeschooling families.
San Gabriel Valley Homeschool Christian ConnectionSan Gabriel Valley
A networking Christian Homeschooling group located within the San Gabriel Valley of Southern California.
Excellence In EducationSan Gabriel Valley
Excellence In Education, established in 1991, provides a wide range of resources to homeschoolers in the San Gabriel Valley and surrounding area. Park days, field trips, seminars and classes are o...
East San Gabriel Valley HomeschoolersSan Gabriel Valley
East San Gabriel Homeschoolers is a park day group for all homeschoolers in the cities of San Dimas, Glendora, Claremont, West Covina, Rowland Heights, Covina, Walnut, Diamond Bar and all surroundi...
HEART for Christ SchoolsSan Mateo County
Home Educators Achieving Results Together for Christ. A support group for homeschooling families whose purpose is to support and encourage families in their homeschooling choices.
Bay Area Christian Homeschoolers (BACH)Santa Clara County
Bay Area Christian Homeschoolers is a group for both private and public/charter Christian home educators in Santa Clara County and surrounding areas.
Learn Beyond The BookSanta Clarita
A free social club for teens in addition to core and enrichment classes, and short-term workshops for students and parents.
Santa Cruz Christian HomeschoolersSanta Cruz
An online support group for families of all Christian denominations.
Santa Monica West LA Child Led Learners (SMWLA)Santa Monica West LA
SMWLA is a group of unschoolers, progressive minded, alternative or eclectic HSers in the child led learner mode. A secular group which recognizes that learning is an outgrowth of living life. Su...
Redding Homeschool NetworkShasta county
An inclusive support group for homeschooling families. Welcome families of all faiths and all homeschooling styles. Members are encouraged to keep in touch with each other and plan activities for ...
All Ways Learning-AnnounceSilicon Valley
All Ways Learning is an inclusive group of homeschooling families which accepts and respects each member. The purpose of the group is to empower its members to seek out, organize, or create all the...
Huckleberry LearningSimi Valley
Helping families succeed in their homeschooling journey. Providing classes, tutoring, clubs, events & a nurturing community for adults and students alike since 2007.
SDP HomeScholars of Southern CaliforniaSouthern California
A Secular (nonreligious), Diverse (different) and Progressive (forward) Homeschool Support group in Southern California which features all types of personalities, cultures, lifestyles and homeschoo...
Educating By His GraceTracy/San Joaquin
EBHG a Private Christian home school support group serving San Joaquin and surrounding counties. THis group supports families of children aged infant through high school. Thie group offers pictures...
Tri-Valley Explorers Homeschool Support Group (TVE)Tri-Valley area of San Francisco East Bay Area, Livermore to Concord and beyond
Tri-Valley Explorers is an all-inclusive group, welcoming ALL homeschooling families regardless of personal belief, lifestyle or homeschool method. We have created a community which supports homesc...
Conejo Valley HomeschoolersVentura County
A secular homeschool support group which is accepting of all home school styles and religious faiths. Offers socialization opportunities for parents and children, plus activities most homeschoolers...
VC-LIFE Homeschool NetworkVentura County
VC-LIFE (Learning In A Family Environment) Homeschool Network is a free, secular, and inclusive support group for parents/caregivers homeschooling children of any age (birth on) or exploring possib...
Green Valley Christian HomeschoolWatsonville
Green Valley Christian Home Education program offers support to families homeschooling through Green Valley Christian School in Watsonville, California.
Home4KidsWest San Gabriel Valley
An inclusive group of homeschoolers. Meets on Tuesdays for crafts and recreation at 1pm. Shares homeschooling ideas, field trips, information and support. Regular meetings create a stable group o...
Woodland Area Christian Home EducatorsWoodland
WACHE is a support group for Christian home educators in Woodland, CA and surrounding areas. We believe that our children are gifts from God, and that we have the responsibility to train and instr...
SHARE Homeschool Co-op GroupYuba City
Homeschool enrichment and educational classes offered in Yuba City. In this environment you will find moms co-teaching, fun classes for the kids, parent support, and CA charter school teachers. P...