Homeschooling is regulated at the state level, so connecting with local homeschoolers is an important step to start homeschooling in California. Find the California homeschool groups closest to you and get connected with your local homeschooling community, learn about the homeschool requirements in California, and discover the co-ops, classes, sports and arts opportunities, and social get-togethers in your area.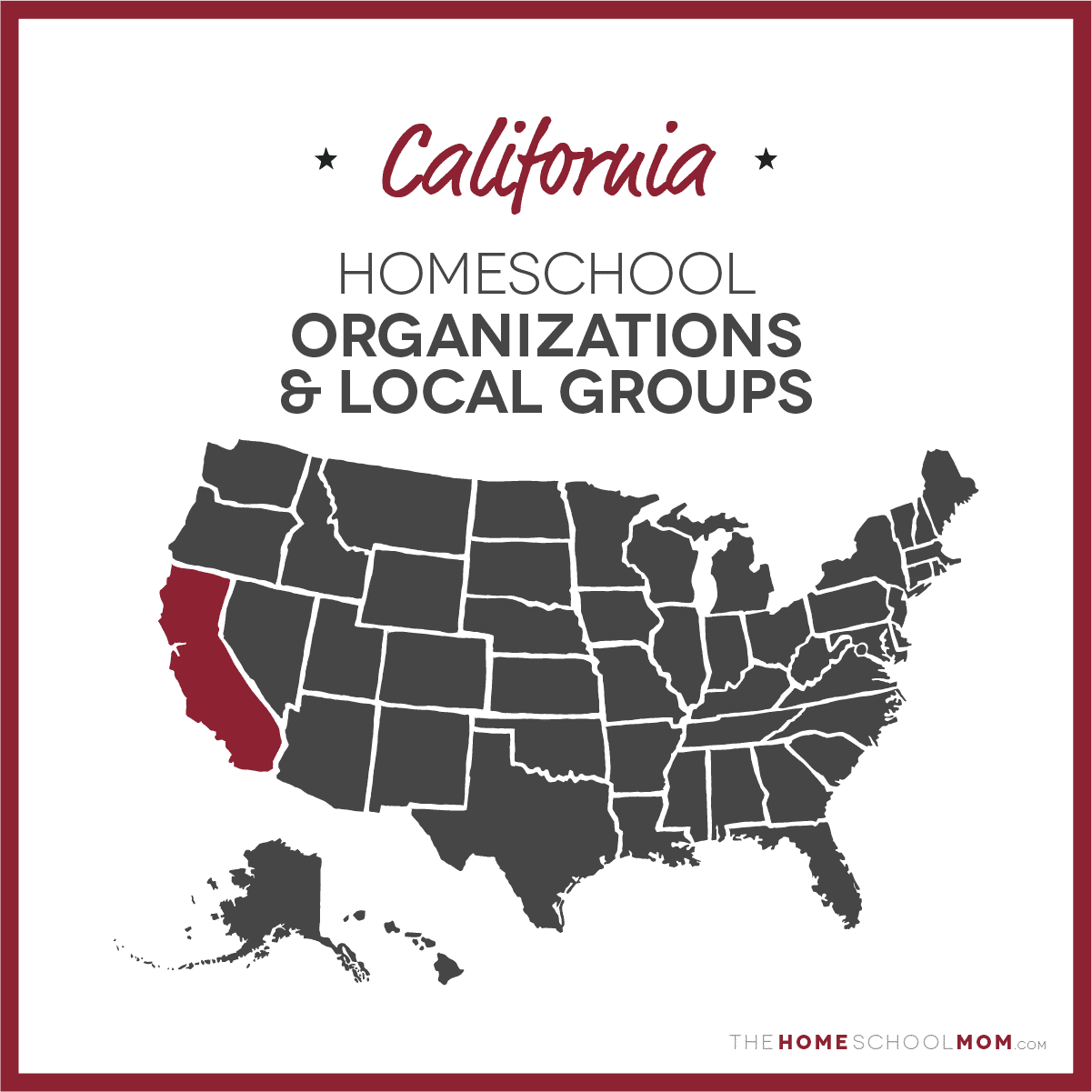 Submit a Local Resource
Jump to: State Organizations | Local Groups
Our listing of California state organizations and local homeschool groups is ordered alphabetically by city, with statewide organizations listed first. If you would like to submit a group, you may do so using the red button above.
California Homeschool Organizations (Statewide)
California Homeschool Network

California Statewide

California Homeschool Network is a statewide grassroots organization dedicated to protecting the fundamental right of parents to educate their children. Information about CHN, current state and federal legislation affecting homeschooling families, and how to get started educating your children at home.
HSC

California Statewide

The HomeSchool Association of California welcomes anyone with an interest in homeschooling.
CHEAofCA

California Statewide

The Christian Home Educators Association of California is a non-profit ministry established in 1982 to provide information, support, and training to the home education community throughout the state.
California Local Homeschool Groups
Alameda Oakland Home Learners

Alameda and Oakland

An inclusive group that welcomes homeschoolers of all ages. Meets every Thursday at parks alternating between Alameda and Oakland, and sometimes San Leandro and Berkeley. Hosts large events for the homeschooling community, such as our annual Not-Back-to-School picnic, a swim party, and Monte Carlo night.
Crown Homeschool Community

Aliso Viejo, Rancho Santa Margarita, Mission Viejo, Dana Point, San Juan Capistrano, etc.

Activities for homeschool students Pre-school through High school. Offering co-op classes, field trips, park days, High School and Jr. High school events, and both Mom and Dad's night out opportunities.
Anaheim Magnolia Christian School

Anaheim

Anaheim Magnolia Christian School is a Christian Private School Satellite Program (PSP) for home educating families. AMCS is a ministry of Magnolia Baptist Church in Anaheim.
Integrity Christian School PSP

Anaheim and surrounding area

Integrity Christian School-PSP is a hybrid Christian homeschool community that offers classes 2 days a week and 3 days at home for TK-12th grade in English, Maths, History, Science, STEM, Speech, Art, Music, Photography, Dance, Mixed Martial Arts, and more… The courses are taught through a Christ-Centered learning perspective with visual, auditory, and kinesthetic learning styles. Integrity wants learning to be an adventure in all subjects. Included in your child's academic enterprise is a Science Fair, Art Fair, History Exhibit, Writing Fair and Talent Show. Students can enjoy Yearbook, T-shirts, Field-trips, Elementary & Teen Events, Prom, and various other extracurricular activities. Offering a full graduation experience, including Senior Pictures, Grad-Nite, and a full-scale Cap & Gown ceremony for Seniors and Kindergarten, with promotion for all grades. Integrity is one big family, and we would love for you to become a part of it!
Auburn homeschool support group

Auburn, foothills

A support group specifically meant for the Auburn Community. Meant to connect all of us homeschoolers and unschoolers in close proximity to build lasting relationships and have frequent, easy meetups. Also a great resource for those looking specifically in the Auburn area.
Bakersfield HomeLearners

Bakersfield

Homeschooling families! On Bakersfield HomeLearner, you'll find local info, occasional articles on homeschooling, legal news, hand-selected unit studies and topical links. The basic purpose is to provide fellowship, foster friendships, refresh veterans and empower newbies!
Stockdale Christian School PSP

Bakersfield

Stockdale Christian PSP is a homeschooling satellite program that is available for families in Bakersfield, California. We exist to support, encourage, and help families pursue their mission of homeschooling their children. We provide a warm community, field trip opportunities, activities, socials, electives and more to enrich your educational experience.
California Homeschool Network Support Groups

California Statewide

Support groups are listed by county. Counties are listed in alphabetical order.
HomeSchool Association of California County and Special Contacts

California Statewide

County and Special Contacts are experienced homeschoolers who volunteer as ambassadors for HSC, providing information to homeschoolers and helping them find resources. County Contacts refer new homeschoolers to local groups and activities. Familiar with the local school district climate for homeschooling. Special Contacts offer information and ideas for homeschooling under special circumstances.

HomeSchool Association of California County and Special Contacts details
Math with Mrs. Fish 6

California Statewide

Math with Mrs. Fish is an exciting new online option for middle school math instruction. Laura Fischer is a California credentialed math teacher with 30 years of teaching experience. She uses her own unique curriculum, which is research-based and follows the Saxon model of incremental and distributed instruction. It is full of humor, color-coded steps, and memory tricks that WORK. Mrs. Fish can be your child's math teacher THROUGHOUT MIDDLE SCHOOL. Sixth grade is available for the 2018/2019 school year, with seventh grade being added for the 2019/2020 school year, and eighth grade for the 2020/2021 school year. Advanced and remedial instruction is available. Mrs. Fish is an approved vendor for numerous charters. See her website mathwithmrsfish.com for all the details.
Homeschool Connection

Cedar Ridge

The HomeSchool Connection (HSC) is a support community consisting of Christian families in Nevada, Yuba, and Placer counties that join together for field trips, Breathe Events (Mom's Nights Out), curriculum exchanges, book swaps and encouragement. Members are a mixture of both charter and independent homeschoolers.
Joobilo Academic Community

Cypress, La Mirada, Long Beach

Joobilo Academic Community is a homeschool community in Southern California for TK through High School students. Joobilo offers core and elective classes in supportive environment at multiple locations.
Desert Home Educators Association

Edwards Air Force Base, Antelope Valley

DHEA support group at Edwards Air Force Base is the first of its kind! Families include active duty military service members, their dependents, retired military, reserve, and other Department of Defense (DOD) affiliated members. Features a diverse yet dynamic array of parents who have similar interests and a common goal, to provide the best possible education for their children. Group fosters active learning and the sharing of ideas through discussion groups, community involvement, field trips, and a variety of educational cooperatives.
CFS Escondido

Escondido

CFS Escondido is a parent-led homeschool support group. Some of the events and activities we offer include: Educational Co-op, Field Trips, Park Days, Used Curriculum Sales and Exchanges, Local Theater Viewing Opportunities, and Family Events
Fremont Christian School PSP

Fremont / Bay Area

FCS PSP is in their 25th year serving homeschool families and maintaining their records. High school students have the ability to attend on-campus classes, sports and theater, as well as take PSAT and AP tests. In addition, they offer an annual yearbook, student pictures with ID, work permits, field trips, mom's night out and a library. Students receive an accredited transcript through our parent school. Requires a statement of faith, as the school requires teachers to be Christian.
Christian Home Educators of Fresno Area

Fresno

CHEFA is a non-profit organization created for the purpose of providing information, training, and support to the Christian Home School Community of the greater Fresno area.
Fresno Area Homeschoolers

Fresno

This is the main online homeschool group for the Fresno Area of California. We are a secular group, meaning no religious content, not that we do not have religious members. We have members of all beliefs! Our main purpose is bringing together Central Valley homeschool families for support and the sharing of information relevant to our homeschool journey.
Classic Ed Learning Center of Glendale

Glendale

A support center for grades 1 – 8 dedicated to helping children catch up and advance their learning skills in a safe and invigorating environment where they can learn, play, and make friends. Flexible Schedule ! Pick your Days! 10:30am – 3:00pm Monday – Thursday Children 6 years of age and older (Entering 1st Grade – 8th Grade) Arts and Crafts Outdoor Activities Project Based Learning in History, Science, Math, Literature, Story Telling, and Language Skills Independent Study Community Building
Hemet Christian Homeschool Moms

Hemet

Hemet Christian Homeschool Moms is a Christ-centered homeschool support group ministering to encourage you on this journey of homeschooling. We are a non-profit religious organization. Some of the benefits of HCHM monthly field trips, weekly park days, bible studies, family potlucks, moms night out & co-op classes. Membership of the group is maintained by participating in events, contributing to the calendar, and paying your annual dues. Members decide their level of involvement. Our prayer is that this site and our group will be a blessing to your family as you homeschool your children.
DCHEA

Indio

Desert Christian Home Educators Association (DCHEA) is part of the statewide CHEA support network. We serve the private Christian homeschool families of the Coachella Valley and surrounding areas. Our mission is to encourage, inform, support, and build up a community of private Christian home-educating families. Our purpose is to encourage families at every stage of their homeschooling journey by providing information about local homeschool laws and answering questions about curriculum and organization. We also seek to support our families by offering educational opportunities such as field trips, co-op classes, and more. Finally, we provide a community of like-minded families to walk this journey together. In all that we do, we strive to bring honor to the Lord.
Daughters of Our Lady

La Mesa

A group of Catholic moms homeschooling in sunny San Diego. We have monthly meetings and a yearly retreat for moms and many activities and events for children and teens including graduation and a yearbook.
Verity Academy East Bay

Livermore

Welcome to our Private School Satellite Program (PSP) and Homeschool Support Group for Private Home Educators. Please take a look around and find out who we are, what we do, what we believe, and the One upon whom we build our Verity - Jesus Christ.
Christian Homeschoolers of Lodi

Lodi

Christian Homeschoolers in Lodi (CHIL) was formed in 2003 by some homeschooling moms who wanted to have a Christian Support Group in the Lodi area. We support Christian families regardless of how a family may choose to homeschool their children. The Lord has allowed our little group to grow over the past 17 years. We are a group of homeschooling families who love the Lord and want to serve HIM in our homeschools. We are a volunteer, parent-based group. We are not in any way a legal covering for homeschooling, we simply offer support through activities for the children and families.
Family Centered Education of Los Angeles (FaCE-LA)

Los Angeles

List serves as a supplement for the FaCE-LA newsletter. List is used for announcements, alerts and maybe an occasional joke.
FaCE-LA (Family Centered Education of Los Angeles)

Los Angeles

Family-Centered Education of Los Angeles (FaCE-LA) is an eclectic and inclusive homeschool support group created around 1993. Many styles and philosophies of homeschooling are represented in our group, including unschooling, structured school-at-home, faith-based, Waldorf, and many more. Some members homeschool through charter schools, while others establish their own home-based private school by filing the Private School Affidavit. FaCE-LA is a secular support group open to people of all faiths and philosophies. Diversity is our strength and has made our group one of the largest of its kind in L.A. FaCE-LA is a welcoming support group for anyone seeking the companionship of fellow homeschoolers. Whether you've just begun your homeschooling journey and are full of questions, or you're simply seeking more social and group education opportunities for your children, FaCE-LA provides a supportive community where your family can make connections, create friendships, and receive encouragement as you journey through homeschooling.
South Bay Homeschool Network

Los Angeles South Bay area

A support group for families who are homeschooling their children. Not a religious organization, and not a school. No membership dues or contracts you must sign to join. Goal is to create an environment where homeschoolers can meet, exchange ideas, and build relationships. Offers many different ways to connect with other homeschoolers:park days, email loops, classes, field trips, activities and newsletter.
Bay Shore School & Educational

Los Angeles, Orange, Riverside, San Bernardino, San Diego and Ventura counties

Southern California Homeschooling Support Groups
Saddleback Christian Academy

Mission Viejo

Saddleback Christian Academy is a warm community of Christian homeschool families dedicated to investing in their children's spiritual and academic lives. We disciple them to be responsible citizens committed to making a significant impact for the Kingdom of God. Saddleback Christian Academy offers classes, activities, events and more! Get to know our community.
Natomas Homeschool Alliance

Natomas/Sacramento

An inclusive cooperative of homeschooling families partnering with local professionals and organizations to bring homeschooling opportunities to the Natomas area of Sacramento. Natomas Homeschool Alliance facilitates a full day of group classes for all grades one day a week as well as weekly park days, periodic field trips, and enrichment activities to provide a well-rounded, quality educational experience for children.
Homeschooling in Orange County

Orange County

Resources and information for families who homeschool in Orange County California.
Modern Parents Society

Orange County

We are a social support group for homeschool families. We offer live kid's clubs for gardening, nature exploring and painting outside for homeschoolers living throughout Orange County, California. We are members only based club to help maintain a dynamic culture. It is free to join. Kid's Clubs are designed to inspire learning while also offering a social outlet for kids to connect. Our activities change with the seasons.
Desert Christian Home Educators Association

Palm Springs, Palm Desert, Low desert, eastern Riverside county

A Christ based local support group for private homeschooling families offering members a a weekly Co-Op, yearbook, graduation, field trips, etc. A PSP program is available for those wanting extra help with recordkeeping.
Desert Christian Home Eductators Association

Palm Springs, Palm Desert, Low Desert, eastern Riverside county area

A Christian based local support group for private homeschooling families offering a weekly CoOp, yearbook, graduation, field trips, etc. PSP program for help with recordkeeping.
HEARTS - Contra Costa County

Pinole

HEARTS is a Christian homeschool support group located in western Contra Costa County.
Christian Family Schools of Poway

Poway

We're a support group that has existed since 1989 to help families navigate the journey of homeschooling. Whether brand new or veteran, everyone needs encouragement and help. This journey is much more enjoyable when we walk together. We offer field trips, family events, mom events, a class day with classes on site, virtual classes, and many, many resources.
South Bay Faith Academy

Redondo Beach

South Bay Faith Academy is a welcoming community filled with active church-going Christian homeschool families. It is our desire to partner with families in their journey to grow their students into Godly adults committed to serve Jesus by providing academic and spiritual support. SBFA offers academy days, park days, field trips, parent education meetings, extracurricular activities, school events, record keeping, and other resources intended to encourage and assist our teachers and students.
Riverside Area Home Learners

Riverside

RAHL offers friendly, homeschooling support to all families, whether they are just beginning their homeschooling journey or have been traveling the road for years. Consider joining the lively park days, field trips or discussion list.
Catholic Homeschoolers of Riverside

Riverside

We are a Catholic Homeschooling community of families in Riverside, California. We are under the guidance of Father Ted of St. Thomas the Apostle Catholic Church in Riverside. We have monthly masses, confession, adoration, park days, Saint feast day celebrations, mom's nights, field trips, and more.
Sacramento Christian Organization of Parent Educators

Sacramento

A nonprofit Christian organization. SCOPE's purpose is to provide information, support, encouragement and training to private, independent home educators. If you are a home educator not under the jurisdiction of a government school, take advantage of the benefits by becoming SCOPE subscribers: Monthly Chat Group Meetings, field trips, group learning classes and parties for the children, often enjoying group discounts for activities.

Sacramento Christian Organization of Parent Educators details
Sacramento Homeschool Meetup Group

Sacramento

A support group for Christian homeschooling mothers and their children. Meets for Field Trips, Crafts, Park Days, Skating, Bowling, and more!
Wild+Free Homeschooling Group

San Bernardino and surrounding

This group is about joining hands with the incredible Wild+Free movement that has become foundational for so many homeschooling families. Embracing the unlimited opportunities and resources in exploring the world around us and living out our group's collective ideas for character building, education and fun. Being connected with other like-minded families in giving our children the full experience of their childhood.  To nurture the core values of Wild + Free and be a source of strength and support for one another. We strive for bringing back old-fashioned values, faith, and organic ways of raising a family, while building a trail of lifetime friendships and memories together. Join us on this journey!
Christian Family Schools of San Diego

San Diego

CFS encourages communication among private home education leaders by hosting leadership meetings and training several times a year. CFS also organizes events and activities available to members and non-members including our annual Expo Homeschool Convention featuring popular speakers and a large exhibit hall to assist homeschoolers in all their curriculum needs.
The Master's Community

San Diego

The Master's Community is a Christian member-based community of Classical home-schooling families. The community is at the heart of everything they do, and throughout the school year the members participate in a weekly class day as well as a variety of other activities. TMC utilizes Claritas memory work, IEW, and Tapestry of Grace - Christian, Bible-based, classical curriculum.
Christian Family Schools of Mira Mesa

San Diego

Christian Family Schools Mira Mesa is a nonprofit organization. We serve the private Christian homeschool families of San Diego and surrounding areas. Our members subscribe to our Statement of Faith. CFS Mira Mesa's emphasis is to aid families to meet their educational goals by providing additional opportunities for students to develop academically, socially, physically, and spiritually. Regular activities that include: • Class Days • Dads' Night Out • Drama Programs • Field Trips • Moms' Night Out • Park Day • Teen Activities (middle/high school) Annual Events that include: • Back to School Party • Camping Trips • End-of-the-Year Party • Family Christmas Event
San Diego Christian Homeschools

San Diego

San Diego Christian Homeschools offers its members many opportunities to connect and create a community of like-minded Christian homeschool families. We are a San Diego County-wide homeschool community support group. We meet regularly throughout the county for encouragement, educational opportunities,
The Homeschool Gathering

San Diego, CA

We are a hybrid Christian homeschooling community seeking to follow Jesus by being Good Neighbors. We seek to bring together like-minded families who are interested in gathering together to support each other's unique homeschool calling and to build community by coming together in the messy middle of life. We believe that God has called us to be a community of families living out a vibrant faith that blesses our world through serving and loving one another and our community.
San Francisco Homeschoolers

San Francisco

A loosely organized, inclusive group of homeschooling families.
Christian Home Educators of San Francisco

San Francisco

Welcome to our community of Christian homeschooling parents living in San Francisco, SFO, and San Bruno areas who are actively homeschooling! We exist to encourage & support one another to live out the calling God has placed in their hearts to homeschool their children while at the same time connecting the hearts of homeschooling parents with one another in authentic community both within CHESF and the surrounding Bay Area. We believe this is achieved through personal relationships that are fostered both in person at our park days, CHARM Nature Studies, field trips, and other gatherings both on a weekly and monthly basis as well as online in our Facebook group. At CHESF, we welcome all homeschooling parents at all stages of their journey and those who are interested in homeschooling, regardless of the path they choose. Whether you decide to homeschool independently, utilize co-ops, charter schools, online schools, or something in between we understand each homeschool path is unique to the family and their values and most importantly is designed to meet the needs of the child(ren). We ask that all members respect the private choices that each family has made in this regard. We value and accept each others differences and know that what unites us is our shared faith in Christ and our love, care, and concern for our children and their education. We understand at CHESF that homeschooling is the road less traveled and because of this we want to strive to ensure that each homeschooling parent is supported on their journey with love in Christ and knows who their tribe is so they don't have to walk this path alone.
San Gabriel Valley Homeschool Christian Connection

San Gabriel Valley

A networking Christian Homeschooling group located within the San Gabriel Valley of Southern California.
Excellence In Education

San Gabriel Valley

Excellence In Education, established in 1991, provides a wide range of resources to homeschoolers in the San Gabriel Valley and surrounding area. Park days, field trips, seminars and classes are open to all homeschoolers. Excellence In Education also operates a new and used bookstore for homeschoolers and a PSP for those who need that service.
East San Gabriel Valley Homeschoolers

San Gabriel Valley

East San Gabriel Homeschoolers is a park day group for all homeschoolers in the cities of San Dimas, Glendora, Claremont, West Covina, Rowland Heights, Covina, Walnut, Diamond Bar and all surrounding cities. Currently they have kids ages 11-15. This park day is inclusive. It is open to all homeschoolers regardless of personal beliefs.
HEART Academy San Jose

San Jose Bay Area

HEART Academy PSP is a Private School Satellite Program (PSP) recognized in California as a private school. HEART will provide an umbrella covering, aid families in keeping student records, and help families maintain an organized curriculum. Families educate their own children, choose curriculum, set their calendar and give grades. HEART Academy provides the following services: -File a Private School Affidavit with the state of California. -Maintain your child's cumulative records (cum files). -Issue transcripts and diplomas to enrolled high school students. -Distribute information and resources through email to benefit your homeschooling experience. -Arrange annual planning days. -Design a four year plan for high school. -Prepare you for whatever college experience you desire for your children. -Prepare monthly or quarterly parent-teacher meetings on different homeschooling topics. -Set up quarterly "College Bound" meeting for students and parents. -Counsel you on curriculum choices -Create a very informal and formal high school graduation ceremony or recommend you to other groups. -Enrollment in HEART Academy Co-op for core and enrichment classes.
Central Coast Catholic Home Schoolers

San Luis Obispo County

We are Catholic home educators primarily based in San Luis Obispo County, with members across Santa Barbara and Monterey Counties. We testify to the goodness and truth of the teaching of the Magisterium. We celebrate the richness of the Liturgical year together, we learn about the saints and the traditions of our Church, we grow in our faith together and we nurture deep friendships. We seek to cultivate and support a family life that nourishes the souls of its members and prepares our children for the vocations to which the Lord is calling them.
HEART for Christ Schools

San Mateo County

Home Educators Achieving Results Together for Christ. A support group for homeschooling families whose purpose is to support and encourage families in their homeschooling choices.
Bay Area Christian Homeschoolers (BACH)

Santa Clara County

Bay Area Christian Homeschoolers is a group for both private and public/charter Christian home educators in Santa Clara County and surrounding areas.
Learn Beyond The Book

Santa Clarita

A free social club for teens in addition to core and enrichment classes, and short-term workshops for students and parents.
Santa Cruz Christian Homeschoolers

Santa Cruz

An online support group for families of all Christian denominations.
Hearthstone Home Educators

Santa Maria

Christian homeschool support group for the Santa Maria Valley.
All Ways Learning

Silicon Valley

All Ways Learning is an inclusive group of homeschooling families which accepts and respects each member. The purpose of the group is to empower its members to seek out, organize, or create all the resources desired to homeschool and to support its members in every facet of homeschooling. All Ways Learning believes it is the right of parents to educate their children without government control or interference. There are no dues or formal leadership. All Ways Learning meets every Thursday from 1:30 to 4pm at a local park in the area. The park switches approximately every month or so.
Huckleberry Learning

Simi Valley

Helping families succeed in their homeschooling journey. Providing classes, tutoring, clubs, events & a nurturing community for adults and students alike since 2007.
SDP HomeScholars of Southern California

Southern California

A Secular (nonreligious), Diverse (different) and Progressive (forward) Homeschool Support group in Southern California which features all types of personalities, cultures, lifestyles and homeschool methods.
SoCal Christian Homeschoolers

Torrance and surrounding areas

This group offers an array of field trips, fun trips, weekly park days, Christian based activities, service projects, sports classes, elective classes, yearbook, dance, graduation, college/career prep, life skills, and so much more throughout the Southern California region. Many activities are free or of little cost. Special emphasis given to homeschooling tweens and teens. We're based in Torrance. Drop off Co-op programs in Torrance, West Los Angeles and Long Beach. Frequently hosting events throughout the Southern California region.
CFS Valley Center

Valley Center

We are a group of Christian homeschool families who privately home educate our children and seek to support and encourage one another.
Conejo Valley Homeschoolers

Ventura County

A secular homeschool support group which is accepting of all home school styles and religious faiths. Offers socialization opportunities for parents and children, plus activities most homeschoolers have a hard time doing on their own. Activities include: park days, sports programs, drama programs and field trips.
Visalia Catholic Homeschoolers

Visalia

A place for Catholic homeschoolers or anyone interested in homeschooling and the Catholic faith in and around Visalia, CA to connect, organize park days or field trips, and get support. Join our group: https://www.facebook.com/groups/1339780376537266
Green Valley Christian Homeschool

Watsonville

Green Valley Christian Home Education program offers support to families homeschooling through Green Valley Christian School in Watsonville, California.
Woodland Area Christian Home Educators

Woodland

WACHE is a support group for Christian home educators in Woodland, CA and surrounding areas. We believe that our children are gifts from God, and that we have the responsibility to train and instruct them according to God's principles. Our primary purpose is to support Christian home educators, with an emphasis on private education. As homeschooling families, we work together to provide opportunities for our children to grow, through classes, field trips, monthly support meetings, and many other activities. Working together also provides strong support and encouragement for us as individual families. Find them on facebook: https://www.facebook.com/wachewoodland