Do you use educational podcasts for homeschooling? If not, you should!
Free educational podcasts are a great way for homeschoolers to explore a variety of topics and current events, especially if you homeschool high school. Podcasts can be easilyintegrated into nearly all subject areas, and they are a perfect resource for unit studies.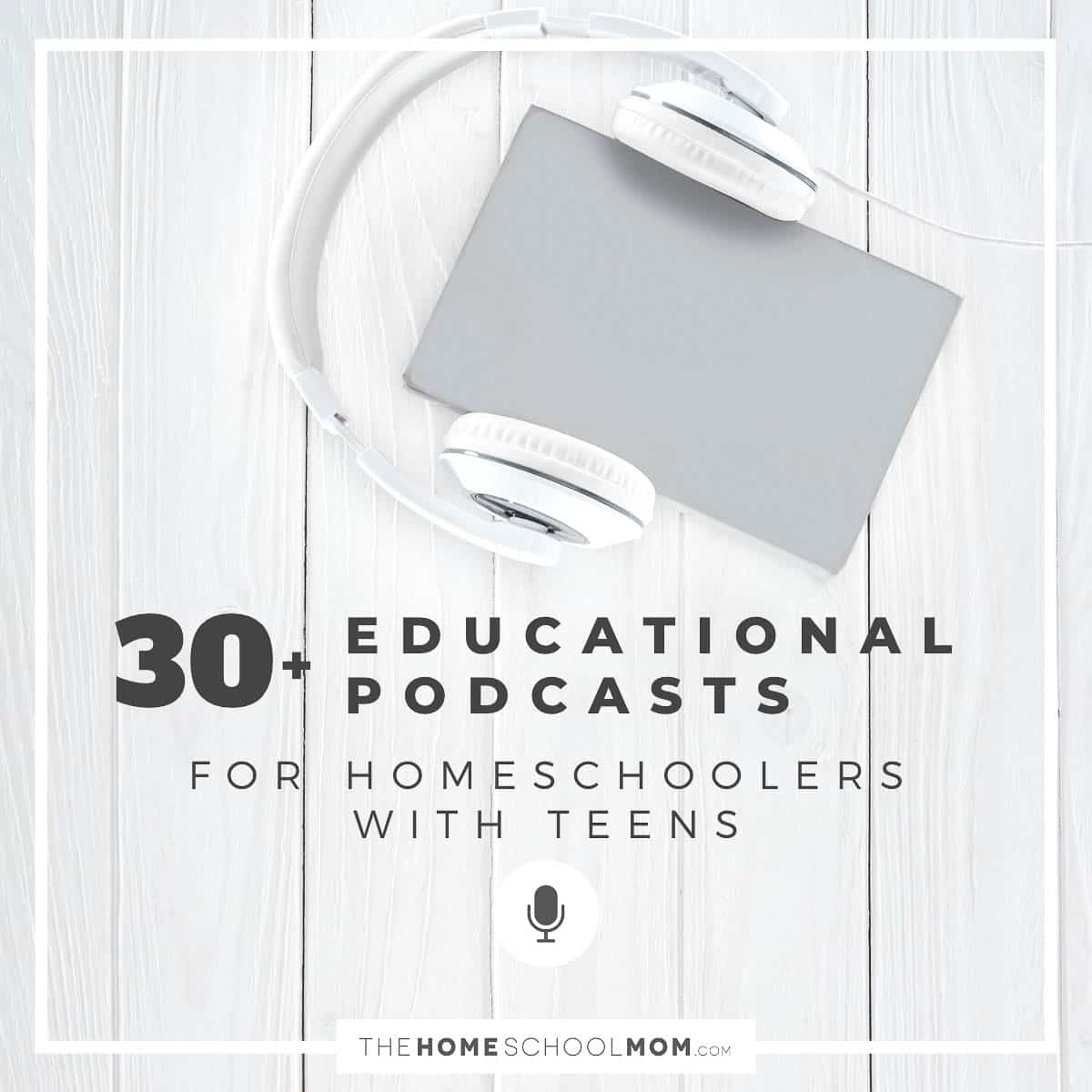 Depending on the podcast platform you're using, you can search for topics, people, events, etc. We've recently had some great conversations about the Loch Ness Monster, Amelia Earhart, and King Arthur.
The list below contains some of the best educational podcasts that are not all created specifically for kids or teens, but can be used with and by them. As with other types of media, please be sure to read the podcast episode descriptions to determine what works for your family. I always recommend previewing a few episodes before sharing with your teen. Every homeschooling family is different.
Also be sure to check out my favorite podcasts for homeschooling parents.
Jump to:
📖  Language Arts Podcasts
Ah, grammar! Spelling! Language! Writing!
I love all of these and I found some fun podcasts that fit the bill of fun and educational. I personally love Word of the Day and I cannot wait to dive into all the episodes of The History of English.
🔬  Science & Math Podcasts
Check out these podcasts to add some fun and learning to your math and science routine. These are especially helpful if you have kids who aren't exactly thrilled with these subjects.
My teen loves the Medical Mysteries podcast because he wants to be an Emergency Medical Technician and also LOVES all the weird and wacky things that can happen in the episodes.
📜  History Podcasts
I admit I was never much of a history buff. I've actually learned more about history by homeschooling my kids. Podcasts help me make history more fun and interesting.
Our current favorites are Conspiracy Theories and Unexplained Mysteries. My son recently referenced the old-time baseball player, Shoeless Joe Jackson, after listening to an episode on the Black Sox baseball scandal. Pepper in some podcasts and explore people, places, and events!
💵  Entrepreneurship Podcasts
Entrepreneurship is an important topic to explore, especially in the 21st century. Outside-the-box education, projects, careers, etc. are more and more common. Social media, the Internet, and digital products make entrepreneurship a viable choice for more and more people.
🎙️  Current Events Podcasts & Just for Fun
There are so many podcasts to choose from for fun topics and current events. Take some time to explore this list with your teen and pick a few to listen to together and discuss. Add snacks and you're good to go!
I hope you find this list helpful as you navigate homeschooling with teens. Teens can listen to podcasts during car trips, quiet time, or independent study time. If you have any other podcasts for our list, please let us know!