This post was originally published as the introduction to an issue of TheHomeSchoolMom newsletter. Sign up here and get access to subscriber exclusive resources.
Transitioning from public school? Starting a new homeschool year? Either way, you may be swimming in advertising, recommendations from other homeschoolers, and store shelves full of (home)school supplies.
Back-to-school is firmly established in the seasonal section of the big discount stores, and the mom and pop shops do their part to stock up on the awesome pens, backpacks, and planners families need or want on hand to prepare for school.
Bloggers post lists of essential home school supplies, often with gorgeous photos of perfectly outfitted homeschool rooms.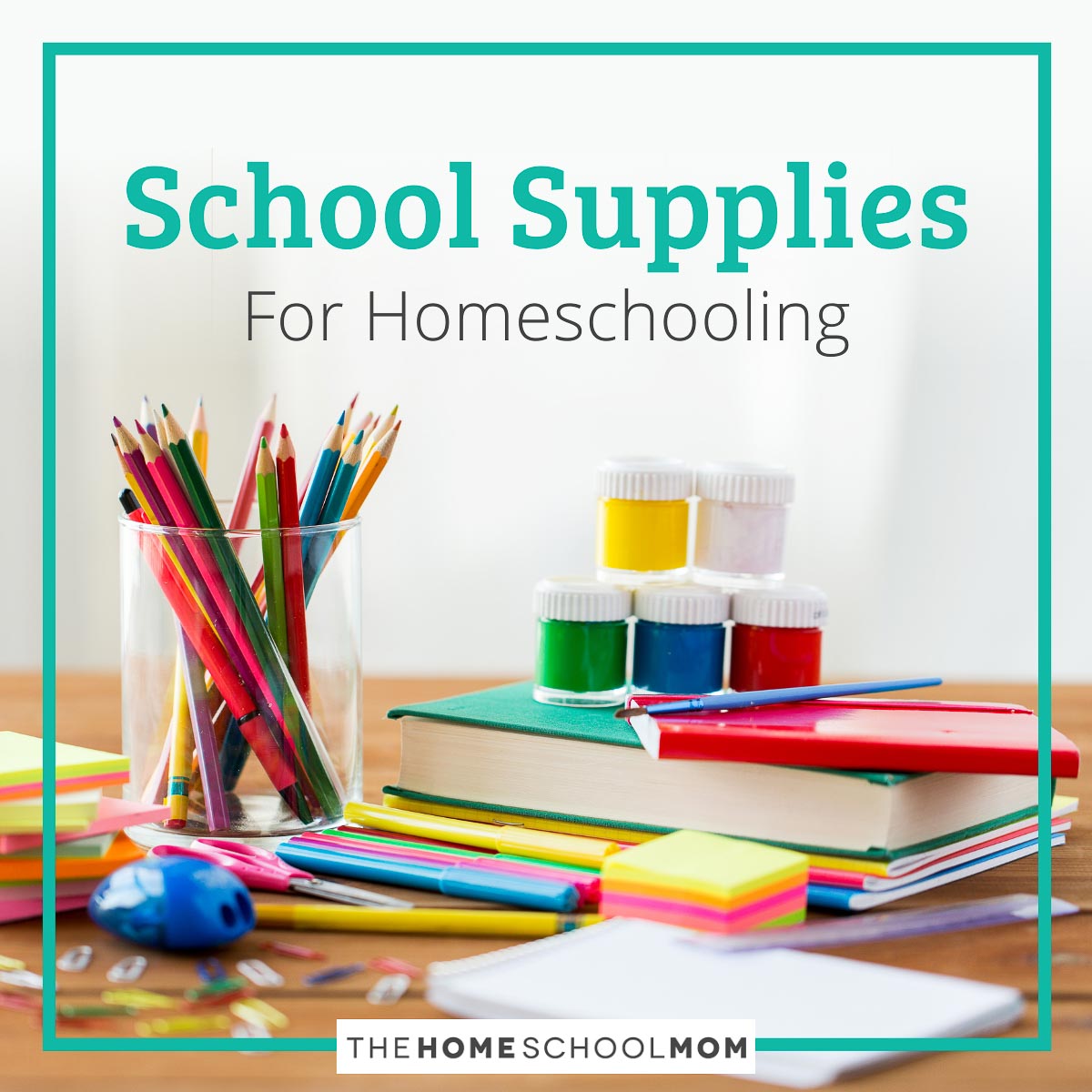 Jump to:
But what does your homeschooling family need? None of the above? All the things?
Surprise! The homeschool supplies question is just like all the other answers to all the other homeschooling questions: it depends!
Every family is different, and that applies to supplies for homeschooling, too.
Do you need to save money? Do your kids not care much about new pencils and paper? Have you got plenty of markers that already work?
You might not need a big back-to-school shopping list, or your list for preschool through early elementary might look different from what you expect.
Supplies for homeschooling preschool through early elementary ages
Dress-up clothes and accessories
Birdfeeder and birdseed with a field guide to birds
Library card
Modeling media: Playdoh, modeling beeswax, modeling clay, air dry clay
Paint and art paper
A handy bowl of manipulatives: dried pinto beans, buttons, pasta shapes
Kids' cookbooks and smoothie recipes
Twinkle lights and candles
Devices to stream music and audiobooks we can listen to together
Magnifying lenses and bug jars
All the sticks that mark on paper: pastels, crayons, sidewalk chalk, block crayons, markers, color pencils, gel pens, feather quills
All the paper: loose, spiral bound, journal; lined, unlined; colored, black, white; large, small, fancy and scrap
Cozy couch to snuggle and read
Book basket (beside the couch)
Comfortable shoes for everyone
First aid kit
Balls: tennis, football, soccer, softball, kickball, beach ball
After twenty years of homeschooling, I can safely say that would get me through a few grades. A perpetually full gas tank and a dog as a mascot round things out for our family, but cat people definitely homeschool, too. You might even be one!
What "less common" school supplies would you recommend to new homeschoolers?
After all, homeschoolers aren't getting on a bus (might not need a new backpack), have their own tissue boxes at home (don't need to check off a school teacher's supply list), and might not be doing the same kinds of projects as school kids (more printer ink and less paint, or vice versa!)
On the other hand, do your kids love the potential in a fresh box of crayons, colored pencils or markers? Are the old backpacks cruddy because you actually do use them to carry books and snacks in the car? Is your car stocked and ready for homeschooling on the go? Do you need to let go of the half-used and junky supplies from last year? Some of us, at least some of the time, really do need to update our supplies.
Tips for purchasing homeschool supplies
Don't buy what everyone else is buying. Just because the public school kids or teachers need certain items doesn't mean you and your kids will. The inverse is true as well—just because public school kids or teachers don't need certain items doesn't mean you and your kids won't.
Select better quality. Higher quality supplies, purchased selectively, may last longer. Our beeswax block crayons lasted years; no kidding! This applies to paintbrushes, too!
Buy as you go. Consider making supply purchases that match curriculum "along the way." I hate to tell you this, but many people abandon an ill-fitting curriculum within weeks or a few months, so having purchased all the supplies in advance just creates a bigger financial hit.
Research expensive items. Big ticket items like microscopes and telescopes should be something you research carefully. You can sink a lot of money into science tools that lead to a terrible experience for your family.
Consider your own needs as the homeschool parent. Parents count, too: if there is a planner or printer or laminator that will make your job easier and you can afford it, use some of your supply budget for your own homeschooling needs. Caveat: if you didn't use last year's planner past the first week, maybe you are not a planner person. (TheHomeSchoolMom offers a free printable homeschool planner and a free digital spreadsheet planner.)
Look for bargains. Check out thrift stores, yard sales, and homeschool stores for used items.
Save room in your budget for purchases later in the year. Scarfing up mini-staplers and calculators now so each child has their own may not be as important as having money to buy electronics components you don't know your child is going to request in November.
You may notice that some homeschool families are learning year-round and aren't hepped up about "back-to-school sales." You may see others tracking down specific gel pens in custom-requested colors.
You will want to find the balance between providing the inspiration of crisp folders and a working pencil sharpener with responding to actual needs in ways that will be appreciated and useful.
Your approach to your "not-back-to-school" shopping season can be a harbinger of your coming year: make it work for you and your family, regardless of other people's supply lists!